Do you want to know if WP Charitable is a good plugin to collect donations online?
WP Charitable was created to help non-profits raise funds without being charged hefty fees and losing control of their campaigns – as is often the case when listing donation requests on fundraising platforms.
The plugin has powerful features and they never charge transaction fees. But does the plugin perform well once installed?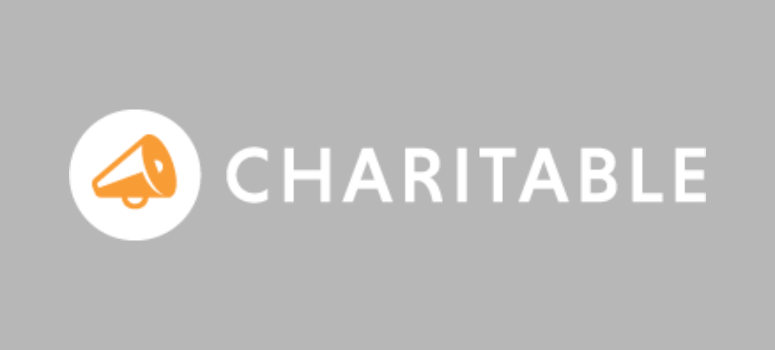 In this WP Charitable review, we'll explore WP Charitable's features, pricing, and customer support. We'll even make a quick comparison with other popular donation plugins to give you a fair view so that you can decide if WP Charitable is right for you.
WP Charitable Overview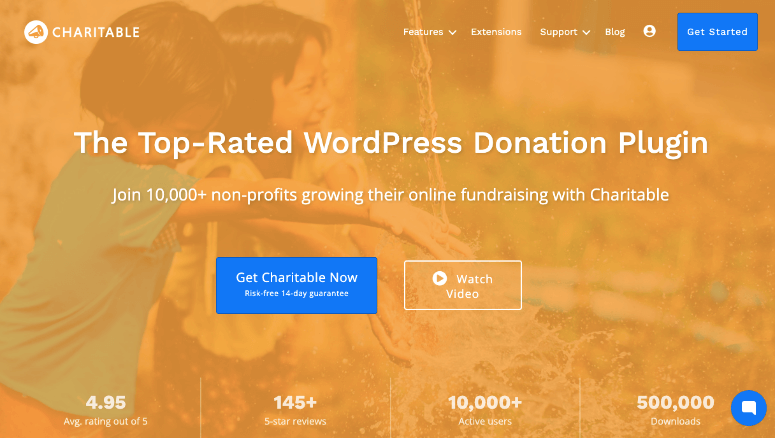 WP Charitable is a top-rated WordPress donation plugin. It lets you create fundraising campaigns in a matter of minutes. You can create donation forms with a clear end goal that includes:
Regular one-time donations
Time-sensitive donations
Goal-based fundraisers
The plugin puts no limits on the number of campaigns you can create. When you install the plugin, you'll be welcomed with a user-friendly dashboard that's similar to the WordPress interface. So there's really no learning curve involved.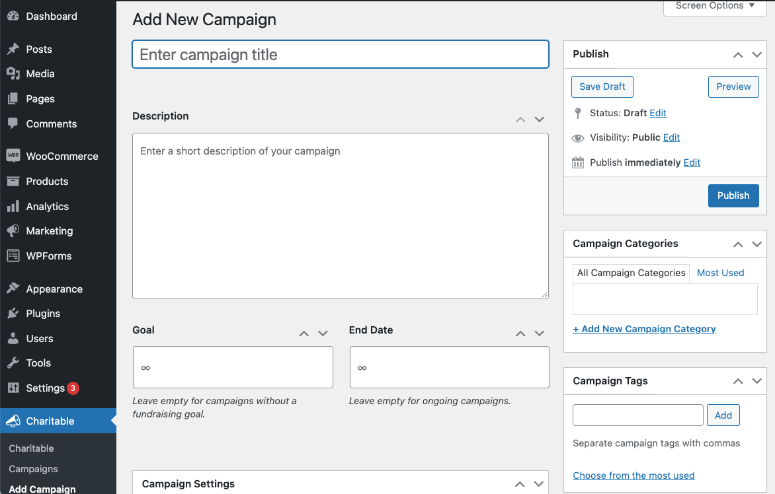 WP Charitable is easy, affordable, and powerful. The plugin was recently acquired by our parent company – Awesome Motive – we're the same folks behind popular WordPress blogs and plugins like WPBeginner, WPForms, OptinMonster, All in One SEO, and MonsterInsights.
You can be sure that you'll get top-notch customer service as the team is constantly innovating and growing every product under the Awesome Motive umbrella.
That said, let's take a look at what WP Charitable has to offer.
WP Charitable Features
WP Charitable is a feature-rich plugin and is meant to be an affordable WordPress alternative to hosted crowdfunding platforms like GoFundMe, Fundly, and Donate Kindly.
It has a lot to offer in the core plugin which is free to use. Then, there are premium plans along with dozens of WP Charitable extensions that you can use to enhance functionality.
It's no wonder the plugin is loved and trusted by 10,000+ non-profit organizations around the world.
Here are the best features of WP Charitable:
1. Unlimited Fundraising Campaigns
With most fundraising platforms, you are limited in the number of campaigns you can create and run simultaneously. You also have to adhere to their formats such as setting a quick deadline or end goal.
But with WP Charitable, there are no such limits. You are free to create as many fundraising campaigns as you need.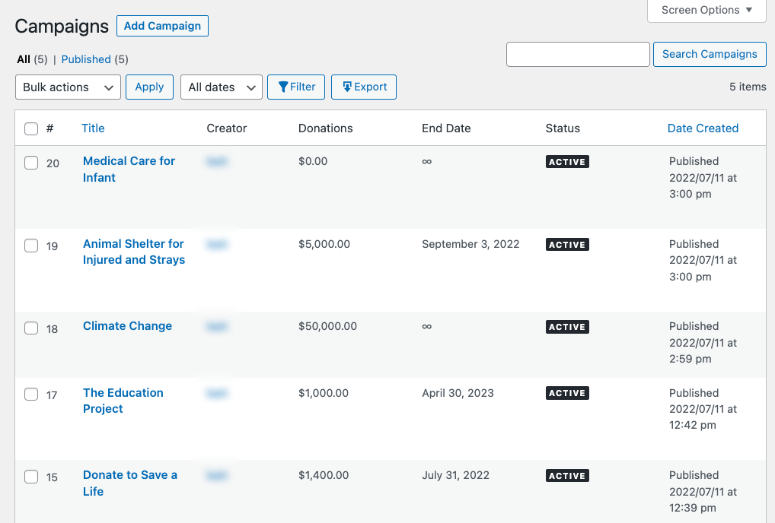 You can set custom goals for each campaign or leave them open-ended. You also get to choose whether the campaign is time-sensitive or not.
2. Easy WordPress-like Interface
When you install WP Charitable, you can easily access it from your WordPress menu. Inside, you'll find a post editor that's the same as the WordPress editor. So it's easy to completely customize your online fundraisers as the fundraising software merges seamlessly with your site.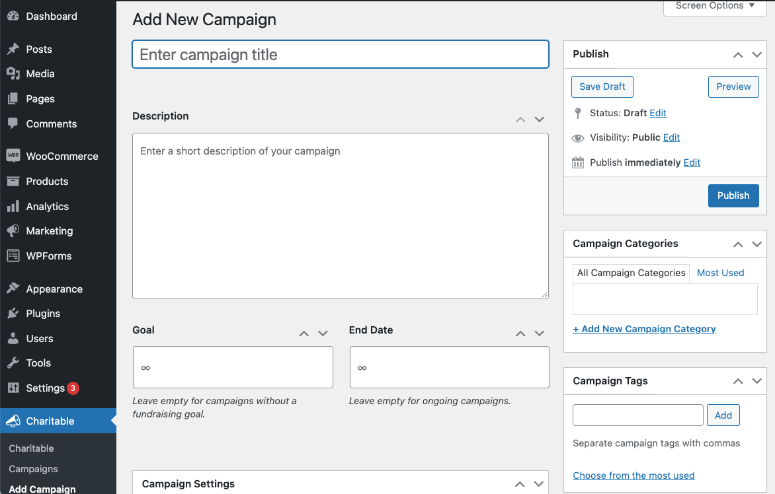 You can add a title, description, and feature image. Under the Settings section, you can add suggested donation amounts, allow people to donate as much as they want, or do both. You can even shorten the donation forms by just showing required fields.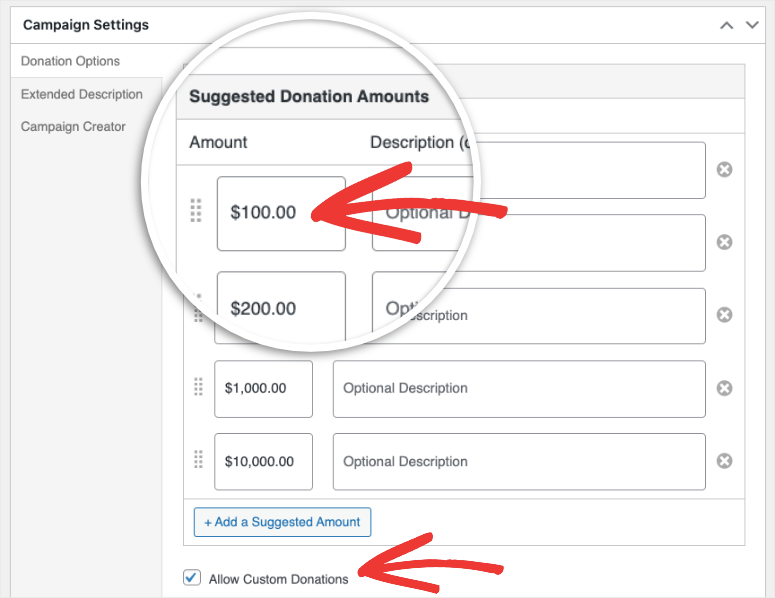 Once you've published your form, it's easy to embed it on any page on your site. You can allow the donation forms to load on a separate page, on the same page as the campaign, and even in a modal popup.
Added to that, every campaign you create automatically inherits your WordPress theme's styles so it'll match your website's design seamlessly.
Payment Gateways
WP Charitable lets you accept online donations through PayPal and offline. These options are available by default and are free. All you have to do is click a few buttons to enable the PayPal donation option.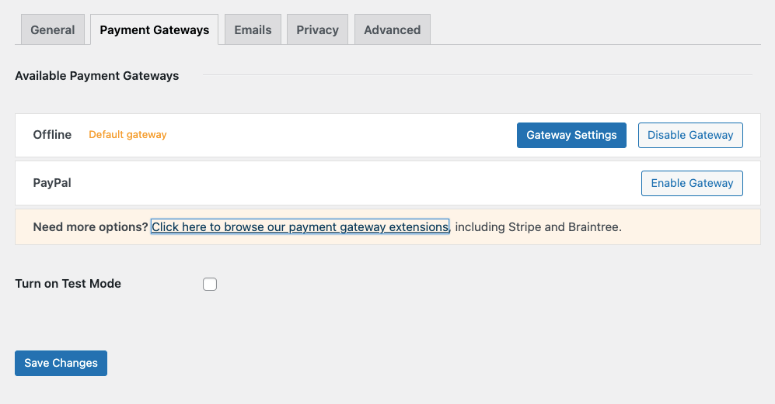 For more payment options, you'll need to install premium extensions.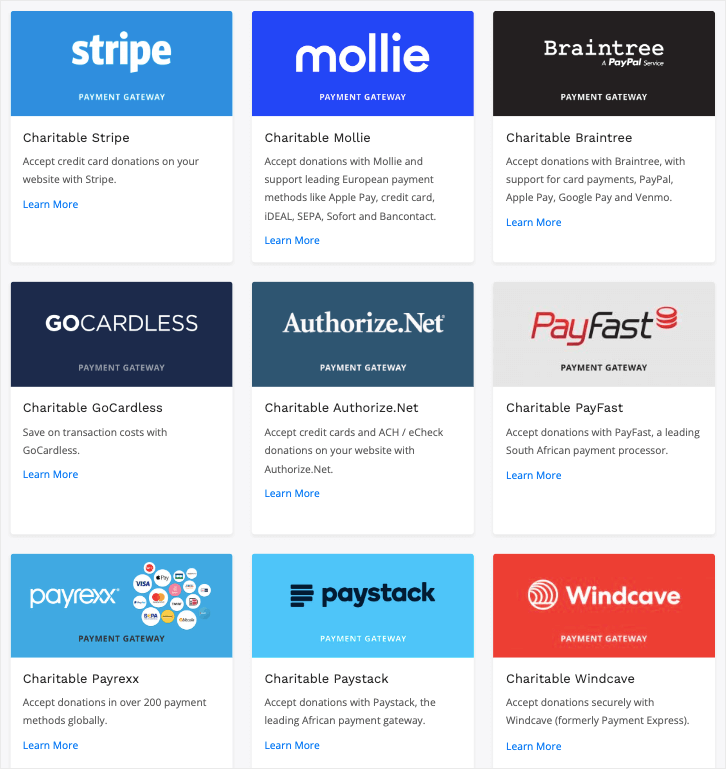 These addons include Stripe, Authorize.Net, Braintree, PayFast, Payrexx, Paystack, and Windcave.
GDPR-Ready
Worried about complying with GDPR? WP Charitable has you covered there.
You can make your donation forms GDPR compatible in just a few clicks. The plugin lets you add a Privacy notice and Terms & Conditions to your donation form.
Next, there's an easy way to manage what data you store, export personal data.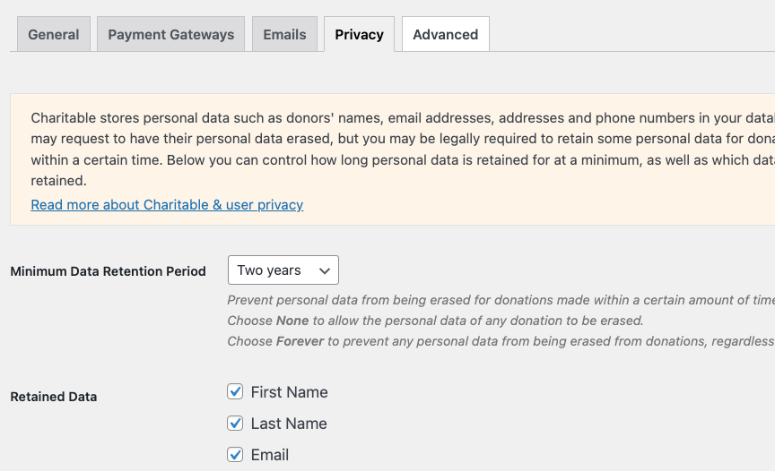 There's even an option to erase it all in one go.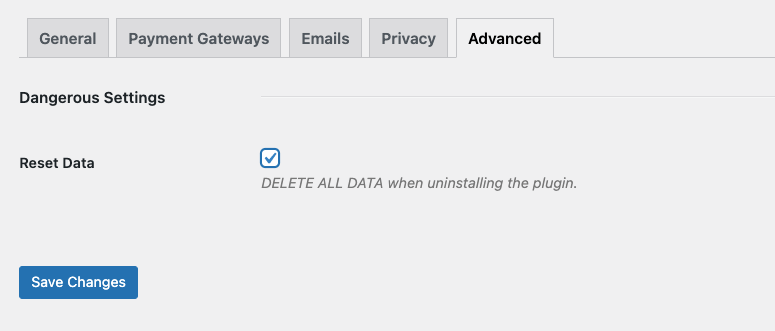 Finally, the plugin is compatible with the GDPR Cookie Compliance plugin.
Read more about this: 11 Best WordPress GDPR Plugins to Create a GDPR Compliant Site
Donation & Donor Management
WP Charitable comes with a dedicated section to manage your donations and donors. It also lets you manually create and edit donations directly in the WordPress dashboard. You can sort and search for donations to easily find specific entries.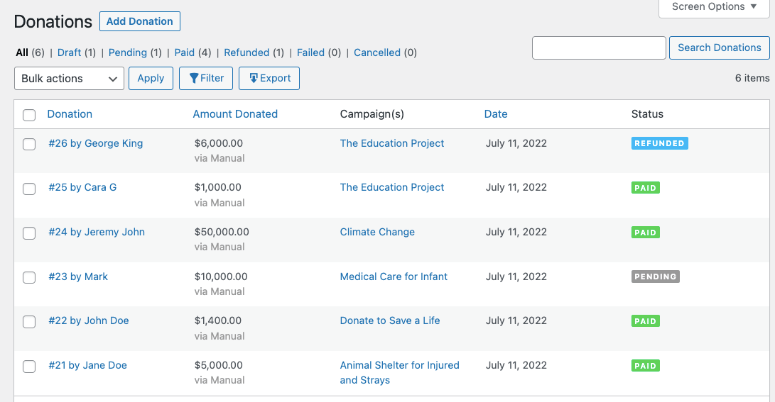 If you need to take this data offline, there's an option to export a CSV report of donation details.
Customizable Emails
WP Charitable lets you send customized emails, donation receipts, and admin notifications. You can add custom email tags to create dynamic, personalized emails.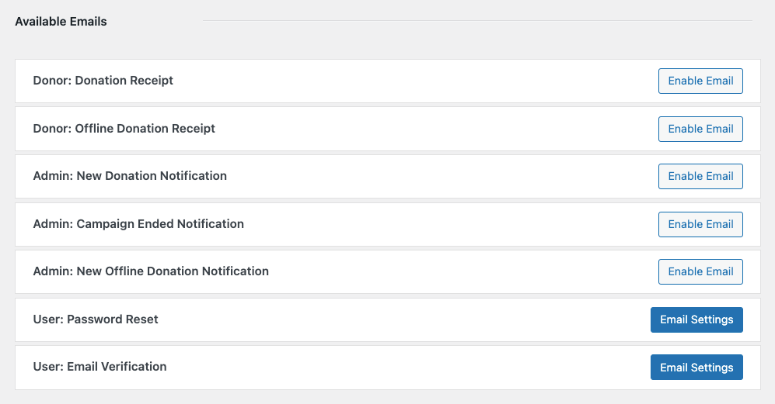 If you're accepting offline donations, you can send donors instructions on how to complete their donation. The plugin also supports password reset and email verification messages.
To manage your email marketing campaigns better, you can integrate with your favorite email provider including MailChimp, ActiveCampaign, Campaign Monitor, Mailerlite, Mailster, and Mailpoet.
Now we've seen the main highlights of WP Charitable. Up next, we'll give you a quick view of what we think are the pros of this donation plugin.
Pros of WP Charitable
WP Charitable excels on many fronts. Here's what we love about this plugin: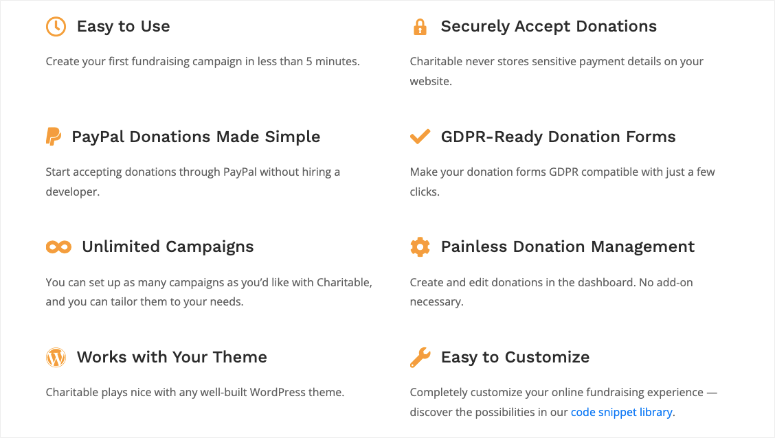 Free and premium plugins available
Easy-to-use interface and donation management tools
Unlimited campaigns
Anonymous donations
Recurring donations
Peer-to-peer fundraising
Crowd fundraising platforms
Premium payment gateways
PDF receipts and annual receipts
Email marketing & newsletter integration
No transaction fees
Automation with Zapier
GDPR ready
So WP Charitable has a lot to offer but no plugin is free from drawbacks.
Cons of WP Charitable
The basic tier of the premium plugin starts at $119 per year which might put many of its cool features out of budget for beginners and small businesses.
You might want to check out our alternative picks: Best WordPress Donation Plugins for Online Fundraising
WP Charitable Support and Documentation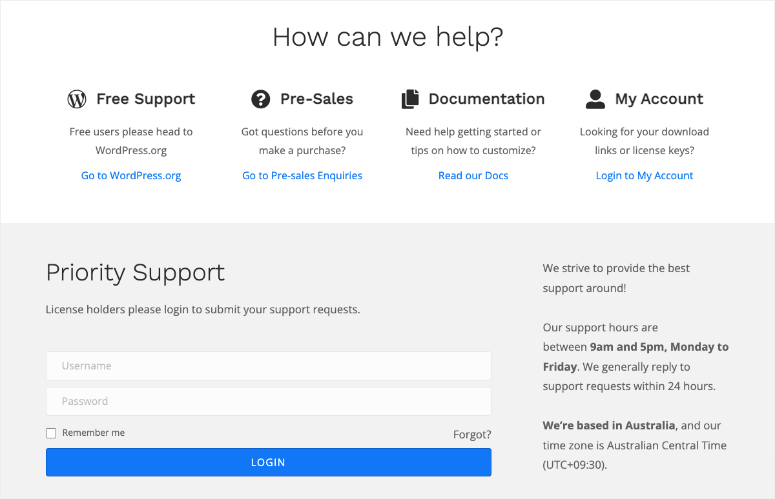 WP Charitable is backed by a friendly team of experts that will help you resolve any issue you may face. If you're using the free version, you can use the plugin's support page on WordPress.org.
Premium license holders get priority support through a ticket system. You can log in to your account and submit a support request.
WP Charitable is also well documented. You can find a WP Charitable knowledge base of tutorials, tips, and guides to find answers on your own.
WP Charitable Pricing
WP Charitable has a forever-free version that's available in the WordPress repository.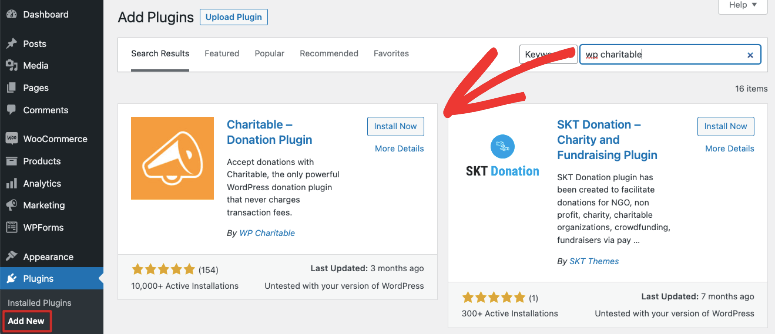 You can get started with the free plan and then opt to pay only for the extensions you need.
WP Charitable has also pre-bundled addons you would need at different levels. You can grab these bundles under 4 premium plans: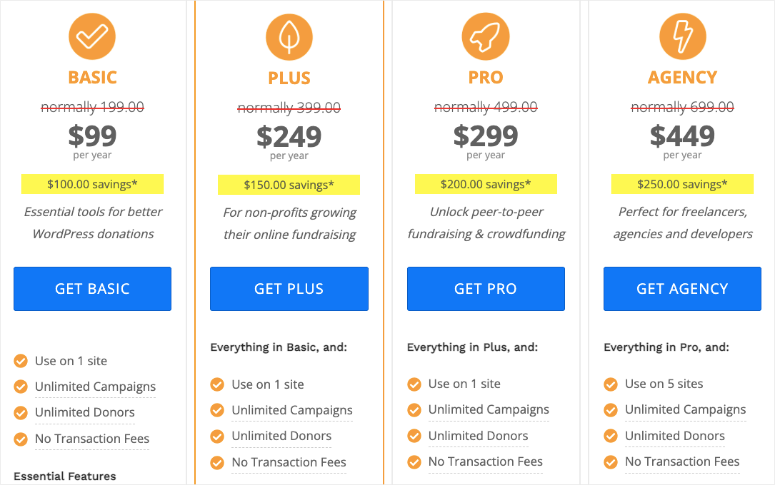 Basic: Costs $99 per year for 1 site license. You can enable a variety of payment gateways. It also gives you access to email marketing, PDF receipts, automation, and more.
Growth: Costs $249 per yearfor 1 site license. This grants you access to recurring donations, fee relief, annual receipts and gift aid.
Pro: Costs $299 per yearfor 1 site license. You'll also get peer-to-peer fundraising, crowdfunding, Stripe Connect, Zapier integration and more.
Agency: Costs $449 per year for 5 site license with the same features as the Pro plan. However, this includes multisite support and client management.
You'll get priority support on all plans. There's a risk-free 14-day money-back guarantee.
How to Use WP Charitable
You'll need a WordPress site to get started with WP Charitable.
If you don't have one yet, we recommend following our guide: How to Make a Website From Scratch (Step by Step).
What you need to know here is that you have to sign up for a web hosting plan and register a domain name.
We've worked out a great deal for you with Bluehost where you'll get a web hosting plan along with a free domain name, SSL, CDN, and professional email all in one. These plans start at just $2.75 per month.
Grab this Exclusive Bluehost Deal
Note: If you haven't picked out your donation website's domain yet, use Nameboy's Charity & Non-Profit Name Generator to find the perfect domain name that's available.
Once you have your WordPress site set up, you can install the WP Charitable plugin from inside the WordPress repository. From the menu on the left of your admin panel, select Plugins » Add New. Search for WP Charitable and install and activate the plugin.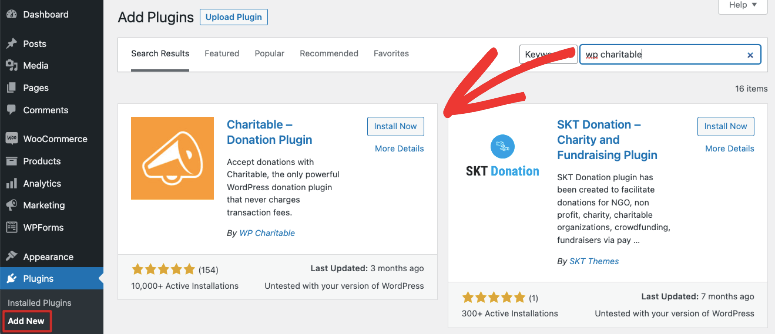 If you've purchased the premium plugin, you'll receive a zip file inside your WP Charitable account. You need to upload this file under Plugins » Add New » Upload tab.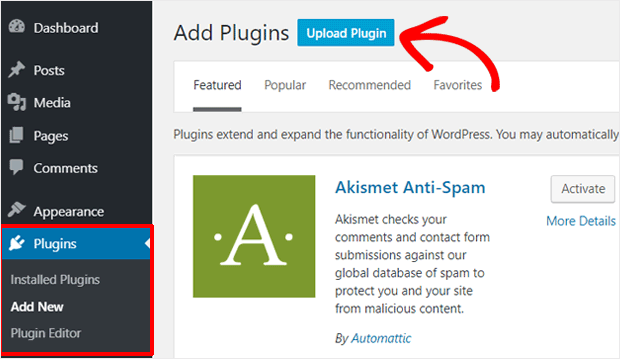 Then you can activate the plugin and get started with setting up your campaigns and payment gateway.
How Does WP Charitable Stack Up Against the Competition?
Below, we'll compare WP Charitable with top alternatives side by side so that you can see which is a better deal for you.
WP Charitable vs GiveWP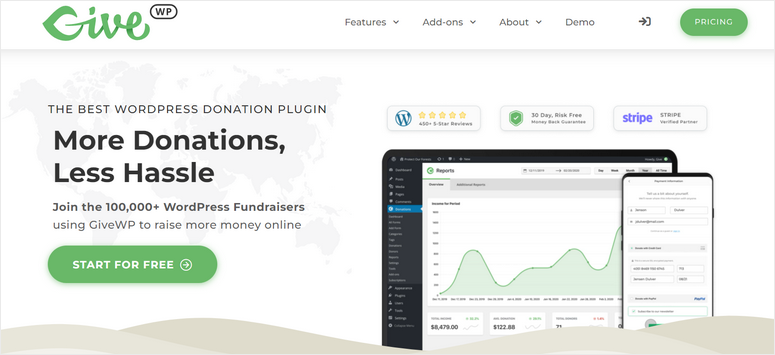 GiveWP is a simple and lightweight donation plugin. It lets you collect one-time and recurring donations. You'll get support for multiple payment gateways like PayPal and Stripe to accept donations for your cause.
GiveWP has a very limited lite version that's available for free in the WordPress repository. The premium plans start at $149 per year making it more expensive than WP Charitable.
You get way more premium features in the basic plan of WP Charitable for just $99 per year.
See our full review: GiveWP Review: Is It The Best Donation Plugin?
WP Charitable vs WPForms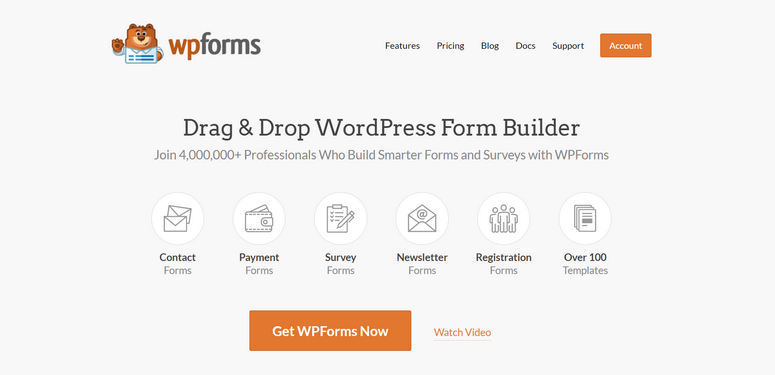 WPForms is a powerful form builder for WordPress.
You can use this plugin to create and add custom donation forms to your WordPress website with a donate button. You can get started with its donation form template and customize it according to your preference.
WPForms offers integrations with popular payment plugins like PayPal, Stripe, Square, and more to accept payments in all forms including credit cards. You'll want to connect to Stripe to get the option to add recurring donations.
The plugin also lets you send automated emails to your donors and admin to confirm their donation.
WPForms is a good alternative to WP Charitable although it isn't a dedicated donation plugin.
There's a free version of this plugin available. Paid plans start at $49.50 per year.
See our full review: WPForms Review: Is It Worth the Hype? [Must Read]
WP Charitable vs WP Simple Pay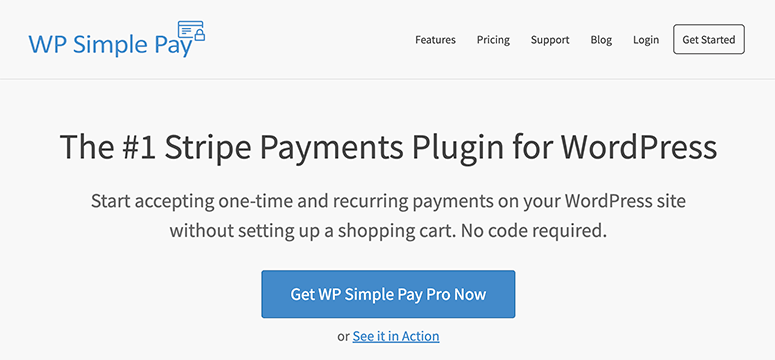 WP Simple Pay the best payments plugin for WordPress sites. It gives you a simple way to accept both one-time and recurring donations on your site without touching a line of code (no CSS, no Javascript, nothing!).
This recurring donations WordPress plugin comes with a user-friendly builder for creating donation forms in no time. You can simply drag and drop the form fields that you require and customize the form the way you want.
Once your campaigns are live, you can allow users to select a set donation amount or enter a custom amount according to what they want to donate.
You can also display customizable donation confirmation messages.
WP Simple Pay is a good alternative if you also plan on selling merchandise or products to raise funds. You won't need to set up an eCommerce store with a plugin like WooCommerce. With WP Simple Pay, selling will be much simpler.
The plugin starts at $49.50 for the Personal Plan to $299.50 for the Elite Plan. There's a 14-day risk-free money-back guarantee.
See our full review: WP Simple Pay Review: Is It the Best Payment Plugin?
Get Started With WP Simple Pay
For more options, see our list of the 7 Powerful Recurring Donation Plugins for WordPress Sites.
That's our review of WP Charitable. If you're ready to sign up for WP Charitable, click below:
Sign up for your 100% risk-free WP Charitable Account
Up next, you may want to create dedicated pages for your donation drives. Check out SeedProd – the best WordPress theme and page builder plugin.
You'll also want to see:
These posts will help you grow your non-profit website the right way.
We hope you found this guide helpful in deciding whether this plugin is right for you. WP Charitable is the best donation plugin out there to raise funds for your cause. Here's a breakdown of our rating:
Get WP Charitable Now »