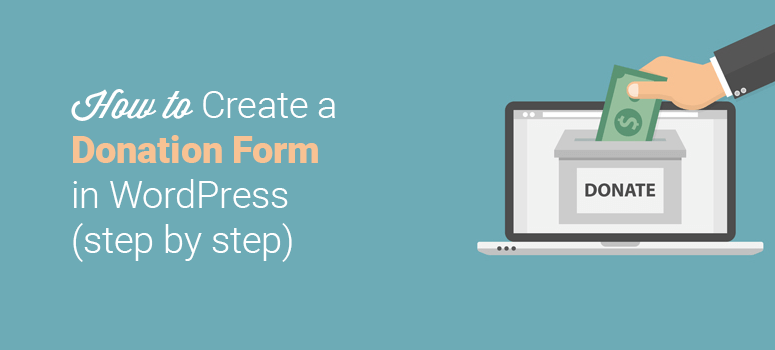 Are you looking to create a donation form in WordPress? Whether you're a nonprofit organization or just someone in need of a little extra help, adding a donation form to your website doesn't have to be a hassle.
In this article, we'll show you how to create a donation form in WordPress, step-by-step, the easy way.
How to Create a Custom Donation Form in WordPress
With its intuitive drag and drop builder, WPForms the best form creator for WordPress available on the market. Even a complete newbie can install it, activate it, and start building forms effortlessly.
To process payments on your donation form, you'll need either the PayPal or Stripe addon for WPForms. Both are included with the Pro version (and Ultimate version) of the WPForms plugin.
Step 1: Install and Activate WPForms
Before you can use WPForms, you'll have to get it. Makes sense, right? So head on over to the WPForms website and grab the Pro or Ultimate version. Download it, install it, and activate it.
Once that's done, you'll be ready to roll!
Not sure how to install and activate a plugin? No problem! We wrote a guide for that.
Step 2: Create a Donation Form in WordPress
To get started with your newly-activated plugin, click on WPForms » Add New.
Once the form page is loaded, feel free to name your form at the top of the page.
From there, you'll see a list of templates. Select the Donation Form template by clicking on Create a Donation Form.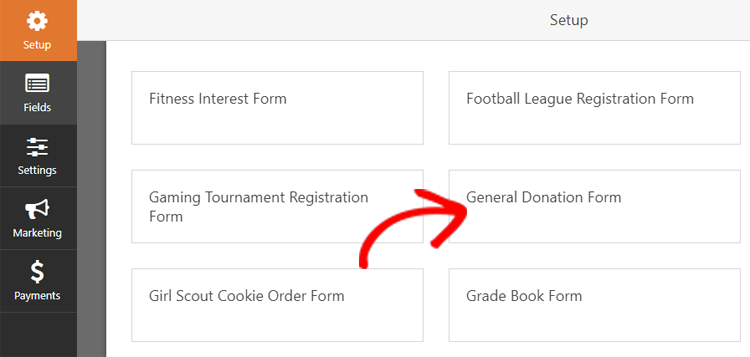 A message stating, "Don't Forget: Click the Payments tab to configure your payment provider" will pop up. Don't worry about this for now. We'll cover that in another step further along in this tutorial. Just click "OK" to get it out of your face.
By default, the donation form template you selected includes fields for:
Name
Email
Donation Amount
Comment or Message
In this template, the Donation Amount field is a Single Item field, which allows users to type in any amount they wish to contribute. However, for this tutorial, we'll show you how to change that field to a Multiple Choice field, putting you in control of the amounts users are allowed to donate.
To do this, click on the Multiple Items button under the Payment Fields section. Drag and drop the field above the Donation Amount field (if you intend on still allowing users to have an option to choose their own amounts; if not, place it wherever you like).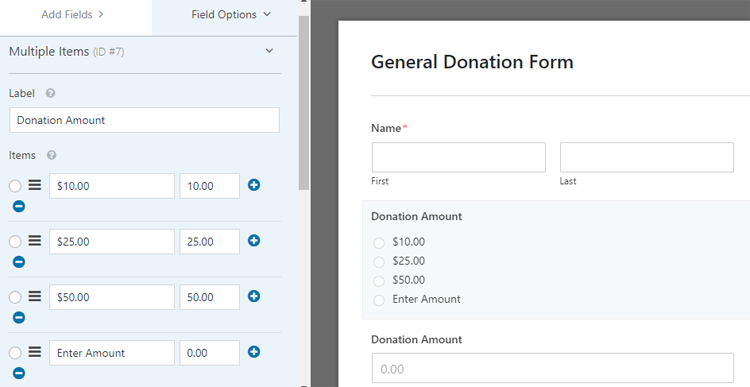 To edit the Multiple Items field, simply click on it. Rewrite the label to say "Donation Amount." From there, enter the increments you desire, and an "Enter Amount" option.
After you've done that, it's time to change the Single Item field to display only if the "Enter Amount" option is checked.
Select on the Single Item field by clicking on it. This will allow you to edit it. Make sure the "Required" checkbox is not selected, or your donors won't be able to use anything BUT this option (the multiple choice fields will become void).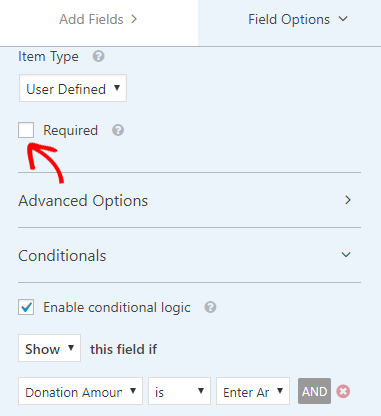 Click on the Conditionals section, a little further down on the editing panel. From there, click on "Enable Conditional Logic." Then configure it for "Show this field if Donation Amount is Enter Amount."
Once you're finished, Save your changes and move onto the next step.
Step 3: Set Up Payment Integration
Next, it's time to set up payment integrations. You can use either Stripe or PayPal. But, for this tutorial, we'll be showing you how to set up PayPal, since it's the most popular. Just keep in mind that setting up Stripe is practically the same process.
Since you're still on the form edit screen, you can simply click on the Payments tab on the left-hand side, and then click PayPal Standard.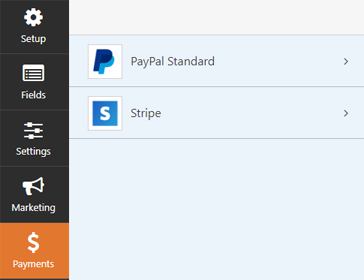 On the right-hand side of the screen, input your settings. First, check Enable PayPal Standard payments. Then, select Donation from the Payment Type dropdown menu.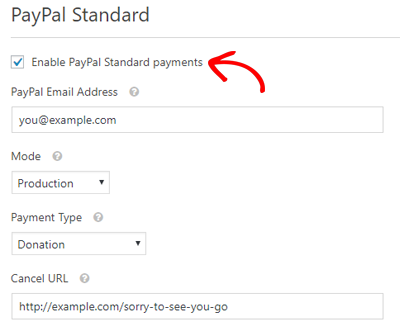 Directly below these configurations, you're given the option to send users to a URL if they cancel the checkout process. This is a fantastic opportunity to get them re-engaged with your website in other ways, by sending them to your subscribe page, a recent blog post, or a survey asking for feedback.
Click Save when you're done and head to the second-to-last step.
Step 4: Customize Your Notifications
This step is necessary to ensure your donors get a confirmation email after they donate to you.
Head over to Settings » Notifications to get started.
By default, a notification will be sent to you, the site administrator. But, by clicking Add New Notification, you can create a separate notification for the donor.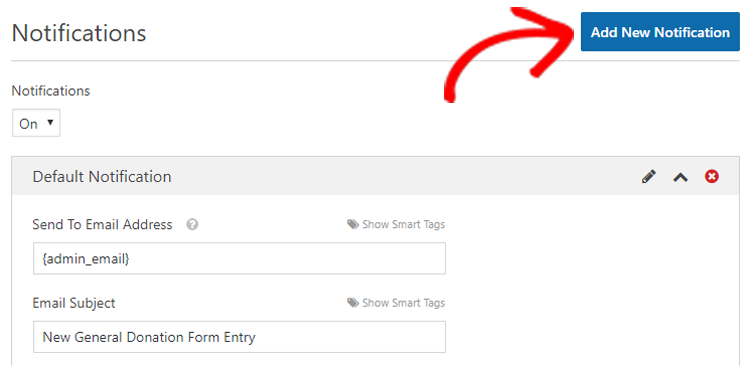 Name your notification. Then, next to Send to Email Address, click Show Smart Tags. In the list that pops up, choose Email.
From there, simply scroll down and customize the message you want your donors to receive.
Click Save and then head to the final step. You're almost there!
Step 5: Add Your Donation Form to Your WordPress Site
All that's left to do now is put the form on your website. You're nearly there!
You can embed your donation form into any post, page, or widget-ready area (sidebar / header / footer).
For this tutorial, we'll add the form to a page.
First, head to Pages » Add New. Title your page, and then click the Add Form button above your toolbar.

Select the donation form you created from the dropdown menu. Then give the Insert Form button a nice hearty click.
A shortcode will appear on your page. Feel free to add any text or images you want around it. When you're done, click the Publish button.
Viola! You now have a donation form on a page on your WordPress website!
Prefer to have your form in your sidebar? Not a problem. Simply head to Appearance » Widgets and drag the WPForms widget to your sidebar area.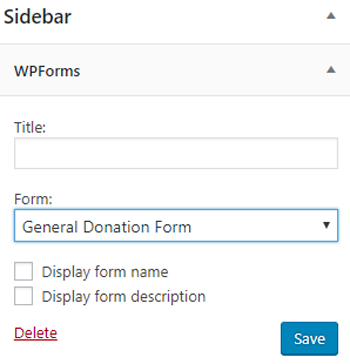 Select the form you made from the drop down menu in the widget's settings. Then, click Save. That's it! Now your donation form is in your sidebar.
We hope this post helped you learn how to create a donation form in WordPress. You might also enjoy reading 25 legit ways to earn money online blogging.