Are you looking for a reliable payment plugin to accept Stripe payments online? Do you want to know if WP Simple Pay is the best payment plugin for your site?
WP Simple Pay is a powerful Stripe payments plugin that lets you accept one-time and recurring payments from your WordPress site.
As the name suggests, WP Simple Pay offers an easy way to accept payments from customers securely without setting up an online shop.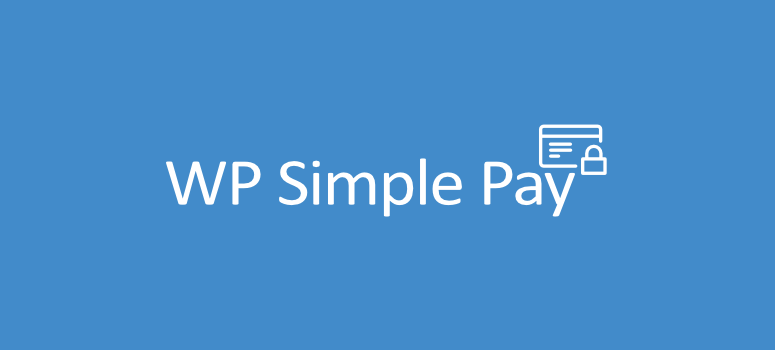 In this WP Simple Pay review, we'll discuss all the features, integrations, and pricing plans that the plugin offers. Also, we'll show you how to accept Stripe payments using the WP Simple Pay plugin on your site.
Here's what we'll be covering today:
So let's dive right in!
WP Simple Pay Overview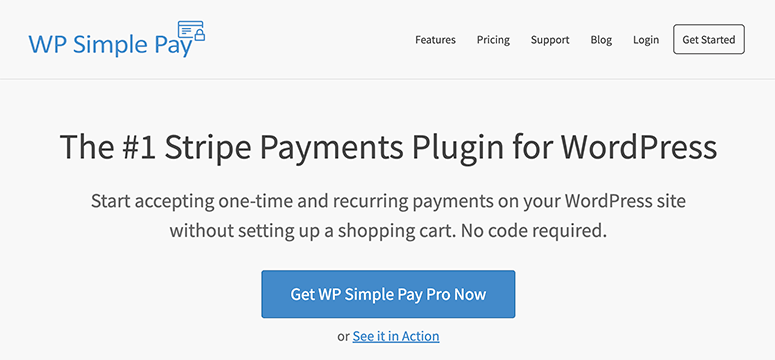 WP Simple Pay is a powerful payments plugin that lets you accept one-time and recurring Stripe payments on your WordPress site. And, all of that without having to set up a WooCommerce store and a shopping cart.
With WP Simple Pay, you can seamlessly integrate your site with Stripe payment service without hiring a developer. It comes with a user-friendly interface so anyone can start selling products straight from their website. No need to touch a single line of code.
Additionally, it lets you accept payments via Google Pay, Apple Pay, and other non-card payment services as well.
WP Simple Pay boasts a drag-and-drop payment form builder that lets you create payment forms to accept payments from your customers. You'll find many form fields like text, radio buttons, and coupon codes.
This means you don't need the help of a form builder plugin to create custom payment forms for your WordPress site. You also get tons of customization and payment settings that make selling products a breeze.
A free version of the plugin is available for everyone to use. However, users need to upgrade to premium versions to unlock advanced features such as pricing tables, design controls, and more.
With that, let's get started with our detailed WP Simple Pay review now.
WP Simple Pay Features
WP Simple Pay is packed with features that allow you to accept payments through Stripe in a few steps. We'll take a look at each of these features one by one.
1. Easy to Setup and Connect with Stripe
The best thing about WP Simple Pay is that it is beginner-friendly. Even if you're not tech-savvy, you can set up a Stripe payment page in minutes.
After signing up for an account, you'll find your download file along with your license key. To get started with WP Simple Pay, all you need to do is install and activate the plugin on your WordPress dashboard.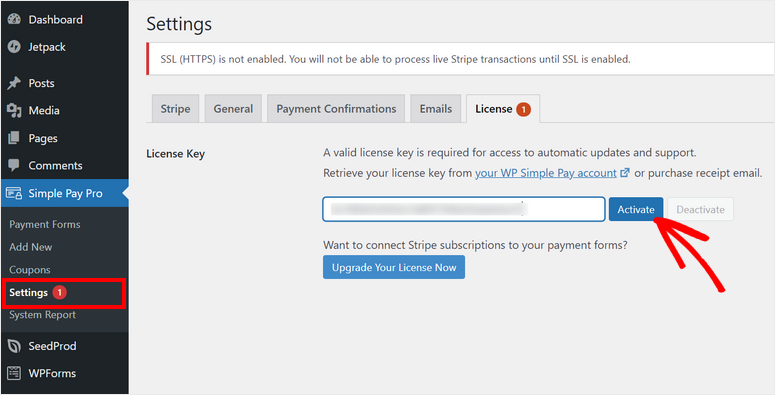 With WP Simple Pay, you can easily connect your Stripe account and start accepting payments without having to write any code.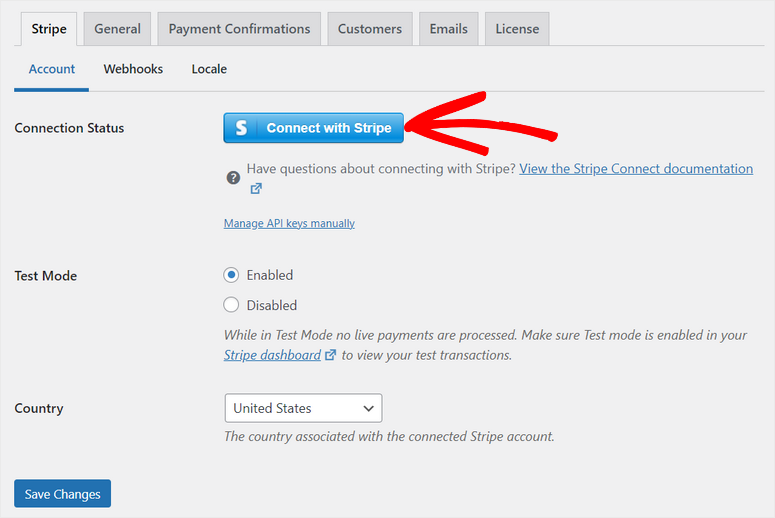 2. Drag and Drop Payment Form Builder
WP Simple Pay comes with a built-in payment form builder that lets you easily create customized payment forms with a Stripe payment method.
By default, a new payment form consists of form fields like:
Email Address
Price Options
Payment Method
Checkout Button
You can simply drag and drop the form fields to change the arrangements and click on the form fields to edit them.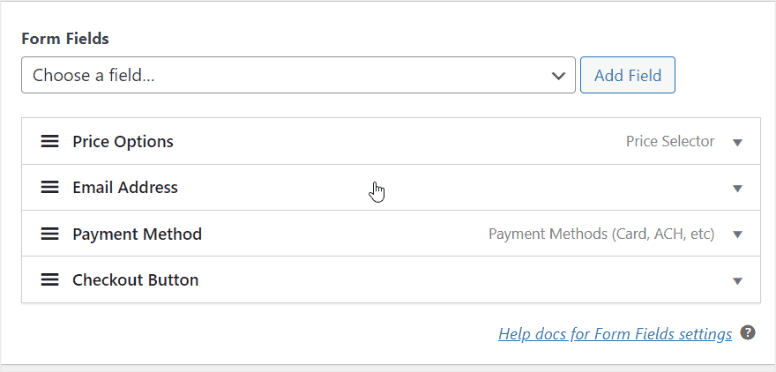 WP Simple Pay offers payment fields such as price selector, coupon code, custom amount input, and more. Along with this, you also get customer info fields like name, email, phone, and tax ID.
Additionally, the plugin lets you create custom fields for your payment form. For this, you'll find form fields such as:
Heading
Text
Dropdown
Radio Select
Date
Number
Checkbox
Hidden
You can customize these form fields and use them to collect additional information about your customers. These fields will help you improve your form checkout conversion rate.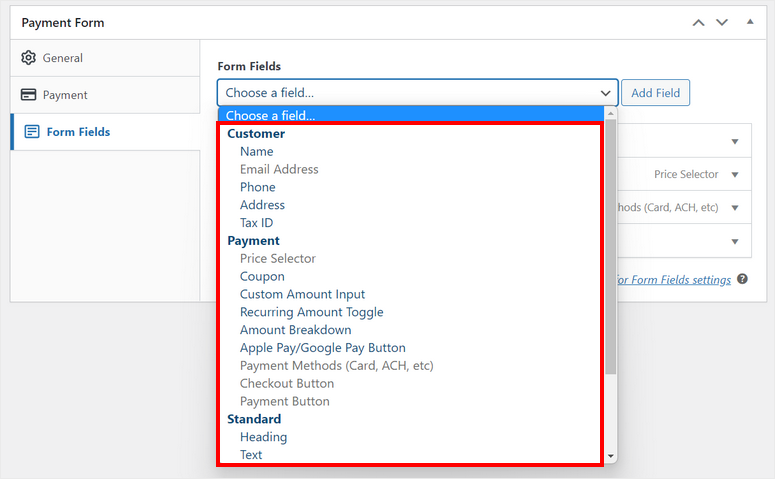 3. Create Unlimited Payment Forms
With WP Simple Pay, there is no limit to the number of payment forms that you can create. It lets you create and add multiple payment forms on your WordPress site like:
Stripe Checkout Forms
Donation Forms
Subscription Forms
Billing Forms
And much more
4. Form Display Types
WP Simple Pay offers 3 display format types for your Stripe payment forms. Two of these formats are fully customizable on your WordPress dashboard. Whereas, the last one is created on the Stripe payment service itself.
On the form builder, you'll see the General settings first. Here, you can add the form title, description and choose the Form Type.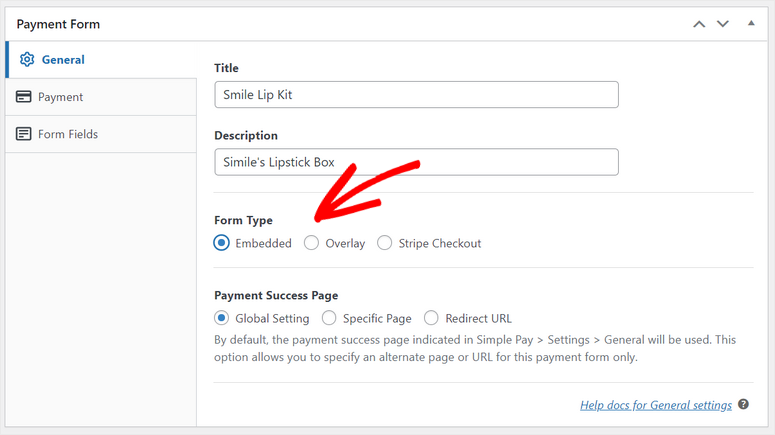 The available form display types are:
1. Embedded Form Display
This form type will directly display your payment form on the front end of your site. You can customize the form fields and add custom form fields as you like.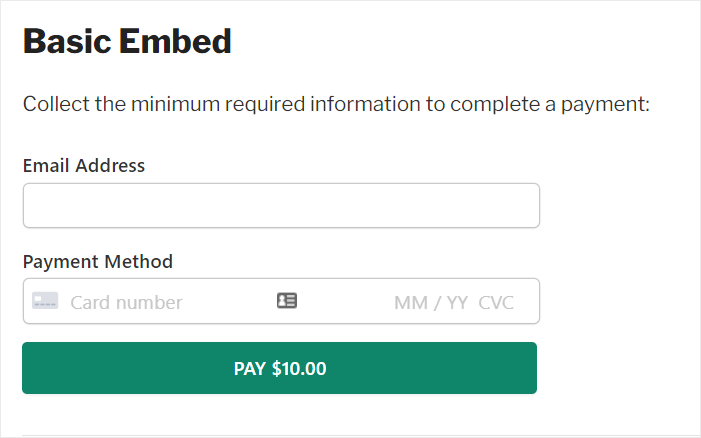 2. Overlay Display
If you choose the Overlay form type, a checkout button is displayed on the frontend. Once the user clicks on the checkout button, your payment forms are displayed in a popup window.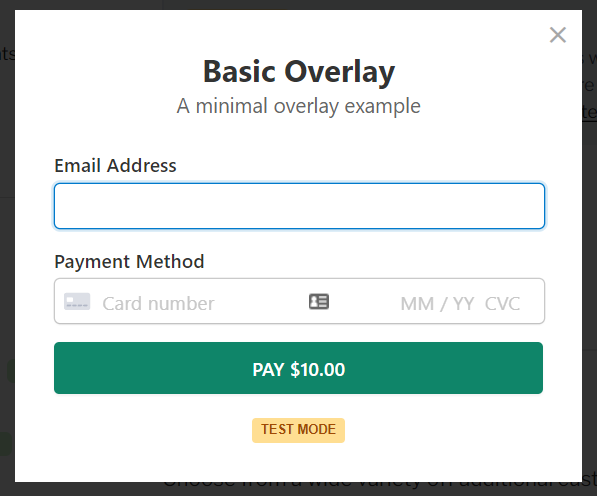 3. Stripe Checkout Display
Stripe offers fully-hosted payment pages for its users. These pages are managed by Stripe so you cannot customize them on your WordPress dashboard.
After users click on the checkout button, they will be redirected to the Stripe website to complete their payment.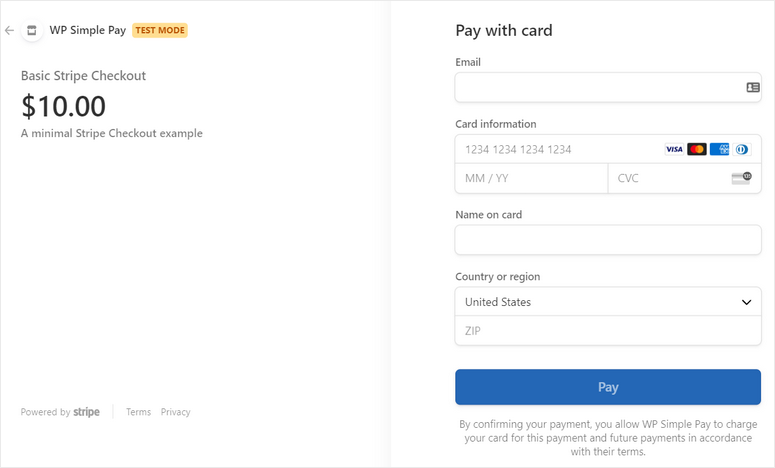 5. Apple Pay and Google Pay Buttons
What's great about this payment plugin is that it lets you add Apple Pay, Google Pay, and Microsoft Pay options on your payment forms. This makes it easier for mobile customers to pay from their smartphones, tablets, and other devices on the go.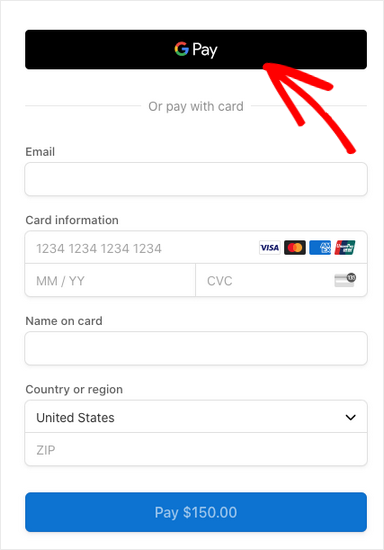 By default, the Apple Pay and Google Pay options are enabled for the Stripe Checkout Pages. However, you can change the settings from your Stripe dashboard if you want.
6. Non-Card Payments and Other Payment Methods
If you want to create a high-converting checkout page, then you need to add multiple payment methods other than card payments.
WP Simple Pay allows you to add non-card payment options to your payment forms. With the ACH Debit payment option, your customers can make payments directly from their bank accounts.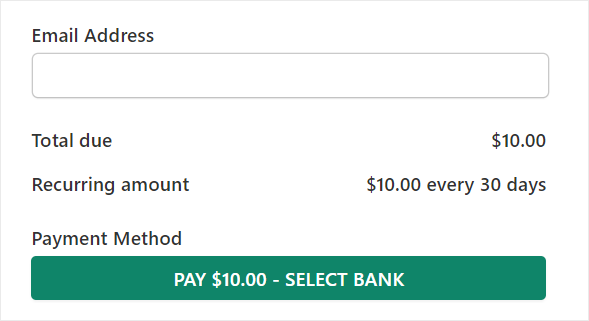 Like this, this plugin offers many payment methods that you can use to accept payments on your site with ease. Some of them are:
iDEAL
SEPA Direct Debit Payments
Alipay Payments
Bancontact Payments
Giropay Payments
Przelewy24 Payments
7. Allow Discounts with Coupon Codes
Coupons are a great way to get customers to complete their orders by giving them a good deal on their purchases.
Stripe lets you offer coupon codes for your payments. With WP Simple Pay, you can manage these coupon codes and add them to your payment forms.
On the Coupons tab, you'll see all your coupon codes. To create new coupons, you can configure code text, set percentage offer, duration, and more settings straight from your admin dashboard.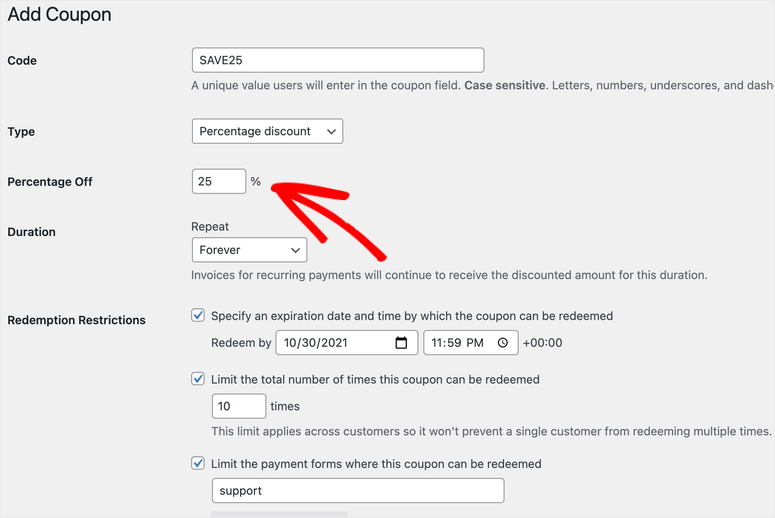 This way, your customers can enjoy the discount offers while completing their checkout process.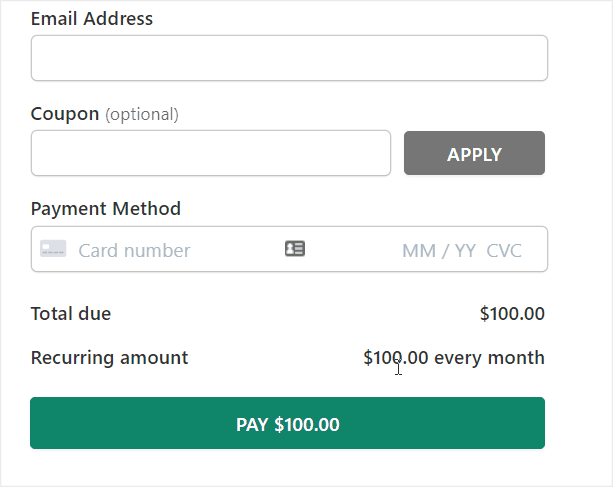 8. Setup One-Time and Recurring Payments
WP Simple Pay lets you accept one-time and recurring payments on your Stripe payment forms.
And, there is also the option to let your customers choose the amount of payment on the form. This feature helps accept payments in fundraising and donation forms.
One-Time Payments
On the Payment settings, you can easily add one-time pricing plans and enter the amount of your payment.
If you want to let the user choose the amount of payment, then just enable the Allow amount to be determined by user option.
With that, your customers will be able to choose the payment amount as per their requirements. You can even set the minimum amount for payments.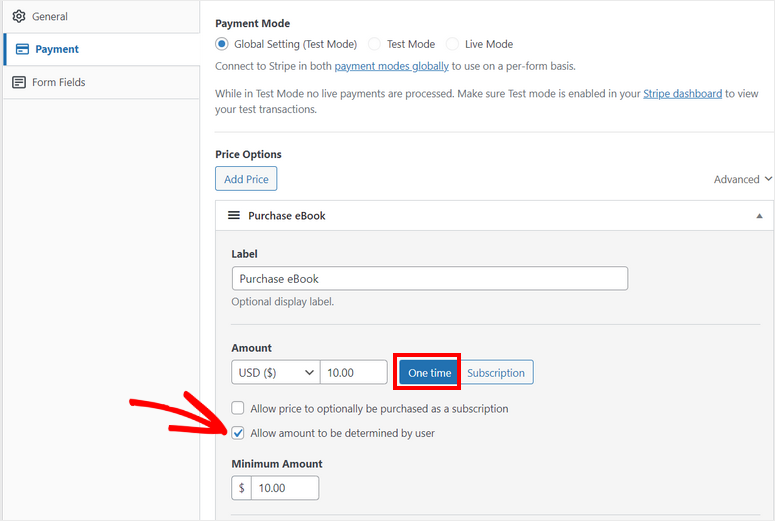 Recurring Payments (Subscription)
To set up recurring payments for your products, you can switch to Subscription payments with just one click. You'll find options to add billing period, invoice limit, and setup fee for your subscription plans.
Also, WP Simple Pay allows you to add a free trial period and set the number of days as well. This is great for businesses that offer a free trial for their premium pricing plans.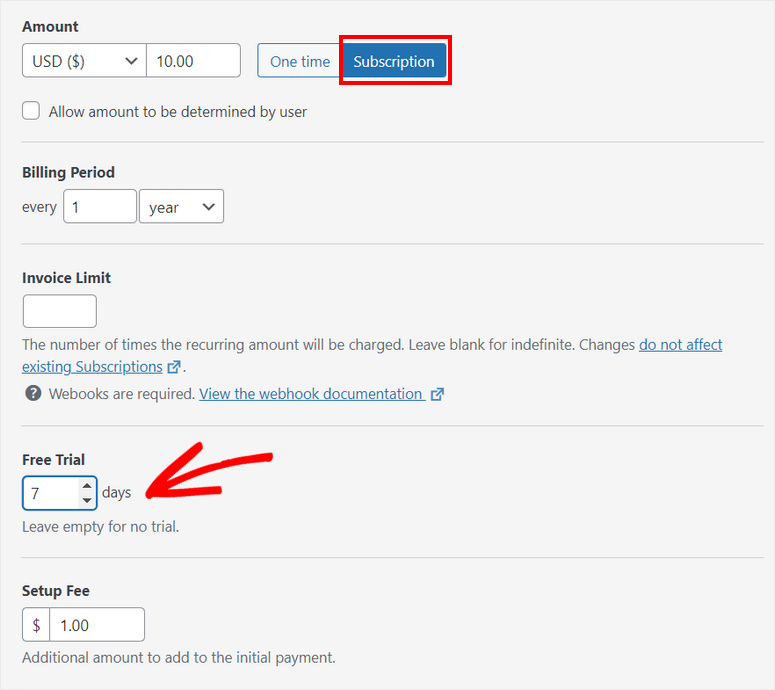 9. Third-Party Integrations
WP Simple Pay offers many integration options for businesses that want to add more functionalities to their payments forms.
It lets you connect with popular WordPress plugins such as Easy Pricing Tables, AffiliateWP, Zapier, and more. These integrations help to extend the functionality of your payment forms.
Let's have a look at the integration options:
Pricing Table Integrations
Pricing comparison tables are great tools that help to boost your sales and improve the user experience on your site.
WP Simple Pay lets you add eye-catching pricing tables for your payment plans with the help of tools such as Easy Pricing Tables Premium, Divi Buttons, and Elementor pricing tables.
Once you create your payment forms with multiple payment plans, you can connect with these plugins and tools to create professional pricing tables in a few clicks.
Create Affiliate Programs
AffiliateWP is the best affiliate management plugin for WordPress sites. With this plugin, you can create and manage your affiliate program right inside your WordPress dashboard. It helps you promote your products and build your online presence.
On the AffiliateWP dashboard, you'll find the WP Simple Pay integration option to connect your affiliate programs with Stripe payment forms. This way you can track your affiliates from your Stripe account and make payments easily.
Zapier Integration
Zapier is a great task automation platform that lets you connect with over 1,500 web applications. You can integrate your Stripe payment forms with Zapier and send the payment information to external services.
When customers complete a payment or sign up for a pricing plan, you can automatically send data to other apps such as Google Sheet, Mailchimp, and more.
How Does WP Simple Pay Fair Against Competitors?
Now, let's look at the advantages of using WP Simple Pay over other payment plugins available in the market.
1. Mobile-friendly
One of the best features of WP Simple Pay is that it is fully optimized for mobile devices. So your customers can make their payments on your site from any device.
It also offers Apple Pay and Google Pay options which means customers can pay directly from their mobile phones.
2. Built for WordPress
Living up to its name, WP Simple Pay makes it easy for WordPress users to accept payments on their site. It allows you to connect your Stripe account and create payment forms within minutes.
Each payment form that you create comes with a unique shortcode like this: [simpay id="209″].  To display your payment form on any page or post, you just need to insert this code into your text editor.
3. Secure and lightweight
Although WP Simple Pay lets you process Stripe payments, it doesn't store all the data on your WordPress site. So, this plugin doesn't slow down your site speed and performance.
And because all the payment processing happens in Stripe's servers, you can accept payments securely. Plus, this payment plugin also supports Secure Customer Authentication (SCA).
4. Accept payments and more
Along with the payment form builder and powerful integration features, WP Simple Pay offers other features that make your Stripe payments secure and easy.
Some of these features are:
Language and currency settings: The plugin supports over 26 languages and 145 currencies. So, you can set your local language and currency as per your preference.
Tax rate percentage: It lets you add the tax rate for the final amount in payment forms. This is applicable for both one-time and recurring payments.
Change date format: You can choose your preferred date format to match your site's region.
Customized payment confirmations: Select the page you want to redirect your customers after payment confirmation. WP Simple Pay also lets you customize your confirmation messages for one-time and subscription payment plans.
Spam protection: Enable the reCAPTCHA option in the settings to prevent any spam form submissions on your site.
5. Suitable for all types of users
WP Simple Pay is perfect for organizations of any size. Whether you want to sell digital products or accept donations, this payment plugin will fit your requirements without any trouble.
If you don't want to purchase a pro plan, you can start with the free version of the plugin. WP Simple Pay lite is available on the WordPress repository.
To get access to advanced features such as custom form fields, customization options, form display options, you can upgrade to a pro plan later on.
WP Simple Pay Support and Documentation
Customer support is one of the most important factors you need to consider when choosing a plugin for your site. So that whenever you run into any issues, you can ask for help instead of wasting time trying to fix it yourself.
WP Simple Pay offers priority email support for all premium users. Users can also access the documentation online which includes all the tutorials and user guides for the plugin.
WP Simple Pay Pricing
The free version of WP Simple Pay is available for everyone to use. If you want to upgrade to a premium plan, you have 3 options: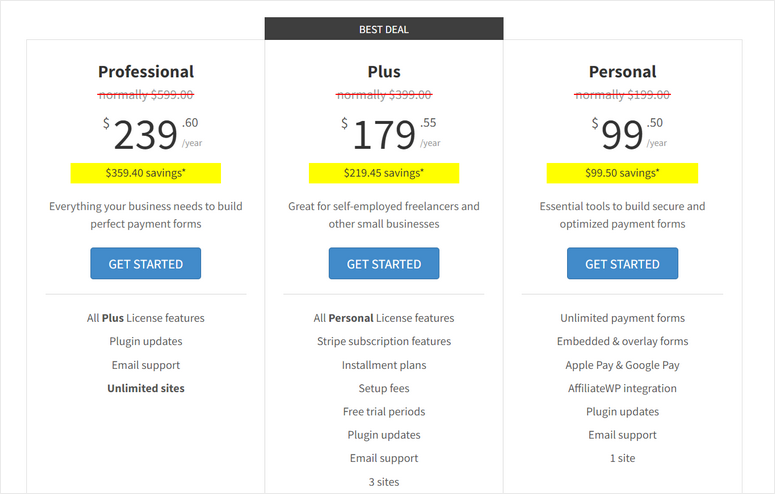 Personal Plan at $99.50: This plan is perfect for beginners and small business owners that are looking for a simple and secure method for accepting payments online. For 1 site, you get unlimited payment forms, Apple Pay & Google Pay integration, and more advanced features.
Plus Plan at $179.50: This includes all the features in the Personal plan plus additional features such as free trial periods, setup fees, Stripe subscription plans, and more. And, you can use this for 5 sites.
Professional Plan at $239.60: For unlimited sites, this plan is a great deal for large-sized businesses that require support for multiple sites.
Our Verdict: Is WP Simple Pay the Best Payment Plugin?
Without any doubt, WP Simple Pay is the best payment plugin for accepting payments on your WordPress site. It comes with an easy-to-use interface where you can create payment forms, manage your pricing plans and create coupon codes for your products.
We have discussed each feature that the plugin offers in the full WP Simple Pay review above. Among all, here are some of the notable features:
Drag and drop payment form builder
Stripe checkout page support
Form display options
Allow customer-selected amount
One-time and recurring payments
Add free trials and setup fees.
Discount coupon codes
Non-card payments support
Apple Pay and Google Pay buttons
Locale and currency settings
WP Simple Pay offers both free and pro versions. So if you're not ready to purchase a pro plan yet, you can test out the free version on your site. According to the requirements and size of your business, you can choose from the 3 pricing plans.
After doing a complete review, we recommend WP Simple Pay for all types of businesses. It is the most user-friendly and powerful payments plugin for WordPress.
We give WP Simple Pay a 5/5 star rating. Here's the breakdown of our review scores.
Get WP Simple Pay Now »