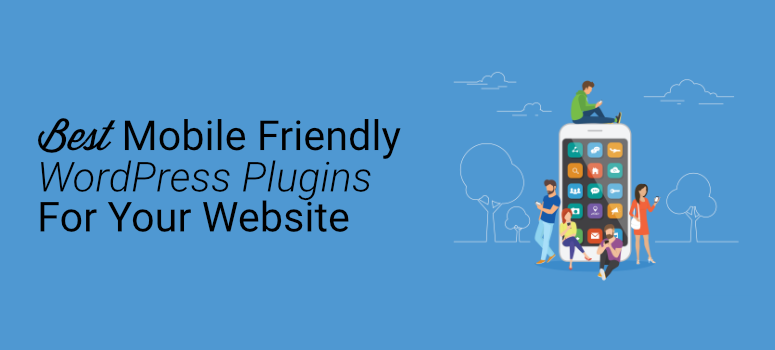 Do you want to make your WordPress website friendlier for mobile visitors but aren't sure which tools to use?
Using mobile-friendly plugins ensures that you give your site visitors a positive user experience no matter what device they're on. You have only seconds to grab a customer's attention and keep them engaged before they decide to move onto the next brand.
To make sure your site appeals to your audience under any circumstance, it's crucial to make it mobile-friendly.
In this article, we'll compare the best mobile-friendly plugins available for WordPress. But first, why should you use them on your website?
Why Use Mobile-Friendly Plugins on Your WordPress Site?
Over 90% of the global internet population use a mobile device to go online. With so many visitors navigating your site on mobile devices, it's crucial to make it mobile-friendly. This leads to increased user engagement and conversions that lead to purchases.
Aside from that, there are plenty of reasons why using mobile-friendly plugins on your site is important.
1. Boost Site Performance
When you make your site easy to use and navigated on mobile, people are more likely to stay longer. It boost site performance which leads to highger engagement and lower bounce rates.
2. Strengthen SEO
Search Engines, especially Google, put mobile-friendliness as a top ranking factor. If your site isn't mobile friendly, you may not rank well on desktop search results as well.
3. Drive Conversions and Sales
Many customers shop using their smartphones, so you want to make sure your website appeals to their experience. It's easier to drive traffic to your site and boost sales when you use tools for your site that are mobile-optimized.
Now that we know the benefits of having mobile-friendly tools on your website, let's look at the top choices currently on the market.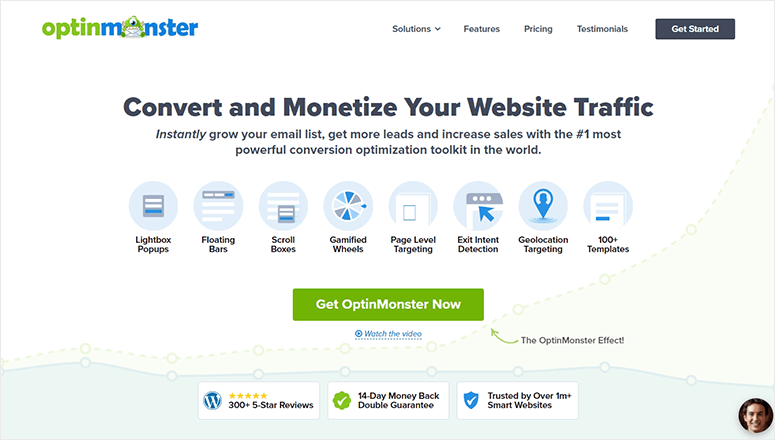 OptinMonster is the best lead generation plugin for WordPress and allows you to create mobile-responsive marketing campaigns for your site.
Creating a mobile campaign means you need to alter its messaging and design to ensure you appeal to non-desktop users. Users on mobile have an entirely different experience on your site than non-mobile users, especially when it comes to popups.
OptinMonster comes with premade mobile-friendly tempaltes to create popups, floating bars, slide-ins, inline forms and more. This ensures that your mobile popup campaigns don't disrupt the visitor's mobile experience.
Added to that, OptinMonster comes with a drag-and-drop interface making it easy for beginners to create optimized popups that boost conversions and engagement.
With OptinMonster's advanced targeting features, you can set campaigns to appear on mobile that are completely different from desktop.
OptinMonster makes it easy to appeal to your audience and drive more traffic to your website without disrupting their mobile experience.
Highlights
Optimize any exisiting campaign for smartphone and tablets
Create mobile-only campaigns in minutes
Add rules to target by device such as mobile, tablet, or desktop
Integrate with email marketing platforms
Get insights on real-time behavior and conversions
Get started with OptinMonster today.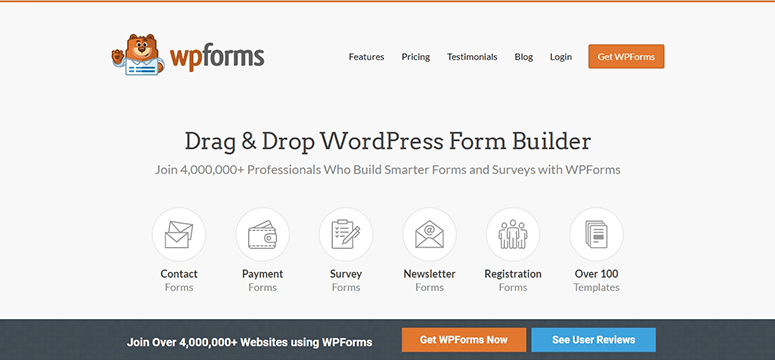 WPForms is the best contact form plugin for WordPress and lets you create mobile-responsive online forms for your website in minutes.
All forms are 100% responsive and make it easy for your site visitors to fill out. It comes with pre-built form templates that come with cross-browser compatibility. This ensures that your forms look great and respond well to users no matter what browser they're on.
It's easy to create optimized forms in minutes using the drag-and-drop builder which adapts to your settings and generates a mobile-friendly form layout.
WPForms also comes with powerful features like smart coditional logic, entry management, multi-page forms, spam protection, geolocation data, and much more. It also integrates with Stripe, PayPal, Zapier, Salesforce, ActiveCampaign, Constant Contact, Mailchimp, and others.
Highlights
No code required to make your forms responsive yourself
100% mobile responsive templates
Drag and drop form builder
Payment and email integrations
Built-in spam protection
Get started with WPForms today.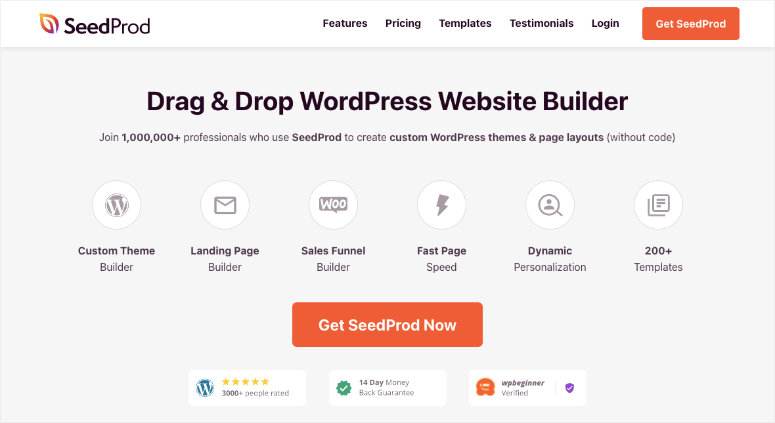 SeedProd is the best landing page builder for WordPress and lets you create optimized, mobile responsive landing pages for your website.
With its drag-and-drop builder, you can easily add elements to your landing page without needing to know any code. Choose from 100+ responsive, pre-built templates and add blocks like login forms, contact forms, optin forms, and more.
SeedProd's visual editor comes with mobile and desktop editing so you can view how your page looks on different devices. Any page you create with SeedProd is 100% mobile-friendly and won't disrupt your visitors' experience.
You can also create other types of pages including maintenance pages, 404 pages, coming soon pages, and more.
For eCommerce stores, SeedProd provides options for a WooCommerce checkout, cart, and product gallery blocks. Some of its advanced blocks include animated headlines, countdowns, social profiles, Google Maps, navigation menus, and more.
Highlights
Templates, smart blocks, and sections to create pages in minutes
Easy to use interface for easy customization
Premium email integrations with popular services like Constant Contact
Spam and Captcha protection to block hackers and spam bots
Get started with SeedProd today.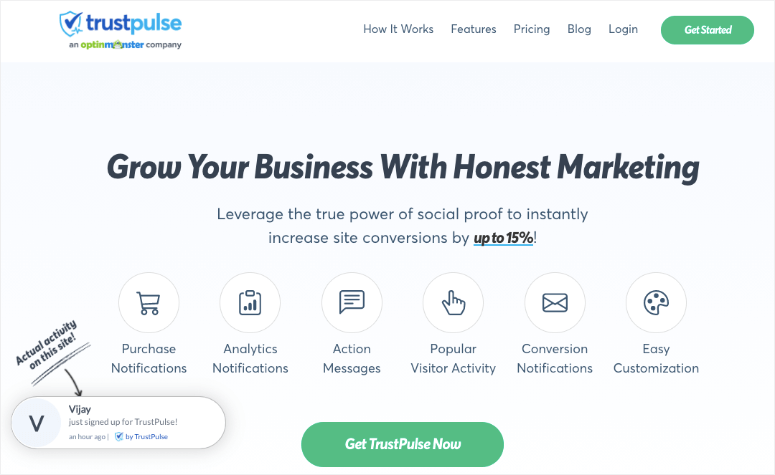 TrustPulse is the best social proof notification plugin for WordPress. It allows you to create and display live notifications on your website alerting visitors to discounts, customer activity, sales, newsletter signups, and more.
The notifications you create with TrustPulse are 100% mobile friendly and display clearly on any device.
Setup takes less than 5 minutes and you don't need to do any coding or hire a developer. And you can customize your notification's message, colors, images, and more to match the branding of your website.
This tool works with all popular website platforms including WordPress, Shopify, WooCommerce, Squarespace, and others.
To top it off, TrustPulse also comes with analytics so you can monitor the performance of your notification campaigns and make any necessary tweaks. Track your conversion goals and identify your highest and lowest-converting campaigns.
Highlights
Enable campaigns to load on mobile with one click
Create recent activity, analytics and custom message notifications
Track conversions in real time
Set up in 5 minutes with no code needed
Get started with TrustPulse today.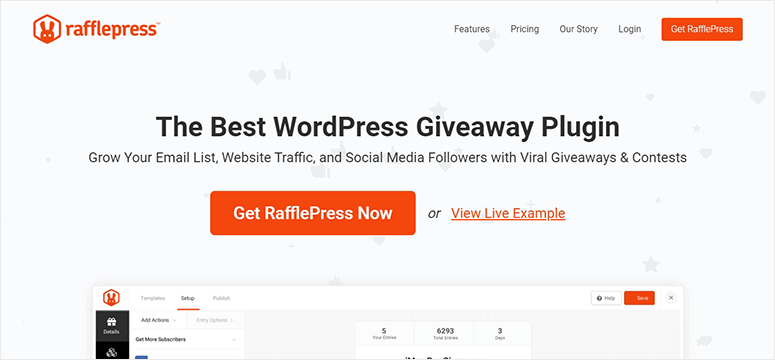 RafflePress is the best contest and giveaway plugin for WordPress. It helps you create mobile-responsive giveaway campaigns that drive traffic, sales, and engagement for your business. No matter how users view your campaigns, they're sure to look stunning on any device.
RafflePress' drag-and-drop builder makes it easy for anyone to create a mobile-friendly contest campaign without writing any code. It comes with pre-built templates and more than 20 entry actions such as visiting social profiles, referring a friend, automatic entry, submitting images, leaving comments, and more.
RafflePress integrates with popular email marketing services and tools such as Constant Campaign, AWeber, Campaign Monitor, ActiveCampaign, Mailchimp, Zapier, and more.
Highlights
100% responsive meaning it works great on mobile, tablets, and desktops
Automate word of mouth marketing with refer-a-friend feature
Integrate with social media, marketing, and CRM platforms and tools
Create distraction free landing pages for giveaways
Track and retarget visitors to maximize conversions
Get started with RafflePress today.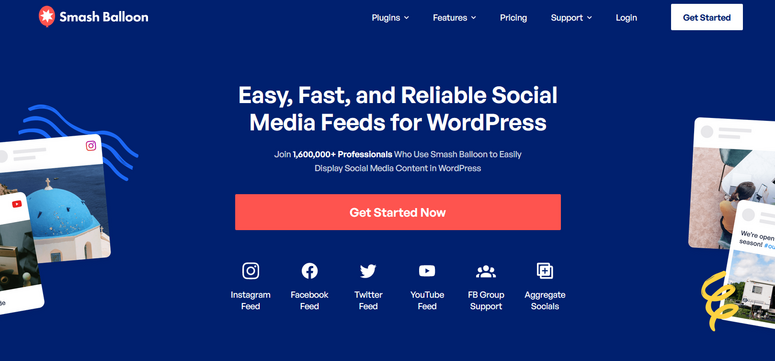 Smash Balloon is the best social media feed plugin for WordPress. It makes your social feeds mobile-friendly so they're easy to display on your website and drive traffic to your social profiles.
Smash Balloon gives you full control over how you display your social content so it looks beautiful on your site. It automatically adapts to your fonts, styles, and themes and is 100% mobile responsive so it looks great on an device. You also don't need to do any coding on your own or hire a developer. This makes SmashBalloon beginner-friendly so anyone can use this tool.
All social media content is SEO friendly and embeds directly on your web page which improves your search engine rankings. It also has an intelligent caching and backup system so even if the social media platform has an outage, it still displays on your website.
Highlights
100% mobile responsive and looks beautiful right out of the box
Displays feeds from Facebook, Instagram, Twitter, and YouTube
Combine multiple feeds and accounts
Lightweight so your website loads superfast
Feed adapts to your WordPress theme, fonts, and style
Get started with Smash Balloon today.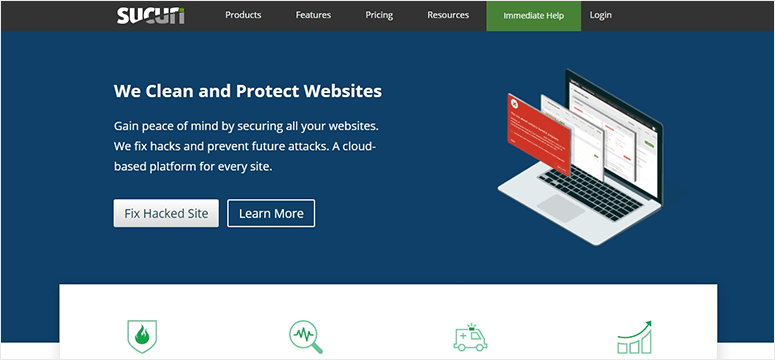 Sucuri is the best security and firewall plugin for WordPress. It protects your website against malicious software, bots, potential threats and attacks, bots, and more.
Sucuri is 100% mobile responsive and protects your site no matter what device users are on. Its website malware scanner looks for signs of malware and indicators of compromise (IOC) to protect your site from attacks before they occur.
Sucuri also comes with an SEO spam scanner discover spam on your site before search engines do to improve your rankings.
Sucuri's caching options and global content delivery network (CDN) quicken your site speed to provide a positive user experience. It ensures that your site is up and running 24/7 no matter what errors or issues it encounters.
Highlights
Scheduled and automated malware scans
Monitoring to identify threats and vulnerabilties
Repair and prevent hacks
Powerful firewall to block attackers before they reach your site
Get started with Sucuri today.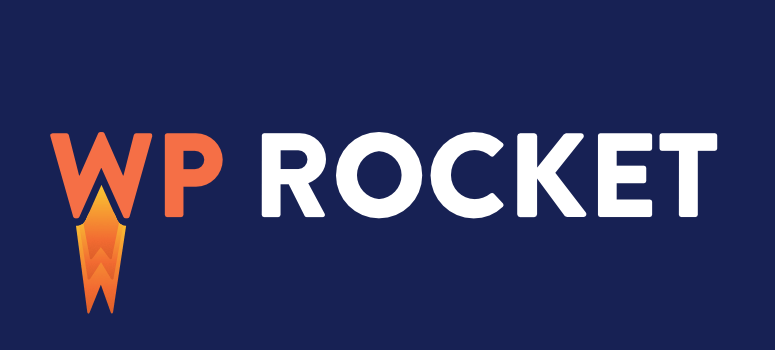 WP Rocket is a popular, open-source caching plugin for WordPress. It's completely mobile responsive and beginner-friendly so anyone can benefit from its powerful features.
With WP Rocket, you can cache your site, improve its site speed, optimize eCommerce content, compress web pages on the server, and decompress them in the browser. It applies lazy loading to your images so they load only when they're visible to visitors. This saves users bandwidth so you can tweak the display of images and iframes on your site.
WP Rocket is compatible with most popular WordPress themes and plugins and it works with the top managed WordPress hostings so it's easy to integrate into your site as it is.
Highlights
Auto applies recommended performace optimization measures
Instantly improve website speed
Easy to setup and use
Built-in image compression tool
Get started with WP Rocket today.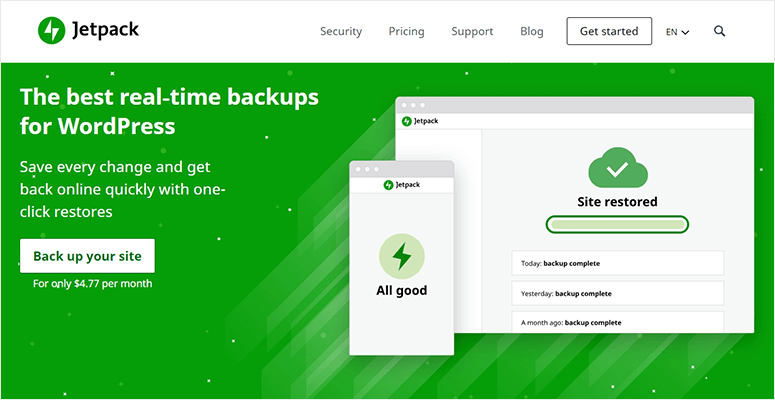 Jetpack is a multipurpose plugin that comes with powerful features to improve your site performance. It enhances security and optimizes your site for mobile so it works well on any device.
With Jetpack, every theme is mobile-friendly. This means your website will automatically adjusts itself to look good on any device.
JetPack is ad-free, high speed, and performs real-time backups. It comes with unlimited storage and you can restore your site in one click.
Jetpack also blocks spam comments, protects against brute force attacks, monitor's your site's uptime and downtime, and performs automatic updates for easy site maintenance and management.
Highlights
All in one mobile friendly solution
Pay for what tools you choose to use
Speed enhancements to rank higher on Google
Free global CDN to deliver content instantly
Instant site search to help your visitors find your products and content
Auto‑share posts and pages to social media
Get started with Jetpack today.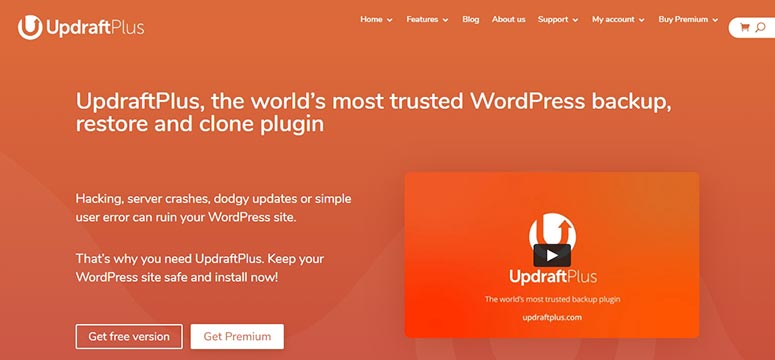 UpdraftPlus is a popular backup and restoration plugin for WordPress.
If you want to provide a seamless mobile experience, then you need to have a backup copy available at all times. When your site goes down due to error, malfunction, or a hack, you can quickly restore your site using your backup.
UpdraftPlus lets you set up manual, scheduled, or full backups of your data and files including themes and plugins. It backs up limitless non-WordPress files and external databases and can backup sites up to 100GB.
UpdraftPlus uses a method called incremental backups. This means it backups your website in small chunks so that the process is light and doesn't add any load to your site. This means your mobile-friendly site will always be at optimal performance even when heavy backup processes are happening in the background.
With this plugin, its easy to locate your backup data by organizing it into categories and accessing them via your WordPress dashboard. It also comes with remote storage options so you can back up your data through Dropbox, Google Drive, Amazon Web Services, and more.
Highlights
Complete backup of WordPress files, databases, plugins and themes
Restore backups directly from your WordPress control panel
Optimized for performance so it doesn't slow down your site
Multiple storage options so you never lose your backup
Get started with UpdraftPlus today.
And there you have it! These are the best mobile-friendly plugins you can use for your WordPress website.
Now that you have a mobile responsive website, you can explore more tools to grow your website. We've handpicked these resources for you:
These posts will give you more ways to skyrocket your traffic and leads. The last one will help you set your site on autopilot so you can focus on growing your business.