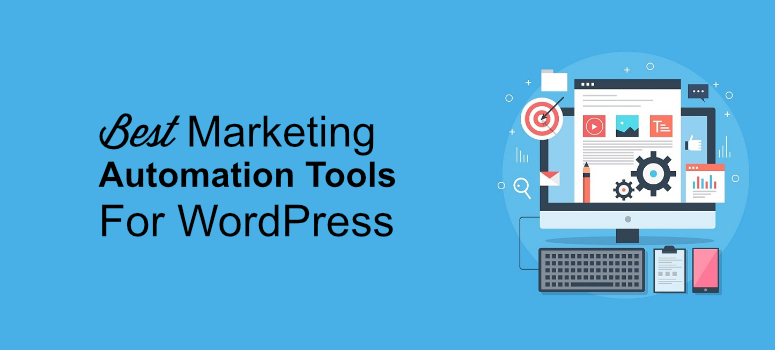 Are you looking to lighten your workload and scale your website with automation?
Marketing automation tools make a great addition to your business strategy. It lets you put repetitive tasks on autopilot so you can free up your schedule and focus on growing your website.
Below, we've curated a list for you of the top marketing automation tools for WordPress. But before we dive into the list, let's take a quick look at what these tools can help you with.
Why Use Marketing Automation Tools
Marketing automation tools help you streamline your tasks and workflows. This helps you stay organized and get more done with less time.
The most popular automated task is to create and trigger welcome emails to onboard new subscribers. But there's so much more to it! You can automate lead generation, social media feeds, online review requests, analytics, and the list goes on.
So there are plenty of reasons why marketers like you should use these automation tools. These include:
Reduce manual and repetitive tasks
Keep users engaged in your brand
Shift your focus from your regular tasks to strategizing on how to improve your business
Get a detailed picture of potential customer behaviour
Now that you know what automation can help you with, let's go straight ahead to the best marketing automation software that'll help you save your time and explode your business growth.
Best Marketing Automation Tools for WordPress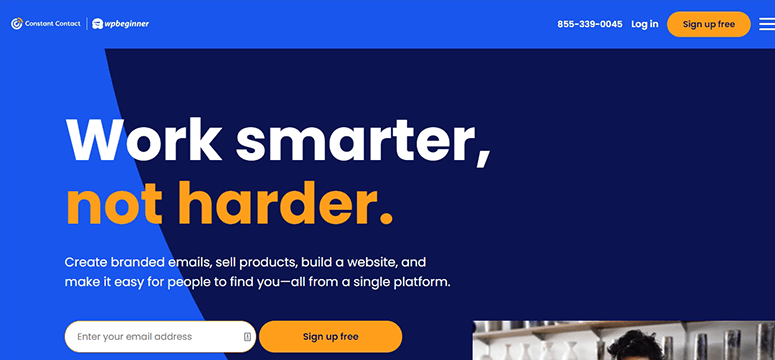 Constant Contact is a beginner-friendly email marketing automation tool to keep your audience engaged and build strong relationships with them.
With Constant Contact, you can go beyond weekly emails and connect with customers in new ways by sending them coupons, surveys, donation requests, events, and more. Plus, it comes with a user-friendly interface so anyone can use it, even beginners.
Constant Contact makes it easy to trigger emails that are sent to customers when they sign up or when they reach a certain milestone in their journey.
Added to that, all your leads can be segmented and organized so you can make sure that your emails are sent to subscribers based on what they signed up for such as a webinar, newsletter, or eBook.
ConstantContact offers beautiful pre-built email templates that can be used right away or customized to suit your marketing and sales goals. You can personalize and schedule emails so you can get great results without spending all your time on email marketing.
Highlights
Drag and drop builder to design beautiful emails
Drip campaigns like welcome email camaigns for new subscribers
Automatic resend option for non-openers
Real-time analytics and reporting
Various integrated marketing services
Easy integration with WordPress
Dynamic signup forms
These are just a few features though Constant Contact offers a lot more than just this.
For more on Constant Contact's marketing automation tools, we have a detailed review that you can read: Constant Contact Review.
Cost: Starts at $20 per month. Pricing changes based on the number of contact you have. You can get an extended free trial using our exclusive Constant Contact coupon code for IsItWP users.
Get started with Constant Contact now!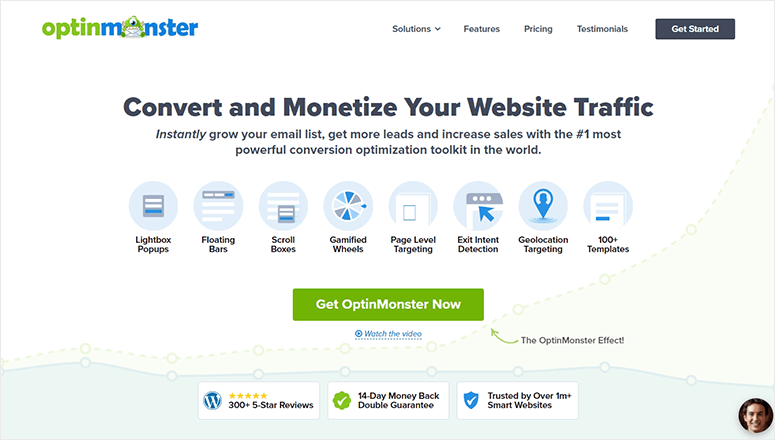 OptinMonster is the #1 conversion optimization toolkit for WordPress. It let you create targeted campaigns to grab a user's attention and get them to take action like signup or buy!
OptinMonster comes with 50+ beautiful templates and plenty of campaign options like lightbox popup, a full-screen welcome mat, floating bars, gamified wheel, and more.
What really stands out about OptinMonster is it's targeting rules. This lets you trigger campaigns based on how a visitor behaves on your site. So for instance, you can show a campaign if they are:
Viewing a specific URL
New or returning
Exiting your website
Adding a product to cart
Inactive for a while
With OptinMonster, you can create highly targeted campaigns that will run on their own. You can also integrate with your favorite email service provider like Constant Contact. Then all your leads will be added to your email account without any work from your end.
Highlights
50+ premade templates and a drag and drop builder
Easily create evergreen campaigns
Schedule campaigns to run for specific time periods and dates
Powerful targeting rules and behavior automation
Redirect traffic to important pages
Test and adjust in real time
Analytics and insights to make data driven decisions
OptinMonster has scalable plans making it the most afforable automated lead generation solution for large and small businesses, bloggers, and eCommerce stores.
Learn more about OptinMonster and its marketing automation features here: OptinMonster Review.
Cost: Starts at $9 per month.
Get started with OptinMonster now!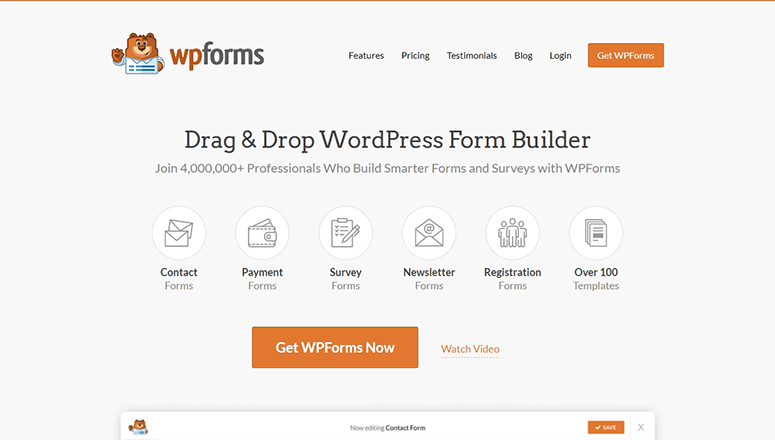 WPForms is the best drag and drop form builder plugin for WordPress. It lets you create any kind of form including contact, registration, and login forms. You can even run surveys and polls to collect customer reviews and feedback.
The plugin offers beautiful and responsive form templates that can be used as they are or can be customized to meet your business needs. With this plugin, you can create single or multiple page forms that can support file uploads and payments as well.
Once the form is created, you can add it anywhere on your site using the WPForms widget available for WordPress. This means you can add the same form wherever you like without having to recreate a new one.
Added to that, WPForms integrates with popular email services and payment gateways. With these connections, you can have all your leads sent to your email account. You can also take orders and collect payments.
What we love about WPForms is its smart conditional logic feature. This lets you automate your form questions based on a user's response. So you can shorten forms and ask different follow-up questions to keep them relevant.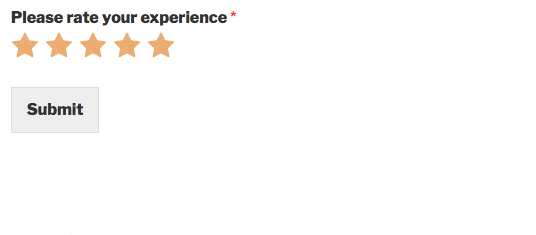 WPForms also comes with built-in automated notifications for you and your marketing and sales team. You can customize and schedule these notifications to stay updated on form entries.
Highlights
Prebuilt form templates
Create automated conversational and smart logic forms
Automatic form notification
Built-in spam protection
Powerful integrations with email and payment gateways
Track user form journey
For more on this, read our detailed review of this marketing automation tool: WPForms Review.
Cost: There's a lite version that's free. Paid plans start at $35.90 per year.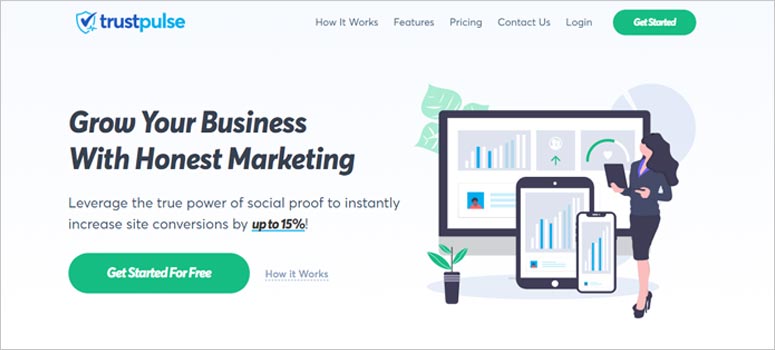 TrustPulse is the best social proof notification app that helps you gain the trust and confidence of shoppers. It's proven to instantly drive conversions by upto 15%.
TrustPulse is easy to set up and once you do that, it will automatically capture activity on your site like recent sales and signups. Then it creates non-intrusive popups to showcase this as social proof.
These social proof popups add a sense of FOMO (fear of missing out) to your site so people will be encouraged to take action since they see others doing the same.
Plus, TrustPulse comes with smart targeting features that let you display your social proof to the right person at the right time.
Highlights
Add customized messages to draw user's attention
Display recent activity and group statistics
Easy customization and targeting options
Set-and-forget campaigns
Zero coding needed
For more on this marketing automation tool, read our detailed review of this plugin: TrustPulse Review.
Cost: Starts at $5 per month.
Get started with TrustPulse now!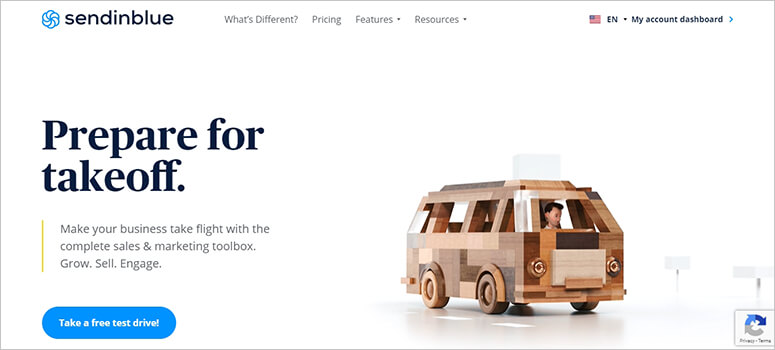 SendInBlue is an all-in-one marketing solution that's affordable and gives you access to a full suite of email automation tools.
It includes everything you need for your business like CRM, marketing automation, transactional emails, SMS, landing pages, Facebook ads, and more.
Sendinblue comes with premade automated workflows for common scenarios. So you can set up triggered and scheduled email automation recipes in a few minutes.
Highlights
Create and send customized, personalised and targeted emails
Add SMS marketing and chat to your customer communication
Create beautiful landing pages to attract your leads
Retarget abandoning users
A/B testing and user journey insights
Want to know more about Sendinblue's marketing automation tools? Check out the following detailed post: Sendinblue Review.
Cost: Get started for free with up to 300 emails per day. Paid plans start at $25 per month.
Get started with SendInBlue now!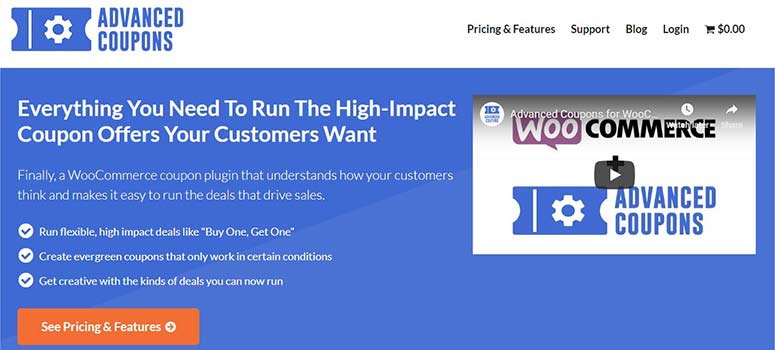 Advanced Coupons is a WooCommerce coupon plugin that lets you automate your online coupons and deals. You can set cart conditions and criteria that need to be met for a customer to become eligible for a coupon.
The coupons can be scheduled and auto-applied to a shopper's cart. This helps automate your coupon marketing strategy and encourage shoppers to complete their order.
Advanced Coupons also lets you add loyalty programs, offer URL coupons, create BOGO deals, and do a lot more.
Highlights
Easy set up even for beginners
Scheduled and auto-applied coupons
BOGO deals and loyalty program
Cart conditions for coupons
For more on this, read our detailed review of this plugin: Advanced Coupons Review.
Cost: Starts at $59 per year.
Get started with Advanced Coupons now!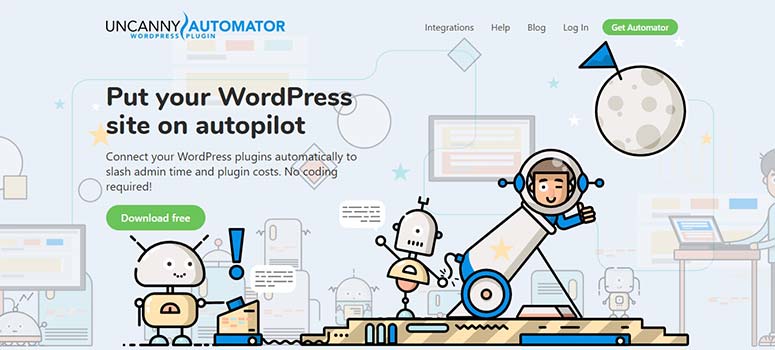 Uncanny Automator is one of the best automator plugins for WordPress. It lets you create automation recipes to put any combination of tasks on autopilot and slash admin time.
With Uncanny Automator, you simply need to choose your trigger to start the automated recipe. There are dozens of plugins and thousands of apps to choose from.
Then you'll need to set up actions that are performed when the trigger takes place. So for instance, if someone creates an account on your website, you can use that as a trigger to perform tasks like:
Create a new user role
Add them to a membership plan
Enroll them in all eligible online courses
Grant them forum access
Combine these lead nurturing features with the marketing automation tools from Uncanny Automator, and you have a recipe to improve user experience and grow your business fast.
To learn more, you can check our complete Uncanny Automator review!
Highlights
Integrates with thousands of plugins and apps
Easy to use dashboard
100+ atuomation triggers and actions
Delay and schedule actions
Cost: You can try the lite version for free. Paid plans start at $149 per year.
Get started with Uncanny Automator now!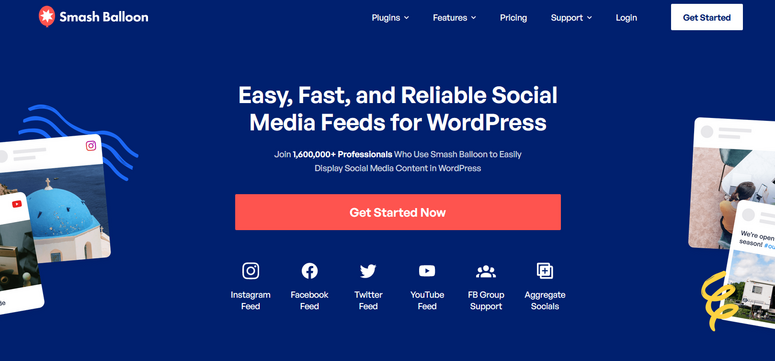 Smash Balloon is hands down the best social media feeds plugin to display your social media content on your site.
You can connect to your Facebook, Instagram, Twitter, and YouTube accounts. Then Smash Balloon will automatically fetch your posts and display them in neat layouts on your site.
You can use Smash Balloon to display individual feeds or combine them to create a powerful social wall.
Smash Balloon lets you customize every aspect of your feed including which posts are picked up and which ones are left out of your feed. There are filters you can apply to select posts by hashtag, post type, and more.
With Smash Balloon, you can leverage your social media content to keep website visitors engaged. It also helps build trust as they see you have an active social media presence.
If that's not enough, Smash Balloon even lets you display social share and follow buttons. This means you can target your website traffic to gain more social media subscribers and boost engagement. It's a win-win for both platforms.
Highlights
Beautiful premade layouts that are customizable
Responsive social media feeds that look good on all devices
Easy set up and WordPress integration
Lightweight with smart caching for maximum speed
For more on this, read our detailed review of this plugin: Smash Balloon Review.
Cost: Starts at $49 per year.
Get started with Smash Balloon now!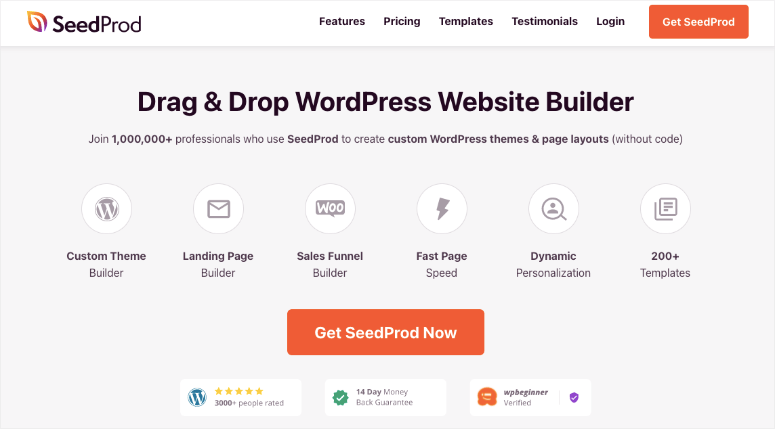 SeedProd is the best landing page builder for WordPress.
You can use SeedProd to create stunning landing pages to automate your webinar signups, newsletter subscriptions, product sales, eBook downloads, and more.
SeedProd lets you add optin forms and countdown timers to build urgency and maximize conversions. You can even integrate your page with your favorite email service provider to send autoresponder emails as soon as people sign up.
Plus SeedProd integrates with WooCommerce so you can sell directly from your landing page. You can add product catalogs along with 'add to cart', 'checkout', and 'cart' buttons to your page. This way a visitor can shop directly from the landing page without having to be redirected to a product page.
Also, SeedProd comes with built-in coming soon, maintenance, and 404 page modes. This lets you hide your site when it's under construction or maintenance so your visitors don't see broken pages.
Highlights
150+ templates and a drag and drop builder
Smart sections and blocks
Subscriber management
Access control to allow specific people to view your site
Woocommerce and email integrations
Domain mapping
Built-in spam protection
For more on this, read our detailed review of this plugin: SeedProd Review.
Cost: Lite version is free. The premium SeedProd plugin starts at $39.50 per year.

MonsterInsights is the best WordPress analytics plugin that gives you all the insights you need to track your site's performance and reach your marketing goals faster.
Usually connecting to Google Analytics needs a bit of technical knowledge since you have to copy/paste coding scripts into your site. MonsterInsights automates this process and lets you make the connection by clicking a few buttons. That's it!
Then the plugin will automatically track your site's performance and activity and create reports that are easy to understand. It basically makes sense of complex data and gives you all the important stats you need to improve your site and boost rankings.
These reports are available inside your WordPress dashboard so you'll never have to switch tabs to see your data. And if there's a report you don't see in your dashboard, you'll likely find a MonsterInsights addon that you can use to extend the plugin's functionality.
Inside your WordPress dashbaord, you'll get MonsterInsights reports like:
Website overview
Top performing pages and posts
Top user countries
Top referral sources
eCommerce
Custom dimensions
…and so much more!
MonsterInsights saves a lot of your time and you can always keep yourself updated about your site performance simply by logging in to your WordPress dashboard.
Highlights
Realtime analytics
Automated WordPress connection
Automatic website data reports
Email summaries and PDF reports
Access to additional growth tools
Powerful tracking options like scroll and events tracking
Want to know more about this plugin? Check out our detailed post: MonsterInsights Review.
Cost: Starts at $99.50 per year.
Get started with MonsterInsights!
And there you have it! That's our list of the top marketing automation tools for WordPress.
These tools help automate different tasks and workflows in your marketing processes so you can cut down on admin time.
You may also want to check out our IsItWP coupon store to find sweet deals and discounts on these automation tools.
And if you're interested in scaling your website and boosting growth at incredible rates, you'll want to read these posts:
These resources will help expand your marketing strategy and at the same time, make your workflow lighter.