Looking for the best WordPress automation plugin that lets you connect with different apps and plugins like Zapier? Want to know if Uncanny Automator is the right automation plugin for your site?
Uncanny Automator is a powerful automation plugin for WordPress. It acts as a bridge between WordPress plugins and other apps on your website. And this allows you to automate your website tasks without having to touch a line of code.
With this plugin, you won't need to take the help of a third-party cloud-based automation tool to connect your WordPress site with other services.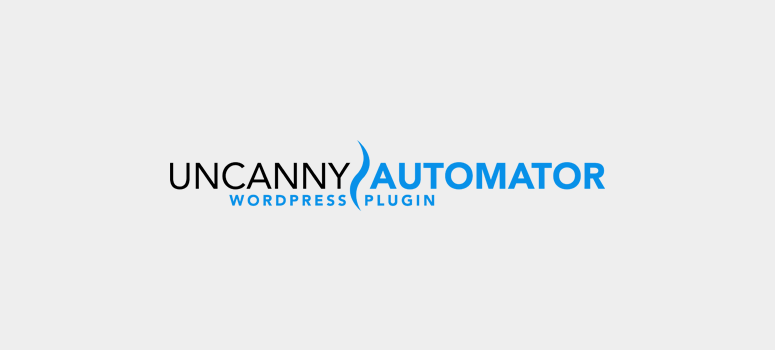 In this Uncanny Automator review, we're going to discuss the features, pricing, and other factors to help you determine if it is the best automation tool for your WordPress site or not.
Since we're doing a detailed review of Uncanny Automator, we've created a table of contents below. You can navigate to the section that interests you the most.
Uncanny Automator Overview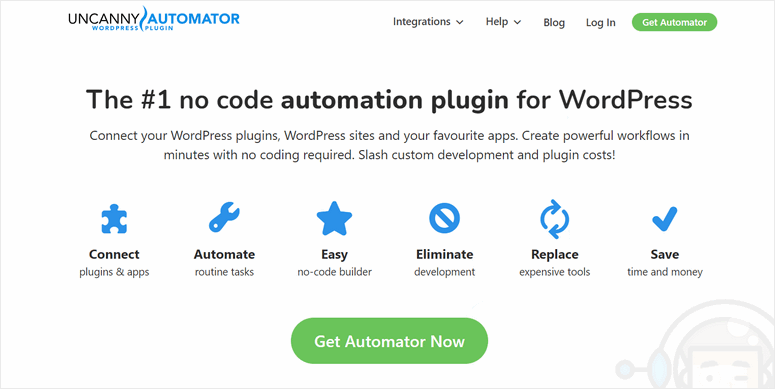 Uncanny Automator is a product of Uncanny Owl, the team behind many popular LearnDash and automation tools. It is a WordPress plugin that lets you connect the plugins installed on your website with other plugins and web applications.
If you've ever used tools like Zapier and IFTTT, then you must be familiar with connecting different web applications to automate your tasks. Uncanny Automator does the same thing but for WordPress sites.
With Uncanny Automator, you can easily streamline your workflows directly from your website dashboard without any coding. It lets you create custom workflows that are known as recipes in the plugin.
These recipes have two parts: Triggers and Actions. A trigger can be any event on your WordPress site like new contact form submission with form plugins like WPForms.
An action is what happens after trigger conditions are met. You can set up an action event to connect with a different plugin or external app like Slack. So for instance, when a customer buys something on your site (the trigger), you can send automated Slack notifications to your product team (the action).
This is just one example of what you can do with Uncanny Automator. In this review, we'll explain each of the features and tools that the plugin offers.
So, let's dive in!
Uncanny Automator Features
Uncanny Automator is packed with powerful task automation tools and features. All of them can help you improve the productivity of your team and grow your business.
1. No-Code Workflow Editor
The best thing about Uncanny Automator is that it comes with an intuitive user interface that is easy to navigate and use.
Uncanny Automator offers a dashboard similar to WordPress so, users can easily create new recipes like creating new pages and posts. They can create and publish recipes without any trouble.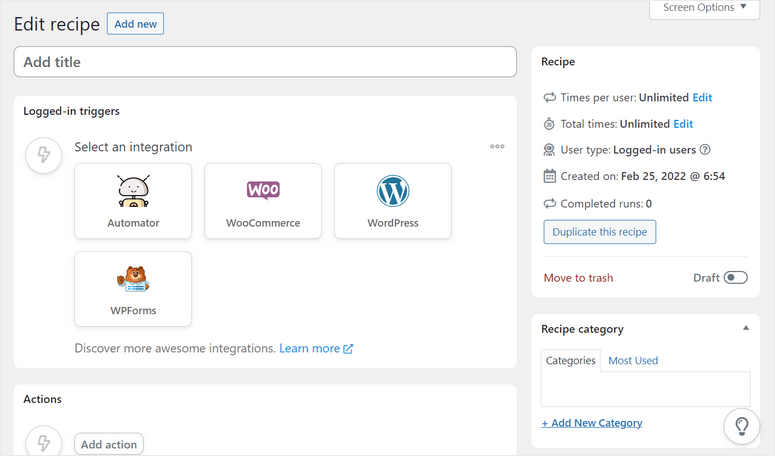 With its no-code recipe builder, one can set up triggers and actions for your workflows without having to add any code. So, even beginners can get started and automate their tasks in a few minutes.
2. Unlimited Recipes (Workflows)
There is no limit to the number of recipes you can create with Uncanny Automator. With so many plugins and app integrations available, you can create unlimited recipes to optimize your daily tasks.
Uncanny Automator comes with an easy management area to help you manage all your recipes. Here, you can oversee your recipes at a glance and edit them with ease.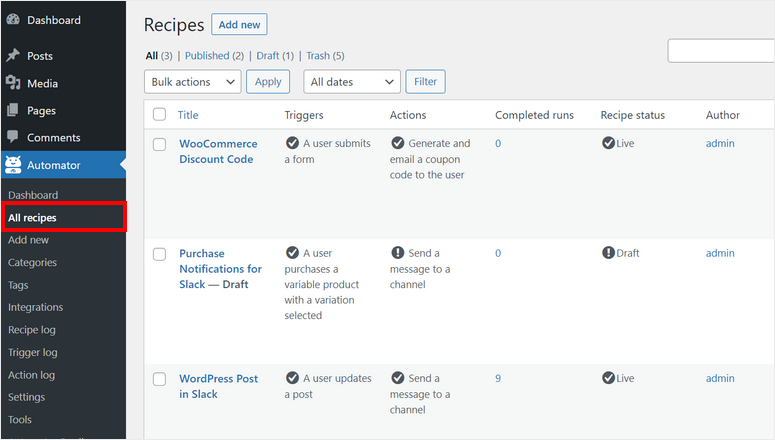 The plugin also lets you create custom categories and tags to easily organize your recipes. This way, you can locate your old recipes whenever you need them.
3. Triggers and Actions
To understand how Uncanny Automator works, you need to understand what triggers and actions are first. They are like the 'If This and Then That' conditions.
Triggers are the 'If This' part of the rule. It is what kick starts your automated workflow or recipe.
Actions are the 'Then That' part of the rule. It is the action that takes place after the trigger is initiated.
Triggers
You can set up one trigger or multiple triggers with different WordPress integrations for a single recipe. For example, you can create a combination of trigger events when a user submits a feedback form and views your product page to set off an action event.
Uncanny Automator offers numerous trigger events for different types of plugins and WordPress core functions. Some of the popular triggers include when users do the following:
Fill out a form
Submit a comment
Sign up for a course
Fail a quiz
Purchase a product
Register for an event
and many more
Actions
Actions events are performed automatically after the trigger is initiated on your website. You can also set up combinations of actions to optimize your workflows. There are action events for different plugins and applications like:
Adding users to a group
Unlocking a new course
Assign a user role
Sending an email
Mark a course complete
and many more
Uncanny Automator offers custom triggers and actions depending on which plugin or service you are using. To give you an idea of how this works, here is a list of triggers and actions for the membership plugin MemberPress.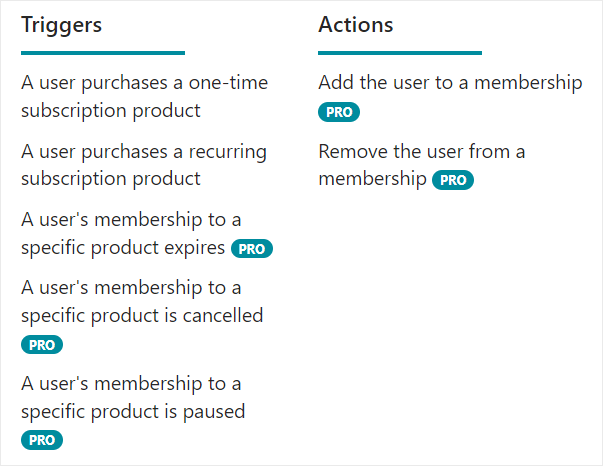 Like this, you'll find over 400 triggers and actions for different WordPress plugins and external services.
4. Integration with WordPress Plugins
Uncanny Automator comes with an extensive collection of plugin integrations. It lets you connect with the most popular WordPress plugins to streamline your tasks and workflows.
It automatically detects all the available plugins that are installed on your site. Then, you'll be able to integrate these plugins for your recipes in a few clicks.
Here is a list of the WordPress plugins that Uncanny Automator supports:
Form Plugins:
Uncanny Automator provides custom trigger and action events for form plugins like WPForms. It is the best form builder plugin for creating all sorts of WordPress forms like contact forms, payment forms, booking forms, signup forms, and more.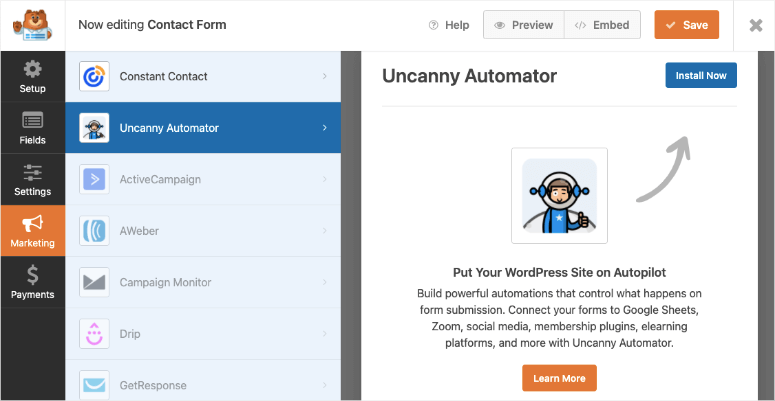 Other integrations for form plugins are:
Formidable Forms
Gravity Forms
Ninja Forms
Contact Form 7
Divi Form
Membership Plugins:
You can use Uncanny Automator for your membership site by integrating with plugins like MemberPress. With this, you can create recipes to automatically add new members to subscription plans, send email notifications, and more.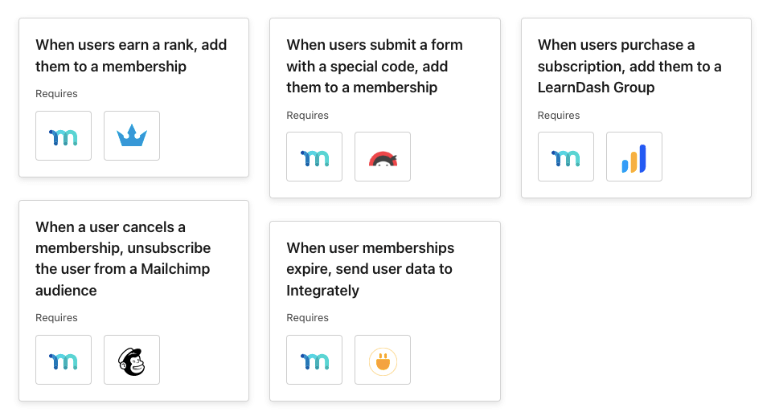 Other membership integrations like Paid Membership Pro and Ultimate Member are also available.
LMS (Learning Management System) Plugins:
Uncanny Automator works great for eLearning websites that sell online courses. It offers smooth integration with the best LMS plugin, LearnDash. So, you get a long list of triggers and actions for LearnDash courses, lessons, quizzes, and so much more.
eCommerce Plugins:
If you run a WooCommerce website, then you need an automation tool to improve your business processes and boost your conversions.
Luckily with Uncanny Automator, you can set up triggers for different WooCommerce events like when a user adds a product to their cart, reviews a product, purchases products, and more. This helps you provide a better user experience to your customers.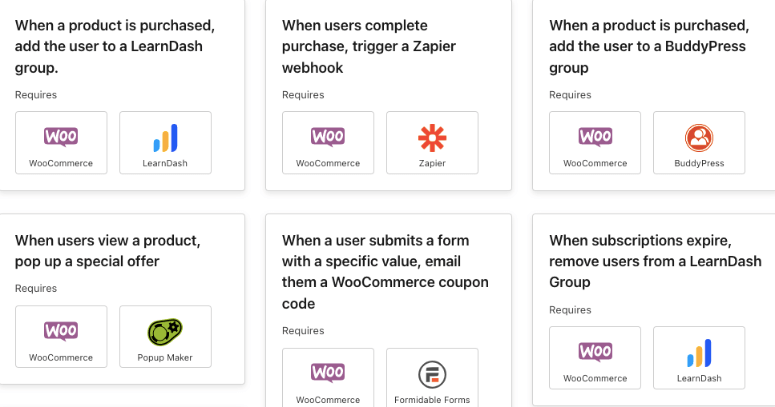 Apart from this, Uncanny Automator offers integrations with community plugins, payment plugins, page builder plugins, and other plugins like:
Elementor
BuddyPress
BuddyBoss
AffiliateWP
GiveWP
WP Fusion
GamiPress
The Events Calendar
5. External Integrations
Along with WordPress plugins, Uncanny Automator supports integrations with other external apps. This lets your WordPress plugins communicate with other services and transfer data without having to use a 3rd party automation tool.
Email Marketing Integrations:
You can connect with email marketing services such as ActiveCampaign, HubSpot, MailPoet, and more. With this feature, you can make users sign up on your website and add them directly to your email list.
Zapier Integration:
You can use Uncanny Automator as the substitute for Zapier on your WordPress site. Or, you can use it with Zapier to get the best of both worlds.
This automation plugin lets you connect with 2,000+ apps on Zapier using webhooks. You can pass up to 5 variable tokens like username, email, site URL, and more.
You'll also find options to connect with more automation tools like IFTTT and Integromat.
Furthermore, you get tons of integrations with external apps and social media sites with Uncanny Automator pro like:
Twitter
Instagram
Facebook Pages
Google Sheets
Mailchimp
Zoom
Slack
Twilio
FluentCRM
and more
6. Other Features
Here are some of the notable features that Uncanny Automator offers:
Site-to-Site Recipes:
In addition to the plugins and apps integration, Uncanny Automator Pro lets you connect multiple websites together. You can connect WordPress sites with each other and automate tasks between them.
For example, you can make users purchase a course on site 1, unlock the course for the new user on site 2, and add them to your webinar on site 3.
Conditional Logic:
When you create recipes for your website, you can use conditional logic to set off your triggers. This way, you can make them work exactly how you want.
For instance, you can initiate an action event only when the user submits a donation form with the donation amount '55'.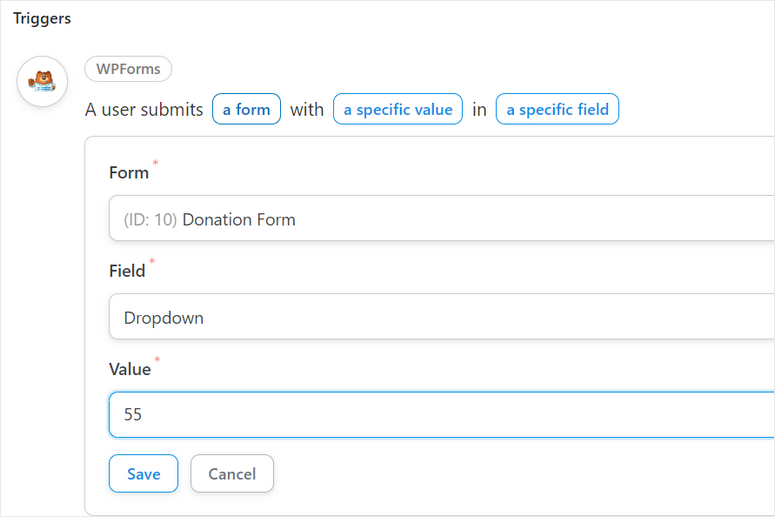 This is just a simple example. You can use this to create more robust workflows for your business.
Admin Control Options:
In the recipe builder, you can choose the number of times a recipe can be used. Also, there are options to limit the number of times a user can trigger a recipe.
Multiple Data Sources:
Uncanny Automator lets you use different types of data such as Username, site URL, post ID, page ID, and more. You can even choose user meta, post meta, order data, and others.
How Does Uncanny Automator Stay Ahead of the Competition?
Uncanny Automator is a powerful automation tool that lets you automate every aspect of your WordPress site and more.
There are other plugins that allow you to optimize your workflows but very few bring the features like Uncanny Automator to the table.
Here are some of the advantages of using this plugin over other automation plugins:
1. Free Version and Free Trial
The Uncanny Automator offers a free version of the plugin that is available on WordPress.org. It comes with the basic features and a collection of integration options with WordPress plugins.
Additionally, it allows users to sign up for a free trial to test out all the premium features and tools. This gives them an idea of what the Uncanny Automator Pro has to offer.
2. Perfect for All Types of Users
Whether you have a full-fledged eCommerce store, eLearning site, or membership site, you'll need to automate tasks. So, Uncanny Automator is a great option for all types of website owners.
3. Cuts Down Costs and Saves Time
Uncanny Automator is built for WordPress, so you can create and manage automated workflows in a single dashboard. This helps to save time and saves you money for custom development.
4. Detailed Reporting and Logs
The plugin offers detailed reporting, logging, and debugging tools so you can keep track of all your workflows. You get a dedicated dashboard for the recipe, trigger, and action logs on the WordPress admin panel.
5. Safe and Reliable
With Uncanny Automator, you don't have to worry about the security of your website. The plugin does not control your plugin or website data.
This helps you make your website GDPR compliant and secure your users' information when integrating with other apps.
Uncanny Automator Customer Support
One of the reasons to choose Uncanny Automator as your automation plugin is its world-class customer support. The Uncanny Owl team ensures smooth integration with plugins and external apps. And if you ever get stuck, you can reach out to the support team anytime.
The great thing is, Uncanny Automator offers an extensive knowledge base for its customers. It includes video tutorials, guides, FAQs, and documentation for all the topics that you need.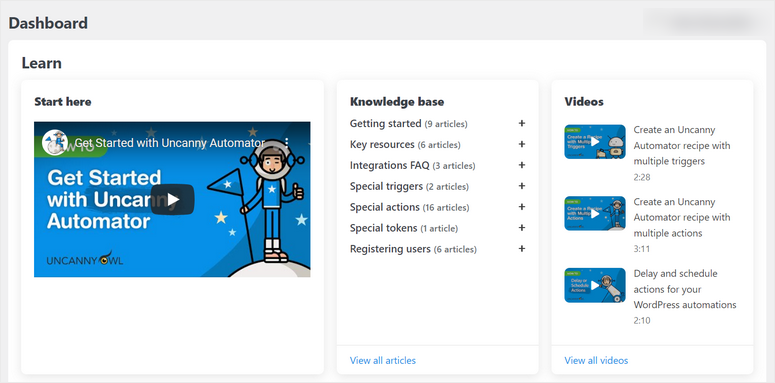 The plugin dashboard comes with all these resources. So, users can easily learn how to use each function and feature themselves.
Uncanny Automator Pricing
The lite version of Uncanny Automator is free to download. For the premium version, you get 3 pricing plans.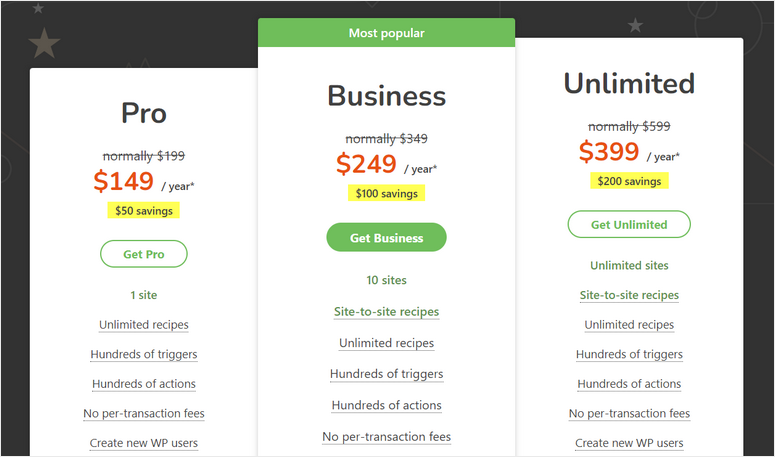 For 1 site, you can purchase the Pro plan which starts at $149 per year. This includes all the basic automation features including unlimited recipes, hundreds of triggers and actions, and no transaction fees. Along with that, you get options to create new WordPress users, premium integrations, and priority support.
The Business plan starts at $249 per year. This can be used for up to 10 sites. It comes with all the features in the Pro plan plus premium integrations and multisite support. You can also use site-to-site recipes.
If you want site licenses for unlimited websites, then you can go with the Unlimited plan which starts at $399 per year with all the premium features.
Uncanny Automator Alternatives
Zapier and Integromat are usually considered to be the top alternatives to Uncanny Automator.
However, when it comes to WordPress sites, we recommend using the Uncanny Automator plugin along with solutions like Zapier and Integromat to put your WordPress site on autopilot. They seamlessly integrate with each other and together, they give you a wider range of automation recipes than ever before.
So we won't be considering the two tools as alternatives but rather ones that go hand in hand.
Below, we've selected Uncanny Automator alternatives that are WordPress automation plugins that you can use instead of Uncanny Automator.
1. AutomatorWP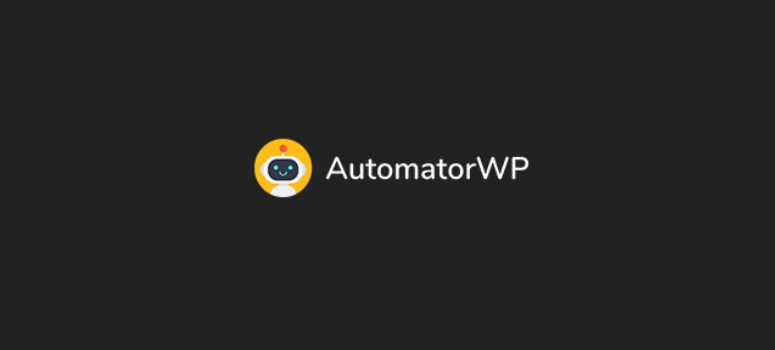 AutomatorWP is a free WordPress automation plugin like Uncanny Automator. It also lets you set up triggers and actions to automate your tasks.
It offers integrations with popular WordPress plugins like WooCommerce, BuddyPress, LearnDash, H5P, MemberPress, and more.
This plugin is suitable for marketing, sales, administrative tasks, and other website processes.
Features:
Easy to use editor
Unlimited triggers and action
Completion limits
Tags to pass dynamic data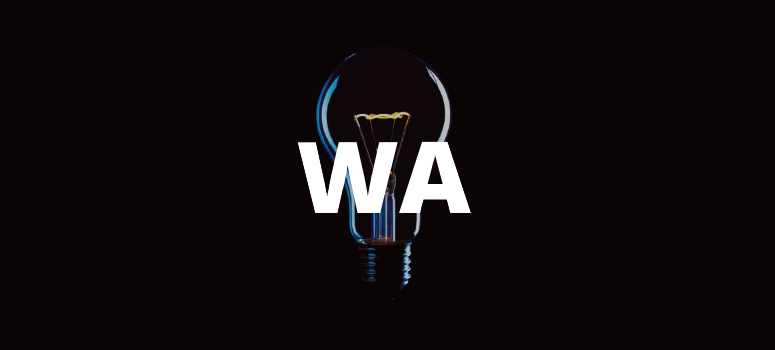 WunderAutomation is another free alternative to Uncanny Automator. It lets you build custom workflows without any coding knowledge.
You can easily manage and process your workflows from your WordPress dashboard. The plugin lets you connect your site with other plugins and third-party apps as well.
It is well-suited for WooCommerce sites.
Features:
Bulk handling for different users, posts, and more
Supports webhooks
Compatible with Advanced Custom Fields
Email notifications and SMS options
These are simple and lightweight automation tools that you can use. But, when compared to Uncanny Automator, these plugins offer lesser WordPress integration and task automation features.
Final Verdict: Is Uncanny Automator the Best Automation Plugin?
Now that we've done a complete review of Uncanny Automator, we can say without any doubt, that it's the best WordPress Automation plugin on the market. It comes with the most beginner-friendly interface that allows users of any level to build their own workflows effortlessly.
It lets you integrate with a wide range of WordPress plugins and external applications. You can even build recipes with a combination of triggers and actions to automate monotonous work.
Other than this, Uncanny Automation gives you full control over the recipe rules and completion limits. So, you can manage your workflows without having to leave your WordPress dashboard.
Here is a recap of the amazing features that the plugin offers:
Unlimited recipes
Over 400 triggers and actions
WordPress core integration
WordPress plugins integration
Connect with external apps and services
Conditional login options
Real-time reports and logs
And more
For those users who want a budget-friendly automation tool, Uncanny Automator offers a free version. It comes with all the features you need to organize your tasks with different WordPress integrations.
Depending on the requirements of your website, you can upgrade any of the Uncanny Automator Pro plans.
After doing a complete review, we can confidently recommend Uncanny Automator as the best automation plugin for WordPress sites. We give it a 5/5 rating.
Get Uncanny Automator Now »