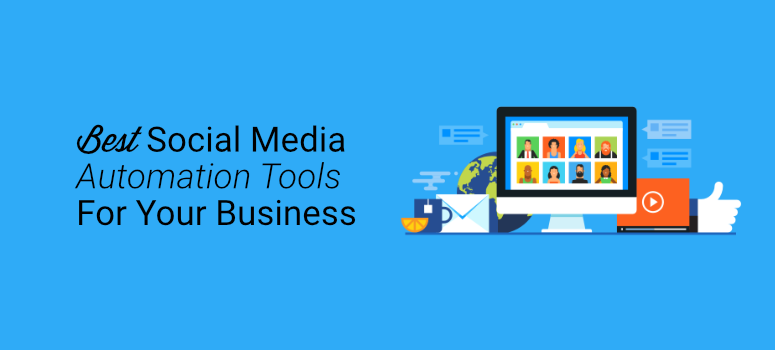 Are you looking for the best social media automation tools to reduce your workload and improve your marketing strategy?
Marketing automation uses software to automate repetitive tasks so that doing them by hand is no longer necessary. For work that doesn't need your supervision, marketing automation is the perfect way to save time, money, and resources.
That's why, in today's post, we'll share 7 social media automation tools to instantly reduce your workload.
But first, let's look at a few benefits of using marketing automation for social media.
Why Use Social Media Automation Tools?
There are several reasons why social media automation tools are beneficial for your business.
While the following list isn't exhaustive, here are the top 3 benefits of automating your social media strategy:
1. Improve User Engagement
People freely express themselves on their social media accounts, and they'll do the same for your business. Since your audience already hangs out on social media, displaying it on your website is an easy way to boost social engagement.
It's easier to start a conversation and get to know your customers through social media interactions that can help you understand them better.
2. Build Social Proof
Social proof is crucial for building an audience, gaining their trust, and moving them through the sales funnel. To gain your site visitors' trust, it helps to showcase your social media and give them reasons to choose you instead of your competitors.
Automatically adding social content to your website and giving users access to it helps them feel closer to your brand, which, in turn, boosts sales.
3. Save Time
Perhaps the most prominent benefit of using automation tools is that they save you lots of time. You no longer need to manually create and publish posts the second you want to see them go live.
Instead, you can schedule them for a later date so you don't have to worry about keeping up with your social media marketing strategy and can continue producing conversions while doing other things.
Now that we know the benefits of using social media automation tools, let's look at the top choices currently on the market.
7 Best Social Media Automation Tools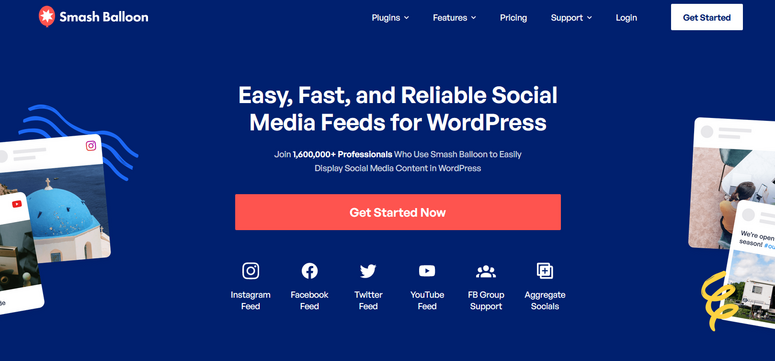 Smash Balloon is trusted by 1,300,000+ users and lets you create customizable social media feeds tailored to your site. It's a simple way to display social content from any platform on your website and grow your following with top-tier posts.
With Smash Balloon, you can automate your social media marketing for the following:
Depending on what platforms your brand is active on, you can choose to automate your content on any of them with Smash Balloon. You can purchase them separately or buy the All-Access Bundle.
Smash Balloon is mobile-ready, fully responsive, and 100% customizable, so you can create social feeds exactly how you want visitors to see them. Choose from different fonts, color schemes, and styles to match your branding and to further build brand recognition.
It's easy to set up and install, and it's also SEO-friendly to ensure you're attracting the right users to your site. You can combine videos and photos in one feed and do so without any coding knowledge or expertise.
Smash Balloon also comes with an intelligent feed caching and backup system so it's always reliable. This also reduces the number of API requests so your website remains speedy and continues operating regardless of outages or loading errors.
Get started with Smash Balloon today.

ManyChat is a marketing automation tool that works with Facebook Messenger, SMS, and email marketing to send automated messages to users and encourage engagement. This chatbot service caters to customers' needs, answers their questions, collects user data, and leads them to relevant products and services.
With ManyChat, you can build your own bot to accommodate your site visitors and collect the right information from them. This process helps you attract qualified leads, build a following, collect feedback, confirm orders, share updates, book appointments, and so much more.
ManyChat also comes with analytics so you can track your bot's progress and make the necessary tweaks to improve your strategy. You don't need any coding knowledge to create customer conversations that produce conversions, boost sales, and grow your audience.
ManyChat also integrates with popular platforms like Zapier, Mailchimp, Shopify, Google Sheets, ConvertKit, PayPal, Stripe, and more, so you don't have to worry about your website working seamlessly.
Get started with ManyChat today.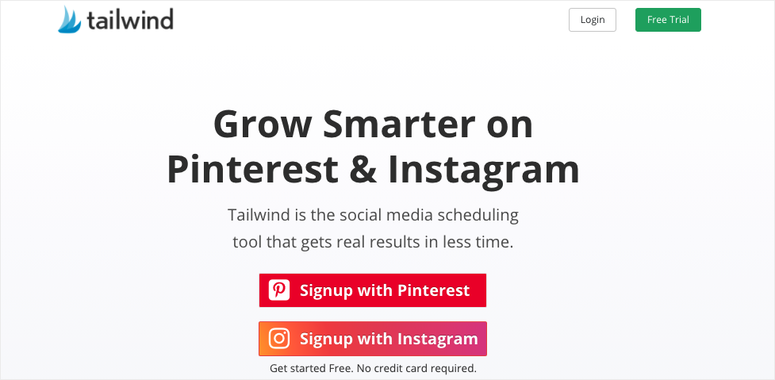 If you heavily rely on Pinterest and Instagram to build your business, then Tailwind might be the right solution for you. Tailwind is a social scheduling tool that schedules and posts your social content for you.
Plus, it only takes minutes to set up.
With Tailwind, you can find intelligent hashtags for each post and automatically add them to the first comment. Tailwind also uses data to suggest scheduling posts and sharing Pins at the best times. This helps to improve your engagement rate and ensure that your content has a higher chance of converting.
Tailwind's features for Instagram include:
Scheduling and publishing posts
Suggesting appropriate hashtags
Personalizing designs for posts
Suggesting the best times to post
Automatically updating your links in the background
Tailwind's features for Pinterest include:
Creating 10 pins in one click
Publishing designs with workflows
Sharing pins across relevant boards
Suggesting the best times to post
Creating custom board lists
Tailwind has a free plan that gives you the few essential tools you need to automate your social media marketing. However, for extra powerful features that could take your marketing to the next level, you can upgrade to a Pro plan for $9.99 a month.
Get started with Tailwind today.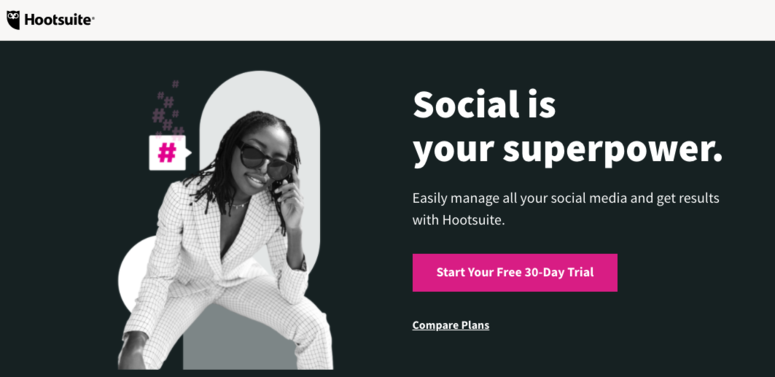 Hootsuite is social media management tool that manages your channels and content from one platform. If you have a larger-scale business that requires more functions and features, Hootsuite might be the right solution for you.
With Hootsuite, you can manage multiple social media accounts at once, schedule content for a later date, monitor social messages, and receive real-time updates. It also creates detailed reports so you can track your campaign performances and improve your current processes.
It has a free plan that lets you schedule up to 5 messages at any time. However, once you reach 5 messages, you can't schedule another message until a previous one is published. However, you can upgrade to a Professional plan for $49 a month to unlock extra features.
Get started with Hootsuite today.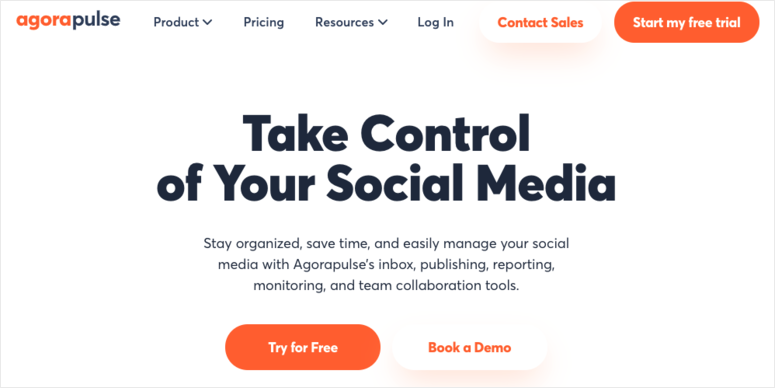 Agorapulse is an all-in-one solution that helps you manage your social media content and improve your strategy for higher conversion rates. Whether it's publishing, monitoring, reporting, or messaging, Agorapulse can help you tackle it all.
Agorapulse makes it easy to create a unified social inbox to organize, assign, and label messages from one place. Its intuitive publishing optimizes every piece of content it posts and organizes them with a content calendar.
It also creates analytics reports that detect best and worst-performing content, tracks its performance, and discovers new social trends. It can alert you about new hashtags and keywords using automatic notifications so you're always in the loop.
Agorapulse's free plan grants you access to 3 social profiles and 1 user. However, you can upgrade to their Pro plan for $79 a month and get 10 social profiles for 2 users.
Get started with Agorapulse today.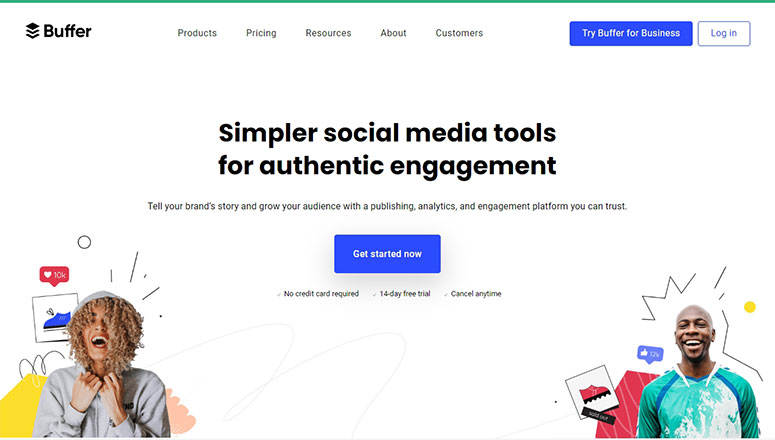 Buffer is a popular social scheduling tool with more than 75,000 customers using its services. From one dashboard, you can craft optimized posts for each platform and monitor their progress. These platforms include Twitter, Facebook, Instagram, LinkedIn, and more.
With Buffer, you can customize every single post before publishing and keep hashtags out of your Instagram caption by including it in the comments section instead. Create, save, and organize hashtags as well as test different variations for the best conversion rate. Measure your social media performance for any platform to grow your audience and understand them better.
Buffer also gives you control over your Stories, so they're optimized for both web and mobile. You can also drive traffic and sales to your shop from your Instagram bio as well as plan posts in advance and get notifications to post natively.
Buffer's free plan gives you 3 social channels, 10 scheduled posts, and 1 user. Upgrading to its Pro plan gives you 8 social channels, 100 scheduled posts, and 1 user for $15 a month.
Get started with Buffer today.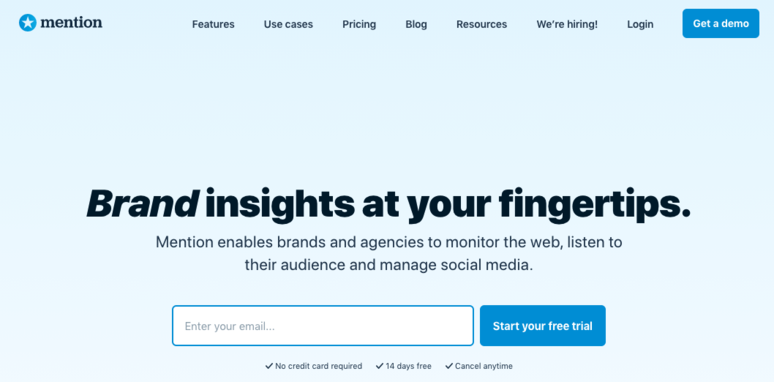 Mention is a social listening tool that allows you to schedule and publish posts, keep up with industry trends, track brand mentions, and so much more. From one place, you can monitor what people are saying about your business and stay informed.
Mention comes with a user-friendly interface and is easy to navigate and set up. It monitors more than 1 billion sources across the web daily, including press articles, review sites, forums, and blog posts.
You can set up customized alerts, filter and analyze popular trends, and schedule and publish posts across several social channels. Create content based on relevant insights, keep up with your content calendar from your desktop or smartphone, and track alerts with high traffic.
Mention starts at $25 a month and comes with 2 basic alerts, 5,000 mentions, 5 social accounts, and 1 user. However, as your business grows, you might need to upgrade to a Pro plan for $83 a month.
Get started with Mention today.
And that's it! These are the best social media automation tools you can use for your WordPress website.
We hope you enjoyed this article. If so, feel free to check out our list of resources on the top WordPress plugins.
It breaks down the best plugins on the market so you can choose the right ones for your WordPress site.