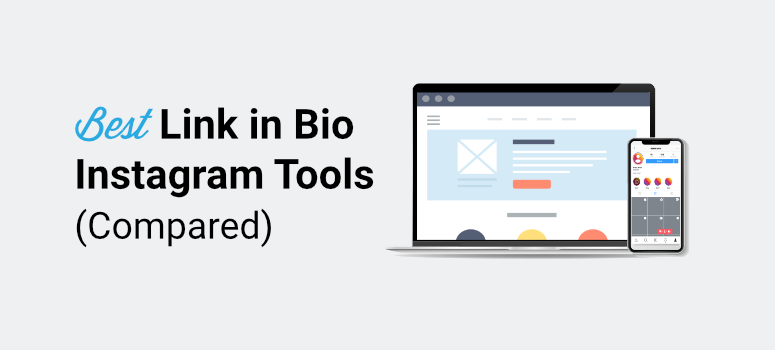 Are you looking for the best link in bio Instagram tools to promote your website content?
At the moment, Instagram allows you to link only one clickable URL on your profile bio. So you need to plan out which web page you want to share and swap links when necessary.
With a link in bio tool, you can use a single link to direct your Instagram audience to multiple web pages like blog posts and product pages.
Below, we've reviewed and listed the best link in bio Instagram tools that you can use to improve web traffic, page views, and conversions.
But first, let's learn the advantages of using these link in bio tools.
Why Use Link in Bio Instagram Tools?
A link in bio tool will let you create a landing page where you can add multiple URL links. This means you can create a list of:
Blog posts
News articles
Product pages
Sales and promotional offers
YouTube videos
Podcasts
Social media handles
…and more!
Then, you can add the URL of this page to your Instagram bio so your audience can easily access multiple pieces of content right from your Instagram profile.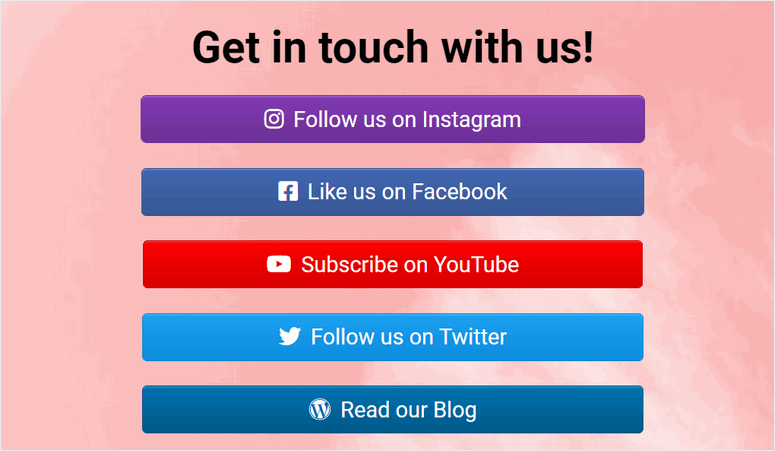 And depending on the tool you choose, you'll get different features and customization options to make your link in bio page look just the way you want.
With the help of a good link in bio Instagram tool, you can:
Create and customize a link in bio page without any coding or professional help
Encourage users to sign up for email newsletters
Give users easy access to all your accounts on different social media platforms
Drive traffic to multiple content pages such as blog posts, YouTube videos, and more
Boost sales by linking to product pages, sale events, and online stores
Now that you know where a link in bio tool can really help you, let's check out our list for the best link in bio Instagram tools now.
Best Link In Bio Instagram Tools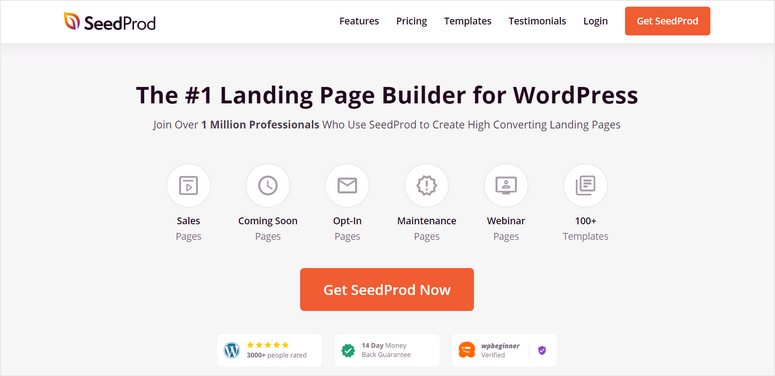 SeedProd is undoubtedly the best landing page builder for WordPress. You can build stunning link in bio pages in a matter of minutes.
There are 200+ premade templates that look great out of the box. Plus, SeedProd offers a drag and drop visual builder that anyone can use to customize pages without any coding knowledge.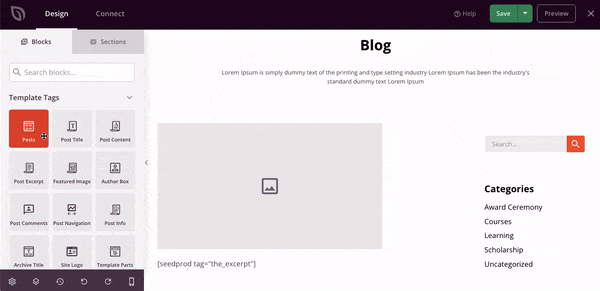 You can add powerful elements such as animated headlines, countdowns, optin forms, CTA (call to action) buttons, testimonials, and more to improve your click-through rate.
What we love about this page builder is that you can create a custom domain URL to make the link to your page look professional.
Added to that, SeedProd seamlessly syncs with WooCommerce so you can create a shoppable page. It lets you display products, product grids, 'add to cart' button, and 'buy now' button.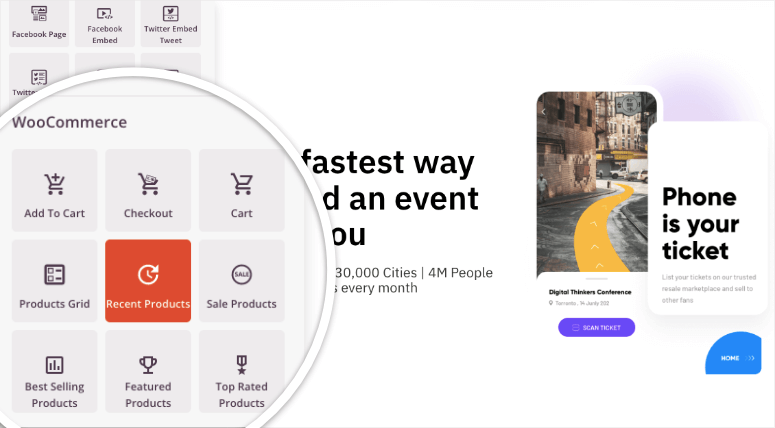 Your Instagram followers will be able to select their product and check out instantly using secure payment options.
Now keep in mind, most Instagram users are on mobile devices so you need to make sure the link in bio landing page displays perfectly on all screen sizes.
With SeedProd, you won't have to worry about that. Every template is responsive which means the landing page will automatically adjust to any screen size. You can also preview on mobile to make sure everything looks and works great.

Besides a link in bio page, you can use SeedProd to build pages for webinars, sales, products, contests, newsletter signups, and much more.
Highlights:
Create pages in minutes with 200+ templates and 80+ content blocks
Use a custom URL to look professional
Highlight products for sale with WooCommerce integrations
Grow your email list using optin forms and email integrations with popular providers such as Constant Contact, Mailchimp, ActiveCampaign, and more
Promote other social media accounts using social icons
Improve traffic and engagement with viral giveaways powered by RafflePress.
Track performance with Google Analytics integration
Comes with built-in coming soon and maintenance mode
Pricing:
There's a free version of this builder in the WordPress repository. The pro plans start from $39.50 per year.
Get started with SeedProd today!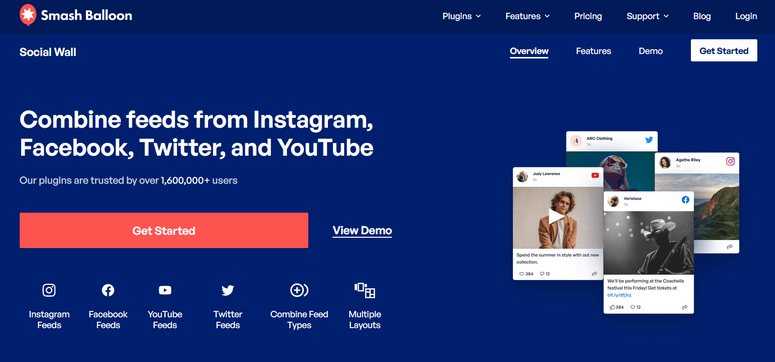 Smash Balloon is the best social feed WordPress plugin that lets you add multiple social media content on a single page on your site.
With its Social Wall plugin, you can create a link in bio Instagram page that combines feeds from all your other social media accounts such as Facebook, Twitter, and Youtube.
So you can easily drive your traffic from your site and increase user engagement on other social profiles.
Along with that, it lets you showcase your Instagram posts, stories, tagged posts, public hashtag posts, and more.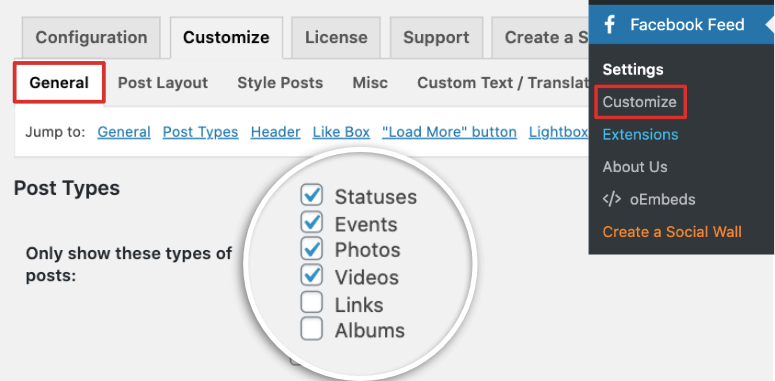 Social Wall is beginner-friendly so anyone can set it up and start showcasing social media content in less than 5 minutes. You don't need to touch a line of code to add your feeds.
Moreover, it is designed to take over the same colors, fonts, and styling of your current WordPress theme. There are also options to set a custom theme for your link in bio page.
Highlights:
Showcase multiple feeds from different social media profiles on a single page
Display images, albums, posts, videos, live streams, and more
Choose between masonry grid, list, and carousel layouts
Supports both Gutenberg editor and shortcode functionality
Easy to use customization settings to change the design of your page
Post caching and backup system gives your link in bio page lightning-fast speed
Pricing:
Pricing plans for the Social Wall plugin start from $49 per year.
Get started with Social Wall today!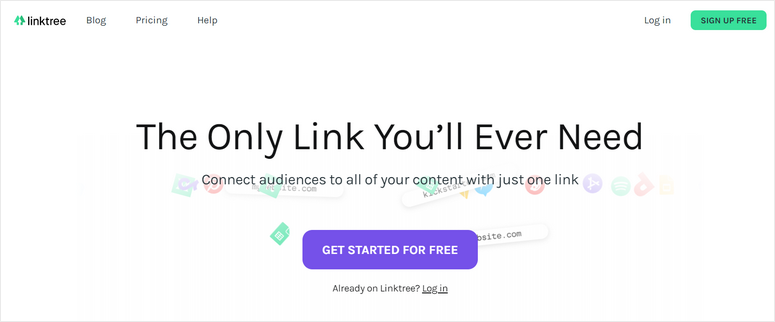 Next on our list for the best link in bio Instagram tools is Linktree. It is a popular Instagram marketing tool that lets you show all your content with a single link.
With Linktree's drag and drop editor, you can manage your content according to your preferences. You can add important links to any content such as videos, articles, social media posts, and more.
It also allows you to integrate with third-party services like Google Analytics and Mailchimp so you can get insights about your audience and add subscribers to your email list.
When you create a link in bio page with Linktree, your page URL won't be a unique link but instead will bear the Linktree brand name. It will look something like "linktr.ee/yoursite".
So, it doesn't have a custom domain name option like SeedProd. This is not good for improving your brand awareness.
However, you can still use this tool if you want a simple solution for adding multiple links to your bio.
Highlights:
User-friendly
Add any web content to your link in bio page
Link your social profiles
Integration with Google Sheets, Google Analytics, and more services
Pricing:
A free plan with basic features is available. For social icons and other advanced features, you need pro plans which start from $60 per year.
Get started with Linktree today!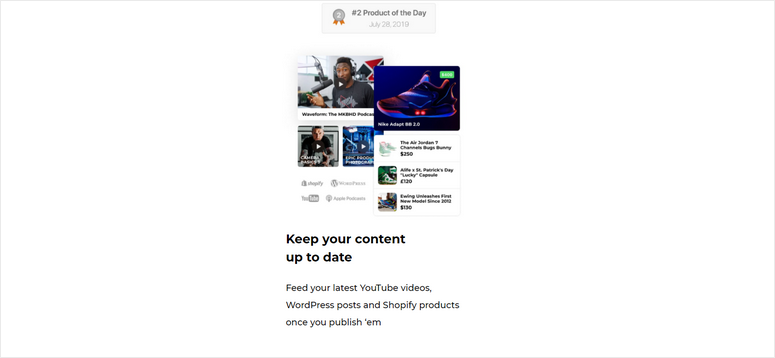 Shorby is another link in bio tool that helps you optimize your Instagram bio by a creating custom page for content and social profiles.
Shorby offers a feature called the SmartPage page builder that lets you create custom pages to prioritize your content links. You can schedule links or automatically show the latest posts on your link in bio page.
You can also add your company name, logo, number, and social media links to your page and link this page on your Instagram bio
Similar to Linktree, the URL of your Instagram bio link page is branded. So, it looks like "shor.by/yoursite". If you want, you can also add one custom domain per project.
Highlights:
Highly customizable
Link blog posts, products details, video, and more
Add messenger apps such as Whatsapp, Facebook Messenger, Viber, and more
Get insights about your most clicked links
Pricing:
Shorby offers a 5-day trial. After that, you need to upgrade to the pro versions which start from $15 per month.
Get started with Shorby today!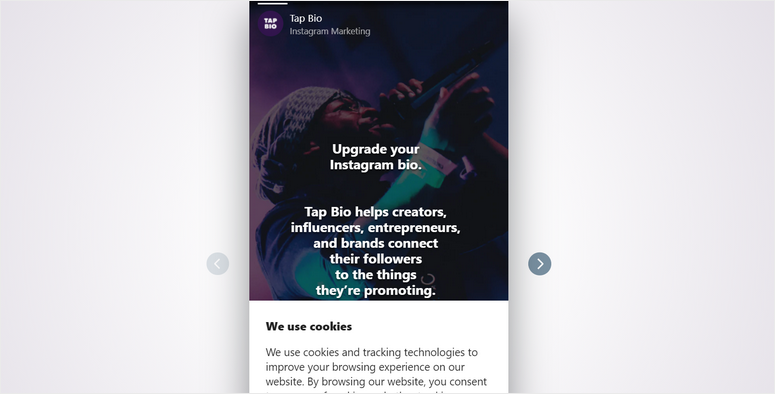 Tap Bio is one of the simple link in bio Instagram tools that let you add multiple links to your bio.
With Tap Bio, you can create an interactive mini-website that links your content on mobile-optimized pages called cards. You can add multiple links and call-to-action features to your cards.
Like Instagram stories, users can swipe these cards and click on the links to view your web content and social media posts. The tool also allows you to view analytics for your cards and click rates.
Highlights:
Optimized for mobile devices
Add multiple cards linking to different content and social accounts
Create an email signup card to add new subscribers to your email list
Retargeting options for Instagram, Facebook, and more
Pricing:
Tap Bio offers a free plan that lets you add one card. For more linking options, upgrade to pro plans that start at $5 per month.
Get started with Tap Bio today!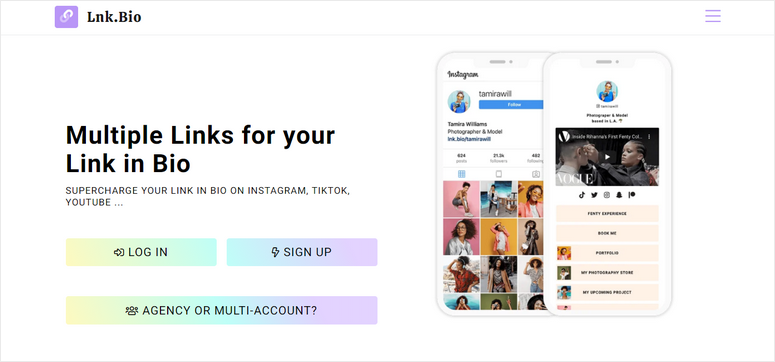 Lnk.Bio is also one of the popular link in bio Instagram tools in this list. It is a lightweight tool with fewer customization options.
Lnk.Bio allows you to add unlimited links to your link in bio page. So you can link your online content such as blog posts, articles, guides, videos, and more. And you can grow engagement across other social networks by adding your profile links.
With this tool, you can create a link in bio page with a simple layout that will include your profile picture, Instagram name, and the links you add.
Highlights:
Simple and beautiful layout
Option to link other social media profiles
Link tracking
Add unlimited links
Pricing:
The free plan lets you create a page with branded URL like this "lnk.bio/yoursite". For a custom domain URL to build your brand image, you'll need to upgrade. Pro plans start from $0.99 per month for one account.
Get started with Lnk.Bio today!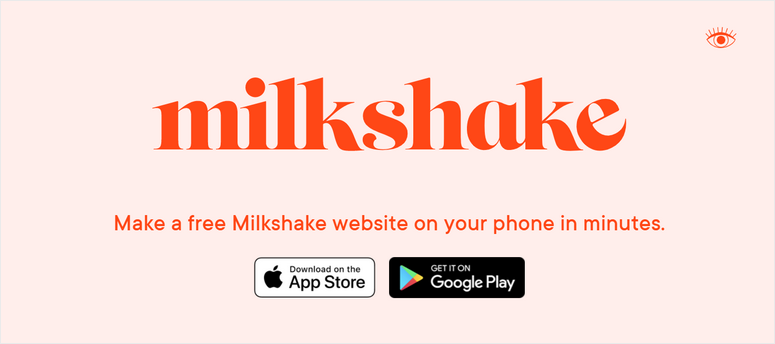 Unlike the other tools, Milkshake is a mobile app that lets you create a free website for your Instagram account on your phone.
Milkshake uses something called cards to design your website. Just like the Tap Bio tool, you can add cards to showcase your content and users can swipe to navigate through your site.
You can choose your card layout from a selection of templates and customize the design elements to match your theme. Once you create your Instagram website, you can copy and paste the URL on your profile bio.
Highlights:
Share cards similar to Instagram stories
Built-in templates for cards layout and design
Customize the color, text, format of cards as per your requirements
Create multiple Instagram websites and swap links in the bio
Pricing:
Milkshake app is free to download for both iOS and Android devices. There are optional in-app purchases that you can make.
Get started with Milkshake today!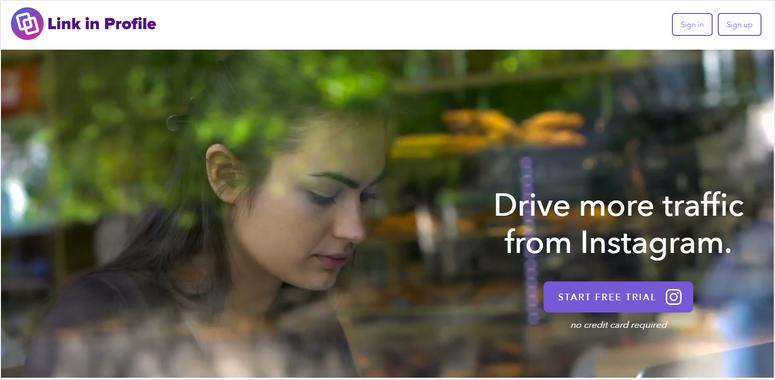 Link in Profile is different from the link in bio Instagram tools in this list. This tool lets you create a custom landing page with your Instagram feed.
With Link in Profile, you can pull out your Instagram posts and add clickable links that direct users to your content and other social profiles. You can also add links to your image captions.
Basically, it lets you create a clickable Instagram feed with links on the image and captions. This helps you send your visitors to the directed links straight from your posts.
Highlights:
Lets you add unlimited links
Clickable links in the post caption
Get analytics for visitors engagement
Customization options
Pricing:
A 30-day free trial is available. Then, you need to get a pro plan that starts at $9.99 per month.
Get started with Link in Profile today!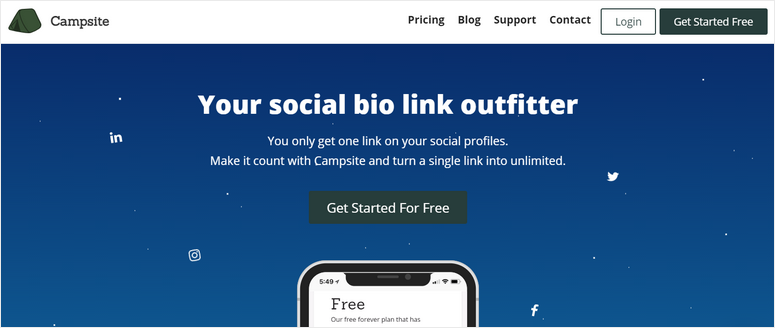 Last but not the least, Campsite is a simple Instagram bio link tool that lets you share multiple content links on a custom landing page.
Campsite allows you to retrieve your Instagram images or create your own images and add links. You can also create links to your social media accounts such as Facebook, LinkedIn and more.
With premium plans, you can switch between multiple Campsite accounts and create custom landing pages for different accounts.
Highlights:
Add unlimited links
Customize fonts and colors of your page
Get stats to monitor your traffic
Third-party integration like Google Sheets, Mailchimp, and more
Pricing:
A free plan with basic features is available but you need to get a pro plan for advanced features. Paid plans start from $7 per month.
Get started with Campsite today!
Which is the Best Link in Bio Instagram Tool?
As you can see, there are plenty of link in bio Instagram tools in the market. Each tool has different features and will give you a unique end result.
After comparing them side by side in this list, we can say that the best link in bio tools are:
SeedProd
Social Wall by Smash Balloon
Linktree
SeedProd is the #1 WordPress landing page builder plugin that you can use to create stunning link in bio landing pages for your Instagram page. It works great for influencers, small businesses, non-profits, and just about anyone on Instagram!
With SeedProd, you can customize your link in bio page with powerful content blocks, smart sections, and eCommerce grids.
You can add CTA buttons and social icons to improve conversions and promote your social media profiles. It's also the best lead generation option if you want to grow your email list.
Another great link in bio tool is Social Wall by Smash Balloon. You can use this plugin to easily add multiple feeds from your social media accounts.
Smash Balloon lets you seamlessly connect with your Facebook, Instagram, Twitter, and YouTube profiles and share your content on your site.
So you can use any of these tools to create a link in bio landing page with multiple links and add the URL to your Instagram bio.
That's all for today! We hope this article helped you find the best link in bio Instagram tools for you.
For your next steps, you can check these resources out:
These posts will help you integrate your social media accounts with WordPress and automate your posts to reduce your workload. The last one will help you use your social media accounts to grow your email list.