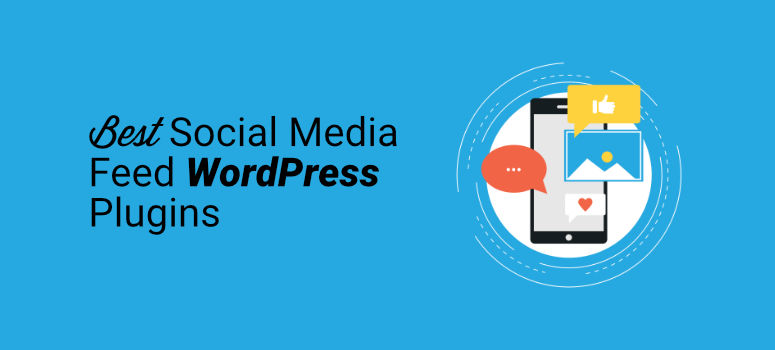 Are you looking for the best social media feed plugins for WordPress to connect with your audience?
Nowadays, everyone connects through social media, including businesses with their customers. It's easier to attract site visitors and keep them engaged when you have the right social media plugins in place.
To build your online presence and boost customer engagement, you can add a social media wall to your WordPress website. Social feeds give users a deeper look into your brand and show them what your business is all about.
That's why we're going to give you our top 6 choices for the best social media feed WordPress plugins. But before we do that, let's talk about why you should add a social media feed plugin to your WordPress site in the first place.
Why Use Social Media Feed Plugins on Your Website?
You might be wondering why you'd want to integrate social feeds onto your website, but there are plenty of benefits.
1. Save time setting up your social media feeds
Social feed plugins make it easy to automatically upload and display your social media content on your website. Without a plugin, you'd have to manually add posts as you publish them.
But social feed plugins take away the difficult work and make it easy to create feeds that look beautiful on your website.
2. Make your site look better
Businesses are constantly trying to improve user engagement and find new ways to capture their audience's attention, and adding a plugin like this is an easy way to do so. Social media feed plugins also enhance your site's aesthetic and make it more visually appealing.
The better your site looks, the easier it is to attract and engage visitors.
3. Engage with your customers
Finally, adding social content to your site lets your customers get to know your brand better. Sharing personalized, unique content straight to your site gives both old and new visitors ways to connect with your brand.
Building reliable customer relationships is likelier when you can bond over more than just your products and services.
Now, we'll break down the best social media feed plugins to use for your WordPress website. Let's get started.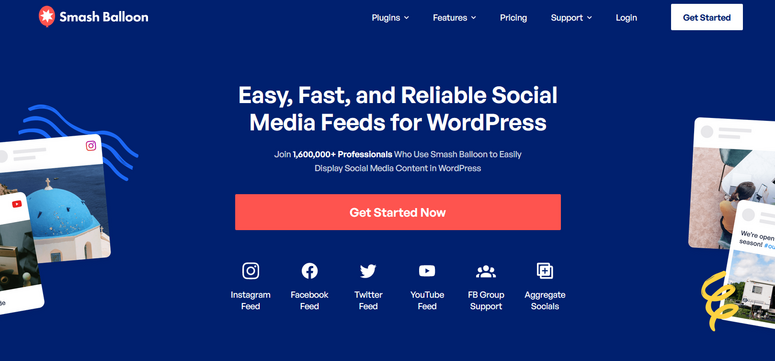 Smash Balloon is by far the best social feed plugin for WordPress. With this plugin, it's easy to set up custom feeds to match your branding without having to code. By default, it inherits your theme's styles so your site's look stays cohesive.
Smash Balloon gives users 5 different social feed plugin options to choose from:
Smash Balloon is mobile responsive so users on any device can enjoy the social content on your site. It embeds the content directly into your webpage to improve your SEO rankings and boost your brand's visibility.
Get started with Smash Balloon today.

With Feed Them Social, it's easy to create beautiful social media feeds on your WordPress website. It uses a shortcut generator that takes only minutes to set up and display.
The plugin integrates with most WordPress themes so your site design stays intact. You can add a Like or Follow button on any feed you choose to boost social engagement and increase your online following.
Feed Them Social's pro features include displaying an unlimited number of feeds, autoloading posts when scrolling, displaying images and videos in popups, and more.
Get started with Feed Them Social today.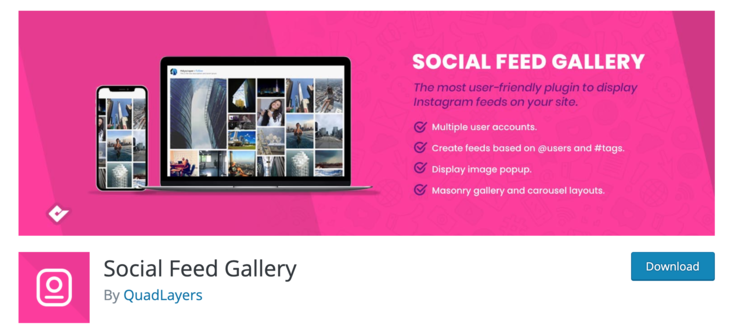 Social Feed Gallery is a feed plugin created specifically for Instagram. It's simple and easy to configure so even beginners with little technical knowledge can set it up on their WordPress site.
With the free version of this plugin, you can display your Instagram feed as a carousel slider or a gallery. There are customization options for every feed which allows you to control its layout.
You can show multiple feeds either on the same webpage or throughout your site. Display your social content in a popup gallery box to highlight posts without leaving your site.
The premium version includes powerful features like extra customization, adding unlimited Instagram accounts, including profile information, and more.
Get started with Social Feed Gallery today.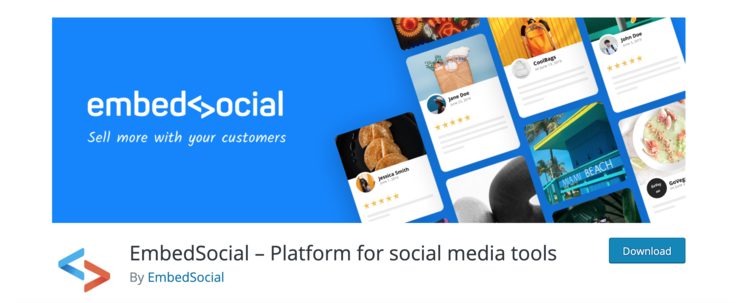 EmbedSocial allows you to integrate social content from Facebook, Twitter, Instagram, and more.
If you want to boost your brand's social proof, why not add Yelp and Google reviews to your site? With EmbedSocial, you can do that and more.
This social media aggregator displays stories, photos, videos, and user-generated hashtag posts. Generating a social feed takes minutes as the plugin provides users with a simple code to paste into WordPress.
EmbedSocial comes with templates to match multiple designs and fits your site's theme. Keep it simple by sticking to the plugin's premade options or add your own CSS code to customize your feeds.
Get started with EmbedSocial today.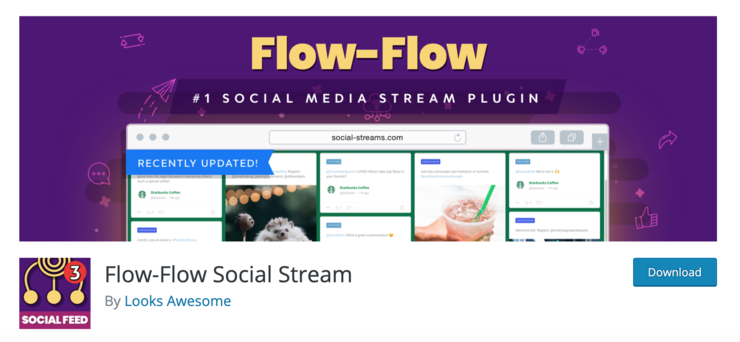 Flow-Flow Social is a fast, powerful, and user-friendly WordPress plugin. It's easy to create a social media wall and stream multiple combinations of feeds at once.
This plugin comes with rich design settings, mobile optimization, and smart caching to ensure a seamless user experience. Display beautiful feeds with its customization options, drag and drop builder, and responsive layouts.
Flow-Flow also lets you add social sharing buttons to your social media wall to increase user engagement and build brand awareness.
Get started with Flow-Flow Social today.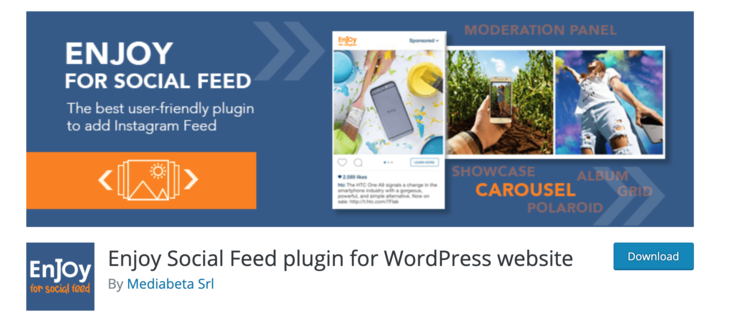 Enjoy Social Feed is another Instagram feed plugin that's tough to compete with. Using widgets and shortcodes, users can easily embed social feeds onto their website and throughout multiple pages.
Display your feed with a carousel or grid view to fit your site's aesthetic. The plugin's lightbox effect highlights selected photos to grab users' attention and keep them engaged. Customize the number of photos you want to show in your feed at a time.
Enjoy Social Feed also comes with cool features like custom CSS, auto-reload options, and multi-hashtag support so you can create the Instagram feed you want.
Get started with Enjoy Social Feed today.
And there you have it! With any one of these plugins, you'll be able to create a social media wall or feed on your website to beautifully display your posts.
If you enjoyed this article, feel free to check out our post on the best social media plugins for your WordPress website. Choosing the right plugins helps you drive traffic, improve lead generation, and boost sales.