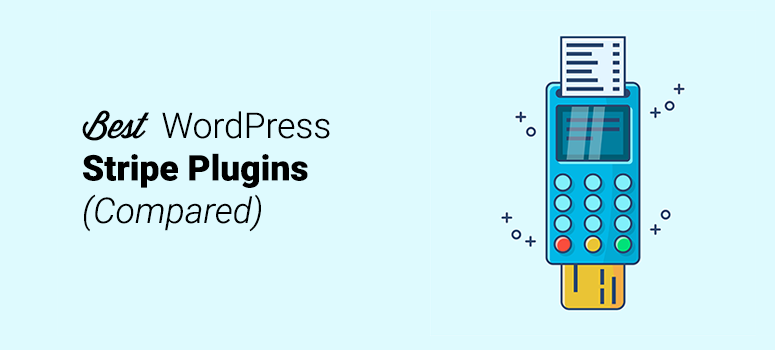 Do you want to collect payments via credit card on your WordPress website?
Stripe is a simple way to gather payments on your website. You can find dozens of Stripe payment plugins for WordPress, which can make choosing one seem overwhelming.
In this article, we'll compare only the best Stripe payment plugins for WordPress.
Why Choose Stripe Payment for WordPress?
Below are a few benefits of using Stripe for collecting payments online:
Easy setup: You can set up a Stripe account and accept payments online in just a few minutes.
No hidden costs: Unlike PayPal, Stripe doesn't charge you any hidden fees.
Better conversion: During checkout customers stay in your store instead of being redirected to an external website. This has proven to lead to higher conversion rates.
Reliable payment gateway: Even Fortune 500 companies are using Stripe to accept payments online. Stripe is one of the most reliable payment gateways in existence today.
You don't have to be a programmer to start collecting payments with Stripe. All you have to do is install the best Stripe payment plugins for your WordPress website.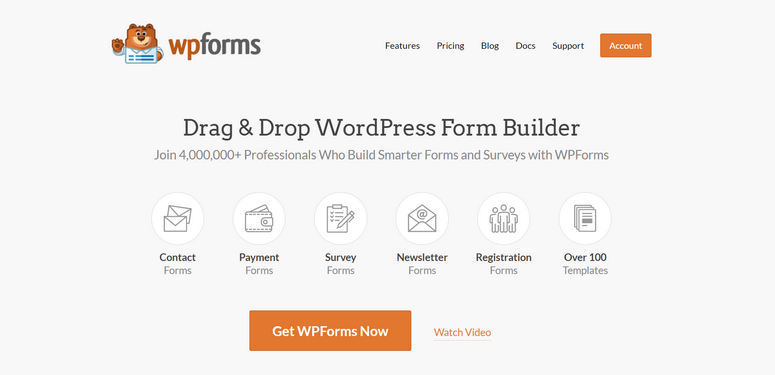 WPForms is the best WordPress form plugin on the market. It lets you collect payments with an online payment form via Stripe or PayPal. Aside from Stripe-powered payment forms, WPForms lets you create any types of online forms, such as contact forms, survey forms, registration forms, etc.
With WPForms, you can create an order form for selling digital downloads or a donation form for your non-profit organization on your own, without having to hire a developer. After creating a payment form on your site, you can connect it with your Stripe account to collect payments.
With WPForms, building a payment form is a breeze thanks to its powerful drag and drop builder. The plugin also comes with a PayPal addon for collecting payments. You can even allow your users to choose to pay through either PayPal or Stripe from a single form.
Combined with its smart conditional logic, you can show or hide fields based on user selection. Below are a few ways you can use smart conditional logic with your payment forms:
Upsell in your order form: Show an HTML Block with an exclusive offer only if the user purchases the highest priced option.
For consultants and agencies: Show your clients the next question only if their budget is higher than X amount.
For collecting donations: You can provide 2 different payment options to your users; PayPal and Stripe. You can show the credit card fields only if the user chooses the Stripe option for payment.
Without a doubt, WPForms is the best Stripe payment plugin for WordPress.
Get started with WPForms today!
Read the complete WPForms review.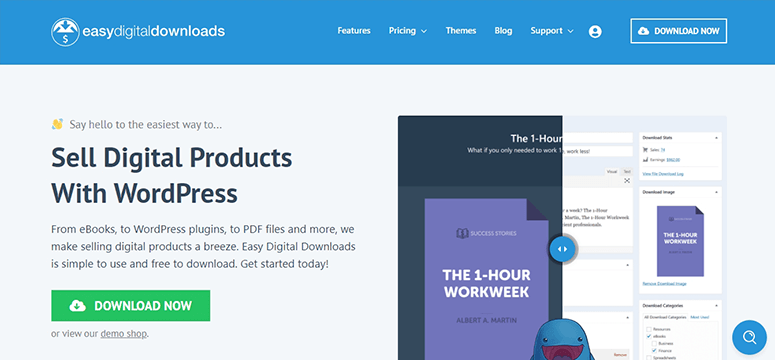 Easy Digital Downloads is one of the best ways to sell digital goods with WordPress and accept payments via Stripe. While WooCommerce also lets you sell digital goods on your online store, the downside is that it comes with tons of functionalities out of the box, which you'll never need for running an exclusively digital goods storefront (such as shipping options).
Easy Digital Downloads comes with three gateways built-in: PayPal Standard, Amazon Payments, and Test Payment. To enable Stripe payments for your digital store, you'll have to install the Stripe extension. The Stripe payment gateway extension costs $89 for a single site license, $129 for up to 5 sites, or $209 for an unlimited websites license.
Read our Easy Digital Downloads review.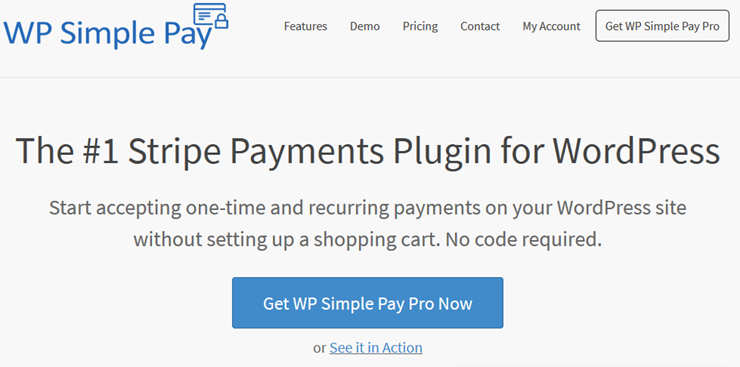 WP Simple Pay is marketed as the #1 Stripe plugin for WordPress. The plugin doesn't require you to set up a shopping cart to start collecting payments.
WP Simple Pay makes it easy to collect payments for services, single products, or donations via Stripe from your WordPress website.
All payment information is stored on the Stripe website, which keeps your WordPress database size small and loading time fast. You can add coupon codes for offering discounts and custom fields for capturing more data from your users.
The personal plan costs $99 per year. It includes all the basic plugin features, including custom fields and coupon codes.
If you want an easy way to collect payments via Stripe, then WP Simple Pay could be the best choice.
To learn more, you can check our complete WP Simple Pay review.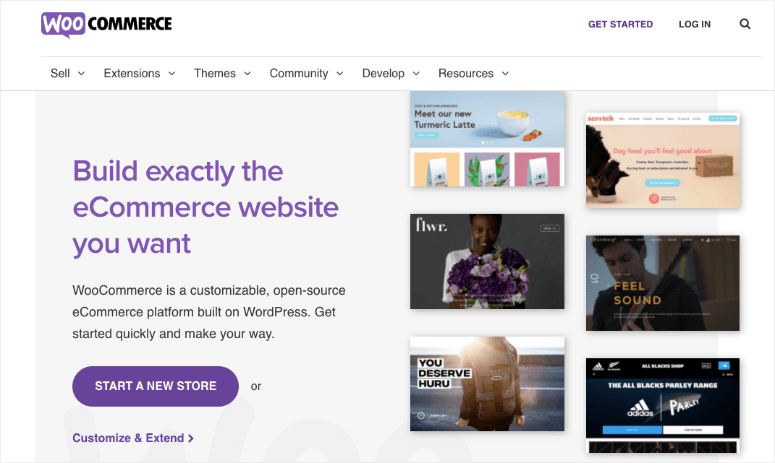 WooCommerce is the best eCommerce plugin for WordPress that accepts online payments via Stripe. With over 48 million downloads, WooCommerce powers over 28% of all online stores. From eCommerce products and subscriptions to appointments, you can sell anything with WooCommerce and accept payments via Stripe or PayPal.
Out of the box, WooCommerce only allows you to collect payments via PayPal. You can install the free Stripe addon on your eCommerce site, which you can find from the WordPress plugin repository.
In addition, you can find hundreds of free and premium WooCommerce extensions that allow you to add enhanced features to your eCommerce site.
For more details, you can read our article on how to create an online store.
Read our WooCommerce review.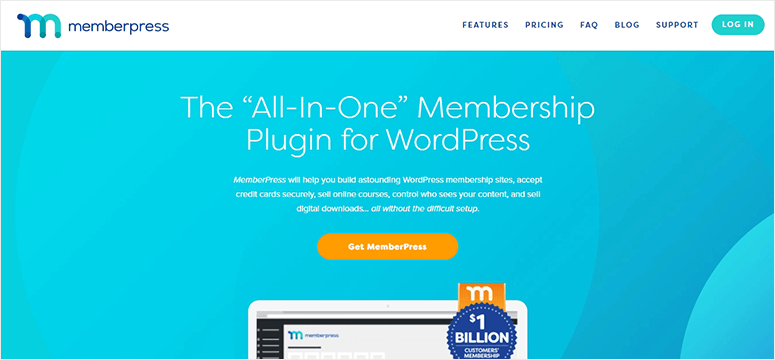 MemberPress is the best membership plugin for WordPress. With this plugin, you can create a membership site where users have to pay a subscription fee to access your content.
MemberPress seamlessly integrates with Stripe so that you can create subscriptions and accept credit cards, Google Pay, Apple Pay, and other forms of payments easily.
It's easy to set up and you have full control over what content users can see based on the membership or digital products they've purchased. You can restrict access to pages, child pages, posts, custom post types, and more.
For more information, read our detailed MemberPress review.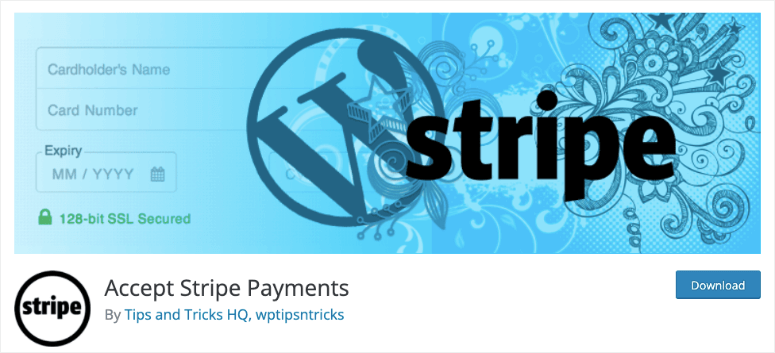 Stripe Payments is a free plugin that allows you to easily accept credit card payments via Stripe on your WordPress website. The plugin allows you to effortlessly add a simple Buy Now button onto your WordPress website with a shortcode.
The plugin is responsive, meaning it's compatible with all devices, including desktops, phones, and tablets.
The transaction info is captured in the orders menu of your plugin as well. You can view all the payments you've received from your WordPress admin panel.
If you're after a free plugin that allows you to create simple Stripe payment buttons on your website, then Stripe Payments could be the best choice.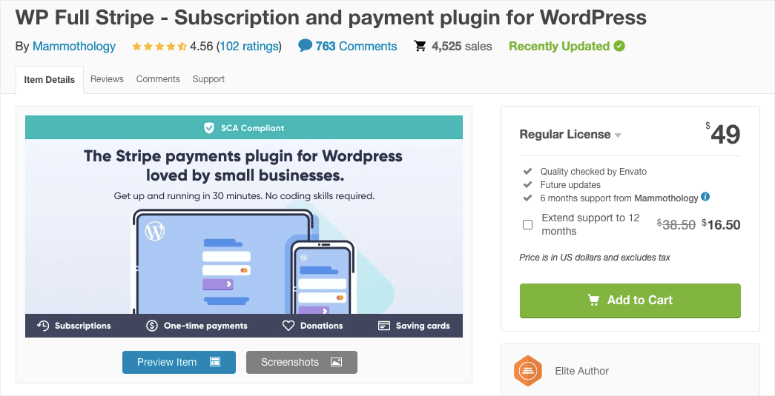 WP Full Stripe is yet another Stripe plugin for WordPress. It allows you to securely collect payments and subscriptions directly from your WordPress site.
WP Full Stripe is available to purchase from CodeCanyon, the premium hub for purchasing WordPress plugins and other scripts. WP Full Stripe is one of the most downloaded Stripe payment plugins for WordPress, with over 4,500 premium downloads.
You can get a regular license for $49, which allows you to install the plugin on 1 website and grants you 6 months of support. For an extended license for 12 months, you'll have to pay $16.50 extra.
Which is the BEST Stripe Plugin for WordPress?
After reviewing the best Stripe plugins in the market, our top picks include:
We hope this guide helped you find the best Stripe payment plugins for WordPress.
You might also want to check out our guide on the best eCommerce plugins for WordPress and also check how you can combat shopping cart abandonment.