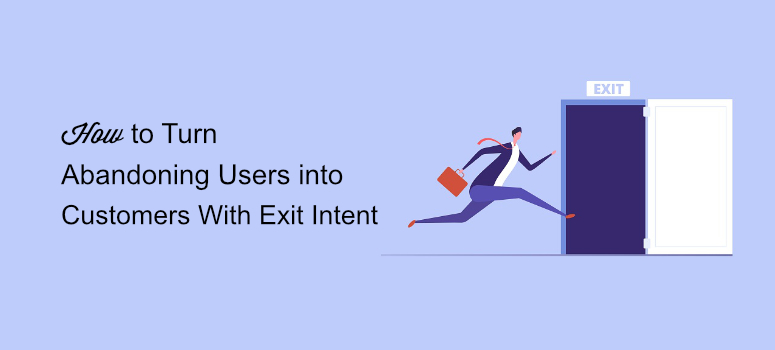 Do you want to reduce shopping cart abandonment on your eCommerce store?
Shopping cart abandonment is one of the biggest challenges you'll need to tackle as an eCommerce merchant. According to Baymard, the average documented online shopping cart abandonment rate is 68.53%.
Adding an exit-intent popup to your checkout page is the easiest way to combat shopping cart abandonment.
This article is a detailed guide about what exit-intent technology is and how to use it to turn your abandoning visitors into customers.
So let's proceed.
What Is Exit-Intent Technology?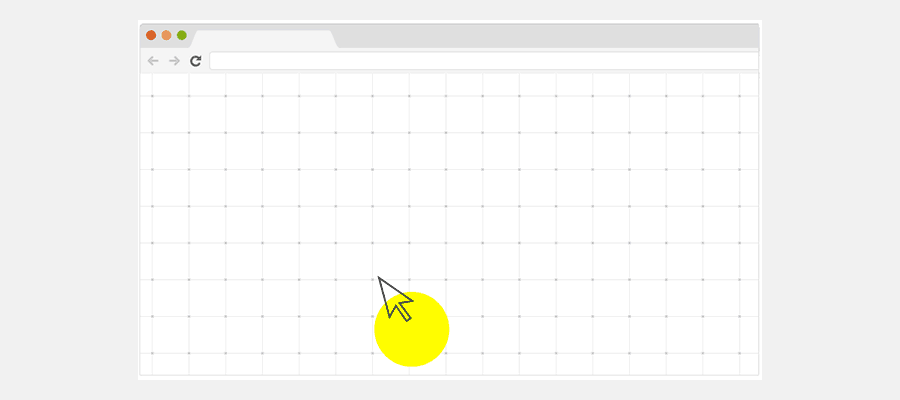 Exit-intent is a behavioral technology that tracks and monitors movements of your website visitors and detects whether they're leaving your site without taking the desired action, such as purchasing a product, signing up for an email list, etc. It works by tracking the cursor movement of your user.
As soon as the user moves the cursor to the exit button, a new tab, or any close button, this technology allows you to display a popup with a custom message so as to encourage them to take the desired action.
Using an exit intent, you can convert an additional 2-4% of your visitors into leads and customers.
Now, how will you set up an exit-intent popup on your website? If you are a WordPress user, what can be a better option than to use a plugin that offers the function?
We recommend OptinMonster, the best lead generation software in the world.
Let's now look at how to use OptinMonster in a step-by-step manner.
Step 1: Installing OptinMonster in WordPress
In order to set up an exit-intent popup, there are a couple of steps that you need to complete. First of all, install the OptinMonster plugin on your website. It lets you connect your OptinMonster account with your WordPress site. You can do that by going to your WordPress dashboard and then clicking on Plugins » Add New.
Now use the search field to look for OptinMonster.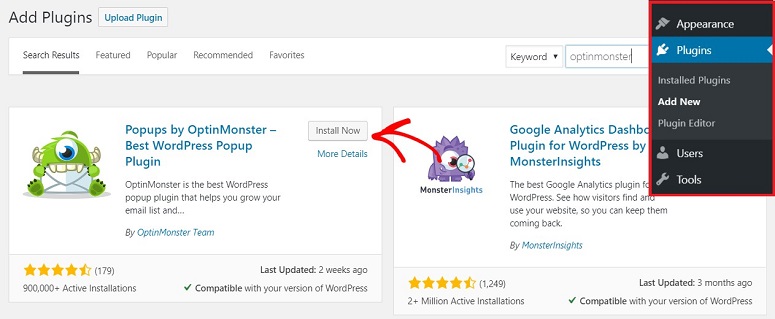 Once you locate it, click on Install Now and then hit the Activate button for it to start working.
Step 2: Connect to Your OptinMonster Account
Your next step is to create your OptinMonster account and purchase either the Pro or the Growth plan so that you can use the exit-intent feature.
Once the account is created, you can connect it with the WordPress plugin that you have just installed.
You can do that by using the API key that you will receive after you purchase the product. For creating the API key, go to the API tab inside your OptinMonster account and click on create a new API. Here you can use any customized name for your key.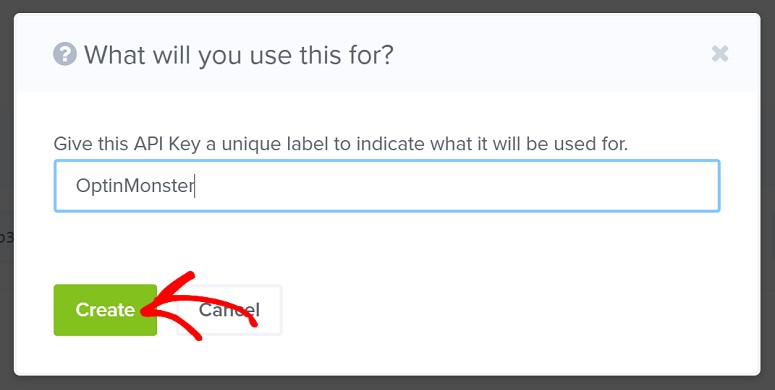 Once that is done, it's time to use the API in your OptinMonster settings and connect your account with the WordPress plugin. For that, just go to your WordPress dashboard and click on OptinMonster » Connect Your Account » Authorization.

You'll now be directed to a new window where you'll be asked to connect your OptinMonster account to your WordPress account. OptinMonster will start working on your site only after you complete this step.
So click on the Connect to WordPress button in this window. This'll automatically connect the two accounts together without you having to do it manually.
It also offers a link using which you can add the API keys manually. You can use any of the methods to link your OptinMonster account to your WordPress website.
Now that the plugin is connected with the account, you can create new campaigns inside your OptinMonster account and display them on your website.

Step 3: Set Up Your Custom Exit-Intent Popup
Your OptinMonster plugin is now ready to use. You can go ahead and create your new popup with a custom design. It can be about anything, like encouraging your abandoning users to sign up for an email list and get a coupon code.
Whatever the intent may be, your aim of creating this popup should be to prevent the users from leaving your site without taking an action.
To create a new popup (lightbox), log into your OptinMonster dashboard and click on Create a New Campaign. Then select Popup from the given options.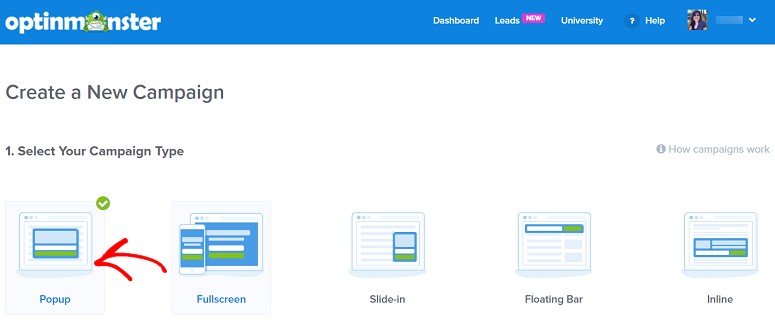 Next, you can choose a template. OptinMonster offers amazing template options for your campaigns. You can also filter your options based on your goals, and categories. It even lets you check the responsiveness of these templates before using them.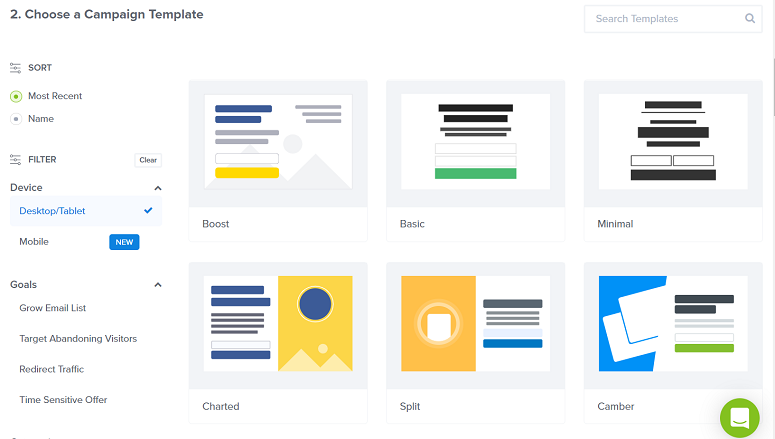 After selecting the template, OptinMonster will ask you to name your campaign. Add a name and move ahead. You'll be directed to a new page where you can customize your template. You'll have all your customization options on the left side of your screen and the template appears on your right. You can see the design as you edit it.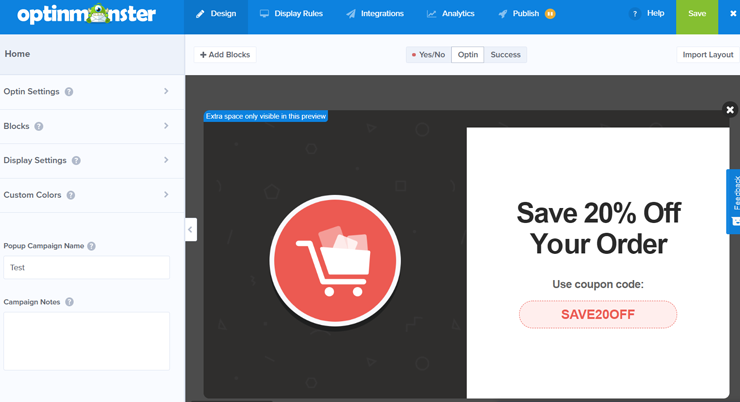 Once the design is complete, click on the Save option and the popup will be ready to go live on your WordPress site.
Step 4: Selecting Where and When to Display Your Popup
After creating the popup, go to the Display Rules option on the top of your screen. Here you can add where and when you want your popup to appear on your website. You can also add a new rule for your popup.

Make sure to choose exit intent in the dropdown menu.
When the configuration is complete, you can re-check the workflow in the summary before publishing it.
Turning Website Visitors Into Customers With OptinMonster
There are many use cases for OptinMonster and how it would benefit you to convert your website visitors into leads and customers.
For eCommerce websites
The checkout page of your WooCommerece store is the final step of your conversion process. So anyone who makes it all the way to this point is a high-value user or your potential customer. The best way to hold such users from abandoning is to use the exit-intent popup.
For Bloggers
Similarly, you can use this plugin on content-based sites for growing your email list. With an optin form popup, you can encourage users to subscribe to an email list.
Overall, there is a lot of advantages of using OptinMonster's exit-intent feature for your online presence. And believe it or not, it has the ability to take your website performance to the next level.
That's it!
We hope this guide helped you combat your shopping cart abandonment with exit intent. You might also want to check out the complete OptinMonster review.