Do you want to create a membership website? A membership site enables you to create a premium content library and make it accessible only to your registered members.
MemberPress is one of the best WordPress membership plugins available on the market today.
In this MemberPress review, we'll take a closer look at its features and explore what makes it one of the best membership plugins for WordPress.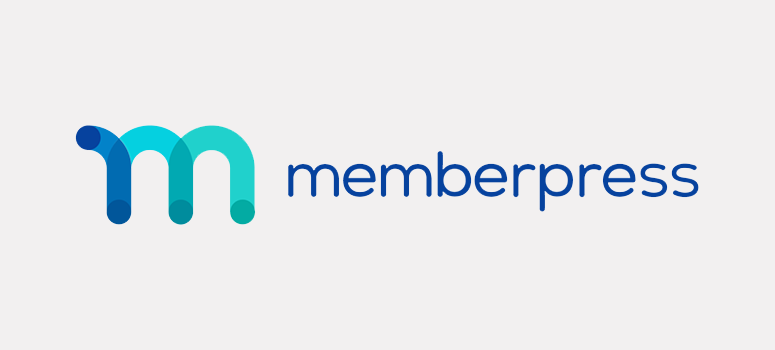 Why You Need a WordPress Membership Plugin?
A membership site is a form of business website with some locked content that only subscribed members can access. It allows you to hide premium content behind the paywall, so not everyone can access the content – only those who have keys. Here, 'membership' serves as the key to your paywall. You can either charge people for subscribing to a membership plan or require them to register an account for free.
A few possible reasons for creating a membership site are:
Make a recurring income by selling membership.
Establish yourself as an authority by providing great content behind the paywall.
Create a highly engaging email list.
A full-fledged membership site allows you to create different levels of memberships. You can allow access to your content based on the membership level. Another benefit is that you can sell your products for a one-off fee or sell it via recurring subscriptions.
Creating Fully-Featured WordPress Membership Sites With MemberPress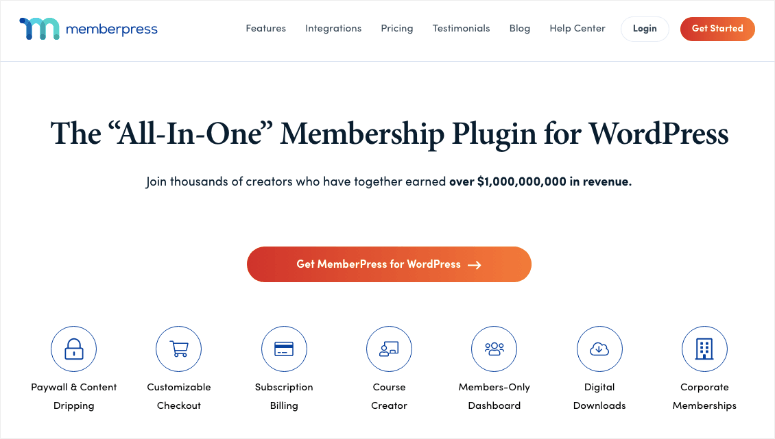 MemberPress, as its name suggests, is a tool that enables you to create a full-powered membership site in WordPress. Marketed as an 'All-In-One membership plugin for WordPress', it has the complete set of features you would want in a membership plugin. It allows you to create membership sites, manage memberships and content, and receive payments securely.
The plugin is easy to use and handle. Even beginners can configure its options and settings with ease. It's been updated consistently with new features and has become even more beginner-friendly due to refinements made over time.
1. The MemberPress Setup Process
After the plugin is activated, it takes you to the plugin options section. On this page, you can configure options for pages, accounts, fields, payments, emails, marketing, etc.
Pages: You can configure and customize reserved pages, group and create membership page slugs, and monitor unauthorized access options from the Pages tab.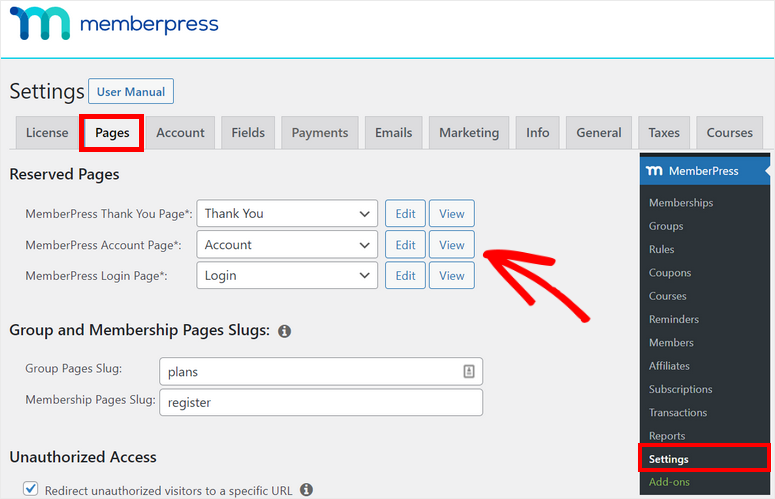 The reserved pages are automatically created by the plugin as they are essential for a membership site.
Account: The Account tab includes options for configuring member information. It has four main sections: permissions, registration, login and logout, and account page welcome message.
Fields: This tab includes options to enable or disable fields and further configure fields on membership registration forms and the user account pages.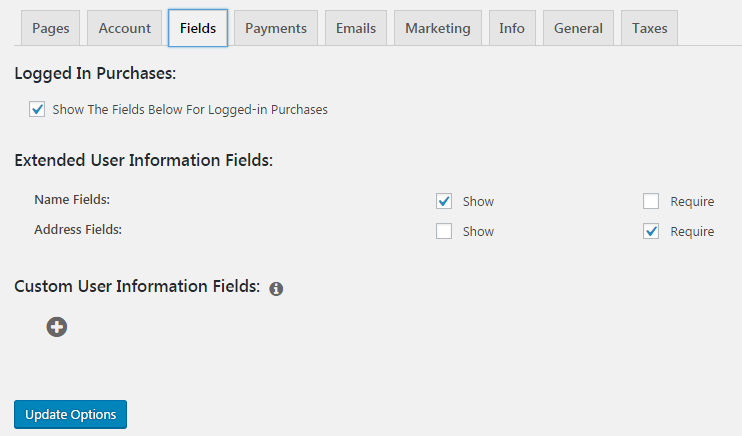 It has two user information fields – Name Fields and Address Fields by default. You can either require or not require a particular field in your form registration.
Payments: In the Payments tab, users can configure the payment settings. The MemberPress plugin currently supports following payment gateways: PayPal, Authorize.net, and Stripe.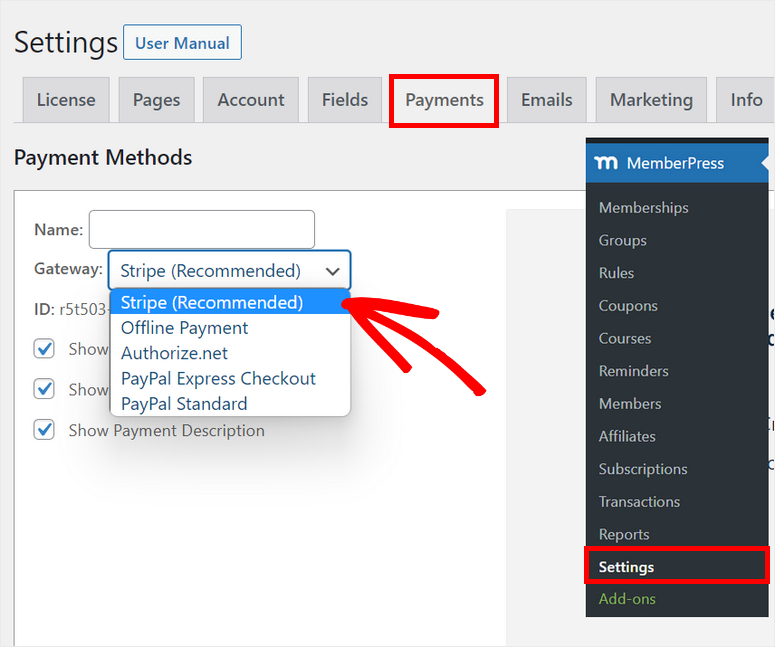 You can add and configure one or multiple payment methods from this section. Furthermore, you can choose whether to show payment labels, icons, and descriptions.
Emails: The plugin has a full set of email options in this tab. Configure name and email addresses from which emails will be sent to members and admins.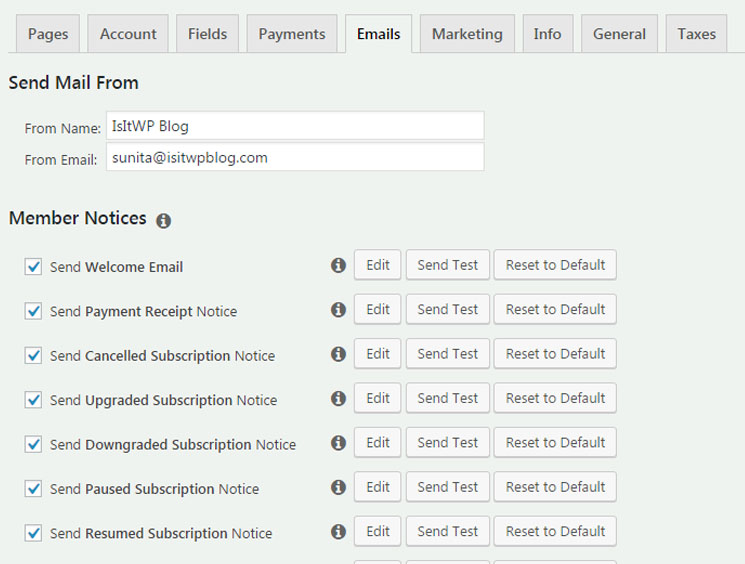 You can also configure when the emails should be sent.
Marketing: The Marketing tab allows you to manage and control your email accounts and mailing lists. MemberPress has in-built addons for more than 10 popular email marketing services. You can sync your accounts with MemberPress and add the members' email addresses to your lists.
Info: This tab provides you with options to enter, manage, and edit your business address.
General: The general tab has options for internationalization (language code, currency), theme compatibility, SEO, and PayWall, rewrite rules, and background jobs.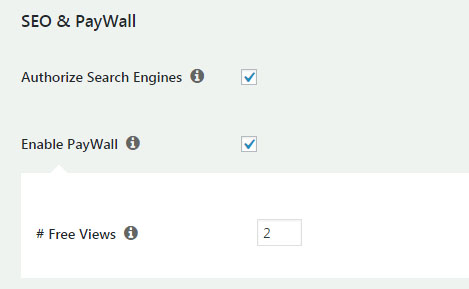 It has Authorize Search Engines option from where you can allow search engines to view your protected content as authorized members. With this option enabled, search engines can index your site for restricted content as well.
Another interesting option is Paywall. By enabling paywall, you can display your content to all your visitors for a specified number of times before your content gets locked in.
Taxes: Finally, this tab lets you enable or disable tax calculations and manage settings for tax calculations.
2. Creating Memberships
In order to create memberships, you'll have to go to the Memberships menu and click Add New.
Now, you can start creating a new membership as shown below: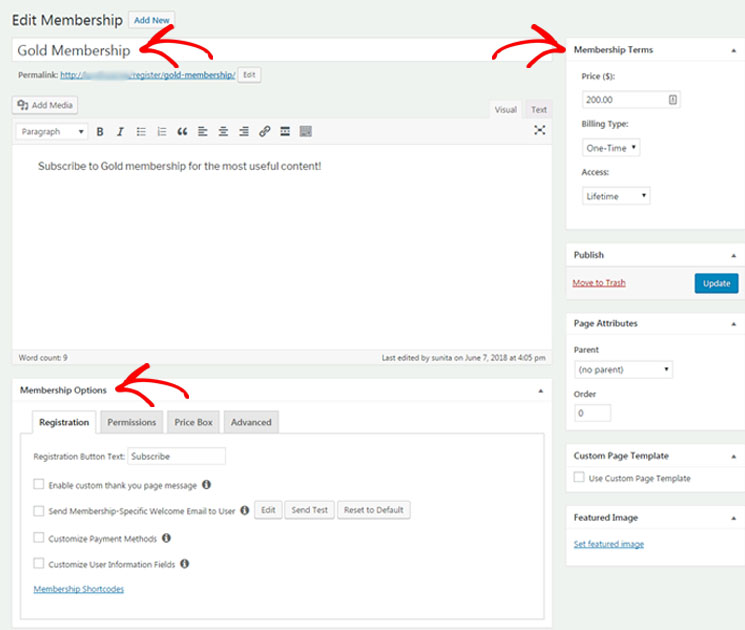 Give a name to the membership, specify you price, billing type (one-time or recurring), duration of access, and membership description. You can also configure membership options such as registration, permissions, price box, etc.
You can create multiple types and levels of memberships through the same process.

3. Configuring Access Rules – Protecting Content
Now that we've looked at how to create memberships, let's check out another interesting feature of the plugin: Access Rules.
You can set rules to protect your content and specify who can access the protected content. First, set the protected content as posts, pages, posts categorized or tagged in certain ways, or any file in the website. Then, you can define the 'Access Conditions' which must be satisfied for a user to get access to the locked content.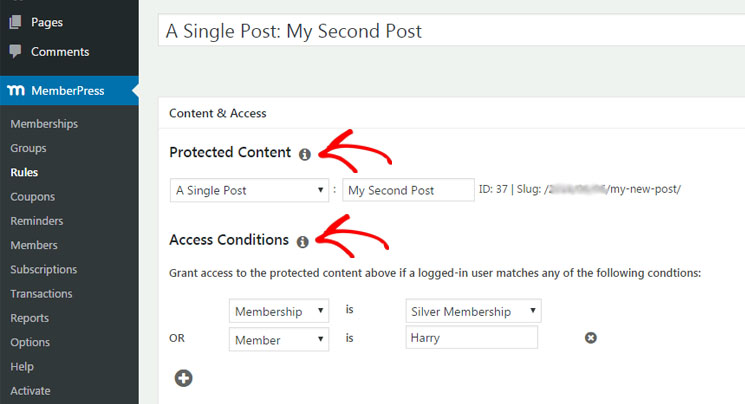 A single post titled 'My Second Post' is set as protected content. You can view how the access rules are set in the above image.
Now, anyone who has not purchased a Silver membership and members whose names don't begin with 'Harry' get an unauthorized message if she / he tries to open the post. View the screenshot below: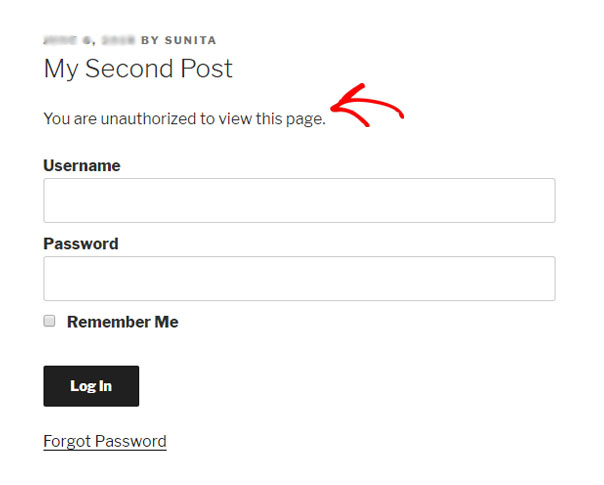 Content Dripping and Expiration Feature: Yet another interesting feature included in 'Rules' menu is content dripping and expiration. Content dripping refers to allowing access to protected content after a certain time. Thus, users should revisit your site for the access to the certain restricted content. You can expect more returning visitors and recurring income with this feature.

Similarly, the plugin allows you to set an expiration date for the access to protected content.
More Interesting Features of MemberPress
MemberPress has more amazing features that help you make a perfect membership site.
Let's take a look:
Reminders
Members are always very important for a membership site. You cannot really lose any member / subscriber for any reason. In case of membership expiration, renewal, or failed attempt to sign up, you can send reminder emails and get the users back to your site.
With MemberPress you can easily automate reminder emails with your custom or default messages. This is a very useful feature as it helps you to gain and retain more members.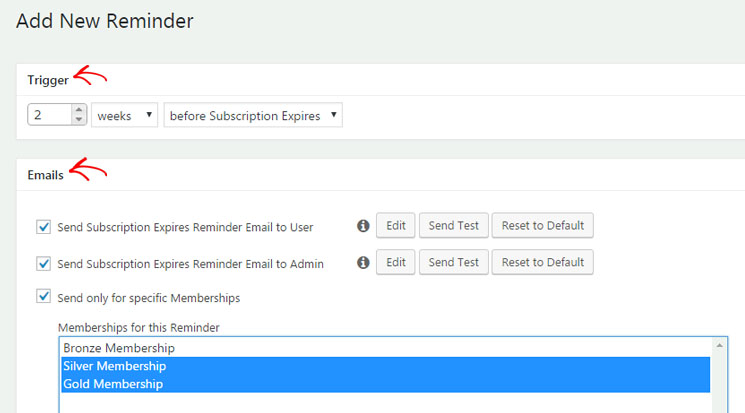 Coupons
Another important feature you may need in a membership site is using coupons. Coupons are great for running promotions and giveaways, which is helpful in attracting new members.
MemberPress allows you to create coupons easily from the Coupons menu, as shown below in the screenshot.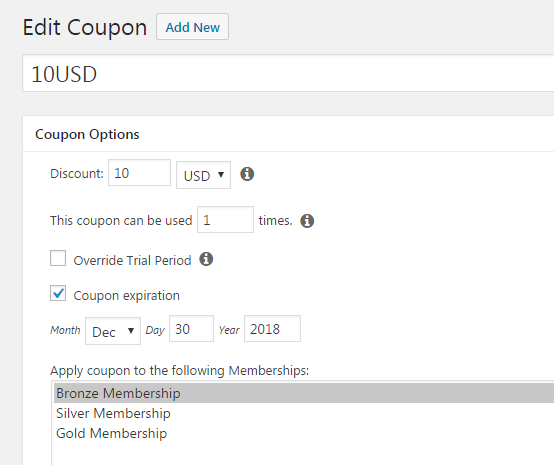 MemberPress Courses
MemberPress also offers a built-in Courses addon that lets you create, manage, and sell online courses. Creating an online course is super easy with MemberPress. Simply use the fully visual drag and drop builder to add lessons, topics, categories, images, videos, and more to build your course curriculum.
With the Classroom Mode setting, you don't have to worry about designing the course yourself. MemberPress handles this for you automatically, so you can be sure your course looks professional.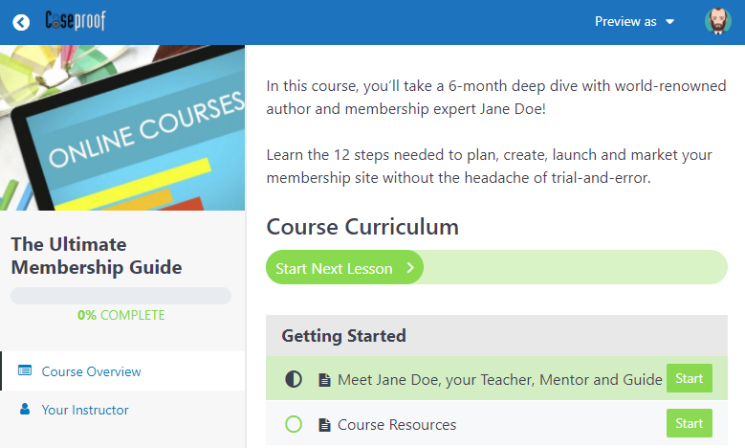 Using MemberPress Courses, you can also create multiple courses with different subscription options, track learners' progress, and much more.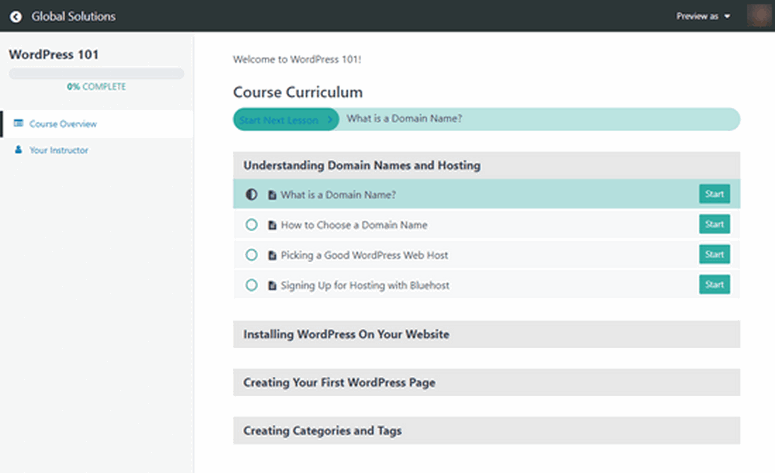 The Courses feature makes MemberPress a membership software and an LMS plugin all-in one.
MemberPress Addons
MemberPress has deep integration with about 40 third-party services and software. These include different types of email marketing services like Drip, ConvertKit, and Mailchimp. Other integrations include payment gateways, WordPress themes and builders like Divi, communities, forum software, and more.
With built-in integration to these amazing third-party software options, the plugin is more useful than ever and serves its purpose well.
The plugin has most of these integrated applications packed in as addons. You can find more than 20 addons in the Add-Ons tab in the Activate menu. These addons are ready to be installed just with a single click. You only have to install the addons you're interested in. That way, you can keep your dashboard neat and tidy.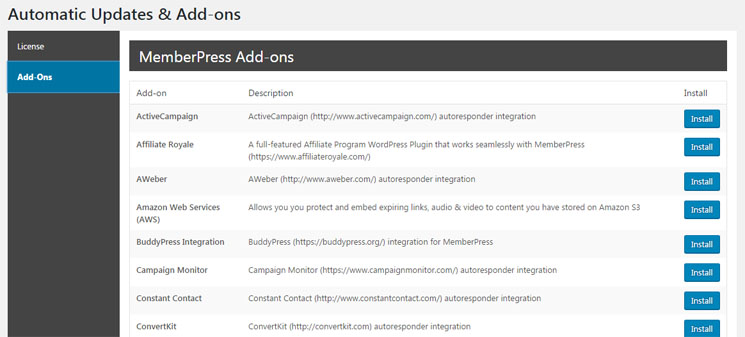 Besides that, there are other useful options such as creating and managing groups, members, subscriptions, transactions, and a fine report system.
Pricing and Support for the MemberPress Plugin
MemberPress is a premium plugin with no free version. The plugin offers three levels of pricing plans for different types of users. All three plans provide a yearly license.
The most basic plan, named 'Basic', costs $179.50 per year and you can use this license for only one site. Another plan, 'Plus', is available for $299.50 per year and can be used for up to 2 sites. The most advanced plan is 'Pro', available for $399.50 per year. You can use the 'Pro' plugin license for a maximum of 5 sites.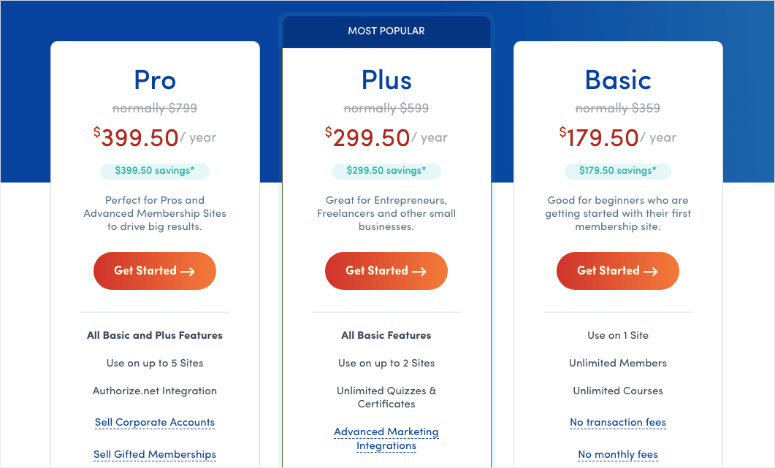 MemberPress pricing seems costly for startups, but it's quite a fair price for all the amazing features the plugin offers.
Customer support is another very important aspect you need to check before buying a digital product. Talking about MemberPress support, it's dedicated and reliable. The team of professional happiness engineers provide technical support via a support ticket system. The plugin's website has an extensive and comprehensive knowledge base where you can get insights and ideas about using the plugin.
Our Verdict on MemberPress as the Best WordPress Membership Plugin
MemberPress is one of the best plugins that help you build a fully-fledged WordPress membership site.
Its integration with popular third-party services and software is also praiseworthy. The core plugin comes with all the essential features you could ever desire. For additional features, you can add their respective addons.
The plugin is user-friendly. However, its extensive set of features and options may confuse some users. It definitely takes some time to understand the plugin interface for non-techies.
Finally, after a thorough review of the MemberPress plugin, we can confidently state that it's a great plugin for WordPress. A plugin capable of serving as the backbone of membership sites, MemberPress definitely deserves the 'best' title in its niche. We give it 4.8/5 stars. Here is the breakdown of our review score:
Get MemberPress Now »