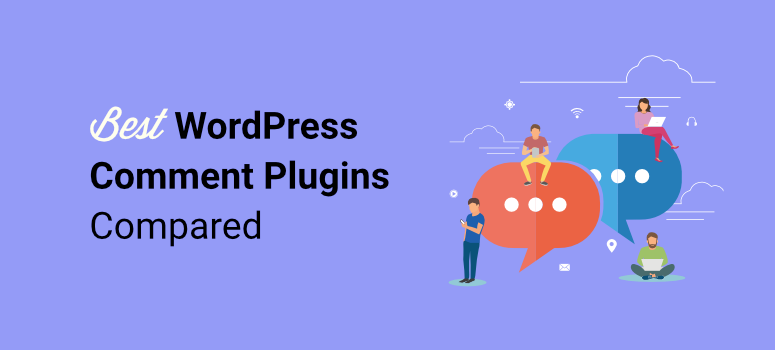 Are you looking for the best WordPress comment plugins?
When readers leave comments on your posts, it helps increase engagement, page views, and return visits. While many WordPress sites have a default commenting system, it's limited in functionality.
But today, you'll have access to a hand-picked list of the best WordPress comment plugins with more options to help you drive sales and build a thriving community.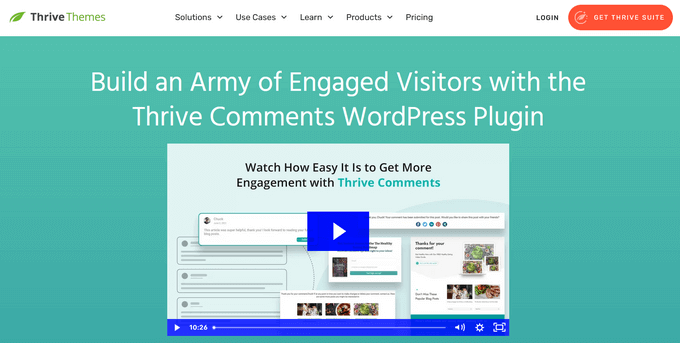 Thrive Comments is the #1 comments plugin for WordPress. It helps you create a comments section that's bustling with conversation and can make your blog a place that users want to return to again and again.
This tool uses the power of social media elements and community forums and adds them to your WordPress comments.

So for instance, it uses likes, upvotes, downvotes, and featured comments to give users validation that their comments are appreciated.
With Thrive, you can turn a single comment into an engaging conversation. It even enables you to create a journey for commenters as they can create avatars and earn achievement badges for different levels of engagement.
Coming to the admin side of things, Thrive makes it so easy for anyone to personalize and moderate their comments section. Take a sneak peek into their dashboard. You get so many customization options along with a live preview of what your front-end comments section will look like.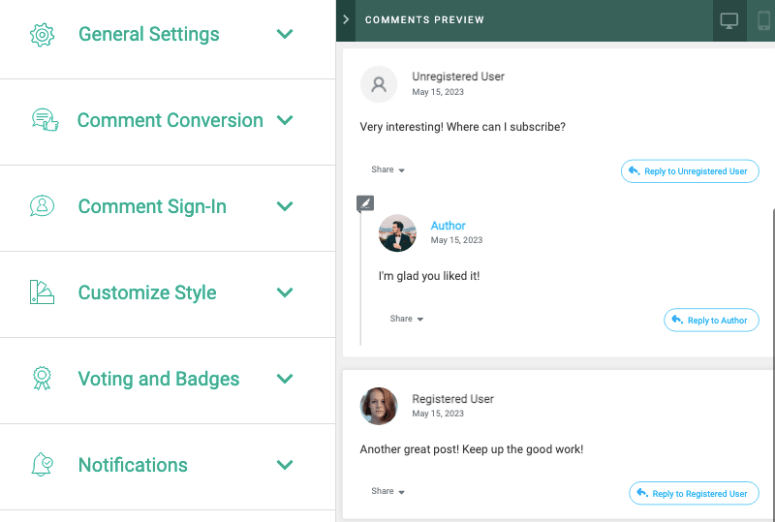 One of the main reasons users don't leave comments is that they have to create an account. Thrive solves this by letting users sign in with 1 click using their social media accounts like Twitter, Facebook, or Google. They can also share their comments on social media. Pretty neat, right?
What we really love is that you get complete control of your comments section. So for instance, when a comment is made on a blog post, head over to your comments dashboard and you'll see options to quickly approve, trash, mark it as spam, or make it a featured comment.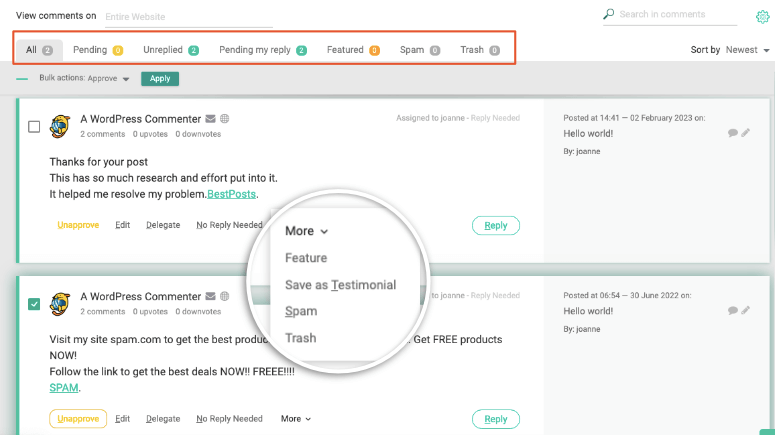 This gives you the power to keep your comments section clean and tidy – and you get to decide which individual comments get featured.
Sounds like too much admin work? Do you want to hand this task off to a team member? Then let someone else moderate comments based on their WordPress user role.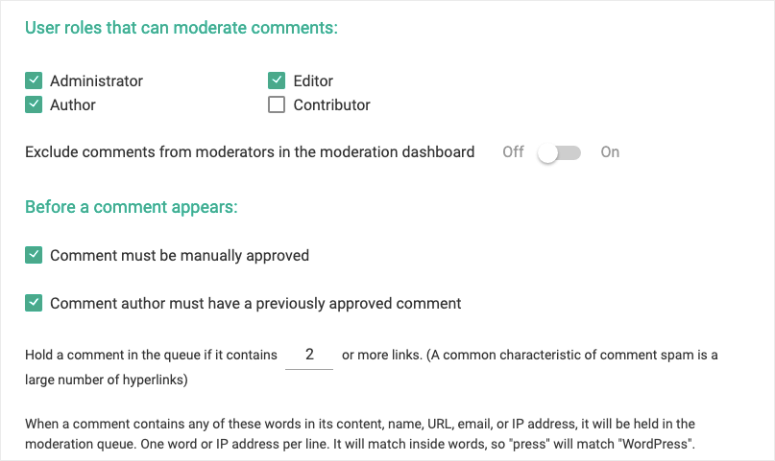 You can also choose whether comments must be manually approved or can be automatically displayed. You can also set up email notifications to be alerted when someone comments.
With these controls, your comments section won't be spammed by fraudsters making it safe for your audience. In turn, this is great for SEO (search engine optimization) as well.
In a nutshell, with Thrive, you'll no longer be stuck with the default WordPress comment section.
Ready to create an awesomely engaging comments section?

Get Started with Thrive Comments Now »


Akismet is one of the most used WordPress comment plugins on the market. This plugin will filter spam comments for you so your WordPress website can keep its credibility.
Instead of wasting time moderating comments from bots and deleting comments containing links to suspicious sites, this plugin does it all for you. You'll never have to deal with annoying spam comments again – which makes Akismet a must-have for your comment section.
So for instance, on the settings page, you can choose to let Akismet auto-detect spam and send it to the spam folder. You can even ask the plugin to trash the worst spam so that you never have to see it.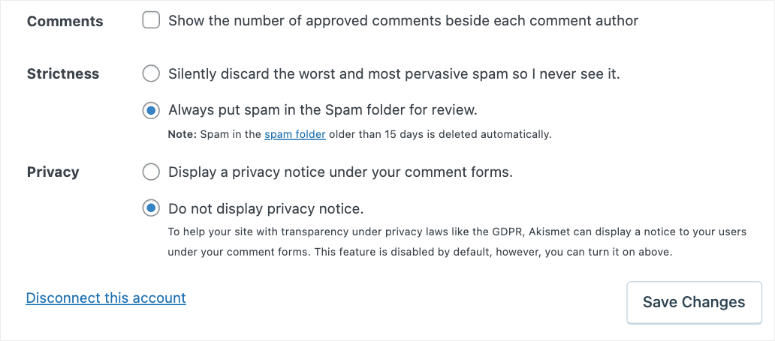 When the plugin is active on your site, you'll see a 'Check for Spam' button appear in your comments dashboard. You can use this button to run an on-demand spam check. If Akismet spots any spam comments, they will automatically be sent to the Spam folder. This makes managing comments on your site so much easier.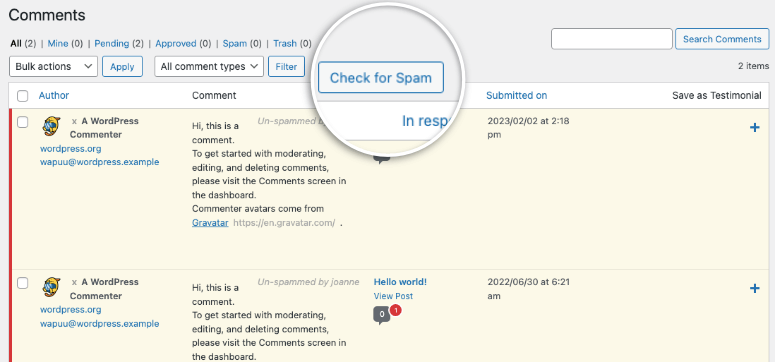 The plugin is built with best practices and maintained regularly so it's compatible with all popular WordPress themes and plugins.
You can get Akismet's free version called the Personal plan which is great for bloggers and personal websites. They give you a free API key that you need to paste inside the Akismet settings of your site. So if you're a small website that just needs to control spam in your blog comments, Akismet is a good choice.
If you're running a commercial website, you'll need to upgrade to their Plus plan for $8 per month, per site.
With this plugin, you can improve user experience and user engagement from real people, and keep the spam bots out.

Want more information about Akismet? Check out our full Akismet review.

Jetpack Comments is a great WordPress plugin that makes it easier for your readers to comment on your blog. You can set your comments headline and color scheme inside the JetPack Settings page on WordPress. You can also customize the replybox to match your site's design.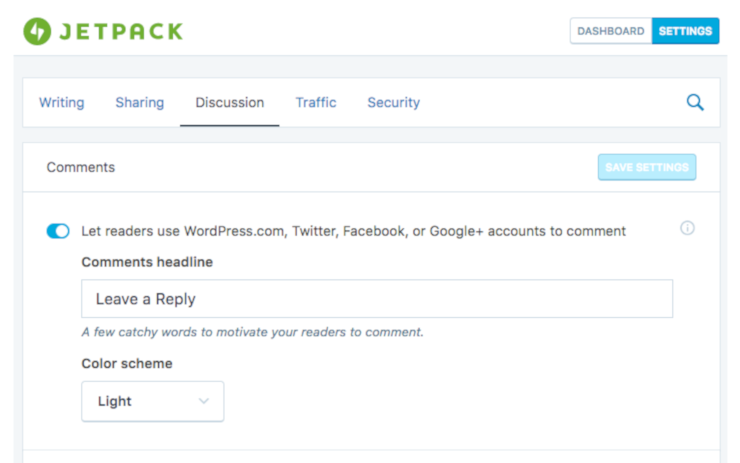 This sleek-looking, easy-to-use comment system is simple to install. Once you activate the Jetpack Comments plugin on your site, it replaces your default comment section with a new system that has social media login integration.
Instead of having to make a new account just to comment on your blog, users can sign in with their existing WordPress, Facebook, or Twitter accounts. Visitors also have the choice of leaving a comment as a guest or using their social networking username.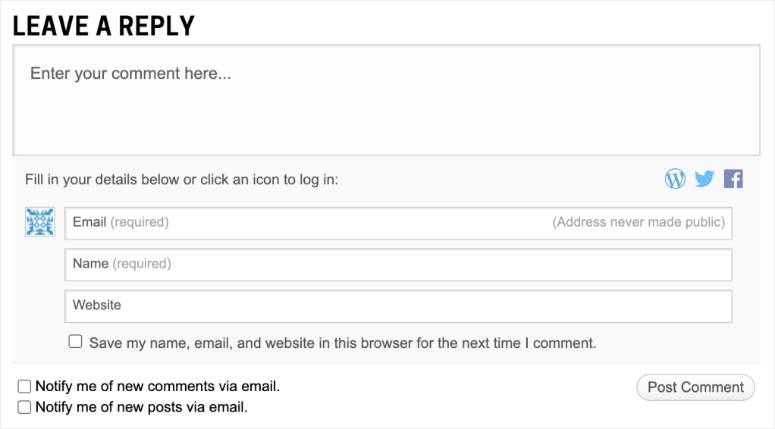 The Jetpack Comments plugin is created by the same folks behind WordPress.com. You can buy these add-ons individually or in a bundle. For a more detailed review of Jetpack, check out our complete JetPack review.
Get Started with Jetpack Comments »
These are our top 3 picks for comments plugins that you can use on your WordPress site. In our opinion, Thrive is the only one you need. If you're looking for a free anti-spam plugin, then Akismet is a good choice.
If you're looking for more options, we've listed them below: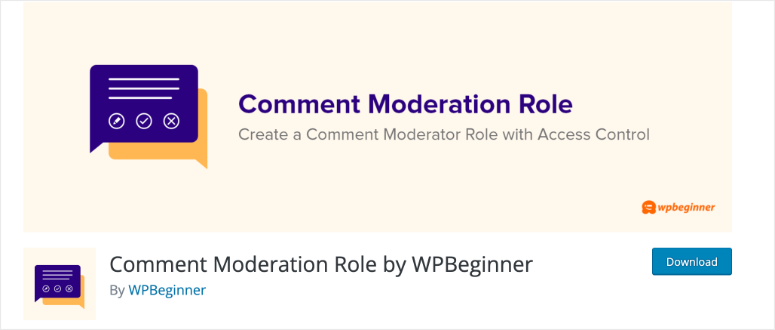 Comment Moderation Role is a helpful plugin to control comment permissions on your WordPress site. This plugin is created by the WPBeginner team, the #1 WordPress blog for tutorials, reviews, and showcases.
This doesn't change the native WordPress commenting system. Instead, lets you authorize someone to moderate comments.
So once you've installed the plugin, you can create moderator user profiles to approve, edit or decline comments.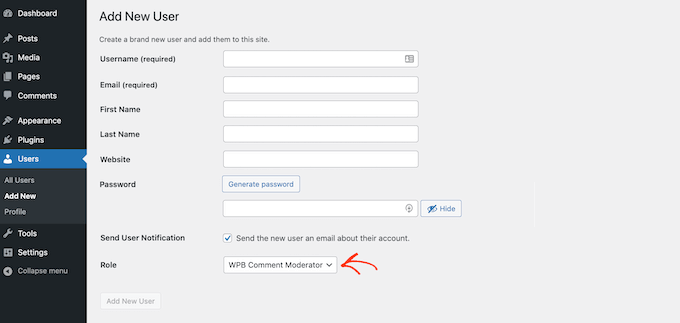 The main benefit of this plugin is that it helps you save time by handing over the comments moderation tasks to a team member.
It even lets you grant specific access to moderators. For example, if you have a guest author, they can moderate the article they write and just have access to it rather than your entire website.
Get started with Comment Moderation Role »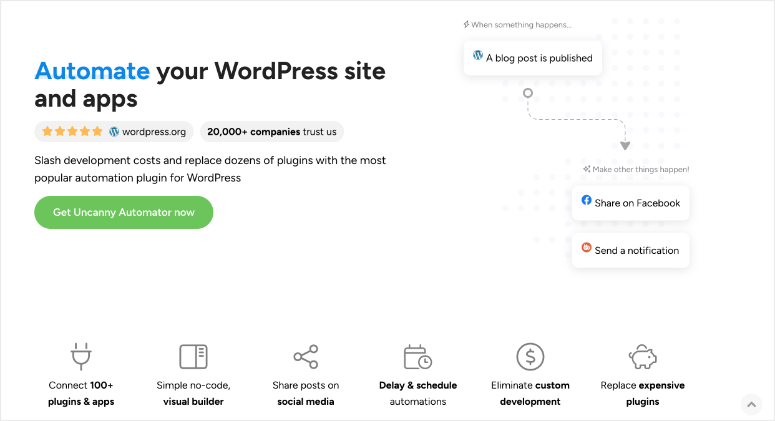 Uncanny Automator just like its name indicates, is one of the best WordPress comment plugins if you want to use automation to streamline your workflow, including the comments section.
With over 100+ integrations, this plugin lets you create a flow to help potential customers enter your funnel based on specific triggers using the Conditions feature.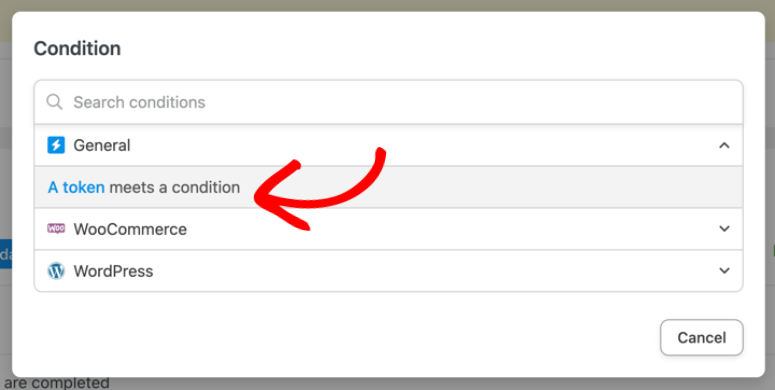 So, for example, when users post comments with a certain buyer keyword in them, you can trigger an automated sales email to be delivered to them instantly with a discount if they buy the product now.

To set this up, you can use integrations like Presto Player to add a tag and FluentCRM to send the email. The plugin also integrates with WooCommerce, MemberPress, Zapier, and more.
Uncanny Automator is a powerful plugin and comes only with a premium version and a 14-day trial period.
Get started with Uncanny Automator »
wpDiscuz is a super fast and responsive plugin with many features like custom comment forms and fields with anti-spam features, preventing spammers from commenting. Their social plugins help build a community across many platforms.
Also, your website visitors will get real-time notifications when their comments are approved and there's even a feature that highlights new comment bubbles since their last visit with different backgrounds, encouraging engagement.
What stands out is the comment editing feature that allows users to make changes to their comments. It also includes a smart voting system with tracking by logged-in user and cookies.
Want to make sure your readers don't hijack threads with a different topic? wpDiscuz has multi-level (nested) comment threads that let you decide what the maximum level depth is.
wpDiscuz gives you advanced features too like built-in Gravatars caching and lazy load comments on scrolling. This helps speed up page load time on your site.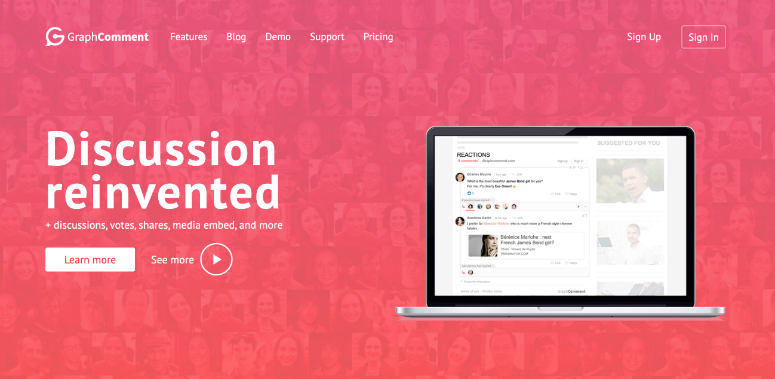 GraphComments is a plugin with a personality: this quirky comment tool really stands out with its Bubble Flow interface that changes the comments section into a forum. Here, your readers can engage as if on Facebook with reactions, likes, and replies to each comment as well as a discussion thread.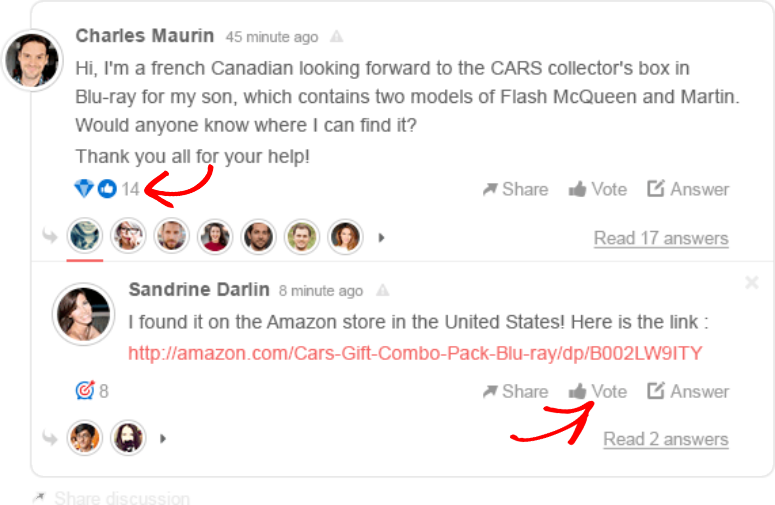 What's more, you get access to an algorithm that decides which conversations to display first based on relevancy, hiding irrelevant comments at the bottom.
By letting your visitors embed GIFs, videos, images, and emojis into their comments, GraphComments helps you create an engaged community. This in turn helps improve your brand's reach, and increase your revenues.
Get started with GraphComments »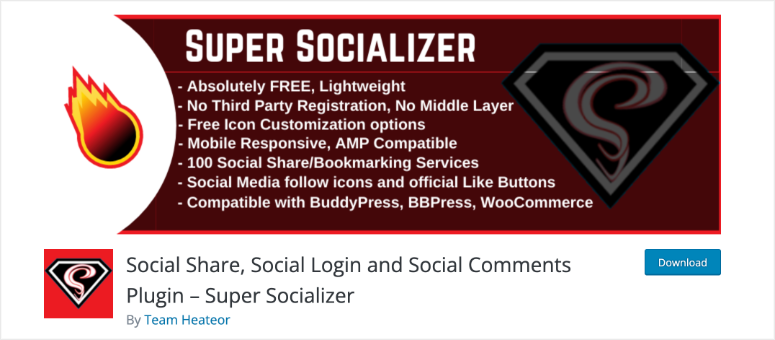 Super Socializer has great pricing if you're looking for a budget-friendly WordPress comment plugin – it's free!
The plugin is GDPR Compliant with share counts supported for Twitter, Buffer, Reddit, Pinterest, and more. You can even specify the sharing icon shape as square, round, or rectangular.
Also, it blends social login options, social sharing, and social commenting tools together. This lets your readers log in to a comment form with their social login instead of needing to create a new account. Not to mention being able to automatically approve comments for visitors logging in this way and grow your tribe.
Get started with Super Socializer »

Remoji Reactions adds Slack-style emoji to posts, pages, or comments, humanizing interactions between users on your WordPress site.
This is a simple plugin that displays page view count and allows many different reactions to posts and comments. As Meta has shown, reacting to posts does increase engagement, but what Remoji Reactions has that Meta does not is the ability to turn off reactions for unregistered users to fight spam.
And, speaking of spam, another great feature this plugin has is that it automatically blocks bots. This plugin is also GDPR compliant.
Get started with Remoji Reactions »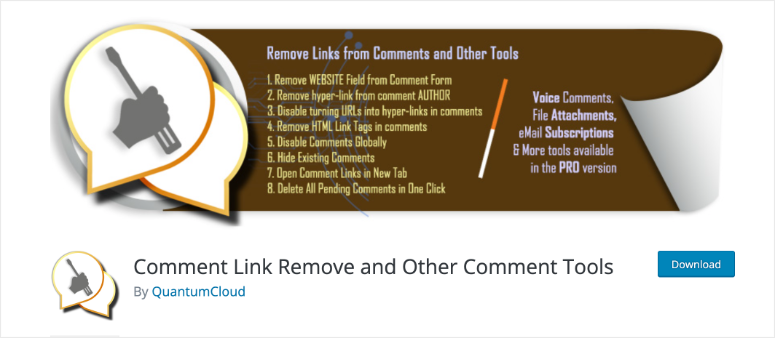 Comment Link Remove from QuantumCloud help you combat the clickbait farms that spam your site and are not bots but actual people that pass the captcha tests.
Of course, one way to protect your site from spam is to always have comment reviews turned on. But this is challenging if your site has a lot of traffic and your efforts to build a community can be hurt if there is a delay before comments appear. This plugin helps improve comment quality by automatically removing author links to spam sites.
Also, Comments Link Remove has the option to require users to optin to your email list in order to comment. This feature will help you grow your community, engagement, and sales.
There's a free version as well as premium plans. The pro plugin gives you access to features like disable comments, auto moderation, email integrations, disable hyperlinks, sidebar comments widget, media attachments, and more.
Get started with Comment Link Remove »
Verdict: Which is the Best WordPress Comment Plugin?
The winner in our opinion is Thrive Comments. Using this WordPress Comments plugin, you'll have everything you need to create an engaging and interactive comments section. You get full control over your comments so you can use them to drive your website's growth and brand reputation as well.
You can even sign up for Thrive Suite which includes not just the comments plugin, but other tools like:
That's all we have for you today. We hope this guide helped you find the best comments plugin for your website. Next, you may want to check out more of our WordPress plugin showcases:
These plugins will help you make your site even more interactive so you can create a community of engaged followers.