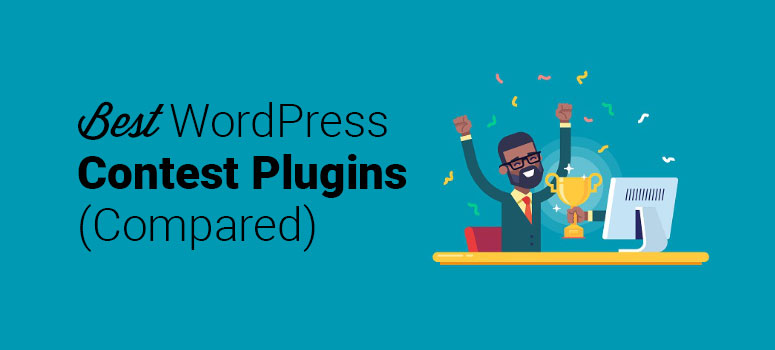 Do you want to run a contest on your site to boost your engagement and following?
Contests and giveaways can explode your website traffic, email list, and social media followers. If you want your contest to be successful, then you need a powerful WordPress giveaway plugin on your site.
These plugins help you create and manage your contest from start to finish.
In this article, we've picked the best contest plugins for WordPress that are feature-rich and affordable.
What to Look For in a WordPress Contest Plugin?
Running a contest or giveaway is a win-win for both you and your audience. They get a chance to win a prize while you get an opportunity to market and promote your brand.
But it can be tricky to do this without the right tool. A good WordPress contest plugin will help you:
Target multiple goals together like growing your email list, site traffic, social media followers, and more.
Make it easy for participants to complete actions like follow, like, share, or subscribe in order to be eligible to enter your contest.
Ensure your contest is fair, a good contest plugin will prevent fraud and duplicate entries
Since contests last for a limited time, you'll also want features like a countdown timer to create a sense of urgency to entice more people to participate in the contest.
We've picked the best WordPress contest plugins based on how easy they are to use, cost, and features they offer. Let's dive right into the list.
Best WordPress Contest and Giveaway Plugins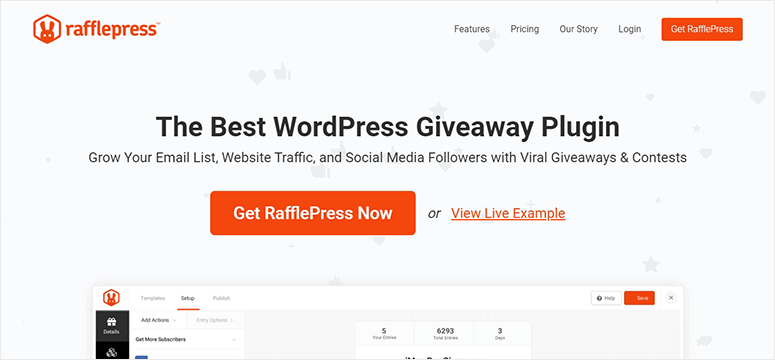 RafflePress is hands down the #1 contest plugin for WordPress. This amazing WordPress giveaway plugin makes it so easy to create and run full-fledged contests on your site.
There are premade templates and a user-friendly drag-and-drop page builder to create giveaway campaigns within minutes. You'll never need any coding or design skills.
RafflePress comes with a whole menu of eligibility actions to add to your contest with just a click.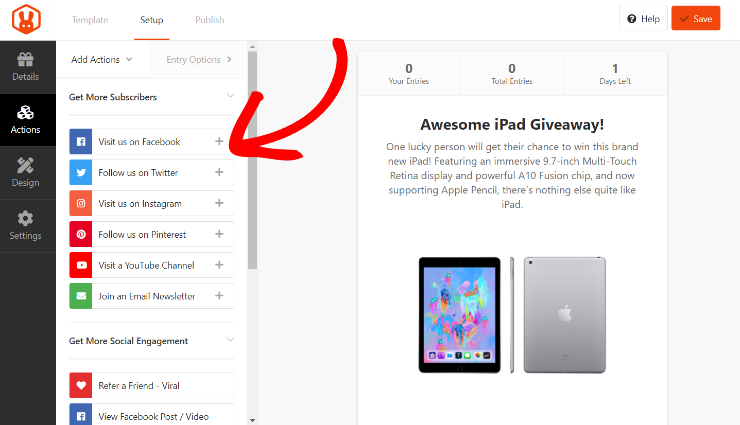 For instance, you can ask contestants to visit a page, join a newsletter, follow you on social media, refer a friend, and so much more. You can even add multiple options if you'd like.
The plugin comes with full-proof protection against any kind of fraud entries. And with the help of tracking and retargeting, it's easier for you to maximize your conversion.
Features:
Responsive giveaway templates and easy customizations
Rule generator template for contest eligibility
Lightweight and blazing fast to help with site speed, SEO and conversions
Automate start and end times
Social media, email, and marketing integrations
Dedicated contest landing page
Viral sharing
Cost: There's a free version so you can build a contest with zero investment! Pro features are available in the premium version that starts at $39.20 per year.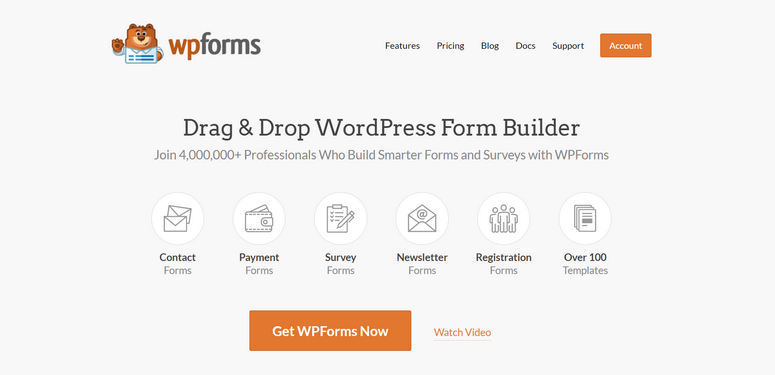 WPForms is the best form builder for WordPress. It comes with a premade template to create and add contest forms to your site.
This is the perfect solution if you're looking for a plugin to create a quick and simple contest using an entry form so participants can submit their details.
Inside the WPForms builder, you'll find lots of customizable fields to create a contest form that matches your marketing goals. You can add images, videos, dropdown menus, captcha, and much more.
There's even an option to allow users to upload files so you can host contests with user-generation content like articles, videos, photos, and more.
Once a participant submits the contest form, you can trigger automated emails to confirm their entry and start your email marketing campaigns with them. You can even redirect participants to a new page to continue their journey with your brand.
WPForms also has a survey and polls addon that you can use to get feedback and user opinions on your brand.
Features
300+ templates and a visual drag and drop builder
Smart form fields to get essential user information
Dynamically change form fields based on user response
Allow users to upload files
Built-in spam and captcha protection
Seamless integrations with all popular email services
Cost: WPForms has a lite version that's absolutely free. The premium plugin starts at $39.50 per year.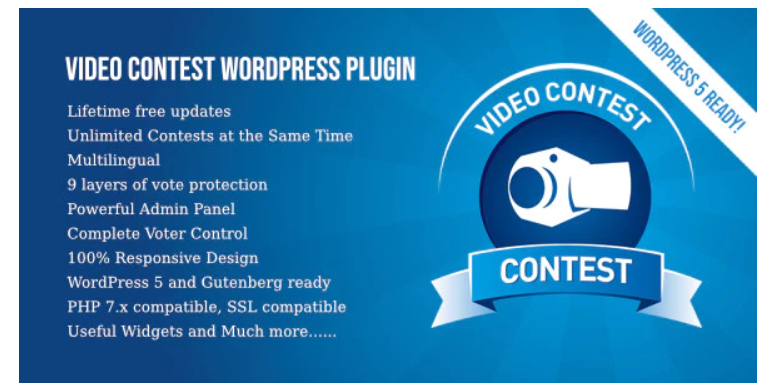 Video Contest WordPress Plugin is another brilliant WordPress giveaway plugin that you might want to check out. With this plugin, you can create video competitions with ease in no time.
The plugin gives you full control over the competition including comments, votes, video sources, new submission, and more. This contest plugin lets you do a whole lot.
Video Contest also supports full integration with BuddyPress. With this integration, you can offer a community site or a forum where participants can engage with each other.
To combat spam submission, it offers 9 layers of fraud protection so your contest is protected. Added to that, the plugin is translation-ready and supports 9 global languages.
One thing you need to keep in mind here is that this plugin is quite expensive and gives you access only to video contests. Later on, you won't be able to create any other kind of contest with this plugin.
Features:
100% responsive designs
Easy to use admin panel
Run unlimited contests together
Full control over contest rules and elements
Cost: $39 with 6 months of support.
Get started with Video Contest!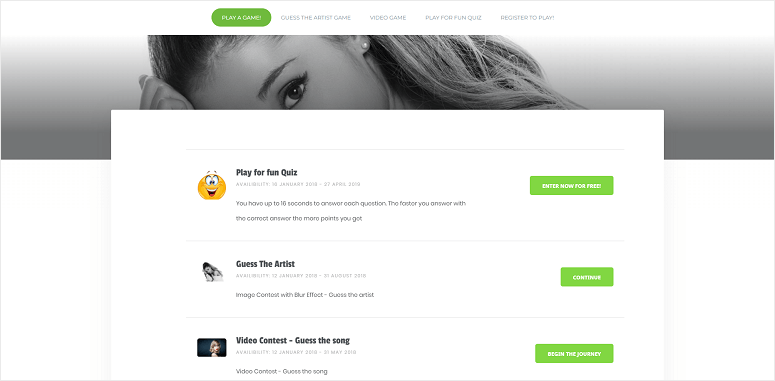 Image/Video Contest Generator lets you quickly create various contests and fun games to attract visitors to your website. It helps increase session time by keeping users engaged in long-form contests and quizzes.
To make your contests and games more appealing, this gamification plugin offers beautiful editable ready-to-use templates. You can change the color, fonts, and even add buttons to the templates.
To maximize contest visibility, there's an option to add social share buttons to your website so users can easily share it with friends. The plugin also gives you detailed statistics. You'll get insights into how well your contest's performing and can make adjustments as you go.
The plugin is more suitable for those who want to boost site engagement. You won't be able to increase your following on other platforms or grow your email list.
Features:
Unlimited number of contests with unlimited questions
Custom blur effect for images
Dynamically change points according to time taken to answer
Customizable templates
Integrates with Facebook
Track which contests are popular
Cost: $1.88 with 6 months of support.
Get Started with Image/Video Contest Generator!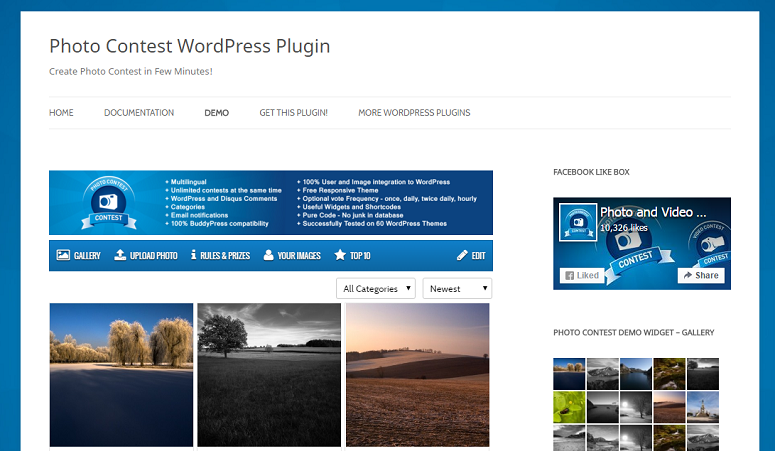 From the same creators as Video Contest, the Photo Contest plugin lets you create a photography contest with ease. It's perfect for those who want to allow users to submit their photos to enter the contest.
The best part about this plugin is that it's built with performance, security, and ease of use in mind. The Photo Contest plugin has been successfully tested in the latest version of WordPress and a number of free and premium themes. So you'll never have to touch any coding or worry about compatibility issues.
This plugin is super fast, responsive, and flexible, so regardless of the device your visitor is using, your contest campaign will look great.
Like the Video Contest plugin, this one too supports BuddyPress. The plugin is GDPR ready and even lets you send email notifications to contestants.
The downside here is that you won't be able to create any other kind of contest. It's solely meant to boost engagement by getting visitors to submit their photos. The plugin is also not designed to reach your marketing goals fast.
Features:
Full control over contest rules and elements
100% responsive designs
Easy to use admin panel
Run unlimited contests at the same time
Email notifications for you and your user
Cost: $39 with 6 months support. There's a bundle option to get both Photo Contest and Video Contest for $49.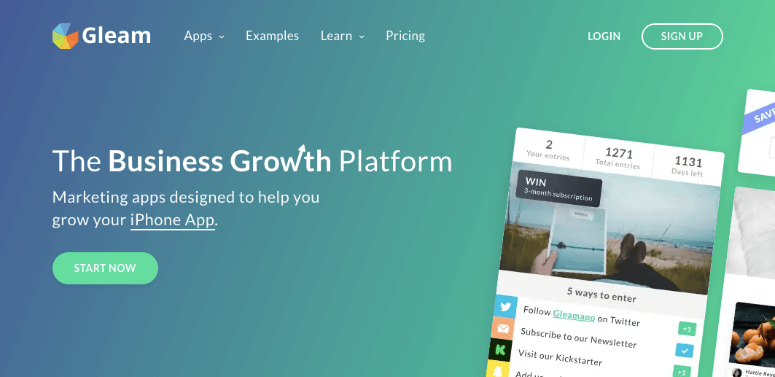 Gleam is a website growth platform that lets you run competitions and sweepstakes on your site. You simply need to add your prize, choose your actions, and embed the contest on your site.
The plugin lets you craft instantly redeemable rewards in return for user actions. You can ask them to visit social media pages, follow or subscribe, and much more.
There are 100+ integrations to connect to your social media platforms and marketing apps. The downside to this plugin is that it lacks customization options. You'll only be able to change a few things so your contest could look quite similar to others using the same platform. Plus, it adds the Gleam branding to your contests unless you subscribe to the higher-end Pro plan.
Gleam also redirects users to other platforms in order to follow or subscribe and it doesn't return them to your site. This means you could lose your site traffic once they leave and get caught up on social media.
Features
Contest templates
10 ways to enter your contest
1-click entry
Built-in viral sharing
Filter invalid entries
Cost: Free version available. Gleam offers individual plugins and a bundled deal. The Competitions plugin starts at $10 per month while the Rewards plugin starts at $29 per month. You can get the bundle for $97 per month.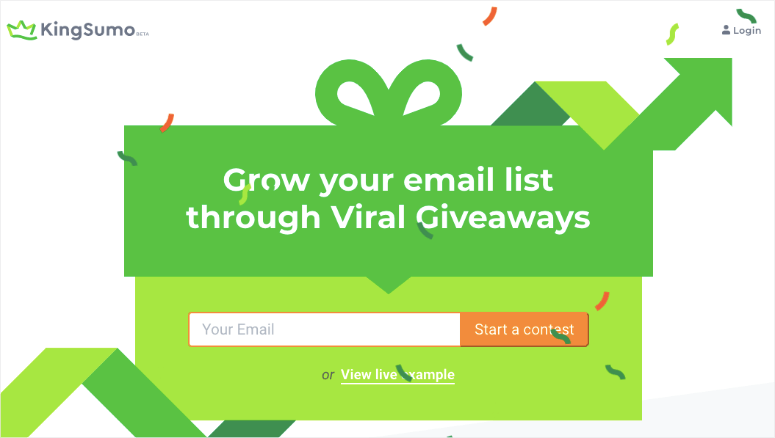 KingSumo used to be a premium WordPress giveaway plugin but it migrated to a saas model (software as a service). It's easy to set up and use so you can quickly create your giveaway.
You can add social sharing options to Facebook, Twitter, and Instagram. It also integrates wikinth popular email services to help you grow your subscriber list.
You can schedule the start and end dates of your contest ahead of time so you can plan for big holidays like Black Friday.
KingSumo lets you grow your contest audience by encouraging users to share it. The more friends they get to enter the contest, the more entries they earn.
However, with KingSumo, you cannot collect participant names so you won't get critical information you need for marketing purposes. It also lacks an entry management dashboard making it difficult to track performance.
Features:
Easy set up
Unlimited giveaways
Mobile-friendly
Optimized for viral sharing
Cost: There's a basic web app for free. The WordPress plugin starts at $198.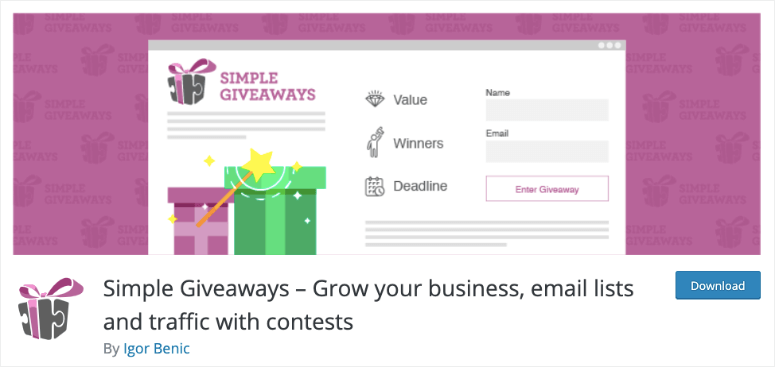 Simple Giveaways is a contest plugin built for WordPress. It lets you host your contest on a separate page. You also get giveaway widgets and shortcodes to promote your contest page.
To use this plugin, you need to create your giveaway, define user actions, and then share it on your site. As users complete actions, they'll be added to your contest or sweepstake. If they share the giveaway, they can earn extra entries.
The plugin integrates with email services and WooCommerce but this feature is available only in the Pro version.
Features:
Mobila responsive
Dedicated landing page
Optimized for speed
Referral sharing and verfied actions
Social logins and email verification
Cost: There's a free version. The paid plugin costs $49.99 yearly.
Get started with Simple Giveaways!
9. RaffleCopter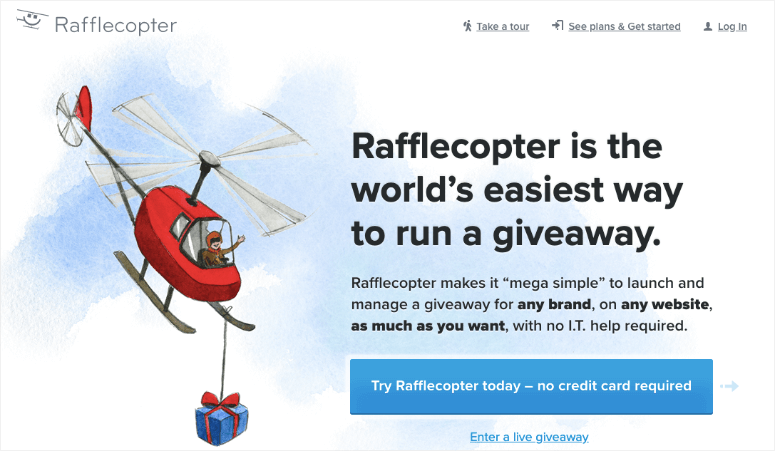 RaffleCopter lets you create giveaways for your website without any coding. The tool isn't WordPress specific and works on other platforms too.
It's built for scale so you can customize your online contest to suit your audience as it grows.
It works with all major email marketing services and offers integrations with popular social media networks. Rafflecopter also comes with refer-a-friend feature, polls, and survey options.
Rafflecopter has a free plan with very limited features. You'll need to upgrade to get most of the features you need to create a successful giveaway.
The pro plans are really expensive. You'll get the same features and more with other contest plugins like RafflePress that come at a fraction of the cost.
Still not convinced? You can check out our guide on the best Rafflecopter alternatives.
Features:
Unlimited giveaways and entries
1-click random winners
Embeddable entry form
Export participant data
Cost: Starts at $156 per year.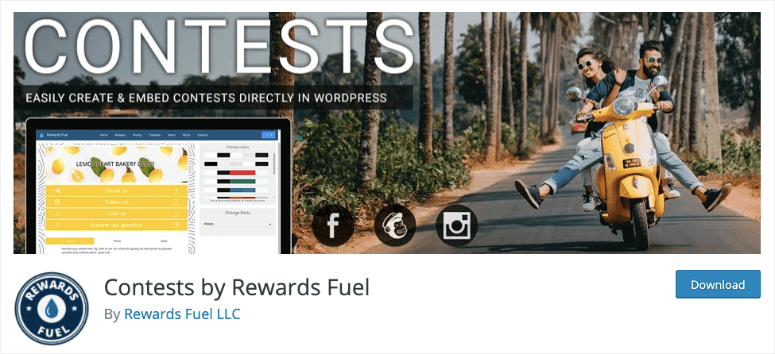 Contest by Rewards Fuel lets you run contest and giveaways right from your WordPress dashboard. With this giveaway plugin for WordPress, you can drive more traffic, social media following, boost comments and do a lot more on your site.
You can easily reward your winners with digital prizes. The plugin also lets you duplicate the existing contest, which makes it easy for you to run a similar contest with slight edits.
Using statistics, you can see how your contest is performing.
There's a feature to blacklist specific countries from entering the contest. This lets you protect your form as well as make it available only in specific locations.
Best of all, this plugin is absolutely free to use.
Features:
6 contest types and 35 entry methods
Powerful integrations with Zapier, Survey Monkey, and more.
Digital prizes
Duplicate contests to create new ones easily
Cost: Starts at $16.63 per month when billed annually.
Get started with Contest by Rewards Fuel!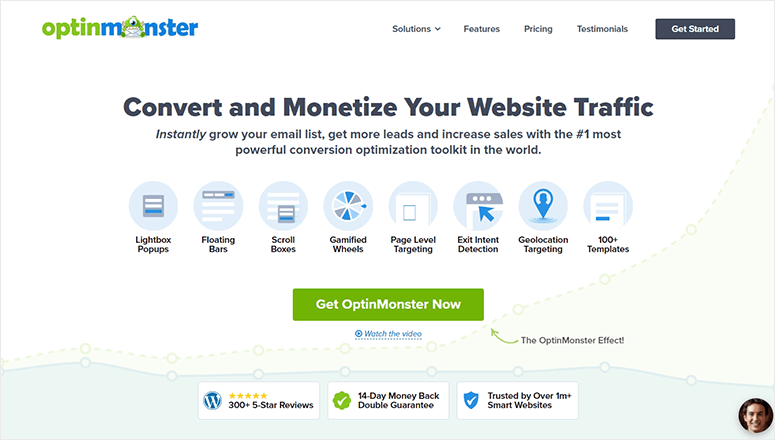 OptinMonster is a powerful lead generation tool that lets you create spin-the-wheel contests on your site. There are attractive premade templates that look great out of the box.
You also get a visual drag and drop builder to easily customize the content, colors, and prizes. You can set the probability ratio for each wheel segment. This will determine how often your prizes are awarded to customers.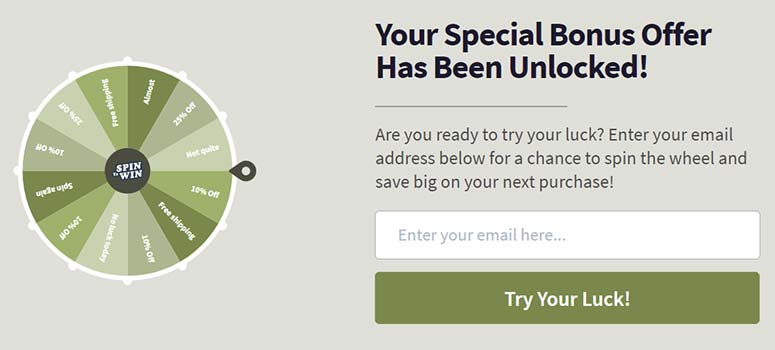 OptinMonster is designed to grow your email list, so customers need to enter their email addresses and subscribe to your marketing campaigns to enter the contest.
Then they can spin the wheel and the prizes will be instantly awarded. OptinMonster will automatically send them an email with their coupon code or prize.
Features:
Minimal setup
Targeting rules to control who sees your contest
Exit intent contests to recover abandoning visitors
Email integrations with services like Constant Contact and Mailchimp
Test campaigns and adjust in real time
Cost: Starts at $9 per month.
Get started with OptinMonster!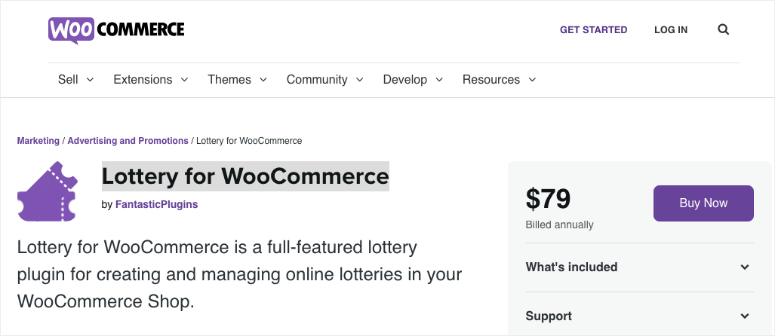 Lottery for WooCommerce is a contest plugin for WooCommerce sites. You can use it to automatically generate lottery tickets.
The plugin lets you customize fields and winner selection to control your lottery configurations. You can issue free tickers or add a price tag so contestants can purchase a lottery ticket to enter your contest.
This plugin lets you add a requirement that customers need to first register themselves before they can enter the contest. This helps grow your subscriber and member base.
Your customers will be notified by email when their lottery ticket is confirmed, when the lottery ends, and to announce the winner.
When a winner is selected, a product order will automatically be created with zero charges on the customer's account.
Features:
Select winners manually or automatically
Email notifications for admin and users
Set limited number of lottery tickets
Set price per ticket or offer for free
Cost: $79 per year.
Get started with Lottery for WooCommerce!
There you have it! That's our list of the best WordPress Contest and Giveaway plugins.
The BEST WordPress Contest and Giveaway Plugin
Though we narrowed it down to just 12 plugins, it can still be hard to pick one. So we're giving you our verdict based on our own comparisons, research, and trials.
Without a doubt, we recommend RafflePress. It's the #1 contest and giveaway plugin for WordPress, and for good reason.
It has everything you'll need to run a successful contest on your site. The free plan lets you get started with zero investment and the pro plans are budget-friendly and affordable.
Every contest is goal-based so you can set up your contest according to what target you want to achieve. It lets you skyrocket your email subscriber list, social media following, website traffic, and more. And the best part is you can do it all together to explode your website success.
Once you install and activate RafflePress on your site, you can follow our guide to create your contest in under 3 minutes: How to create a successful giveaway or contest in WordPress.
We hope you found our list helpful in getting the best contest plugin for your WordPress site. Next, you'll definitely want to see these resources:
These posts will give you helpful tools and tutorials to effectively grow your website.