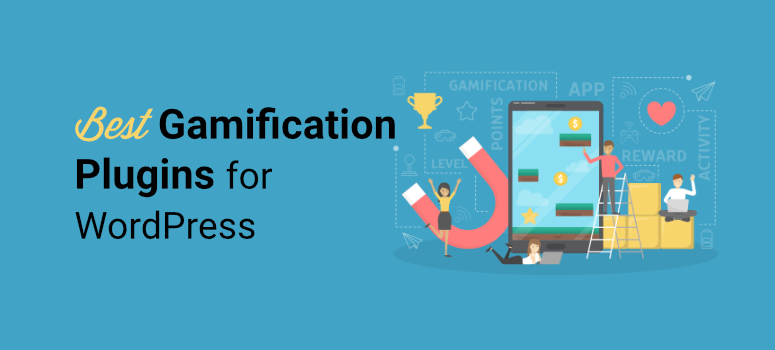 Looking for the best gamification plugins to increase engagement on your website?
With gamification plugins, you can easily add gaming elements to your website and make users perform certain tasks in return for rewards. This encourages your visitors to spend more time on your site and persuades them to take actions like signing up, registering, or buying your products.
In this post, we've handpicked the best gamification plugins that you can use for your WordPress site.
But first, let's learn what gamification is and the benefits of using gamification plugins.
What is Gamification?
Gamification is a trending technique where games are used to turn boring tasks into engaging activities. This helps you grab the attention of your visitors to boost interaction and conversions.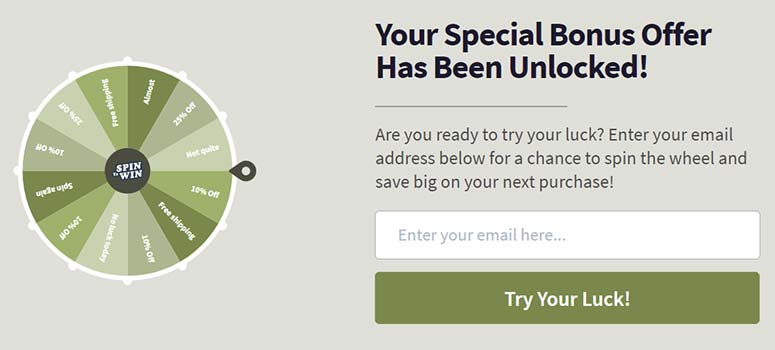 Using gamification for your business doesn't only increase user engagement, but also builds loyalty among your users and customers.
You can make visitors play simple games like spin the wheel, quizzes, contests, and more. All they have to do is click a button, answer questions, or complete certain tasks in order to win points and rewards.
Gamification works for all types of websites like personal blogs, eCommerce sites, quiz portals, learning management systems (LMS), and more.
Why Do You Need Gamification Plugins?
Gamification is so popular these days that you'll find tons of online tools to add game elements to your website. 
If you own a WordPress site, then adding gamification is easier than ever with gamification plugins. They take care of coding on the backend, while all you have to do is click a few buttons to set up all kinds of games on your site.
You can even get insights into user activity and analyze customer behavior on your site. This helps you understand what is working for your business and what is not. 
Also, these tools are very useful for online learning websites to motivate users to learn more. Adding gamification to learning courses makes them more enjoyable and brings out the competitive nature of the users.
With that said, let's dive into our list of the best gamification plugins to improve the user experience on your site.
Best WordPress Gamification Plugins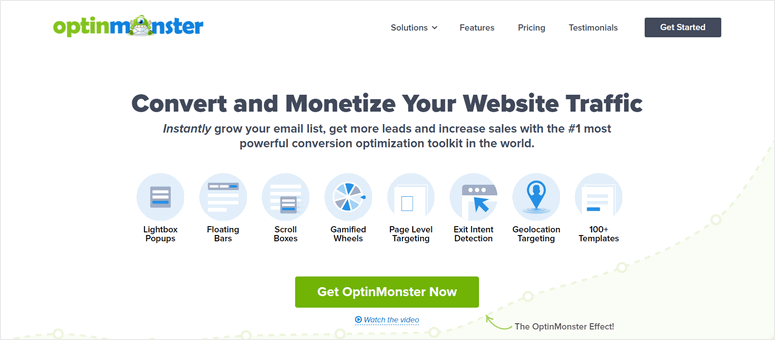 OptinMonster is the #1 lead generation tool that you'll find on the market. This tool lets you create attention-grabbing optin campaigns such as popups, floating bars, and fullscreen welcome mats for your business.
You'll get access to tons of pre-designed templates for all occasions and purposes. So you can get started on building your email list and improving your conversions in no time.
Most importantly, OptinMonster lets you add gamified wheels for your marketing campaigns. With these spin-to-win wheel games, you can build suspense and excitement for your customers.
Gamified optin wheels have higher participation rates as they are more appealing to your users. So you can easily create marketing campaigns to nurture leads and boost sales.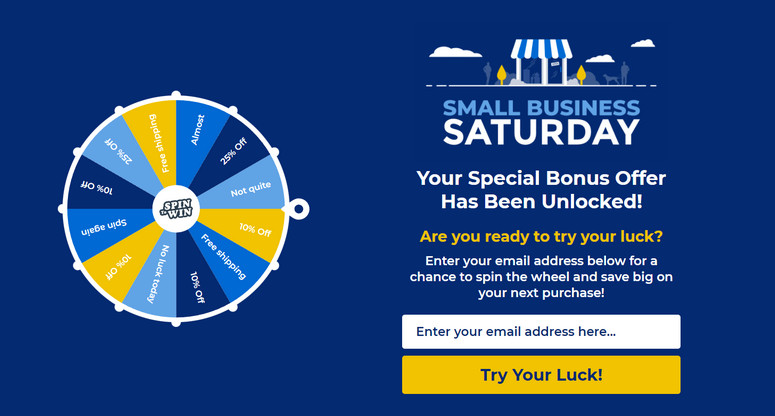 You'll find settings to add offers and prizes for each portion of the wheel in a few clicks. When a prize is out of stock, you can toggle off the settings and manage your offers with ease.
To get started, OptinMonster offers 19 coupon wheel templates for all the major holidays and other events such as
Black Friday
Halloween
Cyber Monday
Winter Holiday
Father's Day
And more…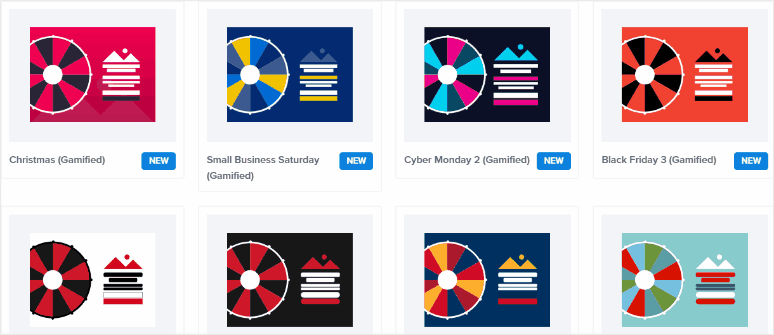 The best thing about OptinMonster is that it gives you powerful targeting features to display your games anywhere on your site. You get to choose when, where and to whom these fun campaigns appear.
Plus, this gamification plugin comes with built-in analytics on the number of views, conversion rates, and more stats about your campaigns. So you can analyze and keep track of your subscribers, customers, and visitors in a single dashboard.
To learn more, you can check out our full OptinMonster Review.
Highlights:
High-converting campaign templates for popups, sticky bars, and gamified wheels
Drag and drop visual builder to customize your spin to win wheels
Exit-intent technology to recover abandoning visitors
Retargeting to engage with visitors based on previous interactions on your site
Built-in stats and Google Analytics integration for detailed insights
Powerful targeting rules to reach out to the right people at the right time
Email integration to segment and send new leads to your email account
Pricing:
Starts at just $9 per month.
Get started with OptinMonster!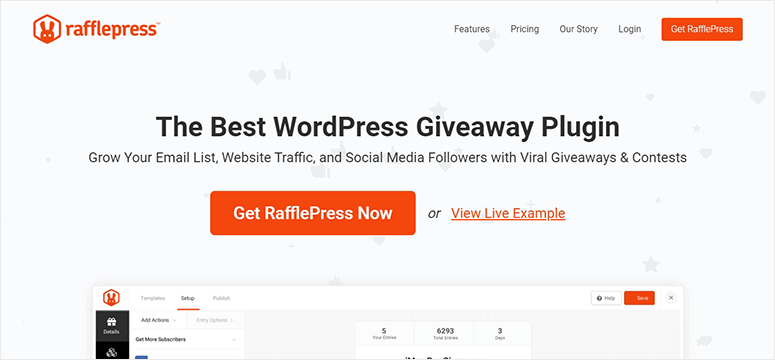 RafflePress is undoubtedly the best giveaway and contest plugin that lets you create viral giveaways to market your business.
Running a contest or giveaway for your business is one of the best ways to drive traffic to your site and increase your online presence. With the motive of winning something in return, users will promote your brand for you.
With RafflePress, anyone can create exciting contests and giveaways without hiring a developer. You can ask your visitors to join your newsletter, follow you on social media, watch your online videos, and more.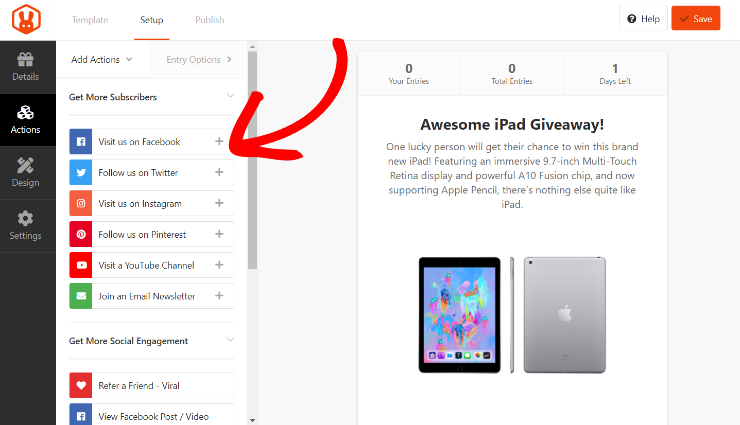 Unlike traditional online giveaways, you can build a point system by adding prizes and rewards for more than just one user action. Users get points for each action they take to promote your business.
One of the highlights of RafflePress is the refer-a-friend incentive. Visitors can get others to sign up and participate to increase their chances of winning. They can also share your content with other people through their social media accounts.
Moreover, RafflePress makes it very easy for your visitors to sign up for your game-like contests with the 1-click entry feature.
Every game you create also comes with fraud protection which prevents spambots and fake subscribers.
To learn more, you can check out our full RafflePress Review.
Highlights:
Drag and drop builder
Responsive and mobile-friendly pre-built templates
Custom blocks for Gutenberg editor
Automated landing pages
Supports shortcodes
Social media integrations
Analytics for tracking and retargeting visitors
Pricing:
A free version is available to download. Pro plans start at $39.50 per year.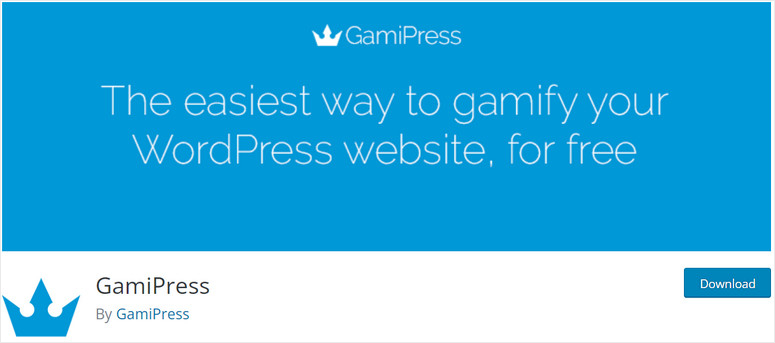 Next on our list of the best gamification plugins is GamiPress. It is a popular plugin that lets you gamify your WordPress website in a few minutes.
As the name suggests, GamiPress lets you add gaming elements to almost every aspect of your WordPress site. You can reward your users with awards and badges for performing different tasks.
It also allows you to set up the requirements, customize the assessment options, and illustrate achievements to the participants.
GamiPress is packed with many gaming features to make your website a fun-filled platform. You can even configure time-bound tasks so that your visitors spend more time on your site trying to complete them.
The only drawback of this plugin is the pricing. Its starter pricing plans are way more expensive compared to other plugins in this list such as OptinMonster and RafflePress.
Highlights:
Set up leaderboards and rank requirements
Award achievements like quests and badges
Drag and drop functionality
Social sharing options
Automatic points awards
Supports shortcodes and widgets
Works with all popular WordPress themes
Compatible with popular plugins like WooCommerce, BuddyPress, and more
Pricing:
Its free version is available in the WordPress repository. The premium version starts at $199 per year.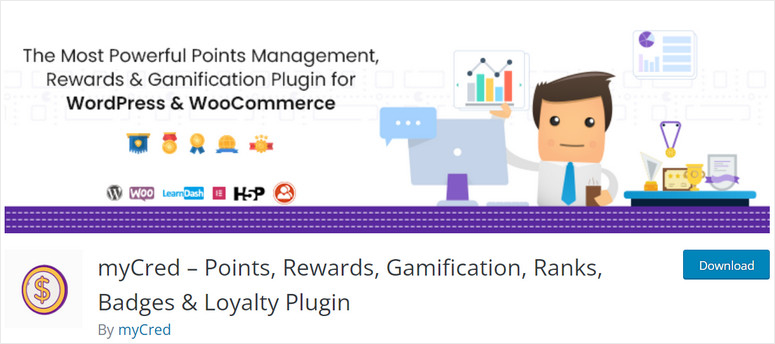 myCRED is another popular gamification plugin that you can use to create a loyalty program or gamify your website. It is a points management system that allows you to manage a wide range of digital rewards like points, ranks, and badges.
By rewarding your customers with these rewards, you can easily increase interaction and build loyalty towards your brand.
You'll find the free version of this plugin on the WordPress repository. It comes with basic game elements and features to make your website engaging.
However, you can upgrade to a premium plan anytime and get access to over 50 myCRED add-ons to extend the functionality of the games.
Highlights:
Easy to set up and use
Allow users to check their points, ranks, or badges on the frontend
Automatically manage logs from users
Supports popular plugins like Contact Form 7, WooCommerce, and more
Store-based reward system for your online business
Pricing:
Free. Premium add-ons are available.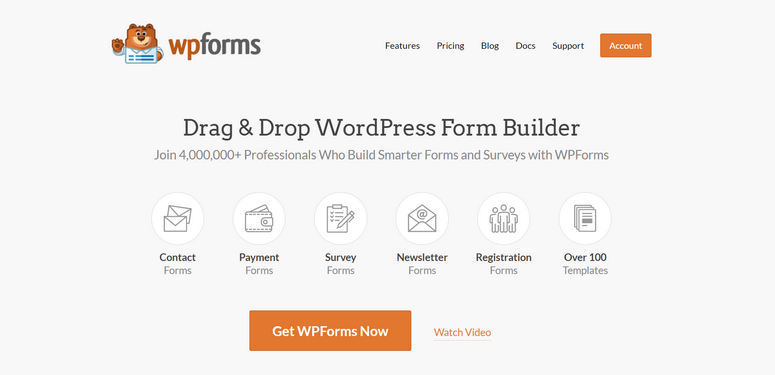 If you're looking for a simple and beginner-friendly WordPress plugin to add gamification to your site, then WPForms is the perfect choice for you.
WPForms is the best drag and drop form builder for WordPress sites that lets you create any type of form such as contact forms, registration forms, order forms, and more.
However, you can do more than just create WordPress forms. This plugin lets you add smaller game elements like surveys and polls on your website. And all of that without any coding knowledge.
Surveys and polls are simpler modules that help to make your site more interactive and engaging for your users.
With WPForms Surveys and Polls addon, you can easily build game-like surveys and polls that respond to user input in real-time. You'll also get access to advanced form fields such as the Likert scale and survey radio button.
All you need to do is drag and drop the required fields to transform any WordPress form into an interactive survey. Or, you can choose from the pre-designed form templates to get started quickly.
Another reason to use WPForms for adding gamification to your site is the support for shortcodes and Gutenberg editors. You can insert a simple shortcode or select the WPForms block to add your surveys on any page, post, or widget area.
To learn more, you can check out our full WPForms Review.
Highlights:
Fully responsive seo-friendly templates
Spam protection with custom captcha and Google reCAPTCHA options
Integration with popular email marketing services
Conversational forms to reduce form abandonment
Automated form notifications
User action based surveys with conditional logic rules
Built-in survey reporting system to analyze user response
Pricing:
WPForms Lite version is available for free. The premium plans start at $49.50 per year.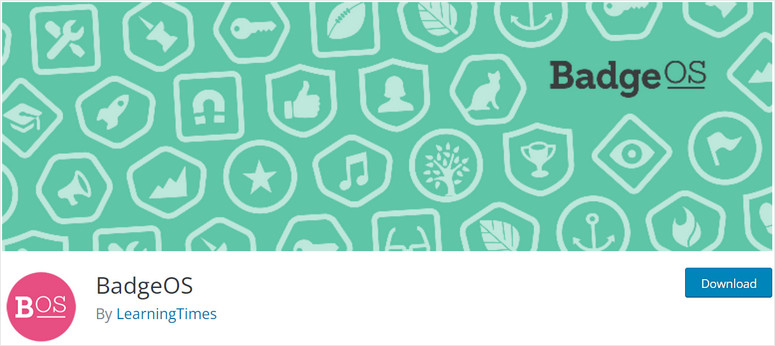 BadgeOS is one of the oldest gamification plugins that allows you to turn your site into an achievement management system.
You can award your participants points, ranks, and achievements based on their skills and interaction on your site. This plugin also lets you define the required steps the users need to pass to get an achievement or badge.
What's more, BadgeOS allows you to customize and design your own badges within your WordPress dashboard.
You can even set up badges for any combination of achievements. So your visitors perform more tasks on your site to complete combinations and get awarded.
When it comes to adding fun gaming elements, this plugin falls behind. You'll find plugins like OptinMonster offer more attractive designs that skyrocket your conversions.
Highlights:
Built-in editor to design your badges
Unlimited number of achievement types
Set up combinations of achievements for each badge
Supports forum plugins like BuddyPress
Approve or deny user submissions in one click
Pricing:
Free. Additional free and premium add-ons are available.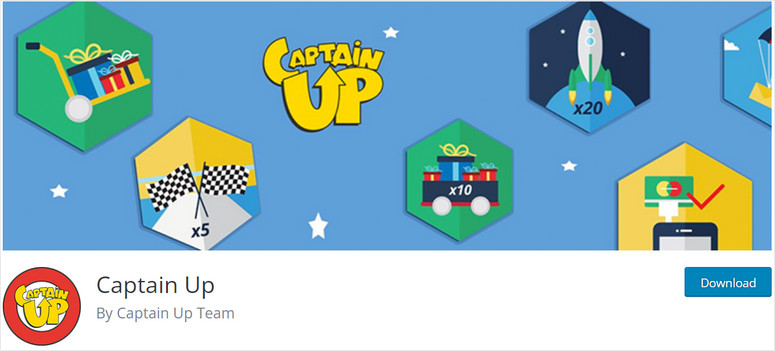 CaptainUp is one of the best WordPress plugins for maximizing engagement and rewarding users through gamification. It comes with useful features to improve your users' journey and engagement on your site.
Once the users complete the predefined tasks, they are immediately rewarded with points, badges, and levels. Like BadgeOS, this plugin lets you create your own badges and customize them as you like.
You can also show user activity with widgets that spark up interest among your site visitors. And the new users can easily log on to your site using their social network accounts.
CaptainUp lets you analyze user behavior with insights and statistics on your site. But it doesn't integrate with Google Analytics like OptinMonster for more detailed information.
Highlights:
Bulk messaging option
Mobile responsive
Supports over 18 languages
Built-in analytics and reporting
Fully customizable designs
Pricing:
Free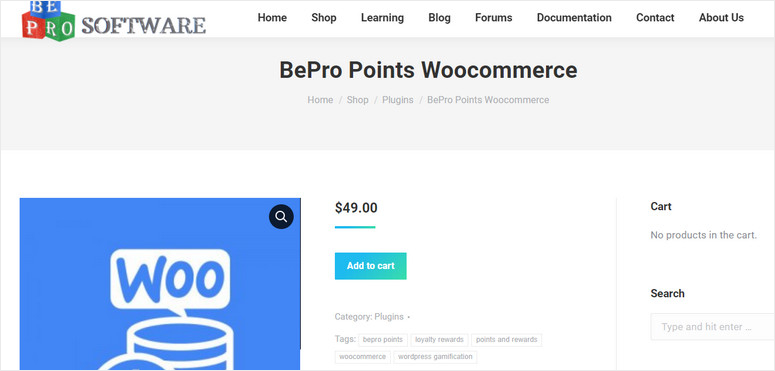 For those who run a WooCommerce site and want to add gamification modules, BePro Points is the best solution.
BePro Points integrates seamlessly with WooCommerce to reward your customers with points and interact with them. You can make your visitors comment, add new posts, and do more tasks for rewards.
Users can collect these virtual credits and use them to purchase products on your eCommerce site. This plugin is great for engaging users and converting them into actual customers on your site.
But, the pricing for the plugin is on the expensive side as the features it offers are pretty basic.
If you want more options to promote your brand and get valuable insights, there are plugins like RafflePress and OptinMonster. They offer tons of advanced features with cheaper pricing plans. 
Highlights:
WooCommerce integration
Works well with any WordPress installation
Reward users for comments, new posts, and registration
Allow users to redeem points and make purchases
Pricing:
Free. $49 for WooCommerce plugin.
Get started with BePro Points!
Which is the Best Gamification Plugin?
We've compared the best gamification plugin in the market so you choose anyone that matches your requirements.
If you're still having trouble finding the right plugin for your site then, you can go ahead with our recommendations here.
OptinMonster: The #1 lead generation plugin to create gamified optin wheels to engage visitors and boost conversions.
RafflePress: Best giveaway plugin that allows you to create viral giveaways and game-like contests to promote your brand.
WPForms: Most powerful drag and drop form builder that lets you build fun surveys and polls to collect user feedback.
You can also check out our list of the Best WordPress Spinning Wheel Popup Plugins to Boost Conversions.
That's all for today! We hope this article helped you find the best plugin to add gamification elements to your website. 
Next, you may want to check out ThriveComments. This plugin can turn your comments section into a bustling and interactive place for users to earn votes, badges, and engage with your brand in a new way.
If you want more resources like this to make your site more engaging, you can check out these posts: 
These posts will help you add more exciting elements like quizzes and social proofs to increase user interaction on your site.