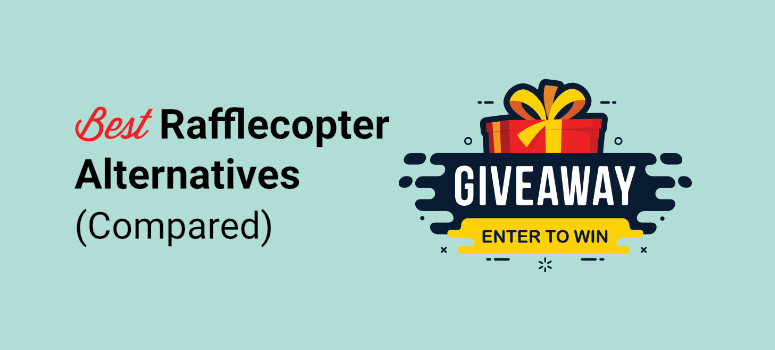 Looking for the best Rafflecopter alternatives to create engaging contests and giveaways?
Organizing giveaways is a great way to promote your business and grow your presence online. Rafflecoper is a popular platform where you can create giveaways and contests for your website, but it is not the only tool available in the market.
You'll find tons of alternatives to Rafflecopter that are cheaper and easier to use. Many giveaway plugins offer more features in the same price range.
This is why we've prepared a list of the best Rafflecopter alternatives that will help you easily run viral giveaways on your WordPress site.
Why Look For a Rafflecopter Alternative?
Being one of the top social media contest and giveaway tools, business owners tend to go for Rafflecopter at a glance. However, it is not the perfect solution for all types of business.
To begin with, Rafflecopter is a platform that lets you build giveaways on their website. After you signup and create a contest there, you'll need to copy and paste an installation code on your website.
So if you're a beginner or someone who doesn't want to mess with your website codes, then this might not be the right choice for you.
We'll show you many giveaway plugins like RafflePress later in this post, that allow you to create and add your giveaways without having to leave your WordPress dashboard.
Additionally, these plugins offer you a wider range of features than Rafflecopter at a cheaper price. So let's take a look at other alternatives that are available.
Best Alternatives to Rafflecopter
Below are the best free and premium Rafflecopter alternatives that offer powerful social media contests and giveaway options.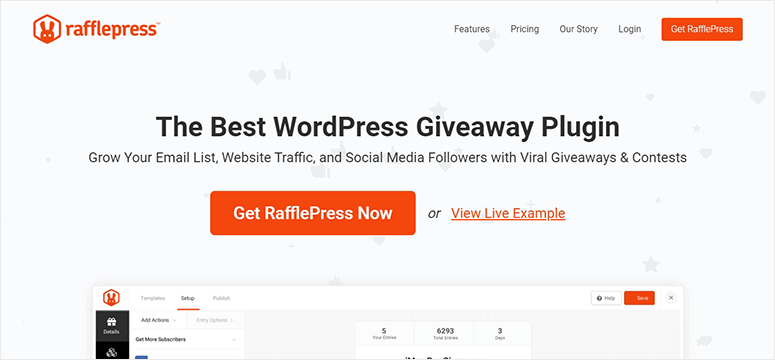 RafflePress is the #1 WordPress giveaway plugin that comes with tons of features that make running viral giveaways a piece of cake.
With its drag-and-drop builder, you can create, customize and publish your giveaways right inside your WordPress dashboard. No need to embed any code to add your giveaways.
Also, RafflePress offers a collection of pre-built templates so you don't need to create a giveaway contest from scratch. It is great for beginners who are planning to create their first giveaway.
RafflePress lets you add multiple actions to make your contestants follow on social media, visit a page, join the newsletter, and more in just 1 click. In return, they'll get the chance to win a prize. This creates a win-win situation for both parties.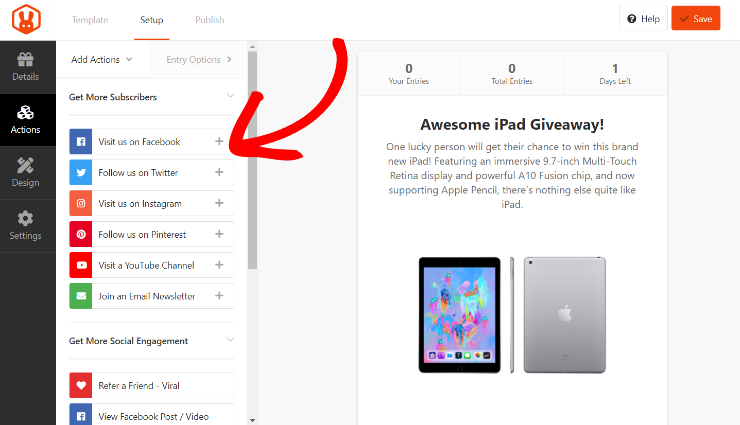 Not only is this giveaway plugin very easy to use, but it is also budget-friendly. The free version of the plugin includes most of the features that are needed to create a successful giveaway in WordPress.
For more advanced features, you can upgrade to a pro version and get access to more options such as refer a friend action, giveaway landing page, submit images, and more. It also gives you detailed reports and stats about all your giveaways.
Plus, RafflePress integrates with popular email marketing services such as Constant Contact, Aweber, Drip, and many more. This allows you to grow your email list and automate responder emails for participants.
Highlights:
Easy drag and drop builder
Pre-designed giveaway templates
Lightweight, so it doesn't slow down your site
Mobile-friendly and responsive giveaways
Built-in fraud protection to run fair and square contests
Random giveaway winner generator
Built-in giveaway entry management dashboard
Automated giveaway start and end times
No need to copy-paste embed codes to display giveaways
Pricing:
A free version is available to download. The pro versions start from $39.20 per year for the Plus plan.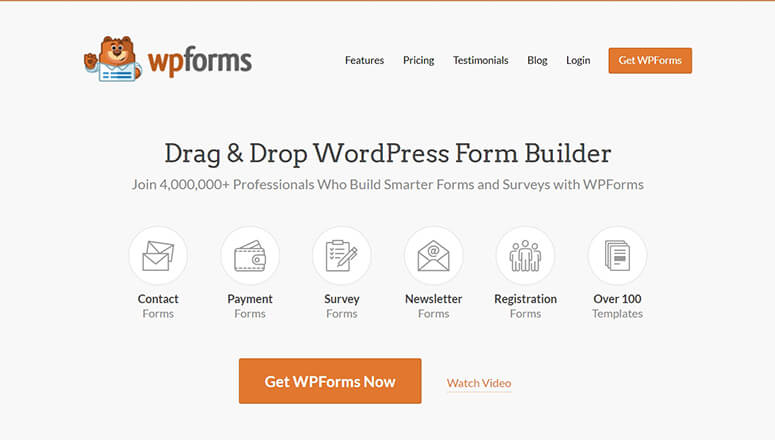 Another great Rafflecopter alternative is WPForms. It is the best WordPress form builder plugin which is packed with amazing lead generation features.
WPForms offers a quick and simple way to organize giveaway contests on your WordPress website. You can use its pre-built contest entry form template and have your giveaway up and running in a few clicks.
With WPForms drag and drop form builder, you can add, remove and even customize your contest form fields as per your requirements. You can get participants to sign up for newsletters or choose from multiple-choice questions.
What's more, there is an option to allow users to submit their entries by uploading images, articles, videos, and more. This is great for hosting contests with user-generated content.
WPForms also comes with a survey and polls premium addon which lets you create intuitive forms to collect user feedback.
Highlights:
Conditional logic rules and conversational mode
Email marketing integrations with Convertkit, Aweber, Constant Contact, and more
Visual form builder to edit contest forms
Rule of Entry section to make your giveaways compliant
Built-in reCAPTCHA option to protect your giveaways from spam and hackers
Option to accept user-generated content like images, videos, and more
Pricing:
WPForms has a lite version that's free to use. The premium versions start from $39.50 per year.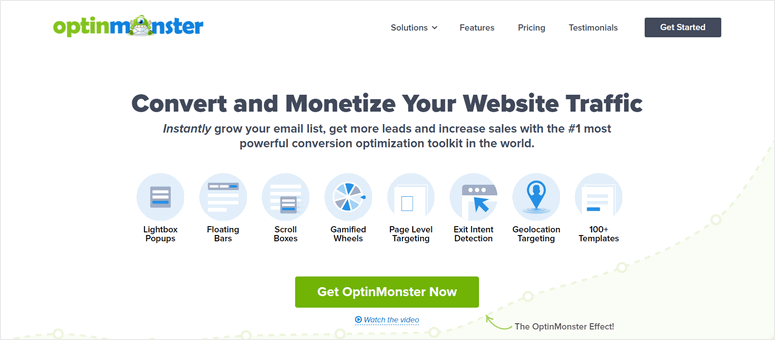 OptinMonster is the best lead generation tool that helps businesses convert their visitors into subscribers, leads and customers. It lets you create high-converting campaigns with such as popups, sticky bars, and even giveaways.
With OptinMonster, you can create giveaways with gamification elements like discount wheels to attract your visitors' attention. These tools help you engage your users and collect information from them.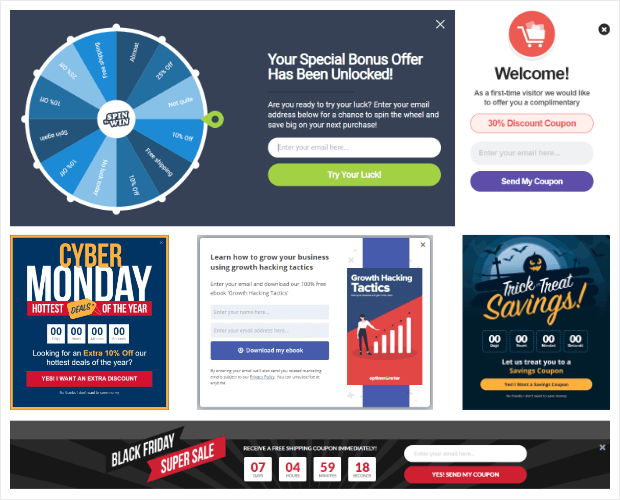 The best thing about OptinMonster is that you can customize your giveaway forms to give it your own touch. It lets you edit the background, image, font, color, and more. You can even add custom sound effects and animations to your giveaways.
Moreover, OptinMonster comes with advanced targeting rules that you can use to reach out to the right visitors at the right time. It allows you to target, retarget, and follow up on your leads based on their behavior, device, and location.
Highlights:
Easy drag and drop campaign builder
Readymade coupon wheel designs
Fully customizable giveaways
Built-in analytics to view giveaway entries
Retarget participants based on their previous interactions
Exit-intent feature to recover abandoning visitors
Spam protection to host fair giveaways
Pricing:
Starts at $9 per month.
Get started with OptinMonster!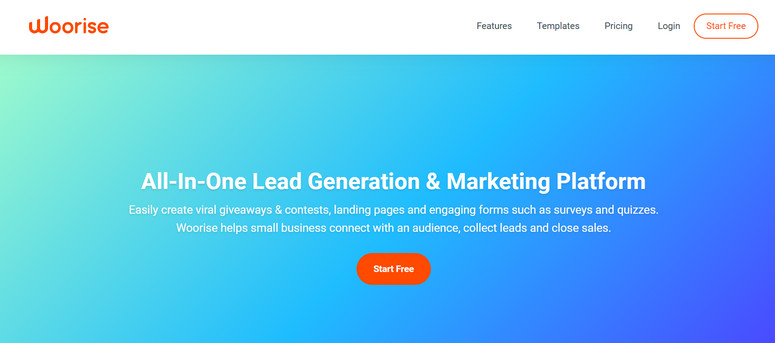 Next on our list for the best Rafflecopter alternatives is WooRise. It is one of the best giveaway plugins for WordPress sites.
WooRise lets you create giveaways and contests on your website. With its drag and drop giveaway builder, you can build unlimited campaigns to promote your business.
Additionally, the plugin allows you to create landing pages, surveys, and quizzes to increase engagement on your website.
There is also a free version of this plugin but it doesn't offer as many features that the free plugin for Rafflepress has to offer.
So you need to purchase a pro version to get advanced giveaway features such as fraud detections, viral sharing, and more.
Highlights:
Drag and drop builder to create giveaways, surveys, and quizzes
Social Media giveaway actions to promote your brand
Integration with email marketing services
Viral sharing, similar to refer a friend option in RafflePress
Pre-built templates and layouts
Pricing:
The premium plans start from $32 per month.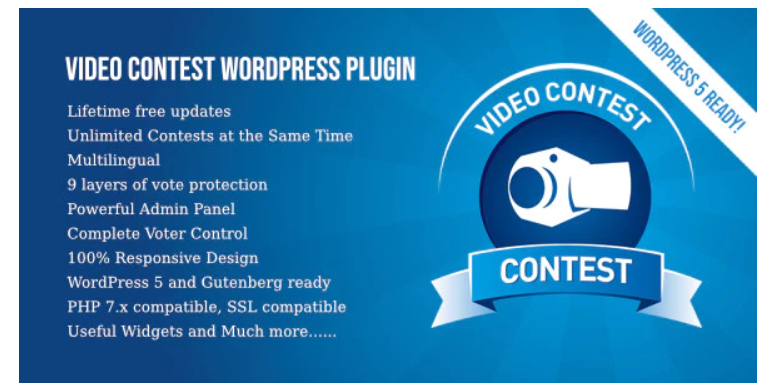 Video Contest WordPress Plugin is another great alternative to Rafflecopter. This plugin lets you organize video giveaway contests with ease. 
With Video Contest WordPress Plugin, you can create unlimited contests to interact with your audience. It gives you full control to handle the comments, voting, submissions, and more from your admin dashboard.
The plugin also offers a BuddyPress integration so you can create a community site or forum where your participants can communicate with each other.
However, this giveaway tool is only limited to video sharing. It doesn't offer advanced giveaway features like RafflePress.
Highlights:
Fraud protection with 9 layers
Full control over submissions and voting
Translation ready and multilingual support
Mobile responsive designs
Unlimited contests
Pricing:
$39 with 6 months of support.
Get started with Video Contest!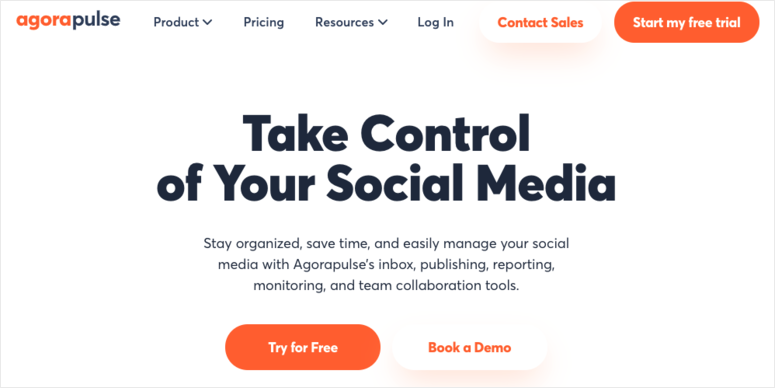 Agorapulse is a good option if you want to run a simple giveaway on your Facebook page.
It is a social media management platform that lets you run giveaways on your Facebook timeline. Depending on how many people liked or commented on your post, you can choose a winner for your giveaways.
Other than this, you can create fun quizzes and pick the winner who has the most correct answers. Or, you can start a photo contest and pick a winner who has the most likes.
This Rafflecoper alternative is a simple and easy-to-use tool that lets you run contests and giveaways on Facebook.
Highlights:
Random winner picker
Option to create quizzes and photo contests
Run giveaways directly on your Facebook timeline
Choose a winner from comments and likes
Pricing:
The pricing starts at $79 per month (Billed Annually).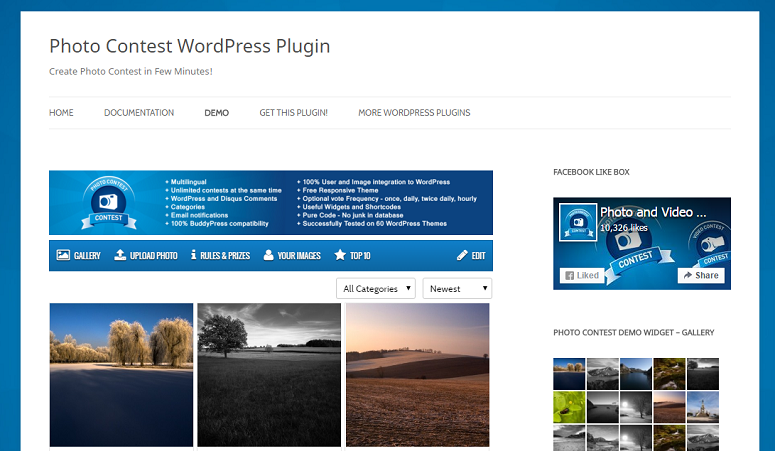 Photo Contest is created by the same people behind the Video Contest WordPress Plugin. It lets you create contests for photography instead of videos. 
This plugin is a great option if you want to accept photo submissions. It comes with a user-friendly interface so anyone can use this to create giveaway contests on their site.
Also, you can easily set it up on your site without any coding knowledge. Like the Video Contest plugin, it lets you create an online community with BuddyPress.
The only con of this plugin is that you'll never get to create different kinds of contests.
Highlights:
Easy to use and set up
100% mobile responsive
Unlimited photo contests
Contest rules management
Email notifications for participants
Pricing:
$39 with 6 months of support. There's a bundle option to get both the Photo Contest and Video Contest for $49.
Get started with Photo Contest!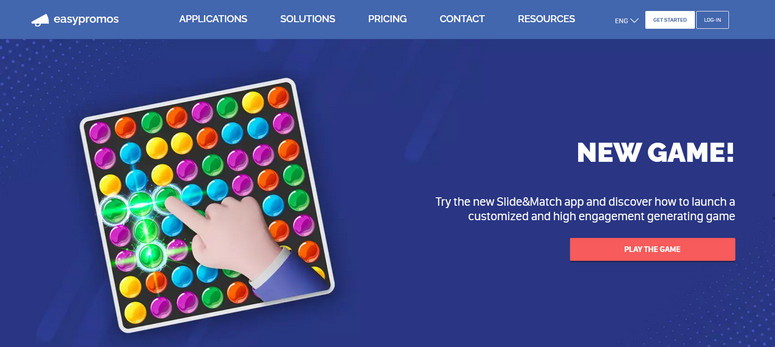 Easypromos is an online promotion platform that lets you host giveaways on your social media sites. You can promote your giveaways on multiple social media platforms like Facebook, Twitter, and Instagram at once.
With Easypromos, you can even run quizzes and set up a prize for the winner. It lets you choose from 6 campaign types to create giveaways and contests for your website.
Keep in mind that you need to create your giveaways on the platform and add it to your WordPress site using a connector plugin.
Highlights:
Option to create and share codes to the participants in return for their contact information
100% responsive designs
No need to embed code to display giveaways
Run quizzes and add a prize for the winner
Pricing:
The pricing starts from $29 per month.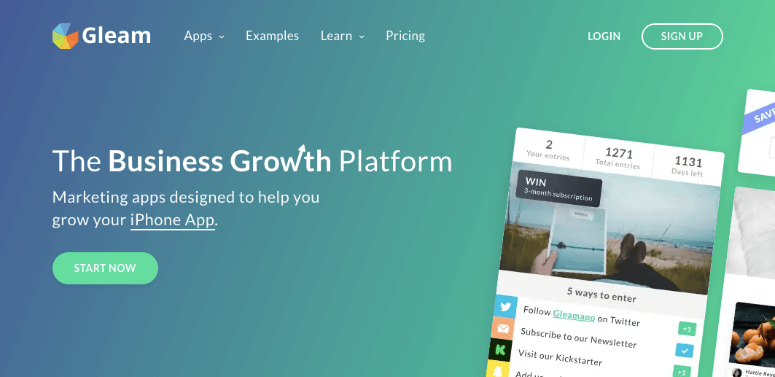 Gleam is one of the best Rafflecopter alternatives available on the market. This is a marketing platform that offers tons of tools to grow your business online.
One of the tools of this application is Competition. With this drag and drop tool, you can create any type of giveaways, contests, and sweepstakes to increase engagement on your site.
With Gleam, you can make users register their social accounts so they can enter giveaways on your site in just one click. It also reduces the number of steps required wherever necessary which improves the user experience.
This giveaway tool offers a built-in viral sharing option like RafflePress. This allows participants to refer their friends with referral links.
Highlights:
Drag and drop giveaway and contest builder
Customizable design
Connector plugin for adding contest in WordPress
Easy social media account verification
Display giveaway winner in the contest widget
Mobile responsive giveaways
Pricing:
A free version is available with limited features. The premium plan starts from $40 per month.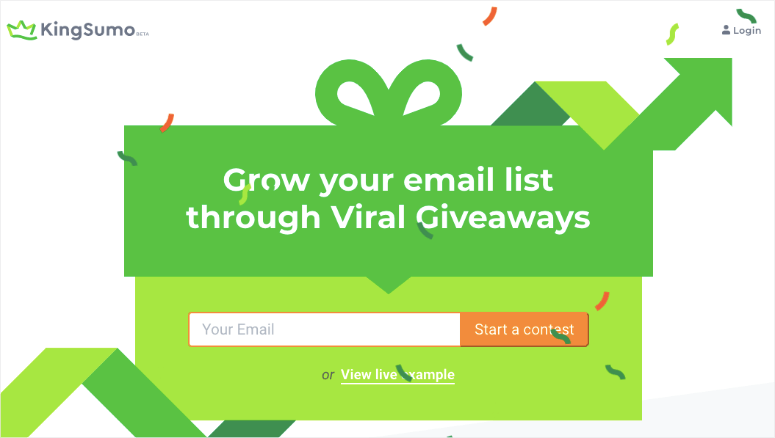 Last but not the least, KingSumo is a premium contest plugin that you can set up and start using without any trouble. 
KingSumo lets you run an unlimited number of giveaways and contests on your site. You can even schedule the start and end contest dates so you can plan for special occasions and holidays like Christmas.
You can also encourage your users to share the contests with others to get more opportunities to enter the contest. The plugin supports sharing for Facebook, Twitter, and Instagram.
The downside of KingSumo is that it doesn't collect participants' information such as names and email addresses which is important for email marketing. It also lacks a drag and drop builder and entry management system.
Highlights:
Pricing:
A basic web app is available for free. The premium WordPress plugin starts at $198.
Which is the Best Rafflecopter Alternative?
After comparing all the Rafflecopter alternatives, we can conclude that RafflePress is the best option for hosting viral giveaways on your site.
RafflePress is beginner-friendly and easy to set up. With its drag and drop builder, you can create any type of giveaway without touching a line of code.
The plugin gives you full control over your giveaway rules, start and ending time, and more. It also protects your giveaways from fraud entries and spam.
What's more, RafflePress allows you to manage all your giveaway entries in an easy-to-use dashboard inside your admin panel.
If you want a simple tool to help you add giveaways to your website, then you can use WPForms as well. It is a powerful form builder that comes with a contest entry form template so you can set up giveaways in a few minutes.
Furthermore, OptinMonster is also an awesome tool to create giveaways and boost your business online. It lets you add targeting rules for your giveaways to reduce your abandonment rates.
And that's all! We hope this post helped you find the best Rafflecopter alternative for your website.
If you want more resources like this to generate more leads on your site, you can check these posts out:
These posts will help you optimize your content and drive more traffic to your website.