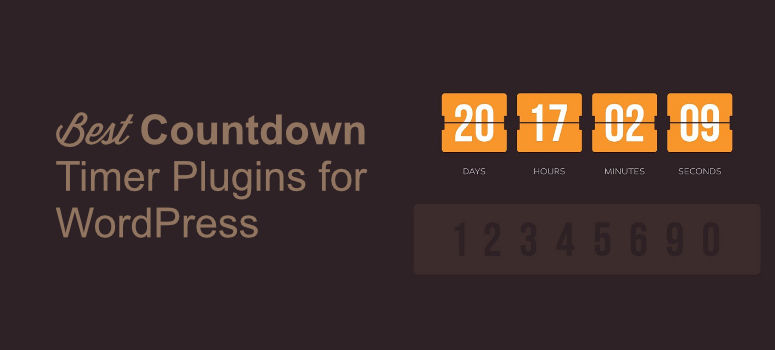 Are you looking for a countdown plugin for your WordPress website?
Countdown plugins work great if you want to create excitement or urgency around a product launch or sale on your site. You can also use it for other practical purposes like letting your visitors know if your website is under maintenance and when it will be up again.
At the end of the day, using countdown timers can be a smart way of increasing your traffic, conversions, and sales.
In this article, we'll tell you about the best countdown timer plugins that you can choose from. But before that, let's find out the how countdown timers can help you boost traffic, increase conversions, and even improve your SEO.
Benefits of Using a Countdown Timer
A countdown timer can be helpful for your business in several ways. Here are some of the main advantages of countdown timers:
Promotion: Using a countdown timer on your website is a great idea for letting your visitors know about your business while you're still designing your website. This will create excitement and anticipation among your users as they eagerly wait for your site's launch.
Attract Traffic: A countdown timer can help increase your website traffic. You can add a countdown timer to your upcoming website's coming soon page to create excitement about the launch. By doing that, you can let your users know exactly when to come back to your website. This can quickly attract a lot of traffic as soon as your website goes live.
Increase Sales: Countdown timers work great if you're running a sale or promotion on your website. It creates FOMO and makes visitors take quick action on your site, thus boosting your sales.
Now, let's look at some of the plugins that can help you add a countdown timer to your website.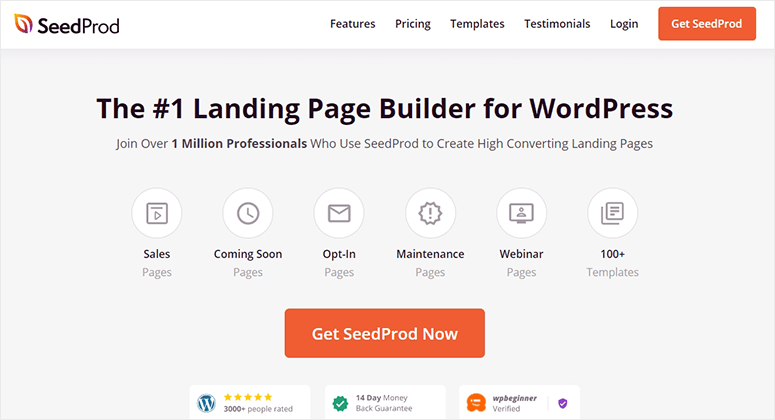 SeedProd is a powerful drag and drop landing page builder for WordPress that comes with easy coming soon page and maintenance mode functionality. It lets you add a countdown timer to your coming soon page quickly.
By doing so, you can let your visitors know when the website will be launched. You can add your timer in the days/hours/minutes/seconds format. Also, you can choose not to add one or more units if you want.
The plugin offers flexible customization options. So you can style your timer exactly the way you want. It lets you change the color and typography of your timer so it matches your brand's look and style.
Get started with SeedProd now!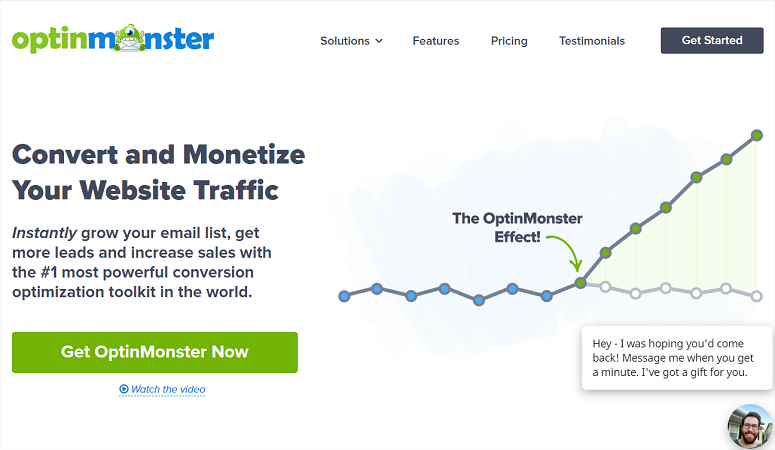 OptinMonster is another great option that lets you add a countdown timer to your website without any coding. The plugin offers a drag and drop interface which you can use to add countdown timers to your site's optin campaigns.
Customizing your timer with OptinMonster is easy. Just click on the element in your OptinMonster editor, and you'll see various options to modify your countdown timer. You can add a start and end date for your timer, change the format of the timer, use a dynamic (instead of a static) timer, and more.
You can also choose what will happen on your website when the countdown is complete.
Get started with OptinMonster now!

Evergreen Coutdown Timer is a powerful countdown timer plugin that lets you add a countdown timer to your website. With this plugin adding a timer to your website is super easy.
It lets you add a one-time timer to all your visitors to create a sense of urgency. This means that anyone who visits your website will see the same timer no matter when they land into your site.
This plugin is super helpful for marketers running a sale, discount, or any other similar offer.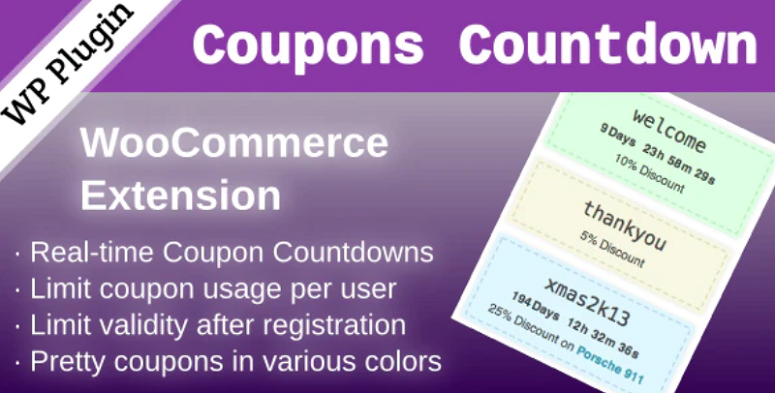 WooCommerce Coupons Countdown is a WooCommerce extension that can help you add a real-time countdown timer to your eCommerce website. You can use it to show your visitors the coupons they can use, and the time when it's expiring.
You can also use different colors on your coupons so that it matches perfectly with your brand. It offers advanced setting options to show that a coupon is valid up to x days, weeks, months, or years after a user registers. The plugin offers high resolution so it looks good across devices and different screen sizes.

Countdown Timer is a free countdown plugin that lets you add a timer to your website within minutes. The timer created with this plugin can be used within your posts, pages, and in your widgets too.
It lets you create unlimited timers, add your own text in the days, hours, minutes, and seconds field and add a message after the expiry of your offer. You can also let the users select an action after the timer expires.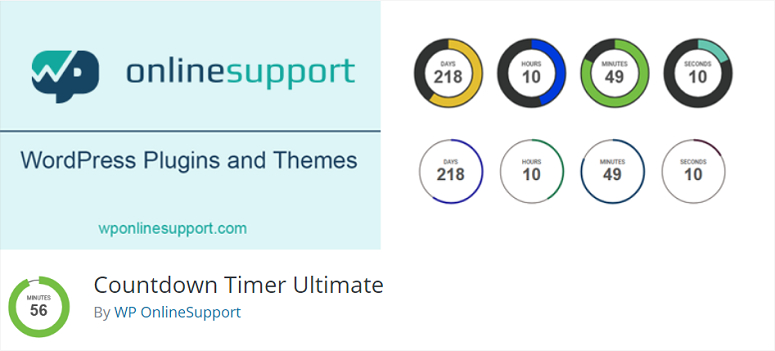 Countdown Timer Ultimate is another free plugin that lets you add a countdown timer to your website. With this plugin, creating timers is easy, and you can create as many timers as you want.
You can use its customization options to set different background colors for your days, hours, minutes, and seconds. It also lets you change your timers to rotating circles with a background color. This plugin also has a pro version that offers a lot more features.

POWr is the next option that you can check out. This is actually more than just a timer plugin. You can use it to get access to over 50 different apps (all for free) in a single installation. With these plugins, you can create a countdown timer, social feeds, banner slider, Paypal button and a lot more.
For the countdown timer, you can display a timer to create urgency and let your visitors know that the offer or promotion is running out. To make the purchase appear more urgent, you can also show the number of purchases that have already been made.

Sales Countdown Timer is another timer plugin that can be a great choice for your website. The plugin will let you notify your users when a sale is ending and how many purchases have been made.
You can also use it to notify your users about an upcoming sale. This plugin is compatible with WooCommerce and lets you add a progress bar to your timer too.

Easy Timer offers you a quick and easy way to add countdown timers to your website. You can display your timer in 5 different units, and you can either make it count up or down.
Each count up timer shows the time that has passed since the start of the timer or the time spent by the visitor on your website. You can also display a message on the end date as soon as the time is up.
These are some of the countdown timer plugins that you can use on your site to create urgency or for letting your visitors know about a new launch. It totally depends on you how you want to use it.
We hope you found this article helpful. If so, you probably want to know other ways to boost conversions on your website. One great strategy is to use a social proof plugin with your timer.
This can be very appealing to your users since you're offering them solid proof that your product is actively being purchased by others.