Do you want to offer online courses, but you're not sure which would be a better choice – LearnDash or MemberPress?
LearnDash and MemberPress both offer solutions to create, sell, and manage online courses. However, the platforms have unique features and benefits that cater to different goals.
In this post, we detail what each platform has to offer to help find which one is right for you.
What Is LearnDash?
LearnDash is the most popular learning management system (LMS) plugin for WordPress. It lets you easily create and sell your own courses.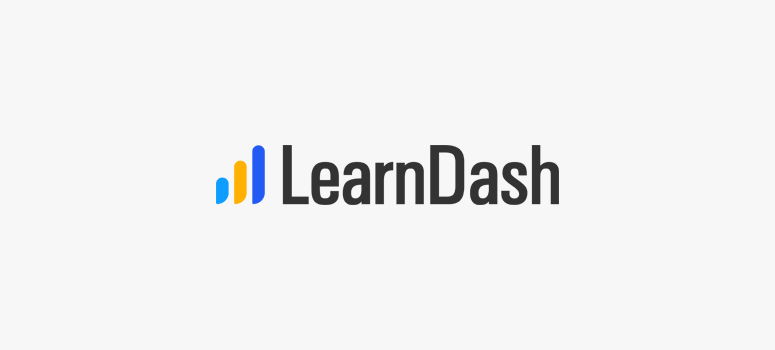 LearnDash is one of the most popular LMS platforms on the market. It's used around the world by major universities, professional training organizations, and Fortune 500 companies.
If you have useful and interesting information that others can benefit from, LearnDash makes it easy to turn it into professional courses from which you can earn money.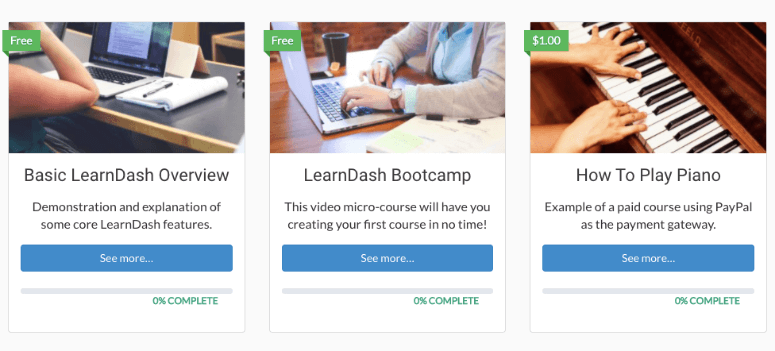 Let's take a look at some of the key features of LearnDash:
Set up and install in minutes
Create courses like you would create a regular blog post
Set one-time prices, recurring subscriptions, or membership plans.
Get access to advanced features like gamification techniques, engagement triggers, and reward systems.
Build quizzes and exams for your courses.
Issue certifications that are fully customizable and support dynamic data.
Take control over front-end user profiles.
And much more…
There are plenty of addons, payment options, and other integrations to expand functionality.
But with all these amazing features, you may be wondering how much LearnDash costs.
How Much Does LearnDash Cost?
LearnDash has 3 levels of pricing: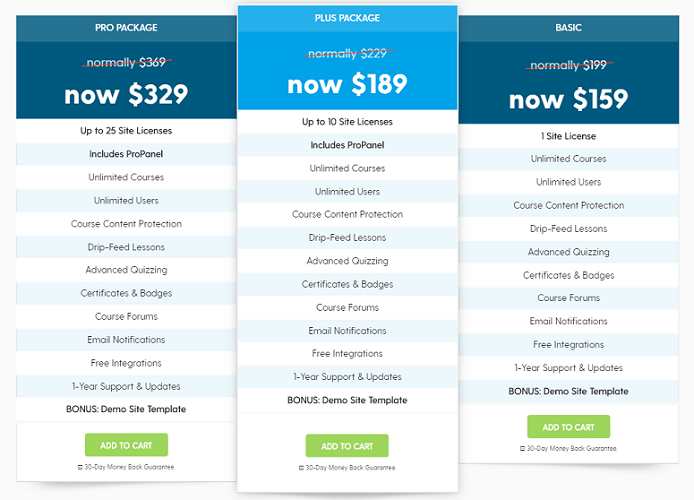 Basic plan: $159 for a single site license and unlimited courses and users.
Plus package: $189 for 10 site license.
Pro package: $329 for 25 site license.
Now that we know more about what LearnDash is and how much it costs, let's turn our attention to MemberPress.
What is MemberPress?
MemberPress is by far the best WordPress membership plugin on the market today. It lets you protect your content and allow only subscribed users to access it.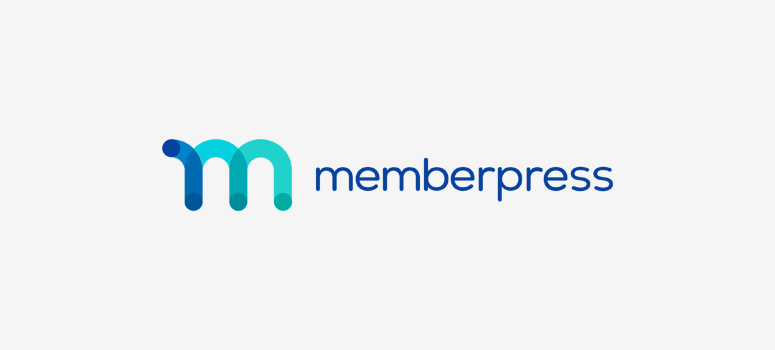 MemberPress can be used to create a variety of membership programs. You can sell digital content, downloads, and courses. You could even grant members early-bird access to events and sales. Or they could benefit from free shipping and priority support.
It also lets you create multiple levels of membership that have different pricing and permissions. That means you can set up complex membership programs that cater to multiple demographics: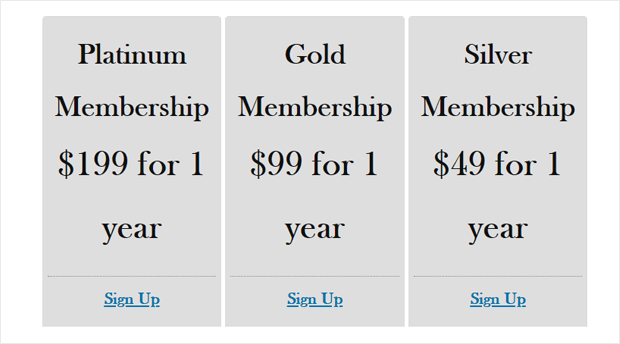 Here are some other key features of MemberPress:
Navigate a user-friendly dashboard and easy installation process.
Create multiple membership levels and set permissions according to categories, tags, keywords, and more.
Set access for posts according to membership plans directly from the block editor.
Configure one-time prices, recurring subscriptions, or membership plans.
Control the durations of membership plans and trial periods.
Rely on a dedicated and reliable support team.
But, again, you might be wondering how much you'll pay for all of MemberPress's powerful features.
How Much Does MemberPress Cost?
MemberPress also offers 3 levels of pricing plans: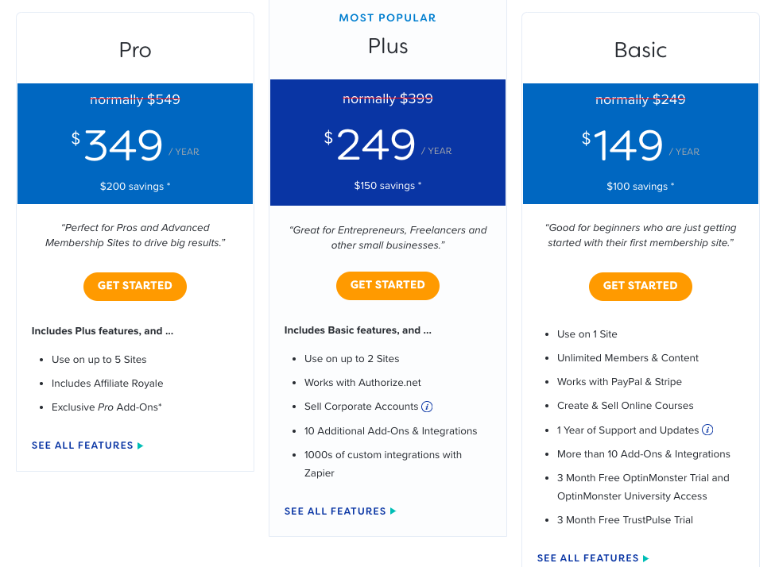 Basic: Costs $149 for a single site license. It gives you access to create and sell courses to unlimited members.
Plus: Costs $249 for 2 sites.
Pro: Costs $349 for 5 sites
If you want to explore MemberPress more, we have an in-depth review of MemberPress that you may find helpful.
Comparing LearnDash vs MemberPress
LearnDash and MemberPress are both great WordPress plugins, but each has something different to offer. So we put them side by side to determine who would really benefit from each plugin.
Here's what we found.
1. What Does It Do?
First off, LearnDash is a dedicated plugin to create online courses.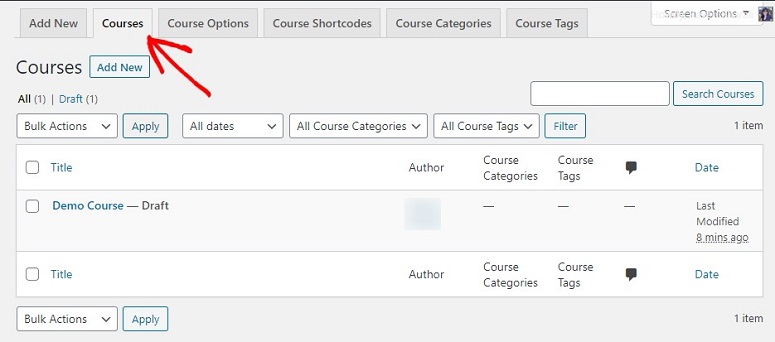 MemberPress serves a wider purpose of creating membership options on a WordPress site.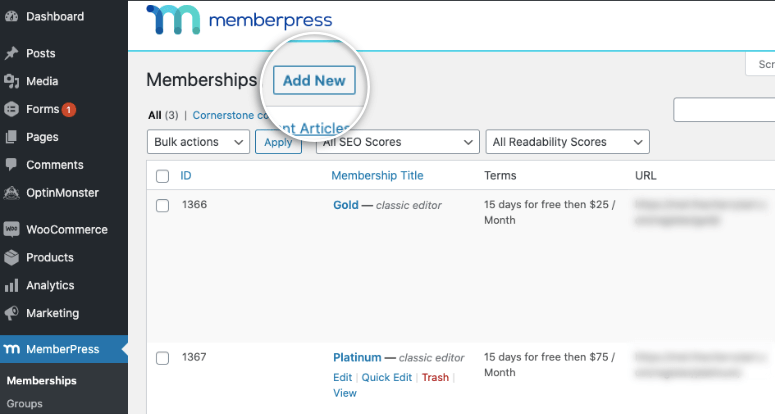 However, MemberPress also has an addon called Courses that lets you create and sell online courses.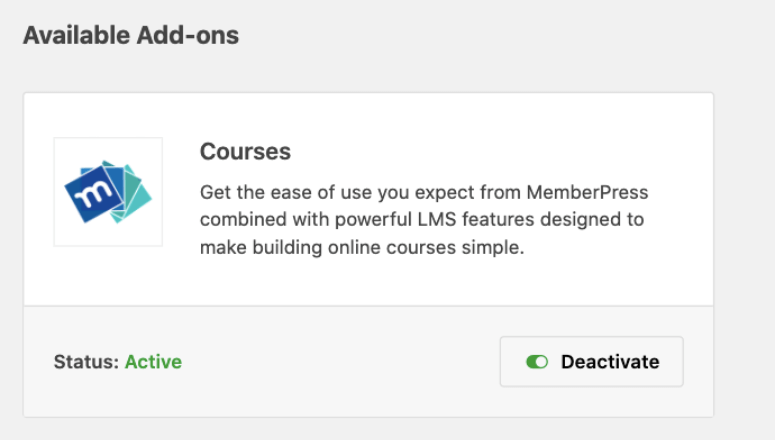 The addon is included in MemberPress so there's no need to purchase an additional LMS plugin.
It has a Classroom Mode setting that lets you create professional-looking courses. So you don't have to worry about designing the course yourself.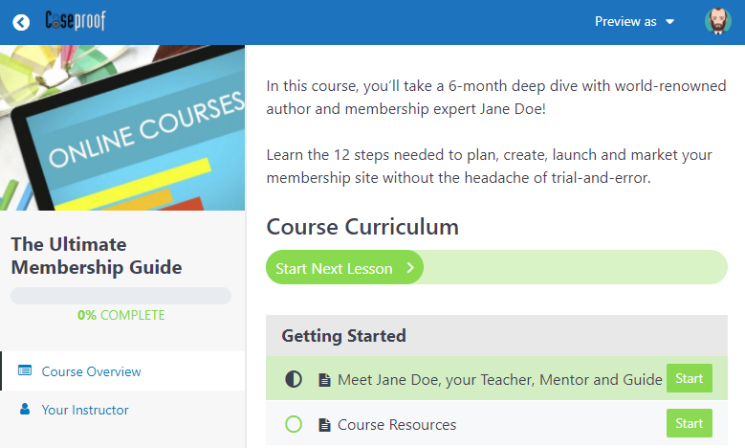 This is important because it means that MemberPress allows you to do more. Whereas LearnDash is limited to online courses, MemberPress lets you build any kind of membership course you need.
2. Do You Need Technical Knowledge?
With both plugins, you don't need any coding knowledge. They offer user-friendly dashboards that let you set up, create, and sell courses in minutes.
Both plugins make the process incredibly simple and are equal in this category.
3. What Membership Options Are Available?
LearnDash has a built-in content protector. In most cases, this is more than enough to protect courses and grant access to those who purchase them.
So you can offer free and paid courses, as well as recurring subscription models.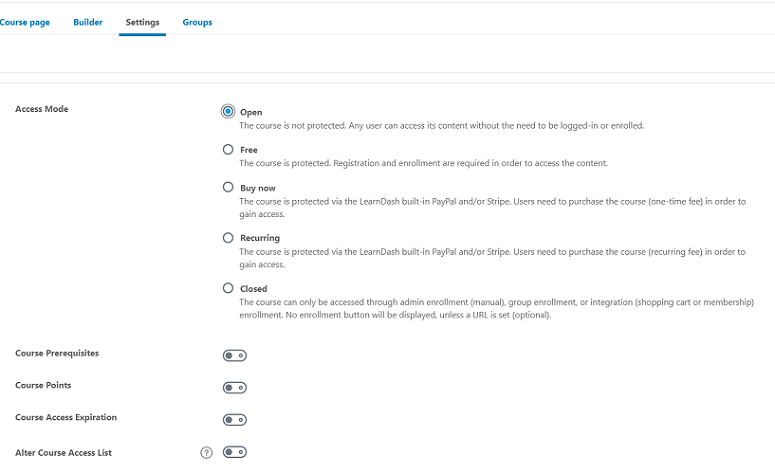 However, there are times where you may want to add multiple membership levels to courses.
Fortunately, MemberPress lets you do this.
With MemberPress, you can create membership levels such as silver, gold, and platinum. You can set permissions for each level and price it differently.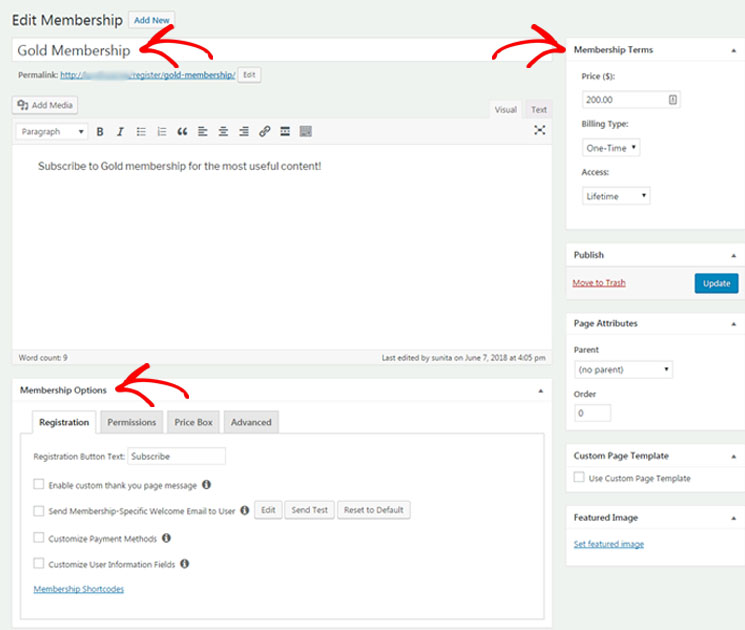 So, for instance, if someone buys a Platinum membership, they'll get access to all marketing courses automatically. Members won't have to sign up for each course individually.
MemberPress also lets you create trial periods and automatically remove a course when a user cancels their membership.
4. What Integrations Are Available?
LearnDash has far more integration options than MemberPress. You can connect to a host of third-party apps to automate processes, market your courses, collect payments, and analyze data.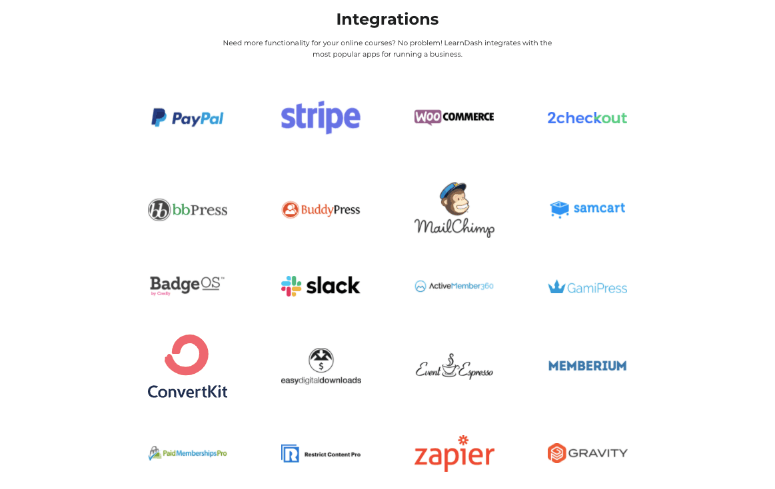 MemberPress integrates with roughly 40 third-party services and software. These include email marketing services like ConvertKit, Drip, and Mailchimp. There are also payment gateways, WordPress themes and builders like Divi, forum and community software, and more.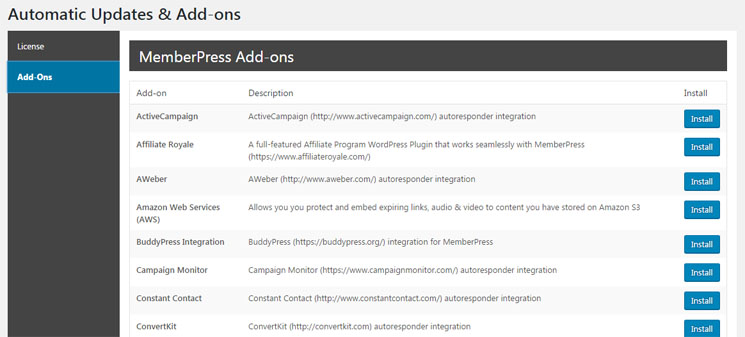 That said, MemberPress does have a lot of its own built-in features, so it may not need as many integration options.
5. Does It Offer Support and Documentation?
LearnDash has a self-help option on the site where you can find answers to your queries without contacting the support staff.
If you need further help, you can connect with the help desk through a support ticket system.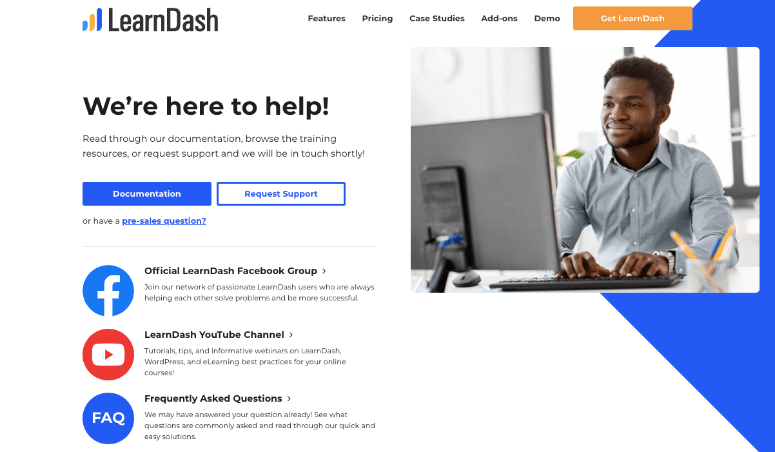 MemberPress also works on a support ticket system. It takes 1-2 business days to get a response. However, MemberPress has teamed up with expert developers and development companies so you can also hire someone to get help immediately.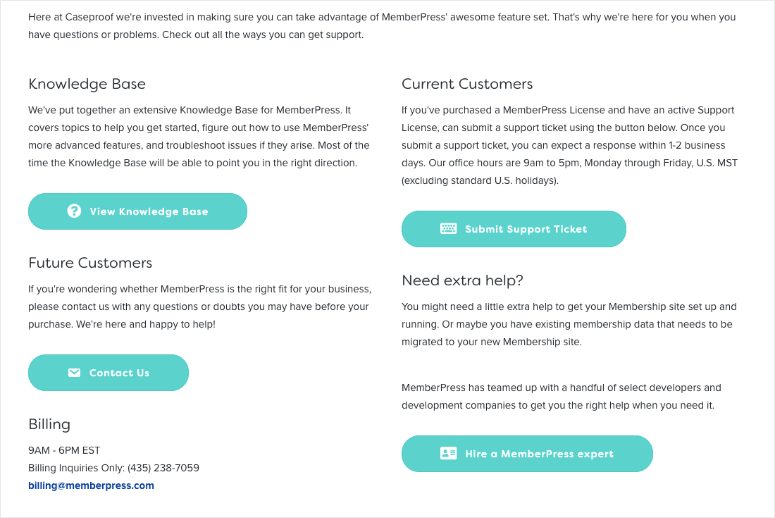 When it comes to documentation, LearnDash has a huge knowledge base along with videos and tutorials. MemberPress does have a knowledge base but it falls short when compared to LearnDash.
After trying and testing both Learndash and MemberPress, we can confidently say which one is better for you.
Our Verdict: Which Is Better – LearnDash or MemberPress?
If you ONLY want to create a dedicated online course website, LearnDash might be a better solution for you. You'll get access to everything you need to create and publish courses and sell them online.
There's plenty of payment options as well. And if you need more functionality, you can always purchase add-ons to expand the features of your site.
Get the best price on LearnDash here!
But if you want to offer memberships where courses are available within the membership plan, then MemberPress is for you. You can create multiple levels of memberships and grant access to your content accordingly.
With the MemberPress Courses addon, you get all the features you need to build, sell, and manage online courses. You can easily handle course delivery and track learners' progression.
So MemberPress serves as an all-in-one solution to create any kind of membership as well as create online courses.
Get 50% off on MemberPress here!
Why Use LearnDash and MemberPress Together?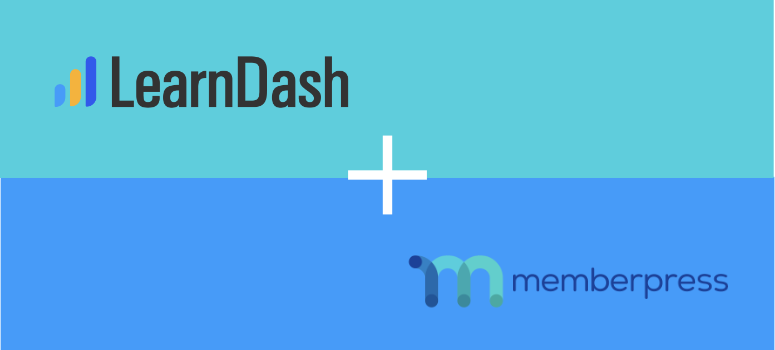 LearnDash and MemberPress teamed up a few years ago to combine their services. The LearnDash team launched the MemberPress addon in 2017 so their users can enjoy advanced features from MemberPress.
While both services do have similar features that overlap, this integration lets you enjoy the benefits of both platforms!
Let's take a look at why LearnDash and MemberPress work so well together.
Benefits for LearnDash Users
The MemberPress addon lets you expand your content protection options for the lessons and courses that you offer. You can download it for free from within the LearnDash dashboard in your WordPress admin area.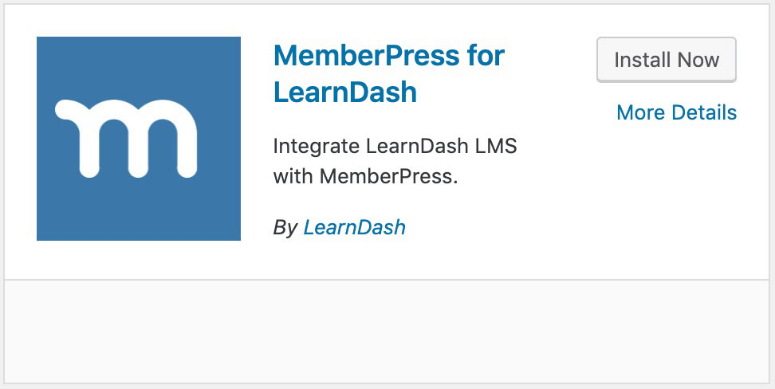 However, to activate the MemberPress addon, you will need to purchase a MemberPress license.
After that, you can associate membership levels to one or more courses. So when a membership level is purchased, the user will automatically be enrolled in the associated courses.
Next, if a user cancels their membership, MemberPress will automatically unenroll them from the associated courses. So you can be sure no unauthorized users remain enrolled in your courses.
MemberPress also gives you access to trial period offers. You can give users a sneak peek into your course for the time period you select.
Benefits for MemberPress Users
Now, if you're already using MemberPress Courses, you may benefit from switching over to LearnDash and then using the MemberPress addon from there. Here's what you stand to gain:
LearnDash provides you with advanced accountability features like SCORM and xAPI.
You can offer courses as part of a membership level. When users sign up for memberships, they automatically get access to the associated courses. It can be an added benefit to entice users to subscribe to your membership plans.
You can offer multiple membership plans that cover different topics instead of different levels. For instance, you can have multiple courses under one topic such as 'Photography'. Members can then enroll in a membership plan that gives them access to all the courses that are tagged as 'Photography'.
You can offer course assessments, tests, exams, and award certificates using LearnDash's built-in features.
With this addon, whether you choose MemberPress or LearnDash, you get to take advantage of both platforms!
We hope that this post has given you deep insights into LearnDash vs MemberPress so you can choose the right one for you.
Next, you can check our guide on MemberPress vs Ultimate Membership Pro to see which is the best membership plugin for your business.
If you want, you can check our step-by-step guide on how to create a video membership site in WordPress.
You may also be interested in our comparison of the best email marketing services to grow your subscriber lists and connect with your members.