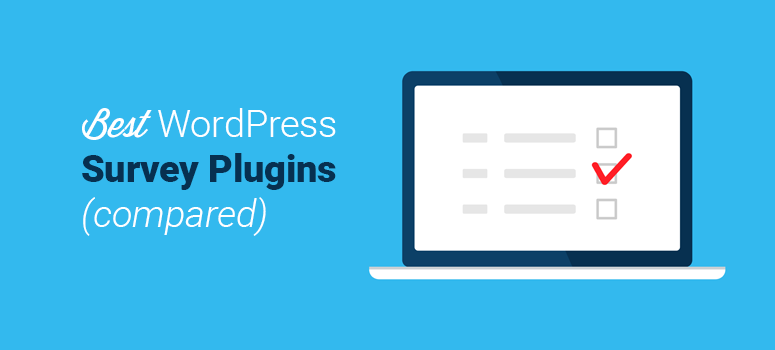 Do you want to add survey forms on your site and collect user feedback for your products or services? In WordPress, you can use a survey plugin to easily create an online survey on your site. However, the presence of several plugins on the market can make it hard to identify the best plugin for your needs.
That's why we've handpicked the best WordPress survey plugins to help you collect user feedback. You're welcome.
Choosing the Best WordPress Survey Plugin
A good survey plugin makes your form look appealing to the users' eyes. An easy-to-use interface is equally important so you can configure your surveys easily.
By creating an effective online survey, you can collect your users' opinions and learn exactly how good they find your services. Then, with the information gathered, you can make improvements and optimize your site for more conversions.
But that's possible only when your survey is engaging, fun, and user-friendly. In order to get maximum user participation, you'll need to make sure that your survey forms are both good-looking and sensible. So, you need a plugin that lets you do that all.
You'll also need to choose a survey plugin that lets you present your survey reports beautifully. If you want to display the results on your website, you'll need a plugin that lets you embed your survey results. Similarly, an export option is also important if you want to use the user-submitted information in other platforms using a spreadsheet or a CRM software.
The plugins in this list are collected considering the features a good survey plugin should have. Let's explore them now.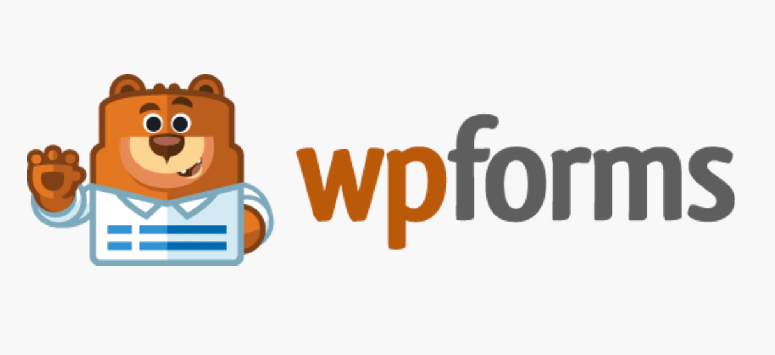 WPForms is the best WordPress contact form plugin available on the market. It's a simple and user-friendly drag and drop form builder plugin that lets you create gorgeous survey forms as well as simple contact forms and advanced forms like order forms, donation forms, payment forms, etc.
WPForms comes with an easy-to-use, yet powerful, Surveys and Polls addon that enables you to create highly-engaging WordPress surveys in no time flat. You can use the drag and drop form builder to add fields with just a few clicks.
The plugin offers smart survey fields for creating visually appealing and complex surveys. You can use the text fields, dropdown fields, radio buttons, checkboxes, ratings (start, heart, thumbs up), Likert scale, and more in your survey forms. Moreover, it has a smart conditional logic feature to allow you to filter and personalize questions based on previous answers.
Above all, WPForms is best at its best-in-class survey reporting feature. While most of the survey plugins on the market lack proper analysis and reporting feature, WPForms comes with real-time visual reports for your forms. You can show the survey results on any page on your site with a shortcode and also export the reports and share them on social media or PowerPoint presentations.
Also, check out these comparisons between,
Read our complete step-by-step guide on how to use WPForms to create surveys.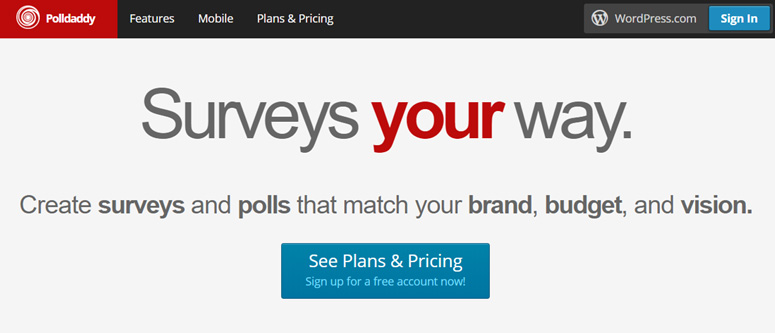 Polldaddy is a popular WordPress plugin for surveys and polls. It's a WordPress.com product so you'll need to create a WordPress.com account in order to get the plugin API. Unlike other plugins on the list, it isn't a contact form plugin so you cannot use it for creating another type of form.
You can find the plugin in a free version as well as a premium version. Although you can start with the free version, it has limited features, and also a disadvantage that it'll show the Polldaddy logo in your survey forms.
Polldaddy has a simple drag and drop interface for creating WordPress surveys. You can use different types of questions including multiple choice, free text, and Likert scales in your surveys. Once you create the survey forms, you can share them on your website, direct email, or social media accounts and collect information. Above all, it allows you to generate and share easy-to-read reports.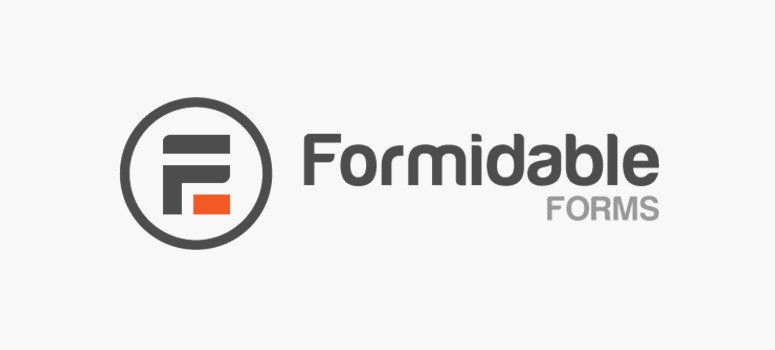 Formidable Forms is yet another powerful WordPress contact form plugin that lets you create simple-to-advanced forms easily. The plugin provides a set of ready-to-use form fields including Likert scales, checkbox fields, radio buttons, drop downs, etc. and a simple drag and drop interface for building complex survey forms.
Formidable Forms is great at providing options to show the survey results in charts and graphs. You can easily create eye-catching graphs, tables, histograms, pie charts, etc. and embed them on your pages and posts. This makes it really easy to share your survey reports with your site audience.
In addition, if you want to share the reports with your email list, it's easy with its marketing addons like ActiveCampaign, AWeber, etc.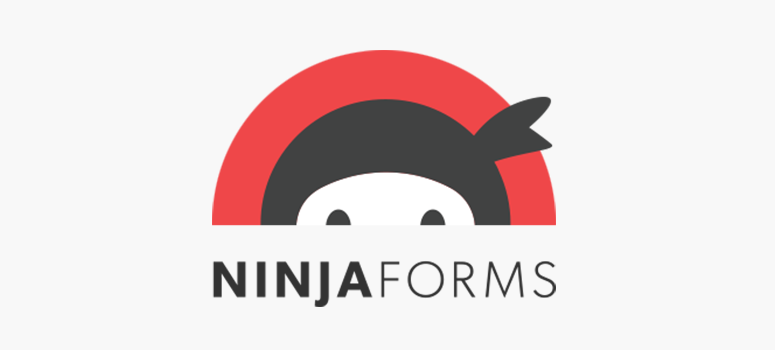 Ninja Forms is yet another popular contact form plugin available on the market. The plugin offers a number of extensions which you can use to build any type of WordPress form, including a survey form.
The core plugin is free to download and use (you can directly download from WordPress.org); however, you'll need to purchase at least two extensions: Conditional Logic and Multi-Part Forms to create a survey form. The extensions can be purchased individually or with any of their plans.
Using the multi-page forms, you can introduce users to the survey on the first page and then show questions on page two. It makes the survey more interactive. However, the plugin lacks reporting and data presentation features.

Quiz and Survey Master is an exclusive plugin for adding surveys and quizzes on WordPress sites. Unlike other all-in-one form builder plugins we've featured on this list, this plugin was specifically developed for building surveys. Hence, it has many useful features for survey forms.
The base plugin is free and can be downloaded from the official WordPress plugin repository. Using the free version of the plugin, you can create multi-page online surveys and add them on your WordPress site. Once the survey is completed by a user, it sends a thank you email to the user for completing the survey.
However, the reporting and analysis feature is not available in the free version. You'll need to purchase their premium addon to get those.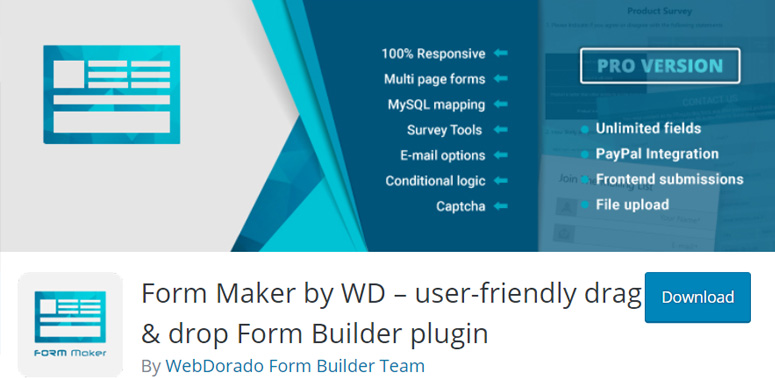 Form Maker by WD is yet another WordPress form builder plugin that you can use for creating surveys. The plugin comes with a set of form fields including multiple choice, ratings, stars, grades, etc. for building survey forms. Using its survey tool, you can create multi-page survey forms with conditional logic.
The plugin has a drag and drop interface for building a form which makes creation easy and quick. If you want to add additional styling to your forms, you can use its Custom CSS editor option. In addition to that, there're multiple pre-built form templates to care for your design needs.
Whenever you want more features and options, you can buy their premium addons. Although this plugin is good for creating surveys, it misses out on the reporting option.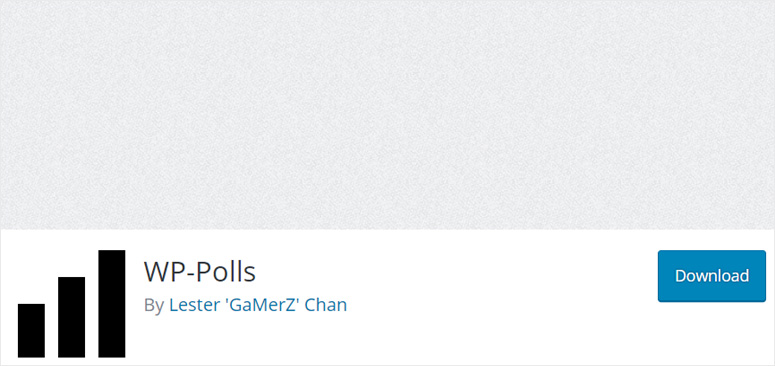 WP-Polls is a basic tool for creating polls in WordPress. This lets you collect simple user responses via checkboxes and radio buttons. When users participate in your polls, it'll automatically show the results right away. Unlike other plugins on the list, this isn't a form maker.
Creating polls using this plugin is very easy and direct. You simply go to the Polls menu from your WordPress dashboard and create a poll question and add answer choices. Then, you can add the polls on your site either using a code or as a widget.
This is a very simple tool that you can use for the most basic level of satisfaction polls.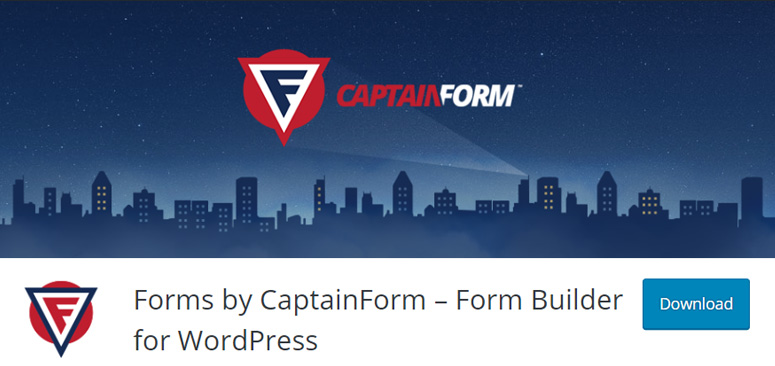 Forms by CaptainForm is a WordPress form builder plugin with a wide array of features and flexibility. The plugin allows you to create any type of form, including a simple contact form, survey form, event registration form, payment form, etc.
The plugin offers a simple and user-friendly interface for creating forms. Then, you can post them on your blog posts, pages, sidebars, or popups to gather user feedback. It has plenty of form fields and includes conditional logic to filter questions.
As a site owner, you'll receive email and SMS notifications after each entry. You can also view the real-time reports for your survey forms.
Related: Best Email Marketing Services.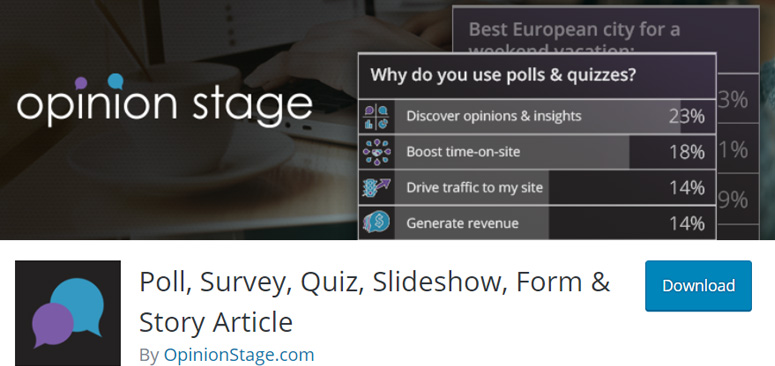 Social Polls is a WordPress plugin by Opinion Stage. It's a good choice if you want to add different types of interactive content including polls, surveys, quizzes, slideshows, etc. on your WordPress site.
You can add images and videos to your surveys to make them more appealing. The plugin supports different types of questions including single or multiple selections, open-ended questions, etc. Also, you can add a call to action at the end of the survey to collect leads for your site.
Creating a survey, poll, or any other interactive content using this plugin is very easy. When the survey forms are created, you can add them on different locations on your site (posts, pages, sidebars).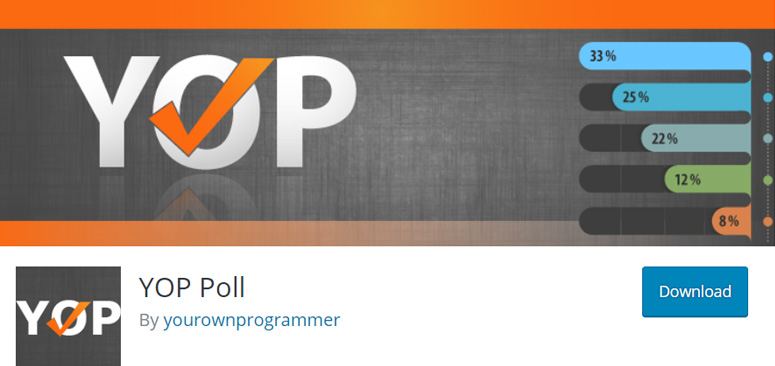 YOP Poll helps you create simple WordPress polls and surveys to collect your feedback. Then you can add the poll on your site using shortcodes or widgets, and run multiple polls simultaneously on your site.
The polls you created can be cloned or edited easily, so you can save time for other tasks. Similarly, the poll scheduling option lets you get your work done earlier by helping you to schedule your polls one after another.
We hope this article helped you find the best WordPress survey plugins. You might also want to check out our guides on
These posts will help your find the best Ad management and review plugins for your website. The last post will help you create a Typeform-style form in WordPress.