Want to design your WordPress site without hiring a developer? Building a WordPress site is easy with a page builder plugin like Elementor.
In this Elementor review, we'll take a look at its features, performance, and ease of use to determine if it's the best WordPress page builder plugin.
What Is a WordPress Page Builder Plugin?
A WordPress page builder plugin provides a simple drag and drop interface to build beautiful websites. You can create pages by simply arranging blocks of content with a drag and drop tool. Most page builders also offer front-end editing so you can make live edits without having to switch back and forth between your editor and the preview page.
Above all, a page builder allows anyone to build a website with ease regardless of their skillset. No technical know-how is required as you won't be touching a single line of code.
Designing WordPress Sites Beautifully with Elementor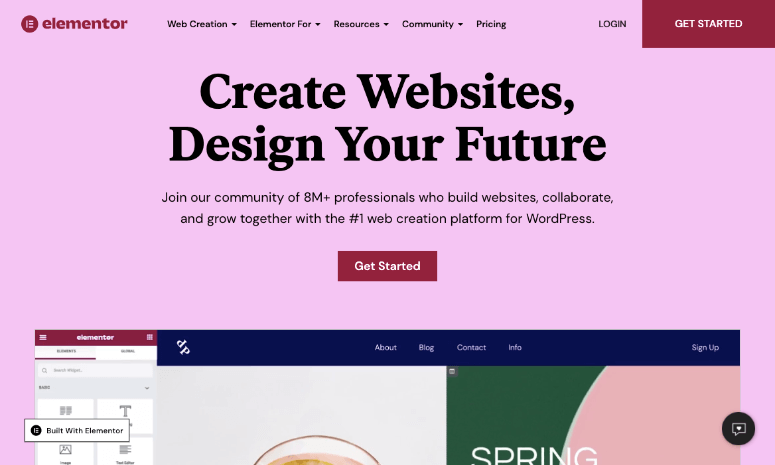 Elementor is an easy-to-use WordPress page builder plugin that has a visual drag and drop interface. It comes with a wide array of elements that enable you to simply organize the content on your page with the drag and drop tools. The plugin requires no coding at all to configure its settings and create pages.
With over 5+ million active installs, it's one of the most popular WordPress page builders available on the web.
1. Creating Posts and Pages with Elementor
As you add a new page or edit an existing page in your page editor, you can see the Edit with Elementor button above the WordPress editor. You can simply click on it to launch the Elementor editor.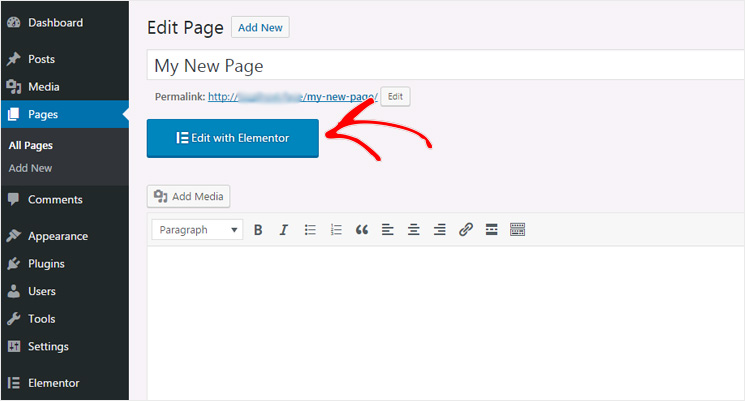 This directs you to the Elementor editor interface as shown in the screenshot.
On the left side, there are elements or widgets ready for you to drag and drop. You can find the Settings bar below the elements. To add new content, click on Add New Section or Add Template in the content area.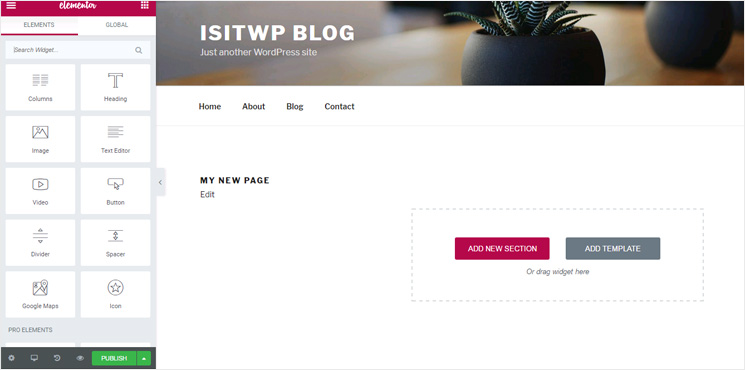 A section is a design layout block with one or multiple columns in it. Upon choosing Add New Section, you'll be prompted to select a content structure for your new page. There are 12 section types to choose from, as shown in the screenshot.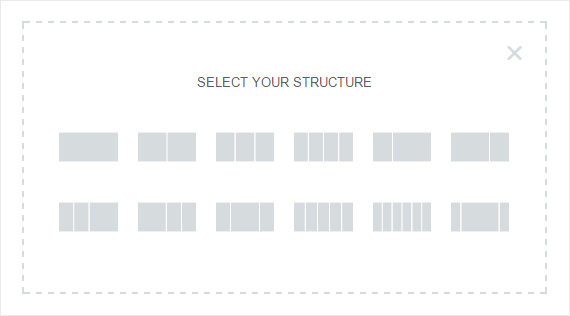 After choosing the structure of your page, you can choose a section layout and drag elements into the section's columns.
As shown in the screenshot below, you can change everything from the editor on the left side and see the changes live within the content area.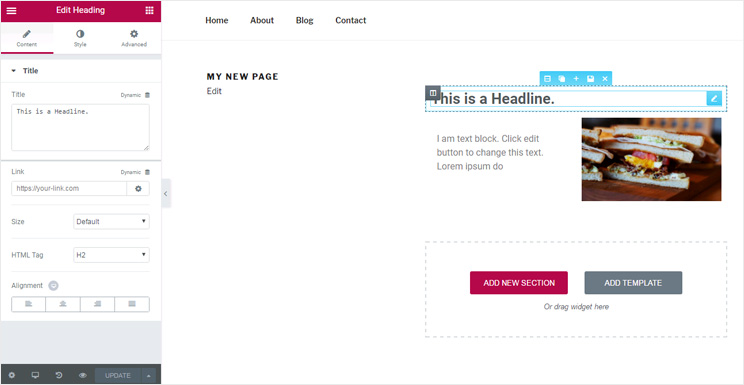 If you want to use pre-made templates for your page, then you can click on the Add Template button. You have access to over 300 pre-designed templates, named pages, and blocks in the Elementor library.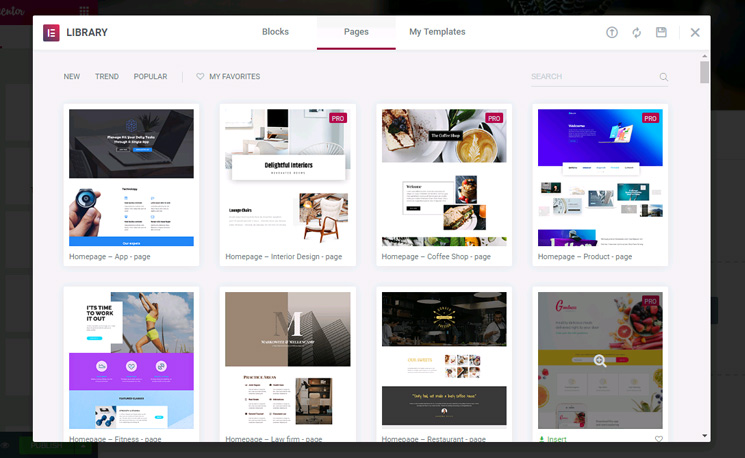 You can easily insert a template from the library, customize it, and hit publish.
Extensive Set of Elements & Templates
The Elementor plugin has an extensive set of custom-made elements or widgets. You can find a widget for any type of content you need such as headlines, buttons, forms, carousels, or Google maps just to name a few.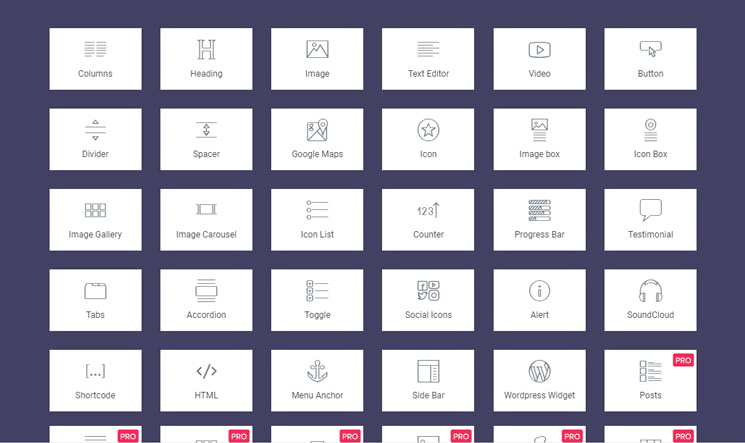 In addition to the Elementor widgets, you can use default WordPress widgets or other theme-based widgets or plugin widgets within the editor. Elementor integrates with every theme and plugin that you've installed and adds your activated theme and other compatible plugin widgets to the Elementor page editor.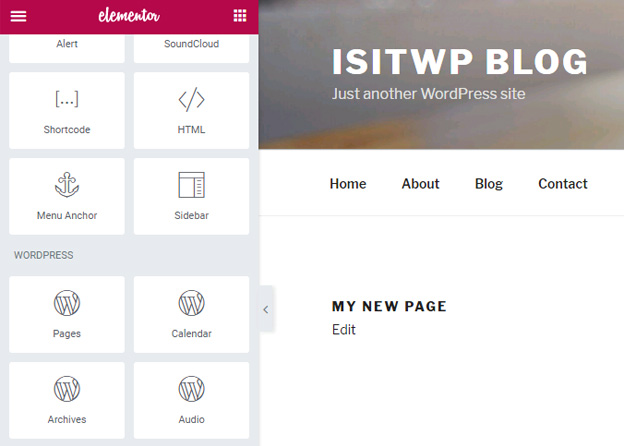 Install your favorite themes and plugins and build your pages easily from the Elelemtor editor using the widgets provided by your theme and other plugins.
Additionally, you can save your design as a template and reuse it on other pages within your site.
Click on Save Options and then save as Template.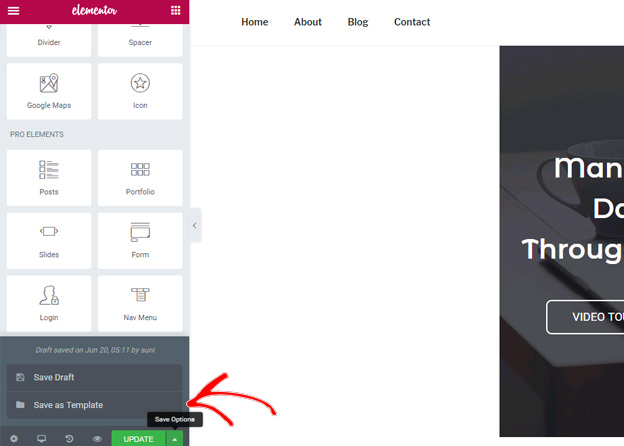 Now, your new template is stored in the Elementor library.

You can simply insert your custom-made template on any page you want. Moreover, you can export the template to other websites you own, making it super convenient. You won't have to build a new page from scratch each and every time.
3. Endless Customization Options
Elementor gives you endless customization options for your website.
Go to the Style and Advanced menu in the Elementor editor to see all the customization options.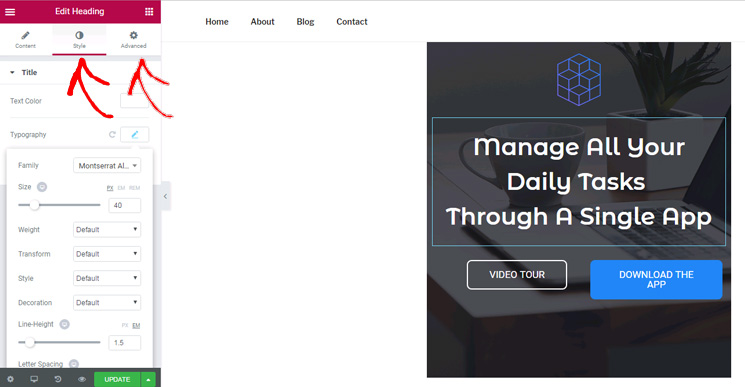 You can manage the sections width and height; resize columns; set your content position to the top, center, or bottom of a column; set padding and margins for sections, columns, and widgets; set column gap; etc.
4. Responsive Design Controls
Elementor allows you to customize the design of your web pages based on the type of devices your visitors use. This ensures your website is 100% responsive, meaning your site will look great on all devices including desktops, mobiles, and tablets.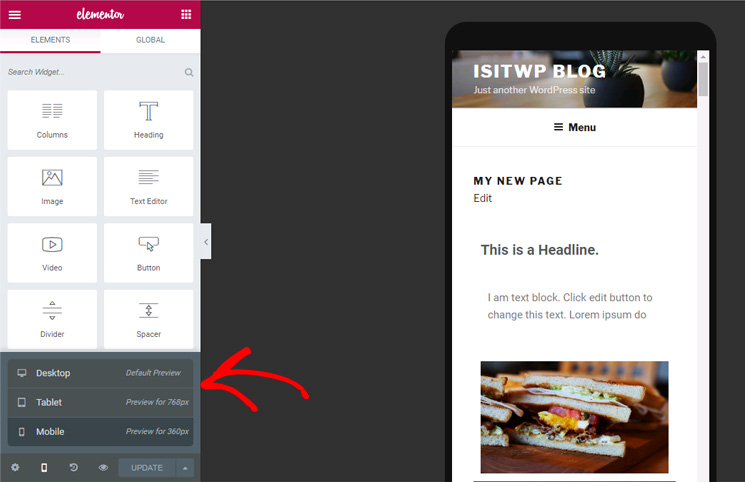 The plugin has a desktop view by default. You can change the view to mobile to discover how your visitors will view your site on their mobile devices.
The plugin also has an additional feature to ensure responsiveness. You can find the Responsive option under the Advanced menu whenever you're editing an element. This lets you hide a widget for a specific device. This is useful when you don't want to display the same piece of content on every device.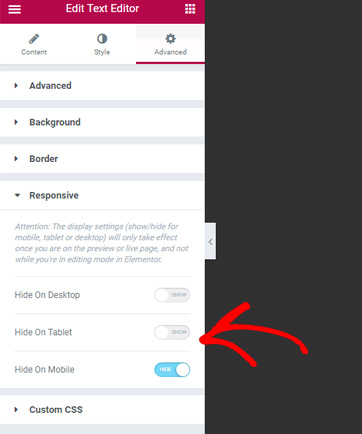 5. Full Revision History – Undo / redo the changes
Another amazing feature of Elementor is the full revision history. This feature lets you revert to a previous version at any time. The plugin saves all your inputs so that you can simply go to an older version whenever you have the need to.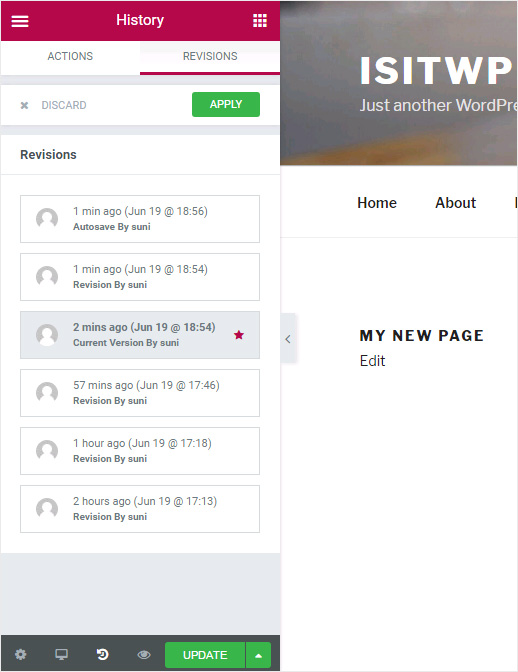 More Elementor Features
Let's take a look at some more features of the Elementor plugin:
Inline editing: You can edit text content directly on the live screen using this feature. This feature makes it easy to write blog posts and edit your existing content.
Header and footer editor: Editing the header and footer areas of your site is easy with Elementor. You can visually edit them without coding.
Translation and RTL Ready: The plugin is translated into over 23 languages and can be translated into additional languages easily. It fully supports RTL language.
Global colors and typography: You can set global colors and typography to create a cohesive design across your entire website.
Extensive typography options: Use 800+ Google fonts, or add your own custom typekit forms and use them throughout your website.
Third-party integrations: The plugin supports third-party integrations including MailChimp, Drip, ActiveCampaign, etc.
Maintenance mode: You can set maintenance mode using Elementor's beautiful coming soon and maintenance mode templates.
eCommerce widgets: Use pre-built WooCommerce widgets along with pricing tables and price list widgets to build eCommerce pages easily.
Pricing and Support Options for Elementor
Elementor is free if you download it from the official WordPress plugin repository. The free version of the plugin offers a decent number of widgets and other features that let you build simple websites.
For professionals, the plugin has a premium version with additional premium widgets, templates, and other options. It has three pricing plans: Essential, Expert, and Agency. You can buy the Essential plan for 1 site license, Expert for 50 sites, and Agency for 1000 sites.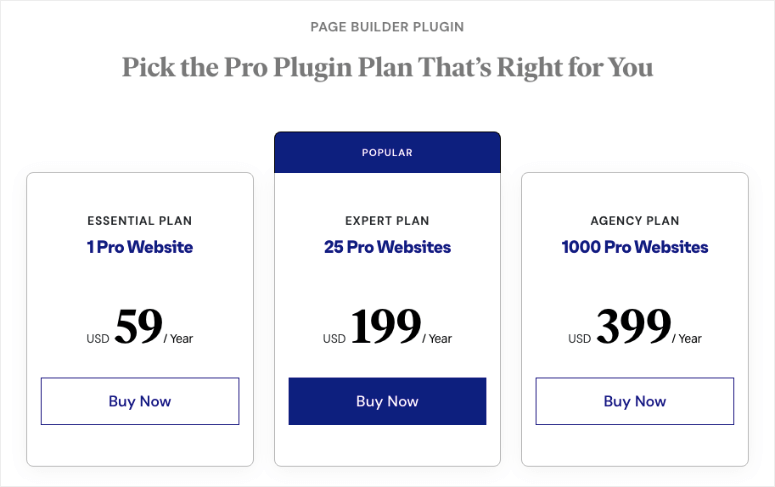 Elementor includes extensive documentation with a lot of tutorials to help you build a website easily with the plugin. You can also find how-to guides on their blog and YouTube channel.
The plugin authors provide dedicated support via ticket-based emails.
Alternative to Elementor
The best alternative to Elementor is SeedProd.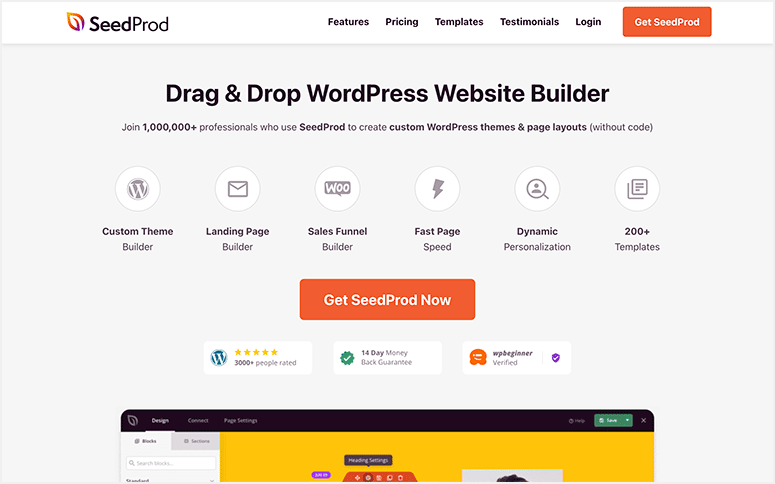 SeedProd is the best website theme builder and landing page builder.
It's growing in popularity as it's incredibly easy to use. Plus, it's affordable making it a great choice for beginners.
SeedProd comes with a built-in coming soon and maintenance mode. This lets you hide your website while it's under construction.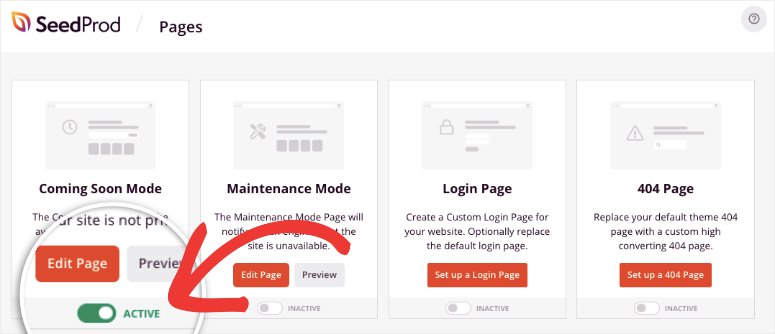 To create a site or a page, there are plenty of themes and templates to choose from. And it doesn't stop there. To make things even easier, there's a drag and drop builder to customize your site. You simply have to drag and drop the blocks you want where you want them. You can choose from including animated headlines, countdown timers, optin forms, and so much more.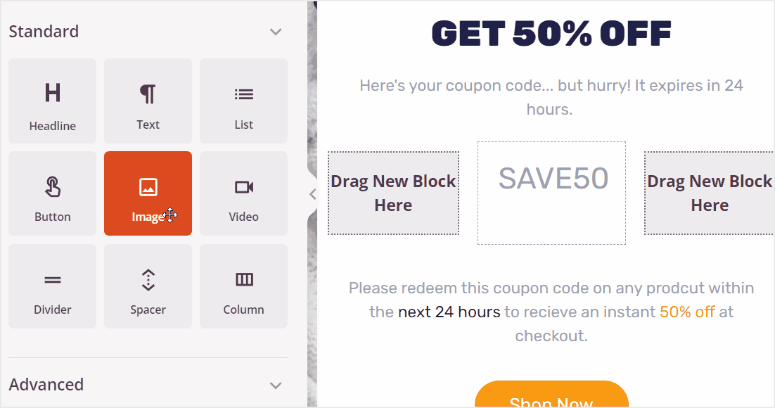 In a nutshell, here are SeedProd's highlights:
Readymade templates and page blocks
Drag and drop page builder
Subscriber management
WooCommerce support
Email marketing integrations
Want to know more? See our complete SeedProd Review .
You may also want to check out more options here: The Best WordPress Page Builders.
Our Verdict on Elementor as the Best WordPress Page Builder Plugin
After our thorough review of the plugin, we can say that Elementor has all the features you'll need to make WordPress customization easy. The plugin interface is not bloated with extra, useless, options like some plugins, so you'll find it easy to use and understand. Best of all, even beginners and non-tech-savvy people can use the plugin easily to build beautiful websites.
Don't miss to check out these best web design software.
We give Elementor page builder 4.8 out of 5 stars. Here is the breakdown of our review scores:
Get Elementor Now »