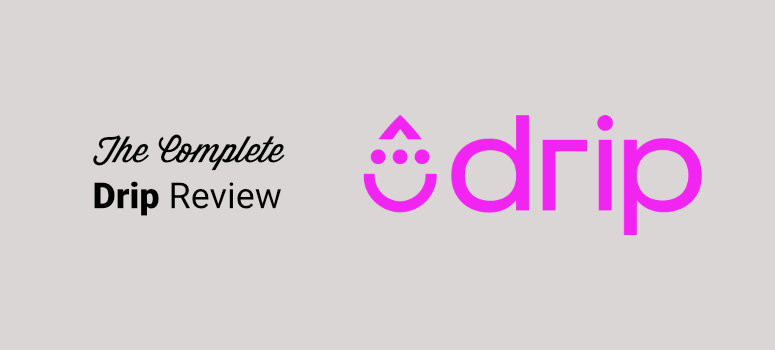 Are you wondering whether Drip is the right email marketing tool for you? Want to know how Drip is different and whether it is worth the price?
In this Drip review, we'll cover features, pricing, and support to let you know whether Drip is the best marketing automation tool for your eCommerce business.
About Drip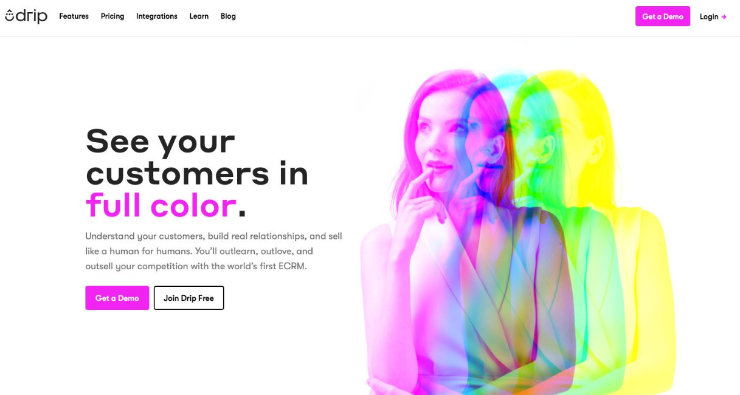 Drip is a popular email marketing automation tool. It's one of the newer email marketing tools on the market, coming out in 2013 and later acquired by the people behind LeadPages. But, it's quickly become one of the top marketing automation solutions for businesses of all kinds, including publishers, eCommerce merchants and small businesses.
Related: 11 Best QuickBooks Alternatives for Small Businesses.
Drip offers seamless integration with many 3rd-party tools, so you can easily turn customer data into action. For example, with WooCommerce integration, you can send purchase data and other important user information to your Drip account. You can then turn those insights into revenue by triggering automations based on your business goals.
Drip Review: What Makes Drip Unique?
You may already know that Drip enables you to collect email addresses, add users to various drip campaigns, send out autoresponder emails, and split test your campaigns. But what makes Drip unique?
Well, Drip is NOT your typical, cheap email marketing service that simply does the job. It helps you understand your audience by collecting possibly ALL user data from your website, plugins and 3rd-party tools, and then let you turn those insights into revenue by sending personalized emails that are likely to be opened and engaged.
Let's go over some of the killer, unique features that Drip offers.
Drip Feature #1: Event Tracking
One of Drip's most unique features is their Event Tracking. Many email marketing services offer tags to help manage your email list. Tags are used to describe your relationship with a customer. You can assign tags to each customer to show what their history is with your company. For instance, if they've bought certain products, if they've visited certain pages, and so on. Then you can send an email to all of the people on your list that have a certain tag in order to send more personalized emails.
But instead of just having tags, Drip takes it a step further with event tracking.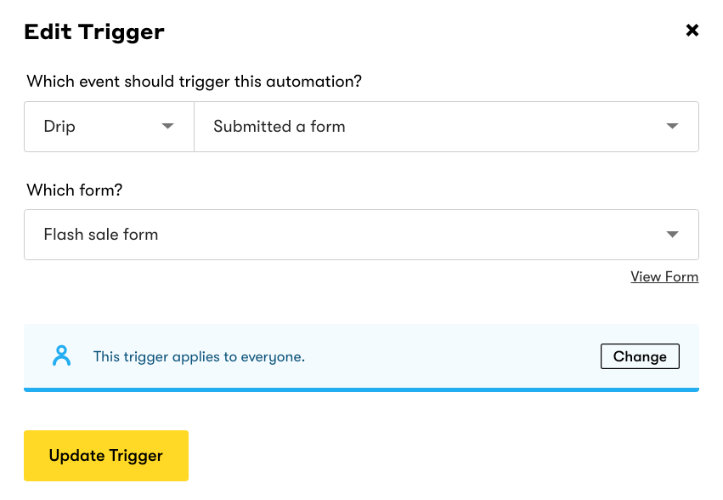 Drip's event tracking actually tracks subscriber activity and stores and transfers that information. So, instead of having tags without any data behind them, Drip tracks all of that info for you.
Drip provides you with the action performed (like submitted form "A"), the date and time the action was performed, and metadata (like if they used a coupon with a purchase). This allows you to get really specific with the emails you send. The more specific and personalized an email is to a subscriber, the more likely they'll pay attention and take the desired action.
Related: How to Track Links and Button Clicks in WordPress
Drip Feature #2: Visual Workflows
Another unique feature that Drip offers is their Visual Workflows. Visual workflows help you easily design advanced email campaigns. Instead of building a flat email campaign like "If they bought this product, wait 1 day, then send this email", you can create an email campaign map with smart, sophisticated logic.
Also, check out this complete guide on how to create an email newsletter instantly.
You can design a campaign that's more like "If they bought this product, then send them this. If they didn't buy this product, then send this message instead."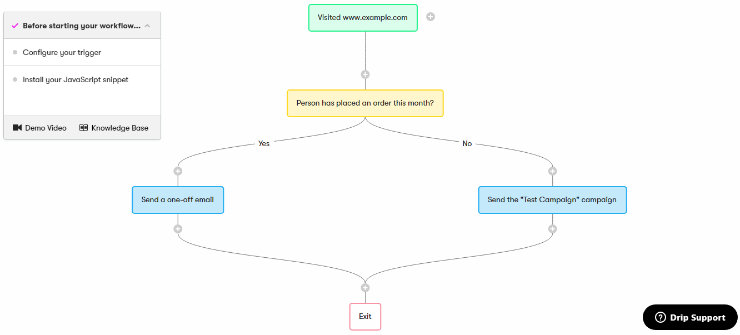 Visually seeing the workflow will help you build complicated, highly-specific automated email marketing campaigns to perfectly meet your needs. Visual workflows can also track where your subscribers are in the process so you can easily track their progress.
Drip Feature #3: Custom Fields
Many email service providers provide fields for the individual subscribers first name, last name, etc. But with Drip you can add your own custom fields to maintain unique data for each individual subscriber, such as their location, business type, an affiliate id, where they opted in from, and so on. You could even add custom fields based on what blog posts your subscribers have read or what pages of your online store they browse.

You can add as many custom fields as you want. And since Drip can use the custom fields as a trigger for an automation rule, you're able to create super personalized email campaigns.
Pricing and Support for Drip
Drip offers 3 different pricing plans: Basic, Pro, and Enterprise. The plan you choose depends on how many email subscribers you have.
The Basic plan is $49 per month for up to 2500 people and you can send unlimited emails. The Pro plan is $122 per month for up to 5000 people and unlimited emails. Finally, there's the Enterprise plan for over 5000 people and the price per month varies depending on how large your email list is. They provide an online calculator to determine your monthly cost for the Enterprise plan.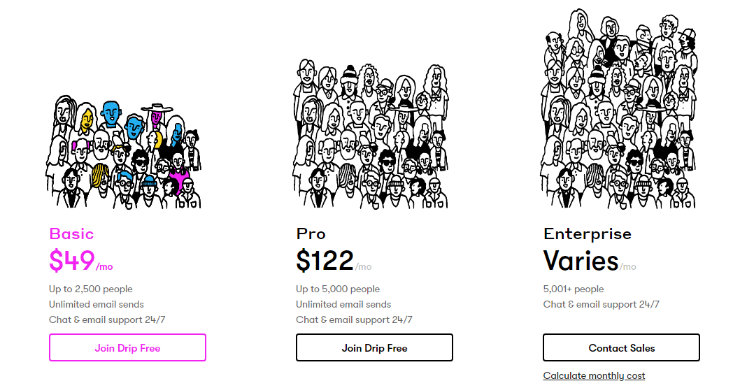 As you see, you can start out with the Basic plan if you have 2500 email subscribers or less. But, as your company and your email list grows, you'll need to upgrade to a more expensive plan.
Drip is one of the more pricey email marketing services but you're paying for access to all of Drip's unique and powerful features. You do have the opportunity to try out Drip for free though with their 2 week free trial.
When you choose Drip you're provided with plenty of support. They offer 24/7 chat and email support with all plans. They also provide an FAQ section to answer common questions, API documentation, as well as a searchable Knowledge Base section to help you with anything you need including campaigns, broadcasts, automation, analytics, integration, and more.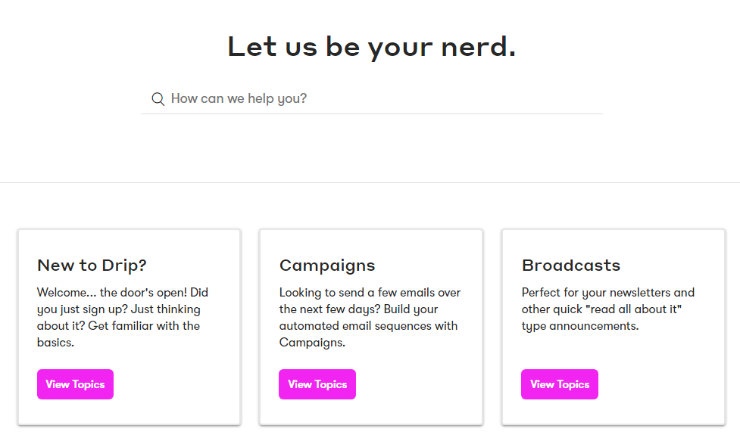 Another special support feature that Drip provides is their Drip Certified Consultants. This official directory of certified Drip consultants can help you accomplish your business goals and get the most out of Drip if you're not such an expert.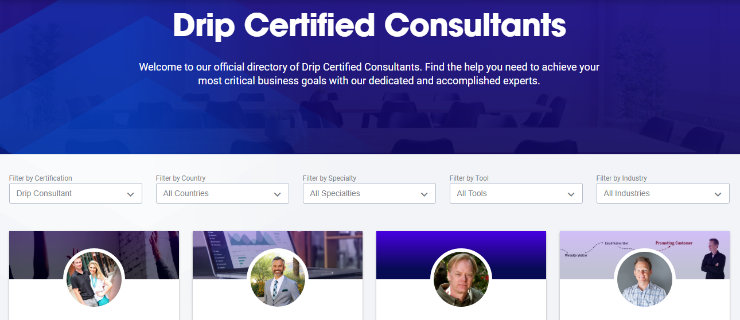 You can browse through the directory, find an expert that matches your needs, and contact them to schedule a conversation. You would have to pay the expert for their services but you can rest assured they're credible and skilled.
Skyrocket Your Conversions with Drip + OptinMonster
As we mentioned briefly before, with Drip you have the ability to create optins to get more email subscribers. Popup optins are great for grabbing the attention of your website visitors and encouraging them to join your email list.
Drip has a basic personalized popup solution. There is only 1 optin form template but you can type in your own headline and form description, upload your own photo to match your brand, and choose what pages your optin form will appear on. You can also choose from 2 different behavior triggers for your optins, the popup can appear based on time delay and exit triggered.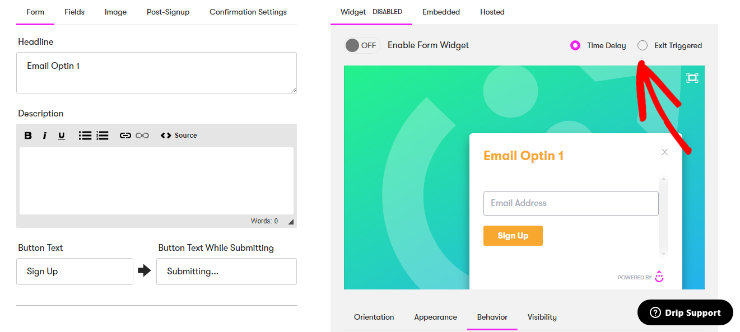 But if you want a highly customizable and personalized solution, we recommend using OptinMonster along with Drip.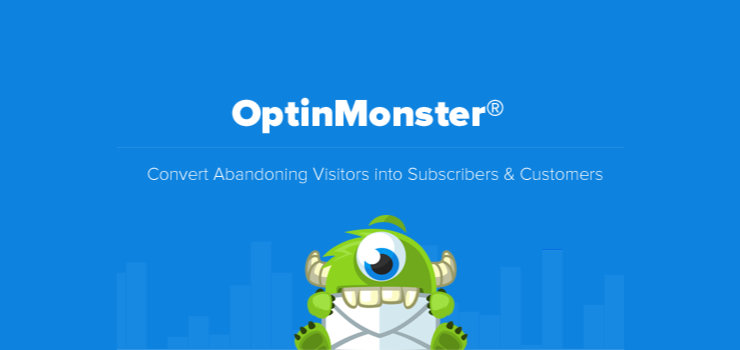 OptinMonster is a powerful lead generation tool for your website. With OptinMonster you can easily create highly customized, personalized, and eye-catching popup forms for your website, without having to touch a line of code. It also works on any type of website builder and integrates with all of the most popular email marketing services including Drip.
OptinMonster provides you with a number of popup form templates to choose from including a number of popups that are perfect for eCommerce sites. A few of those templates include Abandoning Checkout, Checkout, Apparel, Holiday, Black Friday, and more.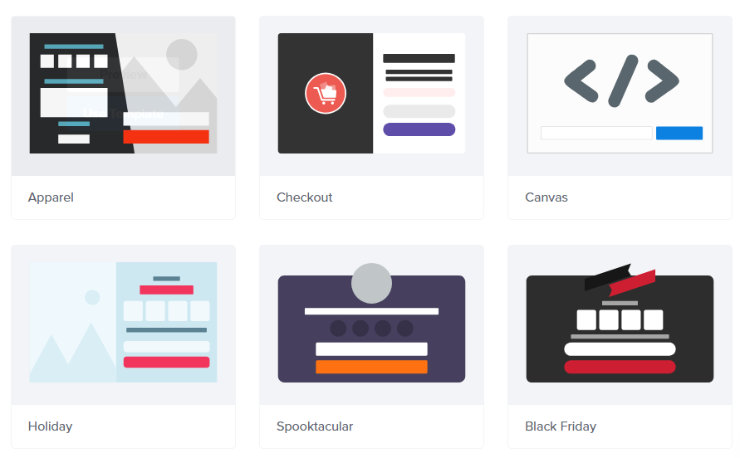 Plus, with OptinMonster you can choose from a wide range of behavior triggers. You can pick from display options such as exit detected, time on page, distance scrolled, visitor's location, and much more.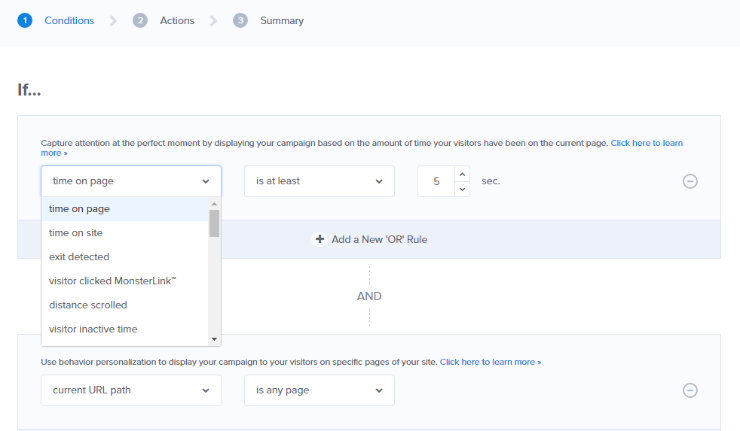 OptinMonster boasts a number of other awesome features including MonsterLinks 2-Step optins, geo-location targeting, countdown timer, coupon wheel optins, targeted campaigns, conversion analytics, and the list goes on.
Using OptinMonster in addition to Drip will help you grow your email list like crazy.
If you want to learn how to create an effective popup using OptinMonster, check out our complete tutorial How to Create a Popup Form in WordPress (Step by Step).
Related: Best Email Marketing Platforms.
Our Verdict: Should You Use Drip?
When you're starting out, odds are good that you don't need Drip's exclusive features to build your list. However, you'll need them as your business and automation needs grow.
Starting with a mediocre email marketing tool and migrating to Drip down the line can be intimidating. That's why we always recommend having the essential toolset, like Drip in your marketing arsenal, when you're starting an email list.
You can start by signing up for a free trial for 14 days. You'll be charged only after the trial ends.
We hope you enjoyed this Drip review and have learned whether Drip is the right email marketing automation tool for you. If you liked this article, check out our guides on Why You Need to Build an Email List Now (& How to Do It) and best email newsletter plugins.