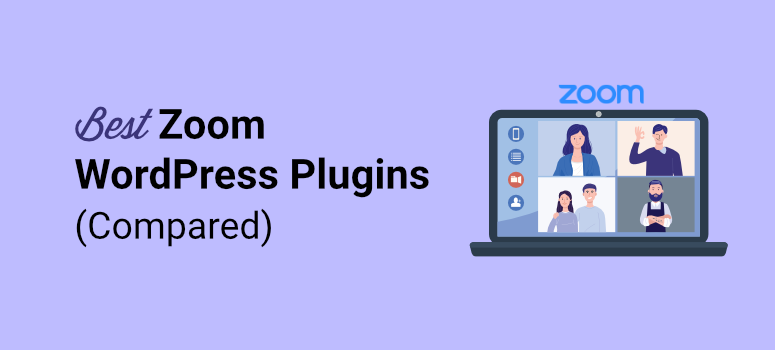 Do you want to host and manage Zoom meetings through your WordPress site?
WordPress Zoom plugins make it easy to create and manage online events such as virtual meetups and conferences. You'll also be able to promote your events, get more signups, and manage attendees right from your WordPress site.
In this article, we've handpicked the best WordPress plugins to integrate Zoom meetings on your website.
How to Choose a Good Zoom WordPress Plugin
Zoom is one of the most popular online meetup software. With its screen-sharing feature, it's become a powerful tool for product demos, tutorials, and webinars.
To connect it to your WordPress site, you'll find a ton of Zoom plugins but not all of them are built the same.
Here's what you'll ideally want to look for in a good Zoom WordPress plugin:
Bookings and reservations: Plugins like WPForms or Amelia allow visitors to book an online appointment or session on your site.
Monetize Webinars and Events: Seamless and secure payment options will enable you to charge a fee for webinars and online events. 
Adding Meeting Attendees: When users sign up for events on your site, they can be automatically added to the Zoom meetings. 
Events Management: Manage all your Zoom meetings straight from your WordPress admin area. You can even add Zoom links so that users can directly enter the meeting from your site.
Embed Zoom Recordings: Get more views and engagement by adding recorded meetings to your WordPress posts and pages so visitors or members can view it even after the meeting has ended.
Above all, a good Zoom WordPress plugin will make it easy to seamlessly integrate the 2 platforms, register attendees, and manage meetings. It will save time and help to improve your event participation rates. 
With that said, let's check our list of the best WordPress plugins to integrate Zoom into your website. 
Best Zoom WordPress Plugins
We have reviewed different types of Zoom integration plugins that offer their own set of features to automate your Zoom meetings.
Let's dive in!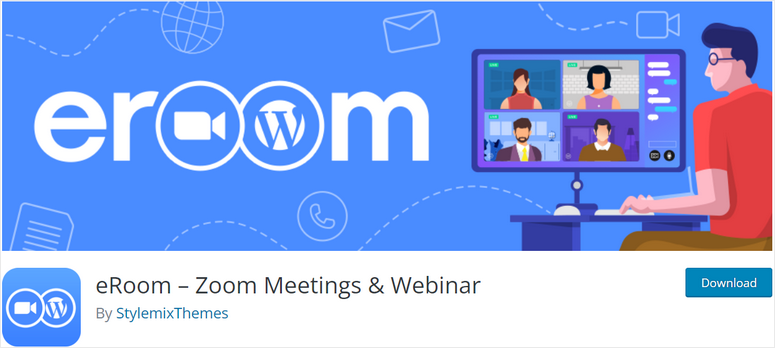 eRoom is another great Zoom WordPress plugin that lets you add your meetings to any post or page with shortcodes. It also uses the Zoom API to connect your WordPress site with Zoom. Keep in mind the Zoom API feature is available in Zoom Pro and higher plans.
With eRoom, you can add Zoom meetings and schedule them without leaving your admin dashboard. There is also the option to connect with any WordPress membership plugin. This lets you restrict your meetings from the public and only allow members to join in.
To make your Zoom webinars and events purchasable, you can integrate the plugin with WooCommerce. With this, you can link your Zoom meetings with WooCommerce products on your online store.
The plugin also provides built-in performance and analytics reports for your Zoom content. This helps you keep track of engagement on your website.
Highlights:
Supports shortcodes
Zoom meetings on any page or post
User-friendly admin dashboard
Add and manage users
Zoom performance and engagement reports
Pricing:
The free version is available for download. You'll need to pay for premium addons.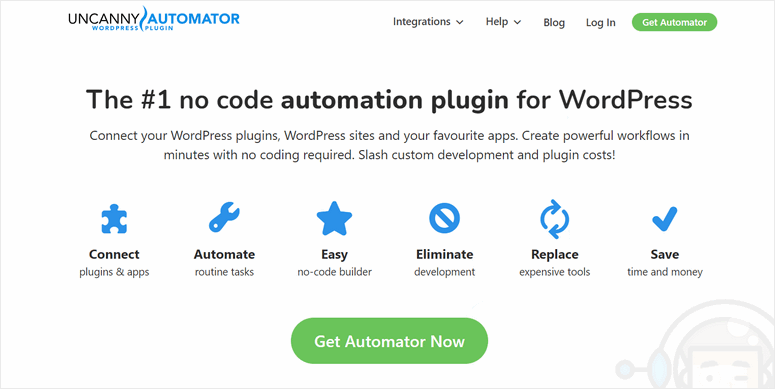 Uncanny Automator is the best automation plugin for WordPress sites. It is like Zapier for WordPress at cheaper prices.
With Uncanny Automator, you can connect your WordPress site with plugins and other external applications like Slack, Google Sheets, and Zoom. This helps you to automate all the manual tasks and optimize your workflow.
It comes with a simple yet powerful workflow builder that lets you create recipes to integrate your WordPress plugins with services like Zoom. And, you can do this without having to touch a line of code.
There are readymade recipes you can use. But if you want to create your own, first, you need to add a trigger. This could be someone signing up for a webinar or buying an event ticket. Then, you can create action events for Zoom like adding them to the Zoom meeting or sending them an email with a Zoom invite.
There's plenty you can do with Uncanny Automator to automate your WordPress + Zoom tasks.
Highlights:
Simple and easy to use
Unlimited workflows
Smooth integration with Zoom
Built-in reporting and log dashboard
Reliable data transfer
Pricing:
The free version is available on WordPress.org. The pro versions start at $149 per year.
Get started with Uncanny Automator!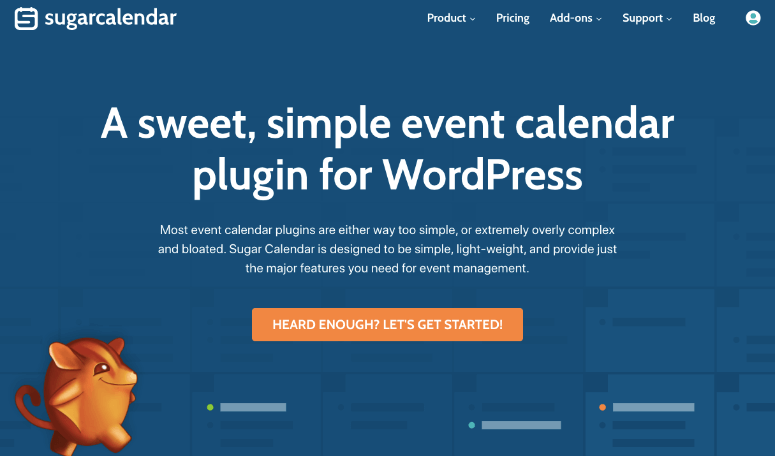 Sugar Calendar is the best event calendar and booking plugin for WordPress sites. It comes with a simple interface that lets anyone create a professional-looking events calendar and add it to their site.
With its Zapier integration, you can add Zoom meetings and events to your calendar in just a few clicks. You can set up multiple calendars and add all types of events to your WordPress dashboard.
Sugar Calendar lets you display your Zoom event calendars on the front end of your website with the help of shortcodes or event widgets. You can add the start time and end time for your meetings or webinars to inform your website visitors.
Like this, you can add images, descriptions, and meeting links to attract more visitors and make them participate.
With its premium addons, you get access to advanced features like event ticketing. This allows you to accept bookings and make money from your Zoom events.
Highlights:
Quick and easy Zoom integration
Recurring and multi-day events support
Showcase events in responsive calendars
Event ticketing options with WooCommerce
Time zone conversions for visitors around the world
Option to add meeting links on calendars
Integrates with Google Calendar, iCal, and other tools
Duplicate Zoom events
Ready to translate
Pricing:
Sugar Calendar Lite is available for free. The pro version starts at $49 per year.
Get started with Sugar Calendar!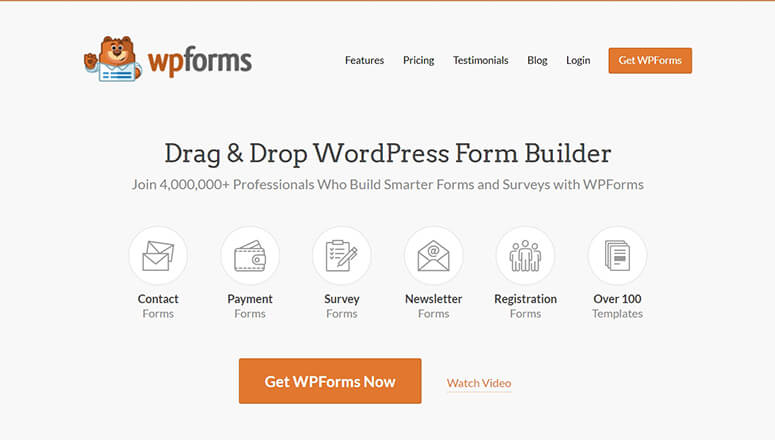 WPForms is the #1 WordPress form builder plugin that lets you create all types of forms such as registration forms, booking forms, reservation forms, and more.
You can even connect these forms with Zoom meetings with the help of its Zapier addon. This way you can integrate Zoom meetings and register members with ease.
WPForms comes with hundreds of premade form templates so you don't have to start from scratch. You'll find many form templates that will help you make reservations, appointments, and bookings from website visitors.
All the form templates are mobile-responsive which means they work well on any device.
You can also customize your booking or reservation forms to match any WordPress themes. To do this, there's a drag and drop form builder that is super easy to use.
With the form builder, you can allow users to choose the meeting date and time on the form. It also lets you use conditional logic to make your event registration and booking forms more interactive.
Added to all this, you can even set up automated email notifications for your forms with conditional logic. So, for example, you can send the meeting details and invitations according to which even the person signs up.
Highlights:
Smooth Zoom integration and Gutenberg friendly
Powerful booking management dashboard
Form template for event booking, registration, and more.
Accept payments from Stripe, PayPal, and more payment services
Integrations with email marketing services
Fully customizable
Pricing:
The free version is available to download. The pro version starts at $39.50 per year.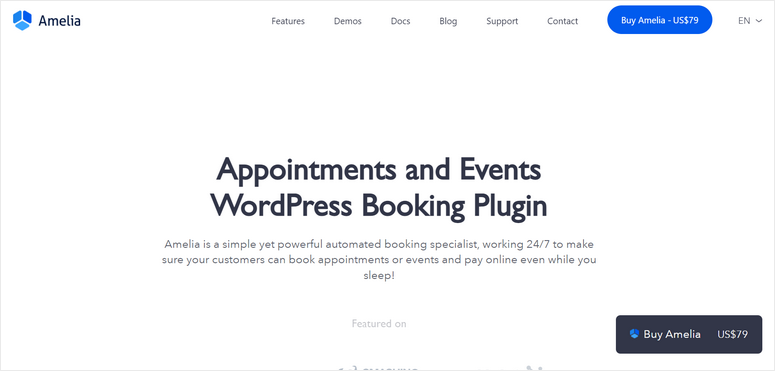 Amelia is a simple but powerful appointment booking WordPress plugin. It comes with a dedicated Zoom integration that lets you book Zoom meetings and events on your website effortlessly. 
With Amelia, you can schedule one-to-one and group meetings directly from your WordPress admin panel. You'll get options to set the maximum limit for meeting attendees and the time when users can book their appointments.
Also, this Zoom WordPress plugin allows you to charge money to the users for your Zoom meetings. You don't need to integrate a third-party service for this.
Highlights:
Option to add calendars to the website
Custom booking forms
Schedule recurring and non-recurring events
Sync with Google Calendar and Outlook Calendar
Charge attendees for meetings
Pricing:
The free version is available. The pro version starts at $79 per year.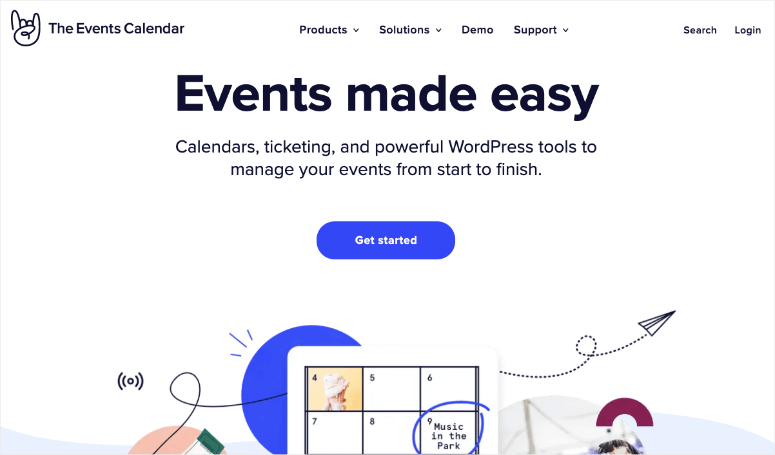 The Events Calendar is another popular event calendar plugin for WordPress. It is an all-in-one solution that offers features like event management, ticketing, and appointment scheduling.
You can create event calendars and let your visitors book appointments for your events. And with its Virtual Events add-on, you can automatically generate Zoom links on your WordPress website.
There are options for accepting RSVPs and controlling the number of attendees for your Zoom events as well. This feature is helpful if you want to limit the number of seats available for each event.
Highlights:
Connect multiple Zoom accounts
Embed Zoom videos on the website
Restrict access to Zoom links
Options to sell tickets for events and meetings
Pricing:
The core plugin is free. Premium add-ons are available starting at $99 per year. 
Get started with The Events Calendar!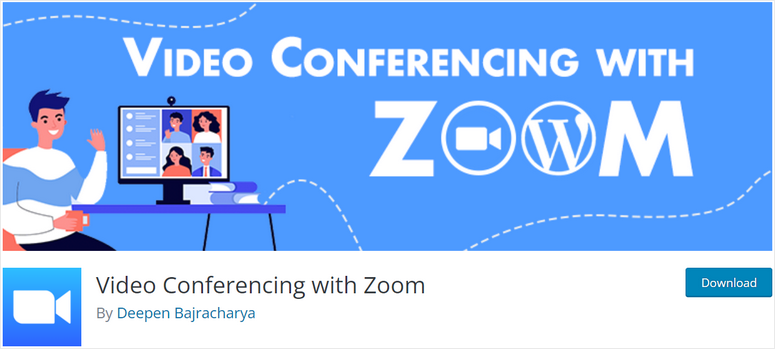 Video Conferencing with Zoom is the most popular Zoom WordPress plugin on the market. It lets you manage Zoom meetings, webinars, and recordings on your WordPress dashboard.
To get connected, you'll need to create a Zoom app and use the Zoom API on your site. With the API key set, you can start creating Zoom meetings right from your admin panel. You can create a new WordPress page for your meetings where users can find your Zoom link and join in.
Video Conferencing with Zoom supports shortcodes so you can easily add your Zoom meetings to any WordPress page or post. There is also an option to add a countdown timer to let your website visitors know when your event is starting.
The great thing about this plugin is that you can integrate it with WooCommerce to monetize your virtual events. This allows you to make the users pay to join your events or book a session with you.
With the pro version of the plugin, you can add more functionalities such as recurring meetings, meeting registrations, purchasable events, and more.
Highlights:
Embed webinars using shortcodes
Compatible with major membership plugins
Meeting start links for post authors
Show recordings based on Zoom account
Meeting countdown timers
Integration with WooCommerce
Pricing:
Free. Advanced features are available through premium addons.
Get started with Video Conferencing with Zoom!
That's our list of the best WordPress Zoom plugins. If you're still unsure about which one is the right one for you, see our recommendations next.
Which is the Best Zoom WordPress Plugin?
We've reviewed the best plugins that offer different features to create and manage Zoom meetings on your WordPress site.
In many cases, you may need to use more than one plugin to get all the features you want. Here's what we recommend:
eRoom: A free plugin to integrate Zoom meetings in WordPress. You can use shortcodes to simply embed Zoom videos on any post or page.
WPForms: The best form builder plugin that lets you connect with Zoom and create all types of booking, registration, reservations, and appointment forms. You can add payment options and automated email notifications.
Sugar Calendar: Simple yet powerful events calendar plugin for WordPress. Lets you add Zoom events to your calendar and display them on your site. You can even add event details and meeting links to increase engagement.
All of these plugins will help you connect your Zoom account to your WordPress site. That way, you can create, promote, and host your video conferences, eCommerce sessions, webinars, and more right from your website.
That's all for today! We hope this article helped you find the best Zoom WordPress plugins for your website.
If you'd like to set up a dedicated page for your Zoom events, check out SeedProd. It's the best landing page builder with beautiful templates that will help you create a meeting page in no time. So users can browse through events and meeting details, along with a bio of the meeting host.
For your next steps, you can check out these helpful resources:
These posts will help you create membership plans to sell video content and stream live videos on your website. The last one will help you automate the schedules for your Zoom appointments.