Are you looking for a beginner-friendly email marketing solution? Do you want to know if AWeber is the right choice for you?
AWeber is a popular email marketing tool for small businesses and startups. It has all the features you need to launch email marketing campaigns and send unlimited emails to users.

In this AWeber review, we'll go over the features, pricing, and other factors to determine whether AWeber offers everything you need to design beautiful email marketing campaigns for your customers and subscribers.
We'll be reviewing the AWeber platform in depth so we've created a table of contents for you to make it easier to navigate this post. Feel free to skip to the section that interests you the most.
AWeber Overview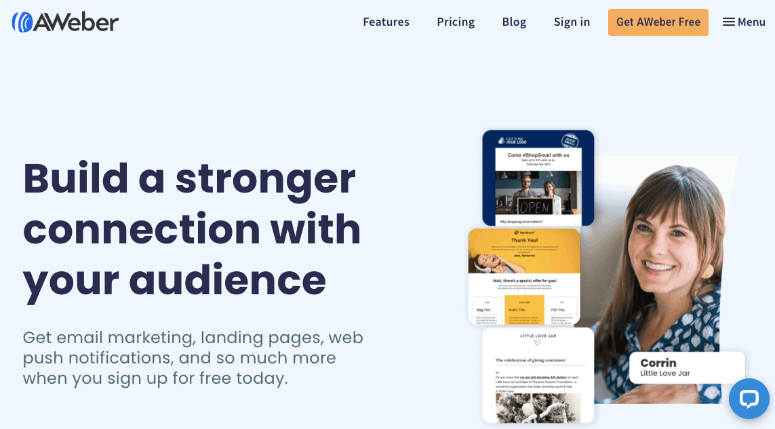 AWeber is an email marketing solution with several other tools to promote your business and build an audience. It lets you create custom emails with a drag and drop editor in just a few clicks.
You can also use built-in email templates from AWeber's huge library to quickly design and send emails to users. Everything's on the 'touch, create, and send' functionality making it super easy for beginners and small business owners to send emails.
It also offers a landing page builder, push notifications, automated newsletters, list segmentation, and more.
AWeber has a simple pricing structure with a free and a paid plan. The AWeber free plan gives you a lot of options similar to the paid plan, but it's limited to 500 subscribers only.
However, the paid plan lets you build an email list for up to 25,000 subscribers. If your email list grows beyond this, then you need to call AWeber to get a quote.
The subscriber limit makes sense because AWeber is generally built for small businesses. Other email marketing services usually let you add up to 100,000+ emails to your mailing list.
When it comes to customer support, AWeber offers phone, email, and live chat options. All these support options are also available for the AWeber free plan users.
That's Aweber in a nutshell. Now let's dive into AWeber features for detailed information.
AWeber Features
AWeber has a lot to offer but is designed to suit a particular niche. Let's explore its features to see if it's truly what you're looking for.
1. Email Marketing Solution
AWeber's email marketing service is built for small businesses. They claim to offer unlimited subscribers, emails, and list profiles but you also need to call them to get a quote for over 25,000 subscribers.
The email marketing plan includes automated newsletters, email automation, behavioral automation, email split testing, and tons of other options.
AWeber has hundreds of readymade email templates. You can simply select the best layout for your content and send bulk emails right away.
AWeber also lets you enter your website URL and it automatically creates beautiful email templates based on your website's design, logo, and theme.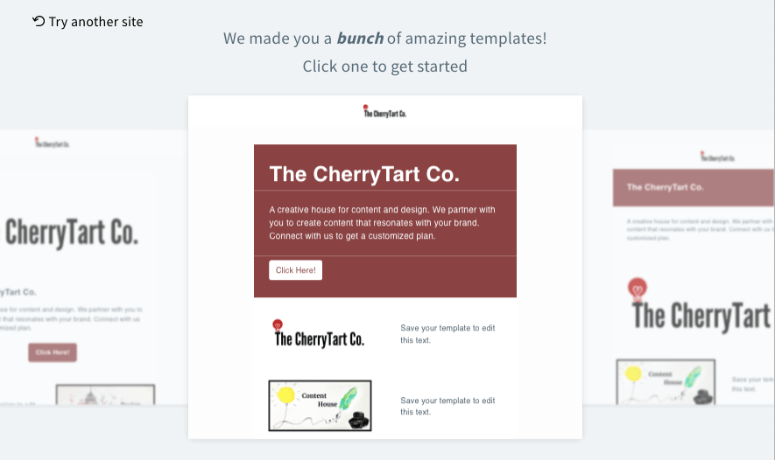 It comes with a user-friendly drag and drop email editor for customization. You can tailor your selected template to match your brand perfectly before you send emails.
2. Email Automation
Creating and scheduling emails is one part of automation. AWeber lets you send targeted emails to users without you spending all day segmenting your audience and applying rules.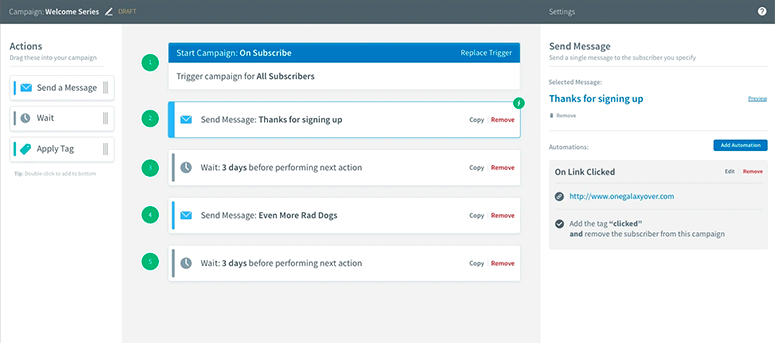 It offers welcome emails, special occasion emails, autoresponders, abandoned cart emails, upsell emails, and more under the email automation umbrella. You can use premade email automation recipes that are created based on the most used campaigns. This helps you save time and gives you access to professional automation workflows that have been successful in the past.
AWeber keeps a check on the open rate and CTR to resend emails when necessary. It also lets you send new blog posts to users automatically as you publish them.
3. List Segmentation
AWeber has a strong and dynamic list segmentation structure. It helps send the most relevant emails to users with personalized content to increase your email open rate and chances of engagement.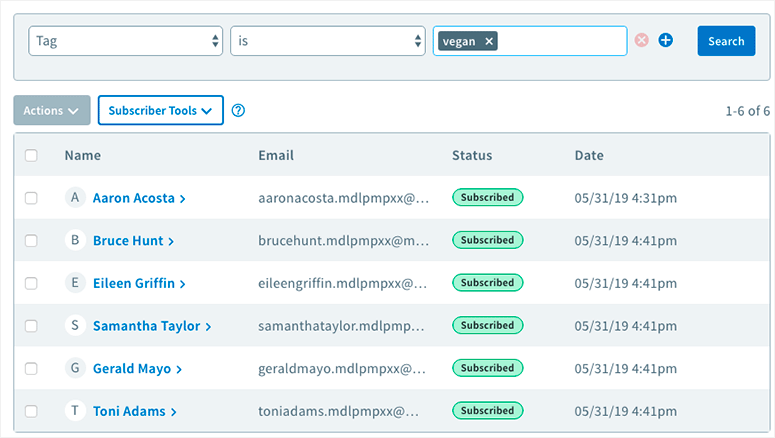 The list management and segmentation work with:
Tags
Open-rate
Click rate
Purchases
Visits
Location
Signup form details
…and more. With so many options, you'll exactly know the users on your mailing list.
The best part is that you can design a custom signup form to add more fields that you can use as tags for list segmentation (for example, location, gender, age, etc). You can also add custom tags to form entries and send emails accordingly.
4. Automated Newsletters
Newsletters are a general source of information for users about your business or blog. You may write content regularly but it's important to share that content with your email list. Plus, it helps to be consistent so your audience knows when to expect your newsletter.
AWeber lets you create automated newsletters that go out according to schedule. It can also auto-fetch your blog posts, add them to beautiful email newsletters, and send them out. You can either create a custom email design or use a built-in newsletter template for these blog broadcasts. And the best part is you never have to write any code.
Coupled with the list segmentation feature, you can send newsletters based on personal interest and engagement levels. AWeber ensures personalization so the users believe that the newsletters are written just for them.
5. Ecommerce Marketing
If you're running an eCommerce store, AWeber provides a series of features along with the email marketing solution. It integrates with all popular eCommerce platforms like WooCommerce and Shopify. You can even connect to payment options like PayPal.
Then, it lets you build a landing page and sell products and services.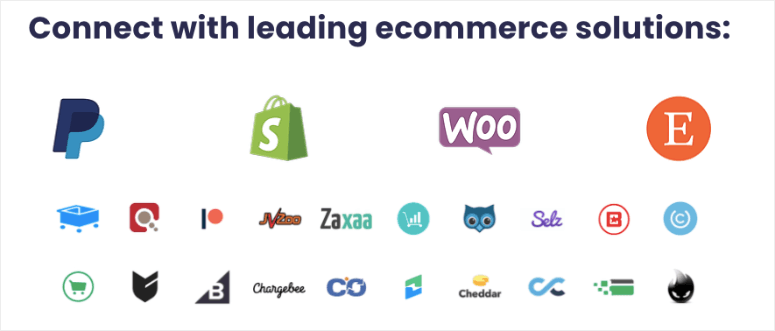 You can also create subscription and payment plans for users. AWeber's list segmentation helps to tag users based on their purchases to send relevant emails.
Keep in mind, you'll incur a transaction fee for sales made on the AWeber's eCommerce landing page. If you're using Stripe to collect payments, there's an additional fee on each transaction.
6. Landing Page Builder
AWeber provides a landing page builder and unlimited page templates to design your website pages easily. It includes eCommerce page templates, signup form templates, video page templates, and more.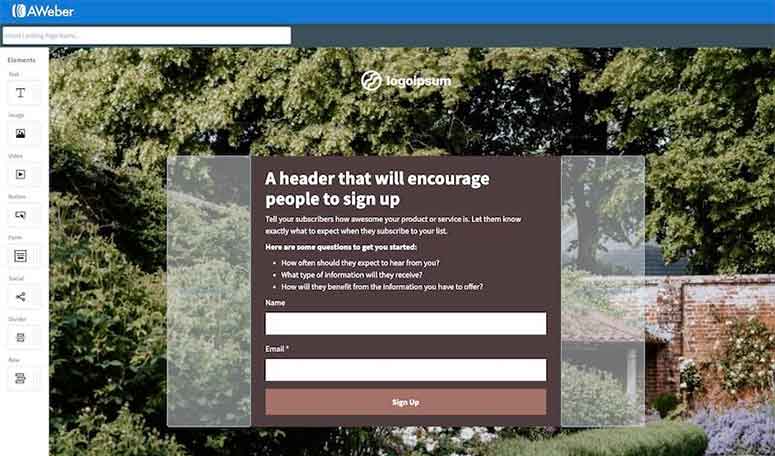 Moreover, you can use thousands of free and professional stock photos to make your pages attractive and engaging for users. The drag and drop page builder is easy for beginners to make landing pages with images and videos.
Using Google Analytics, you can track the performance of each landing page and make changes to increase your sales. AWeber also provides Facebook pixel tracking to monitor ads performance, so you can run better social campaigns and target the right audience.
7. Reporting and Insights
Reporting keeps you on your feet to make the right decision all the time. AWeber offers basic analytics for the free version and all major reporting options are accessible to paid users including the total number of emails sent, bounce emails, complaints, etc.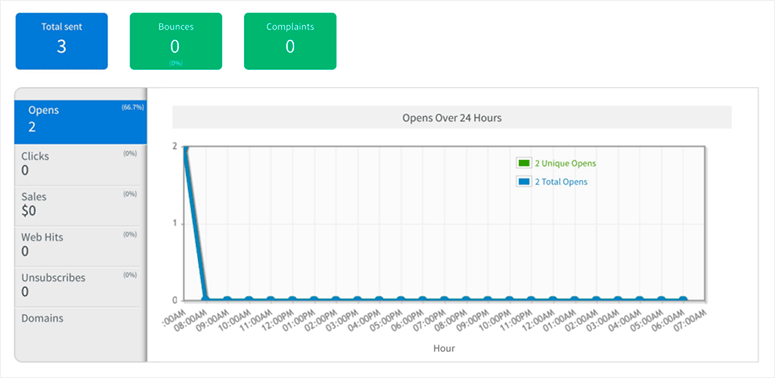 It provides complete webpage tracking to monitor user behavior and journey. This helps set up your email and social campaigns for better performance.
For eCommerce users, AWeber also offers email sales tracking option. You can track all your sales from emails and tag users in your AWeber account to send automated emails on the go.
AWeber Pros and Cons
AWeber is a feature-rich platform but it does have its pros and cons. We keep our reviews fair so that you can genuinely decide whether this email marketing solution best fits your needs.
So let's take a look at where AWeber excels and where it falls short.
AWeber Pros
Free Plan: The AWeber free plan includes most of the features that you'll need to run a successful email marketing campaign. This includes list segmentation, landing page builder, email automation, and more. It's a good choice for startups and small businesses with a limited mailing list.
Responsive Email Templates: With AWeber free and paid plan, you get hundreds of mobile-responsive email templates with dynamic content that you can customize to send emails quickly. Unlike other email services, you get several editing options including web fonts.
Outstanding Support: AWeber provides 24/7 customer support to free and paid users. This includes live support on the phone, email, and chat.
Free Migration: If you're using any other email solution, AWeber will provide free migration of your email lists and other data to all users. This feature is also available on the AWeber free plan.
Ease of Use: AWeber's user interface and builder are clean and simple to use. It's easy to learn how to craft beautiful emails and landing pages in minutes.
Analytics and A/B Testing: AWeber gives you powerful insights into your email performance and also lets you run split tests to learn more about your audience and what they respond to.
AWeber Cons
Subjective Pricing: The AWeber pricing model is limited to the total number of subscribers. If your mailing list goes to over 25,000 subscribers, then you'll need to talk to their team to get a quote on the basis of the total number of email addresses. AWeber also charges you for unsubscribed contacts on your account.
Limited Reporting: Email reporting and analytics have limited options in the paid plan compared to other email platforms. The free plan doesn't include reporting.
Region-Based Restriction: AWeber free account isn't available in some of the Asian countries including Pakistan, India, and more. If you're located in those countries, you'll need to purchase the AWeber pro plan. This means you can't test the AWeber email service before making a decision.
AWeber Customer Support
AWeber is well-known for its exceptional customer support. The live chat support is available 24/7 for all customers, pre-sale leads, and anyone who wants to get information about their plans.
The support channels include direct phone support, email support, and live chat support. AWeber offers the same support to free and paid users.
AWeber also offers on-demand live webinars to help you set up and learn more about the platform. This lets you master the basics so that you can make the most of the platform.
AWeber Pricing
AWeber has a free version of their service and their paid pricing plans are structured according to the number of subscribers you have.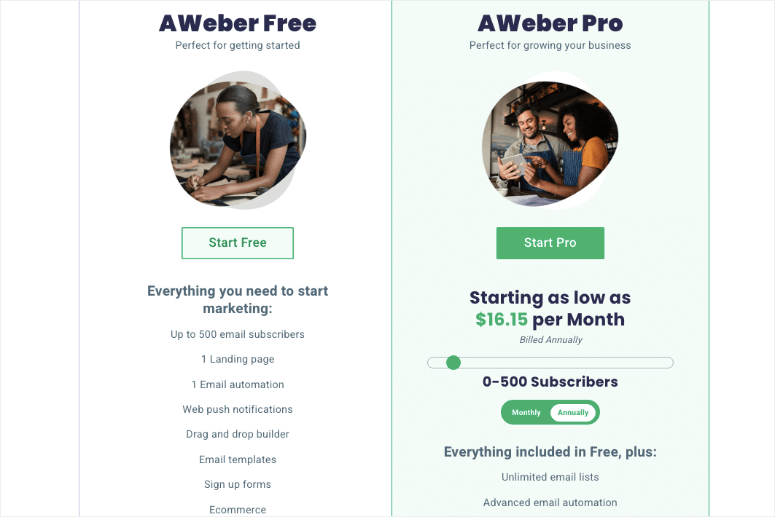 The AWeber free plan lets you add up to 500 subscribers to 1 email list. You can send up to 3,000 emails per month.
It allows one list profile which is limited for anyone planning to grow the business. However, it's easy to move to a paid plan whenever you're ready to grow.
Now moving to the AWeber Pro plan. You can choose from Lite, Plus, and Unlimited. This includes unlimited email subscribers, unlimited emails per month, unlimited list profiles, email split testing, behavioral automation, custom segmentation, and more advanced features.
Here's a pricing breakdown for the AWeber pro plan based on the number of subscribers you have:
Up to 500 subscribers: $16.15 per month
501 to 2,500 subscribers: $26.15 per month
2,501 to 5,000 subscribers: $46.15 per month
5,001 to 10,000 subscribers: $66.15 per month
10,001 to 25,000 subscribers: $146.15 per month
Prices above our for the annual plan where you save more when you bill for the whole year. If you have more than 25,000 subscribers, you'll need to contact them for a custom quote.
AWeber Alternatives
AWeber is a professional email marketing service backed by a solid reputation. It has a simple pricing model with a free plan for beginners to start sending emails quickly.
However, there are a few other email solutions that offer more features and better pricing plans. Here are some of the top AWeber alternatives that you should check out.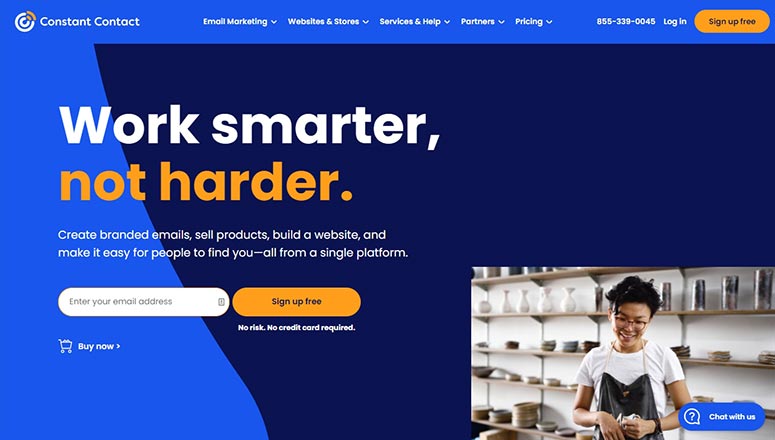 Constant Contact is a popular email marketing service and our top recommendation to anyone looking for email software. It comes with a powerful drag and drop email builder to create and customize email campaigns.
The best part about Constant Contact is premium and eye-catching email templates that increase engagement. The email deliverability rate is 98%, which is much higher comparing to other email services, including AWeber.
Now if you compare Constant Contact's pricing with AWeber plans, the basic plan comes with app integrations, advanced reporting, custom list segmentation, and eCommerce email marketing solution.
See our Constant Contact Review for more details.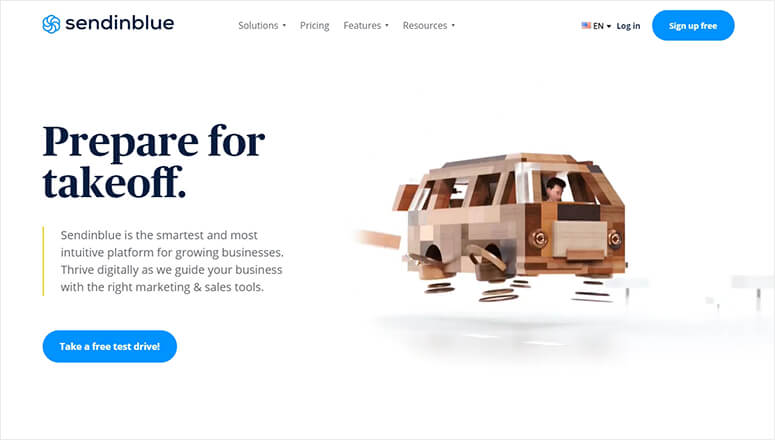 Sendinblue is another top-quality email platform on the market. It provides multiple communication channels to users including email, live chat, SMS, and more, giving AWeber some serious competition.
Sendinblue is more than an email marketing service and comes with complete CRM software to build relationships with customers. Other features include custom signup forms, Facebook ads, transactional emails, and email marketing automation.
Sendinblue free plan is better than the AWeber free plan. With Sendinblue free plan, you can add unlimited contacts to your email list and send up to 9,000 emails per month which is 3 times more than AWeber.
If you still want to read more, here's a complete Sendinblue Review with complete information.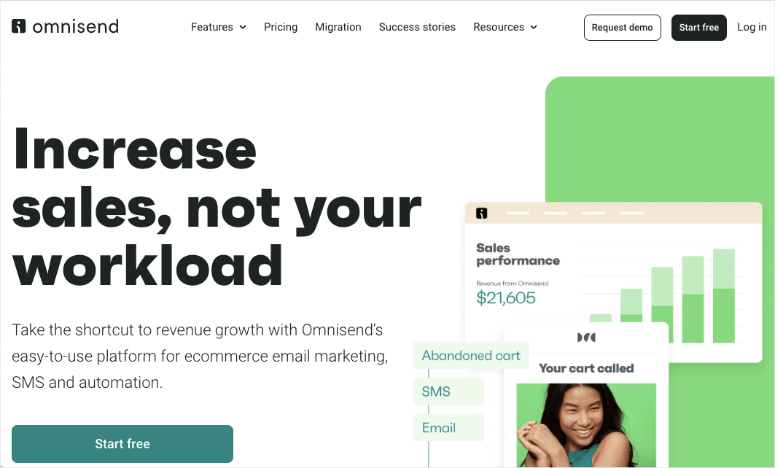 Omnisend is the best option for eCommerce email marketing. It also comes with SMS, transaction emails, cart abandonment emails, and automation tools.
Even on the free plan, you get access to a ton of features. This includes professional-looking email templates, prebuilt automations, and workflows.
Omnisend lets you grow your subscriber list with popups and signup forms. And there's unlimited segmentation options to help you keep your contact list organized.
Added to that, you can view and improve your email performance with statistics and A/B testing.
That's our pick of the top 3 alternatives to AWeber. Other AWeber Alternatives include HubSpot, Drip, ConvertKit, ActiveCampaign, and Mailchimp.
Conclusion: Is AWeber Any Good for Email Marketing?
AWeber has been a popular email solution among beginners, startups, and small businesses. The most significant features include:
Hundreds of premium quality and mobile responsive email templates
Beginner-friendly drag and drop email editor
Built-in landing page and signup form builder
Landing page and signup form templates
Ecommerce email marketing solution and sales tracking
Premium support for free and paid users
If we talk about AWeber pricing, you get the free plan to start sending emails right away and it's easy to move to a paid plan once your business starts to grow.
AWeber is an ideal email marketing service for beginners and startups. The paid plan is not too expensive compared to other email solutions and the free plan comes with most features you need to get started.
That's all we have for you. We hope this AWeber review helped you decide if it's the right email marketing software for your website.
Once you have the right email marketing service, you'll definitely want to see our guides:
These articles will further provide help to automate your email marketing campaigns, capture email addresses, and grow your email lists with social proof notifications.
Get AWeber Today! »
Get AWeber Coupon Code »