Do you want to build an email list but aren't sure which email marketing service to choose? Constant Contact has been an industry leader in email marketing for over 20 years.
In our Constant Contact review, we've put their promises to the test so you can decide if it's the best email marketing service for your needs.

Here's a table of contents to navigate the post easily:
Why You Need Email Marketing?
If you have a website that has traffic, then you need to do email marketing.
Email marketing helps you connect with your audience and build a long-lasting relationship with them. Most small businesses find email marketing to be an essential tool for increasing sales and revenue.
Below are a few benefits of email marketing:
Increase repeat visits: With email marketing, you can connect with your audience by collecting their email addresses and send them valuable content. You can also encourage them to return to your website often.
Increase conversions: Email conversions outperform both social and organic search traffic. If you want to generate more sales, then you'll need to start email marketing.
Generate more revenue: Studies show that email marketing helps you get a $38 average for every $1 spent.
Constant Contact Review: The Best Email Marketing Service for Beginners
Constant Contact makes it easy for you to build an email list even if you're an absolute beginner. Upon signing up, you'll be asked to choose an industry.
Based on your selection, you'll get industry-specific suggestions for email campaigns to grow your business. You'll also receive email template design tips, which help you create and send emails that get opened, read, and clicked.
Also, check out our article on how to create an email blast the right way.
Let's take a deeper look into the features of Constant Contact and why it's the best email marketing service for beginners.
Drag and Drop Editor to Create Beautiful Emails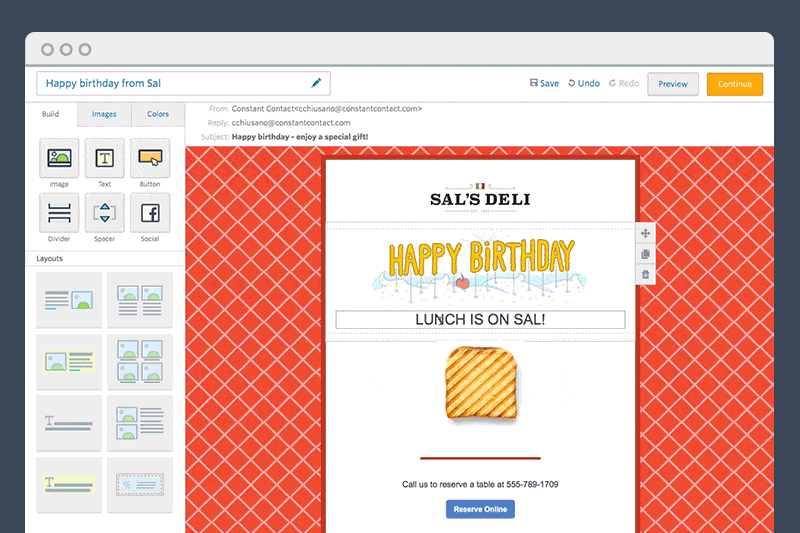 The powerful drag and drop editor makes it easy for you to create beautiful, engaging emails. You can find loads of built-in, mobile-optimized, templates that look great on all devices. That way, you don't always have to build your email newsletters from scratch.
To save time, you can choose the right template for your emails and then customize it the way you want.
Learn more here: How to create an email newsletter.
Real-time Reporting and Analytics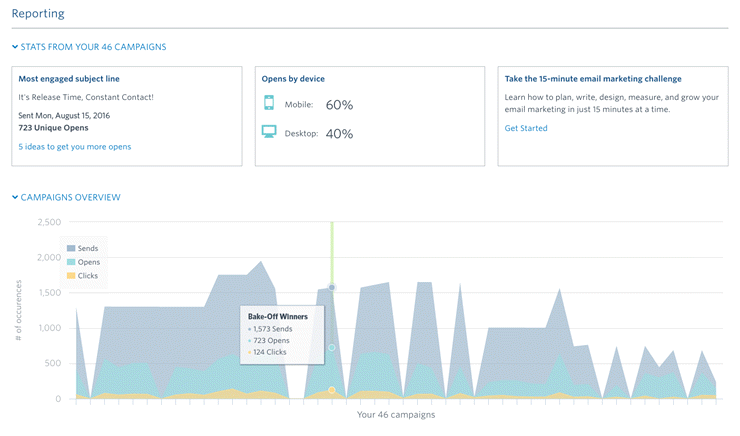 Constant Contact comes with real-time reporting and analytics that give you insights into how your email marketing campaigns are performing. The engagement report allows you to track the performance of your email campaigns by showing you important metrics, including sends, opens, clicks, and more.
You can even compare the performance of different email campaigns to see which one got the most opens and clicks.
You'll also get click-tracking heatmaps, which show you optimal button placement for driving more clicks.
Loads of Integrated Marketing Services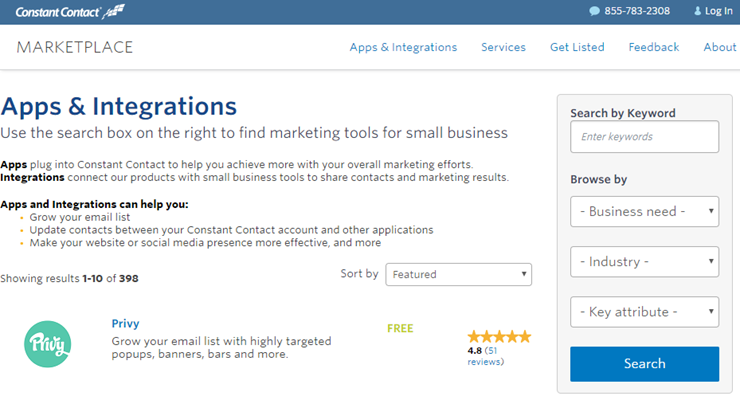 With Constant Contact, integrating with your favorite web apps is a breeze. With hundreds of supported apps, you can achieve more with your marketing efforts. You can:
Exponentially grow your email list
Update contacts between your Constant Contact account and other online applications
Make your website and marketing channels more engaging
Easily Integrate into Your WordPress Website
Connecting your Constant Contact account with your WordPress website is super simple. Although you can easily embed a signup form to collect emails, we highly recommend you embed your form through a contact form WordPress plugin instead.
Why? Below are a few reasons:
Easy embedding: With a plugin, you don't have to mess with the embed code. Once you connect Constant Contact with your contact form plugin, you can easily add a signup form directly from your WordPress dashboard.
No login required: You don't always have to log into your Constant Contact account every time you want to create a signup form because you can do it from your WordPress admin.
Grow your email list using any contact form: To grow your email list, you don't always have to build a separate signup form. You can include a checkbox on any contact form on your website. If the box is checked, you can add the contacts to your email list.
You can find a lot of different contact form plugins in the WordPress repository that provide Constant Contact integration. However, we recommend WPForms because it offers Constant Contact integration out of the box.
WPForms is the best contact form plugin for WordPress. With WPForms, you can integrate Constant Contact immediately without having to install any addons.
Read the complete WPForms review for more information.
How Does Constant Contact Stack Up Against the Competition?
Constant Contact is best suited for smart businesses who're just starting out with email marketing. Let's take a look at a few areas where Constant Contact excels in comparison to other email marketing services.
1. Free Trial
Constant Contact gives you full access to their tools for 30 days. After the trial, the subscription starts at $9.99 per month.
2. Easy to Use
Constant Contact comes with a beautiful interface, which makes it easy for anyone to get started with email marketing.
The powerful drag and drop editor makes it effortless to create and tweak your emails into what your subscribers will love. With every plan, you get access to beautiful pre-built mobile optimized templates that look great on every device.
3. Advanced Marketing Tools
Constant Contact comes with all the essential automation tools to grow your email list. It is due to this that it has made to our list of the best CRM for email marketing. Below are a few advanced features you'll find useful:
Create a custom web page to receive online donations.
Create simple online surveys and polls.
Manage your events with custom invitations, online registrations, payment collections, etc.
Constant Contact: Cons
Our Constant Contact review wouldn't be complete without revealing the downsides of the software.
Here are a few things we didn't like about Constant Contact:
Limited automation tools: As an email marketing service, Constant Contact is built for beginner-level users, so it lacks many of the behavior targeting capabilities that advanced users will need.
Price: Compared to other email marketing services like SendinBlue, MailChimp, and other Constant Contact alternatives, Constant Contact is a bit expensive. However, if you need a beginner-friendly email marketing service, then Constant Contact is the best choice.
Pricing and Support Options for Constant Contact
Constant Contact offers two plans
Digital Marketing: This is best for people who want to start marketing to their customer base. You'll get hundreds of email templates and sign-up forms to grow your list. You can post to Facebook, Instagram, and Twitter all at once. This starts at $9.99 per month based on the number of contacts you have.
Marketing Automation: Helps you centralize your data to automate all your marketing efforts and workflows. You'll get access to opportunity management, sales automation, CRM (customer relationship management), analytics, and more. This plan costs $449 per month.
Constant Contact gives you a 30-day free trial to test their service. During the free trial, you can explore all the campaign types and features that it has to offer.
We've worked out a special deal with Constant Contact to extend the free trial to 60 days. Grab this deal here »
Constant Contact provides unmatched support with live chat, emails, and discussion forums. They also have a vast library of resources that help you walk you through every aspect of email marketing with Constant Contact.
Alternatives to Constant Contact
At IsItWP, we're big fans of Constant Contact. We use their services and have always had a smooth experience. So in our books, Constant Contact stands at #1.
However, you may want to look at other options in the market as well. Here are the best ones:
That's our list of the best alternatives to Constant Contact. Other alternatives include HubSpot, ConvertKit, ActiveCampaign, and Mailchimp.
Our Verdict on Constant Contact for Email Marketing
Constant Contact is the perfect choice for beginner-level email marketers, small businesses, and non-profits who need an easy-to-use tool for building an email list.
From the powerful drag and drop editor to ready-made templates to beautifully organized contact management to powerful reporting, you'll find all the features you need to succeed in your email marketing.
You can begin with the Email plan when you're starting out, especially if you don't need autoresponder. As you grow, you can upgrade to Email Plus for more advanced email automation features.
Get Constant Contact Now »