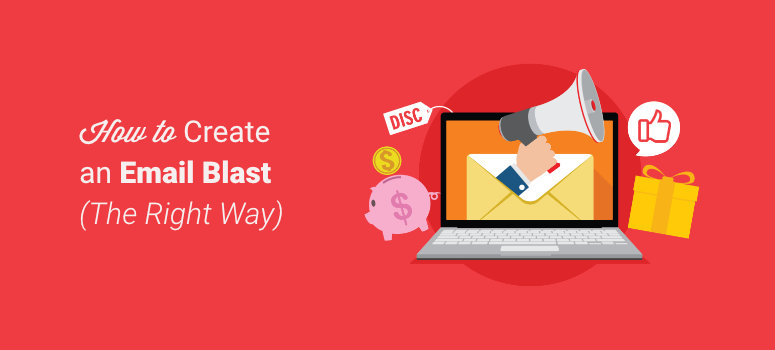 Are you wondering how to create an email blast? An email blast might seem like the best way to get your message out to a lot of people at once. But, there's a right and a wrong way to do an email blast.
In this article, we'll show you how to create an email blast the right (non-spam) way so that you'll get the most out of your email marketing efforts and keep your email subscribers happy.
Let's get started.
What is an Email Blast?
An email blast is simply a single email message that is sent to a large group of recipients at once. With an email blast, recipients aren't typically targeted in a strategic way — rather, they're all sent the same blanket message. Because of this, email blasts are no longer an email marketing best practice and are often associated as a spam email.
So, to avoid "blasting" your subscribers with broad, irrelevant emails and upsetting them with spam messages, you need to do email blasting a bit differently.
In the next section, we'll look at some of the different types of email blasts you can send and how to send an email blast without being spammy.
Types of Email Blasts
As we mentioned, email blasts are not an email marketing best practice. But, you'll still want to have the ability to effectively send out an important message to a large group of your subscribers at the same time. That's where email segmentation comes in.
Email segmentation is basically when you divide your email subscribers into smaller segments based on set criteria such as location, gender, past purchases, stage in the sales cycle, buyer frequency, and more. Email segmentation is used to improve the personalization of your email marketing. It allows you to send a more relevant email message to a group of your subscribers. Because the message is more relevant and personalized to them, it won't be considered spam and the subscribers will be more likely to pay attention and take action.
There are a number of different types of "email blasts" you can send to your subscribers. By segmenting your email list, you can make your email blast campaigns more effective. Let's take a look at some examples:
Email Blast Example 1: Sales
A store-wide sale is typically something you'll want to tell all of your email subscribers about. But, with some sales, you'll want to segment your email list.
For example, if you're having a sale on winter gear such as winter jackets, winter boots, gloves, and hats, your subscribers that are located in warmer areas aren't going to be interested in it. So, segment your email list based on location to make sure the subscribers who are in geographically colder areas will be the ones who get the message.
Here's another example from Fred Perry. They want to announce a popup shop sale in New York. For a subscriber who lives on the opposite end of the country, or even in a different country altogether, this message won't be relevant to them. So, they would segment their email list and send this message to only the email subscribers who are in New York and the surrounding areas.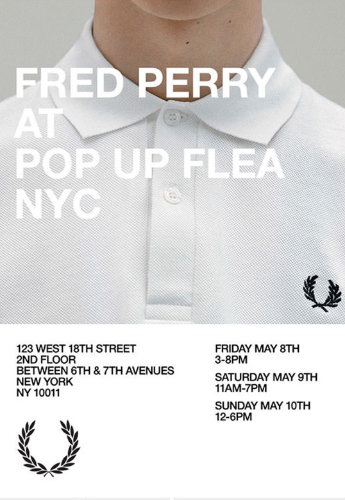 Segmenting your sales emails will personalize the sale to the subscriber; when a sale looks like it was made for them, they'll be more likely to buy. Plus, you won't upset the email subscribers who aren't interested or who are unable to participate in the sale.
Email Blast Example 2: New Products
Announcing a new product is exciting. You'll be tempted to blast all of your email subscribers to let them know the exciting news. But remember, not all of your subscribers will necessarily be interested in the new product.
For instance, if your newest product is a new line of men's shoes, your female subscribers won't be interested in the announcement. You can segment your email list to announce the new product to only the email subscribers who'll be most likely to buy.
In another circumstance, a car dealership will send an email to their email list announcing the latest model. But if they send this email to consumers who just bought a new car recently, they may be annoyed with the message.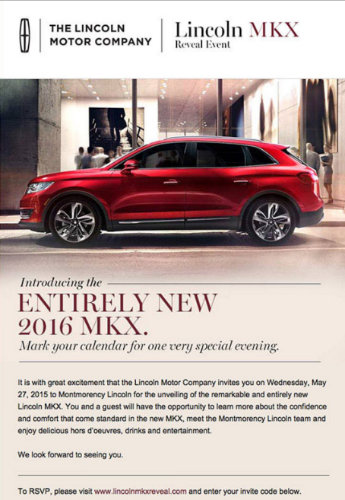 Instead, they can segment their email list to send the message only to people who may be in the market for a new car soon.
Email Blast Example 3: Last Chance Reminders
With a limited time offer, you'll want to remind all of your subscribers to make a purchase before it's too late by sending a "last chance" email. This powerful marketing tool will make your subscribers jump at the chance to get a deal before they miss out. But, you need to segment your email list so that the right people get the message.
Like in the example below, Font Shop tells their email subscribers it's their last day to get a significant discount.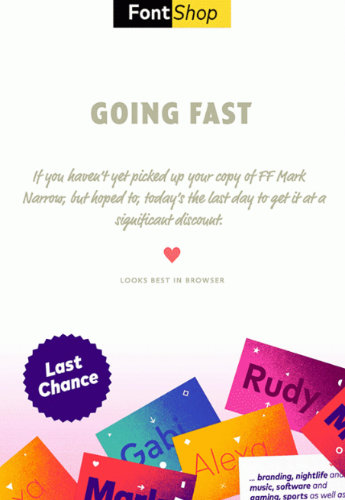 But, you don't want to blast this email to all of your subscribers, especially not the subscribers who've already purchased the product, it will only annoy them.
Instead, segment your email list and send the message only to the subscribers who haven't made a purchase yet.
Segmenting your emails instead of sending broad email blasts will give you better results. Consumers won't open, click, or engage with your emails if they aren't personalized to their needs and interests.
So, how do you easily segment your email list and send out an email blast? You need an email blast software.
Choose an Email Blast Software
Next, you need to choose an email blast software that allows you to segment your email list.
If you're just starting out with email marketing, you'll want to choose an email blast service that's easy to use. The email blast service you choose should allow you to easily build great-looking emails as well as segment your email list in just a few clicks. It should also have automation features to automate your email marketing campaigns and of course, the price should fit in your budget.
Let's go over our top picks for the best email blast service.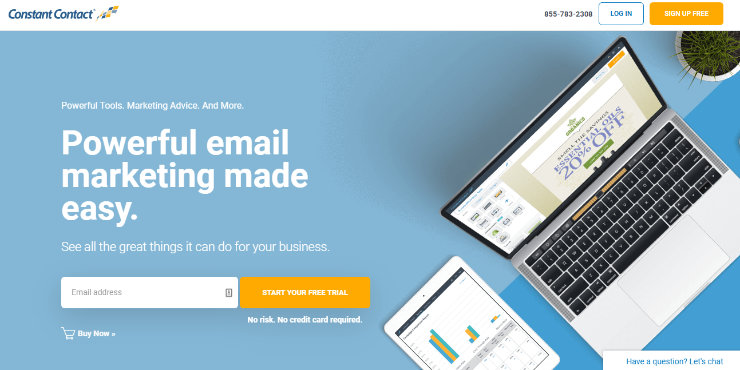 Constant Contact is one of the most popular email blast services on the market. It's perfect for beginners and small businesses because it makes powerful email marketing easy.
They offer over 100 easy-to-customize email templates to help you create stunning emails for your subscribers quickly.
Constant Contact also comes stacked with email automation features such as:
Automatically greet new subscribers with a welcome email
Trigger email series based on where a user clicks
Automatically resend emails to non-openers
Segment contacts to send the right messages to the right people every time
Beautiful email newsletter form
And more
Constant Contact also offers great segment management. You can save segments for later campaigns, refresh lists to make sure you're only sending to contacts that still meet the criteria, and easily edit and update criteria at any time.
You can try out Constant Contact for free for a full 60 days; that's a much longer free trial period than other email marketing services offer. After the free trial is over, a Constant Contact subscription starts at $20/month for up to 500 subscribers.
Get started with Constant Contact today.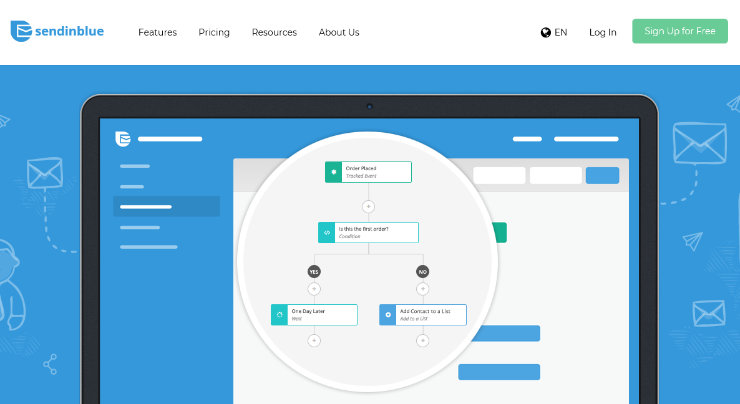 Another top pick for the best email blast services is SendinBlue. SendinBlue is designed with simplicity in mind. You can easily design awesome-looking emails without any technical skills using their drag and drop design blocks and their free responsive templates.
They also offer dynamic personalization features so you can easily insert information from your contact database into your messages such as name, gender preference, date of birth, and more.
Plus, segmentation is easy with SendinBlue. SendinBlue's segmentation engine, you can easily separate and divide up your contacts, then regroup them into new lists so that you can send more relevant emails. You can segment based on demographics such as place of residence or employment, or by behavioral criteria such as pages visited on your website, past purchases, and more.
You can get started with SendinBlue for free for up to 300 emails per day and unlimited contacts. Paid plans from SendinBlue start at $25/month with no daily sending limit.
Get started with SendinBlue today.
After you've chosen an email blast service, it's time to build an email blast list, segment your email list, and send out your email marketing campaign.
Step 1: Build an Email Blast List
If you're just starting out, you might not have an email blast list to send messages. So, you need to build an email blast list. You can easily build an email list using a tool like OptinMonster.
OptinMonster is a popular lead generation tool that allows you to build visually stunning offers to encourage your website visitors to join your email list.
You can create a number of different campaign types, including lightbox popups, fullscreen welcome mats, slide-in scroll box, floating bars, and more. Creating your offer is easy using OptinMonster's pre-built templates and drag and drop builder.
Check out our list of best WordPress popup plugins.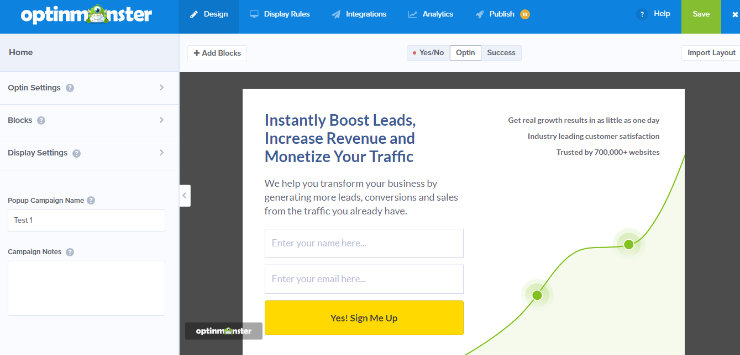 OptinMonster also has a number of campaign triggers so that you can display your email optin at exactly the right time. Campaign triggers include scroll trigger, timed display control, inactivity sensor, exit-intent, and more.
Their exit-intent technology is especially effective because it's able to track when a user is about to leave your website and display a targeted message at exactly the right time. So, instead of losing them forever, you can turn them into an email subscriber.
Remember to offer your website visitors something awesome in exchange for their email address.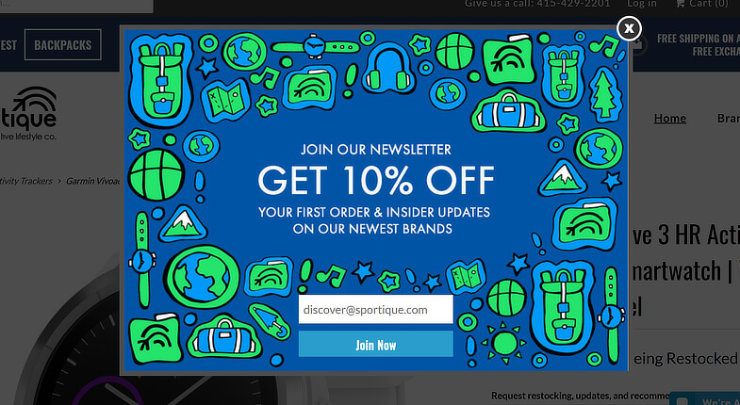 People love getting a free gift. When you offer a discount or a content upgrade, they won't hesitate to sign up for your email list.
Get started with OptinMonster today.
Step 2: Segment Your Email Blast List
After you build up an email blast list, it's time to start segmenting. There are many different ways to segment your email blast list. The way you segment your list depends on the type of email you're sending and what the goal of sending the email is.
Let's go over some of the different ways you can segment your email list.
1. New Subscribers:
When a user signs up for your email list, you want to welcome them to the club with a welcome email. Obviously, if you sent you welcome email in an email blast, people who have been subscribed to you for a long time will get a welcome message, which is not what you want. So, segment your email list into the subscribers who have signed up recently. Your welcome email can introduce new subscribers to you or your company and let them know what to expect going forward.
2. Interests:
Not all of your email subscribers will be interested in the exact same thing. Especially if your website covers a variety of topics or sells a variety of products, for instance. So, you can segment your email blast list based on their interest. With your email blast service you can segment users based on their behavior and activity on your website. If certain users are only interested in 1 thing you have to offer, you can send them emails for just that 1 thing they're into. This will allow you to get the information to the people who'll be most likely to take action.
Also check: The Best WordPress Analytics Solutions to Track User Behavior.
3. Location:
Segment your subscribers based on their location. Like we mentioned earlier, you want to send subscribers emails that are relevant to them. You can segment your email blast list to make users are aware of upcoming events in their area. Unless you expect people to travel across the country for your event, don't blast email subscribers for location-based events they can't attend.
4. Unopens
With your email marketing service analytics you can see exactly who opened your emails and who didn't. This allows you to resend emails to users who didn't open your previous one. That way if they just missed it, you have another opportunity to convert them — without annoying the users who already opened and read your email.
5. Purchase Behavior
Segmenting your email list based on purchase behavior is a great way to boost your sales. For instance, you can use email segmenting to up-sell or cross-sell customers. If a customer purchased an item from you in the past, you can email them with relevant related products they're likely to be interested in.
Step 3: Send Your Email Blast
After segmenting your email list, the last step is to send your email blast. Before you send your email blast though, remember to include a clear call-to-action. A call-to-action tells users what to do after reading your email. Whether it's to fill out a survey, leave a review, check out your newest blog post, or make a purchase. When you add a clear call-to-action in your email blast, your email subscribers will be more likely to take action.
We hope this article helped you learn what an email blast is and how to create an email blast the right way. If you enjoyed this article, check out our other posts: How to create an email newsletter and 23 Effective Tips to Get More Email Subscribers.