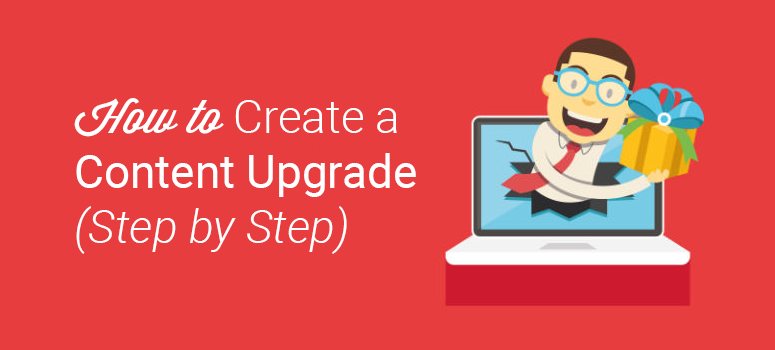 Want to create a content upgrade for your WordPress website? That's a fantastic idea! Content upgrades are the perfect way to transform a regular post or page into a powerful lead magnet. Gain more subscribers, increase your downloads, or even turn readers into customers!
In this post, we'll show you how to create a content upgrade, step-by-step, with pictures.
What's a Content Upgrade?
A content upgrade is a lead magnet, also known as optin bribe, you offer within your article to encourage your visitors to subscribe to your list. The content upgrade offer is usually highlighted text inside the content area of your blog.
Here's how a content upgrade looks like… See the screenshot.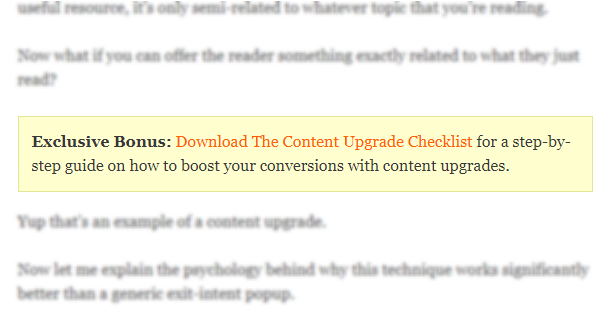 When a user clicks on the link, a popup will be triggered, asking the user to subscribe to the email list.
Did you know that compared to a typical lead generation campaign, content upgrade can grow your conversions by 865%?
There are 3 reasons why a content upgrade outperforms other lead generation forms.
Reason #1: Targeted Resource
Unlike typical lead magnet you promote on blog sidebar, a content upgrade offer is catered especially for the readers of that particular post or page. Since it offers a targeted resource, users are more likely to subscribe to that offer.
For example, if you run a blog about dogs, your "generic" freebie you offer on sidebar, might be an eBook on the 10 Best Dog Foods for Any Breed. However, if you write a post specifically about potty training a puppy, you could include a content upgrade freebie / optin for a checklist of the 5 Steps to Tame the Tinkle. Make sense? Not every reader is going to be interested in potty training a puppy; however, the people who are reading that particular blog post are absolutely going to want that specifically-catered content upgrade.
Reason #2: Grabs Attention Easily
Visitors tend to ignore opt-ins displayed on your blog posts due to banner blindness. Since content upgrade offers are usually placed within an article, they're more likely to grab attention of your visitors.
Reason #3: Zeigarnik Effect
According to a psychological principle, Zeigarnik effect, people who initiate a process are more likely to finish it.
In this case, your content upgrade comes in the form of a link. Once your reader clicks that link, an optin popup for your newsletter / free eBook / other offer comes up. Since the reader has already initiated the process by clicking the link, they're more likely to obey your call-to-action and do whatever the optin popup tells them to.
The good news is, it's really easy to create a content upgrade for your WordPress website! Let's jump in.
Step 1: Create a Popup Campaign
Since content upgrades are all about amazing popups, you'll need the right tool to get started. We highly recommend signing up for OptinMonster.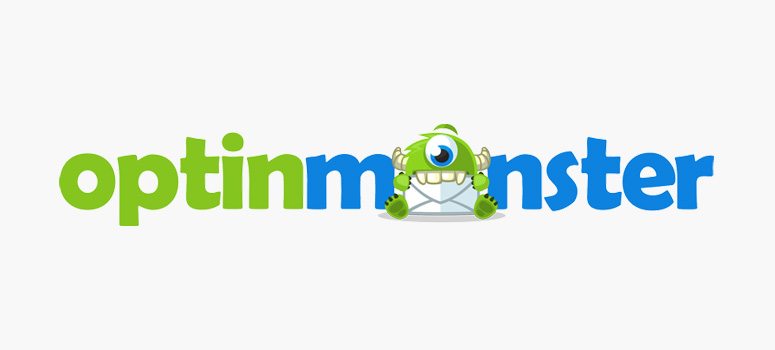 OptinMonster is the world's best lead generation tool for WordPress websites. You'll be able to create beautiful, eye-catching popup campaigns with irresistible call-to-action messages. Your subscriber list is sure to skyrocket!
Better still, IsItWP readers get 10% off when they use the coupon code SAVE10 when checking out.
Once you have OptinMonster, follow our easy step-by-step tutorial on how to create a popup form.
Now it's time to turn that campaign into a content upgrade. Let's move onto step 2 to learn exactly how to do that.
Step 2: Get a MonsterLink
Start by clicking the Display Rules tab at the top of your screen.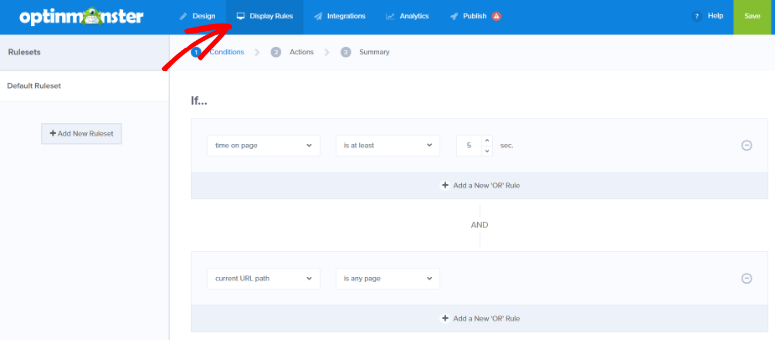 From there, click on the dropdown menu and select Visitor Clicked MonsterLink.

Save your campaign by clicking the green Save button in the top right-hand corner.

Now, go to the Publish tab. Once there, toggle your campaign to the Live position.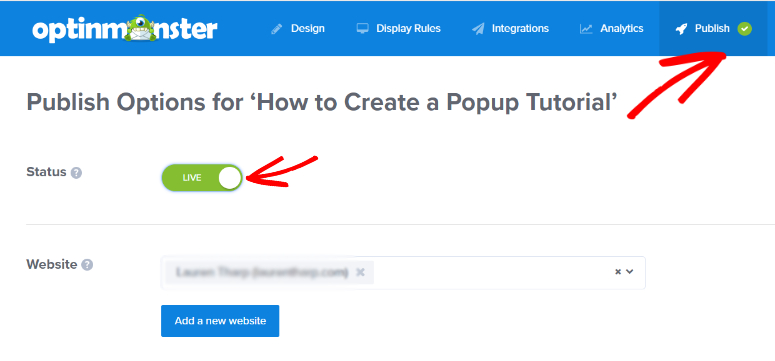 Click Save. Keep this page open in your browser (to complete step 3) and open a new tab to head over to your WordPress website for a minute.
On your WordPress dashboard, scroll down to the OptinMonster tab and click it. You'll see your campaign listed. If you don't, hit the Refresh button until it shows up.

Once it appears, click the Go Live to enable your campaign on your site.

You're nearly done! What you just did will enable the popup function of your content upgrade. Now, you'll need to place the link on your site to complete the 2-step process for your readers.
Step 3: Add Your MonsterLink to Your Site
Head back over to the Publish page on OptinMonster that you kept open in your browser.
Scroll down to Platforms and choose Shareable MonsterLink.

From there, you can copy either the URL or the HTML to paste onto your post or page.
Personally, we like using the HTML link, as we find it easier to customize per our needs. Just remember to paste it in using the Text editor, rather than the Visual editor.
For example, you can easily change the default "Subscribe Now!" text to your own words.
Once you have everything looking the way you want it to, publish or update your post or page.
That's it! You now have a content upgrade on your website.
We hope this tutorial helped you learn how to easily create a content upgrade for your WordPress site.
If you found this post helpful, you might also enjoy our list of the top email marketing services. After all, you can't have a list of subscribers if they have nothing to subscribe to!