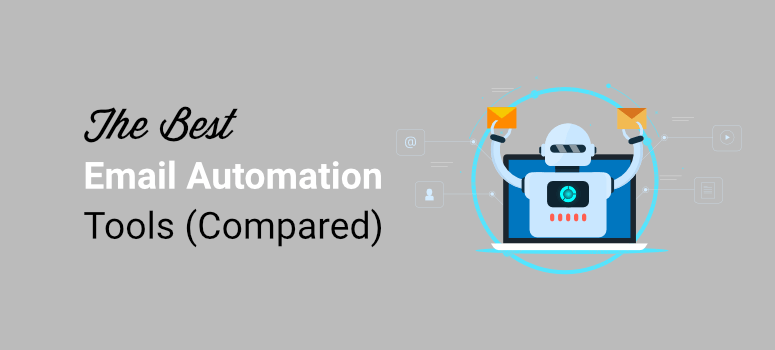 Are you looking for the best email automation tools to improve your email marketing?
By using email marketing automation tools you can take your email marketing campaigns from simple to powerful. This means you'll get more out of your email marketing efforts; more opens and clicks, higher engagement, and more conversions.
Plus, you'll save a ton of time by having tools that will do all the work for you. But how do you know which email automation tools are the best for you?
In this article, we'll go over our picks for the best email automation tools. These email automation tools are easy-to-use, affordable, and come with awesome features to take your email marketing to the next level.
Let's dive in.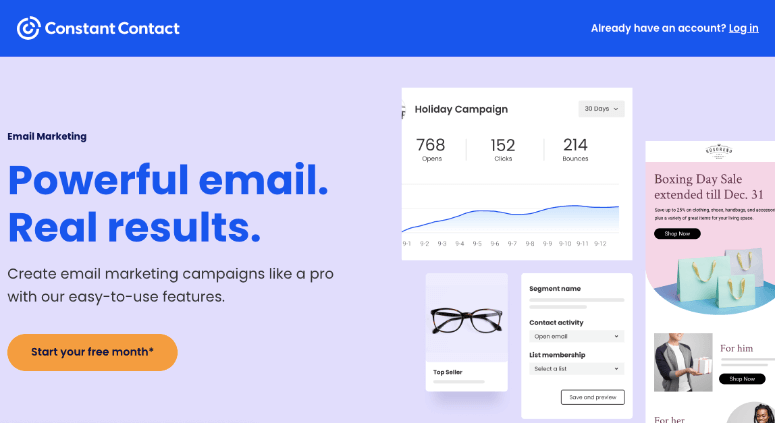 Constant Contact is one of the best email marketing services out there. This popular tool is great for small businesses that are just starting out with email marketing.
Constant Contact makes it super easy to create powerful email marketing campaigns. When you first sign up with Constant Contact, they'll prompt you to choose the industry you're in and select your previous level of experience with email marketing.
Based on your response, they'll provide you with promotion ideas and custom content to help you improve your email marketing campaigns. With this email automation tool, you also get access to a ton of customizable email templates so you can create great-looking emails in no time.
In addition, their email marketing automation is top-notch. With Constant Contact you can:
automatically send welcome emails to new subscribers
create an automated email series based on the specific actions of your subscribers
segment contacts so you can send more personalized messages
and more.
They provide plenty of support with live chat, email, discussion forums, and documentation.
Constant Contact's pricing is based on the number of contacts you have. You can send unlimited emails. Plus, there's easy tracking and reporting, built-in social media sharing tools, free image library, list segmentation, Facebook ads integration, and more.
You can use our exclusive coupon to get a 60-day trial with Constant Contact. After your free trial ends, plans start at only $9.99 per month.
Get Started with Constant Contact Today »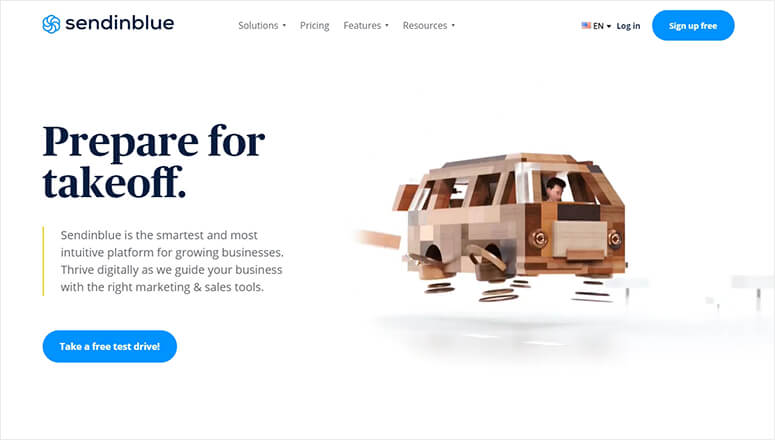 SendInBlue is another popular email marketing service that's incredibly easy to use for beginners while still allowing you to take your email marketing to the next level.
With SendInBlue you get all the features you want in an email marketing platform including access to their free responsive template gallery, the ability to create clean and professional email newsletters in minutes with their drag and drop builder, 8 automation workflow templates, and more.
SendInBlue also lets you reach your audience with SMS messages as well, which you can purchase credits for separately with no expiration date.
They offer a free plan for unlimited contacts but you can only send 300 emails per day. If you want to upgrade your plan and have no daily sending limit, paid plans start at $25 per month.
Get Started with SendInBlue Today »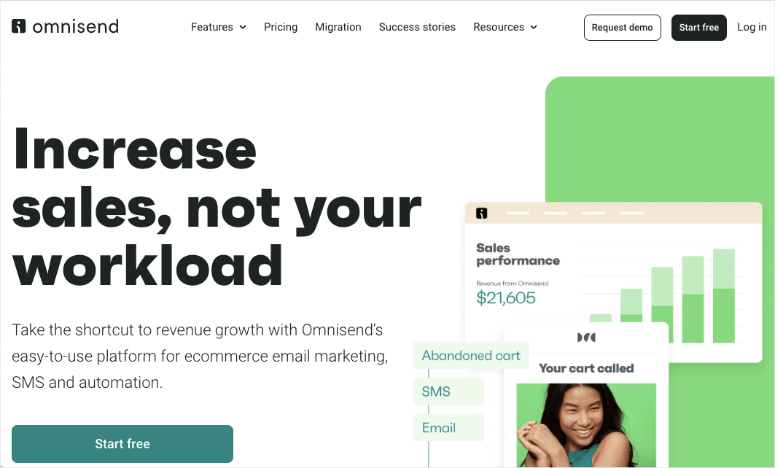 Omnisend is a robust marketing automation platform that gives you the power of email, push notifications, and SMS combined. You can set your email campaigns on autopilot using pre-built automation recipes. Then there's a drag-and-drop editor to tweak the templates to what you need.
Omnisend is designed for eCommerce businesses and comes with tons of features to drive revenue and sales. You can easily set up welcome/ onboarding series, cross-sell, follow-up, and abandoned cart campaigns. You can also automate order and shipping confirmation emails.
You can segment your customers based on their activity and interests on your site. This lets you improve customer experience by sending them only relevant emails.
Also, inside your dashboard, you'll get access to advanced reports with customer data, the performance of each workflow and the channel you're using. You can use the A/B testing functionality to test and customize your campaigns according to what's working and what's not.
Added to all this, there's a reliable customer support team to help you with anything you need.
There's a free plan to explore what Omnisend has to offer. Pro plans start at $16 per month based on the number of contacts you have.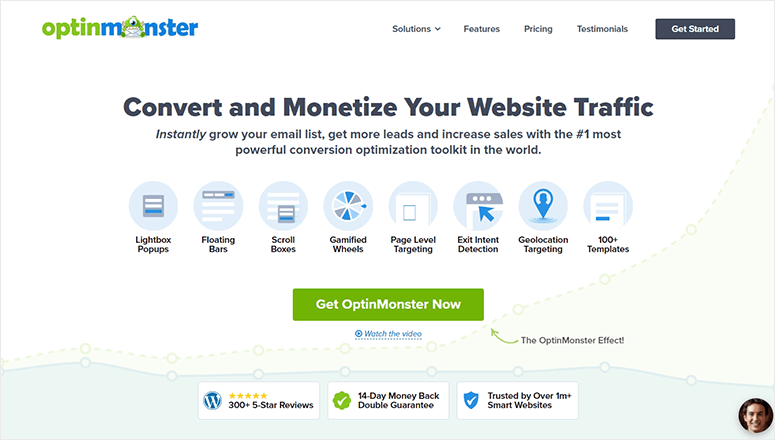 OptinMonster is the best tool to automate the process of collecting new email subscribers and leads. You'll get access to different kinds of campaigns like popups, banners, floating bars, and more to get visitors to sign up for your marketing emails.
The tool also comes with 1-click targeting rules that you can add to your lead generation campaigns. For instance, you can get your optin popup form to appear automatically when a person is leaving your website. Other targeting rules include location, device, page, scroll depth, referral source, and so much more.
Once someone signs up, you can have their contact details added to your email list. You'll need to integrate OptinMonster with your email service provider. And it's really easy to do. All it takes is a few button clicks to sync your email account with the OptinMonster campaign. Some email services require you to enter an API key that they will give you but that's about it.
Then you can segment your contacts and have them added to different email lists. To give you an example, say you have 2 campaigns running on your website – one asking people to sign up for your newsletter and another asking people to optin to get updates on when your sale goes live.
When someone signs up for your newsletter, OptinMonster will automatically tag the lead as "newsletter" so they'll be added only to your newsletter email list. Now when you're creating and sending weekly newsletters, you can simply select your "Newsletter" email list and all your old and new newsletter subscribers will be on the contact list. You won't have to waste time manually adding new leads.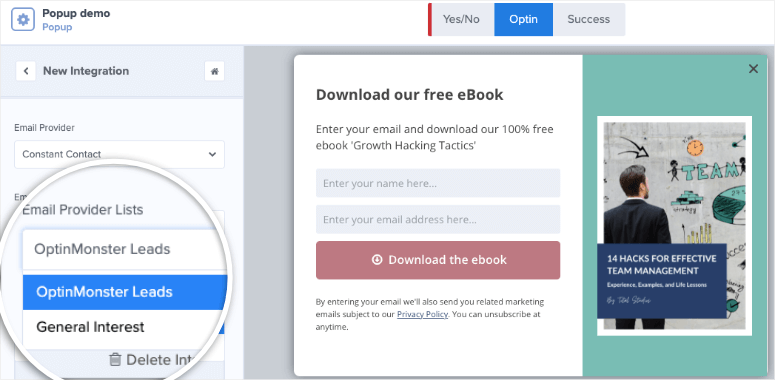 Similarly, for the other campaign, you can make sure the leads are added to your "Sale update" list so they don't receive your email newsletter by accident when they didn't sign up for it.
OptinMonster works on any website including WordPress, WooCommerce, Shopify, BigCommerce, and HTML sites. It's one of the best must-have email marketing tools. Find out more in our OptinMonster Review.
You can get started with OptinMonster for only $9 per month.
Get Started with OptinMonster Today »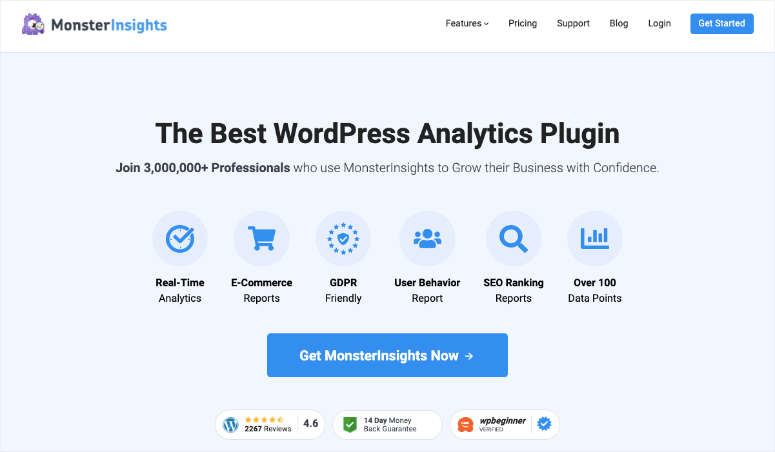 MonsterInsights is a WordPress plugin that makes it easy to integrate your website and email marketing campaigns with your Google Analytics account.
After integrating, you can track your website visitors and the performance of your email campaigns with Google Analytics.
You'll need to generate promotional URLs with the MonsterInsights URL builder. You can then use those URLs in your email newsletter to link to your merchandise on your site.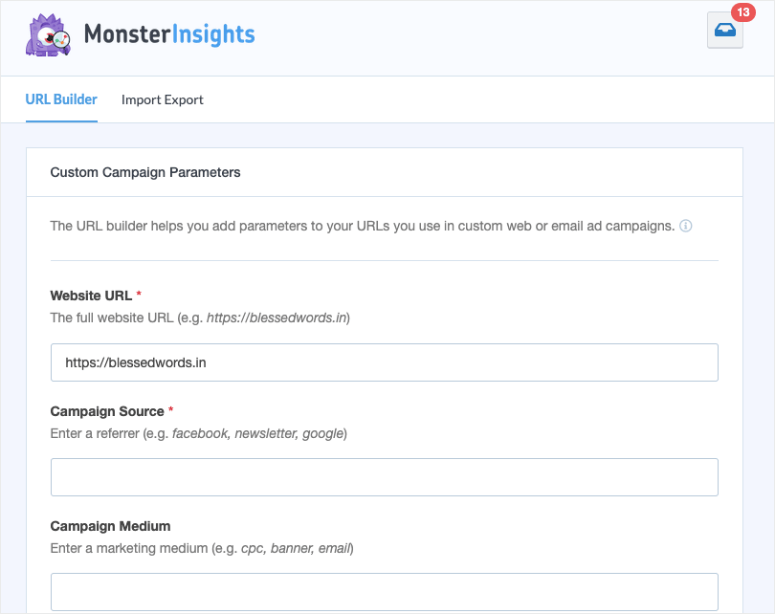 The best thing is that you'll get actionable insights into how your emails are performing, so you can make informed decisions to boost your email automation goals.
Besides Analytics, MonsterInsights also lets you connect your site with Google Optimize, the free A/B testing and personalization product by Google. With Google Optimize, you can easily build dynamic landing pages that work.
Without a doubt, landing pages that are tailored to your email campaigns are more likely to convert.
With MonsterInsights, you'll get real-time insights into your website and campaign's performance. To learn more, check our full MonsterInsights Review.
You can get started with MonsterInsights for $99.50 per year.
Get Started with MonsterInsights Today »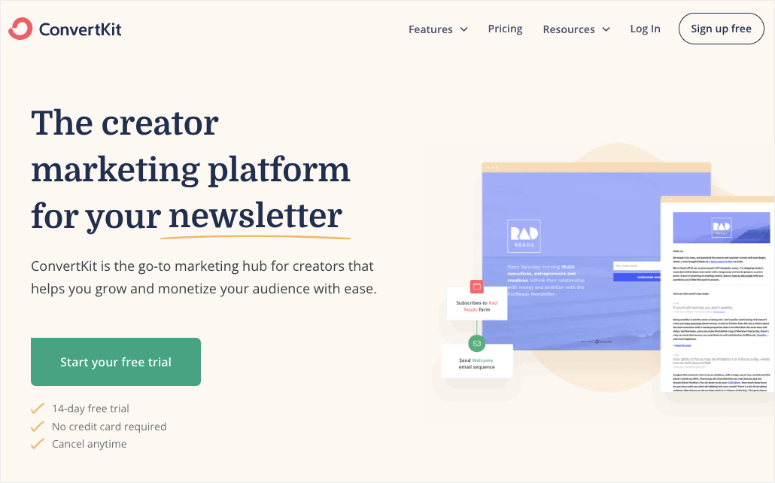 ConvertKit is another awesome email marketing software that is designed with online creators, such as bloggers, podcasters, and YouTubers, in mind. So, if you want to start a blog, for instance, this email automation tool is a great pick for you.
With ConvertKit you can create attractive forms for your website to help turn casual readers into customers, easily send personalized emails to individual subscribers, and much more.
In addition, ConvertKit makes marketing automation easy to understand, even for beginners. You can send well-timed and highly targeted emails automatically using their simple, customizable workflows using "if that, then this" rules. They also have a drag-and-drop sequence builder so you can easily create personalized automated emails by connecting events, actions, and conditions.
There's a free plan for up to 300 subscribers. Paid plans for ConvertKit start at $9 per month.
Get Started with ConvertKit Today »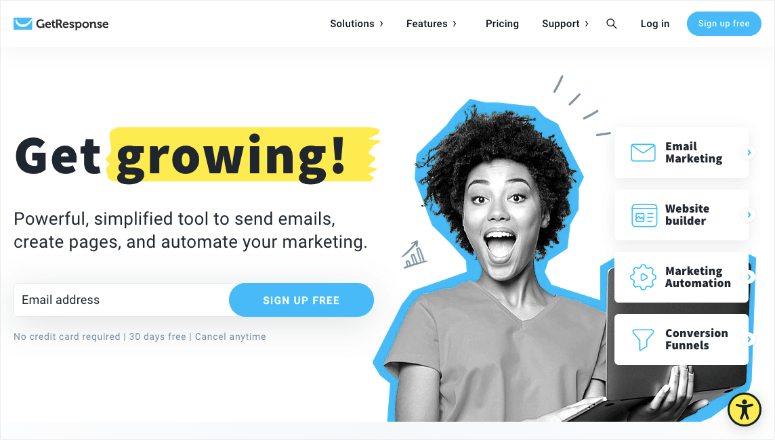 GetResponse is an all-in-one marketing platform you can use to help grow your business. With this email automation tool, you can create gorgeous emails in minutes with predesigned email templates and use their drag-and-drop editor to customize them or to create your own.
You also have the ability to choose from licensed Shutterstock images to make your emails eye-catching.
You can also use dynamic content to send highly-personalized emails, automate emails with autoresponders using their drag-and-drop organizer, target your subscribers with advanced segmentation features, and much more.
Aside from email marketing, with GetResponse you can also build beautiful, high-converting landing pages and host webinars to increase your conversions using their complete webinar marketing solution.
GetResponse provides a ton of support in the form of live chat, phone, and email, along with resources such as courses and videos.
There's a forever free plan. But the marketing automation features come with the paid plans starting at $13.30 per month (on the 24-month plan).
To learn more, check our full GetResponse review!
Get Started with GetResponse Today »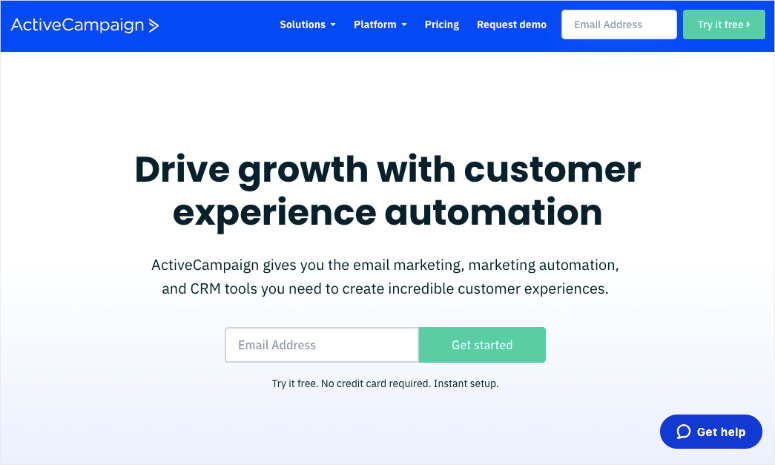 ActiveCampaign is an email automation tool that combines email marketing with sales and CRM (customer relationship management).
You can set up drip campaigns and welcome series according to what you need.
With their drag-and-drop email designer, you can build beautiful emails in no time. They also provide segmentation and dynamic content features that allow you to customize your message for each subscriber. Plus, ActiveCampaign's marketing automation features include an automation map so you can easily map out your automation.
You can use their CRM feature to manage all of your contacts in a central platform and automatically update contact details. This tool also boasts messaging features so you can send SMS messages as well as messages directly on your site.
Test out ActiveCampaign for free with their 14-day trial, plans then start at $29 per month.
Get Started with ActiveCampaign Today »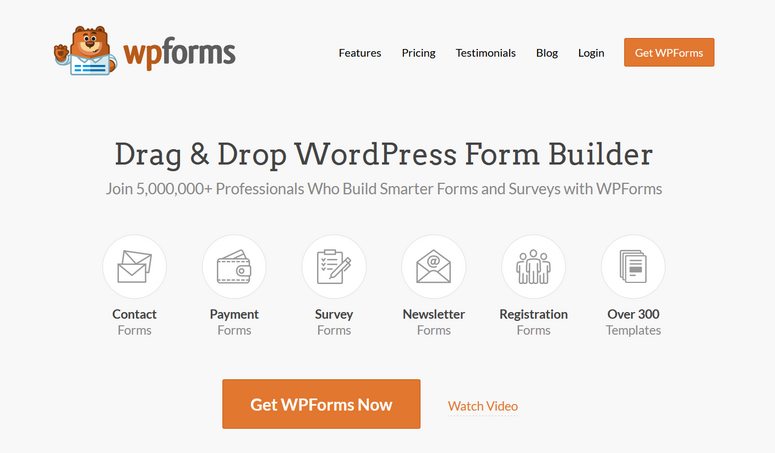 WPForms is the best form builder for WordPress. It's on our list as a bonus tool because it comes with some really cool email automation features.
For starters, you can create any kind of form you need. this includes contact, signup, optin, and registration forms. WPForms even makes it possible to create product catalogs with images and pricing so you can sell products on your site without needing to set up a full-fledged eCommerce system. See our guide: How to Sell a Product on Your WordPress Site (Without an Online Store).
The plugin integrates with all popular email marketing platforms including Constant Contact, Aweber, HubSpot, Drip, MailerLite, and more. It also integrates with other marketing platforms like Zapier and Salesforce.
Then inside your form notifications, you can set up automated emails to be sent to the user. You can use this to send email confirmations, deliver digital products, and so on.
Follow our guide to learn more: How to Set Up the Right Form Notifications & Confirmations.
The best part about WPForms is that it comes with advanced features like smart conditional logic. You can use this to show/hide certain form fields based on a user's answer to a question in the form. You can also use the smart conditional logic feature to send emails based on a user's selection in the form.
So for instance, if a customer chose to buy a product, you can automatically notify the sales team and send an order confirmation email to the customer.
There's also a user journey addon to track the customer journey and get insights into how to improve your processes and make more sales.
That's our list of the best email automation tools to help you grow your business. Next, we'll answer frequently asked questions about email automation and the tools we've mentioned.
FAQs on Email Automation Tools
Are there other email automation tools?
Yes, there are more tools like Aweber, HubSpot, Mailchimp, and Drip. We've given you the top tools that we think are the best specifically when it comes to email automation.
What is the best email automation software?
Our #1 pick of the best email marketing automation software is Constant Contact.
How do I make my emails automated?
The best way to automate your emails is by using an email automation platform like the ones in this list. It will be very hard and technical to do it on your own. These platforms like Constant Contact and Omnisend come with premade automation recipes that make it as easy as a few clicks to get set up in minutes.
What is CRM email automation?
CRM automation refers to automating customer relationship management. This would involve emails to customers in B2B and B2C companies. Such automation will help you streamline repetitive manual email processes and improve productivity.
Can I automate emails with Gmail?
You can use Gmail for business purposes, however, it's not a good option for digital marketing and promotional emails that you want to send to a bulk list of contacts. You can schedule your emails but that's about it. You won't get many automation options that you actually need to automate your email process.
Can I use WordPress to send transactional emails?
Yes, you can use WordPress to send transactional emails. You need to make sure there are no issues with email deliverability. We recommend using the free WPMail SMTP plugin for this.
How to write automated email subject lines?
We don't recommend using automated email subject lines because the chances of errors are high. Plus you want to keep emails more relevant and personalized. Instead, you can use our free Email Subject Analyzer Tool. This tool will help you write subject lines that increase your email open rates and uplift your campaign ROI.
We hope you found this guide helpful in picking the right email automation tools for your site. If you enjoyed this article, check out our other posts:
These posts will help you power up your email marketing strategy to maximize user engagement and revenue.