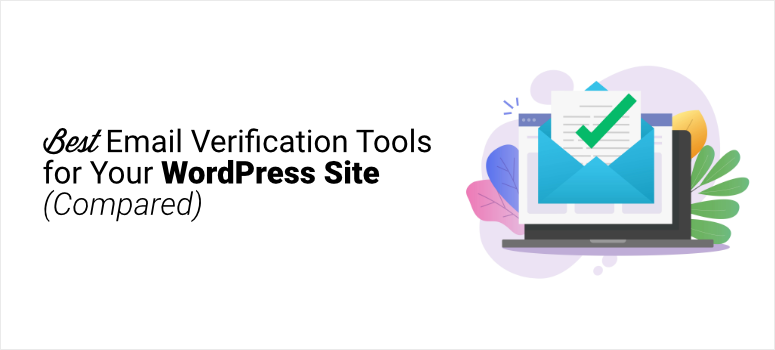 Are you looking for a reputable email verification tool for your WordPress website? If so, you've come to the right place.
Email verification tools allow marketers and business owners to verify new leads before they make it to their email list. This ensures that they collect only the most valuable user information they can use for future campaigns, content, and strategies.
Verifying new leads means filtering out users who aren't likely to become paying customers. As a result, it makes room for legitimate users who want to explore your brand.
Let's dive into a few reasons why email verification tools are so valuable.
Why Use an Email Verification Tool?
You might be wondering if using an email verification tool is necessary. There are several reasons that verifying your leads is beneficial for you and your business.
1. Save Money and Time
When you save on resources, you give yourself more time and money to grow your business and reach your goals. Email verification tools filter out spambots and temporary email addresses that won't turn into engaged customers. They do the work for you so you know you only have verified, reliable contacts to work with.
2. Build a Relevant Target Audience
Getting rid of irrelevant contacts gives you more room to build an email list with the right audience. If you don't market to the right people, then your efforts will go to waste no matter how great your campaigns or products are. Verifying your leads ensures that your marketing strategies reach the right users so you can increase engagement and move them through the conversion funnel.
3. Increase Revenue
Because verifying your email contacts gives you a specific audience to market to, you can use that to your advantage. Creating targeted email marketing campaigns allows you to personalize your message, products, and more. And the more you cater to your audience's needs and interests, the likelier they are to become paying customers.
Now that we know why they're useful, let's go over 7 email verification tools you can use for your WordPress website.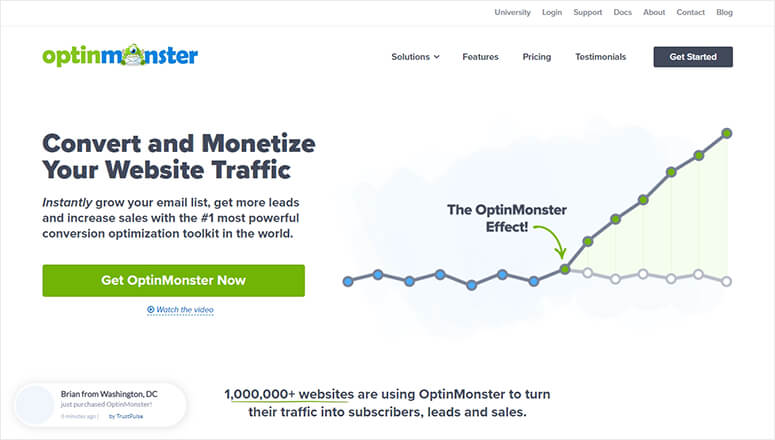 OptinMonster is the best email verification tool you can use for your WordPress site. As the #1 lead generation tool for WordPress, it's a no-brainer that OptinMonster has what you need to verify your leads and boost your email marketing campaigns.
OptinMonster uses TruLead™, a lead verification system, to verify leads. It filters out temporary email accounts, spambots, and other inactive users from your email list so you can build one that's active and engaged.
With this technology, you can block markers of poor leads, including free email addresses, patterns, characters, specific IP addresses, and role-based emails. This saves you time from manually updating and organizing your contacts for future use.
Get started with OptinMonster today.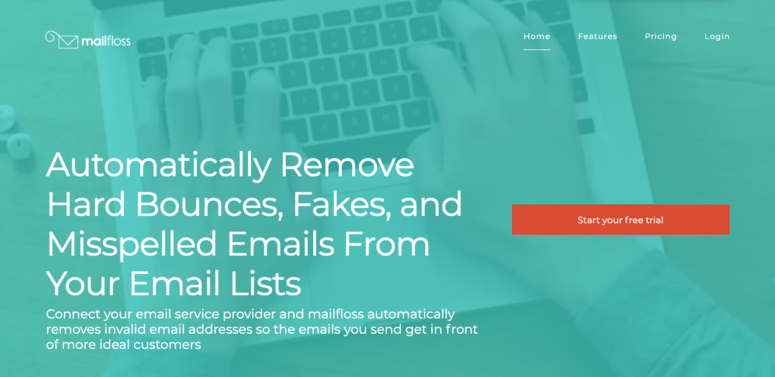 With MailFloss, setting up email verification takes no longer than 60 seconds. It integrates with the most popular email service providers including MailChimp, Constant Contact, ConvertKit, Drip, Campaign Monitor, and more.
Even with no coding or technical knowledge, installation is easy. No developers are needed to take advantage of all of MailFloss's features.
It comes with auto-unsubscribe, auto-remove, and auto-tagging so it's super easy to filter unwanted information. Review your email campaign's analytics and get detailed reports sent straight to your inbox.
Get started with MailFloss today.

ZeroBounce is an email validation tool that works to validate any email address on your list. It comes with multiple verification processes to ensure your email list stays clean.
With ZeroBounce, you can upload your email list, verify emails one by one, track and organize key customer data, and more. It integrates with the most popular marketing services, such as Zapier, Asana, MailChimp, and more.
In less than an hour, ZeroBounce can verify 100,000 emails, eliminate spam, and improve your email deliverability rate.
Get started with ZeroBounce today.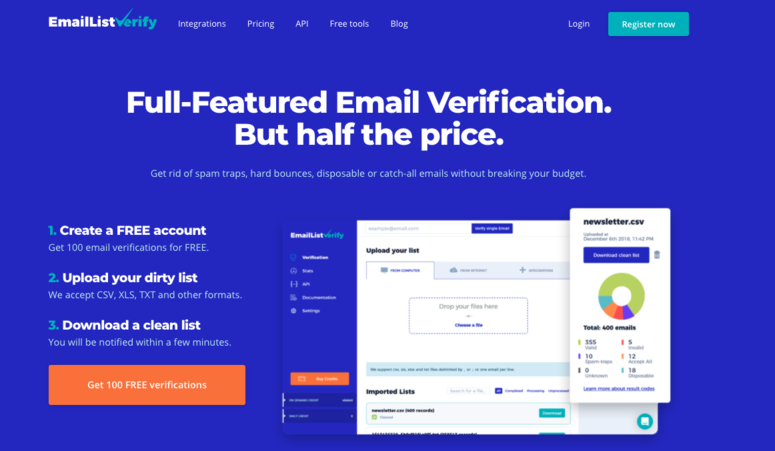 EmailListVerify is another popular option for verifying and cleaning your email list. It uses a variety of checkpoints to track unwanted email addresses and eliminate spambots. Those connected to inactive or invalid accounts are automatically removed from your list so you can make room for valuable contact information.
Additionally, EmailListVerify also checks for syntax errors, high bounce rates, and spam traps. You simply download your existing list, run it through the system, and download the new and improved list of verified subscribers.
EmailListVerify removes duplicate emails, catches bad emails before they reach the database, and uses an MTA validator to further validate your records.
Get started with EmailListVerify today.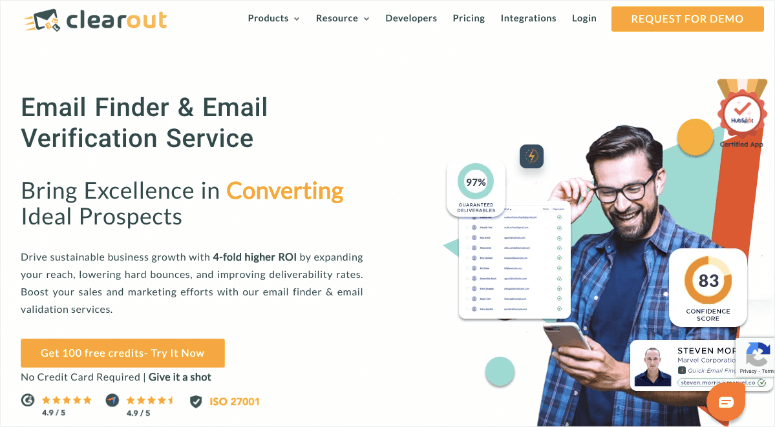 Clearout is an email validation and verification service that puts your list through 20+ checks. It's a cloud-based tool that only takes minutes to sort through and clean your contacts list.
With Clearout, you can upload a list of up to 1 million emails at a time! For medium and large-sized businesses, this is a great solution as it takes care of many contacts at once. You can also verify contacts one by one for more instant results.
Clearout finds key pieces of data from your contacts list and uses it to create a separate list of potential leads for future strategies. This helps you refine your current processes and narrow down your list to only verified users.
Get started with Clearout today.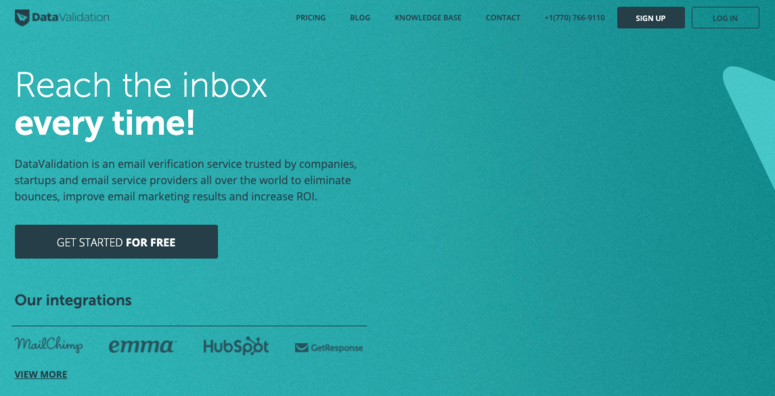 DataValidation is another popular email verification tool used by businesses large and small.
With DataValidation, you can import contact lists directly from your email service provider keeping them clean. Its email checker analyzes your list and gives you a free quality report so you can efficiently track your data.
DataValidation's API is used for real-time and bulk mail verification so you can handle your list the way you want. It's also easy to integrate with popular email marketing providers and other services you use for your website.
Get started with DataValidation today.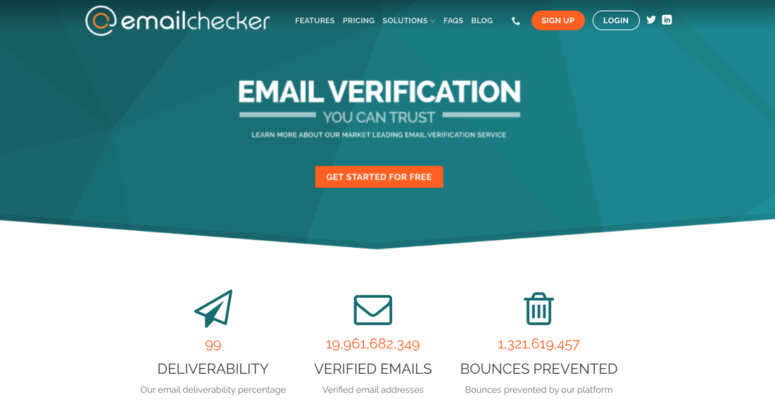 Email Checker is a great option for B2B businesses looking to enhance their email lists and refine their contacts.
Email Checker uses syntax checking, domain checking, and mailbox checking to ensure that your list stays clean with relevant user data. These features ensure that emails coming from specific domains or addresses are valid and meet the right criteria.
This software runs on cloud-based infrastructure so you have access to your list at all times. It integrates with ecommerce applications so that businesses collecting many new subscribers at once can easily filter their lists.
Get started with Email Checker today.
And that's it! We hope you enjoyed this post on the best email verification tools for your WordPress site. If you enjoyed it, feel free to check out our article on how to build an email list.
It'll take you through the process of building an email list as well as why it's important for your website and business.
Also, you can check our guide on best age verification plugins for WordPress. This will help your add an age gate on your website to restrict your age-sensitive content.