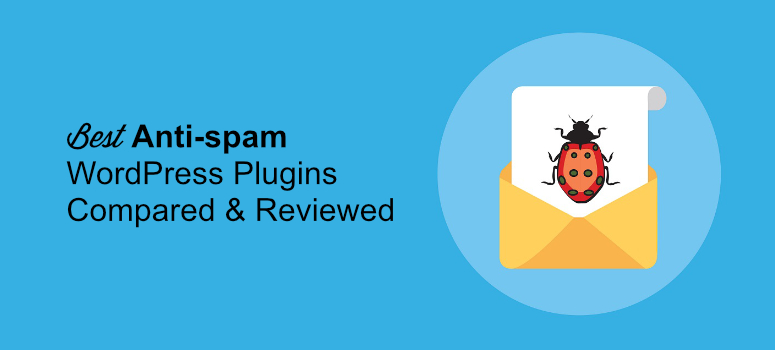 Are you looking for a good anti-spam plugin for your WordPress website?
The internet is full of spammers and hackers looking for ways to use your site to their advantage. One example of this is generating spam comments on different blogs through bots. These comments are then spread through other blogs for creating backlinks. While such activities may benefit the spammer, it can negatively affect your site.
That's where anti-spam plugins come in. By using one of these plugins, you can easily filter out any such spam comments to keep your website safe. In this article, we'll show you the best WordPress anti-spam plugins to choose from.
But before that, let's have a quick look at the benefits of using an anti-spam plugin on your website.
Why Use WordPress Anti-spam Plugins
There are several reasons why you should use an anti-spam plugin on your website. Here are just a few of them:
Improve SEO: Generally speaking, spam comments contain low quality or offensive comments that can harm your website rankings. Anti-spam plugins can help you get rid of such comments and keep your SEO intact.
Save Time: While you can moderate each comment on your blog manually, it can be an excessively time-consuming task. Anti-spam plugins can help you reduce this manual task and eliminate spam comments right when they land on your blog. This can save a lot of your time which can then be used for improving other aspects of your business.
Improve Website Performance: Spam comments, if left unremoved, can overload your database and unnecessarily consume your bandwidth. This can affect the overall performance of your website. Anti-spam plugins can help combat that and maintain great performance for your website.
Maintain Website Reputation: As mentioned above, some comments may contain offensive content. These comments may harm your website's reputation which can have a negative impact on your traffic. Anti-spam plugins will make sure this doesn't happen.
Now, let's check out the best WordPress anti-spam plugins that can help you filter out unwanted and malicious comments from your website.

Akismet is another amazing WordPress anti-spam plugin that checks for spam in all of your comments and contact form submissions. It then blocks these comments to protect your website from spammers.
The moderators of your website can also see the number of approved comments for each user that lands on your site. Akismet has a discard feature of the plugin that will block spam and save your disk space. This helps keep your site's performance intact.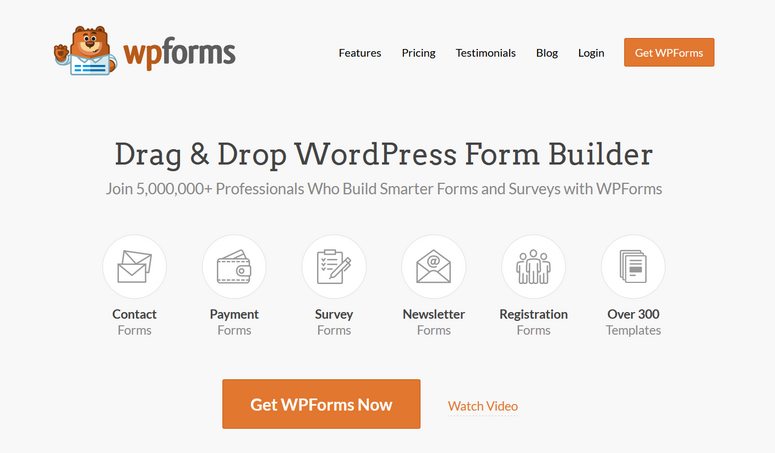 WPForms is the best form builder for WordPress and it comes with built-in spam protection. One of the most common areas on your site that hackers target is forms.
If your form isn't protected, it's easy for them or their bots to input spam promotional content and even malicious code.
WPForms lets you enable/disable the built-in spam protection with just a click.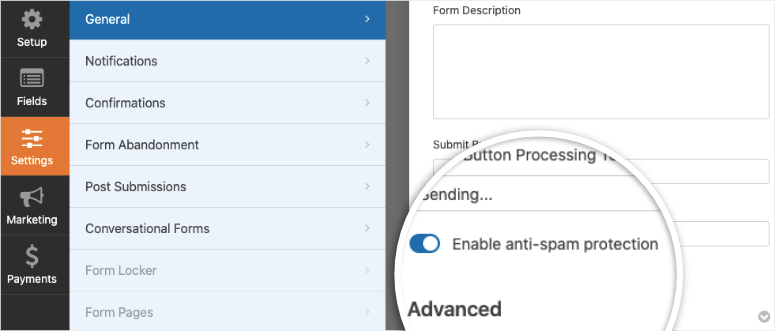 You can also add captcha protection to all your forms. It supports Captcha and Google reCaptcha. You can enable form captcha in a few clicks.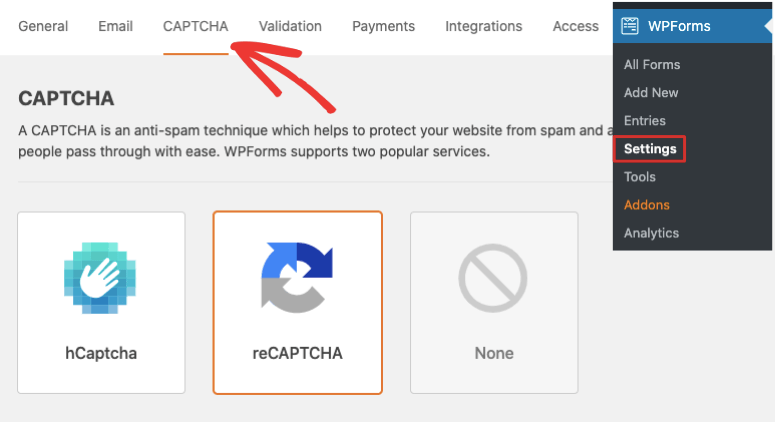 WPForms will help stop spam emails and fraud form submissions on your site.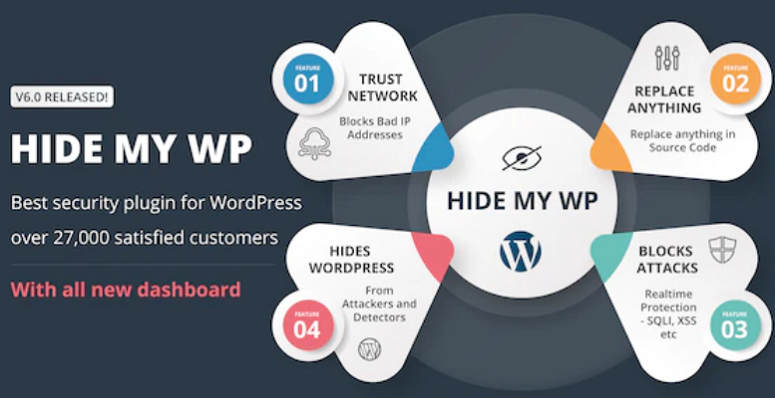 Hide My WP is a powerful WordPress anti-spam plugin that will protect your website from attackers, spammers, and theme detectors. It will also help you hide your your wp login URL and rename the admin URL to add a double layer of security to your website.
Apart from that, you can also use this plugin to detect and block cross-site scripting (XSS) attacks. This plugin works with the latest versions of WordPress and is compatible with other plugins as well.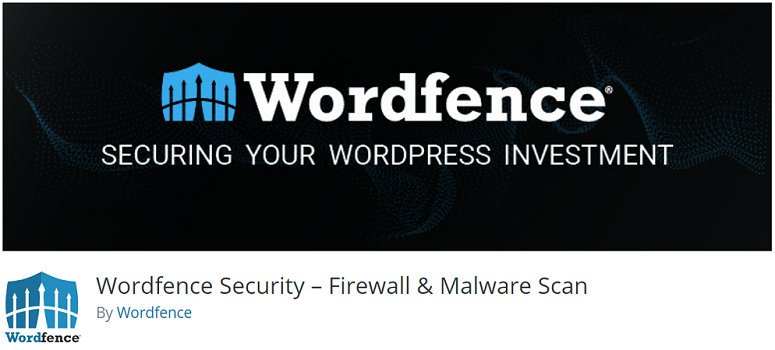 Wordfence is a free WordPress security plugin that will give your website robust protection against spammers, SEO spam, malicious traffic, brute force attack, and a lot more. It will check your website thoroughly by scanning your file contents, posts, and comments for dangerous URLs and suspicious content.
With this security plugin1`, you can also check if your site or IP has been blacklisted for malicious activities, generating spam, or other security issues. It lets you use the login page CAPTCHA to stop bots from randomly logging in to your site. With a lot more features, this plugin is one of the best options to keep your site secure.

Just like the name suggests, All In One WP Security & Firewall is a complete security WordPress plugin that will add a layer of protection around your website. It will not only scan and stop spam comments, but it will also monitor the most active IP addresses that persistently produce the most spam comments and instantly block them with the click of a button.
This plugin prevents comments from being submitted if it doesn't originate from your domain. You can add CAPTCHA to your WordPress comment form to add security against all forms of spam comments. Apart from these, it also protects your website from brute force login attacks. Plus, it offers file backup and restore features, user-registration security, database security, and a lot more.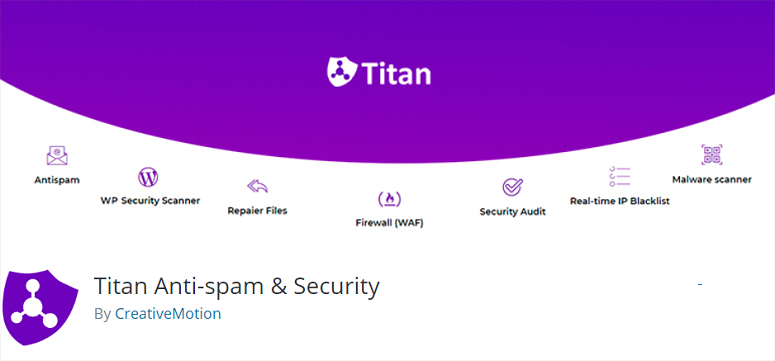 Titan Anti-Spam & Security is a powerful security WordPress plugin that protects your website from all kinds of threats. It offers robust protection from spamming, malicious IP addresses, and a lot more. The plugin continuously checks your comments through its global spam database. The unfiltered comments are again checked through its self-learning network to keep your site secure from malicious content.
With its powerful malware scanner, it checks the system files, themes, and plugins for malware, invalid URLs, backdoors, SEO spam, malicious redirects, and code injections. It also protects your website from brute force attacks by restricting login attempts.

The next WordPress anti-spam plugin you can check out is Spam protection, AntiSpam, FireWall by CleanTalk. This powerful plugin will protect your website from all kinds of spam including comments, orders, bookings, contact forms, and more. It will also check and remove any existing spam comments and users to clean up your website.
The plugin has a wonderful feature that will validate email addresses in real-time. If an email is found to be malicious, it will quickly block it from doing any activity on your site.
These are some of the best WordPress anti-spam plugins that you can check out. We hope you found this article helpful. If you did, you're probably interested in keeping every aspect of your site secure.
So, as a bonus, we recommend you check out this complete guide on website security. Apart from using an anti-spam plugin on your website, you can also use this guide to keep your website safe and secure.