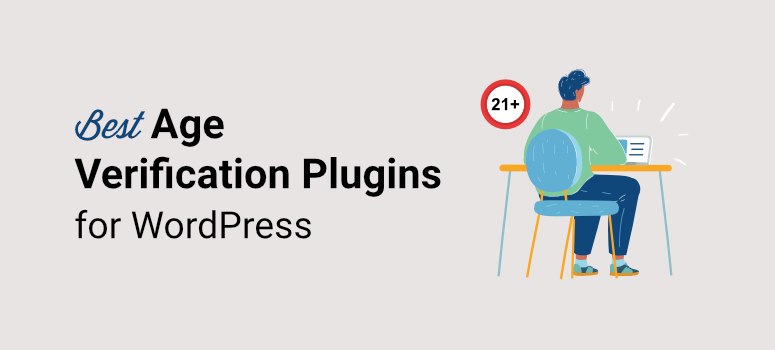 Looking for the best age verification plugin for WordPress to restrict your content?
With the help of an age verification plugin, you can control the access to your website content to a particular age group. This helps you restrict age-sensitive products or content without having to touch a line of code.
In this post, we've picked out the best age verification WordPress plugins that let you add an age gate to your site with ease.
But first, let's learn the importance of an age verification system in websites.
Why Use an Age Verification Plugin for WordPress?
Because the internet is so accessible these days, users of all ages can browse your website content. This is why many countries have laws that require website owners to add age verification functionality.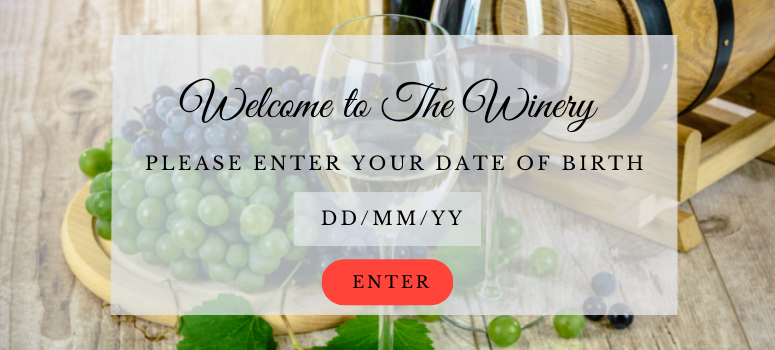 Age confirmation is essential for businesses that sell products like alcohol, tobacco, cannabis, and others. This is also useful for video membership sites to block minor users from accessing content online.
If you're offering age-sensitive content on your website, then you should add an age verification popup or a confirmation form. Or else, you could be penalized for not complying with the laws.
The simplest way to add the age gate on your site is to use a WordPress plugin. Age verification plugins will help you ask the age of your website visitors and lock your content based on the age group they're in.
And the best part is, you won't need to hire a developer or tweak any code on your site for this. We've listed the best WordPress age verification plugins that offer smooth age confirmation options and restriction rules.
So, let's check them out!
Best Age Verification WordPress Plugins
Each of these plugins comes with a different user interface and unique features. So you can select the plugin that best matches the requirements of your website.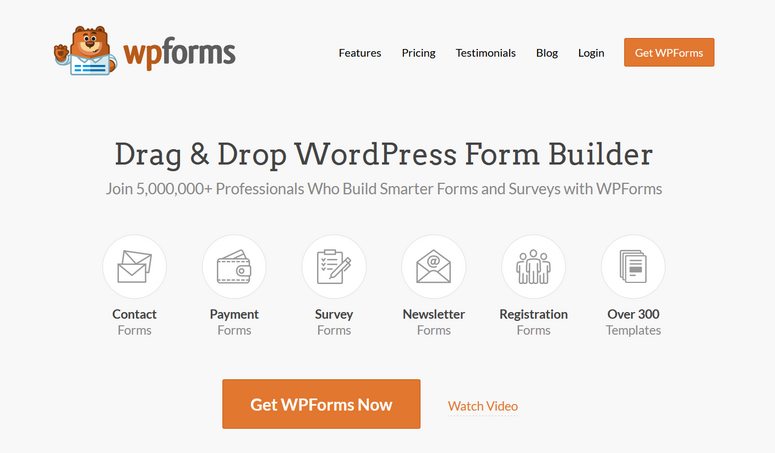 WPForms is the best form builder for WordPress sites. It lets you create all types of forms like order forms, registration forms, sign up forms, and more.
With its drag and drop feature, anyone can create and customize professional WordPress forms in a few minutes. The plugin also offers addons so that you can add more functionalities to your forms.
You can even create login and registration forms and allow only logged in users to access your content. So for instance, if you sell adult-only products, you can require them to sign up to verify the customer's age and only then can they access your site.
WPForms comes with the Form Locker addon which allows you to add the option to ask users' date of birth first. And if they are below the age level you set, they will not be able to fill the form.
It gives you full control over the age restriction rules. You can set the age criteria and even add a message to explain the age restriction.
You can use this age verification feature to restrict minors from filling out forms such as concert ticket booking forms, late-night event registration forms, alcohol order forms, member signup forms for adult sites, and more.
This will also come in handy if you have an application form or a survey form that you want users of certain age groups to fill out.
Highlights:
Easy to use and setup
Visual drag and drop builder
No code is needed to add age verification
Options to set max and min age limit
Multiple age criteria for form access restriction
Easy form embedding options
Built-in spam protection feature
Powerful email marketing integrations
Centralized entry management system
Pricing:
The lite version is available free for download. The pricing for pro versions starts at $39.50 per year.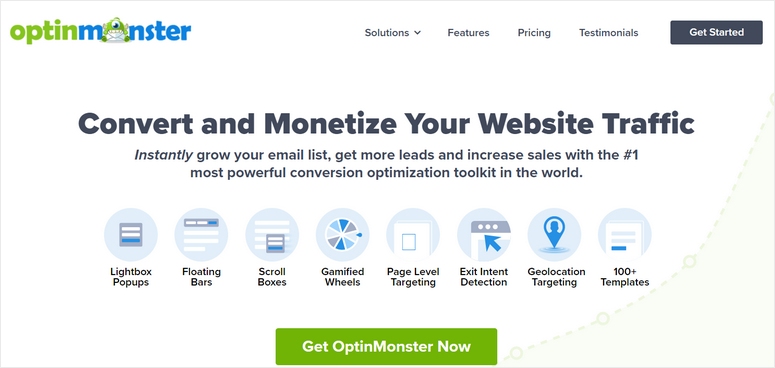 OptinMonster is the #1 lead generation WordPress plugin that lets you create powerful campaigns such as popups, fullscreen welcome mats, and floating bars.
With OptinMonster, you can add age verification on your WordPress site without any coding knowledge. All you have to do is create a simple age verification popup with a Yes/No option to confirm users' age.
Or, you can create a popup to make users enter their birthdays for age confirmation as well. You can even use a fullscreen mat to stop users from accessing your website until they confirm their age.
Additionally, you can also use OptinMonster targeting rules to not show age gate popups to users who are already verified. Your audience will not see the same popups each time they visit your site which helps improve your user experience.
OptinMonster is regularly updated and maintained by an active team so it's compatible with all popular WordPress themes and versions including Elementor and Astra.
Plus, OptinMonster makes it super easy to design a stunning age gate and add it to your WordPress site. If you want a simple solution to set up age verification then, this is the right choice for you. No CSS, Javascript or any other coding required.
Highlights:
Stunning campaign designs with 50 pre-made templates
Ecommerce friendly
Popups or fullscreen age verification option
Targeting rules to show age verification to every user
Option to make age verification compulsory
Built-in analytics to view conversions and campaign views
Spam protection feature
Pricing:
Starts at $9 per month (Billed annually).
Get started with OptinMonster!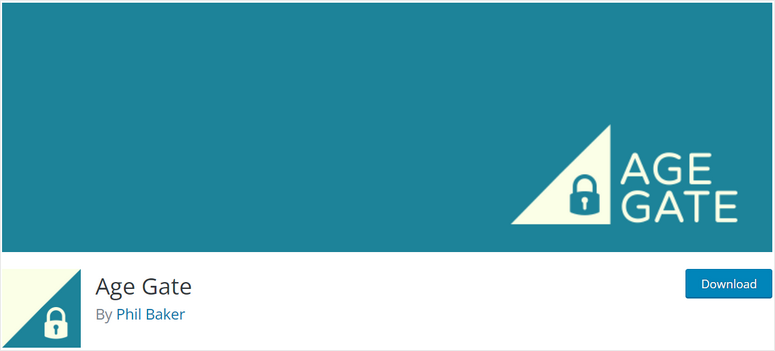 Age Gate is a free age verification plugin for WordPress. It comes with a simple and easy-to-use interface.
With the Age Gate plugin, you can restrict your whole website or specific content. It also allows you to set up age criteria according to your preference.
The good thing about Age Gate is that it excludes the search engine bots and crawlers from the age verification on your site. This helps to make your WordPress website more SEO-friendly.
It lets you add the age gate on any page. There are multiple options for age verification such as simple Yes/No buttons, a drop-down option to choose the age, or entering the age manually.
This free plugin has good features, however, it lacks customization and design options as compared to plugins like WPForms and OptinMonster.
Highlights:
3 different methods for age verification
Option to set different minimum age requirements
Styling options for age verification screen
Non-caching version available
Restriction for the entire website or selected content
WPML compatible
Pricing:
Free.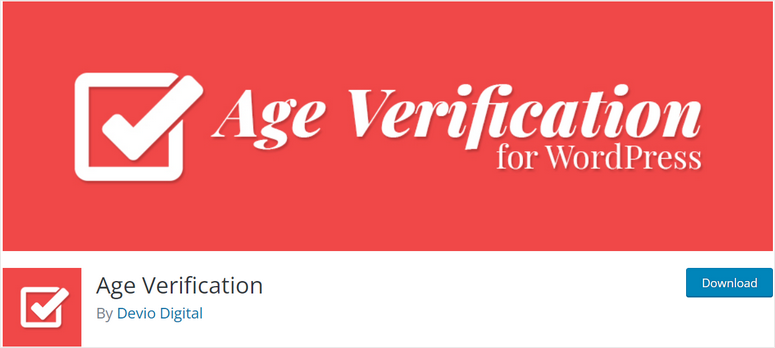 Age Verification is another free WordPress plugin that you can use to add an age gate to your website. It basically adds a popup window to confirm the age of your visitors.
This allows you to set the minimum age, title text, verification message, and a yes/no button. You can even customize the background image and your own logo to your age verification popups.
When a user confirms their age on your site, they will be able to access your products or content for the next 30 days.
You don't get pre-made templates and customization options like OptinMonster. However, it is a good option for those who want a free age verification plugin.
Highlights:
Displays age verification popup
Option to add background image and logo
Age verification message and title
Cookies to save the age verification of users
Pricing:
Free.
Get started with Age Verification!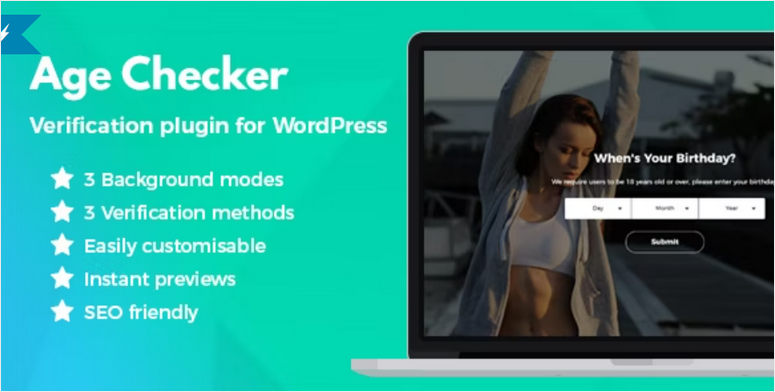 Age Checker is a premium age verification plugin for WordPress. It offers many customization and styling features for your age verification screen.
With Age Checker, you get 3 options for checking the age of your visitors. They are birthdays, simple checkboxes, and the enter verification method.
You also get 3 options for adding a background to your age verification screen. You can either add a solid color, upload a background image, or a background video.
Highlights:
3 background options
3 verification methods using birthdate, checkbox, or enter
Option to restrict whole site or individual pages and posts
Redirect users to a different page if they are underage
Live-preview of verification screen
Pricing:
The plugin costs $18 per year.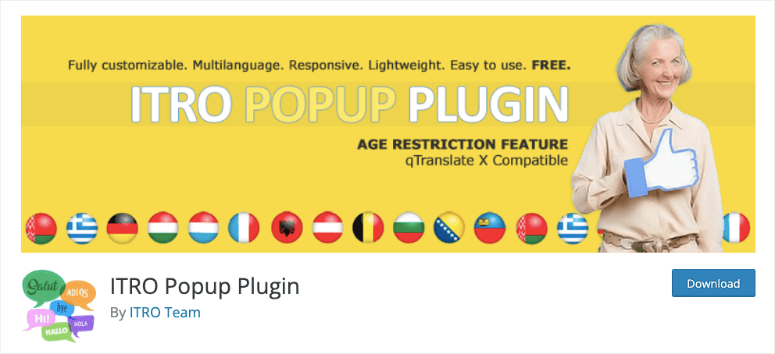 ITRO is a WordPress popup plugin that's really simple to use. It lets you create fully-customizable multilangauge popups.
This plugin comes with an age restricted option tha tyou can enable. This will block the user's navigation till the confirm that they are of legal age as prescribed by their country.
Highlights:
Responsive popup designs
Supports shortcodes
Mailchimp integration
Popup animations
Close popup with countdown timer
Pricing:
Free.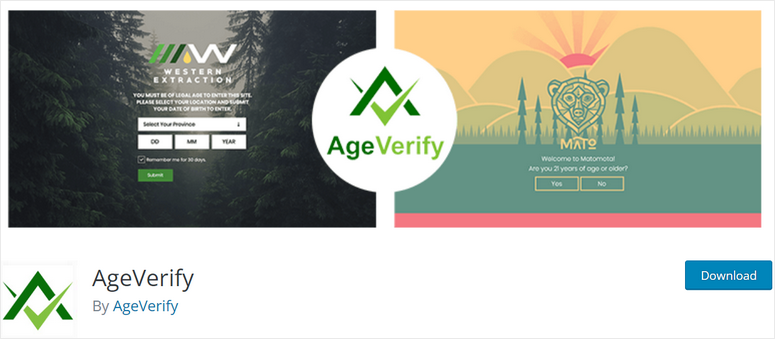 AgeVerify is next on our list of the best age verification WordPress plugins. Its free version comes with an age verification screen with options to confirm the age.
This plugin gives you a variety of templates that are suitable for different businesses. So you can select a background as per your needs.
If you want to upload your own background image or add custom colors, then you'll need to upgrade to the pro version.
Highlights:
Lightweight plugin
Responsive templates
Option to customize verification text
Translation ready
Pricing:
Free. The pro version starts at $4 per month.
That's our list of the best age verification plugins. Earlier, we recommended Agy as well but the plugin has been closed and is unavailable for download in the WordPress.org repository.
Which is the Best Age Verification Plugin for WordPress?
All of the age check plugins that we listed offer the best features and prices in the market. After comparing each of them, we recommend using WPForms.
WPForms gives you more flexibility to add age verification for different scenarios. You can use this plugin to confirm the age of your customers on your blog, business site, or online store. Or, you can target a certain age group to fill in a survey form.
Another great option is OptinMonster. If you want to add eye-pleasing age verification popups and fullscreen mats on your site, then this is the best choice. You'll also get many design options and powerful targeting rules.
Both plugins are WooCommerce compatible as well.
That's it for today! We hope this article helped you find the best age verification plugin for your WordPress site.
Next, we've handpicked these resources and tutorials for you:
These posts are packed with helpful information about tracking user activity, protecting your site from hackers, and adding more security levels on your site.