Are you looking for a user-friendly yet powerful email marketing service? Want to know if GetResponse is the right solution for your business?
GetResponse is one of the popular email service providers perfect for all types of businesses. It comes with the best email marketing and smart automation features that let you reach out to more people and build your email list.

In this GetResponse review, we'll discuss in detail all the features, pricing, and other factors to determine whether GetResponse is worth the money or not.
We've created this table of contents so you can easily navigate through any part of this comprehensive GetResponse review.
GetResponse Overview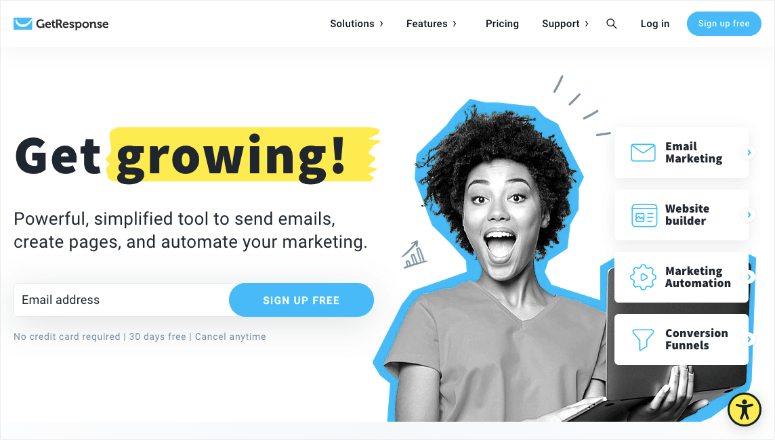 GetResponse is a complete email marketing solution that lets you create high-converting marketing campaigns and email newsletters. So businesses can easily connect with their audience and promote their products.
With its drag and drop feature, one can create beautiful email newsletters in a few minutes. It also comes with a collection of templates which is great for beginners who don't have much experience creating such emails.
Apart from email marketing features, GetResponse is packed with engagement and growth tools like webinars, push notifications, landing pages, and more. It also comes with a built-in conversion funnel that helps you streamline your sales process and workflows.
The best thing about this email marketing service is that it offers a free version that lets you have up to 500 contacts. You can even sign up for a free trial to test out all the premium features for 30 days.
GetResponse offers competitive pricing plans that suit the needs of different industries. So you can select the plan that is best for your business.
This is just a brief introduction to the GetResponse platform. Now, let's learn more about all the features that it offers in detail.
GetResponse Features
GetResponse comes with a pool of features and tools that help you grow your business. In this section, we'll take a look at each of them one-by-one.
1. Email Marketing Campaigns
With user experience in mind, GetResponse has built a very intuitive email editor that lets you create and customize your email campaigns in a few steps.
To get you started, GetResponise offers over 120 email templates with beautiful designs for different campaigns and newsletters. You can choose a template that matches your requirements or even start with a blank template.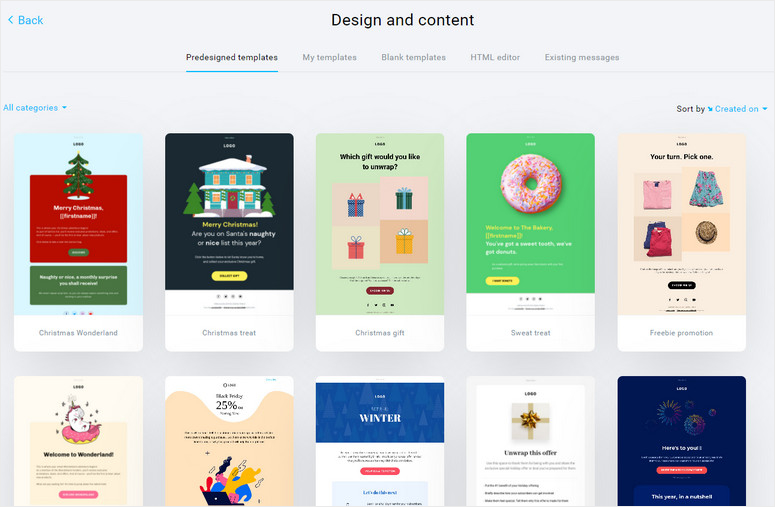 In the email editor, you'll find many content blocks and sections that you can add. All you need to do is simply drag and drop the blocks you need to the preview area.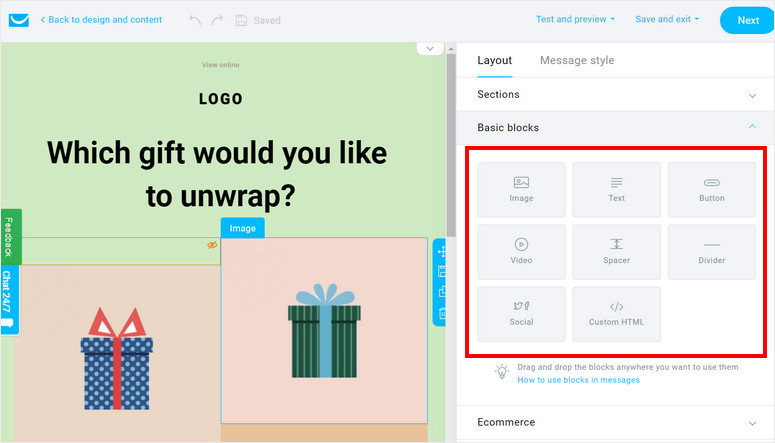 So you can easily edit any template, add your content and make the changes you want without any trouble. There is also the option to save an email design for future use. You'll be able to access it in the My templates tab later.
After you're done designing your email and adding the recipients, you can choose when to send it. You can send them immediately or schedule a date and time.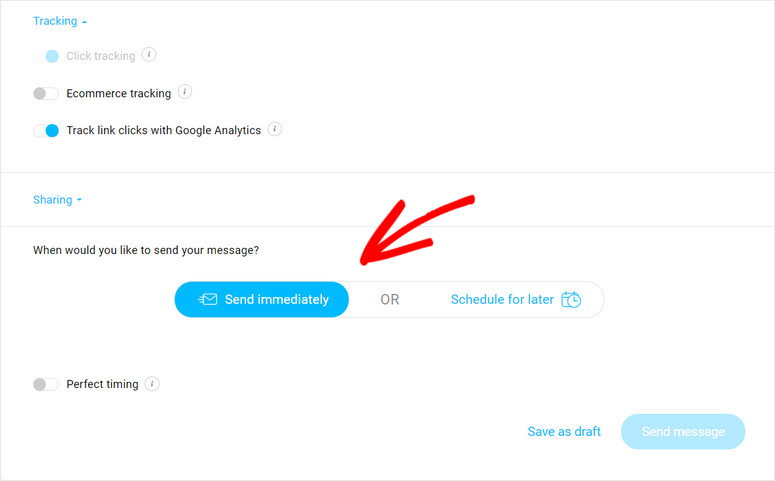 2. Autoresponders
If you want to reach out to a large number of subscribers at different intervals of time, then you'll need to set up autoresponders.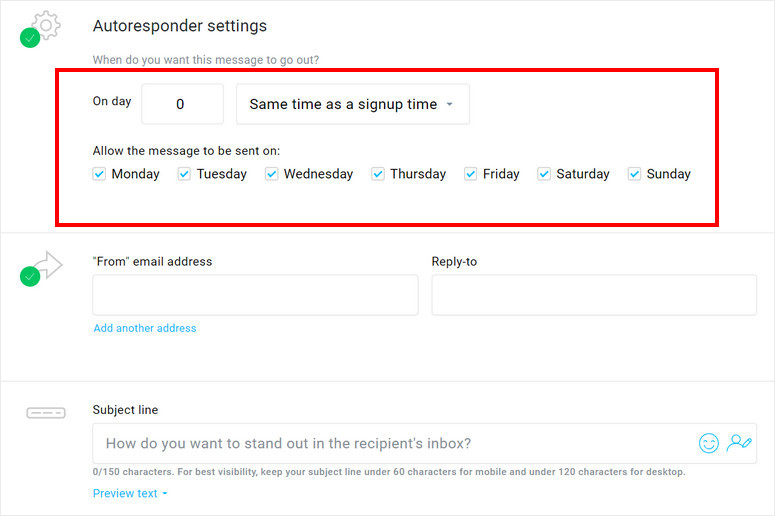 With GetResponse, you can create a single email or a series of emails that are sent immediately after the user's signup or at certain intervals. Creating drip campaigns will help you achieve your marketing goals and nurture your leads effectively.
You can also set up autoresponders for different events on your website such as purchases, site visits, and cart abandonment.
This helps you engage with your audience and build a good relationship with them. You can even notify them about new offers and bring them back to your website.
3. Marketing Automation
One of the best features of GetResponse is the Automation tool. It allows you to create structured workflows so you can manage all your email marketing campaigns effortlessly.
When you open its Automation menu, you'll find a range of workflow templates that are tailored to fit the needs of your email campaigns. Some of the templates are simple welcome messages, contact retargeting, course promotion, and more.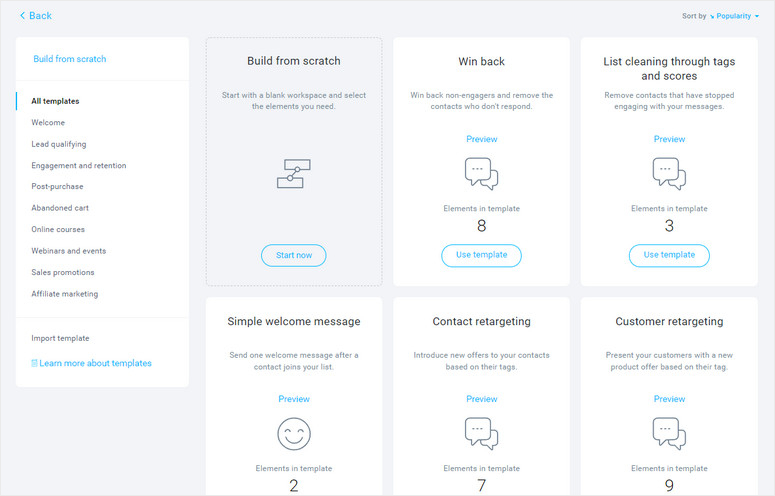 You can build a customized workflow for your drip campaigns from scratch or choose a suitable template.
In the automation editor, you can create an easy-to-understand workflow layout where you can add key events and actions for your email marketing campaign.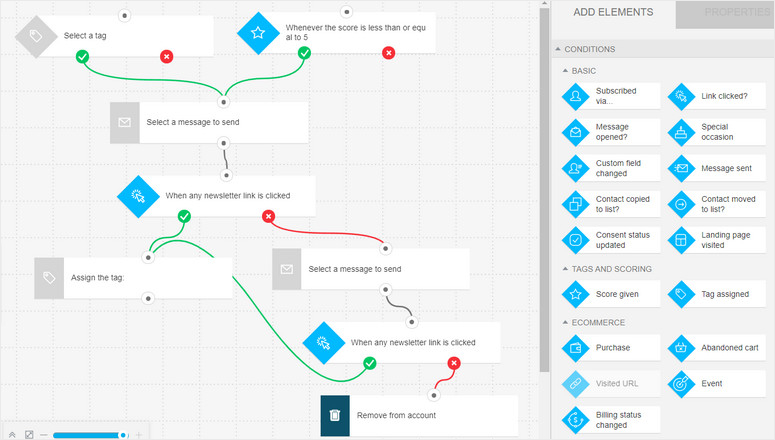 Events can be anything like a customer buying a product. This can trigger an action to send an email to confirm their purchase and welcome them. You can even set conditional rules to trigger actions automatically based on what the users choose to do.
GetResponse also lets you customize and send automated email responses so you don't have to set them up manually.
4. Signup Forms
Building your contact list is the first step to launching any email marketing campaign, and signup forms are the best tool to do that. They let you easily collect contact information from potential customers and website visitors.
GetResponse gives you 4 different ways of creating sign up forms:
List Builder Wizard
List Builder Apps
Plain HTML
Integrations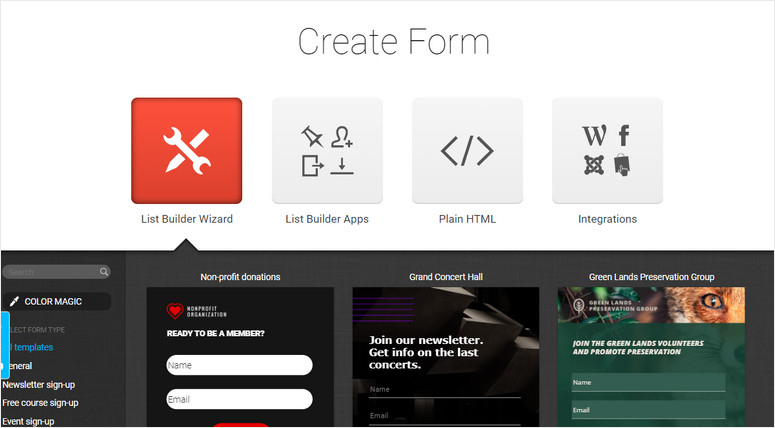 The List Builder Wizard is similar to the email editor. It comes with a variety of form templates for different purposes and industry types. So you can choose a template and have your signup form up and running in minutes.
Just like customizing email templates, GetResponse lets you edit form blocks and add content to the form template as you wish.
If you want more options for form designs, you can use the List Builder Apps. These are a collection of apps that let you build different types of forms for your email campaigns.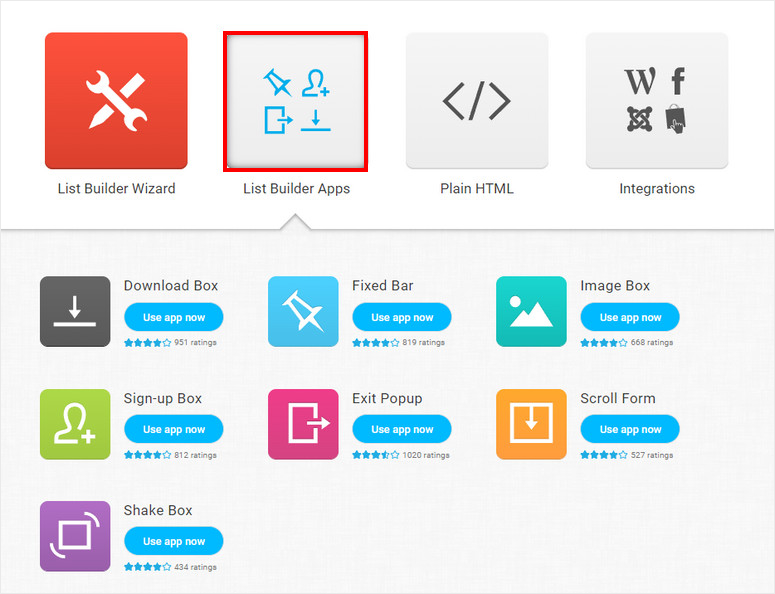 Additionally, you get the option to create custom forms by adding your own code with plain HTML. You can even integrate with 3rd-party services and WordPress form plugins.
5. List Management
GetResponse offers impressive list management and segmentation options. This lets you create different groups of contacts so you can send personalized emails to boost your conversions.
There are mainly two ways to manage your contacts with GetResponse: Segmentation and Adding conditions.
First, you can segment your contacts depending on the time of when they signed up for your email list. There is the option to add contacts from different email lists and signup forms.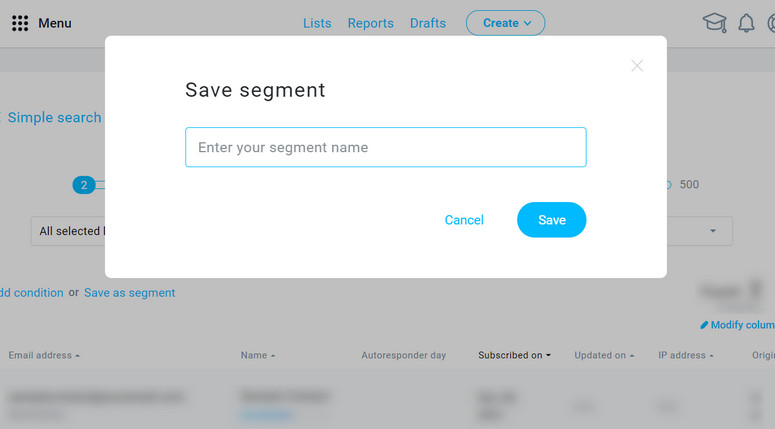 Alternatively, you can group your contacts by adding conditions. This option allows you to use different categories to search your subscriber list and create a condition group. You'll find conditions based on tags, events, geolocation, contact actions, and more.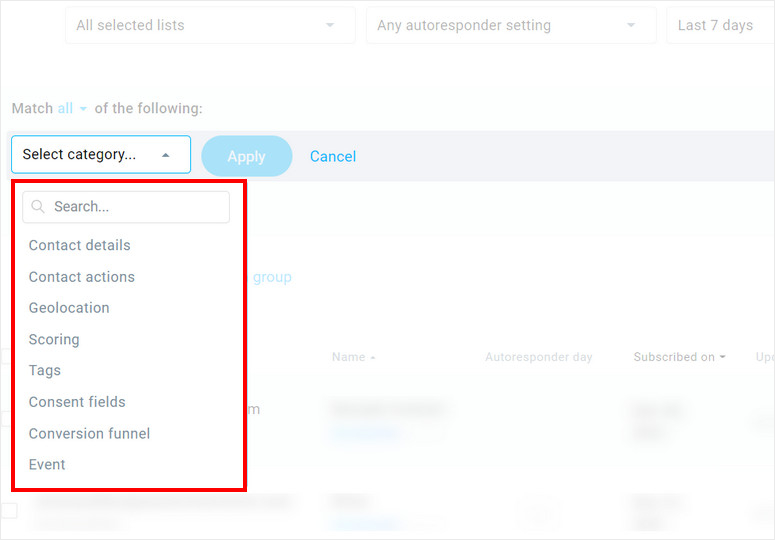 With this, you can easily manage your email lists and send different emails that are relevant. This helps to improve your engagement and click-through rates.
6. Conversion Funnel
From making users signup for your email list to them purchasing your products, there are many processes in a marketing funnel of a business.
This includes signup forms, autoresponders, landing pages, and more. And these processes must be followed one step at a time to make email marketing campaigns successful.
With GetResponse, you can organize each step of your email marketing goals and create a funnel that helps you convert better.
Using the funnel builder is very easy. It asks you whether you want to build a list, sell a product or promote your webinars first.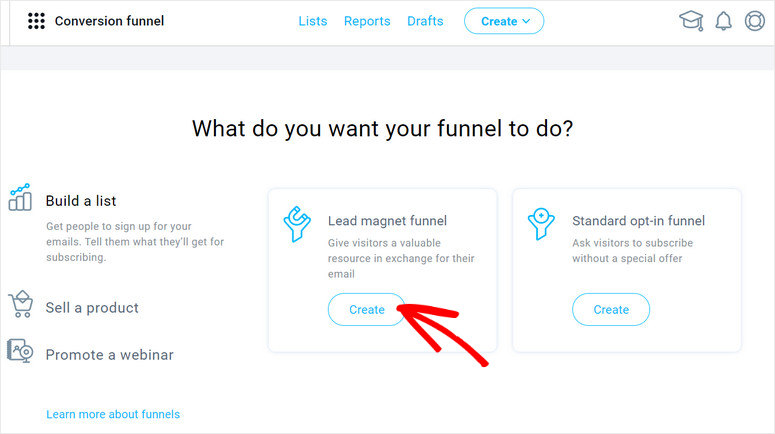 To help you build your email list, GetResponse lets you choose from 17 different lead magnets. And you can even add your own if you want.
Then, you'll see a simple funnel builder with instructions on what you need to do to improve your conversions.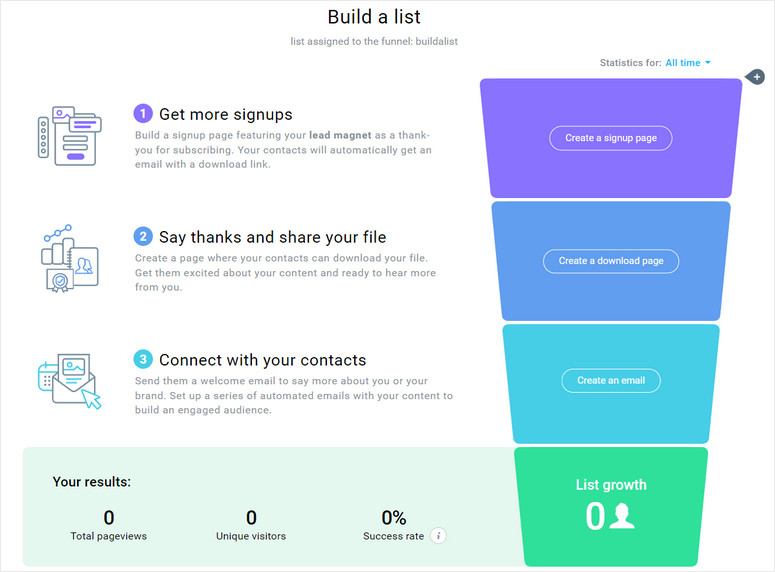 So you can complete each step of the funnel one by one and easily launch your email campaign.
7. Landing Page Builder
Landing pages are perfect for providing more information to your visitors and converting them into subscribers.
With GetResponse, you can create a new landing page or choose a pre-designed template to get started quickly. You'll find landing page templates for any purpose such as promotion, downloads, webinars, thank you pages, and more.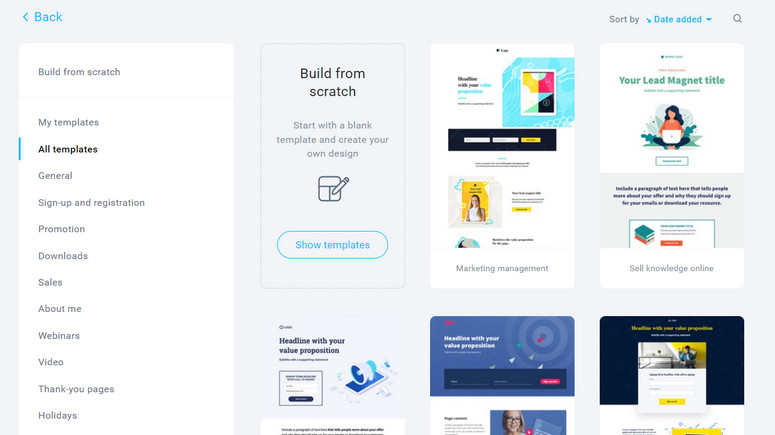 In the landing page builder, you can drag and drop page elements like text, images, video, buttons, social media sharing, and others.
What's more, it lets you create A/B variants of your landing page. This allows you to test which page performs better and improve your campaigns in the future.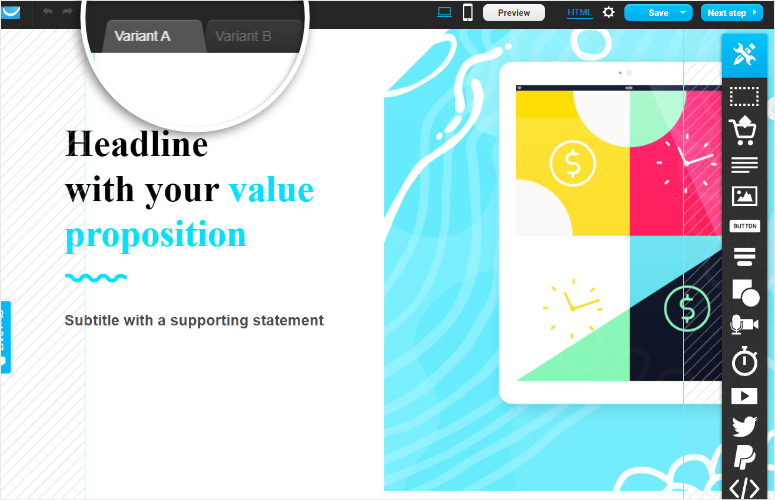 There are options to link your landing pages to your conversion funnel and autoresponders as well. You can also set up Google Analytics to track your landing pages to see detailed reports about your conversions.
8. Website Builder
One of the newest features on the GetResponse Platform is the Website Builder. You can use a pre-built website template and customize it to make it look just the way you want.
It also comes with an AI-powered website builder that makes the process even easier. You only need to answer a few questions about your business and GetResponse will create a custom website for you.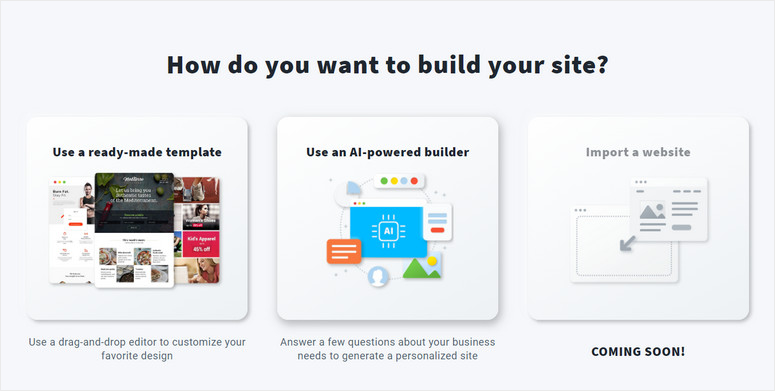 And pretty soon, GetResponse will have the option to import a website from other platforms. So you'll be able to migrate your website to this platform with ease.
9. Webinars
The great thing about GetResponse is that it lets you host webinars on the platform. Webinars can be used as a lead generation tool and medium to interact with your subscribers.
You can create any type of webinars to promote your business and sell more products. The webinar builder lets you customize the URL, date, duration, and other details for your webinars.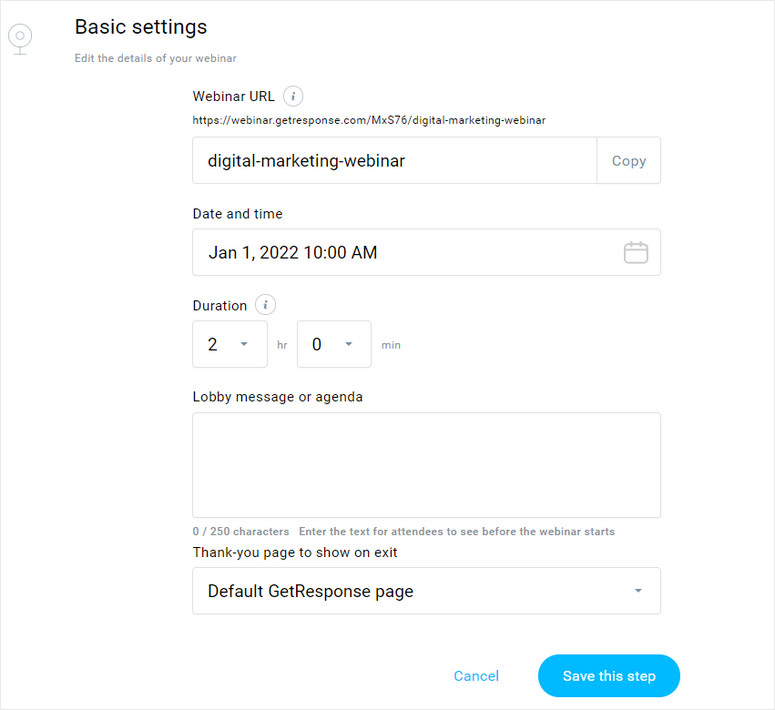 Once the webinar starts, you can engage with your audience, take questions from them, and host events,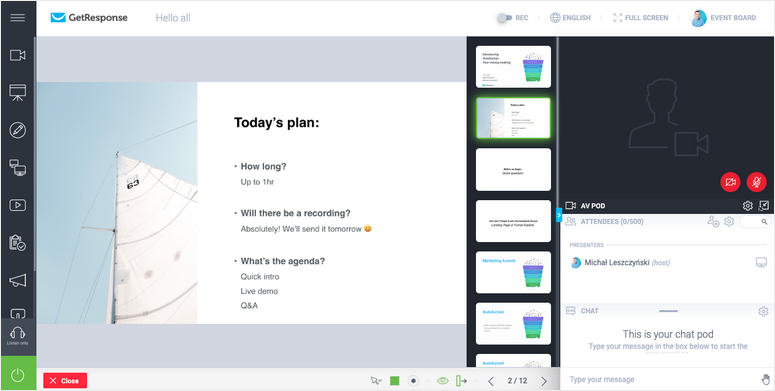 You can even register attendees in advance and assign them to an email list of your choice. Even if any of your contacts miss the webinar, you can record it and share it with them later.
10. Email Analytics
To determine if your email campaigns are doing well, you'll need analytics data. It helps you understand what is working and what is not.
And GetResponse gives you all the information you need such as click-through rates (CTR), goals, and more. Also, you can compare how your newsletters and autoresponders are performing.
All the metrics and reports will be shown in the dashboard so you can see how your subscribers are responding to your email campaigns at a glance.
Some of the other noteworthy features that GetResponse offers are live chat, web push notifications, SMS marketing, and paid ads.
GetResponse Pros and Cons
GetResponse is an all-in-one email marketing platform but like everything else, it has its pros and cons. To keep our reviews fair, we'll list out the advantages and disadvantages of using this platform.
So you can genuinely decide if this platform is right for you or not.
GetResponse Pros
Free plan and Trial: The platform offers a free plan that includes the basic features that you'll need to create an email list. You can even try all the premium features for 30 days without having to enter your credit card details.
Pre-designed Templates: There are templates for emails, landing pages, signup forms, and even website themes. This allows you to create a full-fledged email marketing campaign without any hassle.
Responsive Support: GetResponse offers 24/7 customer support to all its users. This includes live support on chat and email.
Ease of use: The user interface is simple and easy to understand. After you sign up, GetResponse gives you an option to take a tour so you can get familiar with all the features.
A/B Testing: GetResponse gives you the freedom to run split tests of your email campaigns. So you can learn how your subscribers interact with them and what they respond to.
Integration: There are options to integrate with over 170 third-party services to help you add more features and generate more leads. You can connect with CRMs, social media apps, landing page builders, signup form tools, and more.
eCommerce support: This email marketing solution allows you to run an online store within the platform. So you can sell your products and accept payments by connecting with the payment gateway of your choice.
GetResponse Cons
Outdated Templates: Some of the template designs for emails and landing pages look outdated.
The website builder is lacking: The website builder is a great plus to the platform but it needs improvement to compete with other renowned builders on the market.
GetResponse Customer Support
GetResponse has one of the best customer support teams that respond pretty fast to customer issues. It provides live chat support which is available 24/7 for the customers who have any queries.
Apart from support, GetResponse has a comprehensive knowledge base that covers all the topics related to the platform.
The guides are super easy to follow. So beginners can learn how to use and set up each functionality of this platform on their own.
GetResponse Pricing
GetResponse has a flexible pricing model which includes a free plan. This makes the platform more appealing to beginners and small business owners.
There are 4 plans that you can choose from:
Free
Email Marketing
Marketing Automation
eCommerce Marketing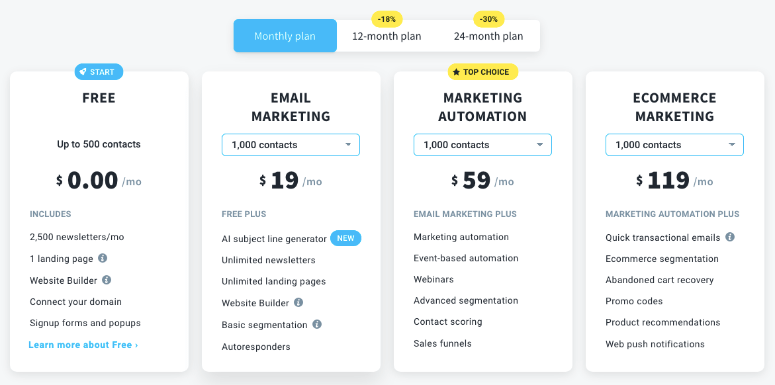 The Free plan lets you add up to 500 subscribers to your email list. With this, you can create unlimited newsletters, 1 landing page, signup forms, and more. When you're business grows, you can upgrade to a premium plan that fits your requirements.
For up to 1,000 contacts, you can get the Email Marketing plan for $19 per month. This includes all the features from the free plan and additional features for your email marketing campaigns. You get access to autoresponders, unlimited landing page and website builder templates, and segmentation options.
If you want more advanced features, such as marketing automation, webinars, sales funnel, and more, you can go with the Marketing Automation plan at $59 per month.
And for eCommerce businesses, the eCommerce Marketing plan is perfect. It starts at $119 per month for 1,000 contacts. This consists of unlimited automation options, eCommerce features, push notifications and so much more.
Pricing increases with the number of contacts you have. However, you can get a neat discount of 18% on 1-year plans and 30% off on 2-year plans.
GetResponse Alternatives
GetResponse is a complete email marketing solution that comes with tons of email marketing features and automation tools.
However, it may not be the best solution for all types of businesses. There are few email service providers that provide better pricing options and features.
Some of the best GetResponse alternatives are: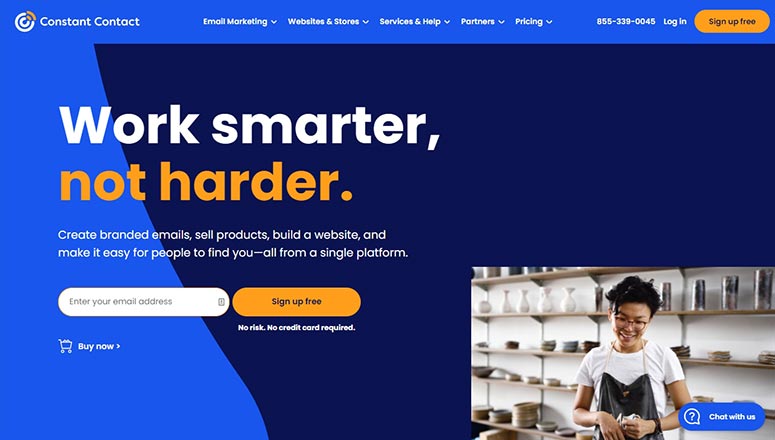 Constant Contact is the most popular email marketing platform. It comes with a drag and drop email builder that lets you create amazing email campaigns in no time.
With Constant Contact, you'll get access to eye-catching email templates that you can customize to match your branding. It also gives you advanced marketing tools and segmentation options to target your subscribers.
The pricing plans for Constant Contact offer more features than GetResponse. With its basic plan, you get features like advanced reporting, eCommerce solutions, app integrations, custom list segmentation, and more.
2. Sendinblue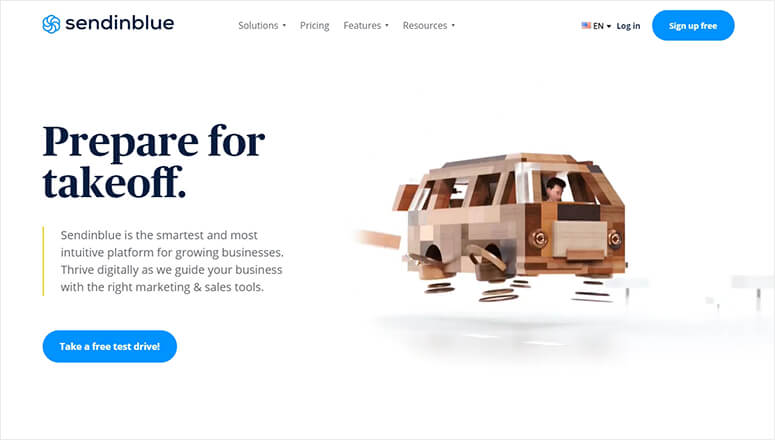 Another great GetResponse alternative is Sendinblue. It is a reliable email service provider that offers many tools such as marketing automation, signup forms, landing pages, transactional emails, and more.
Sendinblue also comes with CRM software that lets you manage your clients and build strong relationships with customers.  When it comes to customer support, there are several communication channels including email, SMS, and live chat.
Sendinblue's free plan doesn't offer as many features as GetResponse. But, its paid plans are more affordable which is perfect for small businesses and solopreneurs.
Final Verdict: Is GetResponse Worth the Money?
Without any doubt, GetResponse is one of the best email marketing services with advanced automation options. It gives its users a good value for their money with features like:
Over 120 email templates to save your time
Drag and drop email editor lets you add elements and customize email templates
Funnel builder to help you create optin and sales funnels for your business
Powerful email automation tool helps you manage your workflows
List segmentation with tags, customer actions, events, and more
eCommerce support to grow your online business
Built-in landing page and signup form builder
Website builder with a collection of pre-designed templates
Talking about GetResponse pricing, GetResponse is quite affordable keeping in mind the unique features like website builder, webinars, and push notifications.
You can even start with a free plan and test out the features that are available in the pro versions for 30 days. There is no need to pay anything or even give your credit card details.
That's all we have for you. We hope this GetResponse review helped you find out if it is the right email marketing service for your business.
Next, you may want to check out these resources for your email marketing journey.
These posts will help you add more features to your email marketing campaigns like lead capture forms and social proof. The last one will help you use automated transactional and promotional emails.
Get GetResponse Now »