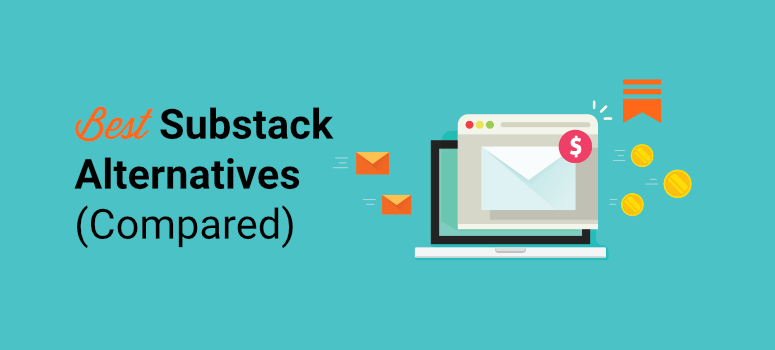 Are you looking for the best Substack alternatives to earn money from email subscriptions?
With over a million active users, Substack has become one of the most popular email newsletter platforms on the market. It has an easy-to-use interface so even beginners can create free and paid newsletters in a few clicks.
However, there are some limitations to this platform that makes users want to look out for other newsletter services.
In this post, we'll explain these limitations and also take a look at the best Substack alternatives for monetizing your content.
Why Do You Need a Substack Alternative?
Substack is a fairly new newsletter creation platform that was founded in 2018. It has gained popularity over a short time because of its simplicity and the ability to sell content online.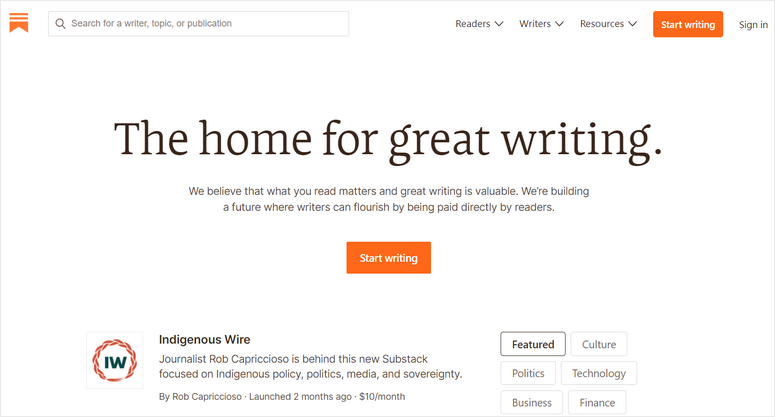 With Substack, you can send paid newsletters and even create blog posts with your Substack domain. This platform is designed especially for writers, content creators, and bloggers.
That being said, Substack is not the best newsletter platform for everyone. If you explore its features in detail, you'll find some downsides such as fewer customization options to style and design your publications.
Also, it allows you to send newsletters for free but when you start monetizing them, it takes 10% of your revenue. You'll also have to pay the transaction fee for your Stripe payments. This may not be profitable in the long run.
Having an interactive community is important for writers and businesses that create content online. But Substack focuses more on content creation and subscriptions rather than community building.
Additionally, there are a few more things that make users opt for Substack competitors. The lack of built-in analytics and integration with third-party apps are some of them.
This is why we've handpicked a list of the best alternatives for Substack that you can use to create paid newsletters.
So let's dive right in!
Best Substack Alternatives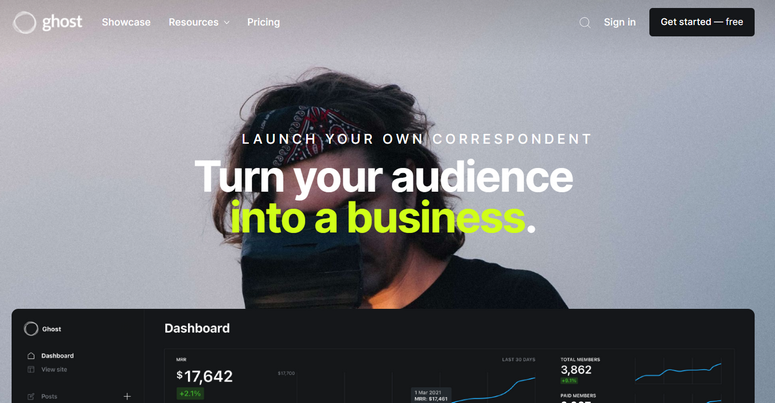 Ghost is an open-source platform that writers and media creators can use to create a website and publish their content. It also lets you get paid subscriptions with the member-only option so you can earn an income with your newsletters.
Ghost is self-hosted which means you can download and install it on your web hosting service. This gives you full control over designing your website, publishing content, and building membership services as you like.
With Ghost, it is easy to keep track and manage your earnings. That's because it doesn't offer many monetization options except the recurring subscription fee.
For those users who are not on the technical side, it offers a simpler paid service called Ghost Pro. This is a great Substack alternative that handles hostings and other aspects of your website. So you just have to sign up and create your newsletters.
Highlights:
Unlimited email newsletter creation
Custom email address and design options
Fully customizable
Integration with over 1000 third party apps
Multiple payment options with Stripe, PayPal, and more
Developer-friendly
Ghost vs Substack
The main reason to choose Ghost over Substack is that it doesn't charge you any transaction fee or take any of your revenue. But it is a paid service that costs you $9 monthly. As you grow, this platform proves more beneficial for your business.
Pricing:
Pricing starts from $9 per month.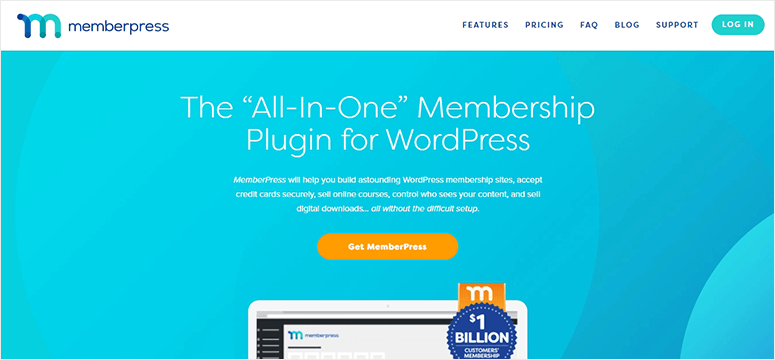 MemberPress is the best membership plugin for WordPress sites. If you're a WordPress user, you can use this plugin to create a fully functional membership site without any coding knowledge.
With MemberPress, you can set up multiple membership levels and set up subscriptions fees. It allows you to restrict your content behind a paywall so you can earn a stable and consistent income.
You can even send newsletters to your paying members to update them about new content and send them direct links. Additionally, the plugin lets you connect email marketing services like Constant Contact, AWeber, and more so you can grow your email list.
For accepting payments, MemberPress lets you integrate with major payment gateways such as Stripe, PayPal, and Authorize. You get options to set up one-time and recurring payments for your subscription plans.
Highlights:
Unlimited subscription tiers
Restriction rules to give access to paying members
Content dripping feature to release content in different intervals
Coupon generation and management
Built-in analytics and stats
Dynamic pricing page templates
MemberPress vs Substack
Any type of user or business can use MemberPress to sell their content online. One of the main reasons to choose this plugin over Substack is that it integrates with bbPress so you can easily build a strong online community.
Another benefit of using MemberPress is that it doesn't take any commission from your earnings. There are no additional fees as well.
Pricing:
Premium plans start at $179 per year.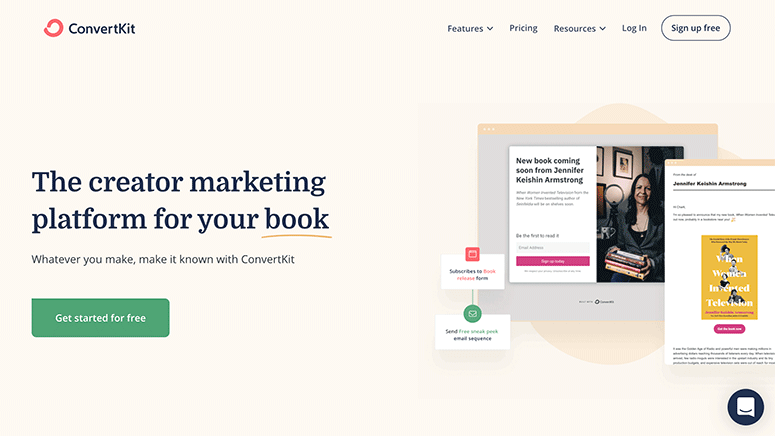 ConvertKit is one of the best email marketing services that allow you to create free and paid newsletters with ease. It is also a strong alternative to Substack as it focuses on creators and how to help them sell content.
This hosted platform comes with a bundle of marketing, automation, and commerce tools that'll make it easy for you to grow your audience. It lets you segment your list and send personalized emails to different subscribers.
With Convertkit's visual automation builder, you can schedule your newsletters and automate your email funnels for a better user experience.
Highlights:
Easy to use and intuitive email editor
Powerful subscriber segmentation and targeting options
Integration with many marketing apps
Options for payment methods like Stripe and PayPal
Sales and email funnel builder
Built-in reporting
Automation rules to trigger emails
ConvertKit vs Substack
While Substack lets you publish posts and send newsletters, ConvertKit only lets you create premium newsletters. It is more of an email marketing tool that offers a wide range of features for creating emails and building your email list.
One of the advantages of ConvertKit is that it gives you more customization options with pre-designed templates for newsletters, sign-up forms, landing pages, and more.
If you start with its free plan, you'll only be charged a 3.5% + 30c transaction fee for selling subscriptions.
Pricing:
Free plan up to 1,000 subscribers. Pro plans start at $15 per month.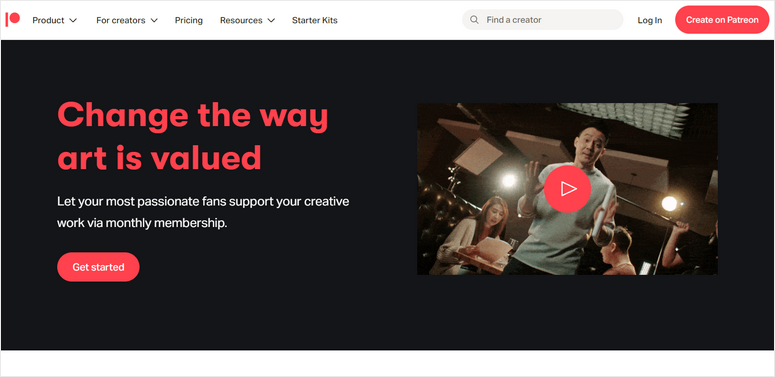 Patreon is a membership-based content platform where creators can set up subscriptions and get paid for their content. It lets you create different subscription tiers that include bonuses.
When subscribers sign up for these subscriptions, you can offer bonuses like a newsletter, premium video content, and more. You can charge subscribers every month or whenever you put out new content.
So Patreon gives you the freedom to manage your subscriptions and how you want to get paid. Also, you'll get access to various business tools to experiment with your content.
Highlights:
Easy funds transfer with PayPal or connection with bank
Workshops and guides to help creators grow their brand
Multiple subscription levels
Option to sell music, videos, newsletters, and more
Patreon vs Substack
Patreon is a platform that is perfect for all types of creators such as bloggers, artists, YouTubers, and more. Whereas, Substack is designed mainly for writers.
One of the downsides of Patreon is that it has many hidden costs and also takes commissions from your earnings. It also doesn't have options to boost your SEO rankings so getting organic traffic to your page is difficult.
Pricing:
It is free to get started but it charges you from 5% to 12% based on the plan you pick. There are Lite, Pro, and Premium plans.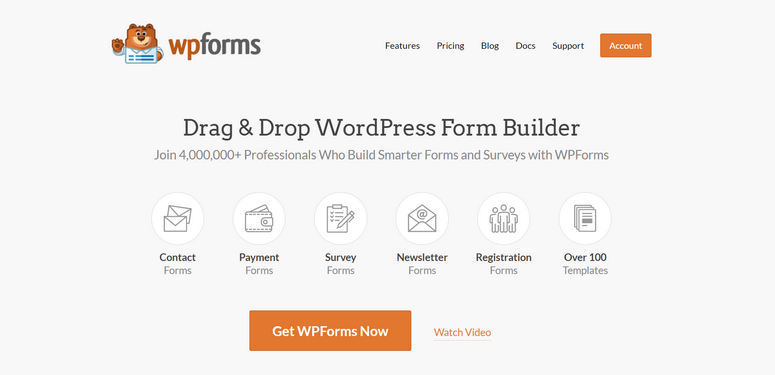 WPForms is next on our list for the best Substack alternatives as it offers an easy way to create paid newsletters on your site.
WPForms is a powerful WordPress form builder plugin that lets you create all types of forms for your site including a newsletter sign-up form. You can make users sign up and make payments directly on your WordPress forms.
To send paid newsletters to your subscribers, WPForms lets you set up automated email notifications. Here you can add your content or a download link to your content. And these emails are sent to the subscribers after they add their payment details and submit the form on your site.
With WPForms, you can add multiple payment options as all users don't use the same payment provider. The plugin integrates with different payment gateways such as PayPal, Stripe, Square, and Authorize.net. 
Also check: How to accept Square payments in WordPress.
What's more, it allows you to connect with popular email marketing services like Constant Contact, AWeber, and Drip. So you can segment your email list and send autoresponder emails and drip campaigns to your subscribers.
Highlights:
Easy drag and drop builder
Pre-built sign up templates
Built-in entry management system.
Easy integration with payment services
No hidden costs and fees
Customization options
Currency and payment settings
WPForms vs Substack
WPForms is a useful tool that lets you create newsletters and accept payments on your WordPress site. It doesn't offer options for writing and blogging like Substack.
That said, WPForms is more cost-effective as it doesn't charge any transaction fees or additional fees from your earnings. So you can sell your content without any hassle.
Pricing:
The WPForms Lite version is available for free. Pro plans start at $39.50 per year.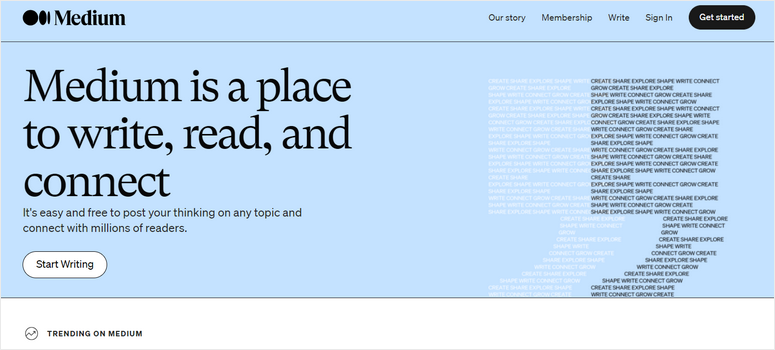 Medium is a popular blogging platform that you can use to publish your content, gain followers and earn an income. It lets you publish blogs, guides, and other content on the platform.
Like Substack, it is perfect for writers that want to earn money from their content. The catch is that you'll need to have at least 100 followers to monetize your publications.
Along with posts and blogs, Medium allows you to send customized newsletters to your subscribers with its newly added newsletter feature. You can use this to send the subscribers links to your recent posts.
Highlights:
Easy to set up and use
Unlimited posts and newsletters
Threaded comments section
Monetization option without any cost
Medium vs Substack
The best thing about Medium is that it is completely free. You can publish posts and send newsletters without any charge or additional fee.
Compared to other platforms in this list, Medium doesn't offer many monetization options for the authors. They are paid based on the total read time of their publications.
One of the other drawbacks of Medium is that it can suspend your account anytime if you violate any rules and conditions.
Pricing:
Free.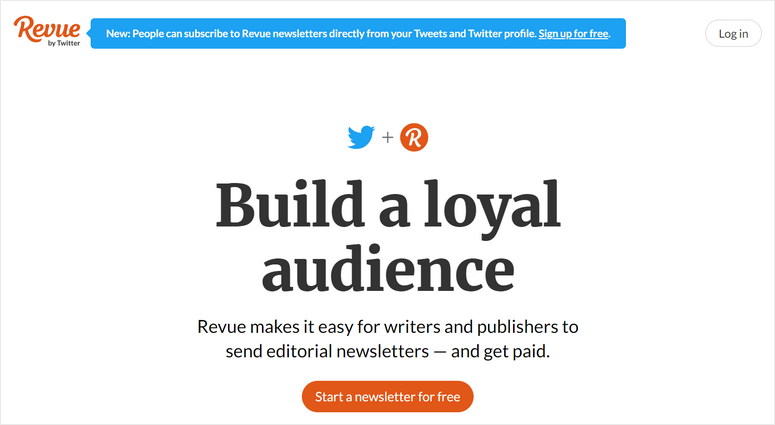 Another Substack alternative is Revue. It is a free newsletter platform that is now acquired by Twitter. This allows you to reach out to new users and get promotions on the social media site.
Revue boasts a simple interface that anyone can learn to use in no time. You'll also get access to their powerful newsletter editor that lets you customize and create content freely. You can even add your custom branding without any additional cost.
It also offers scheduling options so you can send your newsletter at any time depending on your requirements. To accept payments, you'll need to connect with your Stripe account.
Highlights:
Options to set the currency for your payments
Settings for monthly subscription fees
Generate coupons for members
Analytics to view open and click rates
Integrations with Twitter, Facebook, Instagram, and more
Revue vs Substack
When it comes to creating newsletters and customizing your own domain, Revue has the upper hand. It is also cheaper compared to Substack as it takes only 5% of your earnings.
Finding new subscribers is also easier using its integration with Twitter.
Pricing:
Free but charges 5% commission plus the Stripe transaction fees.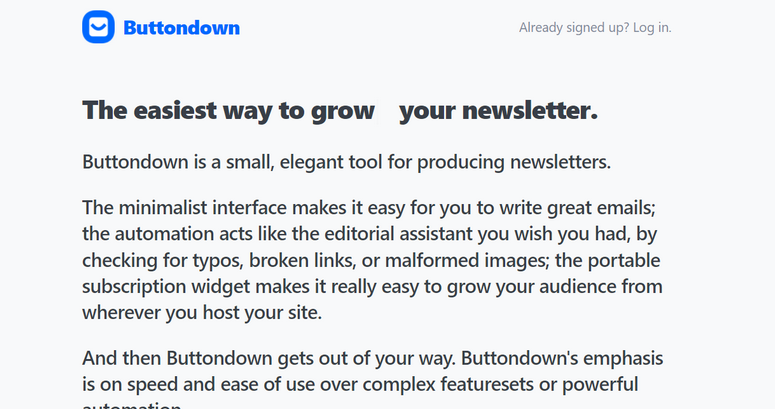 If you want a simple alternative to Substack, check out Buttondown. It is a lightweight newsletter tool that lets you create multiple newsletters without any trouble.
Buttondown offers a minimalist interface with editing and proofreading tools that help you create optimized content. You can correct spellings, typos, missing links, and more. So it is the perfect platform for writers and beginners.
Highlights:
User-friendly interface
Built-in editorial assistant
Subscription widget to make users signup
API support for pro plans
Options to migrate newsletter from other platforms
Buttondown vs Substack
The advantage Buttondown has over Substack is that it doesn't charge a penny for your transactions. So everything you earn goes straight into your pocket.
But it does lack the feature for community building which is important for creators and writers.
Pricing:
Free up to 1000 subscribers. After that, you need to pay $5 for every new 1000 subscribers. It also offers a Professional plan that costs $29 with more advanced features.
That's our list of the best alternatives to Substack. If you're still wondering which one to choose, we give you our recommendations next.
Which is the Best Substack Alternative?
While choosing a Substack alternative, you'll want to keep your business and website goals in mind. Here are our recommendations based on the different types of goals you may have:
Ghost: For those who want a self-hosted website to promote their content, it is the best choice. No charges for monetizing your newsletters.
MemberPress: It is an all-in-one membership solution for all types of businesses and content creators. With membership plans, you can easily make members pay to access your content. And it doesn't take anything from your earnings.
Convertkit: With tons of customization features and built-in templates, it is best for creators that want to personalize their newsletters.
That's all for today! We hope this post helped you find the best Substack alternatives to send paid newsletters.
If you want to up your email marketing game, you may want to check these resources next.
These posts will help you create and automate your newsletters. The last one will help you integrate social proof notifications to build your email list.