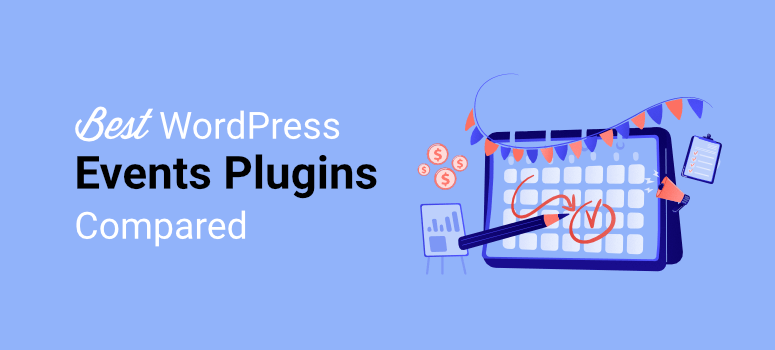 Are you seeking out the best WordPress events plugins?
If you own a WordPress website and have an upcoming event planned, an events plugin can help make it a success. From simple calendars to advanced event registration forms, the right plugins can take the hassle and stress out of organizing a fantastic, jam-packed event.
In this article, we'll share the best WordPress events plugins on the market. Choose 1 or combine a couple to turn your website into an event-coordinating masterpiece.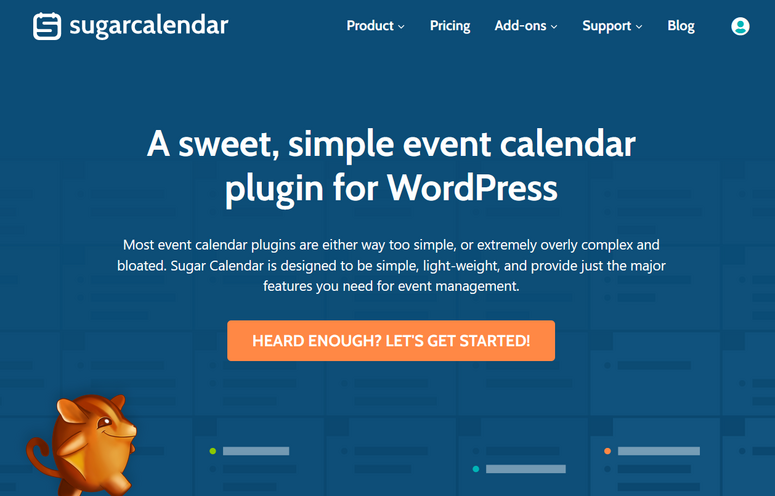 Sugar Calendar is the best event calendar and booking plugin for WordPress. You can use this plugin to create event schedules, sell event tickets, and more.
It has a simple admin interface where you can view event posts on a monthly, weekly, or daily calendar, and by a standard list view as well. You can also filter and search events all from one screen.
Displaying your event calendars on the front end of your site is easy. You can add your calendar to any post or page using a simple shortcode or choose from four different event widgets.
Sugar Calendar integrates with form builders like WPForms so that you can combine your event calendar with powerful event registration forms.
Plus, there are several addons for selling and managing event tickets, syncing with Google Calendar, user-submitted events, and more.
Get Started with Sugar Calendar Today!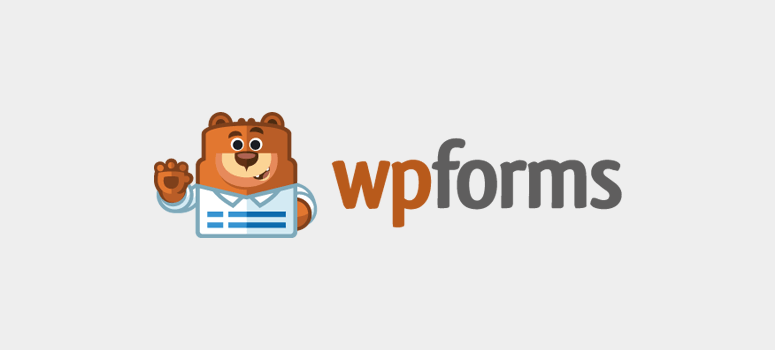 You probably already know WPForms as the best contact forms plugin in existence, but did you know it can also be used as 1 of the best WordPress events plugins?
By utilizing the Form Templates Pack Addon, you can use WPForms to create amazing event registration forms for your site visitors to buy tickets or sign up for your event.
Thanks to the templates addon, you'll have multiple events registration forms to choose from, specific to your niche. This is great because you won't have to create a form from scratch, saving you a ton of time right off the bat. And, with WPForms' well-known intuitive drag and drop builder, form creation is an absolute breeze.
You can even connect your form with various web apps including Google Calendar, via Zapier.
You'll need the Pro plan (or better) of WPForms in order to build an event registration form in WordPress. However, by using our coupon code, SAVE10, you can take 10% off the cost!
Get Started with WPForms Today!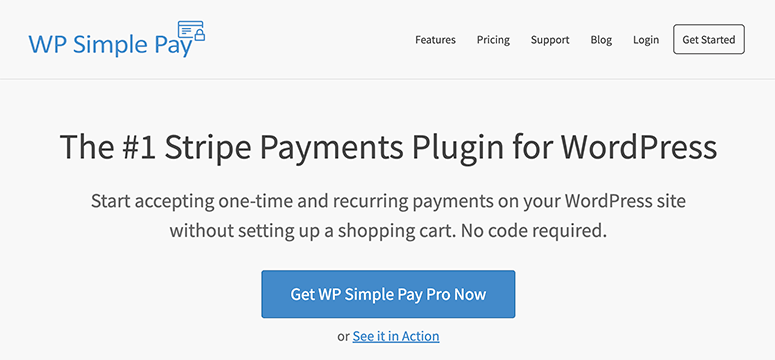 WP Simple Pay is the best WordPress Stripe Payment plugin that makes it so easy to collect online payments.
You can create a registration form right inside your dashboard. There are plenty of templates to choose from. Then you can add custom fields like name, email, timeslot, Twitter handle, checkout button, and more.
You can even add a comments field to collect data. So for instance, you could add questions like "How did you hear about this event?" or "What do you hope to gain from this event?"
Then you can add a one-time payment amount or allow the user to choose how much they want to pay. WP Simple Pay also makes it so easy to embed the form on your WordPress site.
For a step-by-step process, follow this guide: How to Create an Event Registration Form.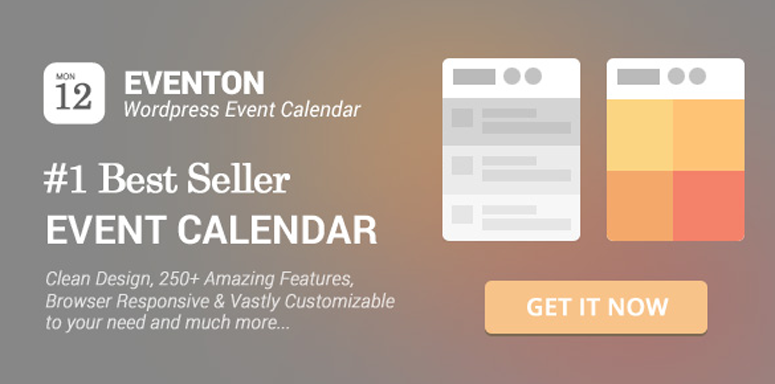 With over 250 customization options, EventON is 1 of the most impressive calendar creation plugins, and certainly 1 of the best WordPress events plugins available.
Whether your event lasts for 1 day or several weeks, you'll be able to display it on a beautiful, minimalist, calendar. You can also set your event to be a 1-time occurrence or a recurring occasion.
EventON uses shortcodes for embedding event calendars onto your pages, so you can easily add a calendar to any WordPress post or page without having any coding skills. If you know how to copy and paste, you already have all the skills you need to quickly add a custom calendar to your website.
Add featured images, change the colors, display a map, include social share icons, and so much more.
Get Started with EventON Today!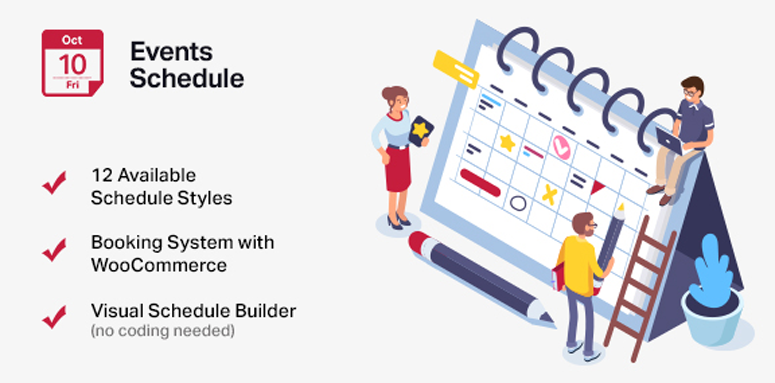 Events Schedule is perfect for instructors who teach recurring classes who need a fast and simple way to display their schedules. It also works well for sports events (from Little League games to professional MMA matches), art gallery shows, and more. Any professional with set work hours, or recurring events, will find this plugin incredibly useful.
With highly customizable colors and advanced filters, Events Schedule is intuitive to use and easy to embed. Best of all: it's also among the GDPR compliant plugins.
Get Started with Events Schedule!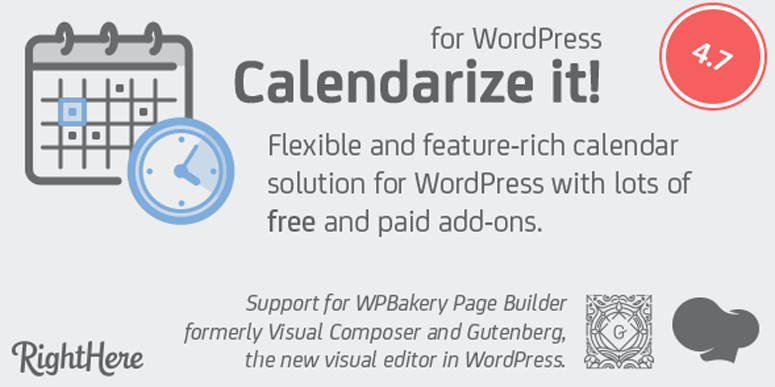 Jam-packed with free and premium addons, Calendarize It! is a must-have events plugin. With customizable colors and over 600 fonts, this calendar has endless options when it comes to style and matching your brand.
With full support for WPBakery Page Builder, this translation-ready calendar plugin is easy-to-use and will blow your site visitors away visually. It even allows you to accept payments, connect it with your WooCommerce store or Eventbrite account, or utilize sponsored ads with the help of its premium extensions.
Get Started with Calendarize It! Today!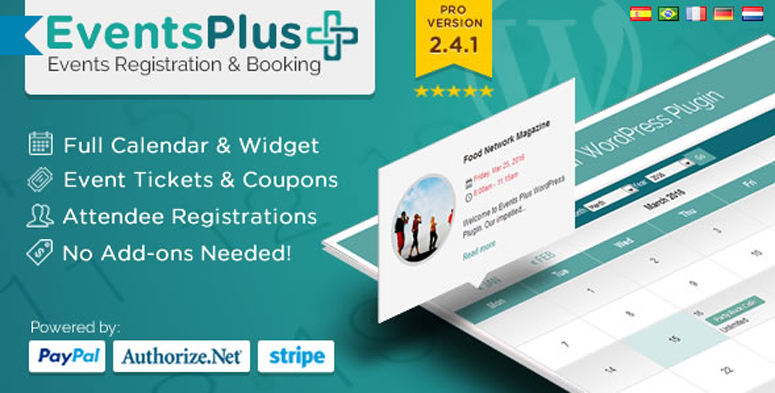 EventsPlus Calendar, Registration, and Booking is an all-in-one plugin that definitely deserves a spot on our list of the best WordPress events plugins. It's truly impressive, both as an Admin and as a site visitor.
Absolutely no additional addons are needed if you choose to download EventsPlus. It has it all covered, which makes it well worth the cost. Once you've paid for your download, you'll have access to every premium feature it has available, with unlimited updates.
Attendees can register for your events and pay via PayPal or Authorize.net. You can also accept donations for your event, if needed. Additionally, you have the option to send customized, automatic emails to attendees after they've registered. You can also create coupon codes to give visitors a discount on the price of admission.
EventsPlus features a responsive events grid, an optional countdown timer, colored categories, Google Maps integration, and the ability to set multiple recurring events. It's translation-ready for multiple languages and can be placed on any post, page, or widget-ready area via a simple shortcode (used for both full calendars or single events).
One of our favorite features? EventsPlus lets you export both your events list and your attendees list, making them easy to print out or simply have on hand for easy reference.
Get Started with EventsPlus Today!

The Events Calendar by Modern Tribe is a free plugin available in the WordPress plugins repository, used to create and manage simple events calendars.
If you're a developer or you tend to hire a developer, you'll get more out of The Events Calendar than an everyday user. It features a skeleton stylesheet and partial template overrides, as well as template tags, hooks, and filters. It's begging to be hacked and modified to turn it into something truly astounding. If you have the time, patience, and skill to unlock the hidden treasures this plugin has to offer, it's pretty darn amazing.
For non-tech savvy users, The Events Calendar might feel very "basic." It's not as intuitive as other plugins on this list as it was created "by developers, for developers," and using the bare bones plugin without any additional modifications on your part may take away from your overall experience.
That said, even non-coders can use this plugin if all they need is a basic calendar. Once installed, it allows you to display a simple calendar on your site, which you can use to write in your events with relative ease. However, if you ARE a skilled coder, you can elevate this calendar to new levels of awesome.
Get Started with The Events Calendar Today!

Like The Events Calendar, Event Tickets was created by Modern Tribe. However, this plugin is a bit more accessible for all levels of users.
Add an RSVP function or sell tickets on any WordPress post or page. Simply connect your PayPal account to the Event Tickets plugin, and you're ready to roll!
Site Admins can easily check on the list of registered attendees from their WordPress dashboard. It's easy to use, even for beginners.
However, since Event Tickets was created by Modern Tribe, we should note that, like The Events Calender (#7 on our list), it has awe-inducing customization options if you have the right set of developer skills. If you're up to the challenge, Event Tickets can be transformed from a great basic plugin to something absolutely incredible.
Get Started with Event Tickets Today!
That's it! Since you're creating an events website, you may want to see our round up of the Best WordPress Themes for Events & Conferences.
We hope this article helped you discover the best WordPress events plugins.
If you enjoyed this article, you might also like our list of the best help desk plugins for customer support and also our list of WordPress appointment plugins.