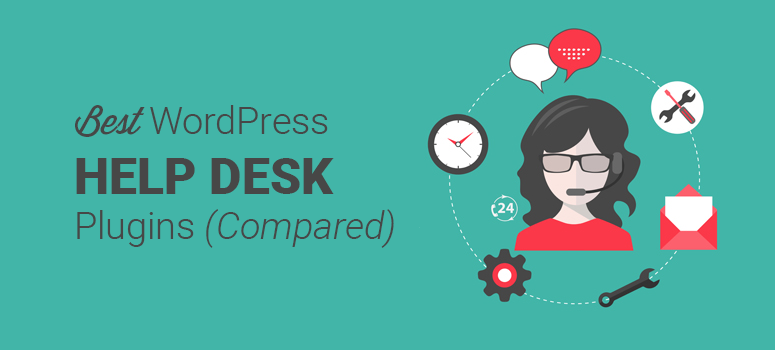 Looking for the best WordPress help desk plugins available? Great idea! When it comes to running a business, customer support is a top priority. Customers are more likely to purchase from you if they know they can count on you for help.
Since we're helpful too, we've compiled a list of the 9 best WordPress help desk plugins for customer support for you. Check out the list below and choose the one that works best for you.

With features for support managers like ticket statuses, ticket history, and customer profiles, Catchers Helpdesk is a top-notch help desk plugin. Working on a ticket-based system, Catchers Helpdesk even allows you to save common replies as canned responses so that you can save time while being helpful.
The standard version is enough to get you started, but if you want extended capabilities, they have several official addons that can help you out. WooCommerce integration, stats / metrics reports, and additional contact form fields can all be installed via addons to make Catchers Helpdesk all the more powerful.
Looking for only basic capabilities from your WordPress helpdesk plugins? No problem. Catchers Helpdesk has a free version. However, the functionalities are limited, so we recommend buying the premium version (starting at $39).
Get Started with Catchers Helpdesk Today!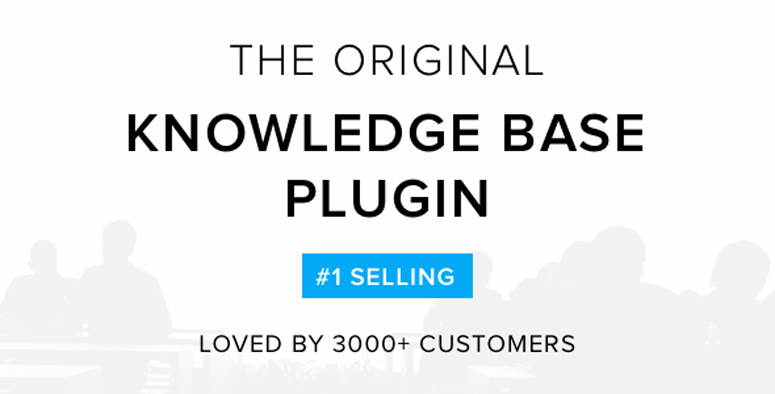 If you're looking to build a customer support center on your website by way of an extensive FAQ page, or other written resources, then Knowledge Base is the plugin you want.
With its intuitive drag and drop WordPress page builder, Knowledge Base makes building an FAQ page, company / product documentation, or resource articles absolutely effortless. It's also responsive, translation-ready, and regularly updated. Pricing starts at $40.
Get Started with Knowledge Base Today!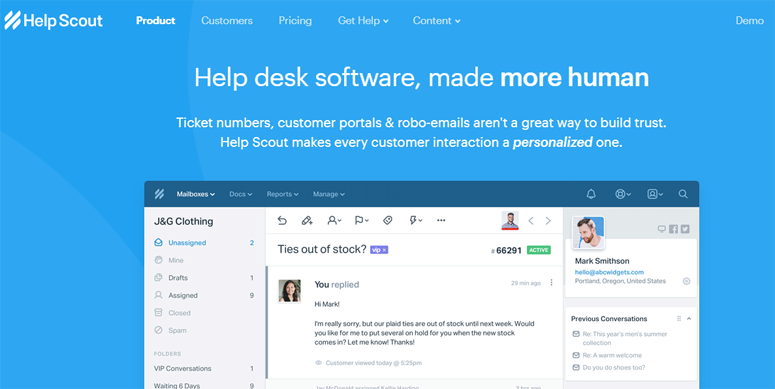 If you have an entire support team, Help Scout is the way to go. You can keep your team organized with multiple mailboxes for each shared email address. You can also view reports to measure your team's performance, directly from your WordPress dashboard.
Help Scout has over 50 integrations, not including their own additional developer tools, so you can utilize the Help Scout system with any plugins you already have or wish to get. It also integrates seamlessly with live chat plugins, and stores live chat conversations on the personalized customer profiles for your users.
Online chats not your style? There are plenty of options for phone calls and voicemails as well. Over 50 voicemail services are available out of the box, and can be extended if needed. Phone call logs are also available.
Thanks to over 75 keyboard shortcuts, your team members won't have to waste time fumbling with their computer mice. Help Scout also has an app for iPhone and Android so you can take your customer support center with you anywhere.
Prices vary depending on which package you choose, but all options start with a 15-day free trial.
Get Started with Help Scout Today!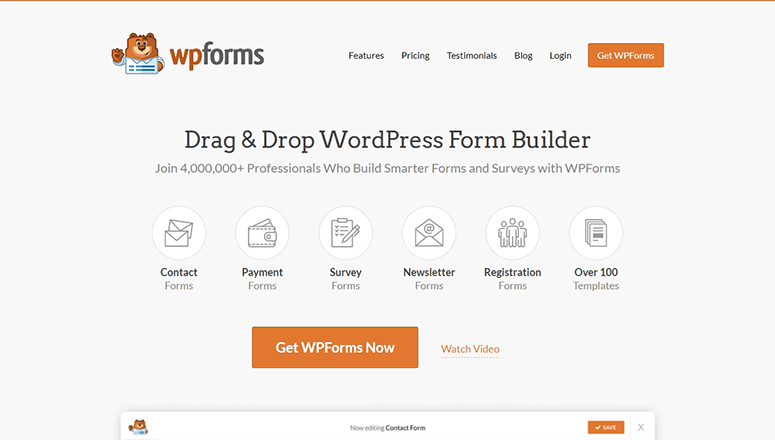 With WPForms, the best form builder for WordPress, you can create a simple support ticket form in no time. WPForms offers ready-form templates to get you started and the drag-and-drop builder makes it easy to customize your forms.
You can set up notifications so that you'll get an email whenever a user submits a support ticket. And you can use smart tags to send a notification to the site visitor when they submit a ticket to let them know you've received their request. Plus, you can allow users to upload screenshots of their issues with the File Upload addon.
And if you're using another ticket management tool like Zendesk, you can also integrate your support ticket form with it through Zapier.
Get Started with WPForms Today!

Zendesk is an all-in-one solution to all your help desk plugin needs. With features like support ticket management, live chat functionalities, and business phone services; you'll never need another help desk plugin.
Also, check out these Intercom alternatives (featuring Zendesk).
However, Zendesk isn't free and requires you to make an account with them to use it. Prices vary depending on which plan you choose. The good news is, you can choose an all-in-one plan that has everything or pick and choose only the features you need. And every option comes with a 30-day free trial.
Get Started with Zendesk Today!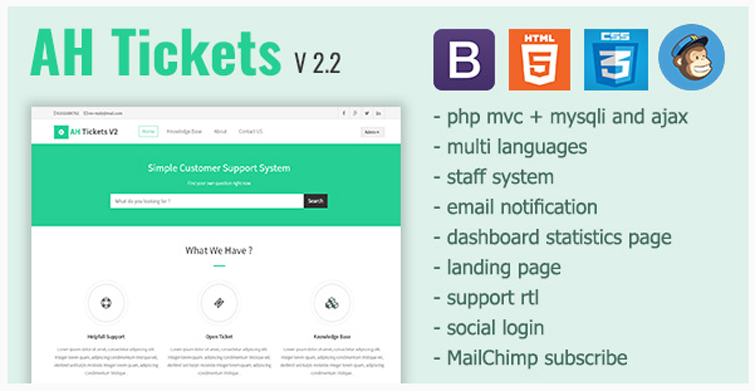 At $16, Ah Tickets is definitely one of the most affordable options on this list. It's works via a ticket-based system and is unique in that it's built on PHP MVC for use with OOP and Bootstrap 3.x framework, featuring far less CSS.
It's streamlined, is translation-ready for unlimited languages, and mobile responsive. It integrates with MailChimp and few other alternatives to MailChimp. There's also a mobile app coming soon, so this is definitely one to keep an eye on.
Get Started with Ah Tickets Today!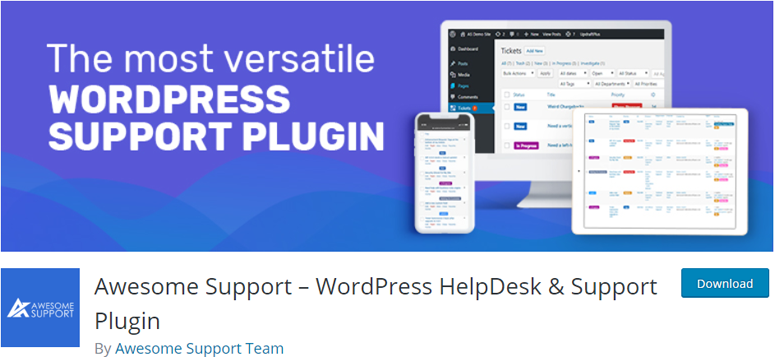 Awesome Support is, in a word: awesome. It's comparable to Zendesk or Help Scout as a SaaS help desk solution, and it's sold at a price everyone can afford – FREE!
The setup is incredibly easy with the assistance of their setup wizard. You can have your help desk plugin up and running in under 5 minutes after installation and activation. It's extremely user-friendly, even for beginners, and utilizes the WordPress dashboard and UI wonderfully. If you already know your way around your WordPress Admin area, you'll immediately feel comfortable using this plugin.
It's GDPR ready, compatible with Gutenberg, features WooCommerce integration, is translation-ready, and mobile responsive.
With over 25 addons, not counting premium features that can be added on separately, it's impossible to list everything Awesome Support does in this humble list. We recommend you visit their site to get the full scope of everything you can do.
Get Started with Awesome Support Today!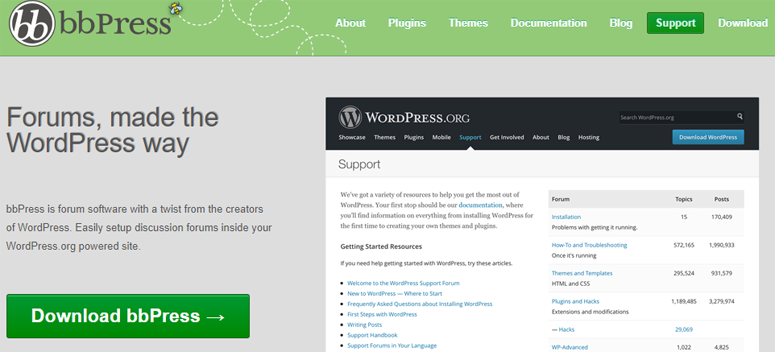 From the creators of WordPress, bbPress is a free and open source WordPress forum plugin. It's lightweight and won't slow down your website with unnecessary bloat.
Using a forum solution for your help desk, you can give power to your users to solve their own issues. Or, take the reins and answer questions yourself. You'll have massive flexibility and control.
Get Started with bbPress Today!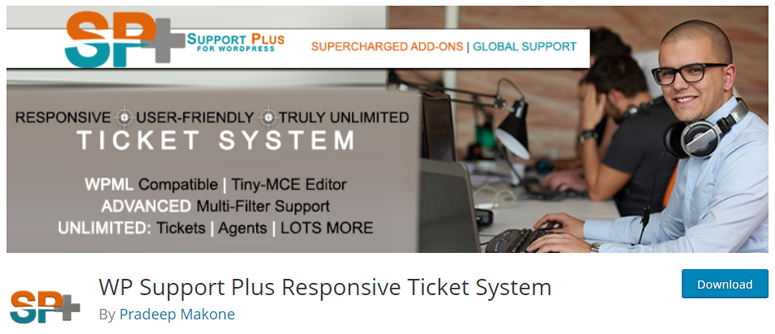 The WP Support Plus Responsive Ticket System plugin made it onto this list because it's definitely one of the best on the market, and has been for quite some time. Existing users will appreciate its place of honor on this list. However, new users should consider using SupportCandy – it's by the same developers, does the exact same things, but has additional support for new users.
WP Support Plus Responsive Ticket System allows you to utilize unlimited tickets and an unlimited number of agents. It's responsive and optimized for performance speed.
Also check: How to improve WordPress Performance Tuning
With premium addons, you can integrate with Knowledge Base, create satisfaction surveys, export tickets, and so much more.
Get Started with WP Support Plus Responsive Ticket System Today!
We hope this article helped you discover the best WordPress help desk plugins available.
If you liked this article, you might also enjoy our lists of the best WordPress LMS plugins and 24/7 WordPress support services to manage your site.