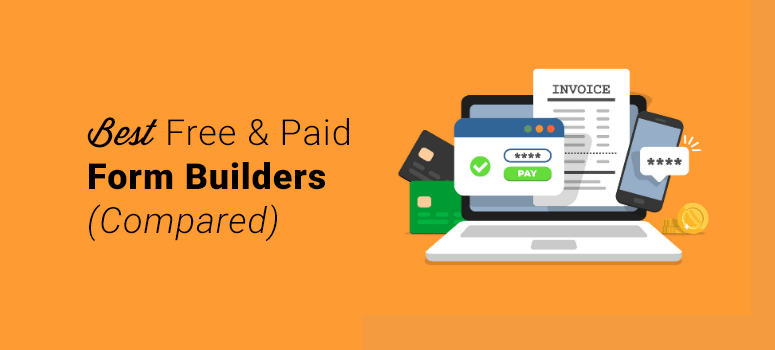 Are you looking for the best form builders to capture new leads, collect payments, gather customer feedback, and more?
Many marketers don't realize how important having the right form builder is for their site's success. Without a web form, communication with your audience is a one-way street: you to them.
But a well-built form allows your audience to get more engaged with your business and your brand in many different ways.
That's why, today, we're going to share the best form builders you can check out for your website. Before we do, though, let's clarify what a form builder is and why finding the right one is so important to your company's success.
What Is an Online Form Builder (& Why Do They Matter?)
A form builder is a tool that allows you to create different types of forms and embed them on your website. These forms can include things like:
Newsletter signups
Contact forms for inquiries
Feedback or customer survey forms
Payment collection forms
Customer testimonial or review forms
And much more…
If you're not using any (or all) of these types of forms, you're missing out. It means you aren't engaging your audience as much as you could be and, worse, you're not using every tool at your disposal for growth.
But the question is, how do you find the right form builder for you? The right form builder should have 3 qualities:
1. Cost: Budget is one of the biggest factors when it comes to investing in any new tool. But while our list does include many free online form builders, you also need to weigh the cost of what features are included. Or, even more important, which features are left off.
2. Flexibility: Along with cost, you also want a highly flexible form builder. That means you want a form builder that can create many different types of forms.
That also means finding one tool that allows you to create a survey form, for example, as well as a payment form. Otherwise, you'll need several tools just to create forms on your site.
3. Visually Appealing: Finally, you need a form that looks nice to your customers. It's hard enough to get your site's visitors to take the actions you want them to. An ugly form is the quickest way to repel your potential leads.
With most tools, you usually only get 2 of these 3 qualities at the same time. For example, if a form builder is cheap and flexible, it usually doesn't look great.
Or if it's flexible and visually appealing, it's usually not cost-effective.
But the good news is that we have several online form builders that check all these boxes. So now, let's dive into our list of the best paid and free online form builders you can start using today.
The Best Form Builders (Free and Paid)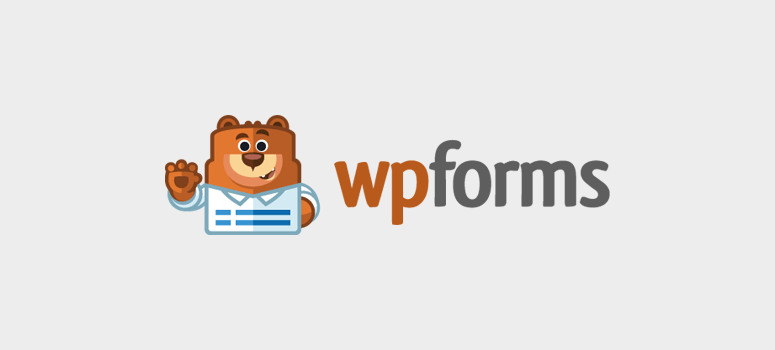 WPForms is hands down the best form builder for WordPress. When it comes to cost, flexibility, and visual appeal, it nails all three categories.
WPForms has a clear and simple goal: make online forms that are both easy and powerful. You can use WPForms for any kind of form you need, like signup forms, order forms, payment forms, surveys, and so much more.
Their drag and drop builder makes it easy to create your form in minutes, even if you have no coding skills or technical knowledge. And with WPForm's embeddable shortcodes, you can add forms to any page of your website in a matter of seconds.
Features
Drag and drop builder
Highly flexible to create any kind of form you need
Conditional logic for smarter forms
Google reCAPTCHA to fight spambot submissions
Mobile-friendly
Ready-to-use form templates
Instant notifications to view new entries
If you're using WordPress, then WPForms is definitely the right form building solution for all of your needs.
Price: WPForms' paid plans begin at only $39/year.
Get started with WPForms today!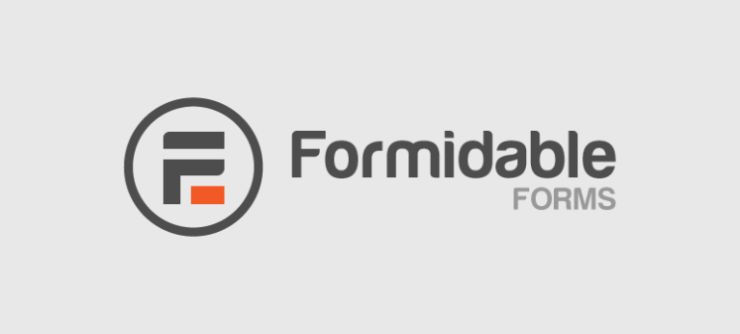 Formidable Forms is possibly the most advanced form building plugin for WordPress. It has an intuitive visual design editor that lets you quickly create forms.
And to help you even more, they have tons of pre-built templates you can use to start your forms on the right foot. They also allow you to create smarter forms with conditional logic, which changes the fields your user sees depending on how they answer previous sections.
But its biggest strength is the same as with WPForms: you don't need to know how to code to put stunning forms on your website. If you can click, copy, and paste, then you can use Formidable Forms.
Features
Intuitive form builder
Fast installation and setup
Conditional logic for better data
Mobile-friendly
Form scheduling
Google reCAPTCHA to fight spam
Price: Formidable Forms starts at $49.36/year.
Check out Formidable Forms today!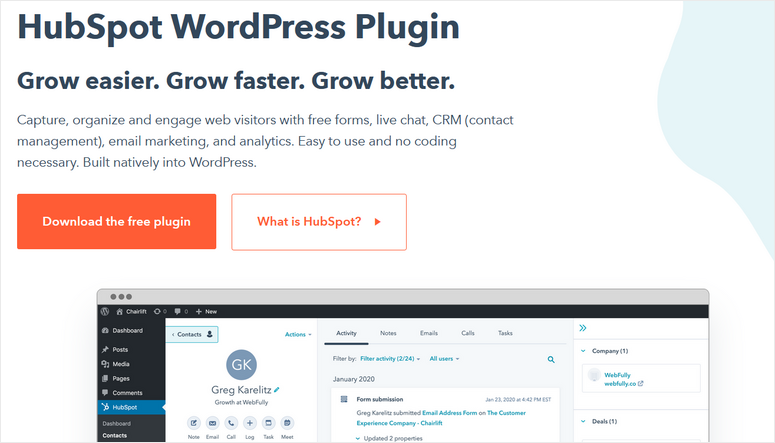 HubSpot has a free WordPress plugin that makes it easy to add simple forms to your site.
It comes with a drag and drop form builder and ready-made form templates to help get you started. You can use up to 1,000 form fields, dozens of field types, and you can customize your forms to match your brand.
Plus, your forms will automatically sync with the built-in CRM. This makes it easy to manage your contacts, segment them into lists, and keep track of the interactions they've had with your site.
Features
Drag and drop form builder
Pre-built form templates
Form landing pages
Notifications and automatic email follow-ups for form submissions
850+ integrations available in the HubSpot ecosystem
This plugin also comes with additional marketing tools like live chat, email marketing, analytics, and more.
Price: The HubSpot plugin is free. Paid plans are available starting at $50/month.
Get started with HubSpot today!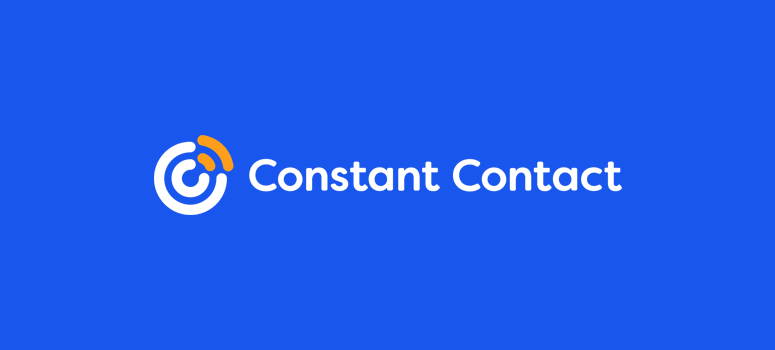 You may know Constant Contact as one of the best email service providers on the market. So why is it on this list of the best form builders?
Because when you use Constant Contact, you also get a dynamic contact form builder included for free.
Constant Contact allows you to add a contact form to any of your site's pages. They have an easy-to-use form builder that allows you to grow your list, stay connected, and turn everything on auto-pilot.
Features
Easy to create beautiful forms
Integrations with your favorite marketing tools
Quickly embed forms on your site
Mobile-friendly
Excellent customer support
The biggest drawback to Constant Contact's form builder is flexibility. The types of forms you can create are limited. You can only create contact forms and signup forms.
Price: Constant Contact's form builder is included with their free and paid plans, which begin at $20/month.
Get started with Constant Contact today!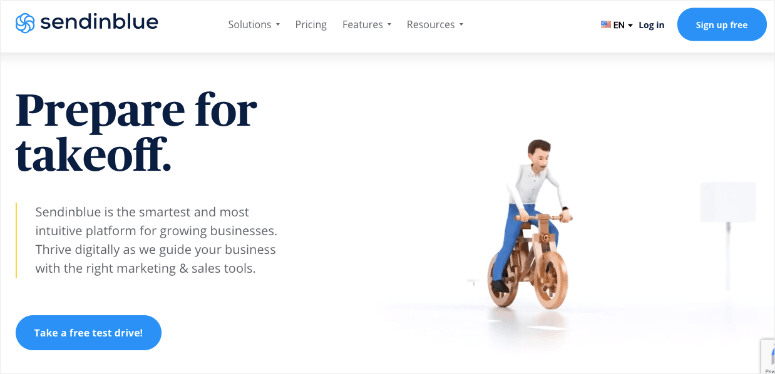 Sendinblue is another email service provider (ESP) that comes with an online form builder. Sendinblue integrates with most major web building platforms, has an easy-to-use form builder, and lets you get started totally free.
With Sendinblue, you can create beautiful signup forms to get new email subscribers. Then you can create automated email campaigns to nurture your leads and turn them into loyal paying customers.
Features
Fast and easy setup
Built-in email marketing tools
Fully responsive
Excellent customer support
Included with their free and paid plans
Like Constant Contact, the biggest downside to Sendinblue's form builder is flexibility. Though it integrates with other site builders like WordPress, Squarespace, and others, you can only create signup forms.
That means you'll need to find other solutions for surveys, order forms, payments, and more.
But if you're just starting out and on a tight budget, Sendinblue can be one of the best free form building options to get you going!
Price: Sendinblue has a free plan that allows up to 300 emails per day. Their paid plans begin at $25/month for 10,000 subscribers.
Get started with Sendinblue today!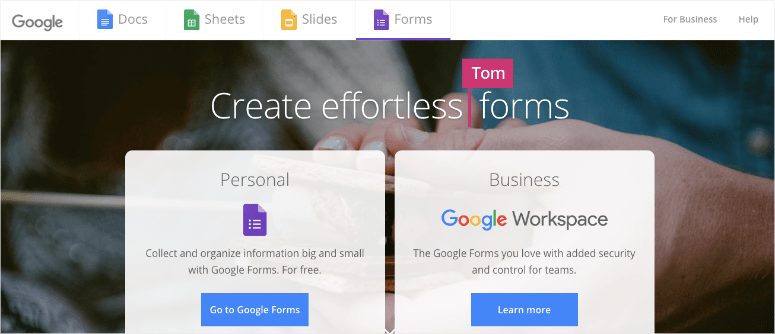 Google Forms is one of the best free online form builders on this list. It's super powerful, lets you customize your forms' design, and collects the results for you.
Plus, as we already mentioned, it's totally free to use.
Features
Quick and easy form creation
Embeds seamlessly onto any website
Mobile-friendly
Free to use
The downside of Google Forms is that it isn't always visually appealing. Though you can customize colors and fonts, there's always a feeling for both users and webmasters that this is a "Google product."
So if you're on a budget and don't need something to completely match your branding, then Google Forms can be the right form builder for you.
Still not convinced? Check out our guide for the best Google Forms alternatives.
Price: Free.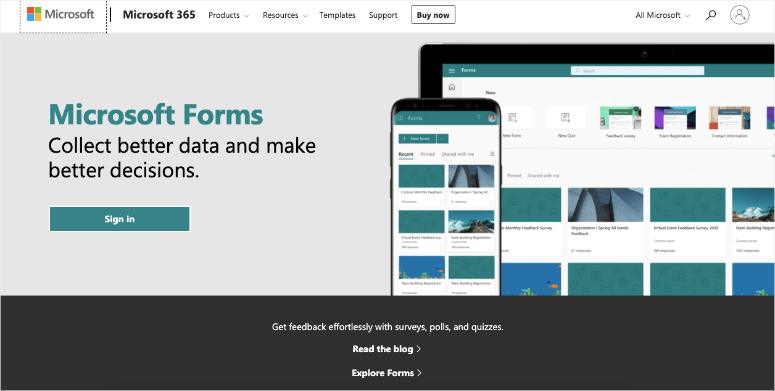 Microsoft Forms is another free form builder that's worth checking out. Like you'd expect from Microsoft, these forms are powerful and focused on getting you data-driven results.
With Microsoft Forms, you can build surveys, quizzes, and polls in a matter of minutes. Plus, you can use these forms to capture your audience's email address to grow your business.
You can customize your form's look, add your company's logo, and integrate forms with other Microsoft 365 products.
Features
Flexible form type for surveys, quizzes, and polls
Embeds with other Microsoft 365 products like Excel
Easy-to-use form builder
Custom branding for each form
Built-in AI and "smart recommendations" help you build better forms
The only downside to Microsoft Forms is similar to Google Forms: it feels and works like a Microsoft product. So if you don't work with Microsoft tools, this might not be the best solution for you.
Plus, some form types aren't included, such as order and payment forms.
Price: Free to use with your Microsoft account.
Get started with Microsoft Forms today!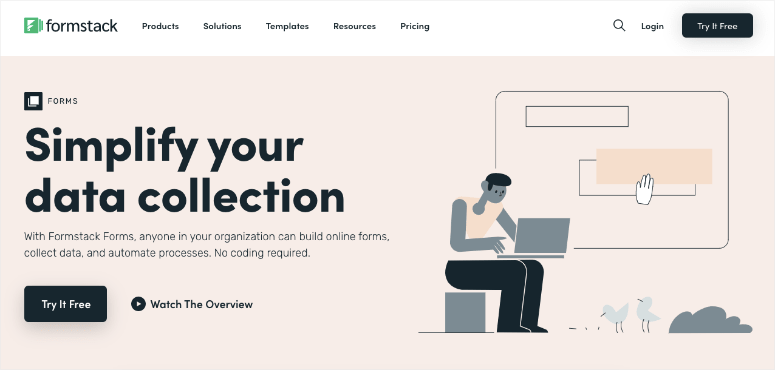 Formstack is dedicated to streamlining the more tedious aspects of your company's growth. This includes an online form builder that lets you gather the information you need to make smarter data-driven decisions.
Formstack's form builder is easy to use and loaded with advanced features to create stunning forms in minutes. They have a drag and drop builder, so you can build forms with no coding knowledge or technical experience.
Plus, Formstack's forms include conditional logic, they're super secure, and they can be customized to your website.
Features
Drag and drop builder
Intuitive interface
Easy to embed
Conditional logic
Mobile-friendly
Powerful analytics
508 compliant forms for useres with disabilities
The downside to Formstack is its pricing model. The form builder is $50/month for 1 user and up to 20 forms. That means there are likely more budget-friendly options to choose from.
If your site was built with WordPress, for example, you'd spend less in one year with WPForms than you would in a month with Formstack.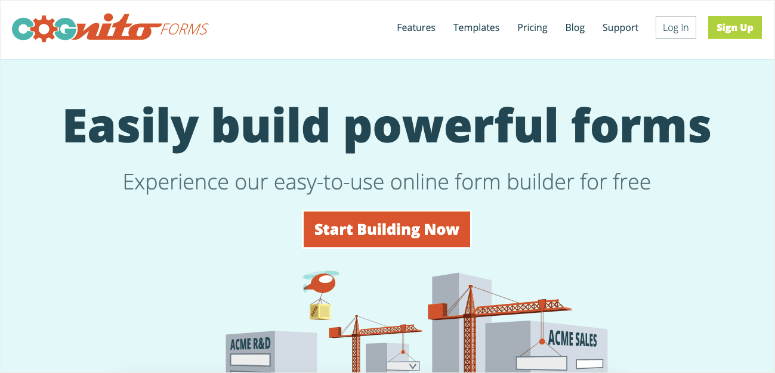 Cognito Forms is a free online form builder that has loads of great features you can use. With Cognito Forms, you can create contact forms, registration forms, and order forms in minutes.
Plus, they have helpful tools like built-in calculators, conditional logic, entry sharing, data uploads, and much more.
Cognito Forms can be an excellent solution for your form building needs, especially if you're a startup or on a tighter budget.
Features
Integrates with Google Analytics
Import form entries
Easy-to-use interface
Embeds on any website
Built-in calculator
Conditional logic
Accept payments with PayPal, Stripe, or Square
That said, some users have commented about problems not receiving notifications when people submit their forms. Another issue was that there was no search functionality to look for specific entries.
But Cognito Forms is an excellent solution if you're looking for a free online form builder.
Price: Cognito Forms has a powerful free version for 1 user and up to 500 entries. Their paid plans start at only $10/month.
Get started with Cognito Forms today!
Which Is the Best Form Builder?
Out of all the online form builders we just looked at, you may be wondering which one is best. Well, that depends.
If you're looking for the best online form builder for WordPress, then it's absolutely WPForms.
WPForms is easy to use, super powerful, and the most cost-effective form builder for WordPress when you take its powerful features into account.
But if you're not using WordPress, you're probably best to stick with Google Forms or Cognito Forms. These are the best free form builders that work great with any site and integrate with other marketing tools.
And that's it! These have been the best paid and free online form builders that you can use to get more signups, boost survey participation, collect new orders, and much more.
If you found this article helpful, you might want to check out our review of WPForms.
This post will have even more information to help you decide on the right form building software for your business.