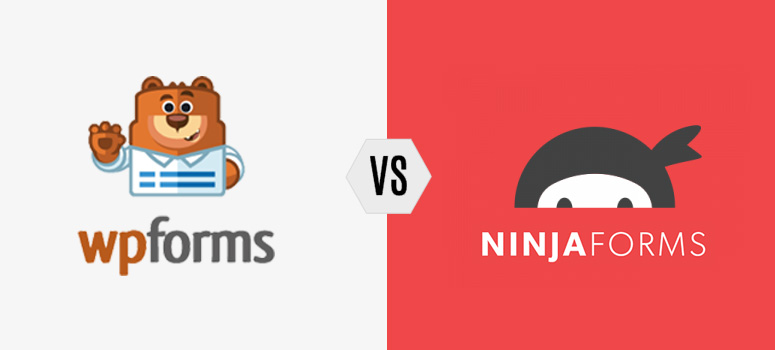 Looking for the perfect forms plugin for your WordPress site? If you did some online research, you probably found WPForms and Ninja Forms being recommended by top WordPress blogs. Now you're likely wondering which one to choose!
If so, then we're here to help you out. In this article, we'll compare WPForms vs. Ninja Forms and show you the important differences so you can decide which plugin is the perfect solution to your site.
We'll compare the 2 plugins based on the following 5 points:
General Overview
Ease of Use
Features
Pricing
Support
1. WPForms vs. Ninja Forms – General Overview
What Is WPForms?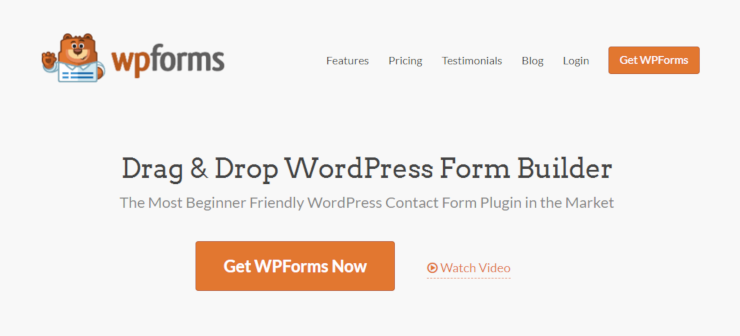 WPForms is the most beginner-friendly WordPress contact form plugin on the market. It allows you to create beautiful contact forms easily on your WordPress site. It provides a very simple, intuitive user interface so you can create a wide variety of WordPress forms all by yourself in a matter of minutes.
The WPForms plugin comes in a free Lite version as well as several premium versions. It has over 1 million active installations on WordPress.org. The plugin has 4.9 out of 5 average user ratings from 3000+ votes its received on WordPress.org. Users are loving it!
WPForms was created by the same folks who run the largest unofficial WordPress resource site, WPBeginner. In case you're not familiar: WPBeginner is best known for their beginner-friendly tutorials on different WordPress topics.
Check out the complete WPForms review
What's Ninja Forms?

Ninja Forms is one of the most popular WordPress form plugins available today. It comes with an easy-to-use drag and drop form builder to let you create contact forms in WordPress. You can use the extensive set of form fields included to create unlimited forms with this plugin.
Like WPForms, Ninja Forms also comes in both free and premium versions. It also has over 1 million active installations on WordPress.org. Ninja Forms has 4.4 out of 5 average user ratings from 900+ votes its received on WordPress.org. If you compare the two plugins on the basis of their average user reviews, WPForms stands ahead of Ninja Forms.
Ninja Forms was created by a team of WordPress professionals dubbed WP Ninjas.
Check out the complete Ninja Forms review
2. Ease of Use
Creating a Form with WPForms
The top goal of creating WPForms was to make WordPress form creation as easy and simple as possible. Hence, WPForms stands out from the crowd when it comes to simplicity and user-friendliness.
To create a new form with WPForms, go to WPForms » Add New from your WordPress dashboard. There, you'll see a number of pre-made templates to choose from.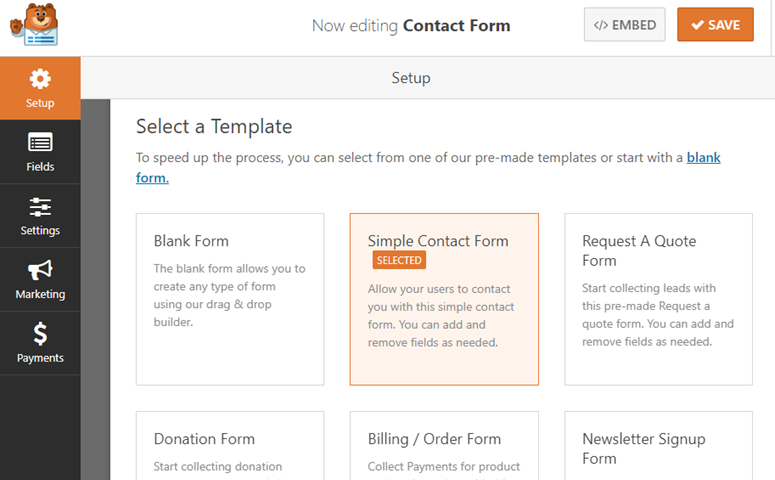 You can choose a template to get started quickly. If you want to add more fields to the pre-made form, you can drag them from the left-side fields panel to the right-side form editor.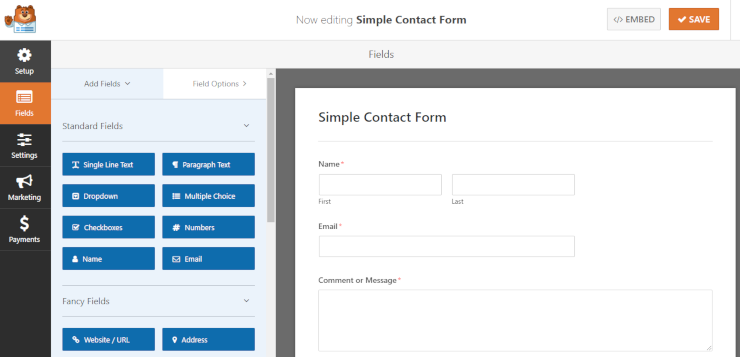 You can customize each field by clicking the Field Options.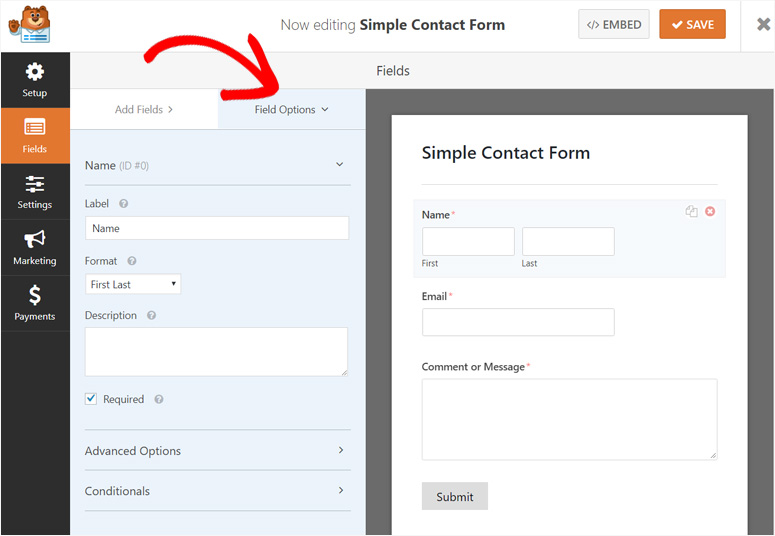 You can customize the form name, reCAPTCHA, anti-spam honeypot, notifications, and confirmation emails from Settings. You can connect your form with email marketing platforms like Constant Contact which is a great alternative to MailChimp, etc. from the Marketing option. And you can set up PayPal and Stripe to accept payments from the Payments option.
Related: Top Alternatives to MailChimp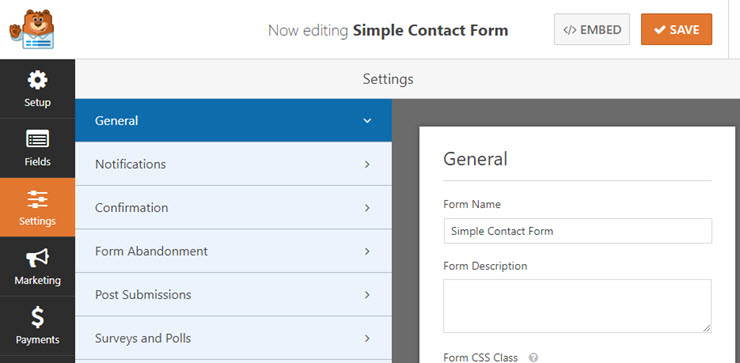 It's that easy. Once you finish adding fields to your form and review all the settings, you can click the Save button at the top of your screen.

Next to the Save button, you'll see an Embed option. If you click on that, you'll get a shortcode for your new form which you can paste anywhere on your site to add the form.
Adding WPForms to your WordPress posts and pages is easy with the WPForms widget available in post editor menu. To add a contact form to a post or page, you'll need to open the post or page and click the WPForms widget icon.

Then, select the form you want to add.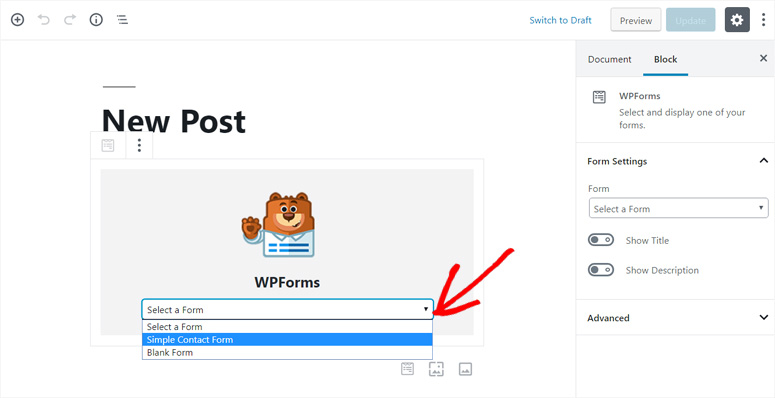 And that's it! Now you can publish or update that page to view how your form looks live on your site. Below is a screenshot of what a simple contact form looks like: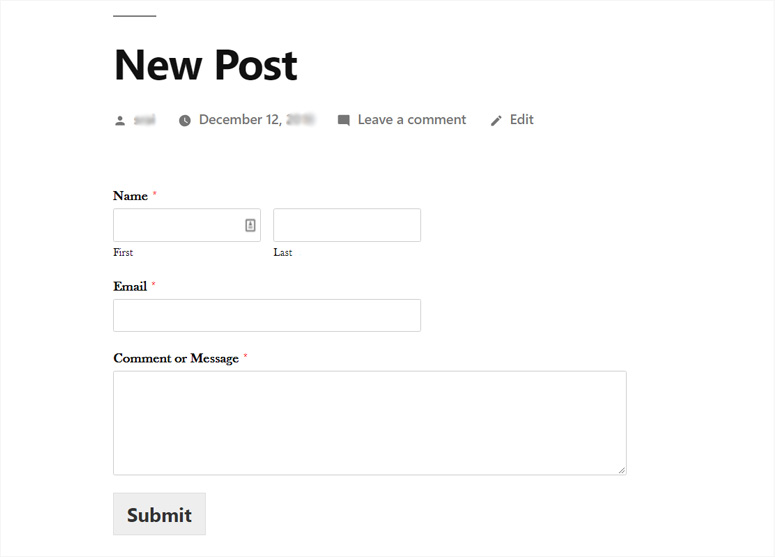 If you want to show your form in sidebars or any widget-ready areas, you can find the WPForms widget in Appearance » Widegts.

You can drag the widget to any widget-ready area you want to display the form.
Creating a Form with Ninja Forms
Ninja Forms has updated its interface multiple times to make it more user-friendly. Now, it also has quite a similar form making interface like that of WPForms.
To create a new form with Ninja Forms, you'll need to visit Ninja Forms » Add New from your dashboard. There, you'll see a number of form templates to start with, including a blank form.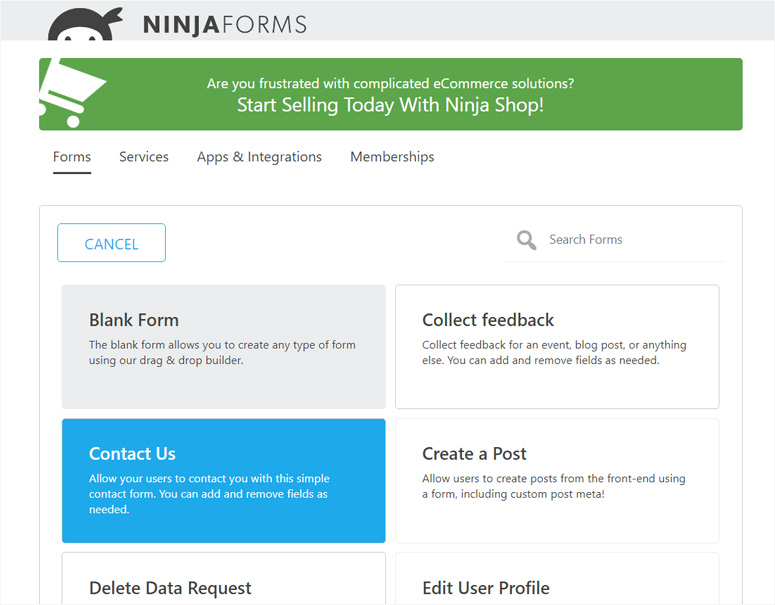 You can pick a template and get started quickly; however, you may not be able to use all of the ones featured unless you've purchased their most expensive plan. Ninja Forms shows all of the available form templates, including those you don't have access to, which makes it a bit confusing and cluttered.
On the other hand, WPForms shows only the templates you can actually use as per the plan you've installed. It keeps WPForms nice and tidy.
After you've selected a template, you'll see the form building interface shown below. To add new fields to your form, click the Add icon.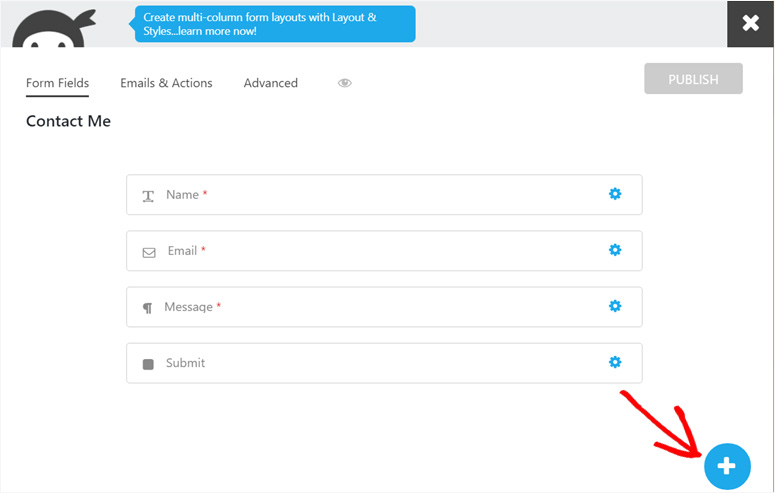 Then, you'll see all the fields appear on the right side. Now you can drag them to the left side form editor and build your form.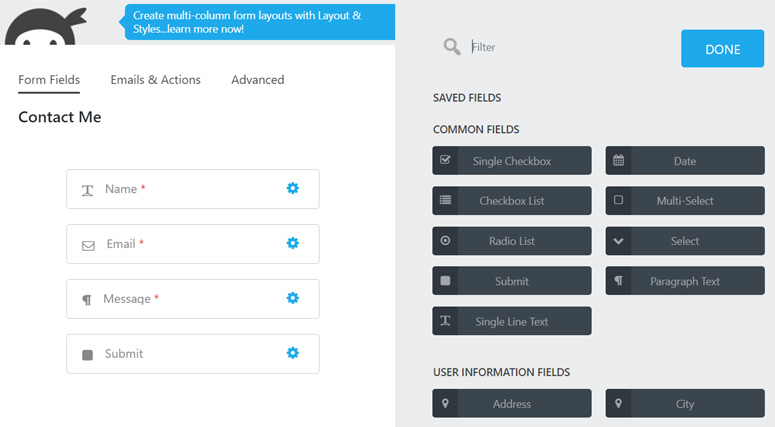 You can configure notifications, confirmation messages, and success emails from the Emails & Actions option. You can configure display settings, restrictions, and calculations from the Advanced option.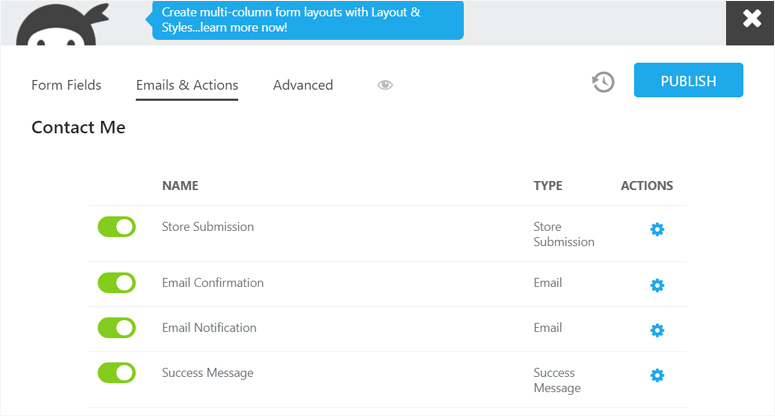 Once you create and customize your form, you can click Publish.
To use the form in your WordPress posts and pages, you can use the Ninja Forms widget on page/post editor. It has an interface similar to WPForms.
To add a contact form to a post or page, you'll need to open the post or page and click the Ninja Forms widget icon.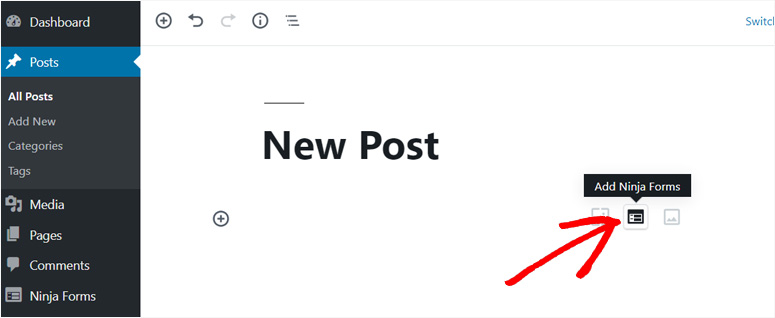 Select the form you want to add and update that page.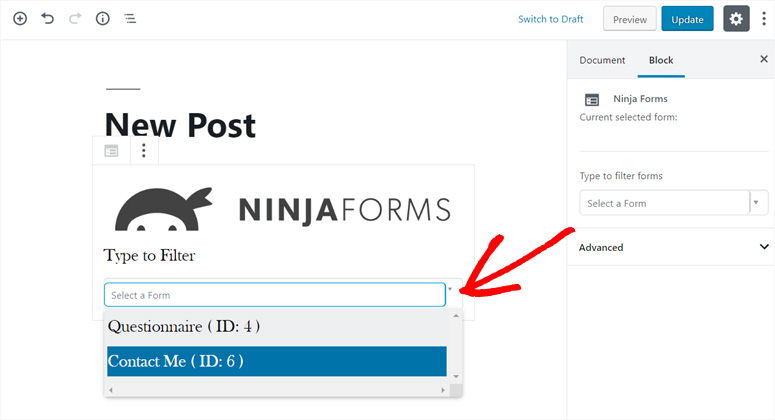 Then, you can view how your form looks. Here's how your basic form will look like.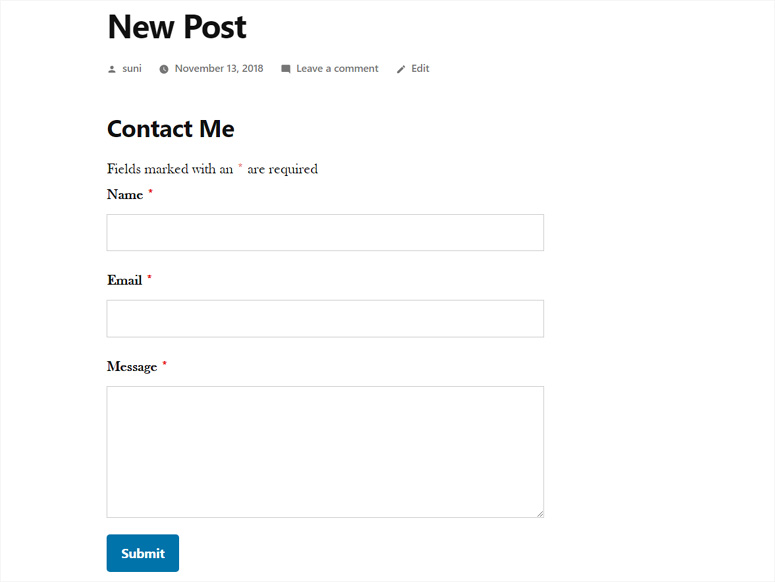 Like WPForms, it also has a widget that you can use in sidebars and other widget-ready areas on your site. You can find the widget in Appearance » Widegts.

Winner: WPForms. For its clean interface showing only the templates you have access to. Plus, its Embed option with a shortcode to let you add the form easily anywhere on your site.
3. Features
The strength of WPForms is its ability to create simple contact forms as well as advanced forms like payment forms, user registration forms, surveys and polls, newsletter subscription forms, etc. It has all the features you need to build multipurpose forms in WordPress.
Here're just a few of WPForms' major features:
Spam Protection with anti-spam honeypot and reCAPTCHA
Smart conditional logic
Survey and polls addon
Better entry management at dashboard to view all entries at one place
Accept payments and donations with PayPal and Stripe
All these features combined make WPForms THE complete tool for WordPress forms.
Ninja Forms, on the other hand, also has powerful features tailor-made for you. However, most of its features are only available in the form of extensions. You'll have to buy each extension separately or obtain them via a premium plan.
There're main 2 disadvantages to choosing Ninja Forms over WPForms in terms of features:
1. If you buy the extensions separately, you'll need to invest more money. Most of the extensions are priced at $49 each, so it gets costly in a hurry.
2. WPForms addons are just a click away, whereas Ninja Forms addons require you to follow the entire WordPress plugin installation process to install each addon. That means you need to download the extension file, upload it to your dashboard, install it, and then activate it.
Apart from the existing features, Ninja Forms is highly flexible and extendible. It's built with hundreds of functions, action hooks, and filters that developers can use to build custom functionalities.
Winner: It's a tie. However, WPForms makes most features easier to use overall and addons just 1 click away.
4. Pricing
Both WPForms and Ninja Forms offer free and premium versions. You can install the lite versions directly onto your site's dashboard from the WordPress.org plugin directory and use them for free. For advanced features and addons, you'll need to upgrade to their premium plans.
WPForms has 4 primary pricing plans. For businesses starting out, it has the Basic plan which costs $39.50. But, to use ALL of WPForms' features and addons, you'll need to buy the most expensive plan, Elite, which costs $299.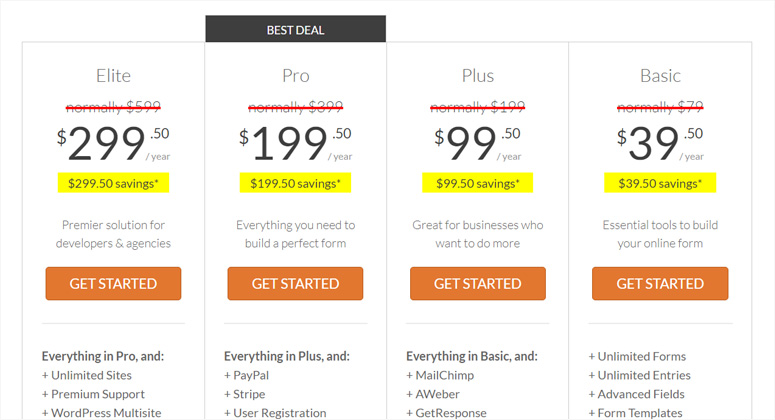 Ninja Forms has 3 main pricing plans to let you use its features and extensions, or you can also buy individual extensions and use them with their free plan.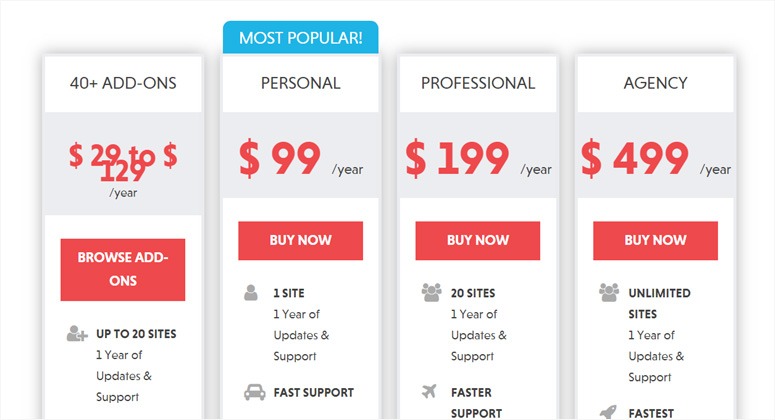 The most basic Ninja Forms plan, Personal, costs $99; and the most expensive plan, Agency, costs $499. Their price range is far higher than that of WPForms.
There're many features you'll get for less money with WPForms. For example, you can create multi-column forms with any WPForms plan, including its Lite version; but you'll need to buy the Layout and Styles addon or the Personal plan to use the same feature with Ninja Forms.
Similarly, you can get Constant Contact integration for free with all versions of WPForms, but you'll need to purchase a separate extension or buy the Personal plan to unlock that function for Ninja Forms.
Winner: WPForms. It offers powerful features at a very reasonable price.
5. Support
WPForms has hundreds of beginner-friendly tutorials on how to use the plugin with ease. You can find the answer nearly all of your queries in their documentation.
The Lite version's users can post their queries on WordPress.org. Their support team is very responsive, as the user ratings show. The Premium version's users can open support tickets and get personalized support via email.
Ninja Forms also has detailed documentation to help you with the most common issues. You can get simple tutorials to use the plugin. If you need technical support, you can contact them via their contact page by opening a support ticket.
Winner: It's a tie.
Conclusion
WPForms is a great form builder plugin for WordPress. It provides a really simple, user-friendly interface for building forms. It has a complete set of features which you can use with ease. The plugin is also very affordable for small businesses.
Ninja Forms is also a powerful WordPress form builder plugin. Its interface is user-friendly; however, it can't compare with WPForms' clean interface. The Ninja Forms plugin brings advanced features to the table that you might find handy, but it's quite costly to obtain them all.
Hence, WPForms is the clear winner from the users' point of view. However, advanced developers may find Ninja Forms more useful due to its developer-friendly options.
We hope this article helped you to decide between WPForms or Ninja Forms for your site.
You may also want to read our in-depth comparison between,