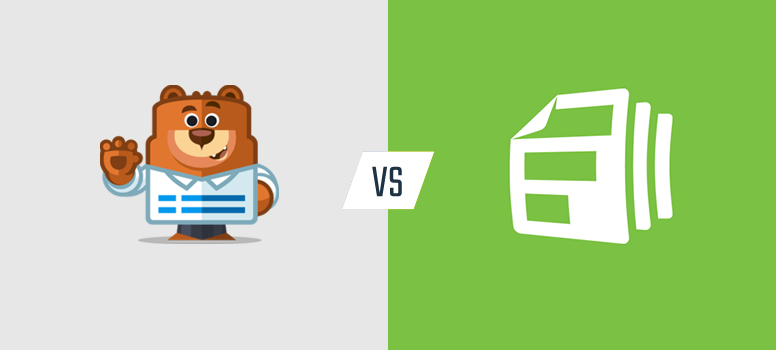 WPForms vs. FormStack: Are you wondering what contact form builder is better? If you want to add a contact form to your website, choosing the right contact form builder for your needs is important. The contact form builder you choose has got to have all the features you need, be easy to use, and you want it all for a good price too.
So, we're going to help you determine which contact form plugin is better by comparing WPForms vs. FormStack.
The criteria we'll use to evaluate these 2 popular contact form builders are:
Now, let's dive into the comparison between WPForms and FormStack.
1. Overview: WPForms vs. FormStack
What is WPForms?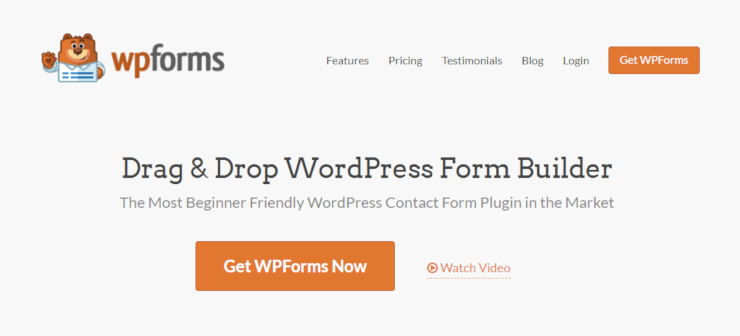 WPForms is one of the most popular contact form builder plugins available. This beginner friendly WordPress contact form plugin allows you to easily create powerful contact forms for your WordPress website without having to know a thing about code.
Their drag and drop builder lets you quickly create contact forms for your website along with a number of other types of forms including surveys and polls and you also have the ability to collect payments. They provide 600+ templates to help you build a contact form even quicker and the templates are completely customizable.
WPForms offers many features to create smart and powerful contact forms and provides unique form fields to help you create a contact form that matches your exact needs. Plus, they give you reports that are great-looking and easy to understand.
With WPForms you can build a sleek contact form in minutes and launch it on your website with 1 click.
What is FormStack?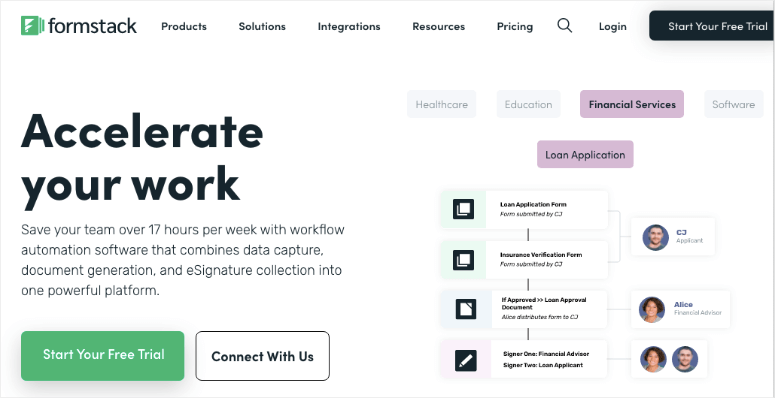 FormStack is an online form builder that helps users collect information through online forms like surveys, job applications, event registrations, and more.
This tool comes with a variety of pre-designed templates to help you build an online form in no time and it also has drag and drop capabilities so that you can create a fully customized form.
FormStack offers metrics reporting, the ability to collect payments, and more. This online form builder also integrates with other popular tools and platforms such as Google Sheets, email marketing services, Facebook, and more.
Now, let's dive deeper into these contact form builders to see if WPForms is a good alternative for FormStack.
2. Ease of Use: WPForms vs. FormStack
WPForms
WPForms is incredibly easy to use. With WPForms you can build a contact form right from your WordPress dashboard. Just download the WPForms WordPress plugin, activate and install, and then click on WPForms in your WordPress dashboard. From here you can easily manage all of your forms and create a new one with the click of a button — you don't even have to leave your WordPress site.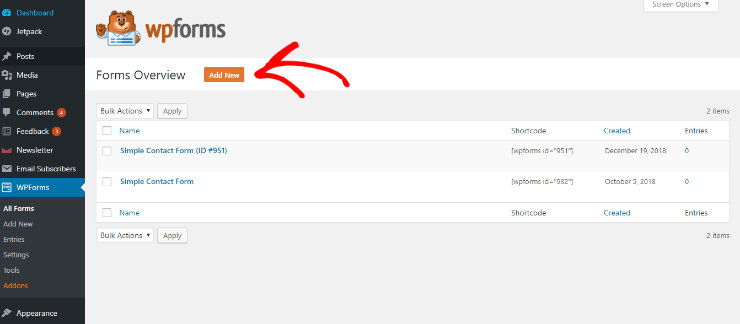 When you create a new form, WPForms provides you with a number of pre-designed form templates to choose from right in the WPForms Form Editor to get you started. Plus, there are hundreds of additional templates such as a donation form, billing/order form, newsletter signup form, and more so you can easily find the right template for your needs.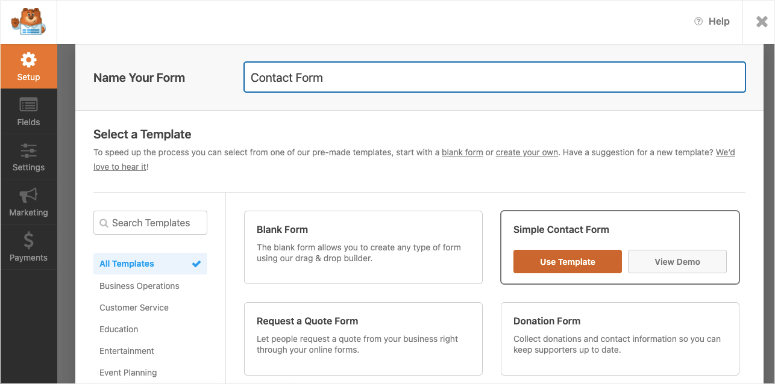 The WPForms drag and drop builder makes it super simple to build and customize a form exactly to your needs. Even if you're a beginner, building a contact form is as easy as dragging the form field of your choice and dropping it in place. You can add fields such as dropdown menus, checkboxes, multiple choice, file upload, and much more. Fields can be deleted with the click of a button and they can be easily rearranged with the drag and drop interface.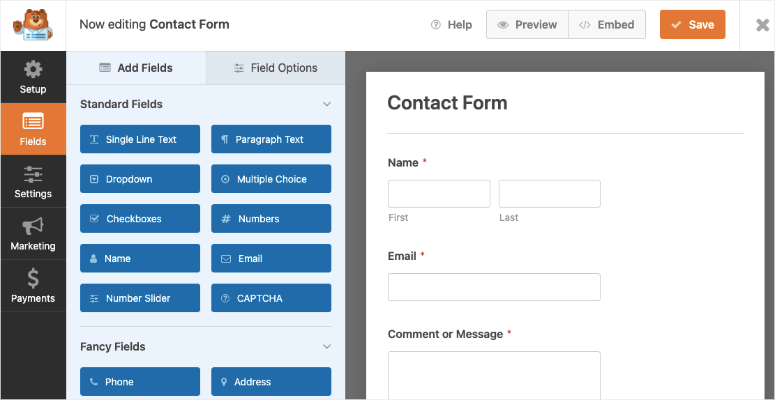 WPForms also shows a live preview so that you can see what your form will look like as you're building it, no need to switch back and forth from Edit to Preview. This is just another feature of WPForms that helps you create a form for your site easily and in no time at all.
Lastly, getting your contact form to appear on your website is very simple. With just 2 clicks you can embed your form onto any page or post of your website.
FormStack
Since FormStack is an online form builder, FormStack requires you to sign up for their service and create the forms on their site. So, unlike WPForms, you don't have the convenience of being able to build your form right from your WordPress dashboard.
To create a form, you can use the drag and drop editor to drag a form field from the right-hand side to the left. You can also use one of their pre-made templates to get you started.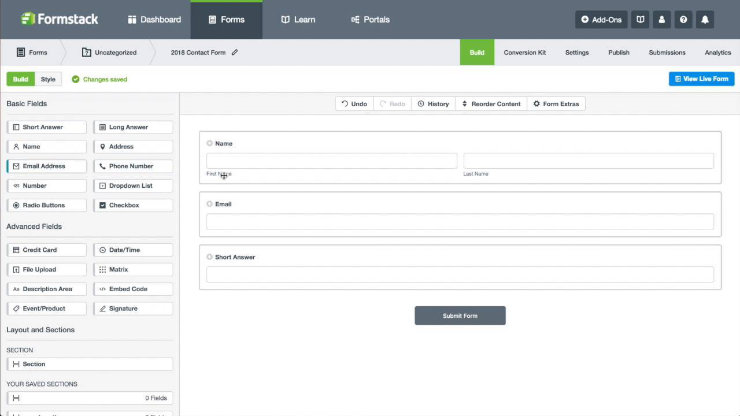 The drag and drop interface is a little more complicated though because there are multiple buttons to choose from or to click to get a job done. For instance, you can drag and drop fields to rearrange them or you can click on a separate button to rearrange fields; too many options and buttons like this can make the form builder confusing for beginners.
If you want to see how your form looks as you're building it, you can't. You have to click on the View Live Form button to see what your form looks like. If you don't like the way your form looks, you have to go back, make the changes, and then click on the View Live Form button all over again.
Plus, getting your form to appear live on your website is more difficult than with WPForms, especially for beginners. And after all that time spent creating a form you like, FormStack warns that some WordPress themes can overpower FormStack styling. This means to get your form looking the way you intended it to, you'd have to edit the CSS form, which is no easy task for beginners who don't know about coding.
Winner: WPForms. The WPForms drag and drop is much easier to use. You can easily build a form by dragging and dropping and you can see what your form will look like as you create it.
3. Form Limits: WPForms vs. FormStack
WPForms
It's important to note that with WPForms you're allowed unlimited form creation. No matter what pricing plan you choose with WPForms, you can create as many forms as you want.
This is important because depending on your needs, your website might need a contact form for customers to contact you on, a billing/order form, a newsletter signup form to get more email subscribers, and you might want to create numerous surveys. Luckily, you can do that with WPForms without any limitations.
FormStack
On the other hand, FormStack only offers limited form creation. Depending on what pricing plan you choose, it will determine how many forms you're allowed to create for your website.
For the least expensive FormStack plan, you're only allowed to create 5 forms. This means you're extremely limited in the forms you can have on your website. Even with their most expensive plan, it's unclear whether you get the ability to create unlimited forms.
Winner: WPForms. When choosing a form builder plugin, you want to choose one that gives you the ability to create as many forms as you want.
4. Features: WPForms vs. Formstack
WPForms
WPForms is more than just a simple contact form builder and it comes with many awesome features right out of the box. Like we mentioned earlier, not only can you create contact forms, but you can also create surveys, polls, and more.
You can create engaging surveys and polls for your WordPress website and get beautiful survey reports to go with them. This means you can analyze your form results in real-time and you have the option to display those results to your website visitors in real-time too.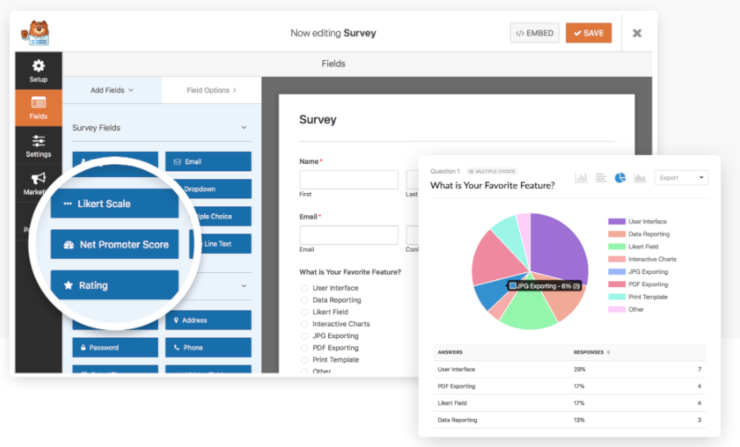 Some of the other great features that you get with WPForms include:
Smart Conditional Logic – Declutter long forms by creating smart conditional logic rules to show or hide questions based on the option the user selects.
Unlimited File Uploads – With any plan, users can upload unlimited files on your forms and they're easily accessible right from the submit form notification.
Responsive Mobile Friendly – Forms are 100% responsive and work on mobile, tablets, and browsers.
Partial Form Saving – For longer forms, users can save their progress and come back to finish it later, which decreases form abandonment.
Spam Protection – Smart captcha and honeypot automatically prevent spam submissions of your forms.
Automatic Form Confirmations – Users will know their form submission was a success with 3 form confirmation types including Message, Show Page, and Redirect.
Online Signature Capability – Allows users to sign your online form with their mouse or touchscreen.
User Registration – You can create custom WordPress user registration forms.
Online Payment Integration – WPForms integrates with payment gateways like PayPal and Stripe so you can accept online payments.
Geo-location Tracking – Learn more about your site visitors and their locations so you can send them more targeted emails.
Email Marketing Integration – WPForms integrates with all the popular email marketing services like Constant Contact, AWeber, and Mailchimp.
Form Permissions & Access Controls – Password protect your form, limit the number of entries you'll accept, limit form entries to logged in users, and more.
In addition, WPForms offers a number of other addons such as Form Abandonment which will capture a user's information even if they don't submit the form.
FormStack
With FormStack you can create contact forms as well as payment forms, surveys, event registration, and more. They offer a number of features including:
Conditional Logic
Save & Resume Forms
Reports & Analytics
File Uploads
Recaptcha
Payment Processors
Email Integration
But FormStack's list of features is not as long as WPForms. FormStack lacks a number of unique form fields that WPForms offers like Net Promoter Score, Likert Scale, and more.
As we mentioned before, you can only create a limited number of forms with FormStack. Each plan also has a theme limit and each plan has a storage limit too, so you can only upload a certain number of files. Plus, you don't get access to email integration with their least expensive plan which makes email marketing impossible.
Winner: WPForms. WPForms offers many more features that allow you to create powerful forms of any type.
5. Pricing: WPForms vs. FormStack
WPForms
WPForms offers free and premium versions of their form builder plugin. If you want to use WPForms for free, you can download the WPForms Lite WordPress plugin from the official WordPress Plugin Directory, install it directly on your WordPress dashboard, and start using it right away. But, if you want access to their more powerful features, you need to upgrade to a premium plan.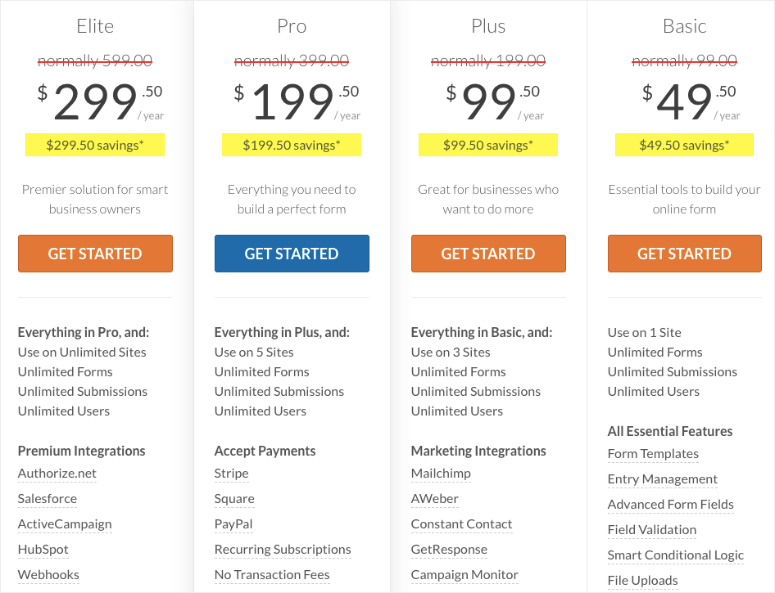 WPForms offers 4 different pricing plans and you get unlimited form creation with each of them. If you're just starting out building a website and your budget is tight, the Basic plan starts at only $49.50 per year for 1 site. The Basic plan comes with unlimited forms, unlimited entries, advanced fields, form templates, email integration, and more.
To get access to all of WPForms premium features like payment integration, surveys and polls, user registration, form abandonment, premium support, and more, you need to upgrade to the Elite plan for $299.50 per year.
FormStack
FormStack has 4 different highly-priced plans to choose from ranging from $18/month – $209/month.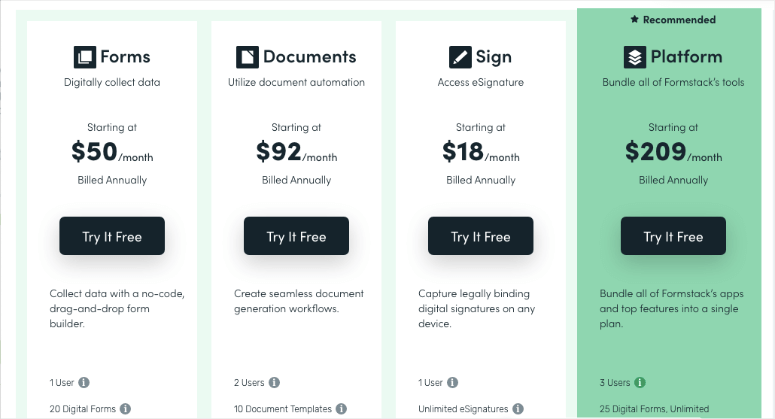 FormStack also limits the number of entries you can receive with each plan as well. If you go over the number of entries you're allowed on your plan, they don't charge you a fee for it, but all entries will go straight to your email instead. Which makes your form entries difficult to manage and has the potential to take over your inbox and become very annoying.
Winner: WPForms. Overall, you'll have to pay much more money to get access to the features you want with FormStack compared to WPForms.
Conclusion: WPForms vs. FormStack: Which is Better?
If you want to add forms to your website, we recommend that you use WPForms. WPForms is great for beginners and experienced website owners alike. You'll get access to all the features you need to grow your website or business without having to pay expensive monthly fees. You can create powerful forms in minutes with their drag and drop interface and you get the freedom to create as many forms as you want.
For more details, check out our full WPForms review.
FormStack is a good online form builder but due to its price and lack of unique features for website visitors, this form builder might be more suitable for larger businesses looking to create internal forms for Human Resources, IT, and Finance, and for receiving applications. Plus, FormStack lacks the features and has way too many limitations for the price you'd pay.
We hope you enjoyed this post on WPForms vs. FormStack. Hopefully, you now know which form builder is the best choice for your website. If you liked this post and want to learn more about WPForms and how to use it, check out our article on How to Create a Contact Form on WordPress (the Easy Way).