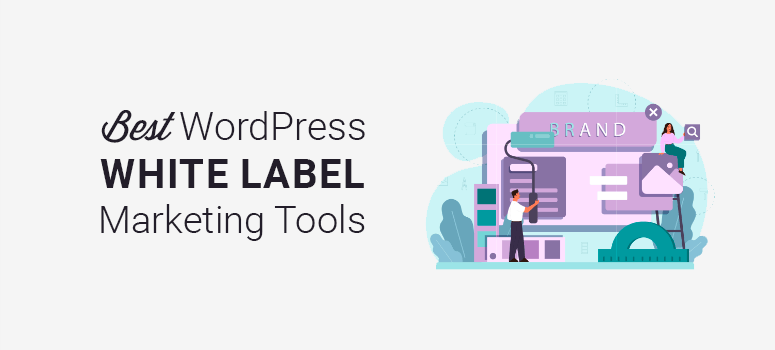 Are you looking for software to manage your client's marketing under your own brand name?
If you're an agency or freelancer, you absolutely need marketing tools to grow your client's email list, drive growth, and get results.
With white labeling options, you can customize the software with your own logo and brand name so that clients don't see the original branding.
In this post, we've rounded up the best white label marketing tools that actually drive results. And to make sure you've got plenty of options, we've also included tools that let you customize the branding even if they aren't completely white-labeled.
Let's get started.
What to Look For in White Label Marketing Tools
White labeling is a simple marketing strategy where creators of software let you replace the original branding with your own.
This means you can show it to clients as your own in-house software and they will never know what tools you are relying on.
White labeling is the perfect solution for agencies, freelancers, and anyone that works with clients. You can hide the tool's name and at the same time let them access the dashboard to see your progress and results. This makes it possible to establish your expertise and build credibility.
But keep in mind that some tools let you completely mask their branding, while some only let you display your own logo and brand name. You may see a few instances of the original branding somewhere in your account which means clients may come across it too.
So while selecting a white label marketing tool for your WordPress business, we suggest looking for the following:
Results: While you may be able to repackage the software as your own, you'll want to make sure that it actually drives results and gets you the growth you want for your clients.
Custom dashboard: You should be able to customize your dashboard colors, fonts, and other aspects so that it matches your brand perfectly.
Guest access: Sometimes you'll need to show client's your progress, get approvals, and give them analytics. Granting them guest access with limited permissions will help you do this.
Sub accounts: If you have multiple clients, it would be easier to manage them if you can create sub accounts. That way, all campaigns you create will be stored under the client-specific account. You'll never have to worry about them seeing the work you do for other clients.
With these features, you'll be able to run the software as your own to grow and expand your business.
Keeping these factors in mind, let's check out the best white label marketing tools for WordPress agencies and freelancers.
Best White Label Marketing Tools for WordPress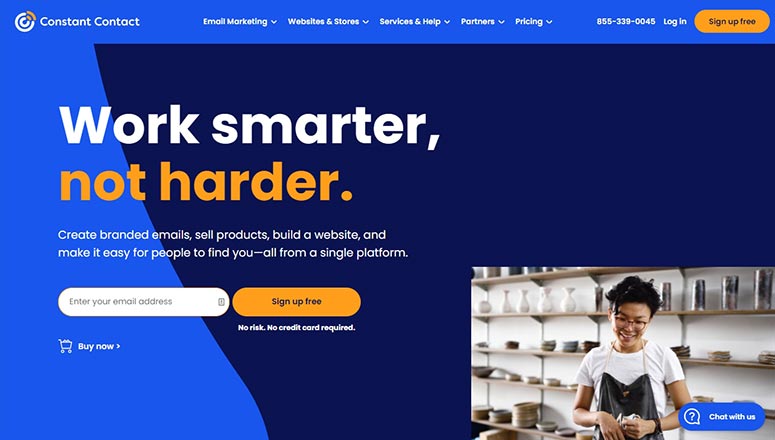 Constant Contact is the best email marketing service to send broadcast and drip email campaigns. It also lets you create inline forms and popups that you can display on your web pages to grow your leads.
With Constant Contact, you can remove their logos from any lead capture forms and emails that you send to clients or the clients' contact list.

It's also possible to remove the Constant Contact branding from your email account. All you have to do is contact a support representative and ask them to remove their logo from your account.
You can describe the changes you want to make to the footer of your emails such as the name, images, and logo so that the recipients of your email see your custom branding.
There are a few things you won't be able to remove from your email footer though. They include an unsubscribe link, About our Service Provider, and a physical mailing address.
We must mention that Constant Contact also has an agency partner program with reseller options. This gives you access to create and manage dedicated email marketing accounts for your clients.
You can also use your referral link to sell accounts for Constant Contact. You'll get a one-time cash bonus plus a share in the monthly revenue for the accounts you refer.
Key Features
Send emails bearing custom branding
Create dedicated client accounts
Add multiple users such as account manager and campaign creator roles
Reseller program to earn commissions
Cost
Constant Contact's email pricing starts at $20 per month. White label and custom branding solutions come at extra costs.
Get started with Constant Contact!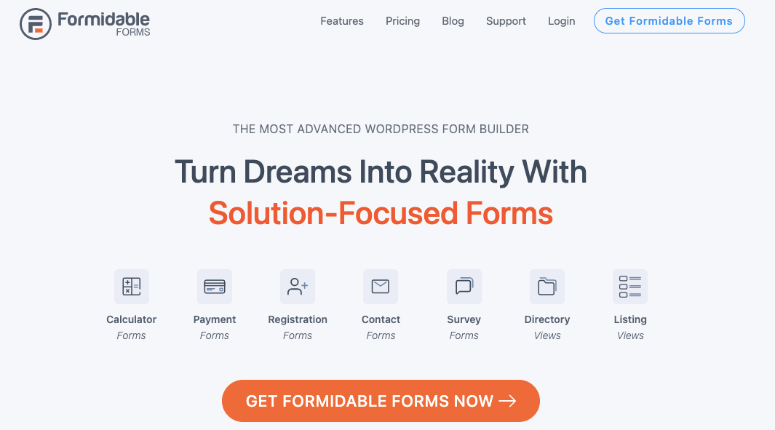 Formidable Forms is a popular WordPress form builder to collect leads, run polls and surveys, host quizzes, and more.
This is an advanced form builder that comes with features like smart conditional logic, calculator, directory and listing views, and more.
Formidable Forms also has powerful integrations with popular email providers like AWeber, Constant Contact, and Mailchimp. You can also sync with automation and CRM tools like Zapier and HubSpot.
Coming to white-label options, this plugin lets you completely transform the form builder to look like your own tool. You can even rename the plugin inside WordPress so that the client sees your brand name in the wp-admin menu.
Plus, there are options to turn off form branding so you don't see the 'Powered by Formidable Forms' message.
You can be sure that your client doesn't come across the name 'Formidable' inside their wp-admin panel, the form builder, or the forms themselves.
Key Features
100% brand masking and custom styling
Reports, graphs, and performance charts for clients
WordPress multisite support
User tracking
API support
Powerful integrations
WPML and Polylang integration
Cost:
$39.50 to $299.50 per year.
Get started with Formidable Forms!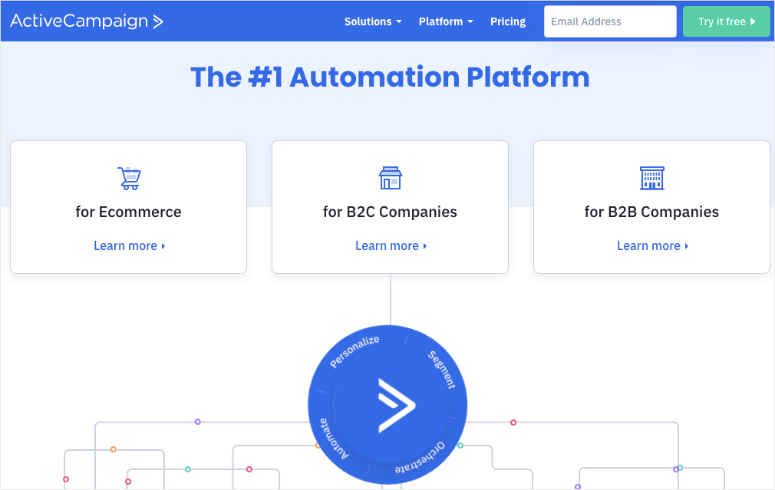 ActiveCampaign is a powerful marketing automation tool. You can use it for lead generation, email marketing, and CRM as well to improve your customer and user experience.
They have solutions for eCommerce stores, B2C, and B2B companies.
For agencies, ActiveCampaign has a total white label option. You can add a custom domain name, replace the logo, and remove all references to ActiveCampaign.
The cherry on top here is that you can remove all instances of ActiveCampaign branding with a single checkbox. You'll find this in your account settings and 2 clicks is all it takes.

The platform even lets you add custom HTML and CSS closing to modify button colors, font colors and size, borders, and more.
You can open ActiveCampaign accounts for your customer and change the branding to their own logo and colors. Plus, you can apply global changes across all the accounts you manage.
If you are a regular customer holding a small business account, ActiveCampaign has a few options to customize the branding. This includes changing the logo and domain, but there are no CSS or HTML editing abilities.
These features are geared more towards personal customizations rather than white labeling for clients. You can use it to make the software look like an internal tool for your team and employees.
Key Features
100% white labeled account
API support for single sign-on with multiple client accounts
Custom CSS and HTML
Global changes for all accounts
Cost:
White labeling is available on Enterprise accounts that cost $258 per month (billed yearly). Other plans start at $29 per month (billed yearly).
Get started with ActiveCampaign!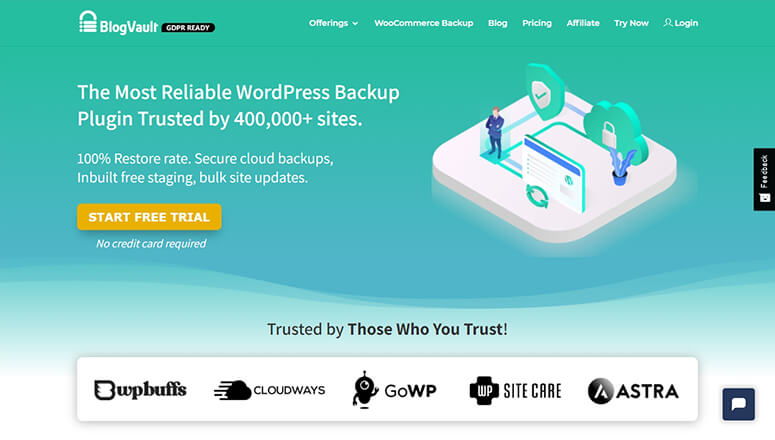 BlogVault is a top backup and staging plugin. If you want to offer your clients website maintenance services as well, you can use BlogVault to do that under your brand. You can change the plugin name, description, author name, and URL.
Then you can use BlogVault to create backups and staging sites for your clients. This lets you test out changes and any marketing campaigns you want to add to their WordPress site.
Once you're happy with how your campaigns look, you can merge the changes to your live site.
Backups are extremely helpful if you are worried that your changes may break a client's website. With BlogVault's daily automatic backups, you can be sure that there's the latest copy of the site that you can restore in one click to bring the site back to normal.
You can also maintain clients' websites by offering security scans and managing updates to the WordPress core installation, plugins, and themes.
Finally, BlogVault creates beautiful white labeled reports that you can show to your clients. And they provide backend support so you can contact them for help without your clients seeing your support chats and emails.
Key Features
Complete white labelling for WordPress and WooCommerce
Independent dashboard to manage multiple sites
Access permissions and user roles for clients and team members
Automated backups, security, and updates
Email notifications to stay on top of client sites
Cost:
Starts at $7.4 per month. Developer and Agency plans range between $49 to $149 per month.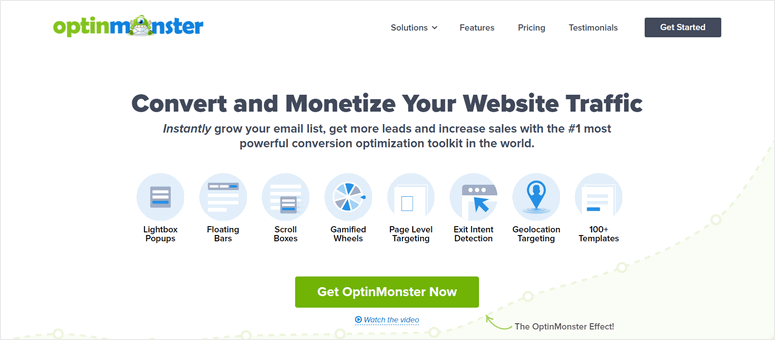 OptinMonster is hands down the best lead generation and conversion optimization tool that every marketer needs to have!
This tool is so powerful it can help you skyrocket your leads, grow your email list, and get more sales with just 1 or 2 campaigns.
To begin with, you can create stunning marketing campaigns like popups, floating bars, inline forms, slide-ins, and spinning coupon wheels. Then every campaign can be targeted to reach a certain audience. You can even filter your audience by location, page, revisits, visitor behavior, cart abandonment, and so much more.
OptinMonster doesn't offer 100% white labeling but it has so many options to rebrand the dashboard and campaigns that it's worth checking out.
So for starters, it lets you turn off the 'Powered by OptinMonster' message so any campaign you create won't bear any OptinMonster branding.
Then you can change the OptinMonster dashboard to match your own brand assets.

In your account, there's a branding tab where you can add a custom name, logo, icon, and copyright text. You can change the background color and buttons to suit your business.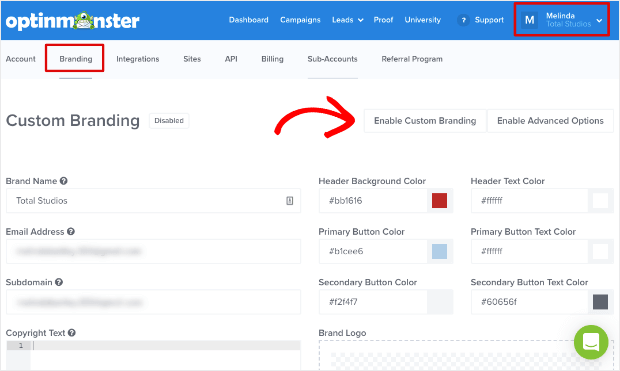 Now what's important is that you be able to share your account access with clients so that they can see the campaigns you've created for them to get approval.
OptinMonster lets you invite members to view a specific campaign. You can even create a folder and add a list of campaigns that you want your client to see. This way they won't be able to see folders of other clients.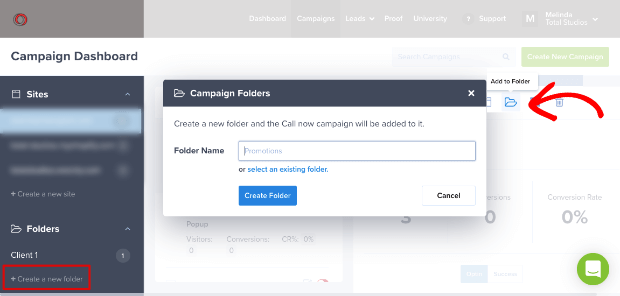 The only thing is the support chat may reveal that it's OptinMonster. But in most cases, this doesn't pose a problem for clients.
Still not convinced? Check our guide for the best OptinMonster alternatives.
Key Features
Add custom branding to dashboard and campaigns
Grant clients access to dashboard, folders, and projects
Set permission levels for users
Manage multiple clients with folders
Get analytics and reports
Integrate with popular email marketing services
Cost:
OptinMonster's white label email marketing solutions are available with the Pro plan that costs $29 per month.
Get started with OptinMonster!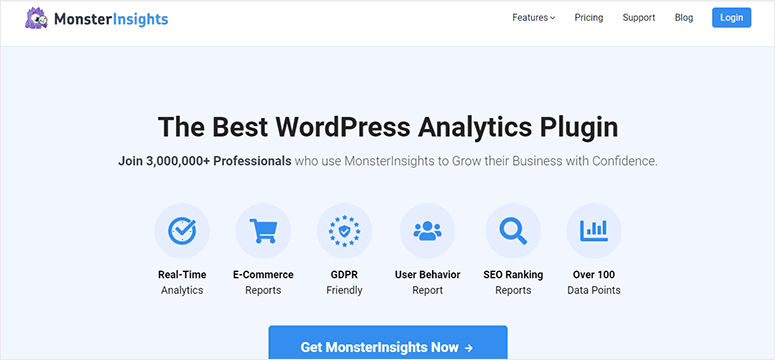 MonsterInsights is a powerful analytics plugin for WordPress sites. It makes it easy to connect your website to Google Analytics with just a few clicks. Then, it tracks your site's data and presents it to you in neat reports right inside your WordPress dashboard.
The MonsterInsights plugin cannot be 100% white-labeled. However, they offer white label reports that you can deliver to your clients in PDFs or email summaries. These reports will bear your own name and custom logo.
This makes tracking performance and results a whole lot easier. You can get data for forms, marketing campaigns, custom UTMs, top-performing posts and products, and more.
Key Features
Easy setup
Real-time data tracking
Customized PD reports
Automated weekly email summaries
Control access permissions for clients and team members
Cost:
There's a MonsterInsights Lite version for free. Pro plans start at $99 per year.
Get started with MonsterInsights!

Online marketing wouldn't be complete without SEO and the best white labelling tool for SEO marketers is SerpStat.
The tool gives you reports on your client's website performance that includes:
Visibility, traffic, and number of keywords
Site audit results with SEO errors and weaknesses that can affect the site's rankings
Position of a site in search results for tracked keywords
Site backlink profile and development
Market share of a site compared to leading competitors
This will establish your credibility in the SEO realm. And another great feature of SerpStat is that you can set the report frequency to weekly, monthly, or on-demand.
Key Features
Remove Serpstat logo from infographics and reports
Export reports under custom brand name
Get insights into your project
Create progressional reports for clients
Cost:
SerpStat starts at $48 per month. For custom reports, you need to subscribe to the Standard plan that costs $104 per month. For complete white labeling, you need the Enterprise plan that costs $349 per month.
That's our list of the top white label WordPress plugins for marketers, agencies, and freelancers.
We hope you found this post helpful. Up next, we've handpicked these resources for you:
These posts will give you more tools to help you drive exponential results for your clients' sites.