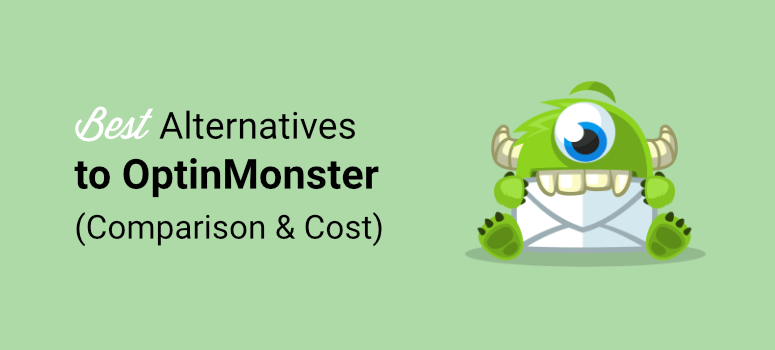 Are you looking for tools like OptinMonster that will help you grow your leads and email list fast?
OptinMonster is without a doubt the #1 lead generation tool in the market. It's packed with all the features you need to get your users to convert into leads, subscribers, customers.
But is OptinMonster the one and only choice? Of course not. There are plenty of alternatives that we'll discuss below.
Before we give you the list, let's quickly take a look at what OptinMonster has to offer and what you can do with it. This will help make us make a fair comparison with the alternative tools.
OptinMonster Brief: What is OptinMonster used for?
OptinMonster is a powerful tool to grow your leads and boost conversions on your site.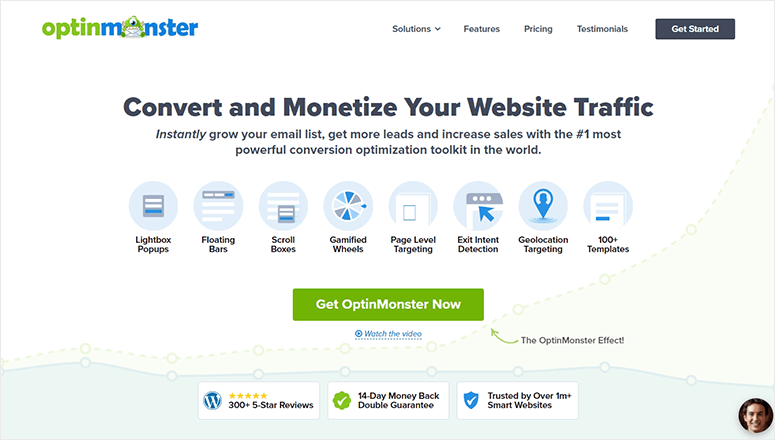 OptinMonster is often misjudged as "just a lead generation tool" when it's actually so much more than that.
To begin with, it lets you create all sorts of marketing campaigns that include lightbox popups, banners, slide-ins, and coupon wheels. You can even add an inline form inside your blog posts to get users to subscribe to newsletters.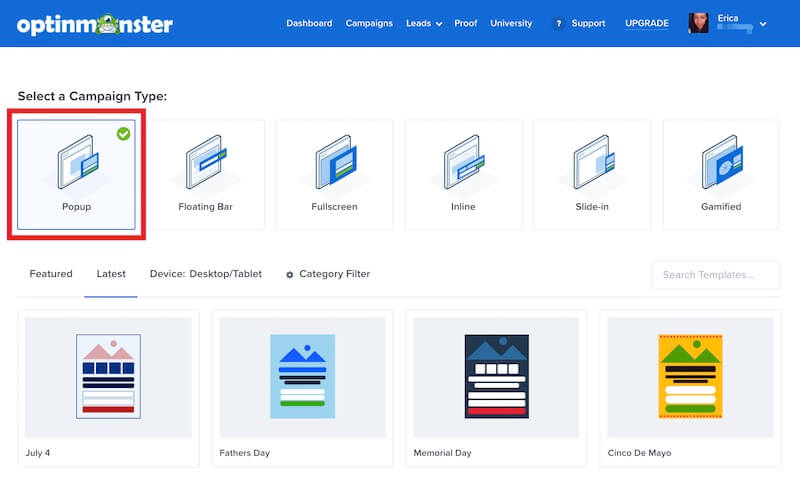 What's great is that every type of campaign comes with its own set of advanced options.
For instance, with the inline forms, you can lock content below it. Users will have to sign up or become a member to unlock the content and keep reading.
With every campaign you create, you can control when, where, and to whom it appears. You can target your audience based on whether they are new or returning customers, exiting your site, abandoning their cart, and that's just to name a few.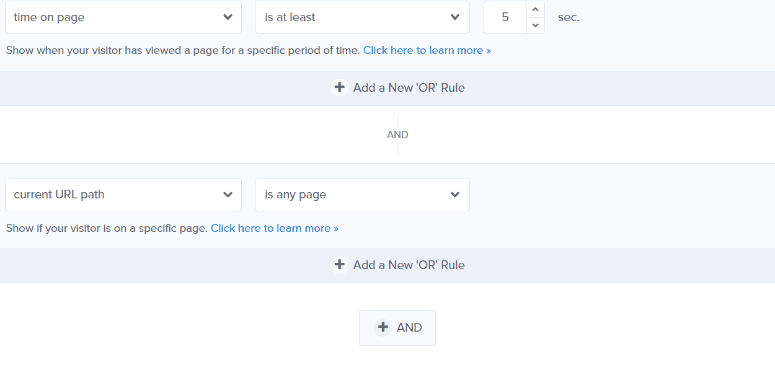 There are even retargeting options to show new campaigns to users that have already seen or interacted with a previous one.
Now you may be thinking that setting all this up is too complicated. Wouldn't it just be easier to get a simple popup maker and be done with it?
You'd be wrong there. OptinMonster is incredibly easy to use. First, it comes with tons of beautiful templates that are ready to use. You'll find options for just about any kind of campaign you want to launch including special holidays like Christmas, Black Friday, and Mother's Day.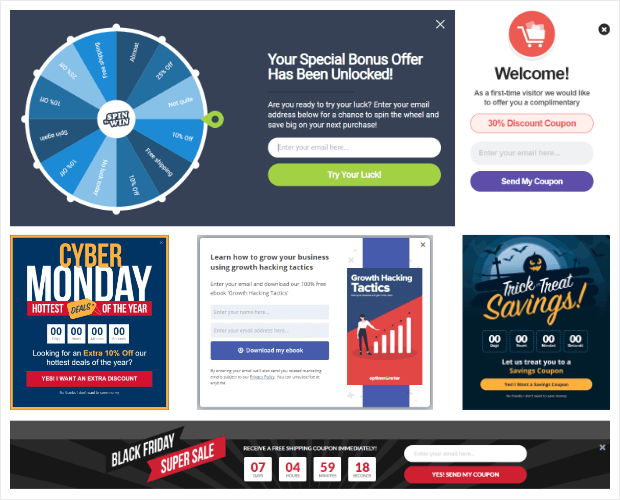 Once you select your template, there's a drag and drop campaign builder that lets you edit the design visually. You'll never need to touch coding or complicated configurations. Everything can be added with a simple mouse click including multi-step optins.
Inside the intuitive builder, you'll find blocks like countdown timers, yes/no buttons, chatbots, videos, images, and more.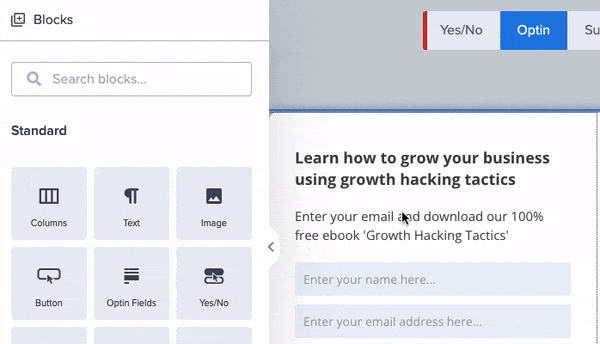 With OptinMonster, you won't have to show generic popups to every visitor that comes to your site. Everyone knows this tactic is kind of annoying as users have to close all your popups every time they come to your site.
Instead, OptinMonster lets you target your users according to what they're interested in and show them an offer or lead magnet that they'll find incredibly hard to refuse.
These powerful audience targeting features set OptinMonster apart from the rest of the options available.
And the results are fantastic! You can run A/B tests and track your campaign performance right inside the OptinMonster dashboard.
The best part about all this is that we don't even have to convince you how great this tool is. OptinMonster has been used by millions of website owners around the world and they have actually increased subscribers, sales, and revenue. There are dozens of OptinMonster case studies that speak volumes of the success it can bring to your website.
They operate as a SaaS company so you can connect with the team for help with setting up the tool, creating campaigns, and troubleshooting.
A few more highlights include:
Animated effects and sounds
Set and forget configurations
Seamless email integration
Integrates with HubSpot CRM and Google Analytics
Lead verification addon
Friendly and reliable support team
User-friendly customizable independent dashboard
Built-in analytics and Google Analytics integration
Lead segmenation options
Target by device, taxonomy, location, activity, and more
So is OptinMonster any good? Yes! It's a brilliant tool that you can use on any website, not just WordPress. It works on Shopify, WooCommerce, BigCommerce, and even HTML sites.
Pricing: Can you use OptinMonster for free?
Given that OptinMonster is packed with premium features, the tool doesn't have a free version. You can sign up for a 100% risk-free account with a 30-day moneyback guarantee.
OptinMonster starts at just $9 per month, which in our books, is a steal considering everything it has to offer.
We know that this brief was much longer than expected, but that's what you get with OptinMonster. And to be honest, we've only scratched the surface here. You can read more about this powerful tool in our Complete OptinMonster Review.
Now OptinMonster is such a great tool, so why look for alternatives? Well, there are a few reasons that we've listed below.
Why Look For OptinMonster Alternatives?
OptinMonster is designed for both beginners and advanced users. But it's meant for serious players, those that really want to up their game and get maximum results.
If you're a beginner on a low budget, then OptinMonster might seem too expensive, especially if you don't need advanced features like cart abandonment and split testing. You'll want to get a free tool that lets you create popups and banners for free.
Another thing to consider is limits on third-party integrations. While there are dozens of integrations including Google Analytics, Constant Contact, Mailchimp, and Zapier, you may not find the one you're looking for. You can send a request to the OptinMonster team if you want to see a new integration added.
Other than that, if you have the budget for OptinMonster, it's hands down the #1 choice.

Now coming to other lead generation options, do they match up to what OptinMonster has to offer? Let's take a look.
OptinMonster Alternatives
Here are the top lead generation tools that offer the same or similar services as OptinMonster.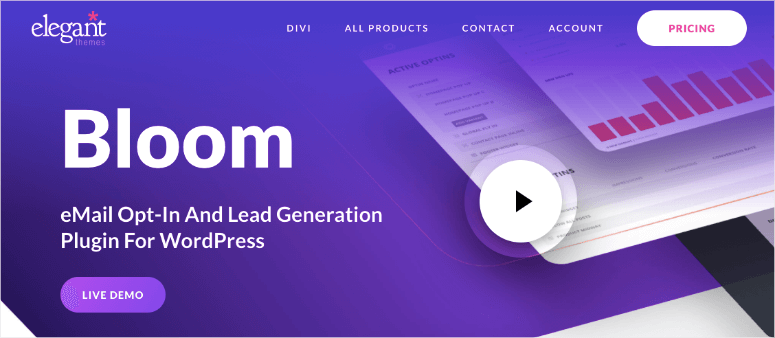 Bloom is an email opt-in plugin for WordPress. It's developed by Elegant Themes and is a good tool to convert website visitors into loyal followers.
Similar to OptinMonster, there are targeting options but just a handful. You can target or exclude specific posts and pages. You can also display campaigns based on a visitor's location and interaction.
There are 100 popup templates to choose from and it's easy to customize and configure the campaign settings.
One thing that stands out about Bloom's plugin is that you can create automatic opt-in popups, inline forms, or fly-ins that are triggered by time delays or scroll depth.
Bloom vs OptinMonster:
Bloom is a close competitor to OptinMonster but it's no match. OptinMonster has a long list of advanced targeting rules that gives you endless customization options to target your audience. Bloom offers just 6 options that include inactivity, after purchase/comment, scrolling, and timed delay.
Bloom lets you create popups, fly-ins, and inline forms. You can add the inline form to posts, below content, or the sidebar using widgets. OptinMonster offers way more campaign types that include everything Bloom has to offer plus coupon wheels, floating bars, fullscreen mats, and scroll boxes.
The downside to Bloom is that you need to sign up for the whole Elegant Themes package to get access to the popup tool. This can be quite expensive. Plus, you can't opt out of the other tools and get just the Bloom plugin.
For more on this, we've done an in-depth comparison of OptinMonster vs. Bloom that you'll want to check out.
Pricing:
Bloom is packaged inside a bundle that costs $89 per year and gives you access to the full range of products from Elegant Themes including the Divi Builder. You can buy the lifetime license for $249.
See our complete Bloom Review for more details or get started with Bloom right away!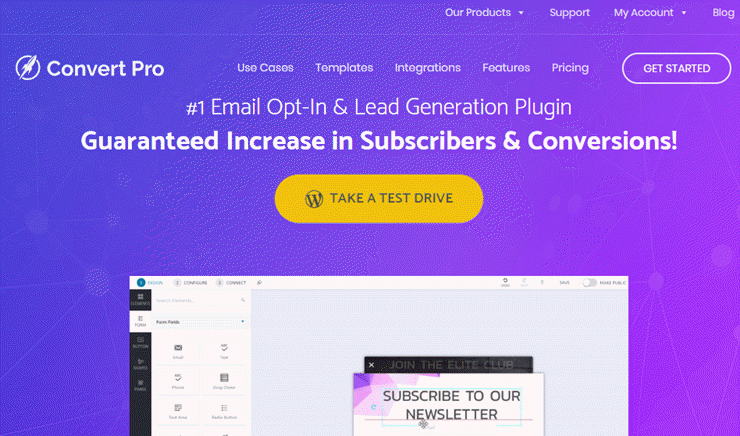 Convert Pro is an email opt-in and lead generation plugin for WordPress. It comes with ready-to-use templates and a drag and drop builder to create opt-in forms fast.
You can build popups, slide-ins, yes/no popup forms, and fullscreen CTAs. As for targeting rules, the main ones include page-level, exit-intent, on-click, and device targeting.
The forms are 100% mobile-friendly and are built for speed so you can expect high performance.
Convert Pro vs OptinMonster:
Convert Pro has around 30+ mailer integrations and powerful audience targeting rules which puts it quite close to OptinMonster. But it still lacks advanced features like rule saving, onsite retargeting, and campaign animations, to name a few.
ConvertPro's basic plan is just a few dollars less than OptinMonster, so we'd still recommend OptinMonster as #1.
Pricing:
Convert Pro starts at $99 per year with a 100% no-risk 14-day money-back guarantee.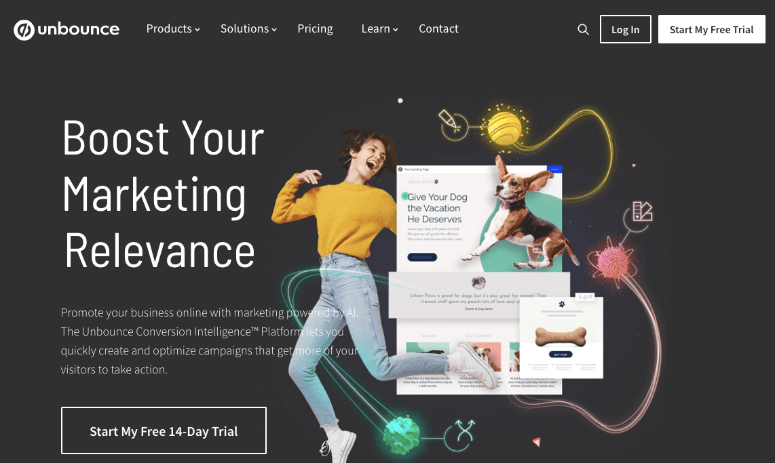 Unbounce is an AI-powered marketing platform to create optimized campaigns with the goal to get visitors to take action on your site. This advanced platform pairs your campaigns with machine learning technology to get better results from your marketing efforts.
Unbounce has a Popups and Sticky Bars tool that can be used as an alternative to OptinMonster. You can use these campaigns for lead generation, coupon codes, limited-time deals, product announcements, and more.
There's a drag and drop editor to create and publish your lead generation campaigns with ease. And one thing that stands out about Unbounce is that you can target visitors based on search terms and keywords.
Unbounce vs OptinMonster:
Unbounce and OptinMonster both let you create and schedule seasonal offers that run automatically on set dates. They also both offer A/B testing to experiment and find the best-performing designs.
That said, there are very limited targeting options that include on arrival, after delay, on scroll, on click, and on exit.
Pricing:
To get access to Popups and Sticky Bars, you need to subscribe to the Unbounce Smart Builder plan. This costs $90 per month which puts it out of reach for small-budget websites.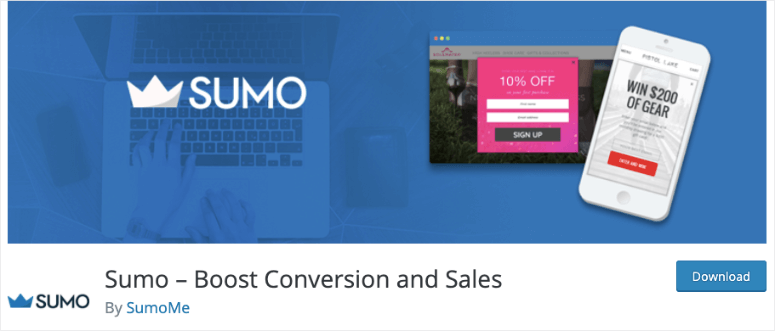 Sumo is a powerful tool to help you grow your email list and increase conversions. You can use the popup builder to create timed popups and display them across your site.
The tool also lets you schedule one-off marketing emails and drip campaigns to engage with your subscribers.
With eCommerce integrations, you can use the tool to detect visitors abandoning their carts. This can help you reduce abandonment and also increase average order value.
There are plenty of templates to get started with and they are all fully customizable. The plugin is also GDPR compliant and adheres to the latest SEO guidelines.
Sumo vs OptinMonster:
Comparing Sumo with OptinMonster side by side, you'll see that OptinMonster comes with way more features and functionality. However, Sumo lets you email your subscribers from the same platform, whereas OptinMonster allows you to sync campaigns to your email account.
OptinMonster is regularly updated and maintained so you can be sure the plugin will be compatible with your site. The free Sumo plugin in the WordPress repository isn't maintained as often as we'd like. This could not only lead to incompatibility issues but security problems as well.
OptinMonster also has a range of pricing plans that suits everyone's budget. You can get started for as low as $9 while Sumo costs a whopping $39 per month.
See our full comparison for more details: OptinMonster vs. Sumo (Which is Better?)
Pricing:
There's a free limited version of the plugin. The Pro plan costs $39 per month.
Get started with Sumo List Builder!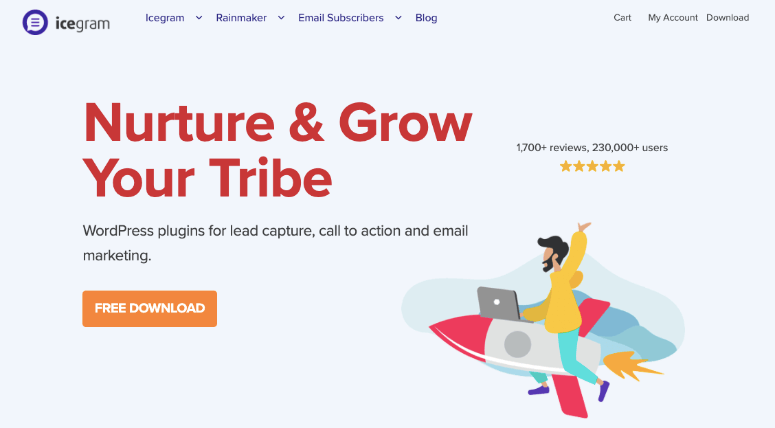 Icegram is a WordPress plugin to display calls to action to capture leads. It lets you create onsite campaigns to engage with visitors and get them to convert into subscribers.
Icegram also gives you access to email marketing to communicate with your audience and nurture your relationships with them.
Icegram vs OptinMonster:
Icegram is a great option for anyone who needs a free plugin to display simple popups or action bars. Similar to OptinMonster, Icegram also works on all websites, even non-WordPress sites.
Icegram comes with basic targeting rules and you can even include a 2-step opt-in process.
However, if you're serious about getting results and driving conversions, OptinMonster has endless options to meet any lead generation and conversion goals. You might want to check out our list of Icegram alternatives.
Pricing:
There's a basic free plan. The premium version costs $129 per year and the Max plan costs $229 per year.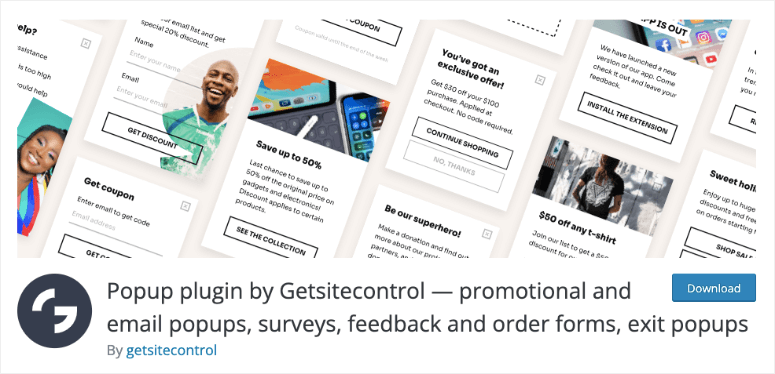 GetSiteControl is a less popular but growing popup plugin for WordPress. It lets you create email subscription popups, surveys and polls, and order forms for your site.
You can add exit-intent popups, floating notification bars, and slide-ins to capture your audience's attention. It's designed to be easy for anyone to use and if you face any problems, the plugin offers 24/7 live chat support.
GetSiteControl vs OptinMonster:
GetSiteControl offers a few features that are different from OptinMonster.
GetSiteControl connects to popular email marketing services and you can send collected leads data to Google Sheets. It also comes with a performance and response report to see how users interacted with your campaigns.
You can create an account and get started for free, no credit card is required.
Pricing:
The Pro version starts at $9 per month.
Get started with GetSiteControl!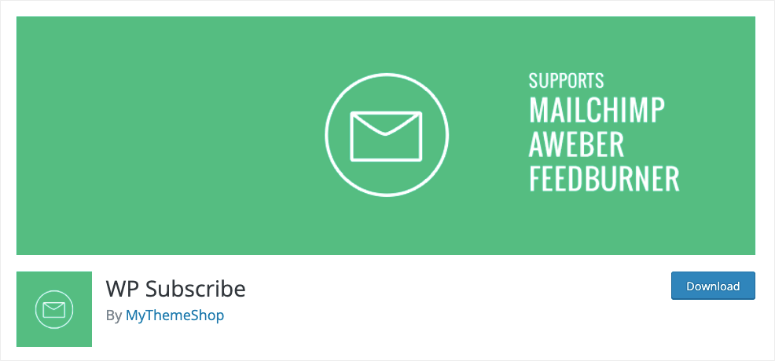 WP Subscribe is a simple alternative to OptinMonster. It focuses on helping you build an email list to interact with your blog audience.
It's a cleanly coded plugin that needed a premium subscription but is now available for free in the WordPress repository.
You can create subscription forms that are optimized for speed. The customization options are limited but you can use custom CSS to get your campaigns to look the way you want them to.
Then you can embed the same campaign more than once in different sidebars. And as for email marketing, it integrates with Mailchimp, Aweber, and FeedBurner.
WP Subscribe vs OptinMonster:
OptinMonster is a premium plugin so you'll get top-notch features and excellent support. WP Subscribe is a free plugin so there's no support available. You can reach out to the developers or ask fellow WordPress users for help on the plugin's forum page.
Pricing: Free.
Get started with WP Subscribe!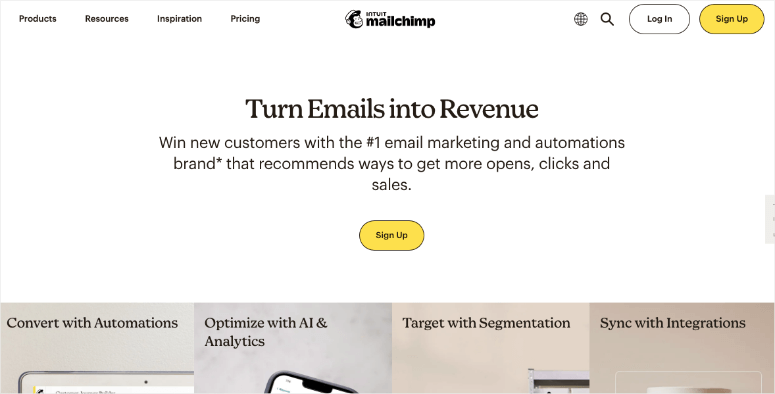 Mailchimp is more of an email marketing service and isn't really in line with what OptinMonster has to offer. However, many users are often confuse them to be similar services.
Mailchimp is an email service provider (ESP) that you can use to send marketing emails to your audience. You'll get professional email templates and newsletter designs that you can use to create catchy emails.
You can also use their automation features to send out email marketing campaigns to welcome new subscribers, reengage inactive subscribers, and so on.
Mailchimp lets you create signup forms and landing pages to generate leads. And it comes with built-in analytics to view how many people open your emails and click on your links.
Mailchimp vs OptinMonster:
Mailchimp is similar to OptinMonster only in the area where they let you build signup forms. You can add these forms to your website to get people to sign up for your newsletter.
That said, there are no targeting rules for these forms making it a very basic list building tactic.
You can, however, use Mailchimp along with OptinMonster.
While OptinMonster serves as the lead generation tool, Mailchimp will act as the next step to send out email series, automated drip campaigns and so on. You could also use the OptinMonster email marketing integration with other ESPs like Constant Contact and Aweber.
Pricing: Free plan available. Paid options start at $9 per month.
That's our list of the best OptinMonster alternatives. We've picked just the top 8 alternatives that we can truly recommend. There are more options like Thrive Leads (Thrive Suite), OptiMonk, and HubSpot that you can check out. We don't recommend using Ninja Popups because the plugin hasn't been maintained regularly and could cause incompatibility issues and security problems on your site.
If you're looking to create a simple optin form on your site, then WPForms is the best alternative for that. You'll get readymade form templates to create any kind of form you need. Then there's a drag and drop form builder to customize the form. It also comes with powerful marketing tools and integrations.
We hope you found this post helpful.
If you're serious about growing your website, boosting conversions, and exploding your email list, you should check out these posts:
These resources will give you insights into the best tools to capture emails and build a loyal subscriber base.