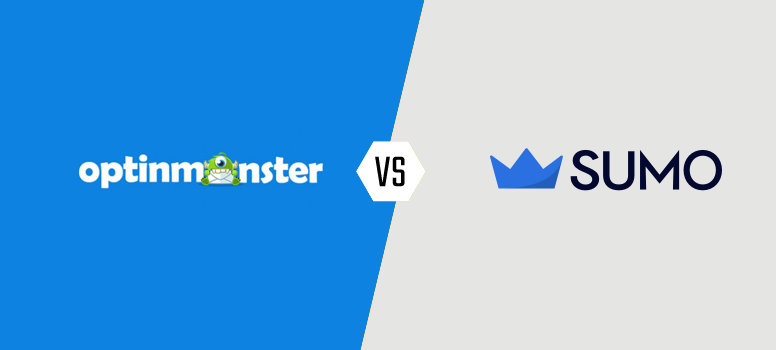 OptinMonster vs. Sumo: Who wins the battle? If you're looking for a Sumo alternative and wondering how OptinMonster stacks up as a tool to grow your email list, you're in the right place.
We're going to take a look at the features of OptinMonster vs. Sumo, side by side, to help you determine which lead generation and conversion optimization tool is the best choice for your website.
Let's get started with this comparison of OptinMonster vs. Sumo.
Here's a quick table of contents to show the different aspects we'll be comparing between these 2 tools, OptinMonster vs. Sumo:
General Overview: OptinMonster vs. Sumo
What is OptinMonster?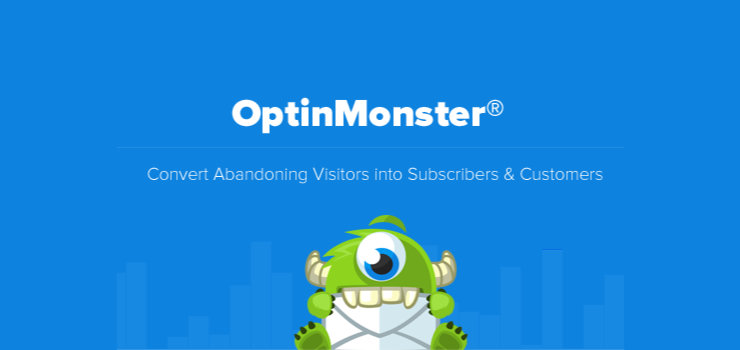 OptinMonster is the most popular lead generation tools available. Hundreds of thousands of publishers, eCommerce sites, and agencies are using OptinMonster to grow their email lists, boost pageviews, reduce bounce rates, reduce cart abandonment, boost user engagement, and increase sales conversions.
OptinMonster is a Software as a Service (SaaS) solution and it can be used on any type of website including WordPress, Shopify, Magento, static HTML sites, and more.
To use OptinMonster on your website, all you have to do add a piece of code to your website. But they make it even easier for WordPress users, all you have to do is download and activate the free WordPress plugin.
You can install OptinMonster on multiple websites and manage them all through a single dashboard. They even offer OptinMonster sub-accounts so numerous co-workers or clients can have access to the account at one time. You can control what those sub-accounts can actually do with the 4 different roles of viewer, author, manager, and admin.
It also integrates with every major email marketing service including AWeber, Constant Contact which are great alternatives to MailChimp a few more so that you can easily connect your OptinMonster campaigns to your email marketing campaigns.
What is Sumo?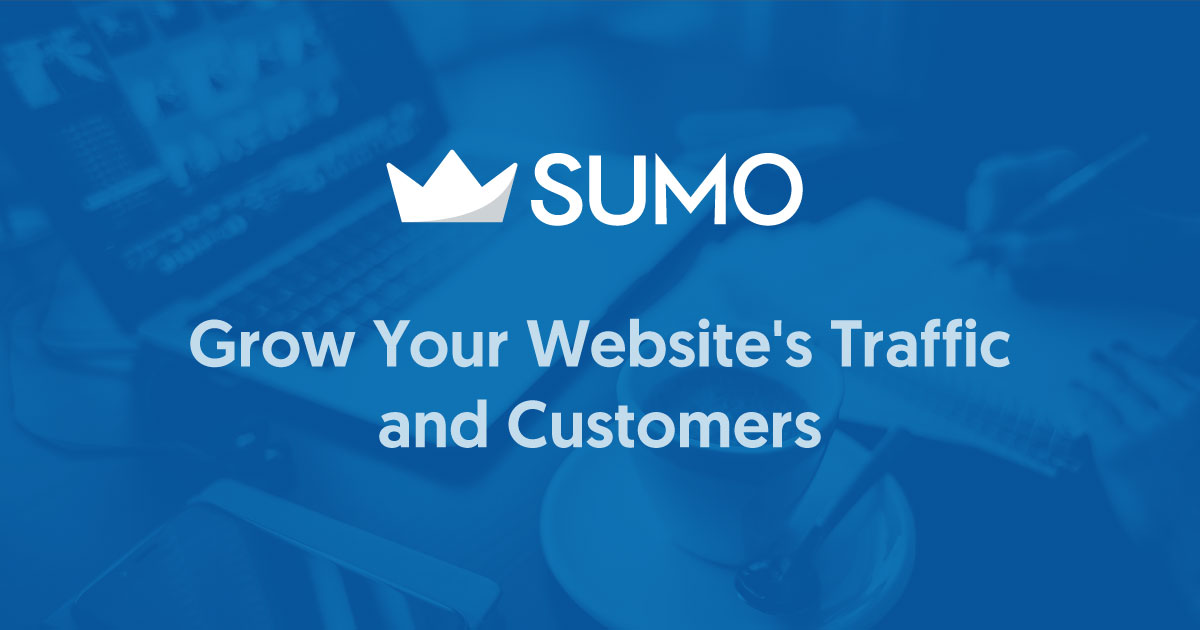 Sumo, formerly known as SumoMe, is another great list-building and website optimization tool. Like OptinMonster, you can also use Sumo on almost any type of website to grow your email list, reduce cart abandonment, and increase order value. But unlike OptinMonster, Sumo is a plugin solution not a SaaS solution.
With Sumo you can also add other users to your account but you can only choose between admin and user roles. This means a user has access to all of your account settings and campaigns, whereas with OptinMonster you can better control what the other users have access to.
Sumo also integrates with email marketing services like Mailchimp, Constant Contact, MailerLite, and more.
Ease of Use: OptinMonster vs. Sumo
OptinMonster
OptinMonster is the easiest, most user-friendly, lead generation tool to use. It's a standalone app that lives on it's own website. To create your popups and campaigns, you log in to your account on the OptinMonster website.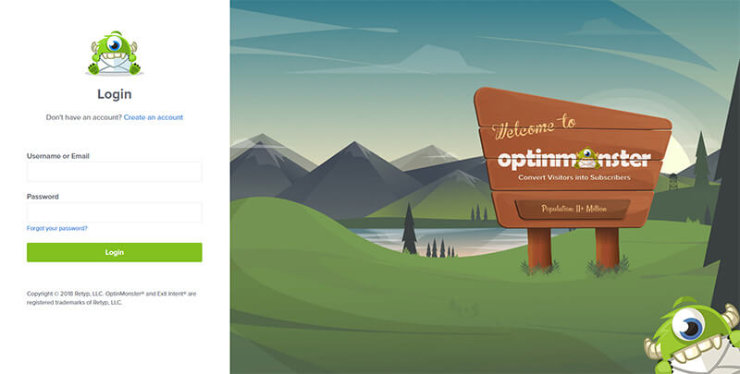 After logging in, you can create campaigns, manage your account, and see all the websites you're using OptinMonster on all from 1 convenient place.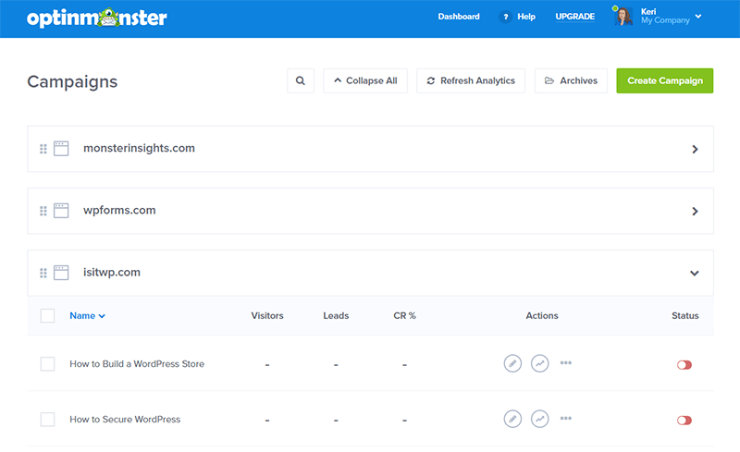 Creating a new campaign with OptinMonster is very easy. Just click on the Create Campaign button and you'll be taken to a page where you can select your campaign type, whether it's popup, fullscreen, slide-in, floating bar, or inline.
Then you can choose 1 of their many campaign templates that will allow you to quickly create a great-looking campaign. You can then use their drag and drop builder to easily customize the template to your needs.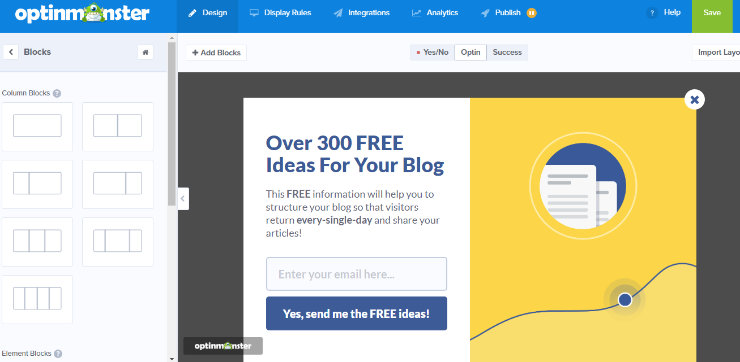 Once you're finished creating your campaign, all you need to do is hit the Publish button, make your Publish Status live, and copy and paste the embed code onto your website.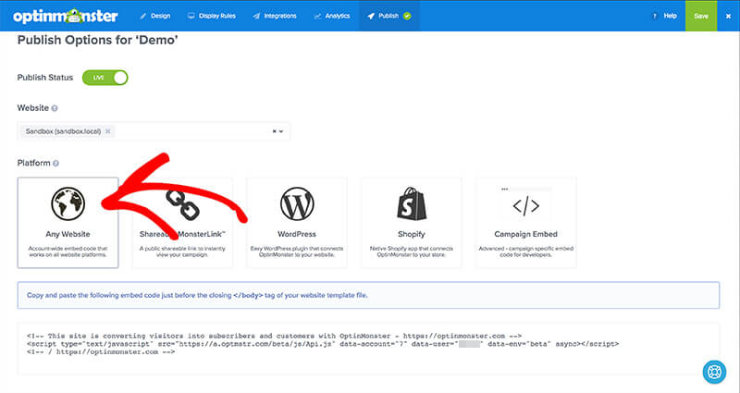 Sumo
On the other hand, with Sumo you have to manage your account and create campaigns from 2 different places. You can log in to your account from Sumo's website, but from here you can only manage your account billing and other account details. You can't create any popups or campaigns from there. Also, you can't view the rest of Sumo's website like the home page for instance, unless you're logged out of your account.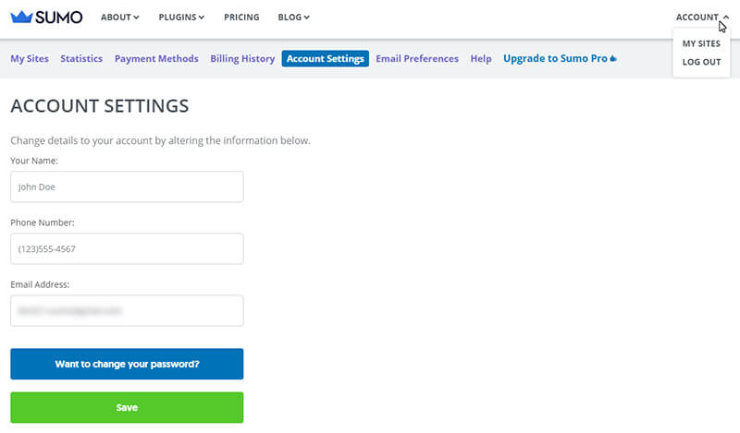 To create popups and campaigns, first you have to add Sumo to your site. Below is what that looks like on a WordPress site. To create a campaign, you have to click on My Apps. This will then open a new window where you build your popup or campaign. That's a lot of different windows to deal with.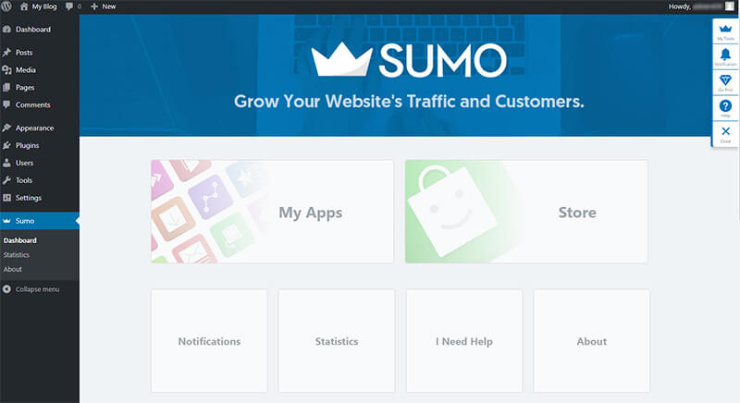 Sumo has a partial drag and drop editor to customize your popups and campaigns but the user interface is more complicated to use than OptinMonster. It takes some clicking around to figure out what you're doing.
Plus, Sumo doesn't let you fully choose your own campaign type. For example, they make you choose your goal for the campaign and if you choose the Add a Call to Action goal, you're not allowed to choose the Welcome Mat style campaign type.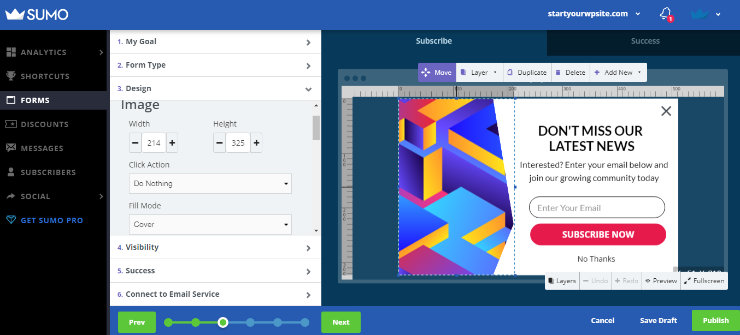 Winner: OptinMonster. With OptinMonster you can create campaigns and manage your entire account from 1 place. Creating a campaign is also super simple with their drag and drop campaign builder and it's easily customizable.
Features: OptinMonster vs. Sumo
OptinMonster
OptinMonster has numerous features straight out of the box that allow you to create a wide range of powerful popups and campaigns to help grow your email list or accomplish a number of other goals on your website.
You can choose from 5 different campaign types including:
Popup
Fullscreen
Slide-in
Floating Bar
Inline

You also have the ability to turn any fullscreen campaign into a "welcome mat" campaign style within the campaign builder as well as the ability to turn any popup campaign into a 2-Step Yes/No optin form. The 2-Step optin form is particularly effective for increasing conversions because of a psychological trick called the Zeigarnik Effect. Studies have shown that when a person initiates a process, they're much more likely to complete it.
Along with these campaign types, OptinMonster also provides numerous campaign triggers and display rules for you to choose from including:
Time on page/Time on site
Exit detected
Distance scrolled
Visitor inactive time
Visitor's location
Current date/time/month
Pages viewed
Visitor device
Visitor is new/returning
Current URL path
Visitor clicked MonsterLink
Visitor adblock detection
And much more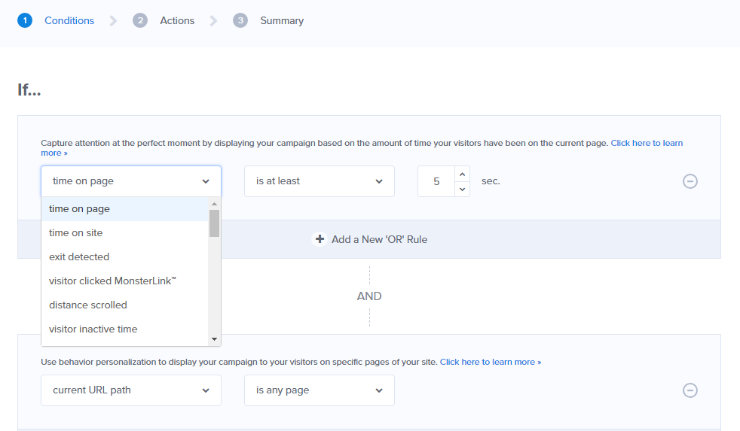 One of the most powerful triggers that OptinMonster offers is their Exit-Intent Technology, their signature feature. Exit-Intent Technology is able to track when a user is about to leave your site and send them a target popup at exactly the right time. It works great for reducing cart abandonment and converting abandoning visitors into email subscribers.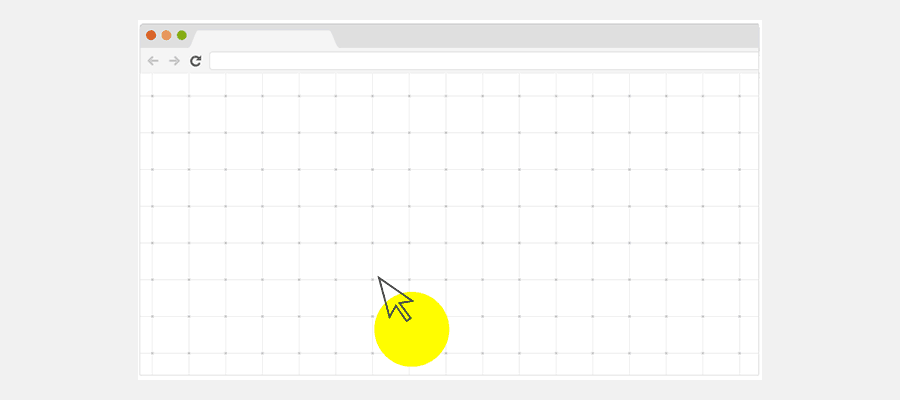 Sumo
With Sumo you can also choose from a number of different campaign types including popup, cart casino, scroll box, inline form, click trigger popup, welcome mat, and smart bar. But like we mentioned earlier, you can only access certain campaign types depending on what you goal you choose for your campaign. Plus, campaign types like the Cart Casino are only available with particular paid plans.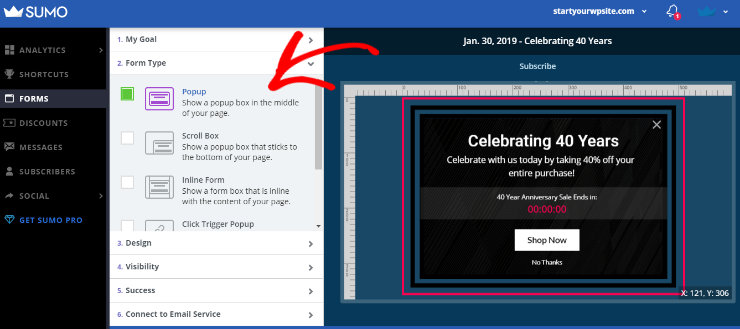 You can add campaign triggers to show or hide based on URLS, pages, devices, referrer, and more. But when it comes to campaign triggers though, Sumo is lacking compared to OptinMonster. Sumo has about 11 campaign triggers to choose from, whereas OptinMonster has over 25.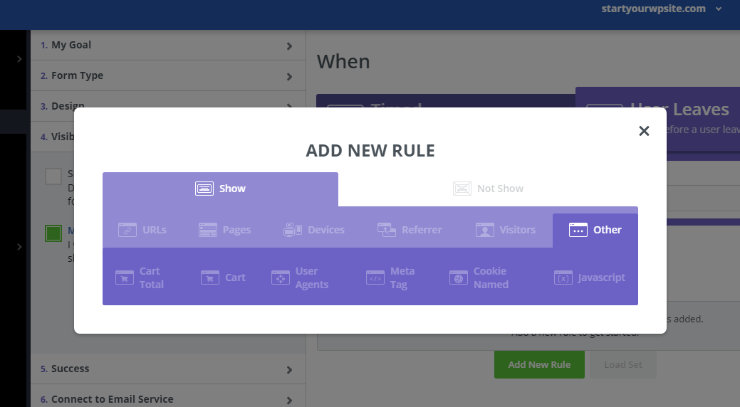 Winner: OptinMonster. With OptinMonster you get access to many more powerful campaign triggers and targeting options like Exit Intent Technology, Onsite Retargeting, Geo-Location Targeting, and more.
Pricing: OptinMonster vs. Sumo
OptinMonster
OptinMonster offers 4 different pricing plans: Basic, Plus, Pro, and Growth. OptinMonster plans start as low as $9/month.
Each pricing plan is based on the number of websites, the number of campaigns, campaign targeting and triggers, reporting features, and more. The pricing doesn't depend on the number of subscribers, so you don't have to upgrade to a pricier plan as your email list grows if you don't want to.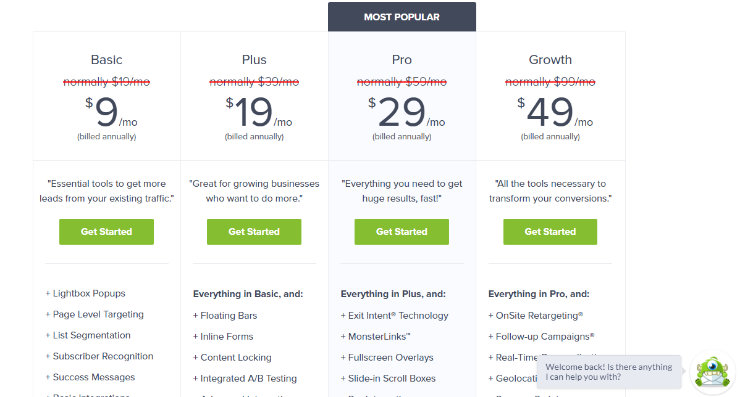 You can start out with the Basic plan for only $9/month when billed annually for 1 website and 3 campaigns. This plan includes essential tools for beginners to grow their email lists like Lightbox Popups, Page Level Targeting, Success Messages, and more.
With the Plus plan you can create unlimited campaigns for 3 websites. It includes some of the more powerful features like Exit Intent Technology, MonsterLinks, and more. It costs $19/month when billed annually.
The Pro plan, OptinMonster's most popular plan, allows you to create unlimited campaigns on 5 websites. This plan costs $29/month when billed annually and allows you to remove the OptinMonster branding from your campaigns and it includes all of the most powerful OptinMonster features.
Finally, the Growth plan, is the most expensive plan at $49/month when billed annually. You get all of the powerful features they offer for use on 10 websites as well as premium support.
Sumo
Sumo offers 4 different pricing plans: Free, Professional, ECommerce, and Growth. The Free plan might seem like an awesome deal but it's only available for 200 subscribers, so you have to upgrade your plan as soon as your email list grows.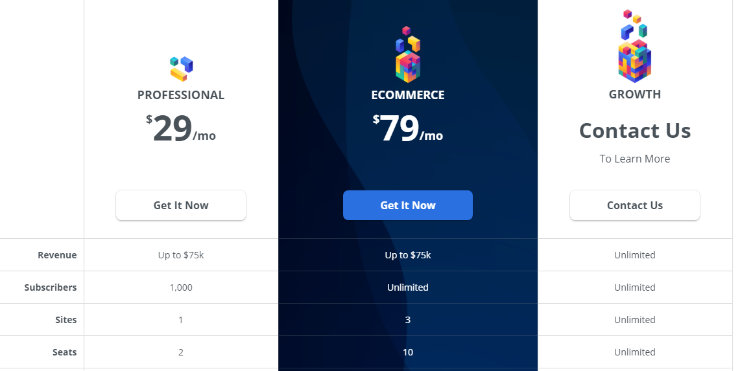 The Professional plan starts at $29/month but it's only for 1 site and up to 1000 subscribers. If you want to use Sumo for an unlimited number of subscribers you have to choose their Ecommerce plan starting at $79/month.
Not only does it get more expensive the more subscribers you have, but it also gets more expensive depending on how much money you make from your blog or website. If you make more than $75,000, you'll need to upgrade to the Growth plan, which you need to contact Sumo to get a quote for.
Winner: OptinMonster. With OptinMonster you can use any of their plans no matter how many subscribers you have and it'll cost you much less than Sumo.
Documentation & Support: OptinMonster vs. Sumo
OptinMonster
OptinMonster offers over 200 articles to help you create your first campaign, integrate with email service providers, manage your account, and pretty much any other tutorial you'd need from simple to advanced.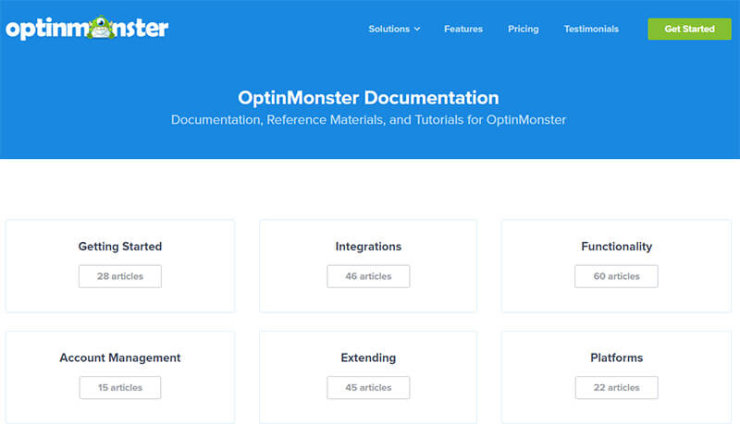 If you can't find the answer to your issue in the documentation section, you can also open a private support ticket with one of their helpful team members. You can typically expect a response to your support ticket within 24 hours.
Sumo
When you need help with Sumo, they have plenty of documentation on their site to help guide you through creating a campaign, managing your account, and more. You can also type in your issue in their question box to help find the right documentation faster.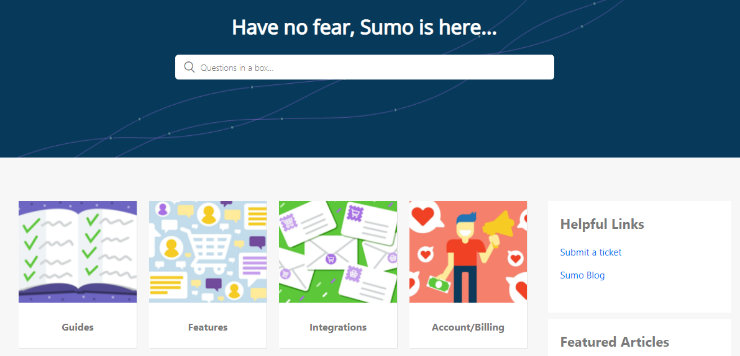 You can also submit a ticket to a member of their staff but they don't make it clear on their website when you can expect your ticket to be responded to.
Winner: OptinMonster. OptinMonster has plenty of support documentation and you can rest assured that your support ticket will be answered quickly.
Conclusion
Overall, we recommend OptinMonster as the best tool to grow your email list and optimize your website to maximize conversions and revenue.
For a reasonable price you get access to a number of powerful features like Exit Intent Technology and 2-Step Optins. Creating a great-looking popup is easy to do with their drag and drop builder and their array of fantastic customizable templates. Plus, as your email list grows, you won't be forced into a higher priced plan.
Sumo is great tool if you're just starting out and need a free option to build your email list. But as soon as you reach 200 subscribers, you'll have to bust out your wallet for an expensive plan. At that time, it would be a good idea to switch over to OptinMonster where you'll get more bang for your buck.
We hope you enjoyed this post on OptinMonster vs. Sumo and that you know know which lead generation tool is the best choice for you to grow your website or blog. If you enjoyed this article, check out our post on Thrive Leads Alternatives: OptinMonster vs Thrive Leads.
Or, you can check our guide on the best OptinMonster Alternatives.