Do you want to add live chat to your WordPress site for instant messaging? Putting live chat on your site helps you to communicate better with your site visitors and convert more visitors into leads. To add live chat in WordPress, you can use the popular LiveChat software but is it the best choice?
In this LiveChat review, we'll check out how it works, its features and functionalities, pricing, and more to help you decide if it's the right tool for you.
About LiveChat Software

LiveChat is one of the best live chat software plugins available on the market. It's an application that allows you to add live chat to your website and provide the fastest response to your users. It enables your site visitors to live chat with your team about any support and sales query.
LiveChat comes with many useful chat tools such as message sneak-peek, file sharing, timeline, delivery status, and notifications. It has more interesting options to engage customers like automatic and personal greetings. There're also feedback options to rate chat, comments, tickets, etc.
The LiveChat interface is simple and easy to learn. There're team management options like agent groups, agent roles, work scheduler, chat supervision etc. to keep your chat support team organized. It also provides reports and analytics including basic statistics, chat reports, ticket reports, daily summary and more.
LiveChat features seamless integration with 130+ tools including CMS platforms like WordPress and Drupal, eCommerce applications like Shopify and BigCommerce, and help desk applications like Knowledge Base and Zendesk. To add LiveChat on your WordPress website, there's a free plugin in the official WordPress plugin repository.
Why You Need to Add Live Chat to Your Site?
Live chat is one of the fastest ways to respond visitors on your site. It's way faster than emails and phones. Adding live chat option on your site enables your users to ask a question as it pops up in their head. And, an instant response from your end makes communication just great!
Most often, live chat is used for support and sales. If you're a company selling some products and services, you'll need live chat for both support and sales. When a customer tackles a problem while using your product, they can instantly contact you via live chat. Then, you can offer an instant help.
Such enhanced communication will surely enhance your impression in the user's mind. And, that will definitely pay off in the long run as they share it with word of mouth and other media. For the least, they'll be your customers until you're doing the business.
Live chat is great for lead generation and sales as you can direct a user directly to the checkout page when you know they're interested in a product. Many users quit the idea of buying a product just because they can't find a little piece of complementary information. So, you can capture each of such users and convert them into customers.
In the nutshell, live chat enhances the user experience, engagement, lead generation, and sales. It's a simple yet great way to grow your business and become successful.
LiveChat Review: Getting Started with LiveChat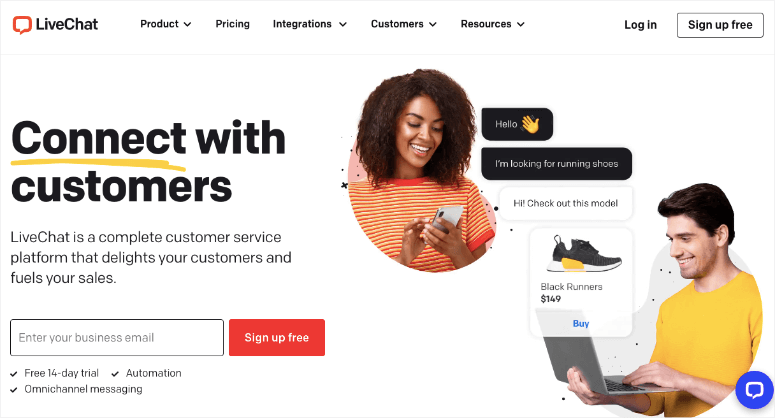 LiveChat is a premium live chat software but they've free 30-day trial to start with. So you can sign up free and use the software free for 30 days, explore its features, and decide whether to continue with a subscription or discontinue using it. It's a great option as you can sign up free with just an email address at first.
To get started, you'll need to visit the LiveChat website and click Sign Up Free button.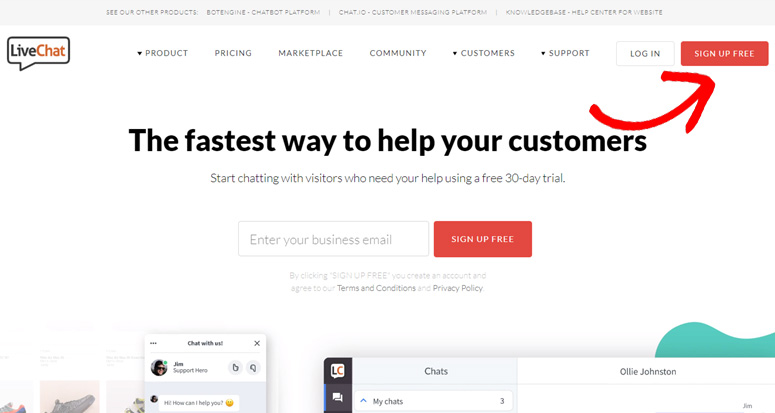 Now you should enter your business email to start the LiveChat signup process. Alternatively, you can also sign up with your Google account.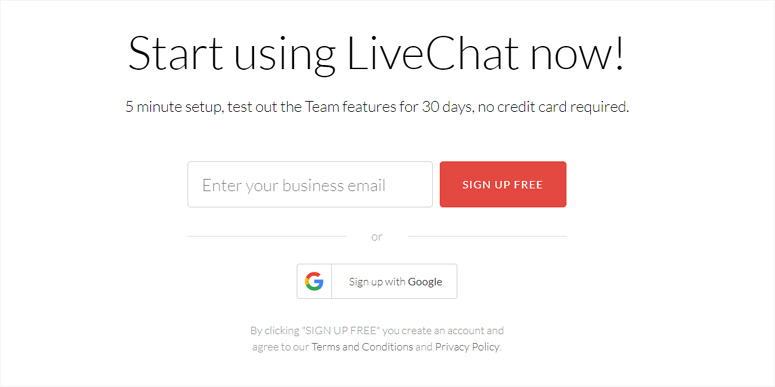 Then in the second step, you'll need to enter your website address. Then, also choose chat purpose.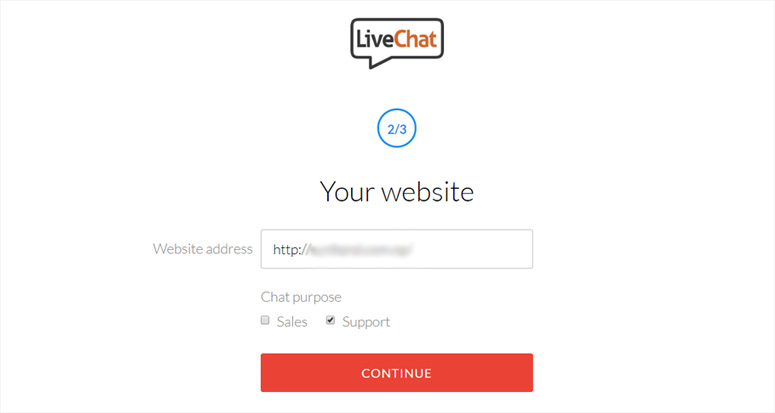 In the third and last step, you can choose an industry type, number of employees, and audience type. If you're planning to live chat only with your customers, you can check B2C only. But if you want to chat with other businesses as well, also check B2B. And, Internal Use if you want it for communication for internal use.
Then click Create Account button.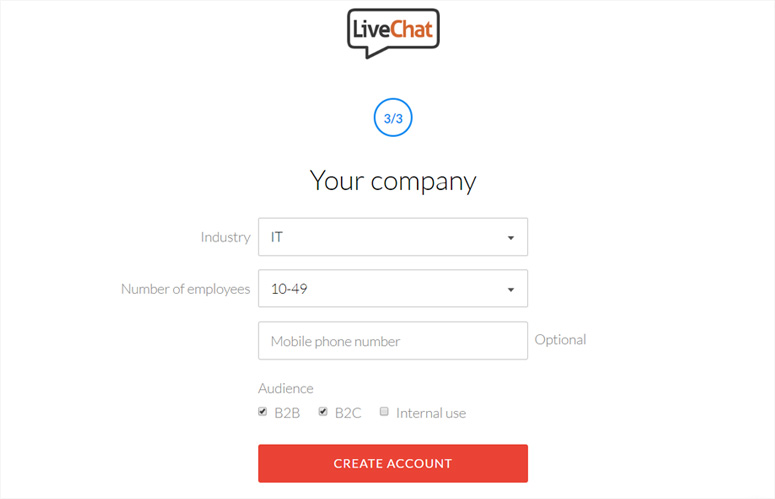 Now, you'll see a sign in page. Sign in with your email and password that you used in step 1. And, the signup process is complete.
Then, you'll see the next steps of LiveChat setup process. In the next step, you'll need to install LiveChat code on your site.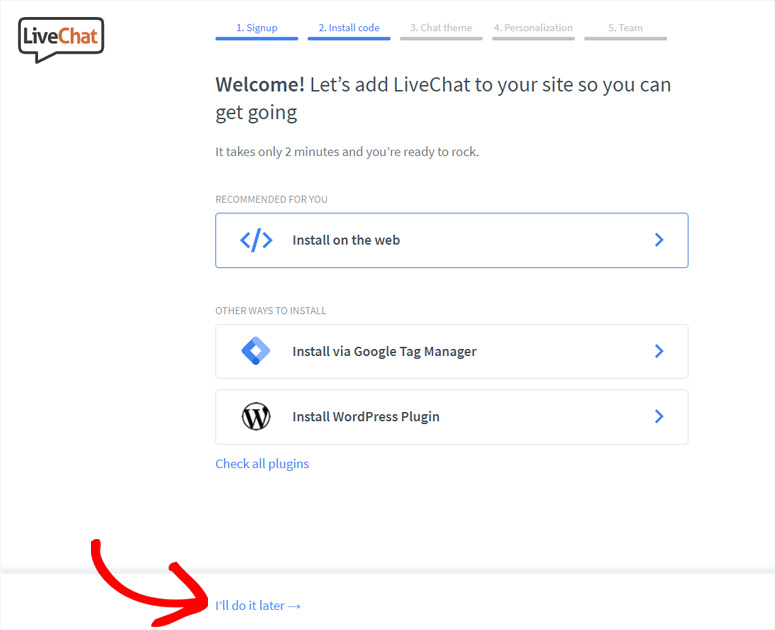 For a WordPress site, it's easy and safe with the LiveChat plugin. We'll show you steps to installing LiveChat plugin and connecting LiveChat with WordPress in the next section below. So, you can click I'll do it later to skip to next step.
In step 3, you can choose a chat theme.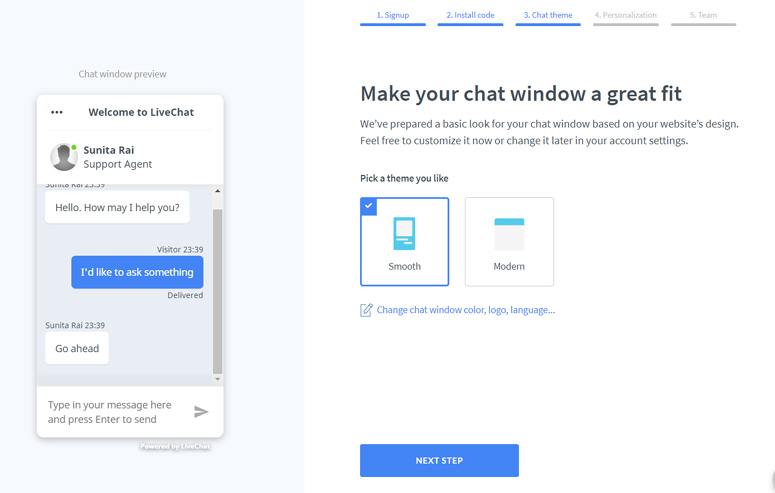 Step 4 lets you personalize your LiveChat profile. You can upload a profile photo and set a welcome message.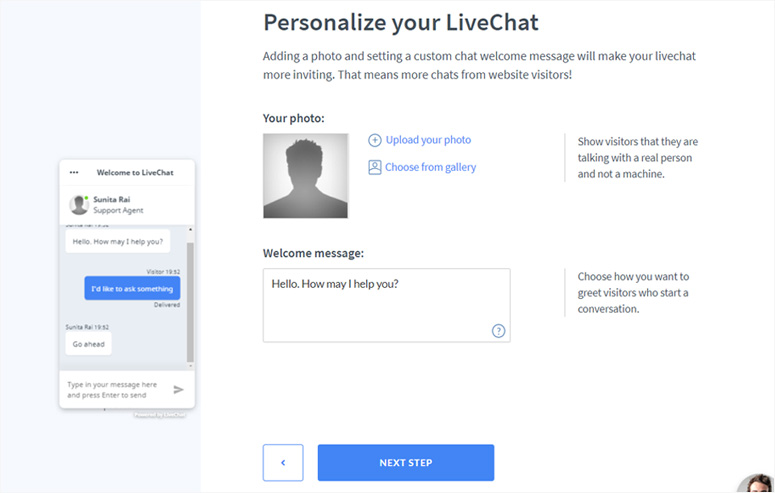 Then finally in step 5, you can add agents to your team.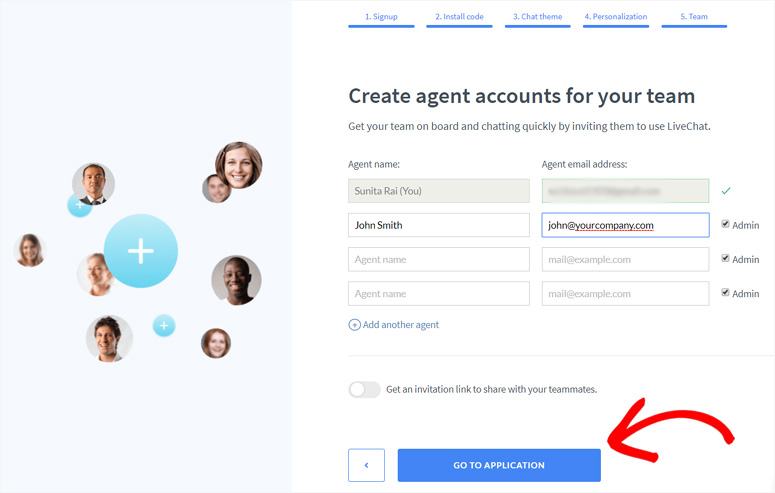 After adding the total number of agents, you can click Go to Application button.
Now, you'll see LiveChat interface open. There you'll see a notification at the top that you haven't installed LiveChat on your site. Now, we'll show you how to install it on your site.
Installing LiveChat on Your WordPress Site
Once you've completed LiveChat setup process, you're now ready to install it on your WordPress site. It's a simple process of connecting your LiveChat account with your WordPress site. There's a free LiveChat plugin for WordPress for this purpose.
To start with, login to your WordPress dashboard and visit Plugins » Add New. Type LiveChat in the search box first. Once it appears, install and activate it.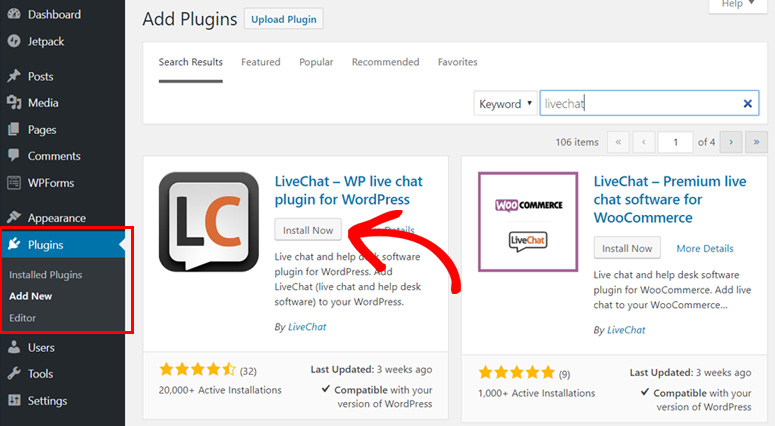 After it's activated, you can see LiveChat menu added to your dashboard panel. Go to LiveChat » Settings.
Next, you'll need to click Sign in with LiveChat button to connect LiveChat with WordPress.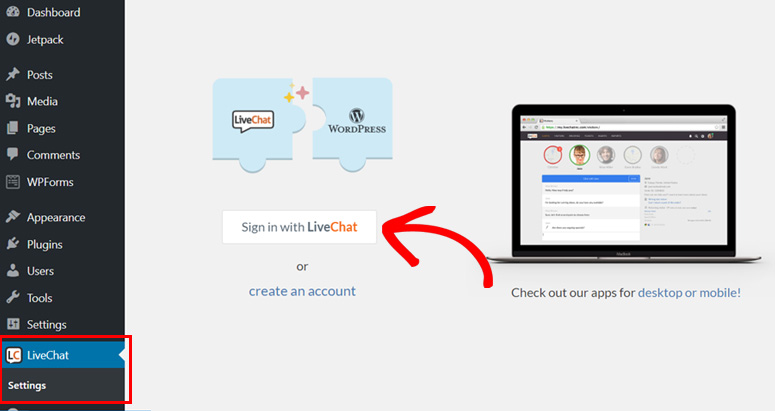 After that, you'll see your WordPress site connected with LiveChat.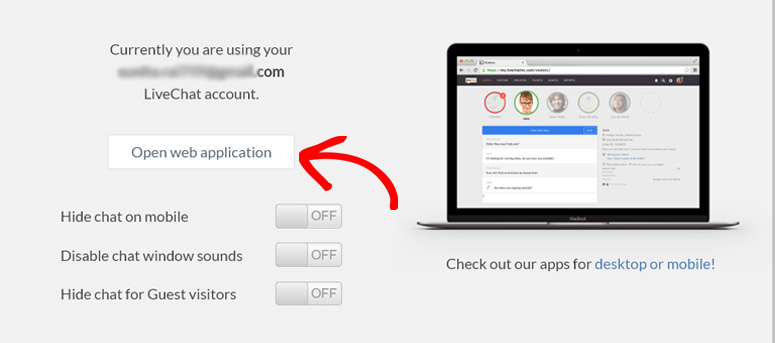 Click on the Open web application to go to the LiveChat interface.
Now you can manage your chats, chat team, and everything from there.
If you check your website, you'll see LiveChat screen added to your site.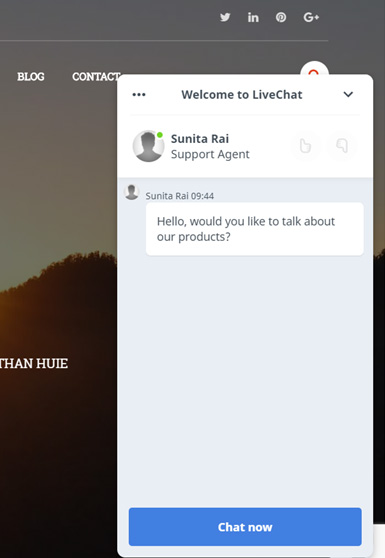 Checking out LiveChat Features
LiveChat is a feature-rich application for adding live chat to your site. It has plenty of chat tools, customization options, and team management features.
1. Simple yet complete chat screen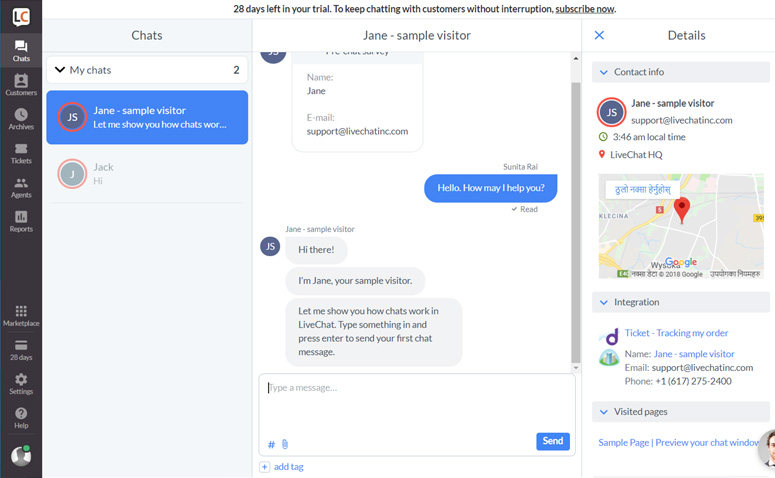 You can see the list of chats, chat box, and customer's contact info at the same screen. It makes it easy to manage all chats at once based on the priority.
2. Comprehensive Chat Reports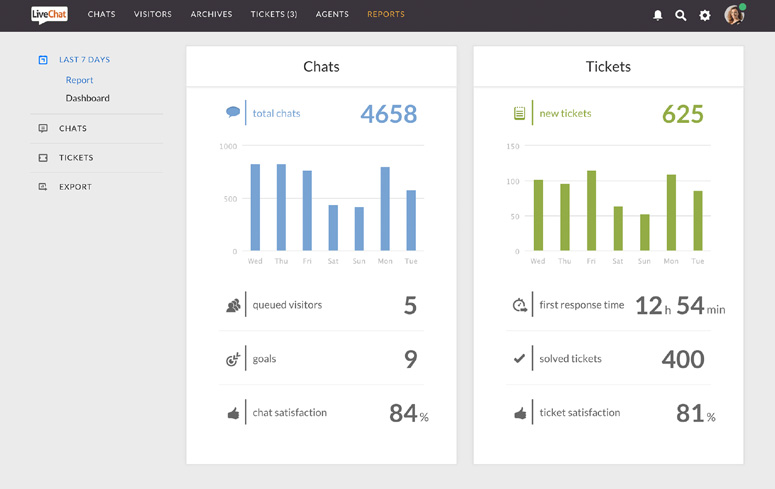 LiveChat provides highly comprehensive reports where you can see stats for chats, tickets, and eCommerce.
Full Customization Made Possible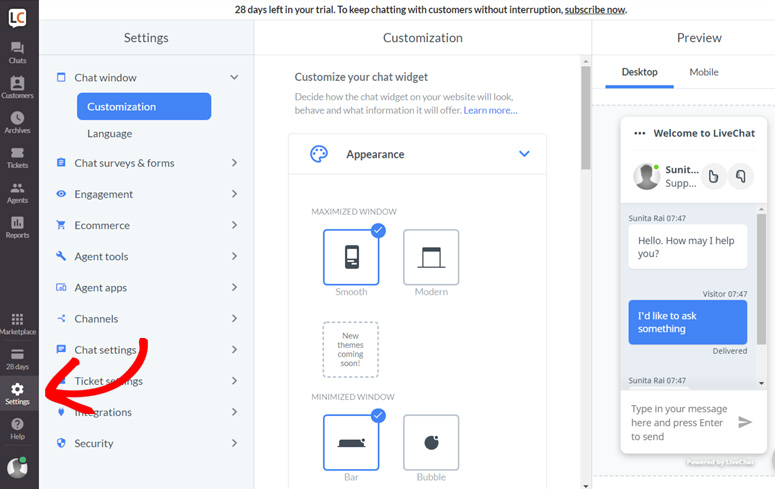 LiveChat allows you to fully customize how your chat interface looks like and how it works. You can customize anything by going to the Settings menu in your LiveChat account.
LiveChat Software: Pricing and Support
LiveChat is a premium live chat software however you can always start with their 30-days free trial.
If you're satisfied with its features after 30 days, you can subscribe to one of their plans. There're 4 pricing plans available.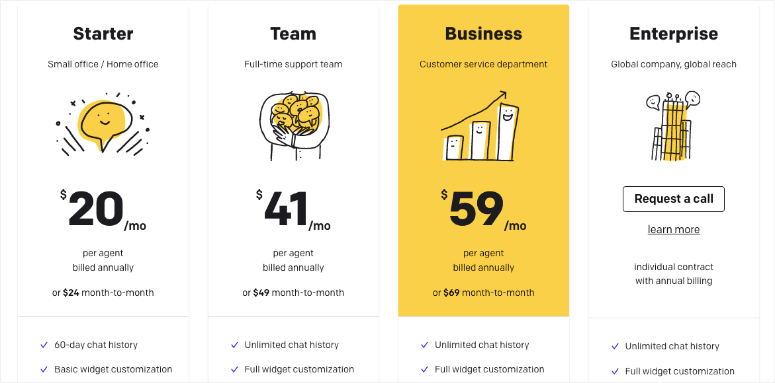 The basic LiveChat plan is Starter. It's suitable for small office or home office needs. You can create unlimited agent accounts but it allows only 60-day chat history and basic chat customization. If you need unlimited chat history and full chat customization, you'll need to buy team plan at least.
The Starter costs $20 monthly per logged in agent.
Second, Team plan is for a full-time support team. It allows you to create unlimited agent accounts, see unlimited chat history, full chat customization, and basic reporting. It costs $41 monthly per logged in agent.
Third, Business plan is the most popular plan. It's suitable for bigger firms to organize customer service department. It has more additional advanced features than the Team plan like work scheduler, staffing prediction, etc. It costs $59 monthly per logged in agent.
The highest priced LiveChat plan is called Enterprise. It has the most advanced features. It's designed for Fortune 500 companies or alike. You need to connect with them for a custom quote.
LiveChat provides 24/4 dedicated support via live chat. Plus, it has a rich knowledgebase with tutorials, webinars, etc. to help you with any problem you tackle while using this software.
Our Verdict on Using LiveChat Software on Your WordPress Site
LiveChat is undoubtedly a great chat tool suitable for all level users. It's useful for small businesses as well as big Fortune 500 companies.
Using LiveChat is easy. It has simple user interface, yet powerful features to run live chat on your website efficiently. Installing LiveChat on WordPress is easy with their free plugin as you don't need to touch a single piece of code to install and use.
We believe that LiveChat is the perfect live chat software for adding live chat to your WordPress site. It has a complete set of features you'll ever need to run live chat. Its integration with eCommerce and other tools makes your life just easy.
We give it 4.5 out of 5 stars. Here's the breakdown of our review score:
Get LiveChat Now »