Do you want to build and grow your mailing list? If you have a site based on WordPress, you can use email optin plugins like Bloom that help you grow your email list.
In this Bloom review, we'll take a look at the plugin's features and functionalities to find out if it's truly wonderful and worth your investment.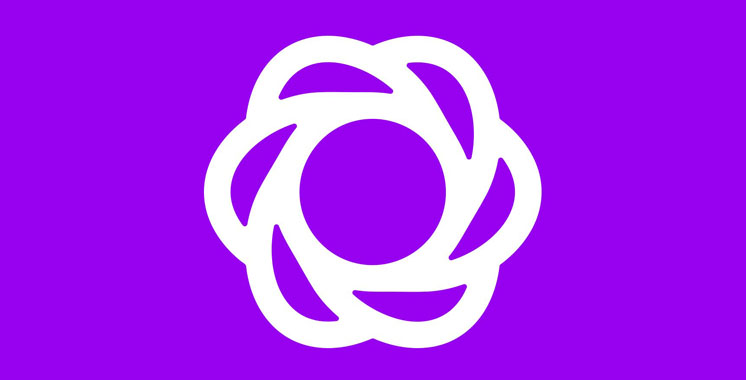 Note: At IsItWP, we use OptinMonster for lead generation, a Bloom alternative. You can read our complete OptinMonster review for more information.
Why Do You Need an Email Optin Plugin for WordPress?
Email marketing is one of the most important tasks every website owner should do. Email marketing refers to the process of sending a commercial message to a group of people (your target audience) via email.
Without a doubt, email marketing is an effective technique for building a personal brand, business, or a successful online store.
Before you can reach the email inbox of your target audience / possible customers, you'll need to collect their email addresses, which is the first and most vital step in email marketing.
Well, there are a number of email marketing services on the market to help you carry out email marketing with ease but they fall short with some features. While they allow you to create and embed generic email optin forms on your site, they lack many cool features like stunning design options, targeted display settings, and other important functionalities that help you convert your visitors into customers.
That's why you need an email optin plugin for WordPress. Email optin plugins often come with deep integration with major email marketing services. The plugins help you create beautiful and high conversion optin forms for your WordPress site.
Bloom – Leading Email Optin Plugin for WordPress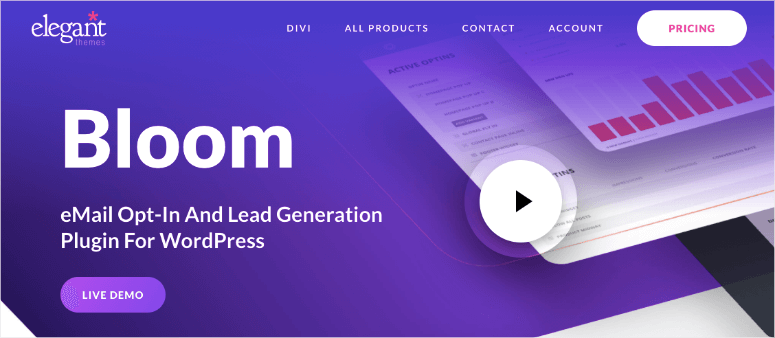 Bloom is a leading WordPress email optin plugin on the market today and was created by Elegant Themes.
The plugin lets you create beautiful email optin forms and display them in various locations on your WordPress site. It helps you to turn your website visitors into email subscribers and boosts your site conversions.
Bloom has integration with the 16 most popular email marketing services including AWeber, MailChimp, Campaign Monitor, etc.

We'll walk you through the main features of the plugin:
Six Optin Form Display Types
Bloom comes with 6 optin form display types. With each display type, you can show optin forms in different styles and locations.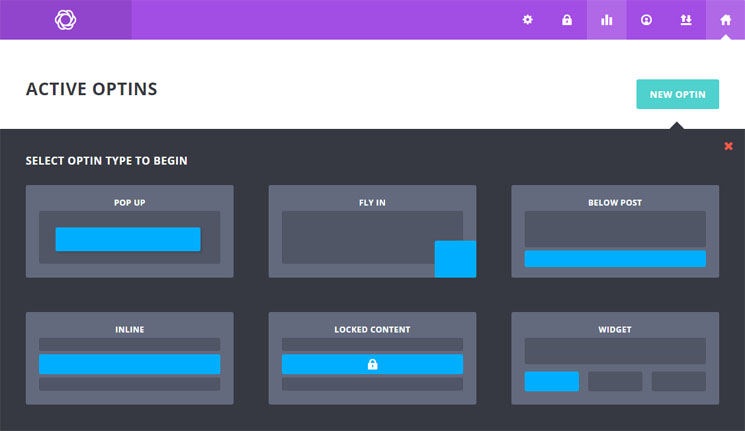 1. Automatic Optin Pop-Ups: Create automatic optin pop-ups triggered by a timed delay, end of the content, after scrolling, commenting, purchasing, or after inactivity.
2. Automatic Optin Fly-Ins: Build impressive fly-ins with 10 fly-in animations and different triggers as pop-ups.
3. Inline Optin Forms: When you need to display optins in specific locations within your content, you can use inline optin forms. Create a form, generate its shortcode, and use it anywhere you want.
4. Below Content Optin Forms: Below content optin forms allow you to encourage your most-engaged post / page visitors to subscribe via your optin form.
5. Widget Area Optin Forms: Display beautiful optin forms in any widget-ready area on your site.
6. Locked Content Optins: Locked content optins are useful and effective if you have a piece of premium content that only your subscribers can access. By placing locked content optins, you can directly attract your blog readers to subscribe to your blog.
Extensive Design Options – 100+ Form Templates
When it comes to design, Bloom doesn't disappoint you. It has 100+ pre-made optin form templates to start with. Each template has a unique design and professional touch.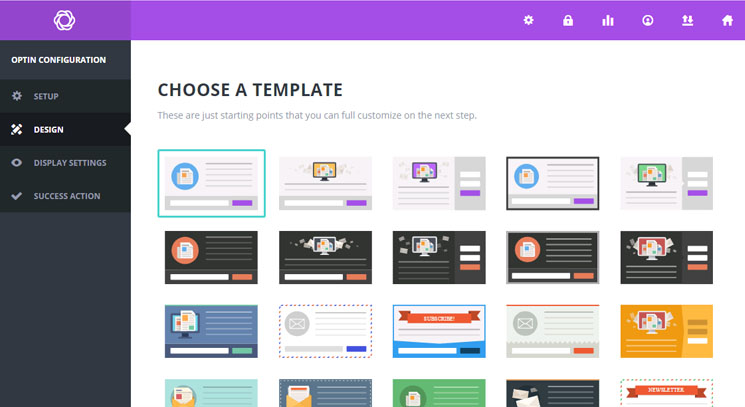 To create a design, choose a template and then click the 'Next: Customize' button at the end of the page. The design options are limitless here as you can customize everything on the template you have chosen.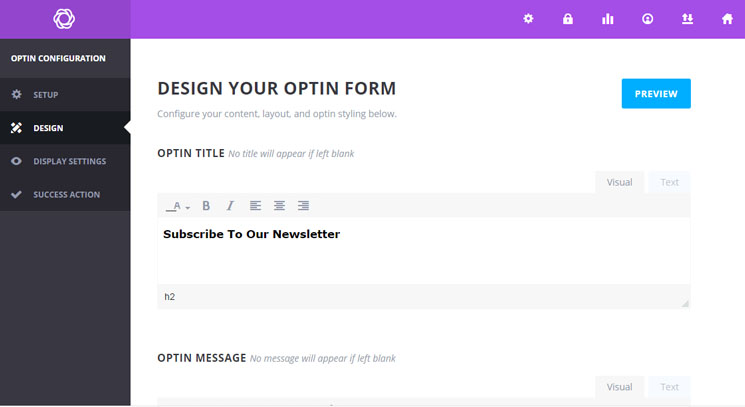 Configure your optin form content, layout, styling, and everything you want to change in its user-friendly interface. You can choose from a number of design options available for forms, image orientations, optin borders and edges, and limitless colors. Furthermore, you can also insert custom CSS to provide your own design flavor.
Powerful Display Settings
Besides the impressive design options, Bloom also provides impressive and powerful display settings. You can control where and when your optin forms should appear on your website or posts. With its amazing display settings, you can create highly-targeted optin forms and display them in the most optimal locations to convert your visitors into subscribers.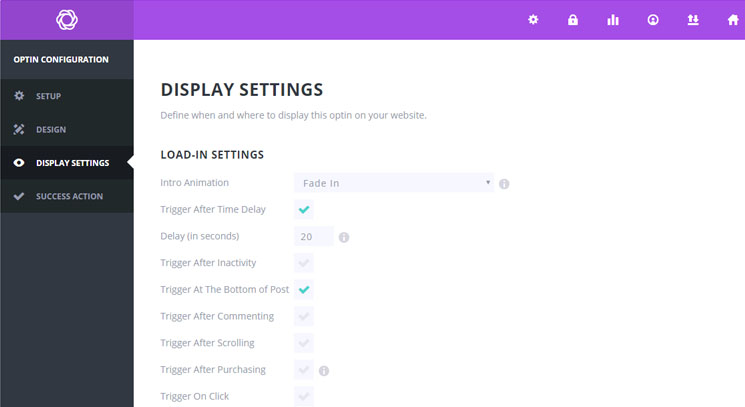 Automatic Fly-In and Pop-Up Triggers: Trigger your optins based on timed-delay, after inactivity, at the bottom of the post, after commenting, scrolling, purchasing, and upon clicking. Simply check the options to configure these in-load settings.
Target Focused Display Locations: You can choose display locations (everything, homepage, blog page, archives, categories, tags, post, page) and target-specific optins to specific locations. Furthermore, you can refine optin targeting by defining particular pages and posts to display and not to display optin forms.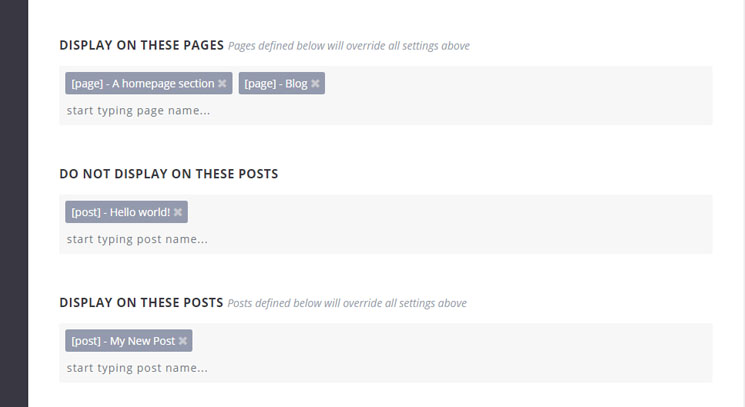 Bloom Dashboard – A User-Friendly Approach
Bloom's dashboard allows you to see how well your optin forms are converting at a glance. You get a custom panel on your WordPress dashboard for easy access to create and manage email accounts, see optin statistics and conversion rates, split AB testing, etc.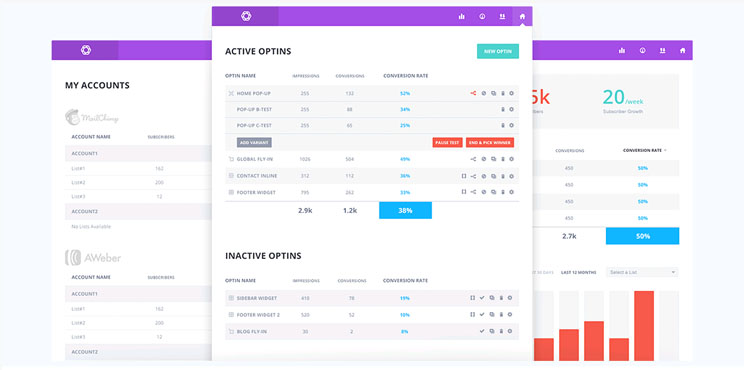 Split AB Testing: In addition to the amazing design and display settings, Bloom has a wonderful feature to help you increase conversion rates. The split AB testing feature allows you to compare different variations of your optin form to see which one outperforms the rest.

Optin Statistics: Another very interesting feature with Bloom is optin statistics offered in a comprehensive manner.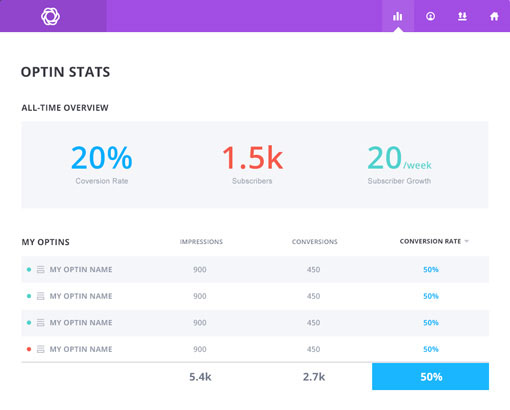 The statistics offers you a real-time overview of the plugin's performance including:
All time average conversion rate, subscriber count, and list growth rate
All optins impressions, conversion counts, and conversion rate
Past 12 months new sign up graph
Email list subscriber counts and growth rate
Highest converting pages
Import and Export Bloom Data and Settings: Import and export Bloom data and settings from one site to another site easily.
Pricing and Support Options for Bloom Plugin
Bloom is a premium plugin by Elegant Themes, which requires you to join their Themes Club to download the plugin. You can't purchase the product individually. You need to purchase one of Elegant Themes' membership plans to get access to the Bloom plugin and other products. In addition, you'll get all of their themes and plugins for one membership.
They have two membership plans:
Yearly Access at $89 per year
Lifetime Access for a $249 one-time payment
That means you'll need to spend at least $89 to buy Bloom, which is quite expensive for low-budget companies. However, the bundle of powerful themes and plugins included in the plan makes the subscription worth the value.
Elegant Themes offers dedicated support for all its products through different channels including support tickets, forums, and live chat. You can get detailed documentation, video tutorials, and articles for the Bloom plugin.
While it offers some design options to customize your optin forms, the main downside is that it doesn't come with a visual customizer. You'll need to click on the preview button to view the changes you make on your form.
Bloom vs. OptinMonster- Which is the Best Lead Generation Solution
OptinMonster is the most amazing lead generation solution in existence.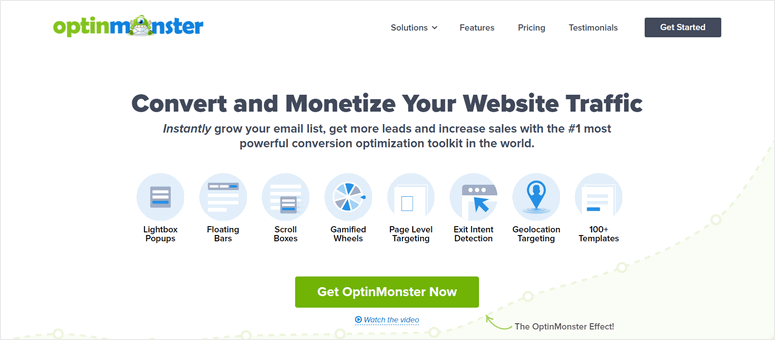 Our Bloom review would be incomplete if we don't compare Bloom with OptinMonster, the most popular lead generation solution.
Compared to a SaaS solution like OptinMonster, Bloom tends to consume more server resources, which may also lead to slowing down your site. Plus, it lacks many useful features that OptinMonster offers like canvas popup and exit intent triggers. The targeting options are also limited in Bloom.
Don't miss our article on the best WordPress popup plugins.
The OptinMonster pricing starts at $29/ month. On the other hand, you'll have to spend at least $89 per year, if you want to purchase Bloom for your site.
If you're looking for an optin builder that fits your budget, OptinMonster is the best choice. However, if you'd rather go with a WordPress-specific optin plugin, then Bloom is worth trying.
You can read the complete OptinMonster review.
Our Verdict on Bloom for Lead Generation
Bloom offers a truly easy-to-use and user-friendly interface for creating email optin forms for WordPress sites. Its simple and clutter-free dashboard lets anyone to create attractive optin forms and generate more leads.
While it's not as feature-rich as OptinMonster, it provides all the basic functionalities and some targeting options to grow your email list. It comes with an exhaustive list of templates, which makes Bloom a unique lead generation plugin for WordPress.
If you're looking for a lead generation plugin that is specifically built for WordPress, then Elegant Themes' Bloom is a reliable choice for you. We give it 3.8 stars. Here is the breakdown of our review scores:
Get Bloom Now »