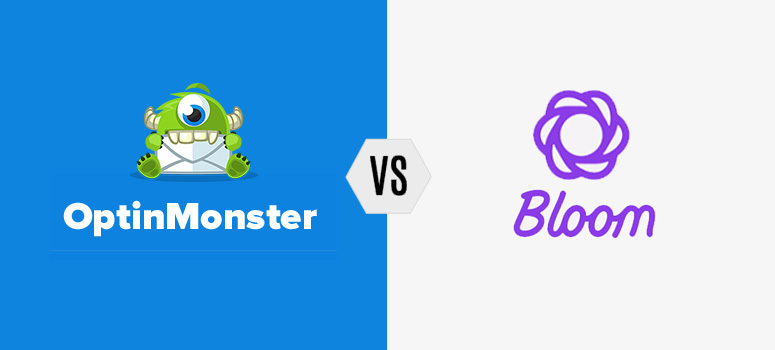 Want to generate more leads, conversions, and sales from your website traffic? If so, then OptinMonster and Bloom are 2 of the most popular lead generation tools you can use. But if you're wondering which one to choose, we'll help you to make the right choice.
In this article, we'll compare OptinMonster vs. Bloom and show you the important differences between them so you can decide which tool you should use on your site for lead generation.
We'll compare the 2 plugins based on the following 6 points:
General Overview
Campaign Types and Templates
Targeting and Triggers
Campaign Creation and Customization – Ease of Use
Pricing – Value for Money
Documentation and Support
1. OptinMonster vs. Bloom – General Overview
What's OptinMonster?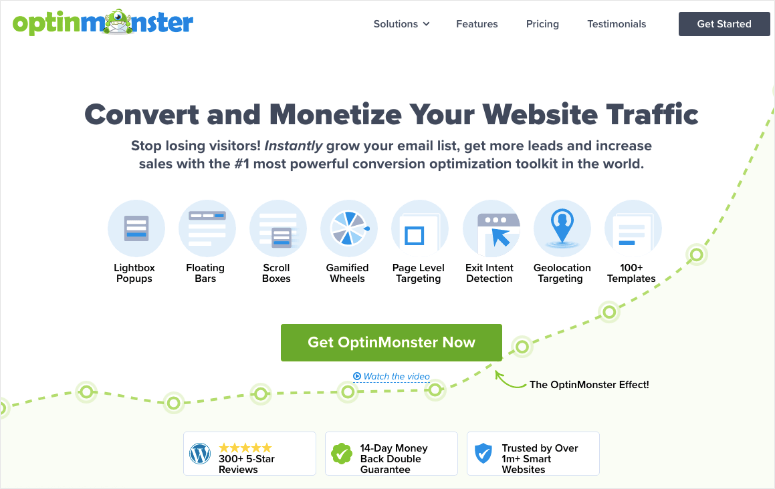 OptinMonster is the best, most popular lead generation and conversion software available on the market. It comes with powerful features to help publishers, eCommerce sites, and agencies to grow their email lists, boost pageviews, reduce cart abandonment, and increase sales. It's used by over 1.2 million websites online today.
OptinMonster is a Software as a Service (SaaS) solution that you can use on nearly every website platform including CMS platforms like WordPress, Drupal, and Magento; eCommerce platforms like Shopify and WooCommerce; website builders like Squarespace and Weebly; and blogging platforms like Blogger and Wix.
You can install OptinMonster on your website easily by adding a custom JavaScript code to your site's pages. It's even easier on WordPress with its free WordPress API plugin.
OptinMonster has inbuilt integration for every major email marketing service like Constant Contact, Drip, MailChimp and more. There are over 30 email marketing services you can connect with your OptinMonster campaigns to boost your marketing.
What's Bloom?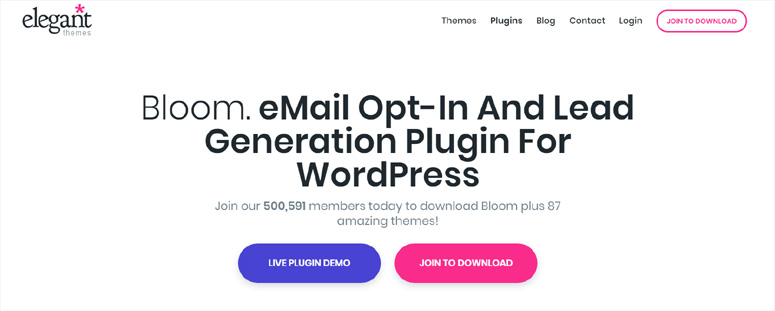 Bloom is one of the most powerful email optin and lead generation plugins for WordPress. It was created by one of the leading WordPress theme companies, Elegant Themes; the company behind popular Divi theme and its power plugin Divi Builder. Elegant Themes's themes and plugins, including Bloom, are used by over 880,000 WordPress websites online.
Bloom brings to the table amazing features including highly effective optin types, elegant templates, targeting, and triggers to allow you to gain more subscribers. Using this plugin, you can create beautiful optin forms easily and display them in various locations on your site or personal blog to grow your email list. It has integration with 16 of the best email marketing services.
Unlike OptinMonster, Bloom is exclusively a WordPress solution. It's a plugin you'll need to install on your WordPress site and host the plugin's resources on your own server. Whereas OptinMonster is centrally hosted and you only link the resources with your site; meaning it tends to add less load time to your server.
2. Campaign Types and Templates
Bloom allows you to create 6 primary optin types:
Pop up optin
Fly in optin
Inline optin
Below content
Widget area optin
Locked content optin
As you click New Optin to get started, you'll see a new page with these 6 option types. You should choose one to proceed.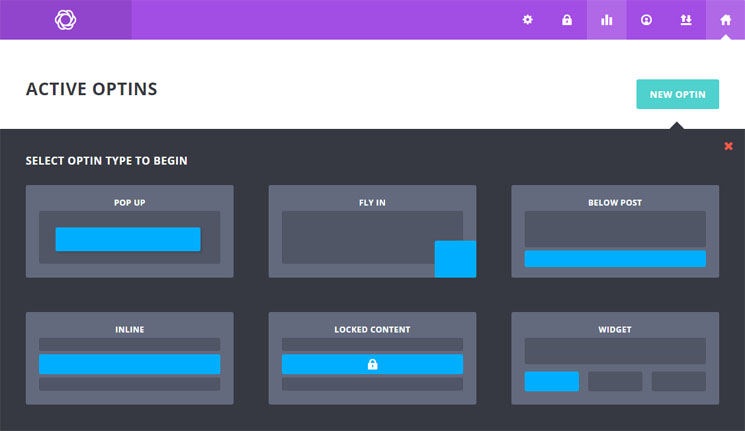 Next, you can choose a template for your optin form. There're more than 100 elegant, professional-looking pre-made templates available within Bloom.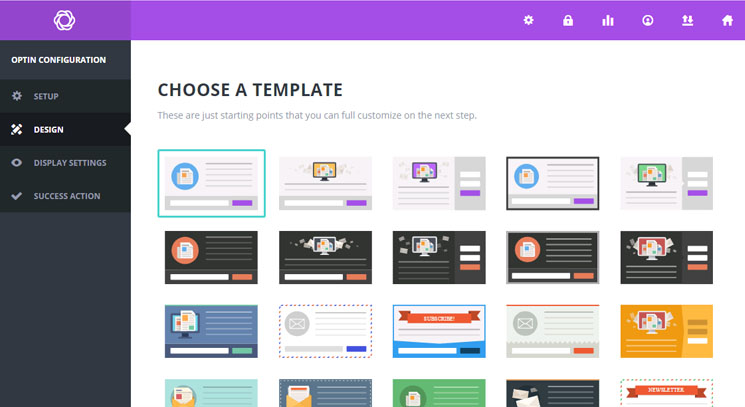 You can choose one of the templates, customize it, and add your new email optin to your site. Bloom is a great plugin for creating email optin forms.
OptinMonster lets you do more than just create optin forms or email signup forms. And that's why OptinMonster uses Campaigns instead of optins. Besides generating more leads, campaigns help to increase engagement and sales directly on your site. For example, you can create campaigns with countdown timers which create urgency and boost sales.
With OptinMonster, you can create 5 main types of campaigns:
Popup
Fullscreen
Slide-in
Floating bar
Inline

OptinMonster lets you create all the same types of optins Bloom can create and also adds 2 additional campaigns: Fullscreen campaigns and floating bar campaigns. Both of these campaigns are highly effective to grab more users attention.
For example, fullscreen welcome mat lets you grab your visitors' attention the minute they land on your site. The fullscreen overlay helps to present a targeted offer for anything in a distraction-free way. Similarly, a floating bar is a highly effective campaign that lets you get users' attention without annoying them, as it remains sticky at the top or bottom of the page.
After you choose a campaign type in step 1, you can choose a template in step 2. OptinMonster features a separate collection of templates for each campaign type.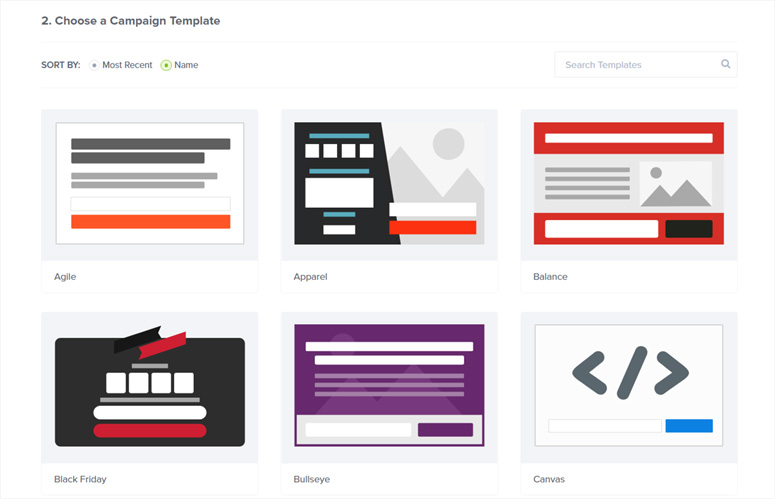 OptinMonster makes it easy with campaign-specific templates. For each campaign, it has a selection of tailor-made templates, each built for a specific purpose. Plus, the templates show a great diversity and uniqueness from each other.
Winner: OptinMonster. For its ability to create optin forms as well as campaigns for more conversions. The additional campaign types, Fullscreen Welcome Map and Floating Bar, also prove OptinMonster a winner. Regarding templates, Bloom's large collection of templates certainly gives users plenty of design options; however, keeping them all in an unsorted bundle makes it hard for users to pick one with ease.
3. Targeting and Triggers
Targeting features and triggers are very important for optin campaigns. Now, let's see OptinMonster vs. Bloom based on their features for targeting and triggers.
Bloom features powerful display settings to allow you configure where and when your option appears.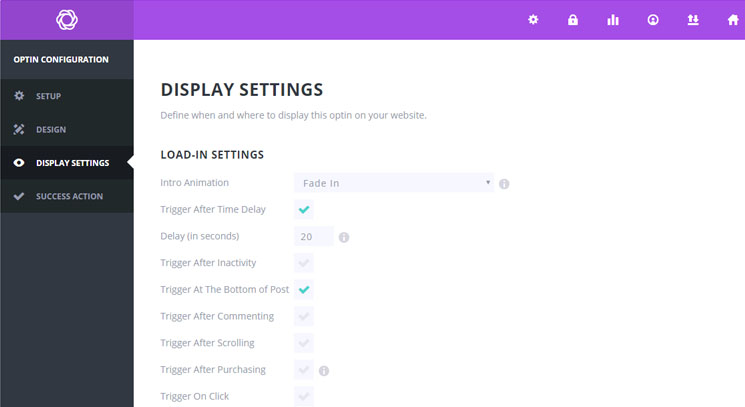 It allows to use 6 types of triggers for automatic popups and fly-in optins:
Timed delay – optin triggers after a specific duration of time a user is on your site
Bottom of post – optin appears when a user reaches the bottom of a post
After scrolling – displays optin after a user scrolls a defined percentage of the way down your page
After commenting – shows optin once a user comments on a post/ page
After purchasing – optin appears right after a user completes the checkout process
After inactivity – displays a popup or fly in optin if it detects a user is inactive on a page for long time
With Bloom, you can choose specific locations to display your optins.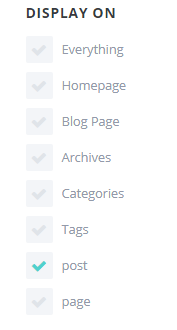 Then, you can also refine optin targeting by defining particular pages and posts to display and not to display optin forms.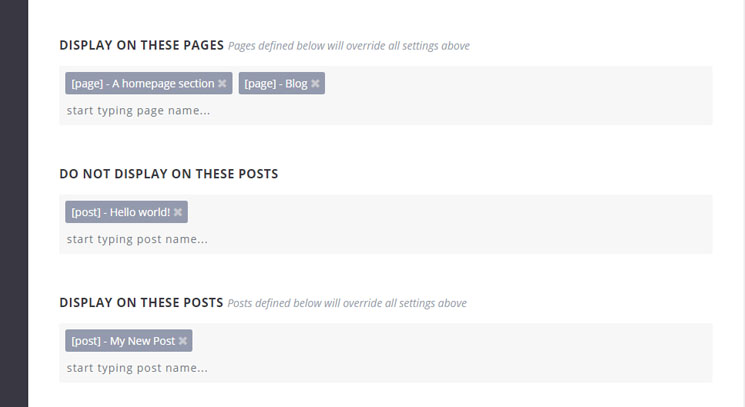 OptinMonster has much more powerful display rules than Bloom offers. You can add all the triggers Bloom allows you to use and a whole lot more.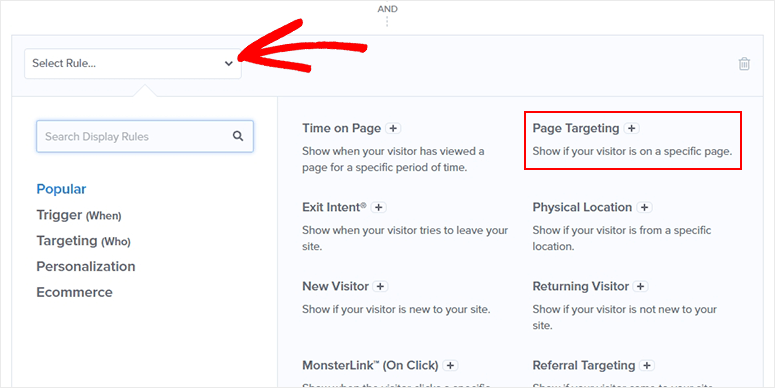 You can actually set up advanced targeting rules with OptinMonster. Here're just a few of them:
These advanced targeting features are available exclusively on OptinMonster. Similarly, it has powerful triggers.
One of the most powerful OptinMonster triggers is Exit Intent Technology, which is its signature feature. This smart technology helps to convert abandoning visitors into subscribers and customers.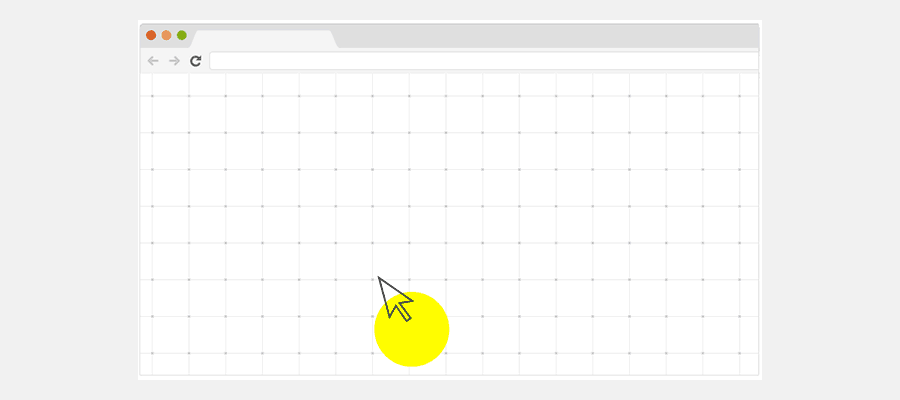 Exit Intent Technology detects user behavior and prompts them with a targeted campaign at the precise moment they're about to exit your page. It's great for reducing your shopping cart abandonment rate and for various content marketing campaigns.
Winner: OptinMonster. For its advanced targeting options and triggers like OnSite Retargeting, Geo-Location Targeting, Exit-Intent Technology, etc.
4. Campaign Creation and Customization – Ease of Use
With both Bloom and OptinMonster, campaign creation starts with the selection of a campaign type and a template. Once you've selected a template, you can customize the template, set triggers, and publish.
With Bloom, you can configure your optin form content, layout, styling, and everything you want to change. There're a number of design options available for forms, image orientations, optin borders and edges, and limitless colors.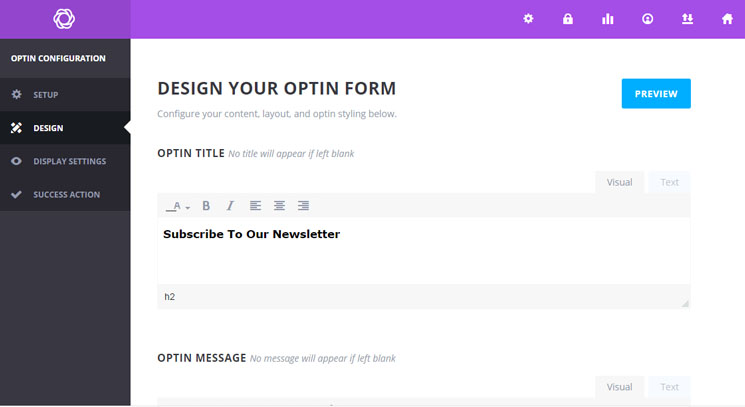 However, its optin editor interface looks old-fashioned in the age of visual page builders. You'll need to click the Preview button to see any changes you made.
In contrast, OptinMonster provides a true visual editor for editing your campaigns. Once you've selected a template, you'll see your campaign editor and see the changes you make live as you edit. You don't need to click any preview buttons.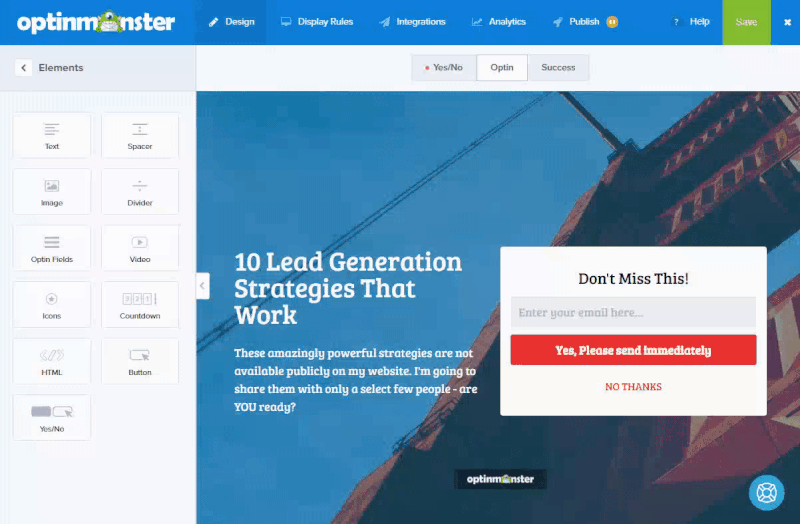 Editing your campaign elements is very easy as you can click directly on any part of your campaign you want to change and start editing with the tools that appear on the left-hand screen.
Winner: OptinMonster. For its simple and user-friendly visual editing interface.
5. Pricing – Value for Money
Both Bloom and OptinMonster are paid solutions, yet you may want to know which offers the best value for your money. So, here's a head-to-head Bloom vs. OptinMonster pricing comparison.
Bloom has 2 pricing plans: Yearly Access and Lifetime Access.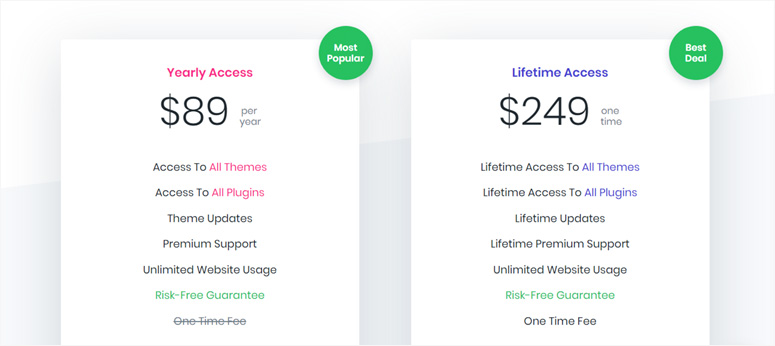 Yearly Access costs $89 per year, whereas Lifetime Access costs $249. Both plans provide you with access to all the themes and plugins released by Elegant Themes and you can use them on unlimited sites.
OptinMonster features 4 main pricing plans: Basic, Plus, Pro, and Growth.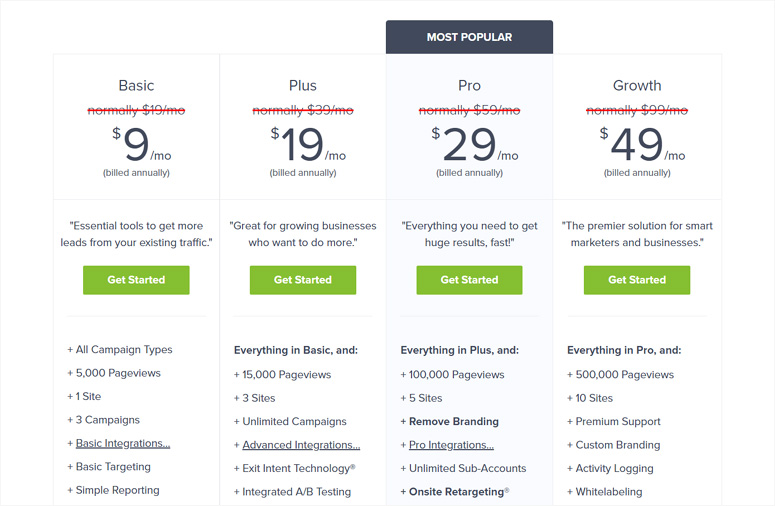 OptinMonster pricing plans are based on the number of sites, the number of campaigns, campaign targeting and triggers, reporting features, and more.
The Basic plan includes essential tools to get more subscribers from your existing site traffic. With this plan, you can use OptinMonster on 1 website and you can create up to 3 campaigns. It costs $9 per month when billed annually.
The Plus plan allows you 3 website licenses and unlimited campaigns. With this plan, you can use powerful targeting and triggers like MonsterLinks, Exit Intent Technology, etc. It costs $19 per month when billed annually.
The most popular OptinMonster plan is Pro. This plan allows you to add campaigns on 5 websites. You can remove Powered by OptinMonster branding with this plan. It includes the most powerful OptinMonster features. It costs $29 per month when billed annually.
Growth is the most expensive plan and costs $49 per month when billed annually. With this plan, you can use OptinMonster on 10 websites and you'll get premium support.
The pricing plans for Bloom and OptinMonster seem incomparable as they're based on such different factors. The Bloom plugin, with any plan, seems to be a good deal as it comes bundled with all of their themes and plugins. If you want to use them, it's a fair plan; yet you'll miss the advanced features that OptinMonster provides.
OptinMonster's pricing plans seem quite high; however, its powerful features make it well worth the money. If you choose Bloom, you can't use highly effective Exit Intent Technology, Geo-Location Targeting, OnSite Retargeting, features.
Winner: Tie.
6. Documentation and Support
Elegant Themes has a rich documentation guide for Bloom users. There're 3 getting started articles and more articles on creating optins using Bloom. These tutorials are simple and comprehensive.
If you need further support, you can contact their support team via chat or email. You'll also have access to the Elegant Themes' support forum to post your questions.
OptinMonster features an even bigger documentation collection with more than 200 articles. These articles help you to work easily with OptinMonster.
If you need technical support, you can log into your OptinMonster member area and email the support team. The queries are responded to within 24 hours. OptinMonster members can also get support via live chat.
Winner: Tie.
Conclusion
OptinMonster is, without question, the best lead generation and conversion optimization software. Its advanced campaign types, targeting options, and triggers make it the far superior lead generation tool for WordPress as well as other website platforms
Bloom is also a powerful lead generation tool you can use exclusively for WordPress. It's great for creating email optin forms. However, if you want more features, like cart abandonment reduction, geo-location targeting, etc., you'll need to choose the Bloom alternative: OptinMonster.
Hence, OptinMonster is the perfect choice for publishers, eCommerce sites, and businesses who want to grow their email lists and boost their conversions and sales. However, you can consider Bloom alongside a CRM software if you just need a basic lead generation tool, or if you already have your eye on other plugins or themes by Elegant Themes that would make their bundled pricing offer worth it to you.
We hope this article helped you to decide between OptinMonster or Bloom for your site. Next, you may want to see our tutorials:
These guides will help you use popups and other campaigns to grab your visitor's attention and get them to take action on your site.