Divi is one of the most popular WordPress themes in the market. Created by Elegant Themes, one of the leading WordPress theme shops in the world, Divi is a beautiful multi-purpose WordPress theme. In this Divi theme review, we will check it out to see what all the fuss is about.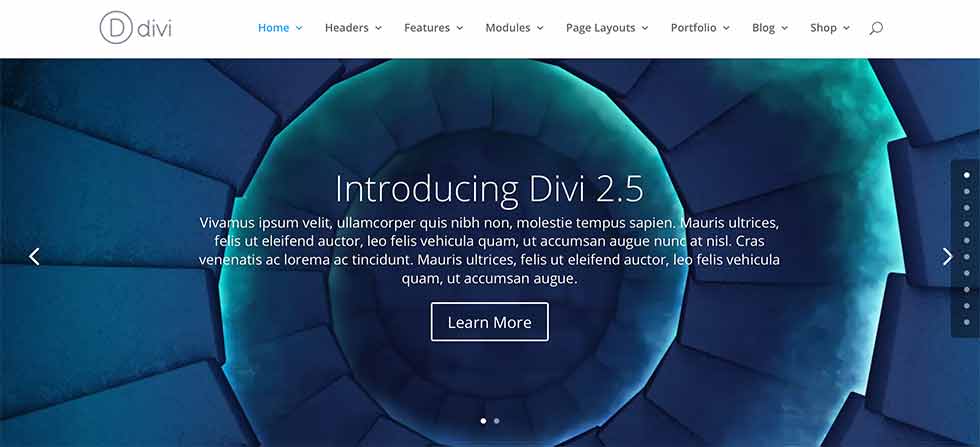 About Divi Theme
Divi is created by Elegant Themes, which is one of the leading WordPress theme companies in the world. Divi is included in Elegant Themes theme club membership which gives you access to all their themes and plugins for the price of a single theme.
Elegant Themes is a leader in premium WordPress themes with XX themes, XX plugins, and 307000 customers. For the past 7 years the company is providing premium WordPress support for their products that power a large number of websites.
The company is headquartered in San Francisco but they are a distributed company with 34 employees all over the world.
Divi Theme Features
As a premium theme and plugin developer, Elegant Themes knows what WordPress users want from a powerful theme. They want flexibility and features packed into one nice bundle.
Divi was everything I wished for! Easy to use modules, drag-and-drop design, predefined layouts, the Customize panel and the Custom CSS box all make for an exceptionally fast, efficient way to create clean, modern sites that clients are looking for.
Let's take a look at some of the main features of Divi Theme.
The Divi Builder
Divi Builder is a powerful drag and drop page builder that ships with Divi. It allows you to easily create your own designs by using a simple page editor. Drag and drop rows, columns, elements and modules to create beautiful layouts of your own.

Ready to Use Layouts
Divi theme ships with 20+ ready to use layouts. These are complete designs with different layouts and colors giving you a quick jump start in setting up your theme. All pre-made layouts are easily and infinitely customizable.
40 Content Modules
Modules are the building blocks in Divi theme. There are 40 content modules that you can add to any page or layout in your theme. You can add slider, accordion, portfolio, call to action, galleries, videos, social buttons, and so much more by simply dragging a module to a page.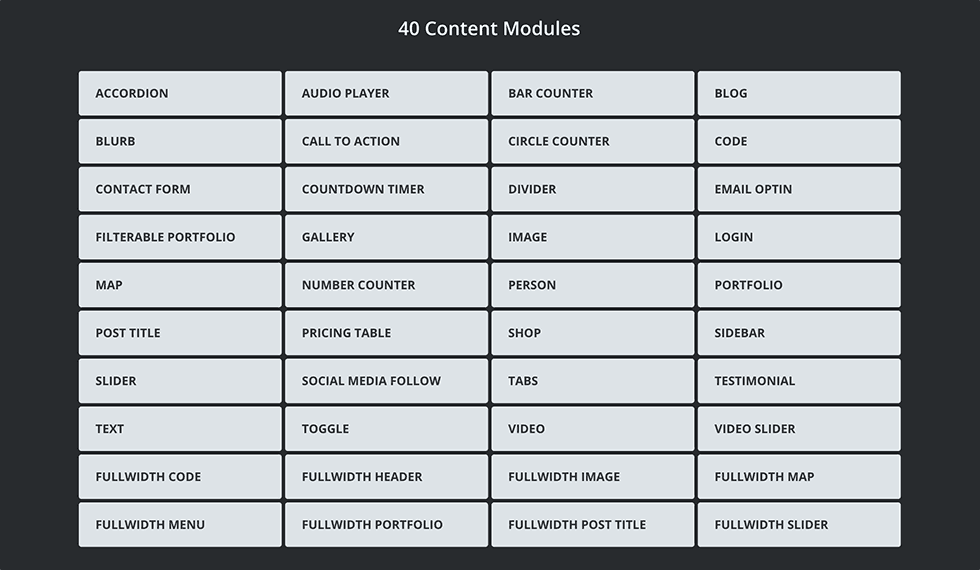 Live Preview Customizer
Live preview customizer allows you to change colors, fonts, style, with a live preview of your website visible right next to it. This makes customization easier for even the beginner users as they can see their changes right away and can undo them at any time.
Integrations
Divi supports WooCommerce out of the box. Your online store will look incredible on all devices and you can still use your theme to create different sections of your website.
Divi comes in 32 languages with RTL support. Translations include both the backend and front-end of your website. It also supports WPML so you can create multilingual websites with the same incredible theme.
Sucuri Safe Theme
A security vulnerability in a WordPress theme or a plugin can compromise the security of your website. This is certainly not going to happen with Divi theme.
The code behind the Divi theme is audited by Sucuri one of the leading web security firms in the world. After careful study of the code, the Sucuri's security experts gave Divi their safe theme seal.
It is the opinion of the review team that this theme was developed extremely well and as such, the Divi Theme is deserving of the Safe Theme seal. No significant issues were identified during the vulnerability assessment. No issues were identified in the code audit
Ease of Use
Divi and many other powerful WordPress themes in the market offer so many features. We wanted to see how easy it is to quickly get started with the Divi theme.
Divi provides an incredible out of the box experience upon activation. The amazingly beautiful design is immediately visible on your website right away. However, you will still need to add content to your website to take the full advantage of Divi's amazing features.
Setting up a theme is not that difficult. Divi comes with ready to use layouts that you can quickly apply to your website. All of these layouts are fully customizable so if you want to change anything, you can do that using an easy control panel.
Documentation and Support
Divi theme comes with Elegant Themes membership which gives you complete access to the extensive documentation, support forums, and their awesome support team.
Elegant Theme has a well trained staff of professionals who are available to help with your theme questions. Your membership gives you support access for a year after which you can renew your subscription.
This support license also allows you to install Divi on as many sites as you want. You can even use it to build client sites. Your license also entitles you for free theme updates.
Our Score
We carefully examined the incredible features offered in Divi. After test driving it for a while we found Divi to be an excellent choice for a complete WordPress theme. We give it 5 out of 5 stars.
Get Divi Now »
If you liked this article, then please consider following us on Twitter and Facebook. If you have any questions, please let us know by leaving a comment below.