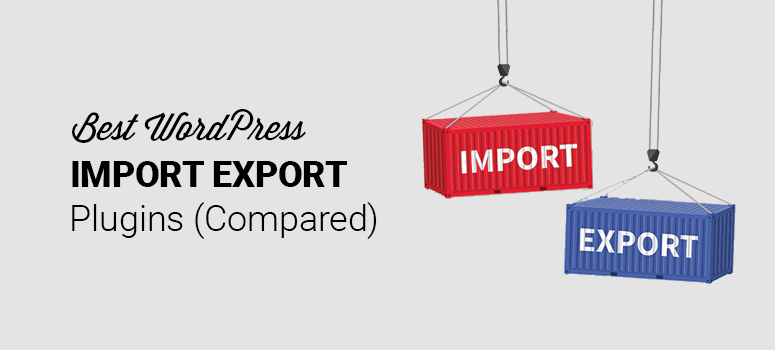 Looking for the best WordPress import export plugins?
When we talk about import/export in the WordPress niche, it means moving your data from one website to another using a plugin.
There are many built-in import and export tools in your WordPress admin area.
The import tool allows you to import content from different content management systems (CMS) to your WordPress website.
However, the export tool creates an XML file for your posts, pages, comments, feeds, and media files. You can download this XML file on your computer and import it to another WordPress site to use the data.
While these tools are great, you can use WordPress import/export plugins for more features and flexibility.
In this article, we'll share some of the best WordPress import export plugins available for free.
The Best WordPress Import Export Plugins
Below, you'll find the top free WordPress import export plugins. Each plugin can offer different features to import and export your content between WordPress sites.
Let's get started.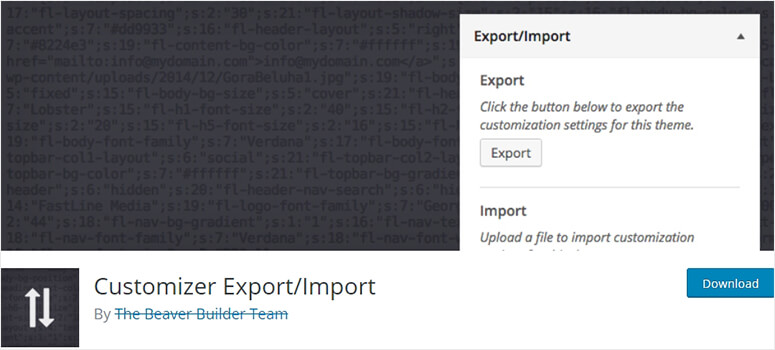 Customizer Export/Import is a free WordPress import export plugin. It lets you export your WordPress customizer settings so that you can replicate the same theme options on another website.
After activating this plugin, it will add an export button on your theme's customizer page. Click on the export button, and it'll download the settings on your computer as a file.
To import the settings file, you need to install this plugin on your other WordPress site. It'll ask if you want to download and import images from the other site as well. Select your options and import the WordPress customizer settings easily.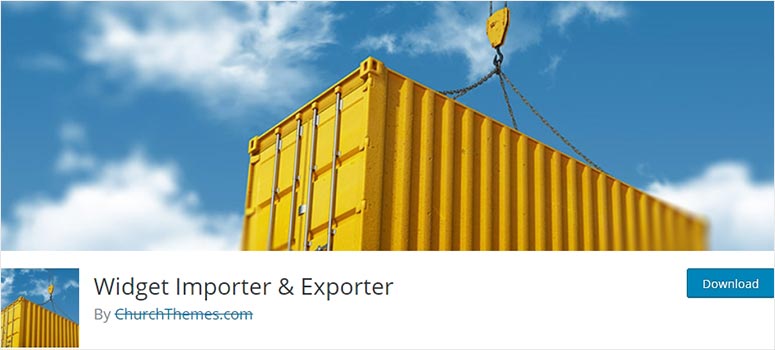 Widget Importer & Exporter is a premium-like free and popular WordPress import export plugin on the market. It's built specifically to import/export widgets between your WordPress sites.
You can also use this plugin to back up your widgets. The plugin allows you to create an export file of your currently active widgets with just a click.
When it comes to importing widgets, the plugin won't duplicate widgets, it won't import widgets that aren't compatible with your theme, and it keeps the widgets inactive for where widget areas are'nt available in your current theme.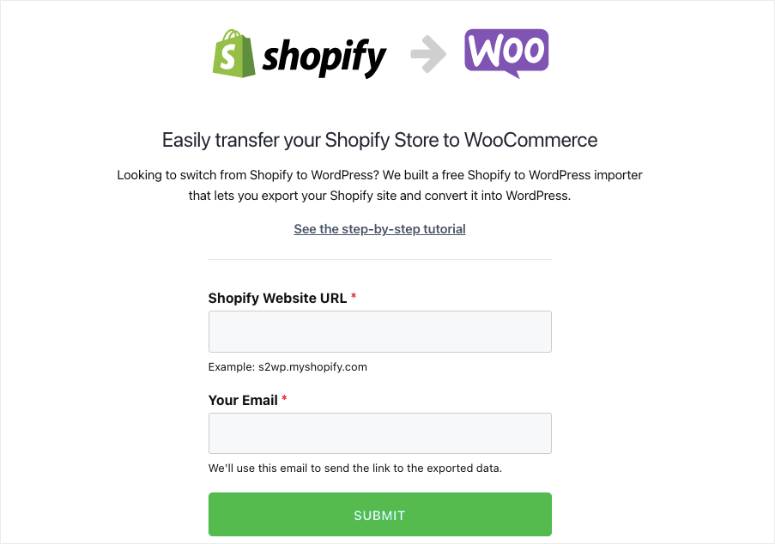 Import Shopify to WP is the best plugin to use if you want to switch from Shopify to WordPress.
Shopify does not have an easy way to export data that's in a file format supported by WordPress. You may be able to export your Shopify website but you won't be able to import it to WordPress.
This plugin works like a charm and will make the migration process seamless.
Follow our guide for detailed steps: How to Move from Shopify to WooCommerce (The Right WAY!).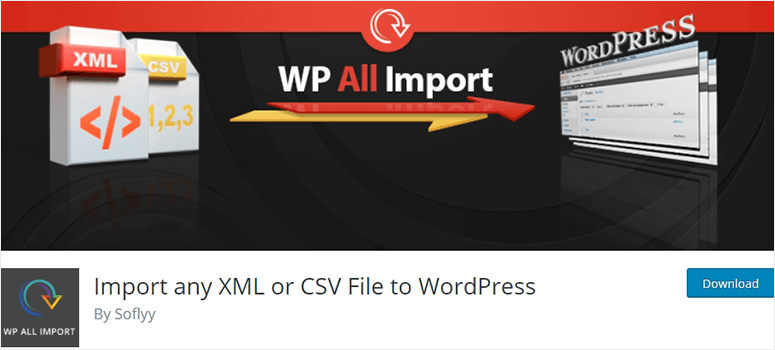 WP All Import is a free WordPress import export plugin. It allows you to migrate your complete site from any popular CMS to WordPress.
In other words, this plugin can help import the content to your WordPress website easily.
It supports XML or CSV file format to import the content in WordPress. With no special requirements, you can use the drag and drop interface to move your site.
This plugin is compatible with a companion plugin to export your WordPress content, including posts, WooCommerce products, orders, users, and anything you'd like. You can use this export file to duplicate your site on a local server or a live WordPress website.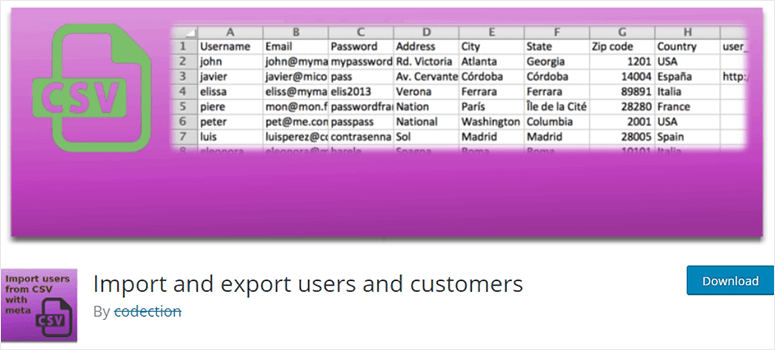 Import and Export Users With Meta is another free WordPress import export plugin. It lets you import users and customers from a CSV file to your WordPress site or a WooCommerce store.
After importing users, you can also assign roles and filter by role or registered date. If a user is already there, it automatically updates the user information.
The plugin also lets you export WordPress users in a CSV file to use on other sites. It integrates with popular WordPress membership plugins to import and export members between WordPress sites.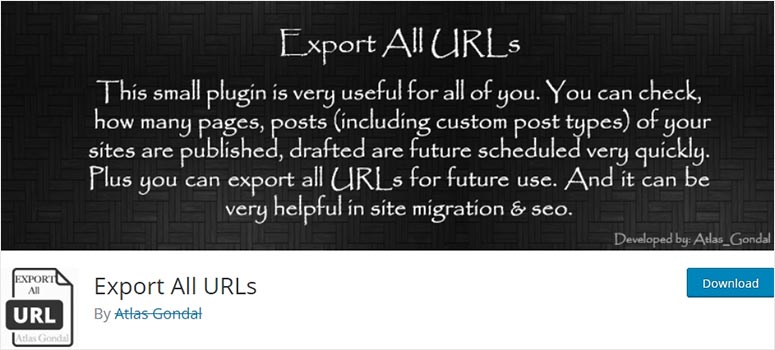 Export All URLs is a simple and free WordPress import and export plugin. It's useful to check all the URLs of your website, handle 301 redirects using htaccess, audit website security, migrate the website, and more.
It also helps check how many posts and pages are published on your site. You can export URLs in a CSV file and download them on your computer to use later. This is also helpful to migrate your website.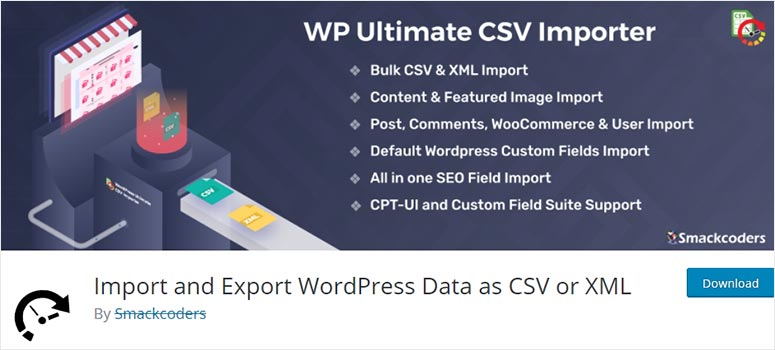 Ultimate CSV Importer is a free WordPress import and export plugin. It's a 1-stop solution to import website data using a CSV or XML file.
The plugin makes it easy to import this file from your desktop, FTP, host server, specific file, or any other location. It also supports other file formats. Ultimate CSV Importer is flexible and requires no coding skills to work with.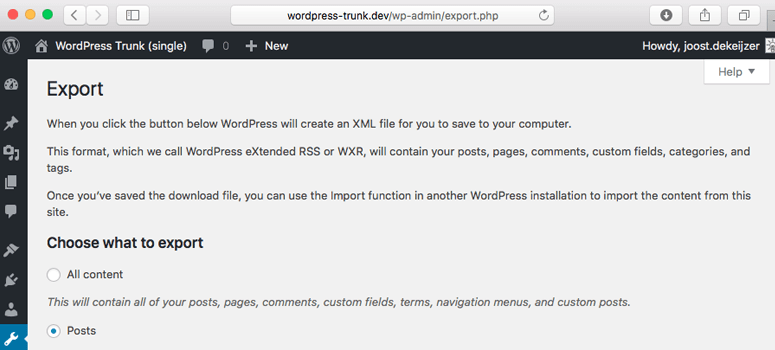 Export Media With Selected Content is a free addon to the WordPress export feature. By default, when you export your WordPress content, it doesn't include the media files and images.
This plugin will also add an option to the WordPress export settings. If you check the option, it'll find featured images and include media attachments of your posts in the export file.
We hope this article has helped you find the best WordPress import export plugins for your website.
You may also want to check out our guide on how to make a website from scratch.
This will help you create a new website using the data you import from any other content management system.