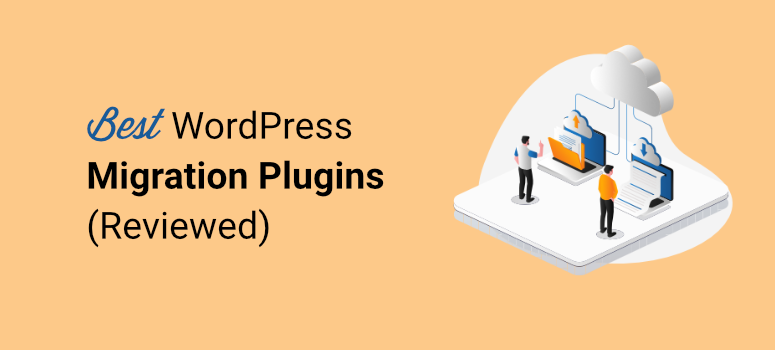 Are you looking for a quick and easy way to migrate your WordPress website?
You may want to move your site to another WordPress web host or domain name.
If the current hosting provider isn't delivering satisfactory performance, security, and support, migrating to a better host can significantly improve the experience for both you and your users.
Or, you may want to scale your site or upgrade your plan. The thing is migrating a WordPress website can be risky and time-consuming, especially if you're not sure how to do it.
The easiest and most secure way to migrate your website is to use a plugin that will do the heavy lifting for you.
In this guide, we'll look at the best migration plugins for WordPress that tick all the right boxes for both beginners and expert WordPress users.
If you're looking to migrate your site from another CMS to WordPress.org, we have a list of helpful guides here.
Now, let's get started. Here's a table of contents to help you navigate the post easily: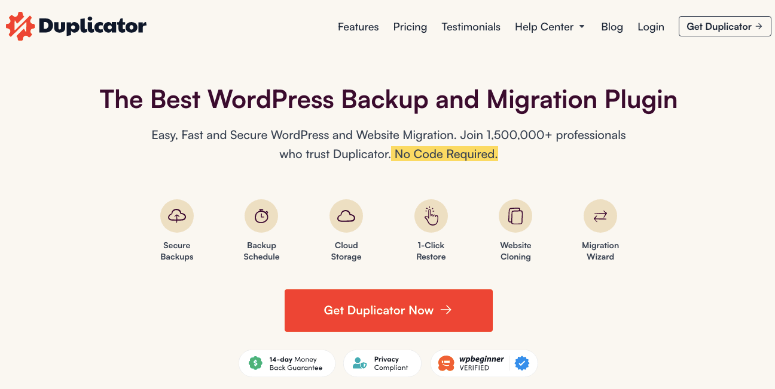 Duplicator is the best WordPress backup and migration plugin. It is easy to use and can quickly help you move your site without errors. All you have to do is create a package and select what you want to include (such as your plugins, themes, database, media files, or your entire site).

Then you can download this package and import it anywhere you want. Next, you can install the Duplicator plugin on the incoming website, drag and drop the downloaded package, and import the file.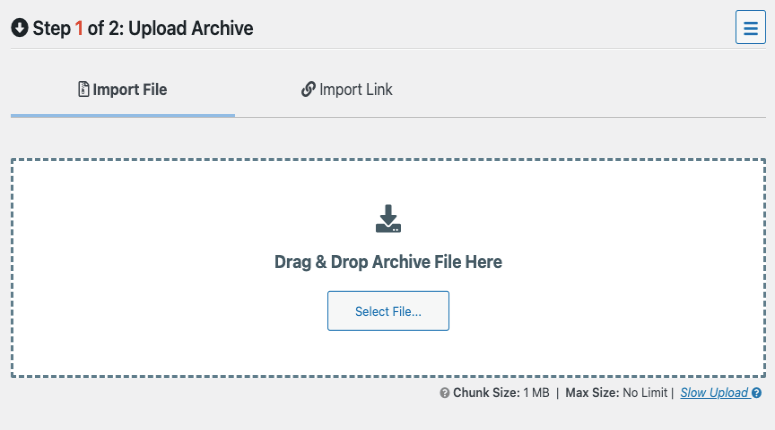 It's really that simple! No technical knowledge needed.
You can even import a site using a URL too. Simply add the link location of the archive ZIP file to your new site. This is especially helpful if you are migrating a large site or do not have enough storage space on your PC.
Duplicator also lets you create a copy of your site and reuse it as a pre-configured template across multiple domains.
Now this migration plugin is not just built to move websites. You can back up and restore your WordPress website too. There are options to schedule backups and store them in your favorite locations like Dropbox, Google Drive, Microsoft OneDrive, Amazon S3, and FTP/SFTP.
Duplicator even supports websites on managed hosts such as WordPress.com, WPEngine, GoDaddy Managed, and more. So you'll be able to transfer to another web host or platform without any hiccups.
Pros:
Easy and quick migration
Supports WordPress multisite migration
Pre-configured website packages
Secure encryption (industry-standard AES-256 encryption)
Local storage and cloud storage services
Scheduled automatic backups
Recovery points for faster restore
Dedicated customer support
Cons:
Beginners may need help setting up an FTP server. Luckily, Duplicator has incredible customer care you can rely on. Plus, only some features require an FTP setup.
If you choose to use the upload-download method, you need fast, secure internet speeds. You can use cloud storage to transfer sites as well to avoid this issue.
Duplicator lets you package and import your site for free! However, they have a premium plugin Duplicator Pro that's worth checking out! See our full Duplicator Review »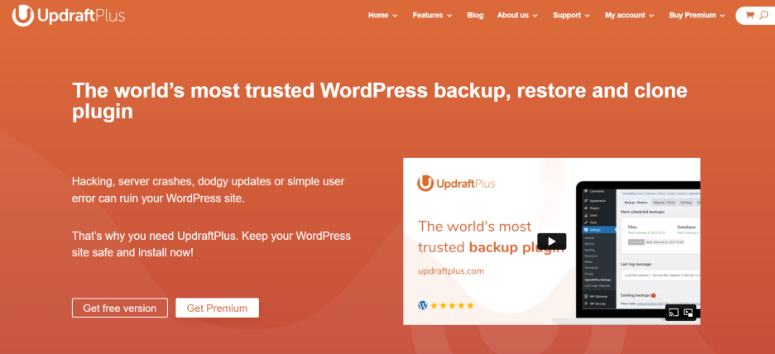 UpdraftPlus is one of the most popular backup plugins for WordPress.
It's ideal for beginners because the process is simple and straightforward. You can backup, clone, and migrate your site with this plugin.
Added to that, you can store backups in multiple locations. This helps safeguard your data, even if one backup source is lost or corrupt.
You can quickly create a backup by clicking the 'Backup Now' feature.

To move your site, there's a free version that lets you migrate your WordPress website by downloading backups from your source website, and then restoring them to the destination site.
If you want to pick and choose which themes, plugins, and database tables to migrate, or you need multisite support, then you need to install a premium addon called UpdraftMigrator Premium.
This lets you transfer your site to a new host or another domain in a matter of minutes. Everything can be done with the click of a few buttons on your UpdraftPlus dashboard.
Pros:
Easy to use
Pick and choose what to migrate
Incremental backups for better speed
Schedule and Pre-update backups
Email notifications
Multisite network support
Cons:
Only basic migration is free. You need to install another addon to access pro migration features.
Overall, it's a good plugin for a basic single site migration. See our full UpdraftPlus Review »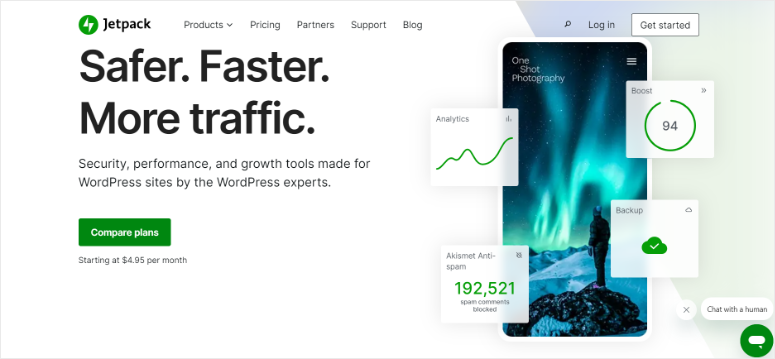 Jetpack offers a convenient backup and migration plugin called VaultPress. This lets you migrate your site to a fresh WordPress installation on any host.
If you're using WordPress.com, the plugin often comes preinstalled in the WP dashboard. It makes it easy to back up and migrate your site.
You can transfer your entire database, plugins, settings, and themes, as well as all your content and images.
However, for WordPress.org sites, the process can be a bit technical so it's not ideal for beginners. You need to enter your SSH, SFTP, or FTP credentials in JetPack to be able to migrate your site.
You also need to make changes to your hosting DNS records. So if you're not sure about these things, it might be best to use a plugin like Duplicator. It's just simpler.
Other than migrations, JetPack offers powerful backup features including real-time cloud backups, easy restores, a website firewall, and malware scanning.
Not sure if you're using WordPress.com or WordPress.org? See our guide: WordPress.com vs. WordPress.org.
Pros:
Real-time cloud backups
Unlimited 1-click restores
Unlimited site migrations
Migrate to a new server or host
Supports WooCommerce
Cons:
Migration process is technical
You need a WordPress.com account to set up Jetpack
For more on this plugin, check out our JetPack Review »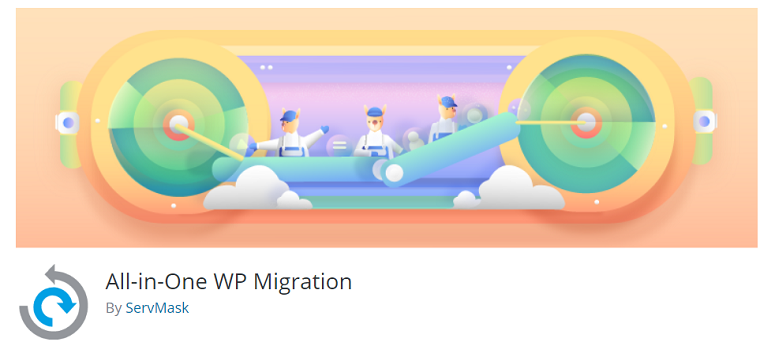 All-in-One WP Migration lets you move websites with ease. It's built for beginners so you don't need technical knowledge or experience.
All you have to do is install the free migration plugin, then export and import your website to the new location. The best part is it supports custom uploads so you can choose to include or exclude plugins, themes, and media.
Most WordPress migration plugins will often support ZIP files only. However, the All-in-One WP Migration plugin supports almost all types of file formats.
One thing that stands out about this plugin is that it can auto-replace URLs during the export process of updating permalinks. You can customize the URL structure of the new permalinks according to your SEO strategy. This is helpful if you want to keep your SEO intact after a migration.
Also, All-in-One WP Migration automatically creates another copy of the backup file when you export your site.
The added layer of protection means even if your backup is corrupt, the plugin can help you recover your site.
Pros:
Simple export-import functionality
Highly customizable migration
1-click and scheduled backup
Google Drive, Dropbox, and FTP extensions
Password-protected backups
Supports different file formats
Cons:
It can take a long time to export or import files
Multisite capabilities only available in the premium version
Get started with All-in-One WP Migration!

BackupBuddy is one of the oldest migration plugins since its creation in 2010. It's a premium WordPress backup plugin built especially for hosted WordPress sites. With this plugin, you can create a backup copy of your entire WordPress installation including your media library, plugins, themes, and WordPress database.
If you want to change your domain name and hosting provider, this plugin offers migration options too. It will handle the migration process of your URL and will automatically replace all the URLs when you migrate a site to a new domain.
If you're a developer who creates websites for clients, you can use the migration feature of BackBuddy to move the custom local site you've built to the client's live domain.
Pros:
URL replacement
Change domain/URL
Easy backup and restore
WordPress staging sites
Cons:
It does not support multisite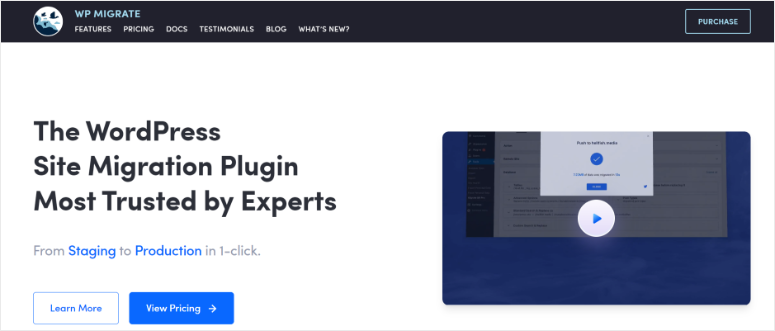 WP Migrate is a migration and workflow tool specifically designed for professional WordPress developers. If you're a beginner, this isn't one you want to start with.
This plugin is built to move databases from one WordPress installation to another. You can also transfer media and theme files, but with the use of premium addons. This makes it quite costly to move your site.
However, it is a great migration plugin for seasoned developers as it helps rescue broken databases.
WP Migrate moves the database as a MySQL data dump. This helps developers visually and physically test and troubleshoot a database because it is in a text-based format.
As such, you can find, edit and replace the structure and content of a broken backup file, helping you restore a site in worst-case scenarios.
Migrating a database in MySQL format can lead to many time-outs and errors because of the size of such files.
To avoid this, WP Migrate pulls and pushes databases from one location to another, streamlining the process better.
Pros:
It can help you save your site if the backup's database is corrupt
Push and pull databases from one location to another
Can edit and change a database
Cons:
Difficult to carry out full site migrations without addons
Addons come with expensive pricing plans
It's not designed for beginners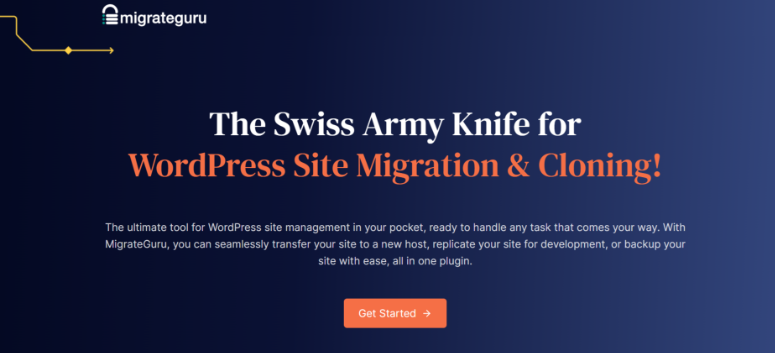 Migrate Guru is a relatively new plugin in the market brought to you by the same folks behind BlogVault. It's a simple method to quickly move your site with zero downtime.
You'll love this plugin if you need to transfer a large site up to 200GB. They use their own secure servers to run the migration process. That means, there's no load on your website and your migration will take place at lightning speeds.
You also don't have to worry about your data being shared as Migrate Guru erases it right after the transfer is complete.
Added to this, the plugin can also auto-rewrite or change URLs to match the new site's properties.
One thing to keep in mind is that the standalone Migrate Guru plugin does not have a dashboard. You must enter your email for identification and enter a migration key to your FTP or cPanel.
However, if you're a premium BlogVault customer, you'll get access to a user-friendly independent dashboard where you can manage backups, staging, and migration with ease.
Pros:
Free WordPress migration
No site size limit
Supports large websites
Automated process
Cons:
Can only migrate up to 5 sites per month
Less automation with the FTP migration tool process
Get started with Migrate Guru!
Plugins like MigrateGuru support all 5,000+ web hosts around the world. If you're thinking of moving to a better web host, see our list of The Best WordPress Hosting Companies. In our experience, we love Bluehost, Hostinger, and SiteGround. They're trustworthy and offer stellar performance.
Most web hosts let you move your existing site to their platform. We'll show you the best one next.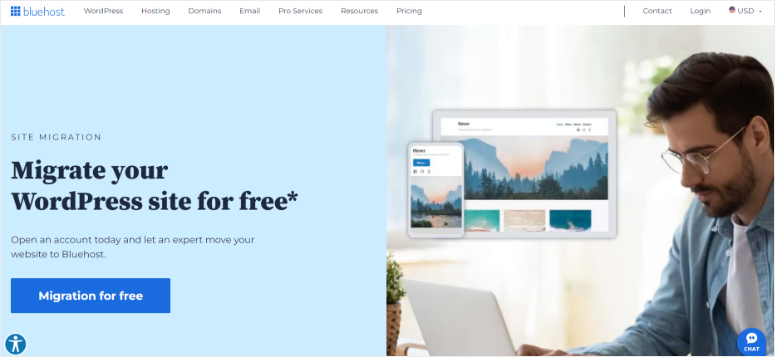 Bluehost is one of the largest and most trusted web hosting companies in the world, with millions of users.
If you want to migrate your site to their hosting platform, Bluehost has experts that will do it for you through their free Bluehost Migration service.
This lets you transfer any site to Bluehost no matter which web host you're currently using. All you have to do is sign up for a Bluehost account and then head over to the Bluehost Marketplace. Here, you'll find the Migration Services page.
Simply enter the name of the site you want to bring over and it'll ask you to run a check scan to see if it's compatible.
Then you need to download the free Bluehost Migration plugin. From there, the Bluehost team will help you complete the transfer. You'll be able to review your site and finalize the migration.
Once done, you can connect your domain to the new Bluehost website. The best part about this service is that if you need help with anything, there's a friendly team of experts that are happy to guide you through it.
Pros:
Migrate from any host to Bluehost
Easy to use and experiment with for beginners
Free plugin for migration
Cons:
Cannot transfer site files from local host
No multisite capabilities
You can find more web hosts that let you move your site to their platform in our guide: Top Web Hosts With Free Website Migration Service (Compared).
That's our pick of the best WordPress migration plugins and services you can use to move your WordPress site. Up next, we'll give you our verdict.
Final Thoughts: Which Is The Best Migration Plugin For WordPress
Every migration plugin has something different to offer.
Keeping our users in mind, our top pick has to be Duplicator, and for good reason!
This WordPress migration plugin is incredibly easy to use so if you're a beginner, you'll have no problem moving your site. You can also back up your site and clone it for testing any time you need.
Duplicator is also developer-friendly so seasoned WordPress professionals will love the advanced features it comes with. This plugin even made our list of the most popular WordPress plugins.
Coming in at #2 is UpdraftPlus. It's one of the best backup solutions out there. It's great for a simple site migration, however, the free migration feature is limited. The good thing is you can create a clone and test changes or migrations, before touching your live site.
We hope you liked this guide and found it helpful in picking the right WordPress migration plugin for your WordPress site.
Next, we have step-by-step tutorials you can follow to move your website properly: How to Move a Site From One Web Host to Another and How to Properly Move WordPress to a New Domain Name.
If you want to move your site from a different platform over to WordPress.org, then check out these tutorials:
These guides will help you switch to WordPress.org where you'll get more flexibility and control over your WordPress site.