Do you want to know if Duplicator is the right backup & migration plugin for your site?
Duplicator is hands down the best backup plugin for WordPress. It's easy to use and offers a ton of flexibility in the process. However, there's a slight learning curve.
We tried and tested everything Duplicator has to offer so we speak from experience. In this review guide, we'll cover the features, pros & cons, pricing, and we'll even give you alternatives to check out. Added to that, we'll check out the installation and backup process to show you just how easy it is to back up your site with Duplicator.
What You Need to Know About Duplicator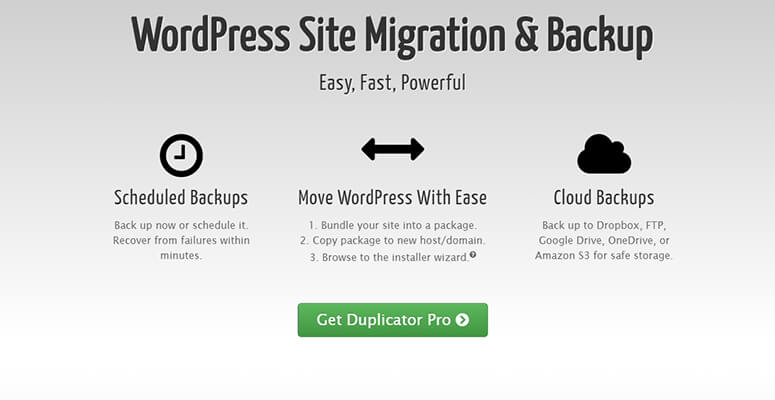 Duplicator is the best backup and migration plugin for WordPress. The plugin is developed and maintained by the same team that's behind some of the biggest names in the WordPress world including WPBeginner, OptinMonster, WPForms, and MonsterInsights.
You can install this plugin for free on your site and take backups as and when you want. This makes it the best backup plugin for beginners and small websites on a budget.
As your site grows, you can upgrade to a pro plan to get advanced features like scheduled automated backups, cloud storage integrations, and smart migration tools.
You'll find a plan for all budgets and website sizes. With that said, let's take a look at the features of this plugin.
Duplicator Highlights
Duplicator is a powerful plugin and has a lot to offer. At the same time, the developers of the plugin have kept things really simple for you so that it's easy to use. Below, we'll focus on the highlights that every website needs when it comes to WordPress backups and migrations.
Full site backup
Duplicator backs up all WordPress files and databases including database table filters. You won't have to worry about losing data as long as you have the most recent copy of your website stored.
Scheduled Backups
You can create backups on demand or you can schedule them to run automatically on a day and time that's best suited to your site.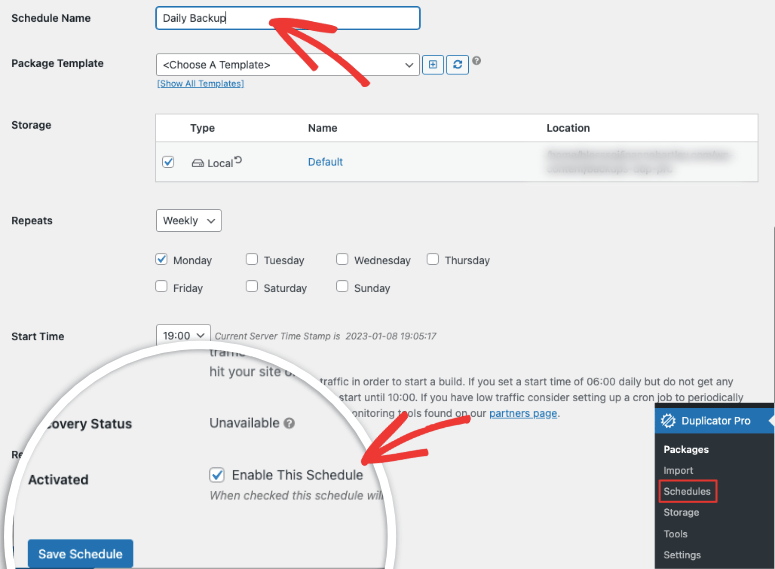 So for instance, if you usually update your blog on Fridays, you can schedule the backup to run on Friday night so that it stores all your latest changes.
Easy Restore
You can restore your site with just a few clicks. The process is easy for anyone to understand. You simply need to drag the bundled site archive to the site you wish to overwrite.
And the best part? It only takes a few minutes so your site will experience minimal downtime while you run the restore process.
Added to this, Duplicator stores recovery points.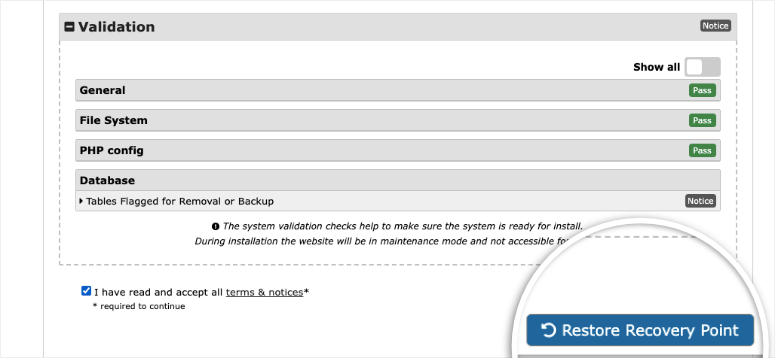 This protects your site against mistakes and bad updates by letting you quickly roll back your site to a recent point where your site was in good condition.
Best Storage Options
First, unlike other plugins that create lots of files that are hard to manage, Duplicator Pro bundles your site into a single archive. This makes it easy to store.
Next, you can send your backup to multiple cloud locations to ensure you always have a copy of your site to restore when you need it. Duplicator lets you connect to Dropbox, FTP, Google Drive, OneDrive, or Amazon S3 for safe storage.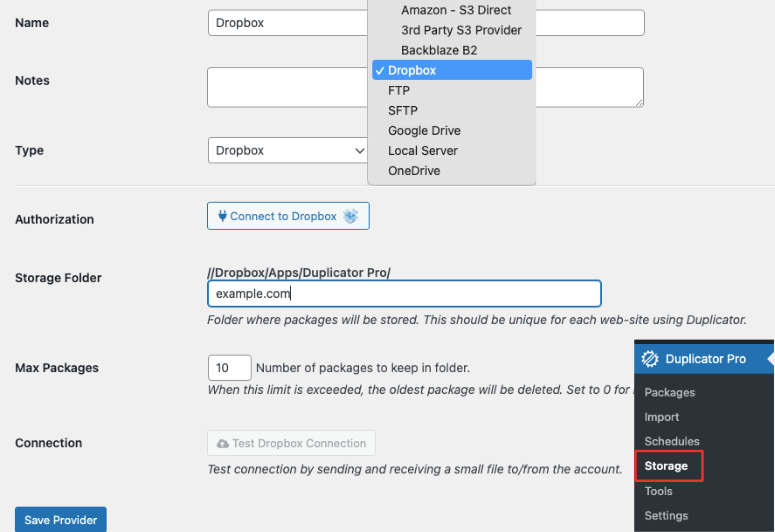 You can also limit the number of stored backups to prevent filling up your local or cloud storage.
Smart Migration
With Duplicator, you can migrate a site to an empty directory or overwrite an existing site using drag and drop.
If you want to create multiple websites with the same theme, plugins, or content, then Duplicator is the right migration plugin for you. It can save you a lot of time by preconfiguring your site. You simply need to configure one site and bundle it into a Duplicator package.
Then you can install the package to create a pre-configured site on as many locations as you want.
If you're migrating to and from managed hosts, it's easy with Duplicator as it supports WordPress.com, WPEngine, GoDaddy Managed, Liquid Web Managed, and more.

It even lets you directly transfer packages from server to server at lightning fast speeds.
Multisite and Large Site Support
You can use Duplicator to back up and migrate sites even if they are large in size. Duplicator uses an overhauled package engine that's designed to work seamlessly on larger sites.
Duplicator Pro supports multisite network backup & migration. You can even install a subsite as a standalone site.
Email Alerts
If a backup has timed out or needs your attention, Duplicator will send you an email notification so that you can check it out as soon as possible.
Developer Friendly
If you're a developer, you'll love the flexibility and plugin hooks. You also get database and user creation in the installer with cPanel API.
What are the Drawbacks of Duplicator?
Duplicator lacks real-time backups that eCommerce sites need. Aside from that, there aren't really any cons to this plugin. It's easy to use and it gives you so much flexibility with your backups and migrations.
What we love is that it actually works when you need to restore your site.
How to Use Duplicator to Backup & Restore Your Site
Duplicator is so easy for anyone to use.
For the pro version, go to the Duplicator website. Sign up for the plan that's best for you and you'll get a plugin zip file and a license key.
You need to upload this plugin to your WordPress site and activate it using your license key.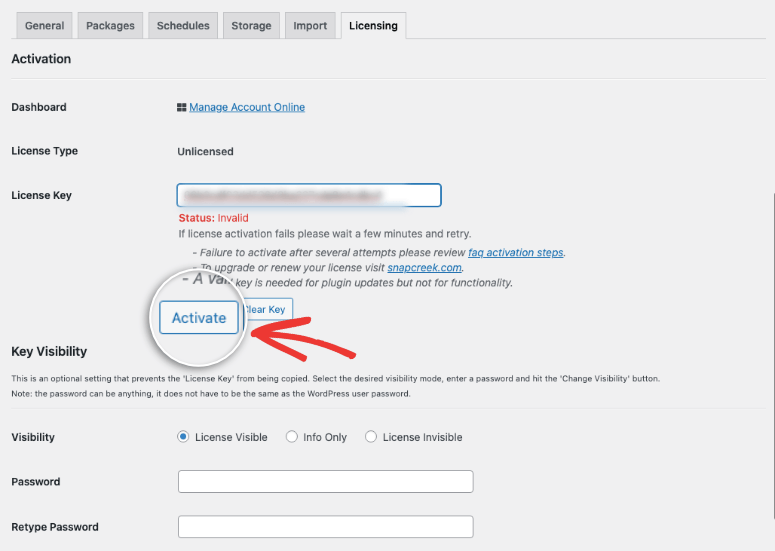 Then go to the Duplicator » Schedules page where you can customize your backup schedule.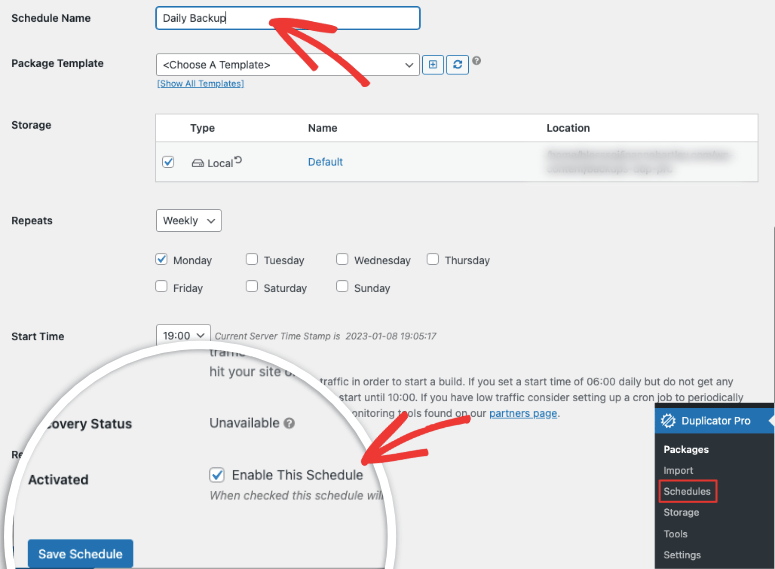 All you have to do is add a name, choose a backup location, and choose when the backup happens by day and time.
When you save the schedule, Duplicator will automatically back up your site as per your set time and day.
If you're looking to get started for free, you can install Duplicator Lite from the WordPress repository. Inside your WordPress admin panel, go to Plugins » Add New page. Search for Duplicator and install the plugin.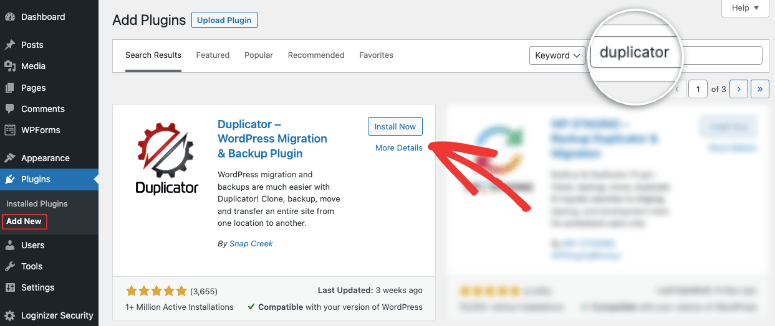 For Lite users and to take on-demand backups, navigate to Duplicator » Packages tab.

Here you can choose the name and storage options.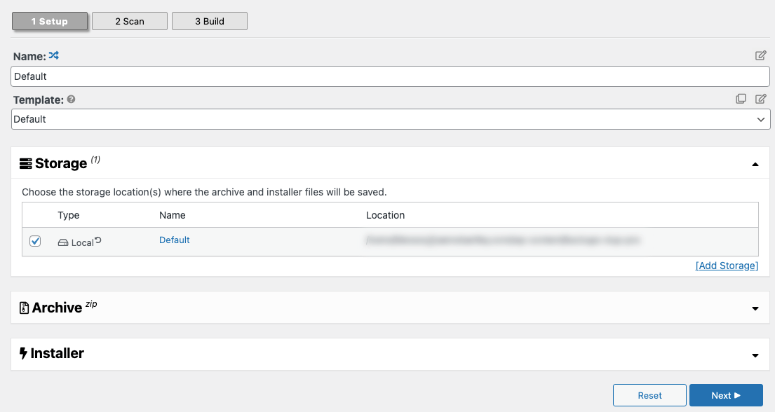 To start the process, click on the Next button. Now Duplicator will scan your site completely.

When the scan is done, you'll see a page with the scan details about your system, WordPress, database, and files.
If there's anything that needs fixing or attention, you'll see a notice against it here.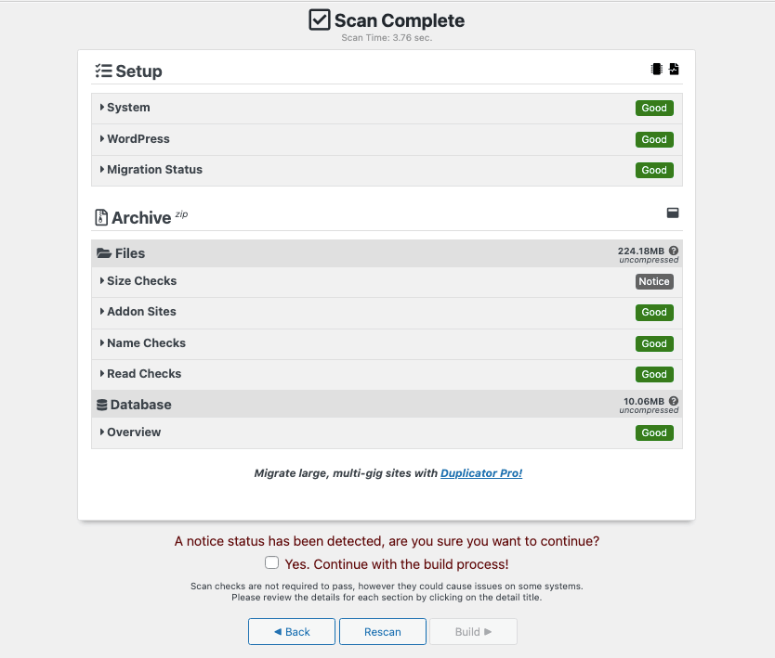 All that's left to do is check the box 'Yes. Continue with the build process!' then hit the 'Build' button. You'll see a page with the building in progress.

When the backup is ready, you'll see the WordPress installer backup and the archive backup. You can choose to download these files if you want to store them locally on your computer.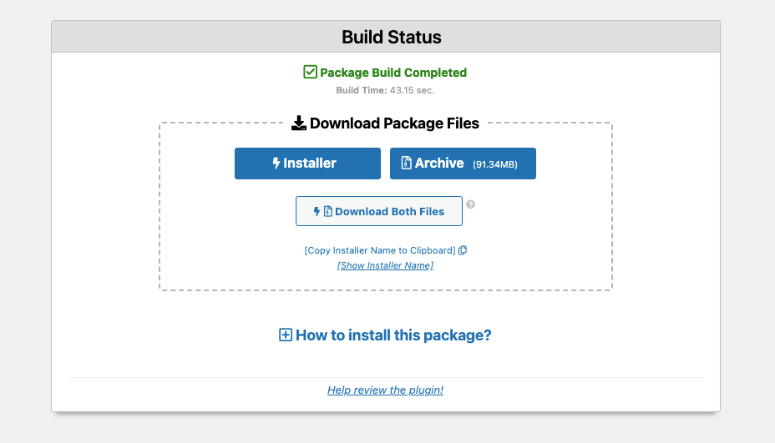 Otherwise, you don't need to download anything here. Your backup will appear under the Packages tab.

Now you have a backup copy ready. If anything goes wrong, you can quickly restore it by choosing the recovery point you want.

Learn more about how to backup & restore your site with Duplicator here »
Duplicator Pricing
Duplicator has 4 pricing plans:
Basic: $49.50 per year for up to 2 sites
Plus: $99.50 per year for up to 5 sites
Pro: $199.50 per year for up to 20 sites
Elite: $299.50 per year for up to 100 sites
If you're just getting started with a website, the free plan may be enough. However, if you regularly update the content on your site, you'll want to schedule backups. For this, the basic plan is a good choice.
You can choose the Plus, Pro, and Elite plan depending on how many sites you want to backup and the advanced features you may need.
Duplicator Alternatives
Duplicator is our #1 pick when it comes to backups and migration. However, you might want to explore other options. Here are the 2 best alternatives:
UpdraftPlus: Easily set up manual or scheduled backups of your website – files, database, plugins, and themes included. With Updraft Plus Premium, you'll get incremental backups that are stored in multiple remote locations. It will even automatically back up your website before you run any updates.
BackupBuddy: Create backups easily, encrypt and store them easily. It allows you to scan and repair common issues, which is a huge plus. With its Stash feature, the plugin saves a lot of your server resources as well.
See our complete comparison: 12 Best WordPress Backup Plugins Compared
Verdict: Is Duplicator the Best Backup Plugin?
Duplicator is free, easy-to-use, and it's also safe! It's the best backup tool for all WordPress users.
We love that Duplicator makes it possible for every single WordPress user to make a backup copy of their site for free.
Added to that, on the pro version, you can superior support from a super-friendly team that's ever ready to help you backup, migrate, and restore your site.
Get Duplicator Now »