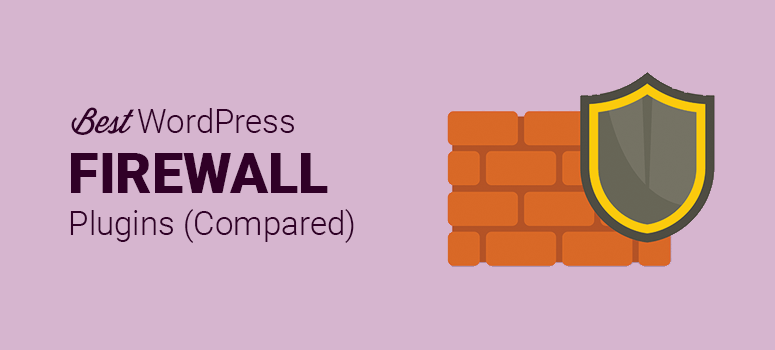 Are you looking for the best firewall plugins for WordPress?
A firewall is a shield that protects your website from hackers, spambots, and malicious attacks.
There are two types of firewalls: a DNS firewall and an application-level firewall.
DNS firewalls don't allow any unwanted traffic to reach your server or website. This is also called server-level protection.
An application firewall checks for the visitors' authentication after the traffic reaches your server but before fully loading the website.
At the end of the day, a DNS firewall is more secure. It prevents your website from threats like spam and lets genuine visitors access your website.
WordPress firewall plugins are built to check for bad IPs, trending websites, spambots, and so on. These plugins reduce the load on your server, and they help your website perform better.
In this article, we'll share some of the best firewall plugins for WordPress to protect your website from hackers.
Best Firewall Plugins for WordPress
Below, you'll find paid and free WordPress firewall plugins for security and protection. These plugins add a layer between your website and visitors to prevent any unwanted traffic and malicious threats.
Let's get started.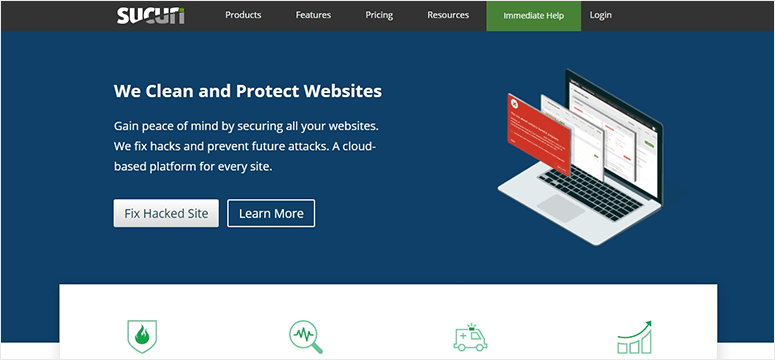 Sucuri is one of the most popular firewall plugins for WordPress. It provides website security, fixes hacks, and prevents future attacks by adding a firewall to your site.
It comes with an intrusion prevention system to add a layer of security that works against possible threats. With this protection, your website will never go offline for a security issue, and website performance increases significantly.
Sucuri also offers protection against malware and hacks. It has a website application firewall (WAF) to keep your website secure from hackers. It also blocks DDoS attacks, brute force attacks, and password cracking to prevent site abuse.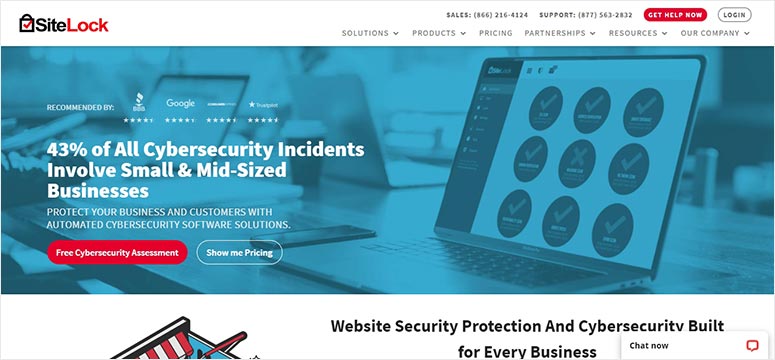 SiteLock is a powerful WordPress cybersecurity and firewall solution. It's built for small business websites to run their functions without the fear of a security threat or malicious attacks.
It comes with manual and automated security plans. Both packages include website backups, so you'll never lose your data or files. The automated plan detects malware, removes malware, protects the database, and more.
SiteLock also protects your website's code and applications. It offers daily website scans, vulnerability patching, and a web application firewall (WAF) to block suspicious traffic before it enters your site.
To learn more, check out our SiteLock review.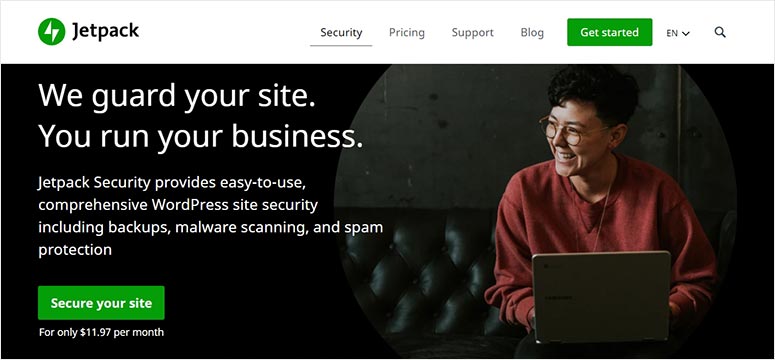 Jetpack Security is a comprehensive WordPress firewall and web security plugin. It provides website backups, malware scanning, and spam protection to secure your WordPress site.
It offers an activity log to keep track of the actions taken on your website. That way, you'll know which software or resource causes the downtime. You can use the 1-click restoration option to get back online quickly.
The Jetpack Security plugin includes automated malware checkups, 1-click fixes, security scans, email alerts, and more. It has a solution for all security threats, spambots, and brute force attacks, so you can stay worry-free.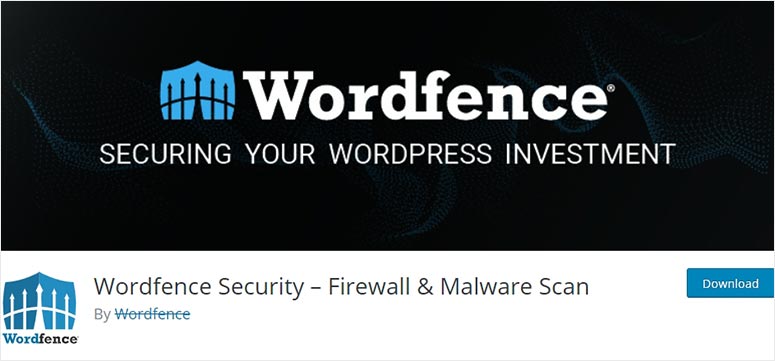 Wordfence Security is a free WordPress firewall plugin. It comes with an endpoint firewall and malware scanner built specifically to protect and shield WordPress websites.
It keeps a check on new firewall rules, malware signatures, and malicious IP addresses to ensure website security. Wordfence has a 2FA option for an additional layer of protection on login pages.
It also includes real-time firewall rule updates, real-time IP blocks, and protection from brute force attacks. By stopping the malicious traffic, the plugin reduces server load and improves your website's performance.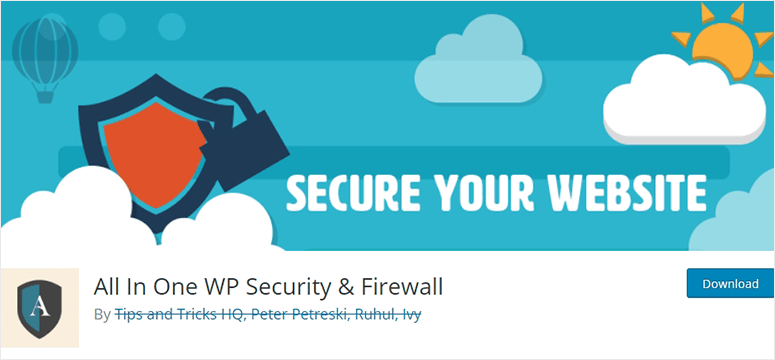 All in One WP Security is a free firewall plugin for WordPress. It offers premium-like security by checking for vulnerabilities, implementing the latest security practices, and enforcing modern techniques to protect your website.
It has a point grading system to help you understand the website security level. This system works with the active security features on your site.
The plugin categorizes security rules into basic, intermediate, and advanced settings. You can apply the required setting without adding any load to your server.
Get All in One WP Security today!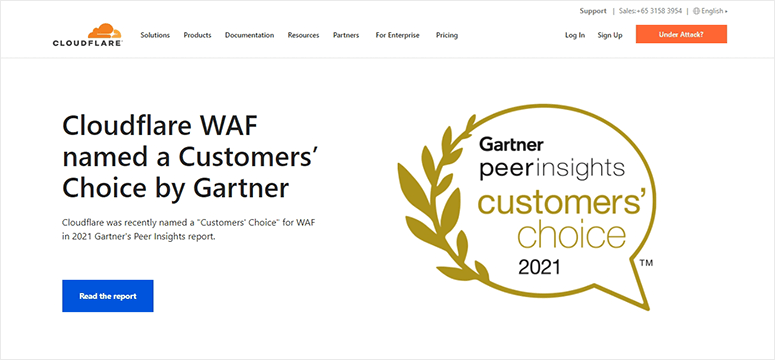 Cloudflare is a reliable firewall plugin for WordPress. It has a web application firewall (WAF) to protect your resources, applications, teams, and devices. It also provides security to your APIs and apps.
For running a business online, you need to add a security layer to prevent DDoS attacks, malware and malicious threats, spambots, and more. Cloudflare is a comprehensive suite to secure your online presence.
It offers network security, applications security, and device security to combat attacks without affecting your website's performance and speed.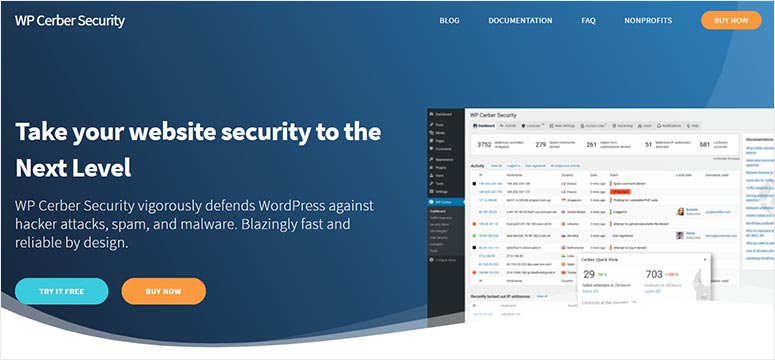 WP Cerber Security is a professional WordPress firewall plugin. It defends your website from hackers, spambots, malware, brute force attacks, DDoS attacks, and unwanted login attempts.
It has an anti-spam engine to stop contact form spam and uses Google reCAPTCHA to protect user registrations. WP Cerber Security tracks for any bad activity and sends email, mobile, and desktop notifications.
With an advanced malware scanner, the plugin monitors your website security for any attack or threat. It also restricts user access with IP Access lists.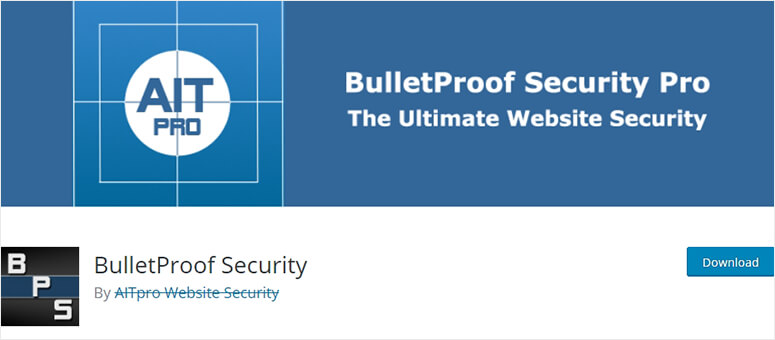 BulletProof Security is a free WordPress firewall and security plugin. It comes with a malware scanner, user login protection, anti-spam software, and more.
The top features include a 1-click setup wizard, auto fix and auto cleanup, database backups, security logging, automatic updates, force strong password, and more. The BulletProof Security paid version has more options to protect your website from hackers and malware.
Get BulletProof Security today!
We hope this article helped you find the best firewall plugins for WordPress.
You may also want to check our guide on how to perform a WordPress security audit.
This will help identify any security threat or attack on your website, so you can take quick action to protect your site and run your online business smoothly.
Also, you can check out our guide on how to fix the "Your Connection is Not Private" error. This gives you step-by-step instructions to troubleshoot and fix this error on your site.