Are you looking for a security solution for your website? Do you want to know if SiteLock is the right choice for you?
SiteLock is a popular WordPress security provider to find and fix malicious activity on your website. It helps protect your website, business reputation, and customers from cyber threats and hackers.

In this SiteLock review, we'll go over the features, pricing, and other factors to determine whether SiteLock offers everything you need to protect your website from hackers, malware, and security threats.
We'll be reviewing the SiteLock platform in-depth, so we've created a table of contents for you to make it easier to navigate this post. Feel free to skip to the section that interests you the most.
SiteLock Overview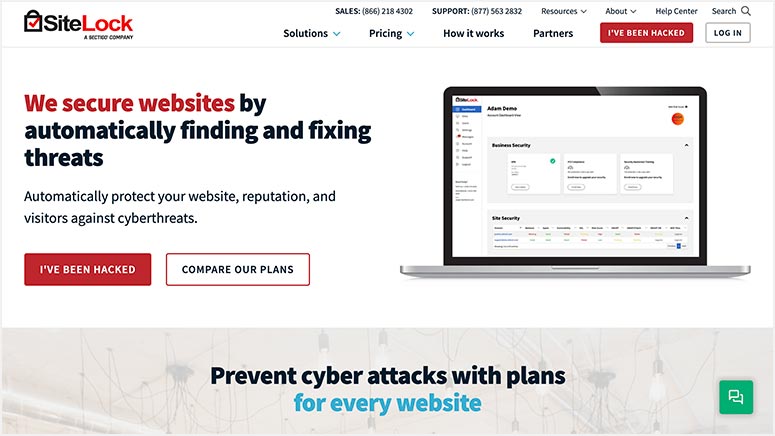 SiteLock is a popular cloud-based website security scanner and malware removal service on the market. It provides several web and mobile security solutions to protect your website and keep hackers away.
The best part about SiteLock is that it automatically detects malware and initiates the removal process, ensuring your website remains secure. It also provides database protection and vulnerability patches to prevent all kinds of cyber attacks.
SiteLock is PCI (Payment Card Industry) compliant and meets the industry security standards to provide top-notch service. It protects your WordPress site from:
SEO spam
Backdoors
Blocklist warnings
Hacking attempts
Malware threats
Malicious traffic
They offer a 911 service to respond to attacks and fix your website quickly. It's a premium service with external monitoring to ensure your WordPress website's complete safety and security.
SiteLock claims to fix a website in less than six hours. And, you get a money-back guarantee on their 911 service, which means you can rely on the security scanner without worry.
When it comes to pricing, SiteLock offers multiple plans for small to enterprise businesses. Their top-tier plan is designed for big eCommerce stores to prevent money theft and other vulnerabilities.
The basic plan is for beginners and startups with SSL scan, malware scan, spam scan, SQL injection scan, risk scoring, and more. It also comes with complete code and database scanning to ensure your website is secure from all ends.
It provides regular/daily scanning to check for malicious software and other threats that can effect your website. If you buy their premium plans, SiteLock also fixes the issues automatically and keeps you posted on all changes made.
Let's dive into complete SiteLock features to learn more about this security platform.
SiteLock Features
SiteLock is a robust WordPress security and monitoring solution. Below, we'll explore all its features and options to determine if this is the right fit for your website.
1. Website Scanning
SiteLock provides several website scanning tools to detect minor and major threats on your site. These scans include:
Malware Scan: Checks if there is malicious or suspicious content on your WordPress site. When found, SiteLock will alert you instantly so that you can clean your website.

Spam Scan: Regularly checks if your website is added to spam lists and spam databases to prevent emails you send from being blocked or sent to the spam folder.
SQL Injection Scan: Hackers bypass verifications to attack your site's database and gain access to sensitive data. This scan finds such vulnerabilities to safeguard your database and its stored information.
Cross-site Scripting (XSS) Scan: Hackers exploit vulnerabilities on your site to steal visitors' data or trick visitors into providing data to third parties. The Cross-site Scripting (XSS) scan will help you find and fix the vulnerability to protect your site against such attacks.
Application Scan: Multiple processes are running in the backend that put your website on the internet. It includes databases, operating systems, programming languages, and more. The Application scan will ensure there are no loopholes for hackers to get into your server and attack your website.
SSL Scan: A simple scanning tool that ensures your website has a valid SSL certificate and the web encryption runs smoothly.
Most of the security scans work automatically after installing and activating the SiteLock WordPress plugin on your website. The setup is easy for beginners and works in just a few clicks.

Once activated, the plugin scans your site regularly. It will send you emails to report what it's found. You can also access the SiteLock dashboard to see scan details and your site's status. You'll also get access to SiteLock's risk score and live screening in the dashboard.
And there's more. SiteLock lets you add a security trust badge to your website to inform visitors that your website is free of all malicious activity and threats. This helps you gain the trust and confidence of your website users, and is especially useful if you're accepting online payments.
2. Malware Removal
SiteLock offers a complete and automated malware removal process that works in three steps:
Malware Detection: Firstly, the powerful SiteLock malware scanner detects malware files and content on your website.
Malware Removal: Secondly, it automatically removes all malware and suspicious data found on your website. It also clears anything suspicious from your website's source code.
Website Restoration: In the last step, SiteLock checks if hackers have damaged your site and takes steps to ensure your website is working without any issues. It'll also inform you about any changes made to the website.

During this process, SiteLock connects with you to share regular updates and alerts on email. You can also find all activity logged in SiteLock's live dashboard.
3. Vulnerability Patching
Vulnerabilities are security gaps that hackers can use to gain access to your site or its data. These vulnerabilities can appear in WordPress plugins and themes, and although rare, sometimes in the WordPress core installation.
Vulnerabilities appear from time to time with software updates and other changes. When developers find these lapses, they fix them and issue a new version of the software which carries the security patch.
What you need to know is that if you fix vulnerabilities once, it doesn't mean that your website will be free from them in the future.
Your website needs to be monitored regularly to check for new security lapses.
SiteLock's vulnerability patching keeps you ahead of threats. It helps find any vulnerabilities on your website quickly and fixes them right away before hackers can misuse them.
SiteLock uses remediation technology to check susceptible areas of your site. If it finds issues, it applies individual security patches to make sure your site is secure.
This means cybercriminals won't be able to take advantage of vulnerabilities.
4. Web Application Firewall (WAF)
A Web Application Firewall (WAF) acts as your first line of defense to scan your website's traffic before they come to your site. It detects bad bots, spambots, cybercriminals, and users with malicious intent and blocks them so they don't stand a chance at even trying to hack your site.
SiteLock's firewall sits in front of your WordPress application like a security shield on all sides. It then performs a secret security check behind the scenes without the visitor knowing.
The tool scans every visitor to check for bot behavior. It also verifies the IP reputations of your visitors.
This helps identify the genuine visitors vs malicious traffic. Then SiteLock's Trueshield tool automatically blocks bad bots and users with malicious intent and allows only safe traffic to access your WordPress website.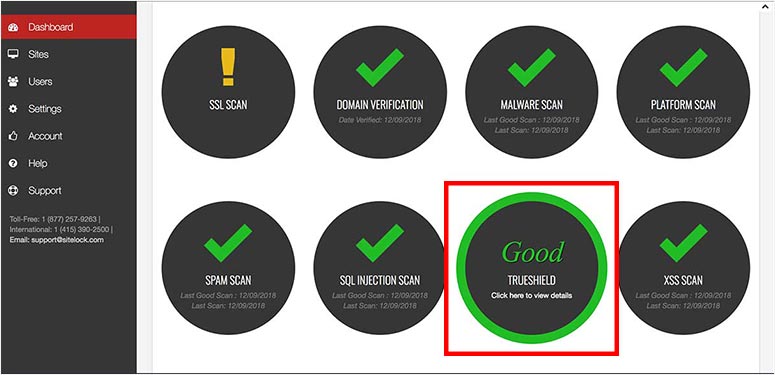 The firewall activity is recorded and you can find complete filter reports in your SiteLock dashboard.
5. Website Backup
It's recommended to create regular backups of your website. With backups, you can quickly go back to a previous version of your site in case of hacks and attacks.
You should check out our complete list of WordPress backup plugins. These plugins are tested to provide the best backup and restoration solution for WordPress sites.
SiteLock offers a website backup and restoring option. It's a simple solution for website owners to schedule daily backups or request backups for files, folders, and databases.
You can easily restore your website with a single click. SiteLock gives you an undo button to choose a previous version of your site and restore it immediately.
During the backup process, your content and data will be encrypted to provide complete security. You can also monitor your backup status, history, and storage in the SiteLock dashboard.
The storage depends on your pricing plan. We'll discuss more on it in the SiteLock pricing section below.
6. Content Delivery Network
SiteLock offers a content delivery network (CDN) service to help improve your website's performance and speed.
The CDN will automatically store your website content at global data centers in more than 40 locations around the world. When a visitor wants to access your site, it will fetch the data from the nearest server and display it.
This drastically reduces page load times but you might be worried about the security of storing data on so many servers.
Well, SiteLock provides secure end-to-end encryption to ensure your data and website users are protected.
It's easy to set up SiteLock CDN in just a few clicks. After the configuration, it works automatically to improve speed and loads your website faster.
Though SiteLock CDN looks promising, we also recommend you to check out our list of the best CDN services to speed up your website.
SiteLock Customer Support
When it comes to customer support, SiteLock has your back all the time. Although, you need to know that the support preferences work according to your pricing plan. This means priority goes to premium customers followed by those on the lower-end plans.
However, SiteLock offers its support service through multiple channels you can get in touch in a way that's most convenient to you. This includes:
24/7 live chat support
Email/help desk
Phone support
Chat
Community forum
Added to that, you can find plenty of documentation in their FAQs and knowledge base.
Alongside these support platforms, SiteLock experts also help with pre-sales questions, quick fixes for hacked websites, and more.
SiteLock Pricing
Before diving into SiteLock pricing and plans, you should know about a one-time emergency cleaning service called SiteLock 911.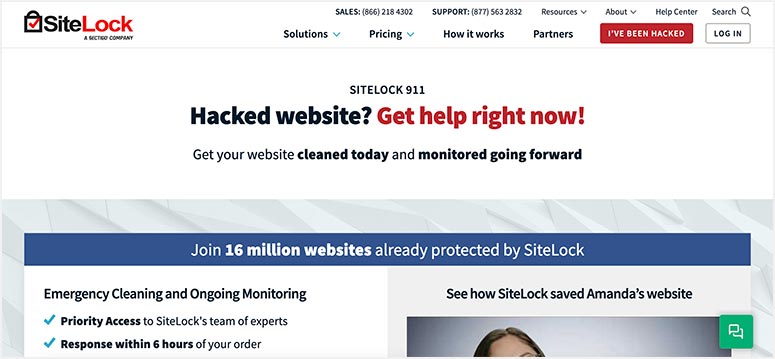 This is extremely helpful if your site is currently under attack. It costs $199 (one-time fee), and here's what you'll get from it:
Priority access to SiteLock's security experts
6-hour response time
Quick recovery of your website
Complete and thorough website cleaning
Full refund guaranteed
After fixing your website, SiteLock will also provide one year of external monitoring to ensure your website remains safe and secure.
In its regular portfolio, SiteLock offers three pricing plans: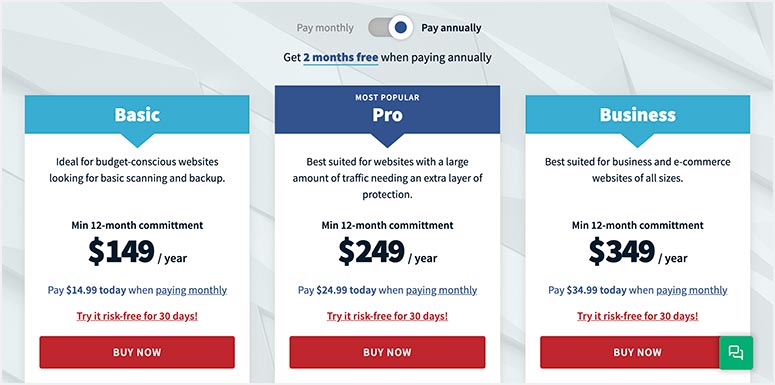 Basic – The basic plan costs $149 per year ($14.99 per month). It includes 24/7 customer support, 30-hour ticket response time, daily backups with up to 2 GB storage, complete website scan, vulnerability detection, and more.
Pro – It's the most popular plan and costs $249 per year ($24.99 per month). The Pro plan includes everything from the basic plan with daily backups and up to 5 GB storage. It also includes 24-hour ticket response time, vulnerability detection and automated patching, website firewall protection (WAF), CDN, and more.
Business – The top-tier SiteLock plan costs $349 per year ($34.99 per month). It has the fastest 12-hour ticket response time, daily backups with up to 10 GB storage, malicious bot blocking, DDoS protection, firewall PCI reporting, 2FA, and custom WAF rules.
With each plan, you get a discount on the SiteLock 911 service.
The downside here is that you'll need to commit for a minimum of 12 months.
However, it offers a 30-day refund policy, and you'll need to cancel the service within the first month to get a refund.
If you choose to pay annually, you'll get two months' worth of discount on the total pricing. It applies to all SiteLock plans, from basic to business.
If you feel SiteLock's plans are still out of your budget, we show you how to get a good deal on this plugin next.
Bluehost SiteLock Essential (Discount)
SiteLock is a premium service and may be expensive for beginners and startups.
However, you can't avoid having a security solution. Protecting your site is a top priority.
You can get SiteLock protection when you sign up for a web hosting plan with Bluehost, the most popular web hosting company and one of the recommended WordPress official hosting partners.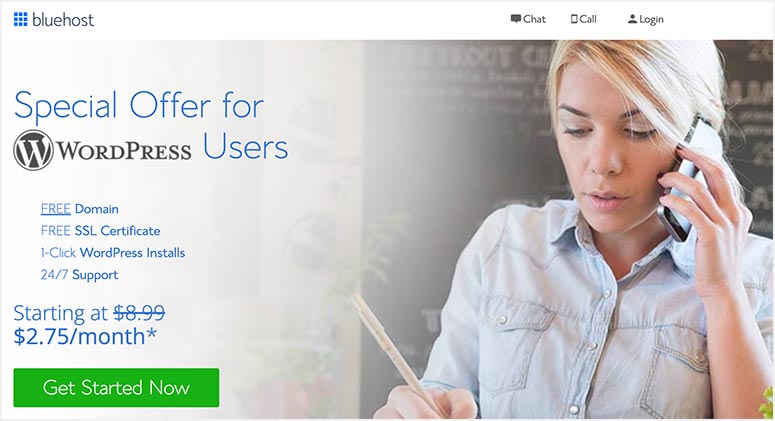 Usually, a domain name costs $14.99 per year, and web hosting costs $8.99 per month.
But for IsItWP users, Bluehost offers a free domain name, free SSL certificate, and up to 70% discount on web hosting, making the cost as low as $2.75 per month.
When it comes to Bluehost SiteLock Security Essential plan, you'll also get a 72% discount on the SiteLock security service. It costs $35.88 per year for a single website.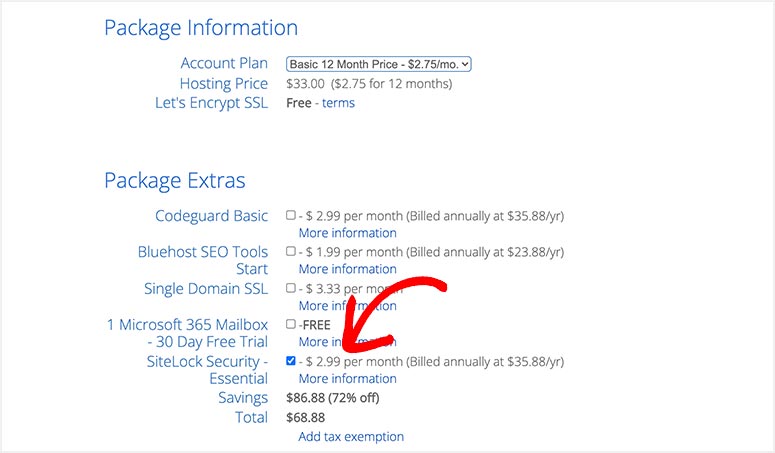 This is a BIG discount on the SiteLock plugin. It has all features of a basic plan, including malware removal, daily website scanning, 911 emergency service, vulnerability patching, and more.
SiteLock Alternatives
SiteLock is a powerful and high-quality website security service. It comes with a website application firewall, automated malware removal, daily website scanning, complete backups, and more.
It provides solid website security and prevents bot attacks from keeping your site safe. SiteLock also ensures safety against cybercriminals, hacking attempts, and malicious traffic.
SiteLock pricing plans are a bit expensive for beginners and startups. And, on the downside, you'll need to commit for at least 12 months that means once you buy the service, there's no going back for an entire year.
There are several WordPress security plugins that you can use to protect your website from hackers, malware, malicious threats, and spambots. Our top recommendation is Sucuri.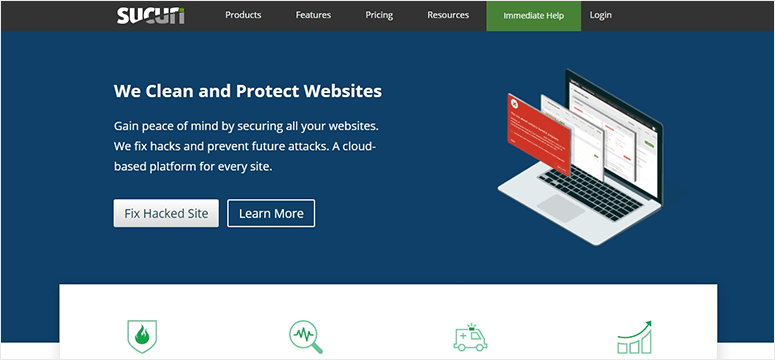 It's one of the most popular and reliable WordPress security services with powerful options, including IP blocking, location blocking, DDoS protection, security monitoring, website firewall, server-level firewall, and more.
Aside from that, you can also try:
Those are our top picks of the WordPress security plugins in the market. For more options, see our complete guide: 9 Best WordPress Security Plugins.
Conclusion – Is SiteLock Any Good for Website Security?
SiteLock is a premium website security solution designed for established businesses and eCommerce stores. 
Here are some highlights of the SiteLock Security features:
Daily scanning and malware removal
Automatic vulnerability detection and patching
IP and traffic filtering
Powerful website application firewall
Website backups and restoration
Priority customer support – 24/7
It's also a perfect fit for enterprise users with high budgets to invest in a website security solution. Other users can look into SiteLock alternatives for website protection.
Bluehost SiteLock Security Essential is a fantastic option for beginners and startups to begin with website security. It lets you take benefit of the premium SiteLock features at a low price, and since you're an IsItWP user, you'll also get big discounts on web hosting.
That's all we have for you. We hope this SiteLock review helped you decide if it's the right security software for your website.
Once you have a website security service, you'll want to see our guides:
These guides will further help improve your WordPress website security and perform audits to keep your website secure from malware, malicious threats, and vulnerabilities.
Get SiteLock Review 2023: How Good Is It? (Features & Pricing) Now »