Want to make your WordPress site multilingual to allow your users to read your website content in their preferred language? If you've conducted any research, you likely found WPML plugin recommended by several well-renowned blogs. WPML is certainly a popular WordPress translation plugin; however, it isn't prudent to purchase a premium plugin without reading a proper in-depth analysis.
In this WPML review, we'll dig deeper into its features, functionalities, pricing, and more to help you decide if it's the right plugin for you.
About WPML Plugin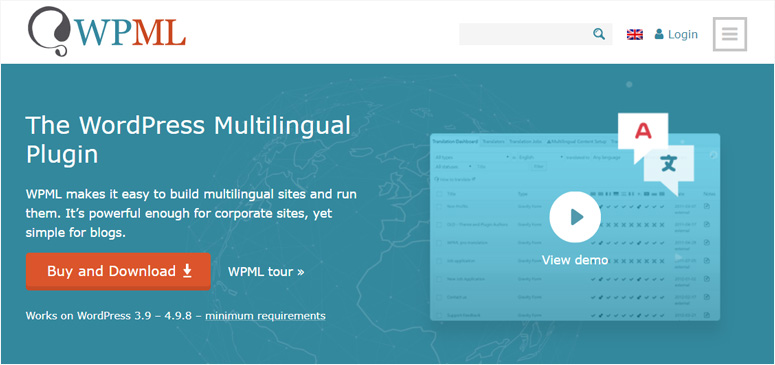 The WordPress Multilingual Plugin (WPML) is the most popular WordPress plugin for creating a multilingual website WPML allows you to easily translate your WordPress content into multiple languages and run them smoothly on your site.
Using WPML, you can manage different language contents in the same domain with a single WordPress installation. This helps you to serve a diverse audience from a single website without having to install WordPress on multiple domains.
WPML plugin works with almost all WordPress themes and popular plugins available on the market. It's SEO friendly and lets you choose language URL format as directories, subdomains, or parameters. Plus, it works with the All in One SEO plugin and other SEO-related plugins well.
WPML is created and managed by OnTheGoSystems. The plugin has available for a long time now, yet they still offer regular updates and dedicated support to their customers.
Why Create a Multilingual WordPress Site?
By creating a WordPress website, you make your content accessible to people living across the world but are all of the world's internet users really able to enjoy it? Probably not. That's because language causes a major barrier!
While it's nearly impossible to make your site available in ALL the languages spoken in the world, you can definitely make it accessible for the languages most-used by your visitors. Adding additional language translations to your site makes your site more user-friendly and ensures more users turn into customers.
By creating a multilingual website, you can easily reach out to a wider audience. Businesses aiming for an international market especially need to consider making their site multilingual.
WPML Review: Getting Started with WPML
WPML is a simple and easy-to-use plugin that you can quickly configure to make your site multilingual.
After you install and activate the plugin, it'll guide you through the configuration process with a step-by-step setup wizard.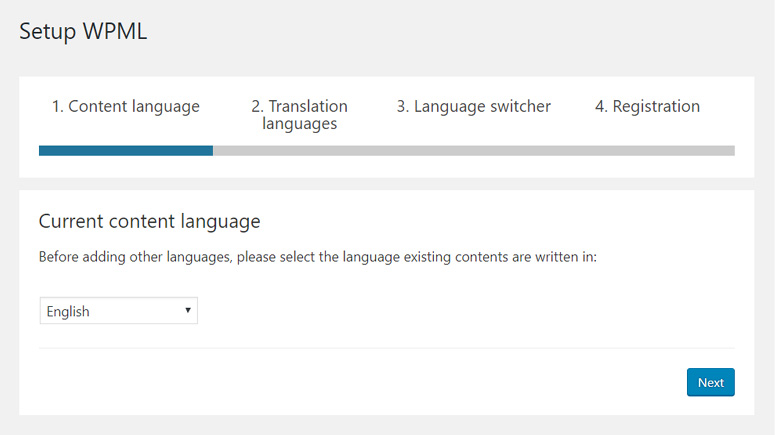 First, it'll automatically detect your site's current language. You can proceed to the next step if you don't want to change that.
In the second step, you can choose the languages you want to enable on your site.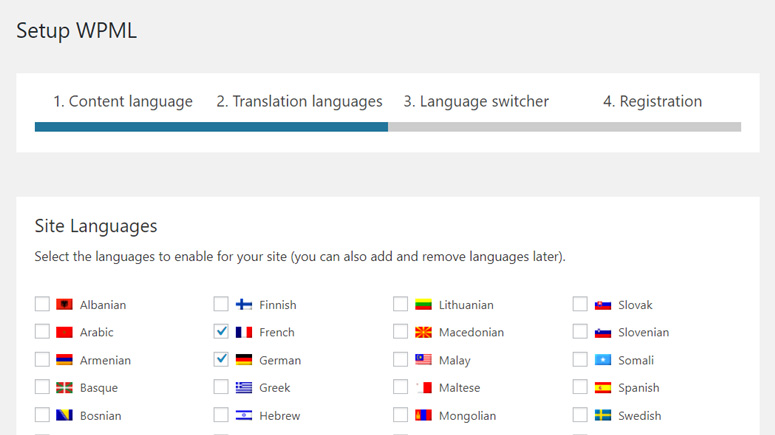 The third step allows you to configure and customize the language switcher options.
You can arrange the order of the languages and add the language switcher to the navigation menu, widget area, or footer area on your site. You can choose the language switcher style (dropdown or list of languages), what to include in the language switcher (flag, language name, current language), change language switcher's color, etc.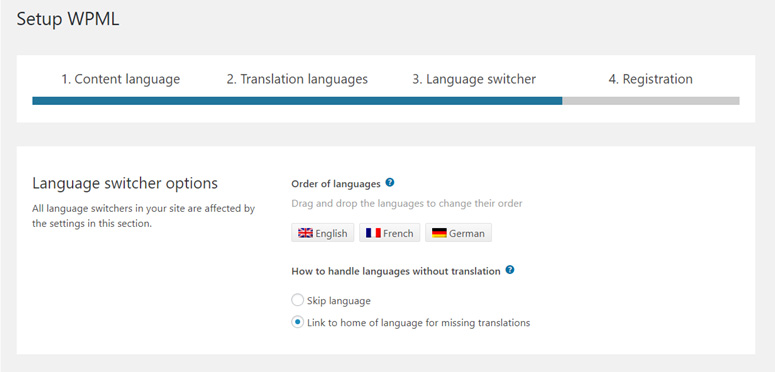 After you configure the language switcher options in step 3, you'll need to enter your site key to register for automatic plugin updates. You can find the key in your account on WPML's website.
Once the setup process is completed, you'll be all set to start translating your WordPress content.
WordPress Translation Made Easy
Using WPML, you can translate almost everything inside your WordPress dashboard. It allows you to translate WordPress posts, pages, custom post types, tags, categories, custom fields, and content created with page builders, as well as theme and plugin texts.
To start translating your posts, go to Posts » All Posts. There you'll see your total posts, and the number of posts per language.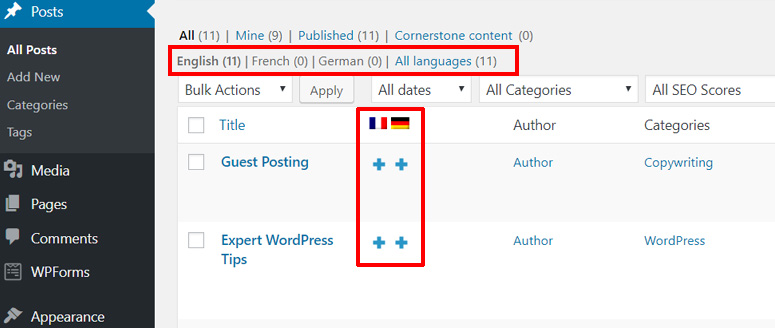 Additionally, you'll see Add buttons for each language you selected next to your post. You can start the translation process by clicking on 1 of them.
Then, it'll open a new post editor with the language name or flag (or both) at the top and a Language Meta box on the right side.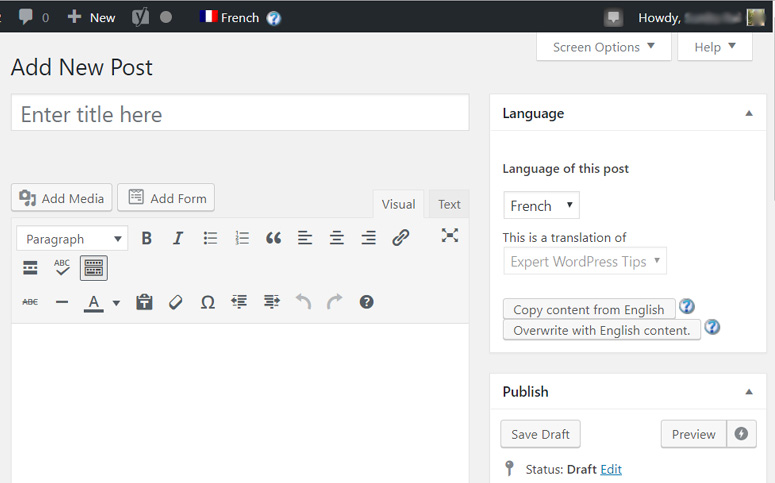 Now, you can add the translated content to the post area and publish. However, if you aren't able to translate for any reason, you can use other translation options.
WPML comes with a powerful Translation Management addon which allows you to work with a team of translators and translation services. With this addon, you can add professional translators of your own or use third-party translation services (or both) on your site.
WPML Addons
WPML comes with a suite of addons along with the core plugin, WPML Multilingual CMS. Installing the core plugin is always necessary, whereas you can choose to install other addons as per your requirements.
Some of the most useful WPML addons are:
1. WPML Translation Management
You can properly manage translation on your site with this addon. You can add your own translators, give them a Translator role, and assign them translation work. You can also use different translation services as WPML integrates with the web's leading translation services.
2. WPML String Translation
This addon lets you translate interface strings directly from within WordPress without using .mo files. You can translate not just static texts, but also user-generated texts outside posts including the tagline and SEO data.
3. WPML Media Translation
With this addon, you can use your WordPress media gallery in different languages. It lets you control which images to display for each language.
4. WooCommerce Multilingual
Using this addon, you can build a multilingual eCommerce site. It allows you to translate all of your WooCommerce content including products, variations, categories, fields, and attributes easily.
5. BuddyPress Multilingual
You can translate your BuddyPress website and create a multilingual social network site with this addon.
You can learn about all of WPML's addons by visiting the official WPML website.
WPML Plugin: Pricing and Support
WPML is a premium plugin with 3 pricing options: Multilingual Blog, Multilingual CMS, and Multilingual Agency.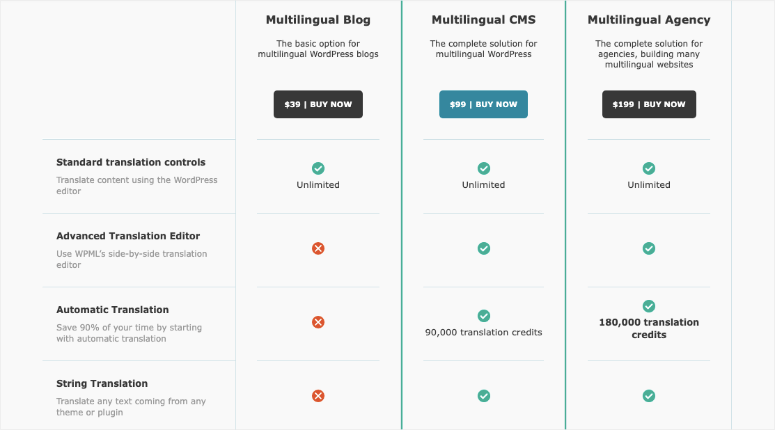 The pricing plans are actually the different combinations of the core WPML plugin with addons.
First plan, Multilingual Blog, is an economic solution for multilingual WordPress blogs with basic translation controls and few addons. This plan allows you to install WPML on only 1 site. You can buy this for $39.
Second plan, Multilingual CMS, is a complete solution for multilingual WordPress sites that comes packed with all the available addons. It comes with 3 site licenses. It's available at $99.
The third plan, Multilingual Agency, is an unlimited license plan suitable for agencies building many sites. It comes with the same features and addons provided in the CMS plan. Its price is $199. So, you can choose either CMS or Agency plan for advanced translation features, depending on the number of sites you want to use WPML on.
All the plans come with 1 year of free updates and premium support. If the plugin fails to work as promised, you can claim a refund within 30 days of purchase.
Our Verdict on Using WPML Plugin on Your Site
WPML is the most advanced and feature-rich WordPress multilingual plugin available on the market. It offers a host of powerful features to allow you to completely translate your WordPress site into multiple languages.
The plugin interface is simple and user-friendly. The idea of addons is cool as you can install only the ones you actually need. That way, you can keep your site lightweight.
Moreover, it's compatible with any WordPress theme and plugins so you can freely install your favorite web applications on your site and translate them. It's an SEO-friendly plugin which makes your site look good to both humans and search engine bots.
We believe that WPML is certainly the best WordPress translation plugin for creating a multilingual site.
We hope you liked our review and if so you may also want to see our tutorials on:
You should also check out TranslatePress review. TranslatePress is an alternative to WPML.
We give the WPML plugin 4.5 out of 5 stars. Here's the breakdown of our review score:
Get WPML Now »